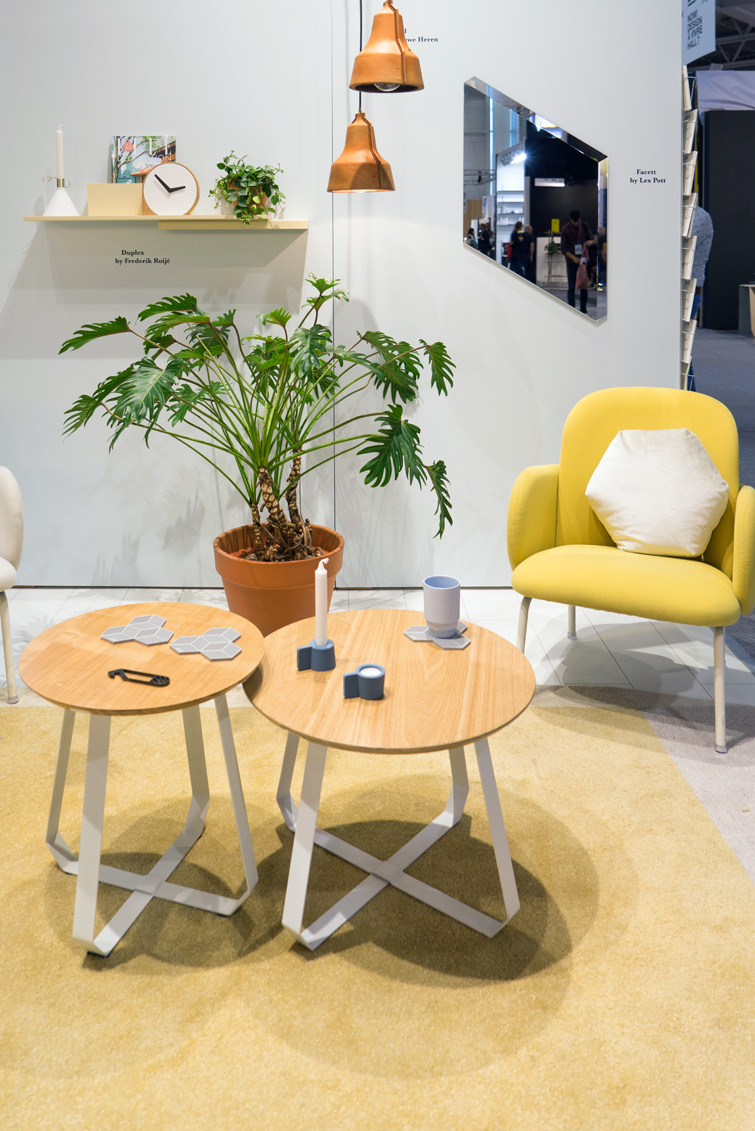 After a very festive weekend launching our #urbanjunglebook in French (read all about it here!) I visited Maison & Objet on Monday. It was much calmer than during the first weekend days, but as usual there was not enough time to see everything of the fair in just one day. I looked for greens and creative plant designs to feature on Urban Jungle Bloggers soon, but I also found some really nice contemporary designs that I loved.
My eye fell for high quality, circle shapes (my favorite "trend" right now!), saturated bold colors and playfulness. Designs that invite you touch, twist, turn, play, fold and that can have multiple purposes. I shared a lot of them on Instagram stories already, but also wanted to show them in more detail here on my blog. These were some of my favourites: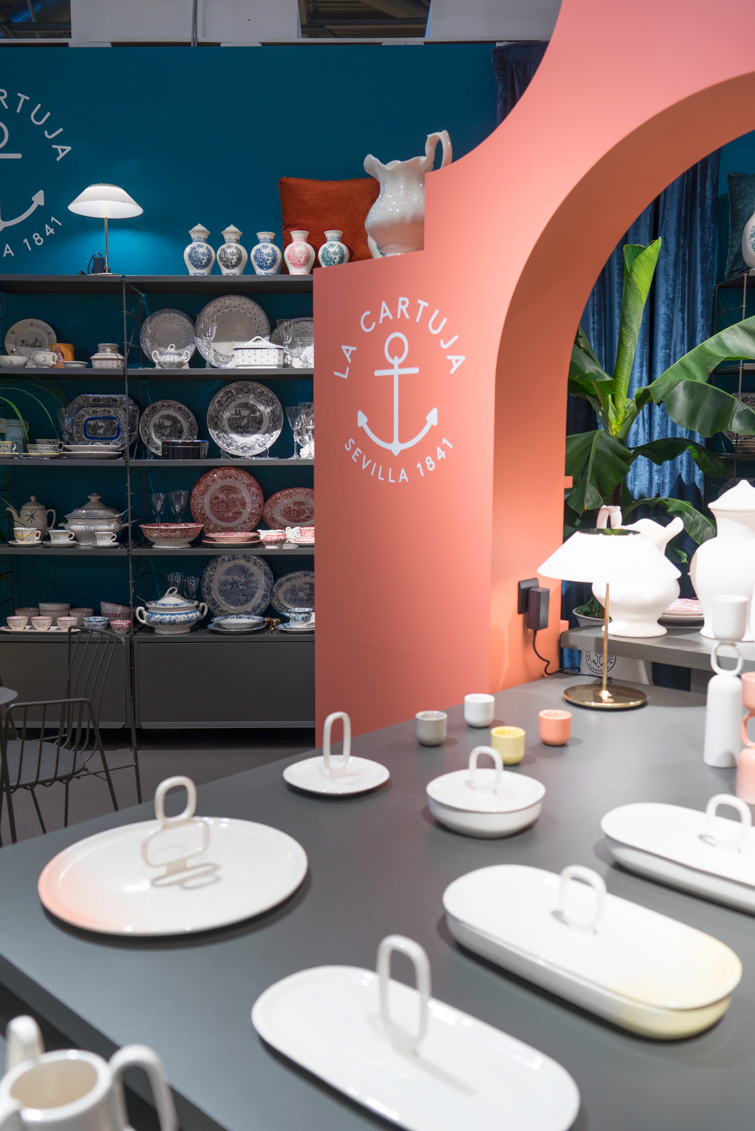 First up: the new Vega 175 designs by Isaas Piñeiro for La Cartuja. A Spanish brand, founded in 1841 in Sevilla that specializes in ceramic tableware. From what I knew about La Cartuja, they make very traditional tableware with classic motif styles. It appears that most Spanish families own at least one piece from La Cartuja, that they use for Sunday brunch or special occasions. I was pleasantly surprised to see their new designs, that are decorated with gradients (!) that have been airbrushed by hand, which makes every piece unique.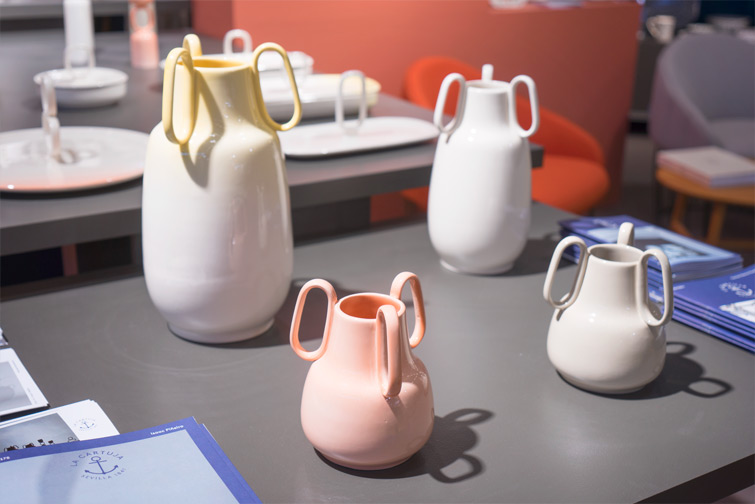 The Wall hook designed by Isaas Piñeiro for La Cartuja and another gem on the right: a key tray with details from historic motifs of La Cartuja, that form a very comtemporary pattern. Oh and did you see the La Cartuja logo? I love it!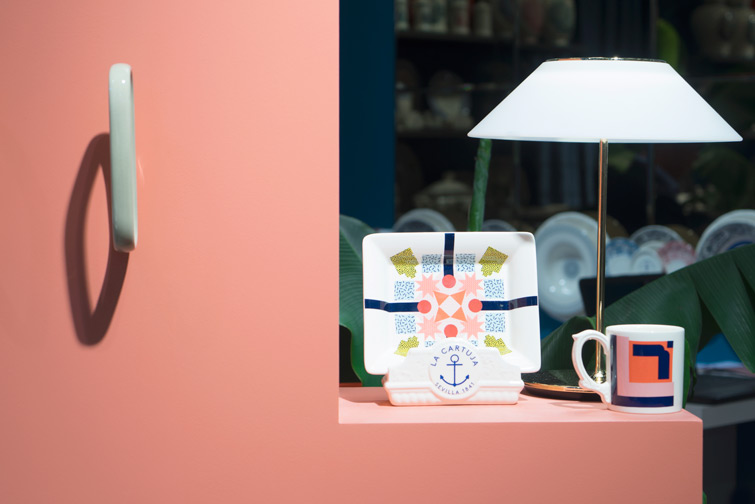 Sleek and playful: the ISO A and ISO B tables by POOL for Petite Friture: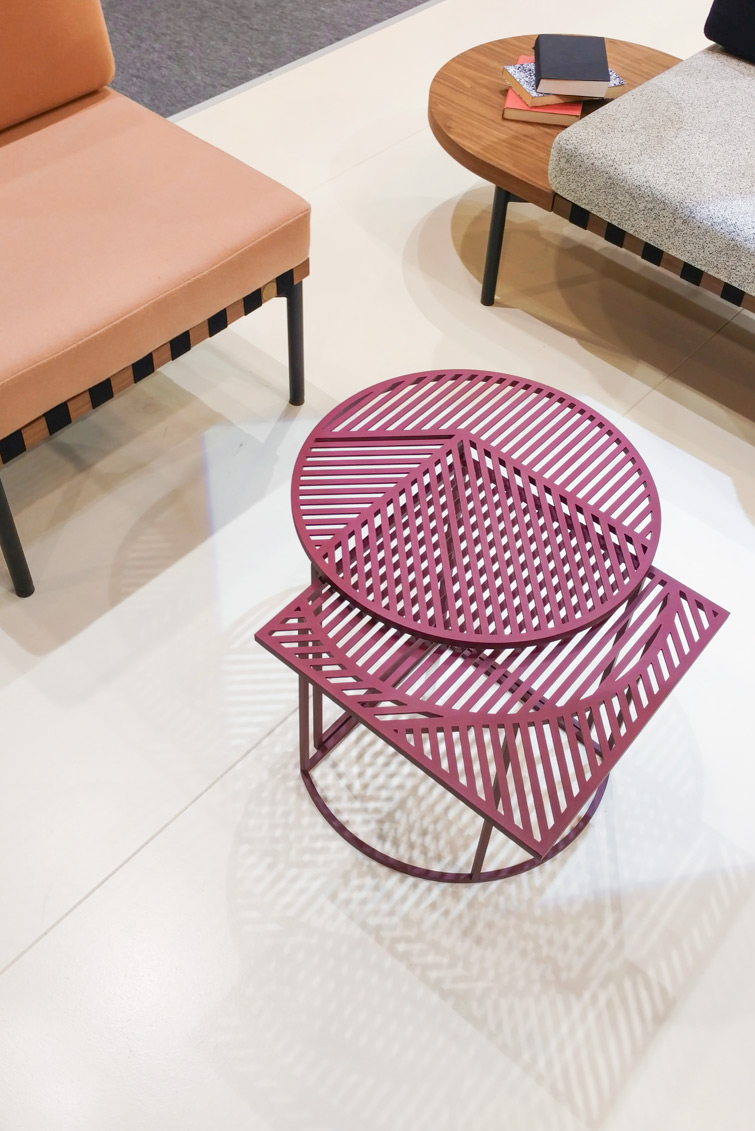 Unintentionally I loved quite a few Dutch brands that presented their products at Maison & Objet, like Puik (with their yellow setup in the first photo) and I also fell for some of the 10 (!) new products that Vij5 introduces this month, like this interesting new clock. It was 18:08 here: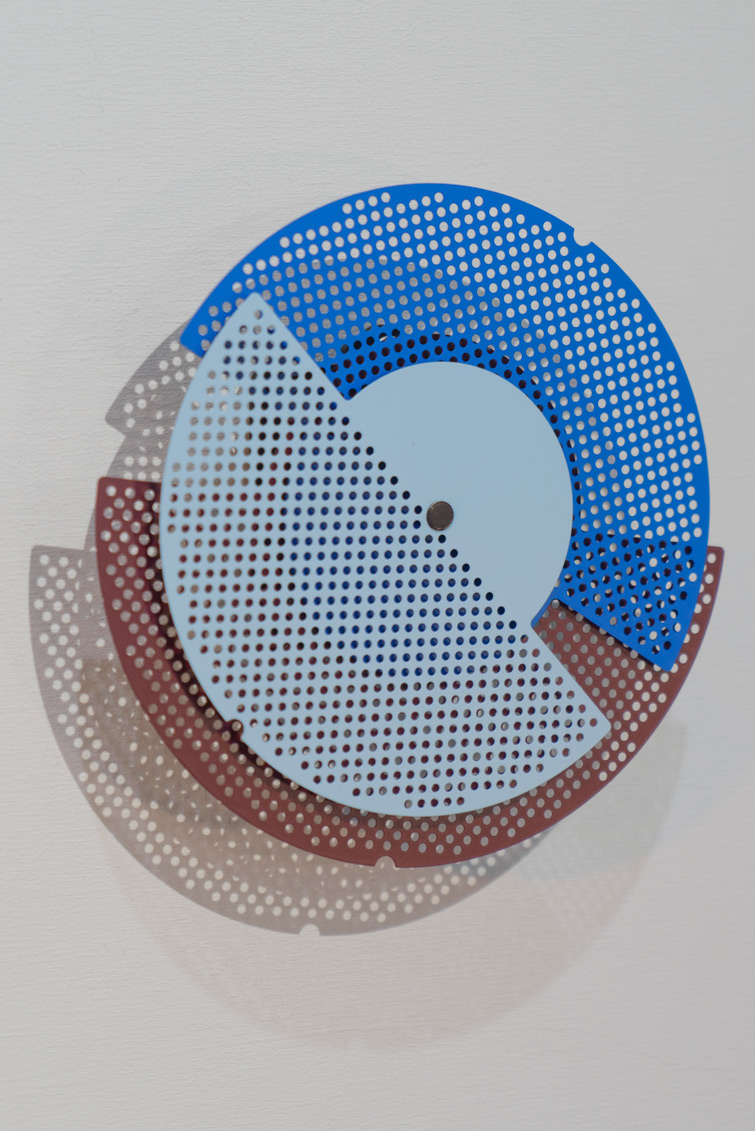 The Tumble cabinet by Studio Vosk for Vij5 is not new, but oh so cool: when you pull the little oakwood lever on the left, the door falls open. It's an addictive mechanism!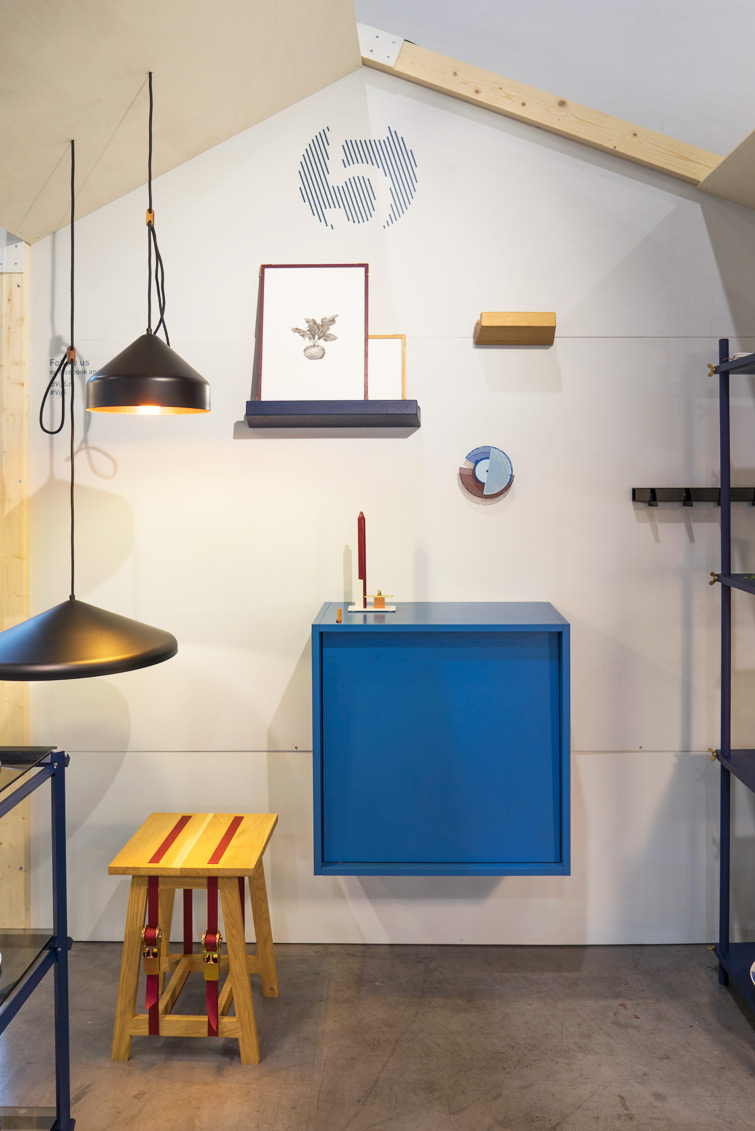 The Dressed cabinet by Puck Dieben for Vij5 is brand new: it consists of a shelving unit (love the deep green!) with a textile ribbon from Kvadrat fabric, that you use to dress the cabinet by weaving it and thus creating different divisions. Watch the video below to see how it works: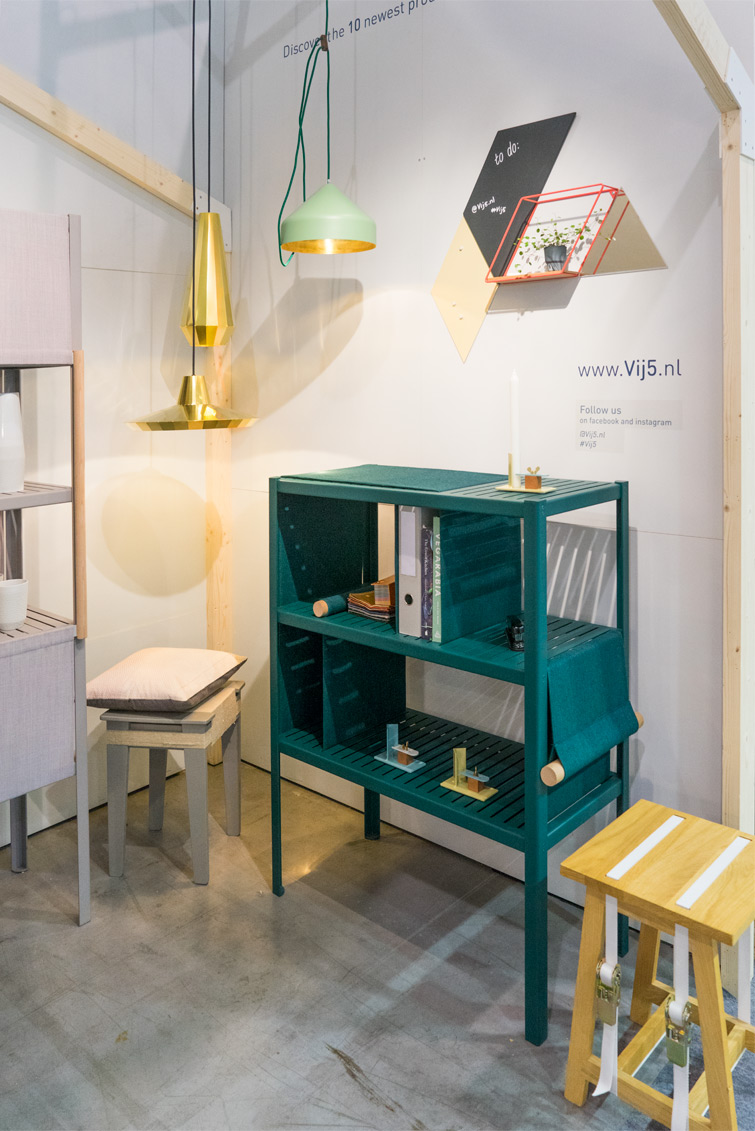 After playing with the cabinet, I continued my search for playfulness at iBride, a French brand that launched their new Babel products at Maison & Objet. It's a series of 3 sculptural pieces (in green, anthracite and white) that consists of bowls, plates, cups that equally interlock with one another to create inifinite possibilities.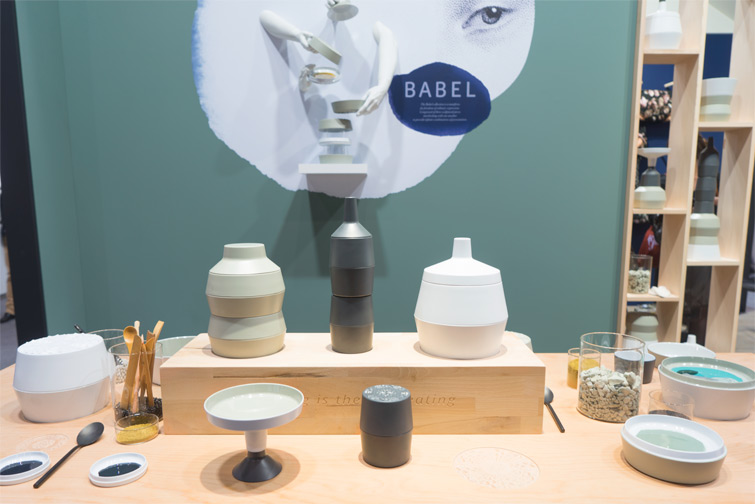 The glossy inside of the cups, dishes and bowls designed by Benoît Convers are decorated with illustrations from Rachel Convers that focus on the senses: touch, hear, taste and smell: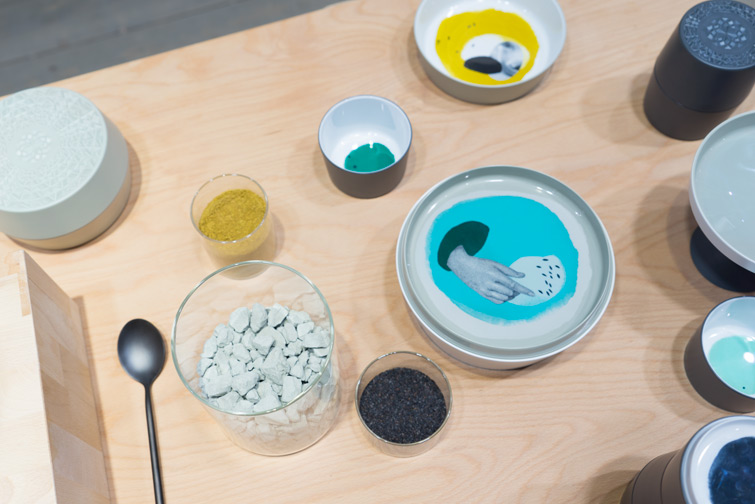 Sharing is the new eating according to iBride. Babel Eat, Babel Drink and Babel Make: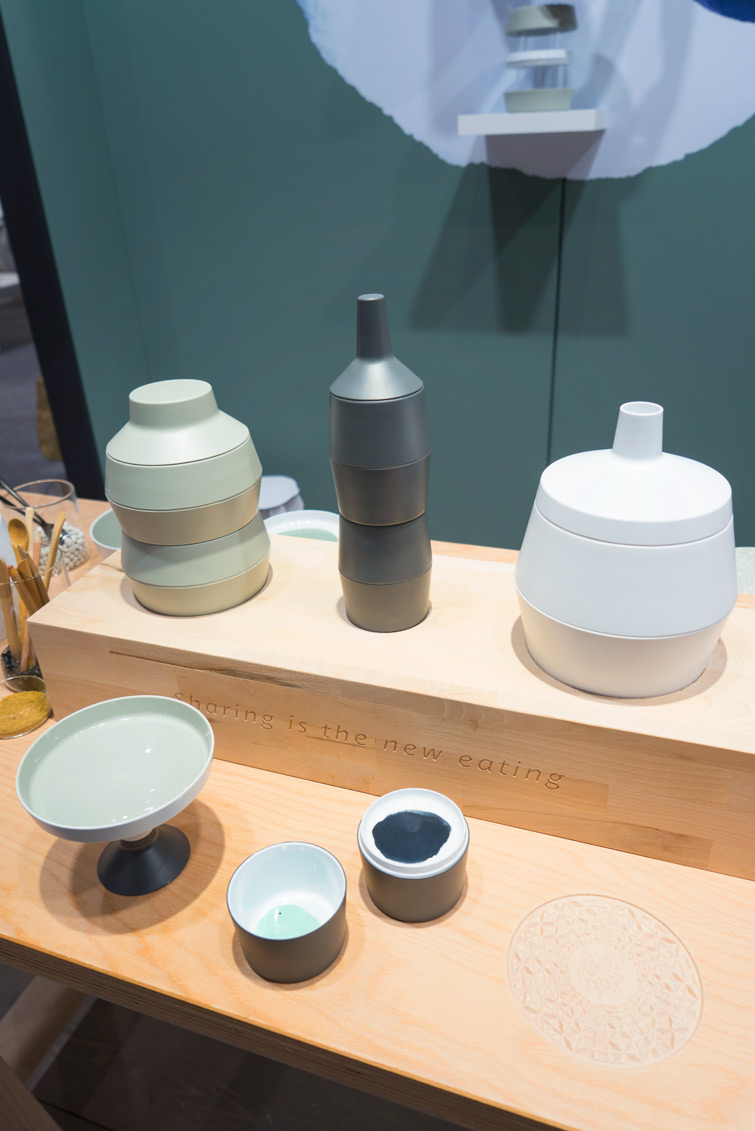 The Babel products are made of melanine and make you want to touch and feel them: the outside has a matte finish and a geometric 3D structure that allows the different pieces of the towers to interlock and keep in place. It looks decorative too: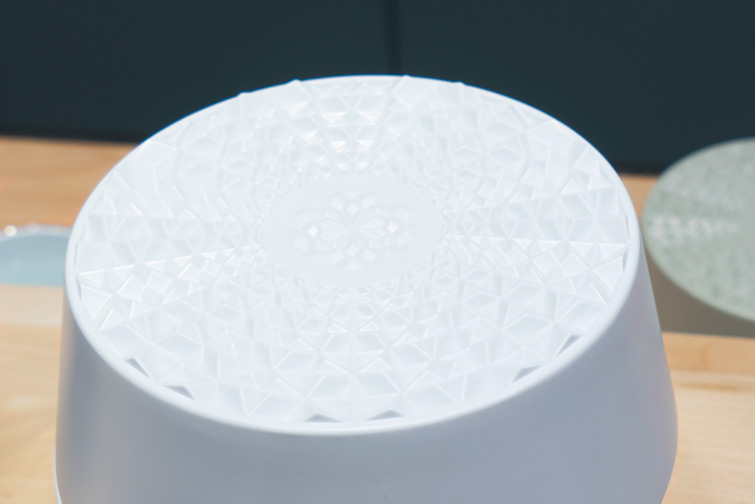 Spotted for the first time earlier this year at IMM in Cologne: eclectic brand Ames Design. I love their use of bright bold colors, big fat planters (made in Colombia) and lush tropical plants: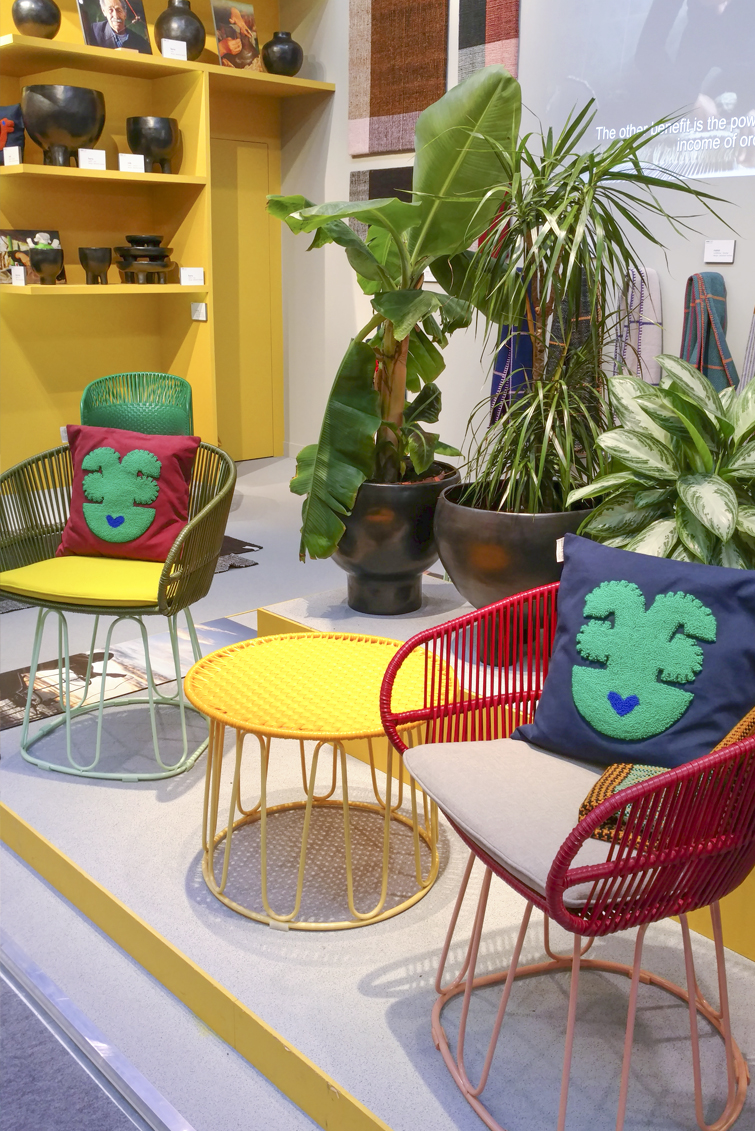 More design goodness from Holland from Fest Amsterdam, with affordable design in nice fabrics and colors, like their collaboration with Mae Engelgeer.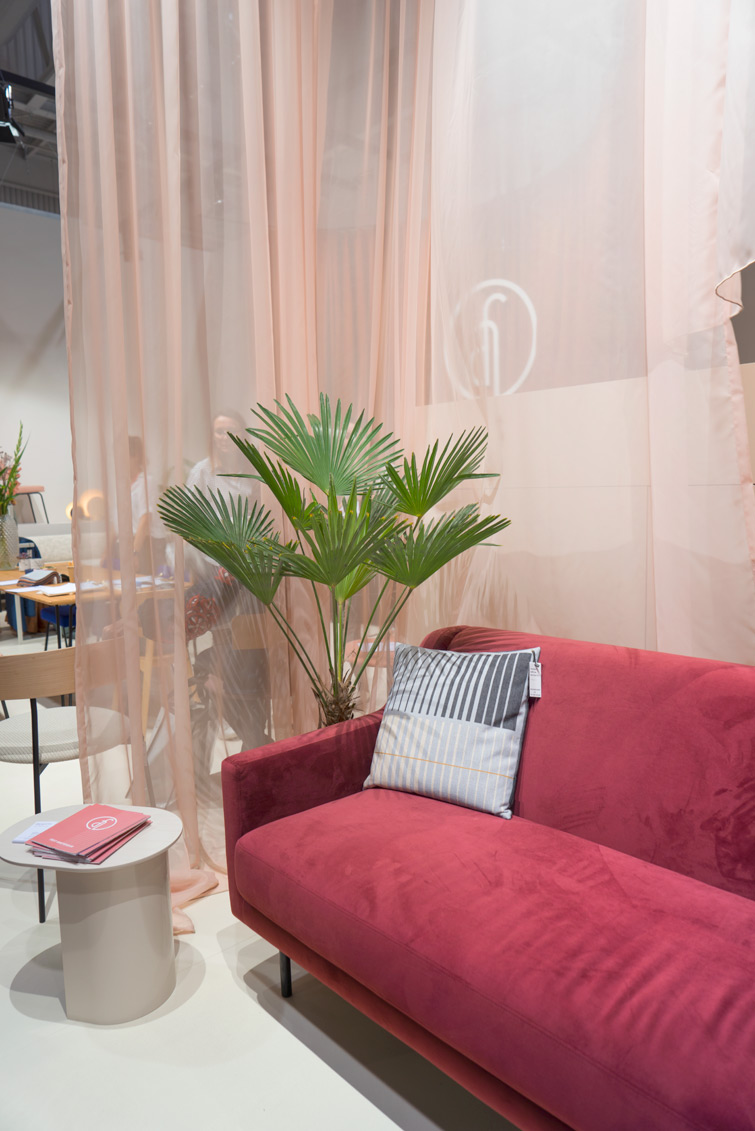 Another all time French favorite: eno studio. I love how they always incorporate (healthy!) plants in their booths and use bold colors and shapes. The Moïra armchair (here in Bois de Rose color) looks so inviting: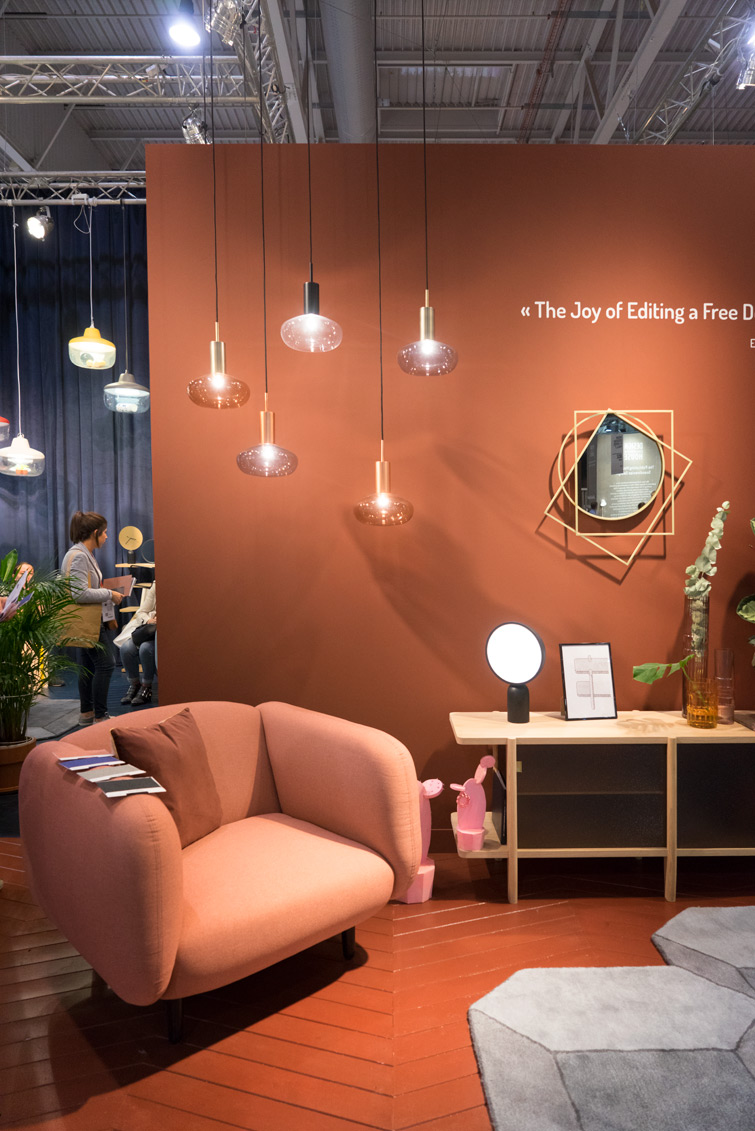 Really liked this cluster of cute DOT pendants from Danish brand Woud: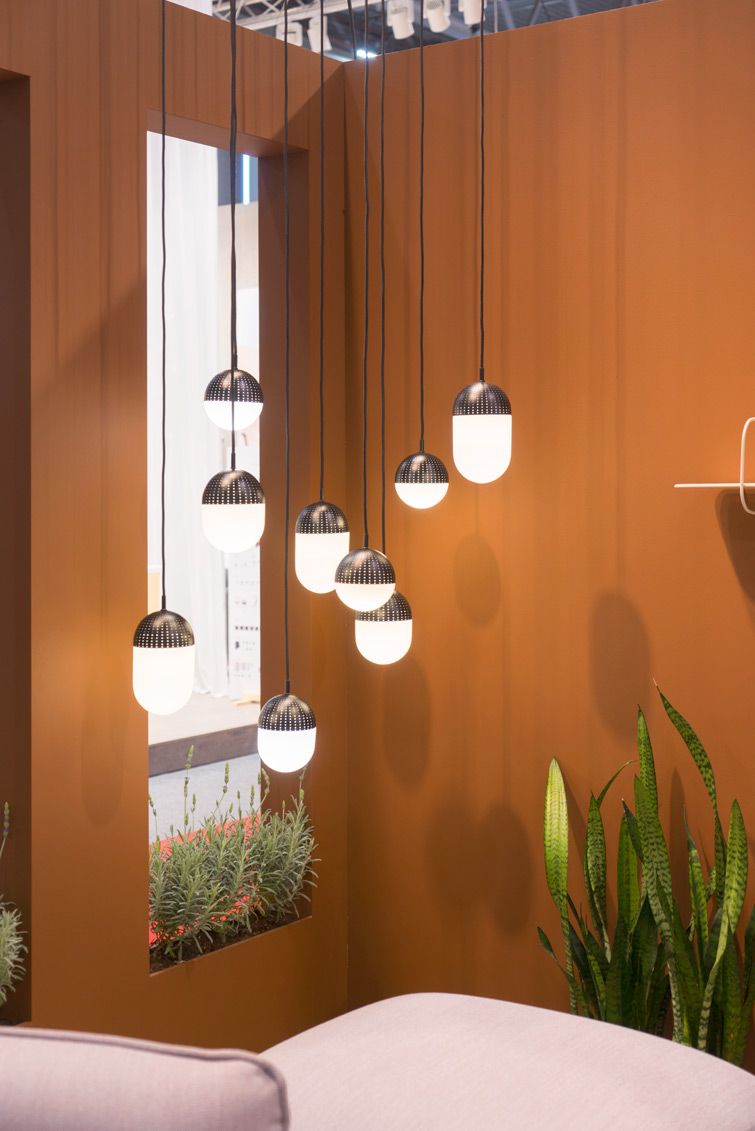 I know "poor man's marble", also known as terrazzo is very trendy right now, but I really like the ERAT collection design by Alberto Bellamoli for Lucie Kaas. It's not simply a terrazzo print, or cheap terrazzo look-a-like, it's real marble scraps, pigment and marble dust cemented together. The stones have been hand picked by Alberto and the trays, candleholder and mirror are really heavy!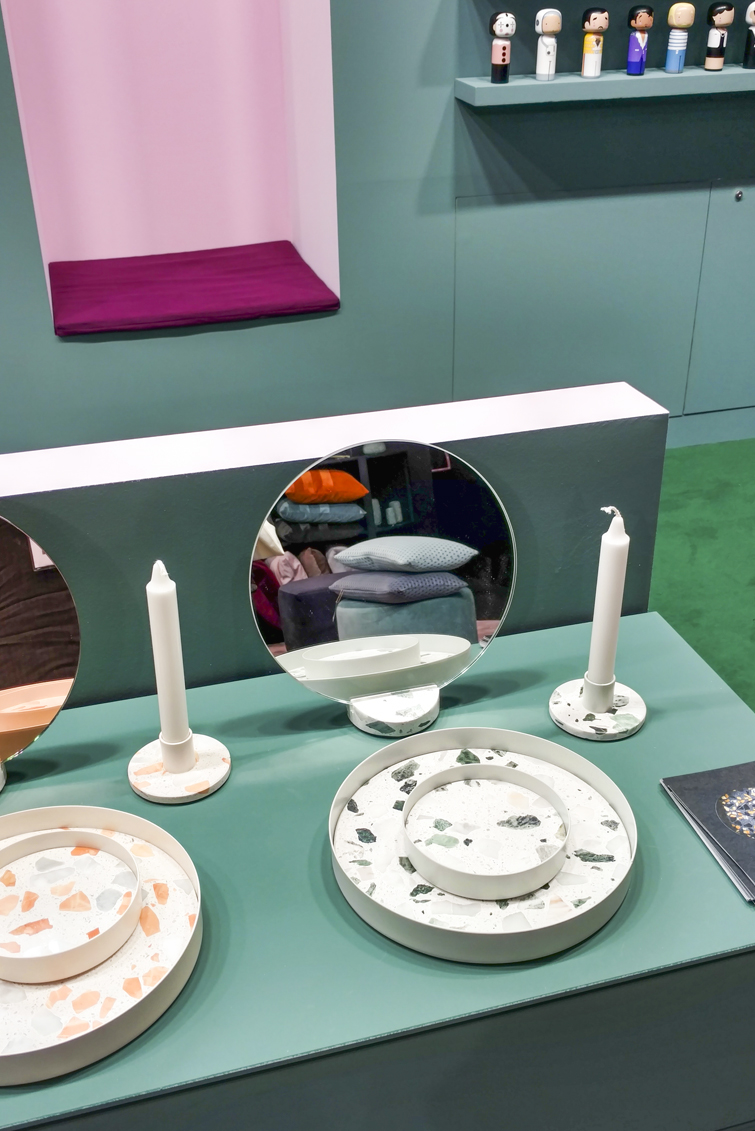 These pieces of art, designed by French Samy Rio are so beautifully made in collaboration with Cirva and Sevres cité de la céramiques. The vase from the Vases composées collection and Totem Mirror are a true ode to craftsmanship and industrial design. You can find a lot more information about them here, including some videos of how they were made. Stunning!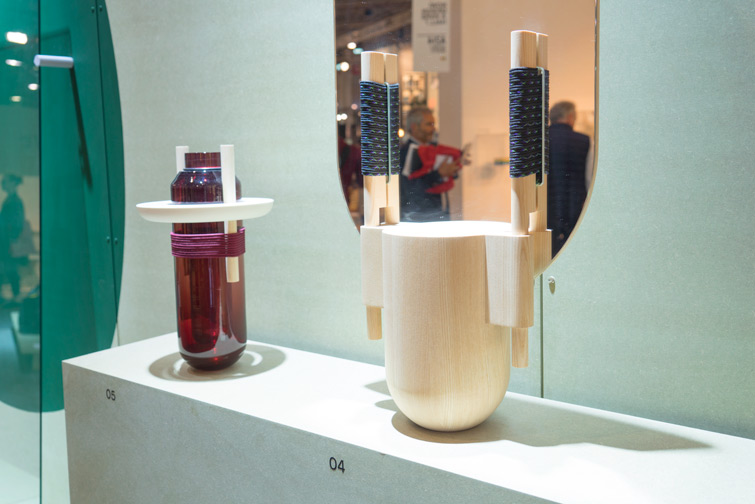 Scrolling through my phone, I realized I had more even favorites!
• Like the beautiful paper goods from new Notem Studio (props for their very consistent and stunning art direction!)
• The entire (!) collection from Valerie Objects x Muller van Severen
• The BOLT lamps by Dutch Tonone.
• The FAN stool by Finnish BEdesign.