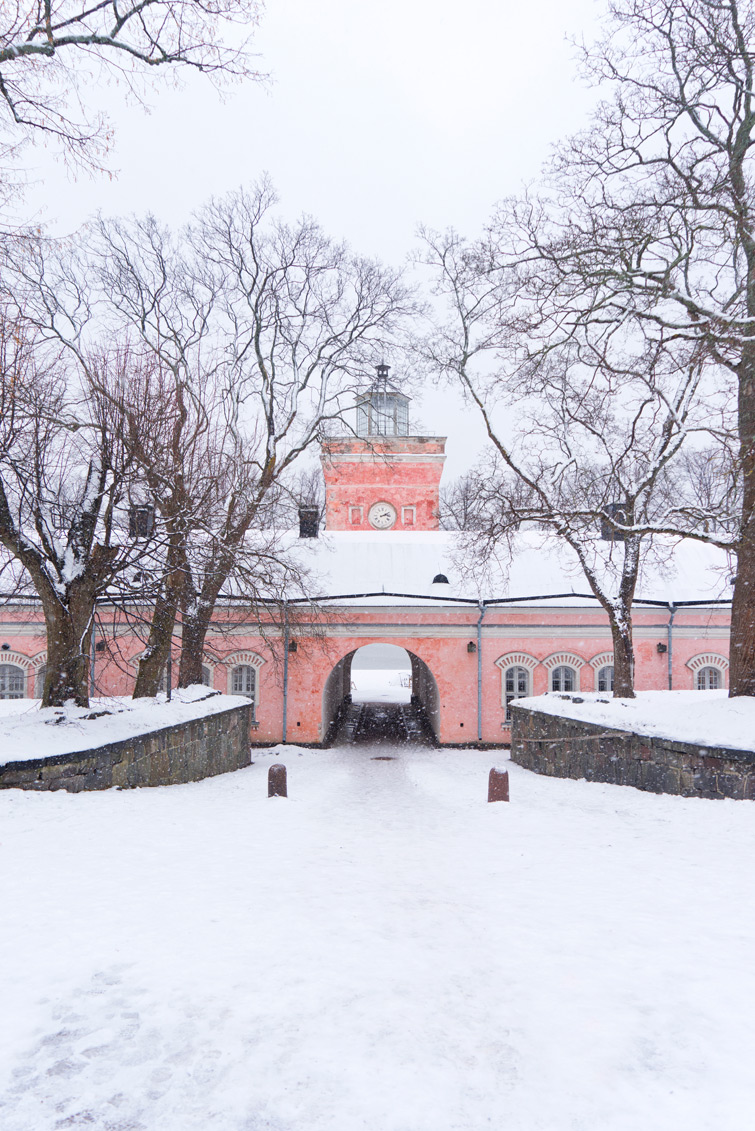 Everyone, truly everyone: from Helsinki locals to avid travelers, told me to visit the Unesco World Heritage site of Suomenlinna when in Helsinki. It felt a bit like: "You have to visit the Eiffel tower", which usually makes me want to skip a site or monument alltogether. But not in the case of Suomenlinna: it is a truly unique place? Suomenlinna (or Sveaborg in Swedish) is an inhabited sea fortress built on 6 islands, just off the coast of Helsinki. After only a short 20-minute ferry trip from the city center, you arrive in what seems like a different world. In our case: a snowy white wonderland, where around 800 people live all year round. No cars, few tourists because of the season, a mariage celebration in the church, a tough guy on a snow bike… and a snow storm!
Let me take you on a little virtual tour. First we hopped on the ferry from the harbour of Helsinki: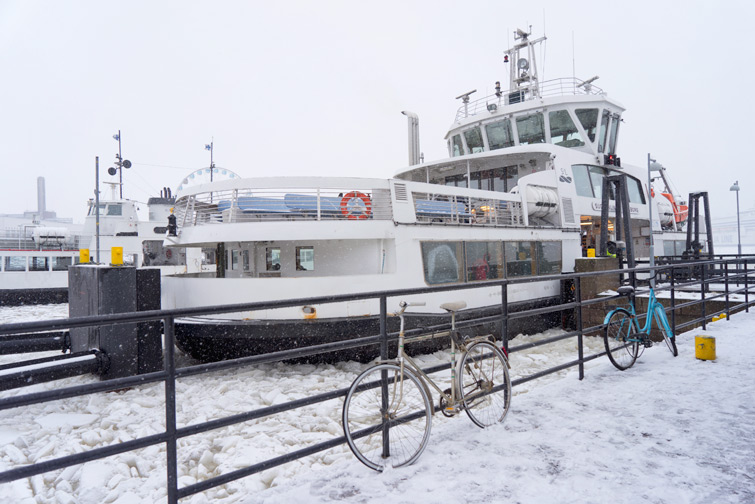 We wondered how the ferry would get through the ice in real, winter, because when we were there it was only around 0°C. The ice chunks looks impressive and made quite a lot of noise against the hull of the ferry: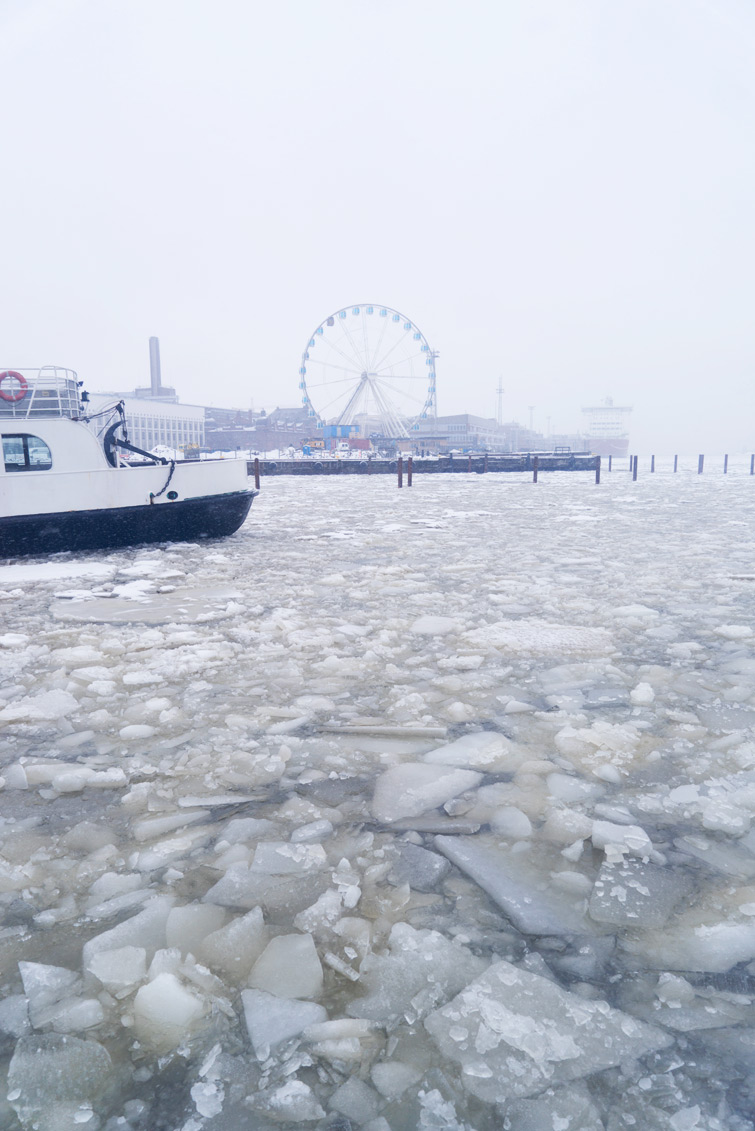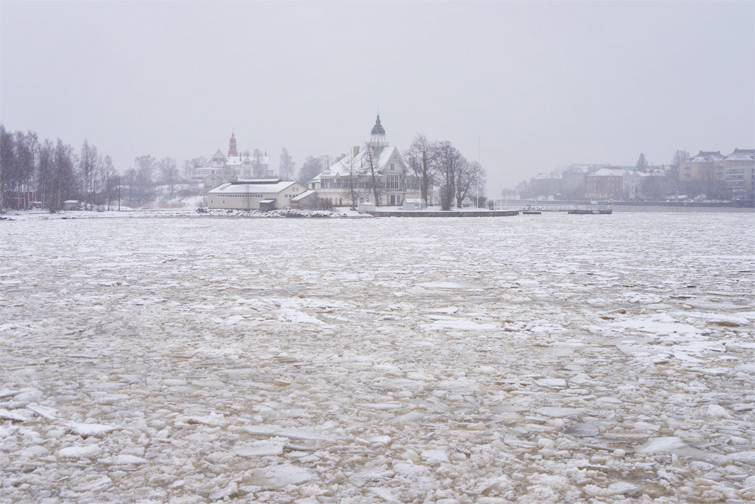 And all of a sudden the ice chunks turn into water-only: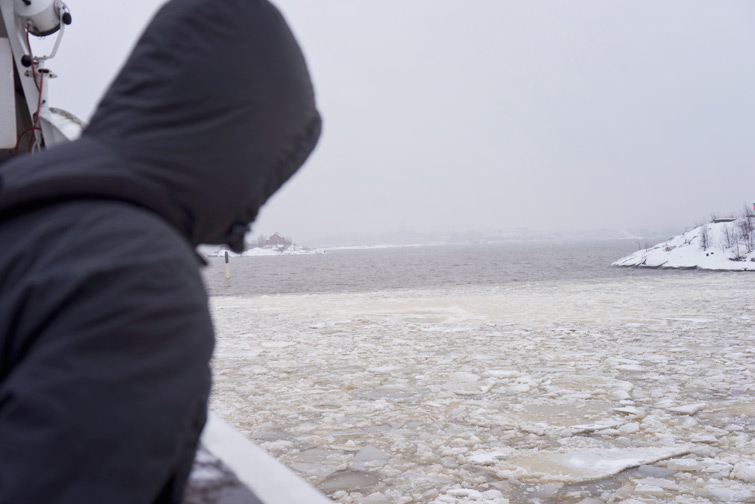 One of the island of the Suomenlinna archipel: Ryssänsaari, Puolimatkansaari: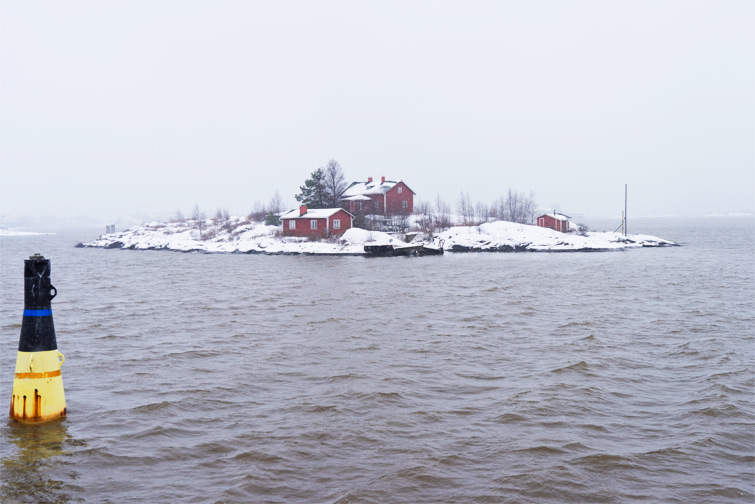 The first building you see when reaching Suomenlinna by ferry is the pink-blush building (top of this blog post). I think it's the most Instagrammed spot of the entire island, although there are some other photogenic places on the islands, like this pale blue house with veranda:
[[more]]
There are no cars on Suomenlinna which makes it particularly calm, even more so as it was covered in layers of snow. You are allowed to bring your own bike to the islands, or as a few kids prefered: a snow scooter! It looked SO fun!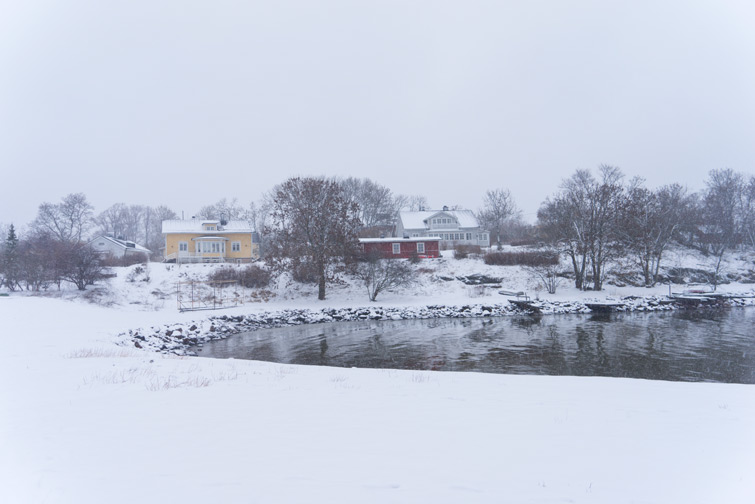 We walked around the different areas of the islands, visited the Suomenlinna Museum where we watched a little video about the history of islands, including magnificient visual effects 😉 and then it started to snow harder and the wind became stronger.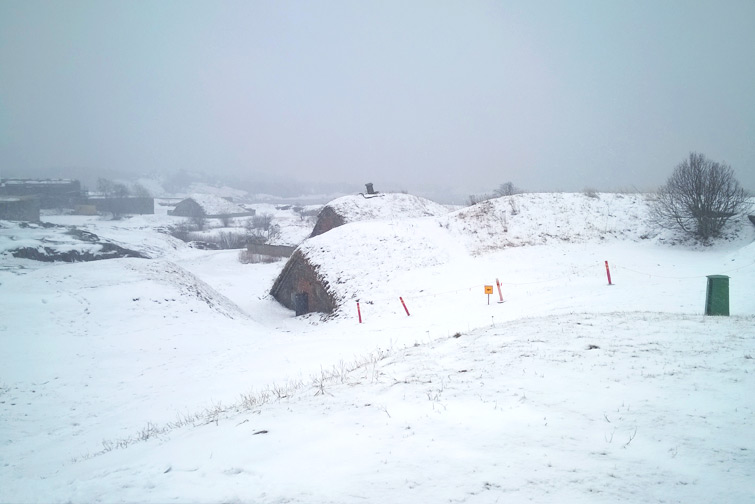 Slowly but surely we got cold. This was the coldest part of our walk: from the top of this hill you would usually see Helsinki on the horizon and there would be a nice cosy café on the left, but it wasn't open that day (or month?) so we covered ourselves deeper in our warm Makia coats and Costo beanies and started our walk back towards the ferry.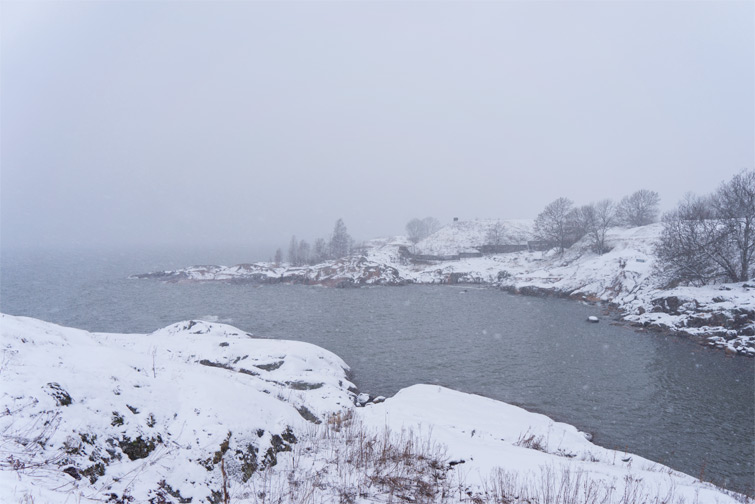 Walhalla: ironically the café was cold and closed: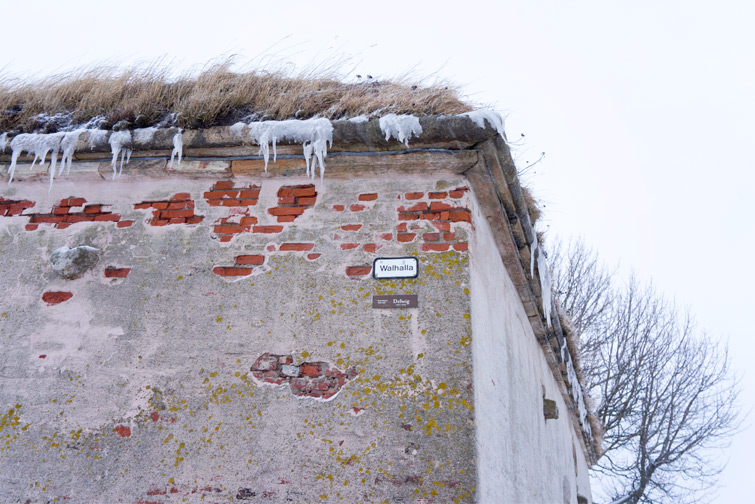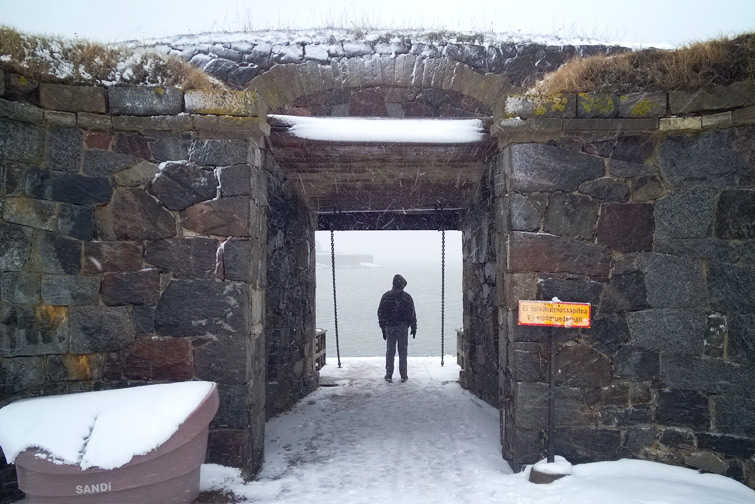 What struck me most on Suomenlinna, was that this is actually a lively community where 800 (lucky!) people live every day: we passed by a library, a church where a couple was getting married, the (closed) toy museum, a harbour, a school. It must feel so special to live so close to the Finnish capital, yet in such a peaceful and relatively remote place where time seems to stand still. There weren't many tourists last week, but small notes on fences and doors said "Please respect our privacy", so I suppose it must be quite something to share your island with thousands of tourists in the high season…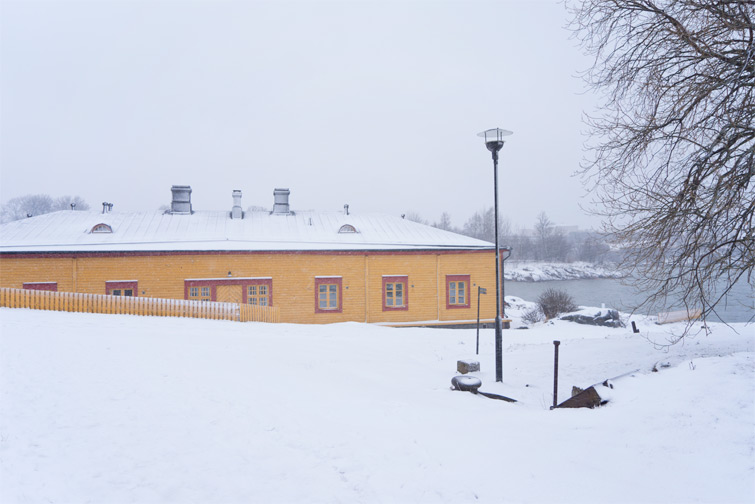 A hare on its way to a warm shed, just like us. Well, actually we didn't return to a shed, but to the warm Helsinki Secret residence at Aallonkoti 😉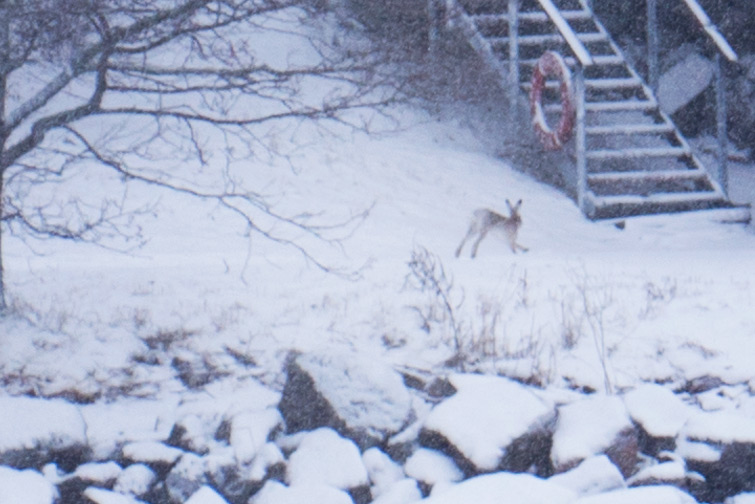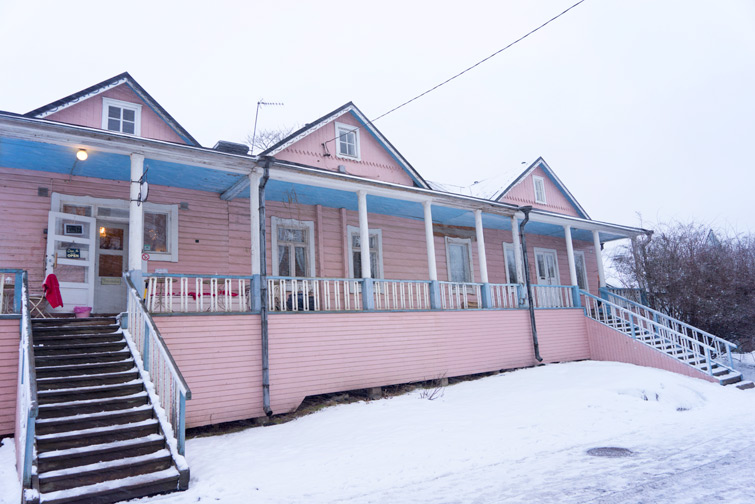 Travel to Suomenlinna via ferry is free for Helsinki Card or HSL ticket holders, or 5€ for a 12 hours ticket.
Warmly recommended, also in the summer, when it's pick nick & party heaven as I was told. For a virtual birds eye view, visit this site, it's really cool to see the island from above, in winter or summer situation. The difference is pretty impressive, which once again, confirms that we need to come back and visit Helsinki in the summer!