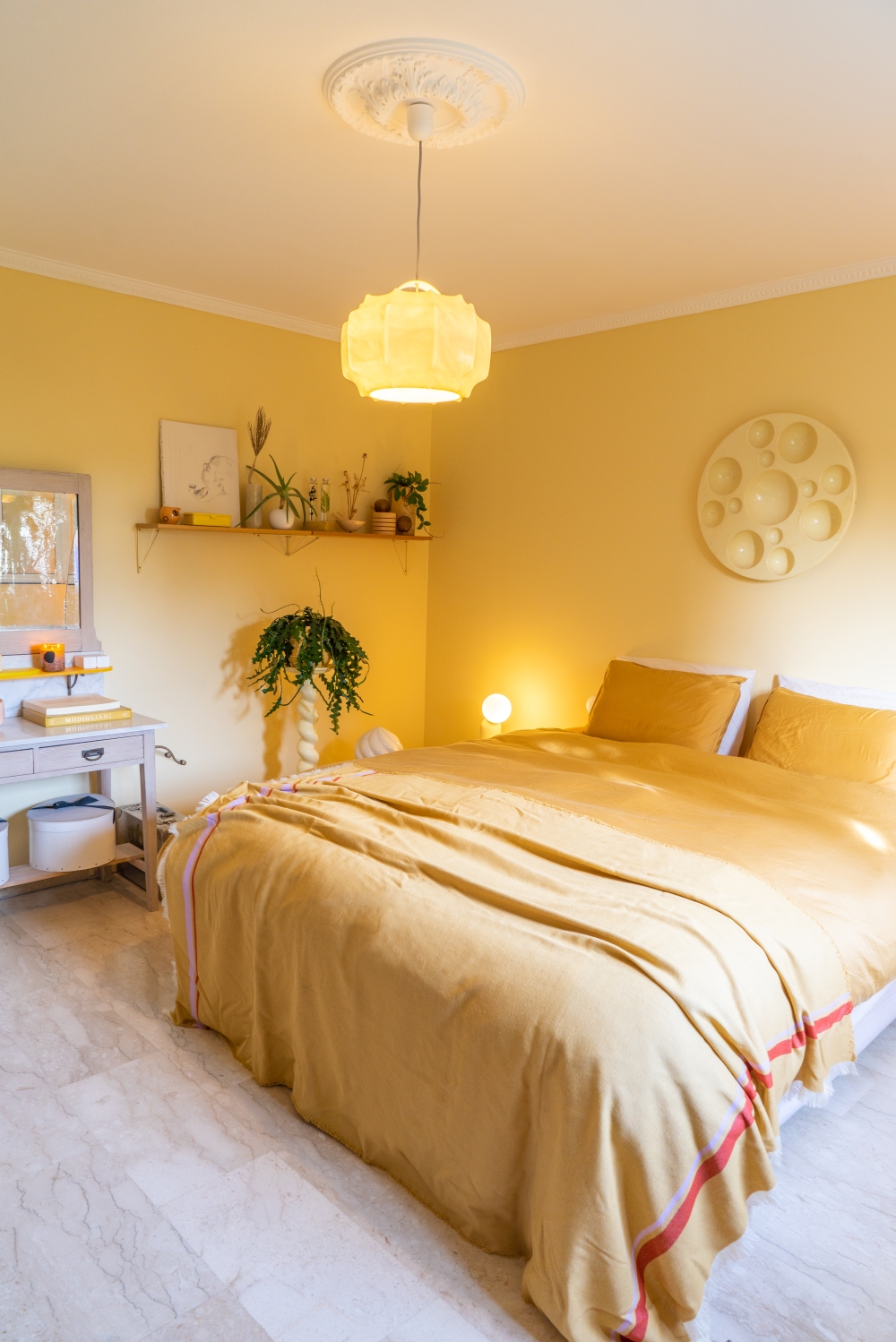 A soft year 2022, that's what I wish you! With softer relationships, softer skin, softer judgments, softer footprints, softer light, softer life! I could go on and on, but a softer year would be lovely for all of us, right?
And softer bed linen as well, as I dressed our bedroom in this gorgeous new soft satin set from Dutch brand SUITE702. They carry a wide range of colorful bed linen in satin cotton, linen and percale cotton. All are GOTS-certified* and made in Portugal. What I like about them is that they don't just produce boring white, sky blue and beige bed linen, but they believe life in the bedroom can be colorful. I first heard of the brand through the Stijlcast podcast (in Dutch) and heard the founders, Shirley and Olaf, speak about the large space in the bedroom that consists of the duvet cover: it's 4 square meters of color and/or pattern. Thus, choosing a contemporary color for your bed linen can completely transform the room. And because Shirley and Olaf couldn't find beautiful luxury bed linen that was fair and sustainably produced that was also affordable, they founded SUITE702. The brand name is a nod to the famous John Lennon and Yoko Ono 1969 honeymoon, when they spent a whole week in bed in Suite 702 of the Hilton Hotel in Amsterdam.
*SUITE702 only works with GOTS certified manufacturers. GOTS is the world's leading quality mark for organic textile products. It is the toughest certification and guarantees that the entire chain is controlled sustainable and free of chemicals. With a GOTS certification, they can be sure that the production is free of child labor and has taken place in good social conditions.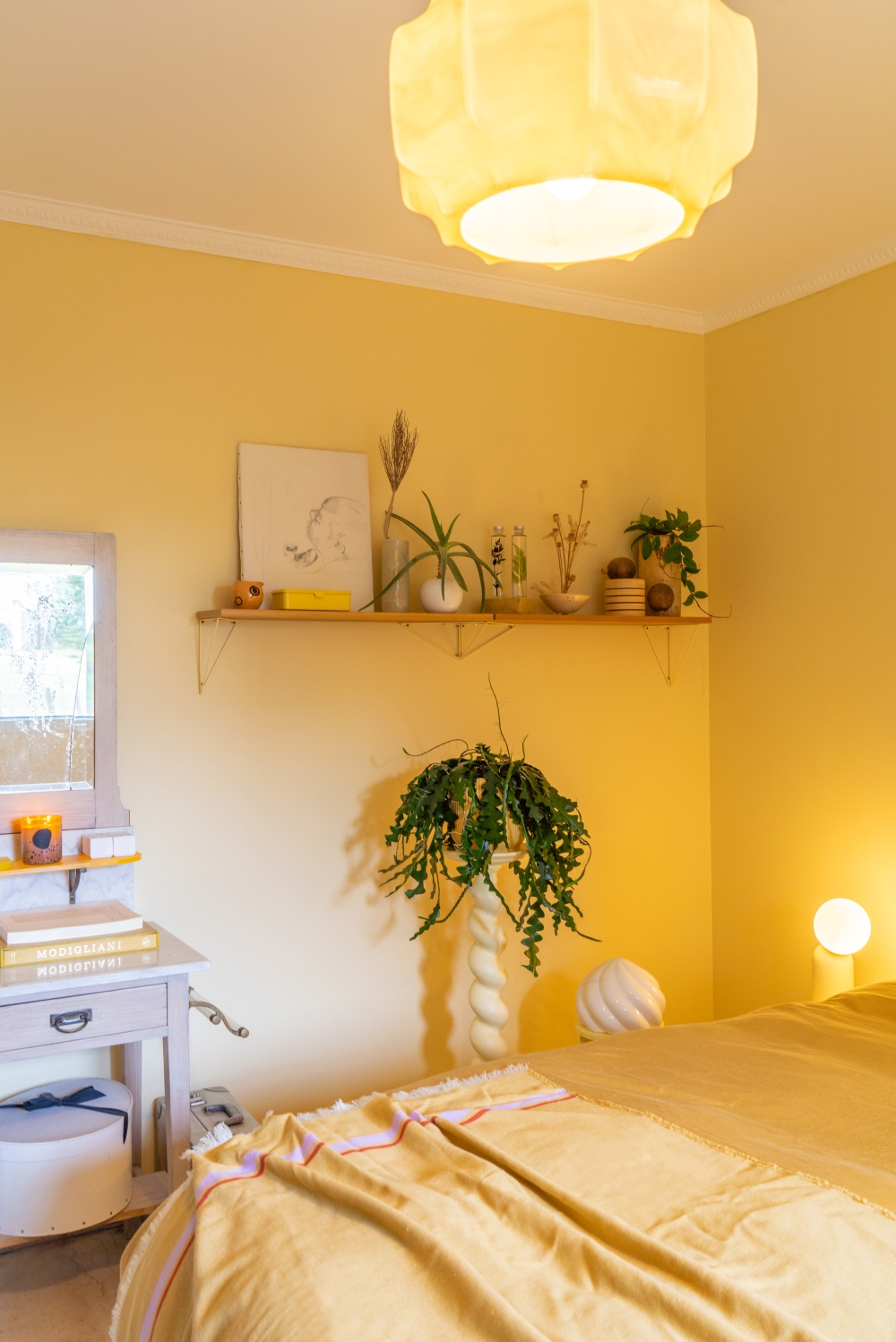 Our post-it yellow walls match the Honey satin color set perfectly, it's not exactly the same hue (that would probably be too boring), but it gives the room a warmer, darker mood, than our white satin bedding. The color of the SUITE702 fitted sheet is called Inca Gold in percale cotton: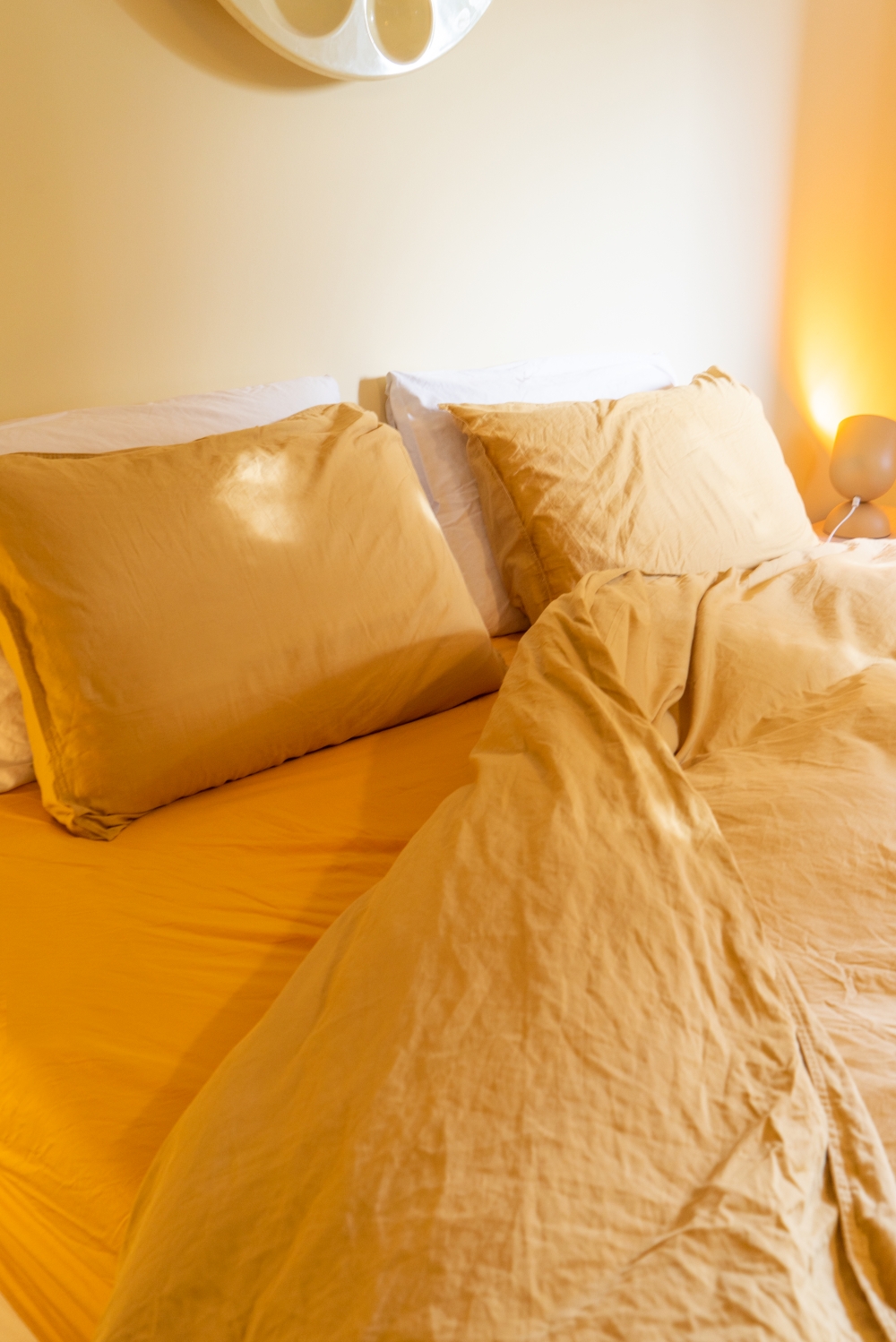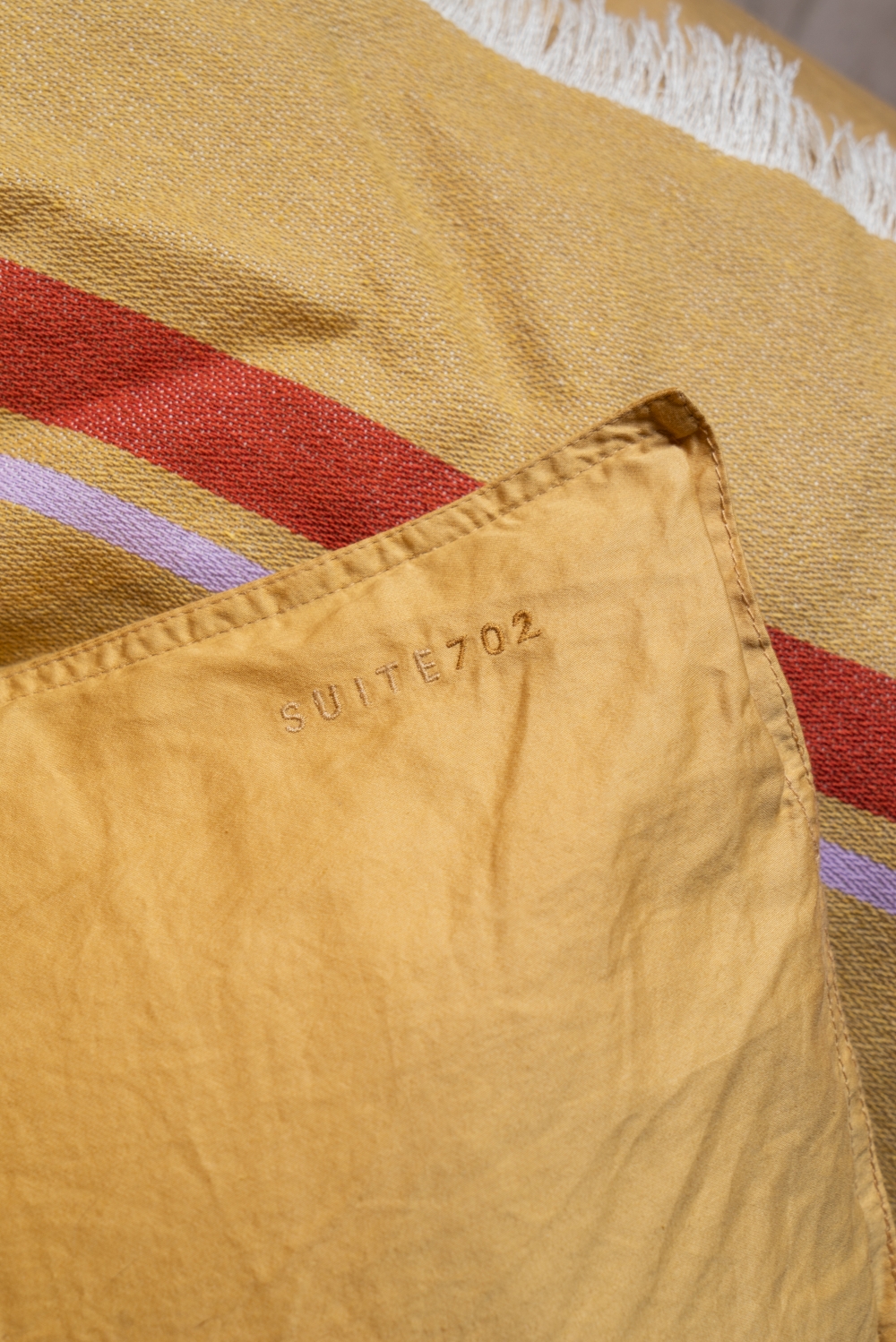 Our softest cat Per Hammar, pictured here in his favorite spot, watching birds, leaves or just anything that moves, outside. His fur coat is much softer than his siblings', it is so soft and once you pet him: he purrs loudly. Very calming, relaxing and soft!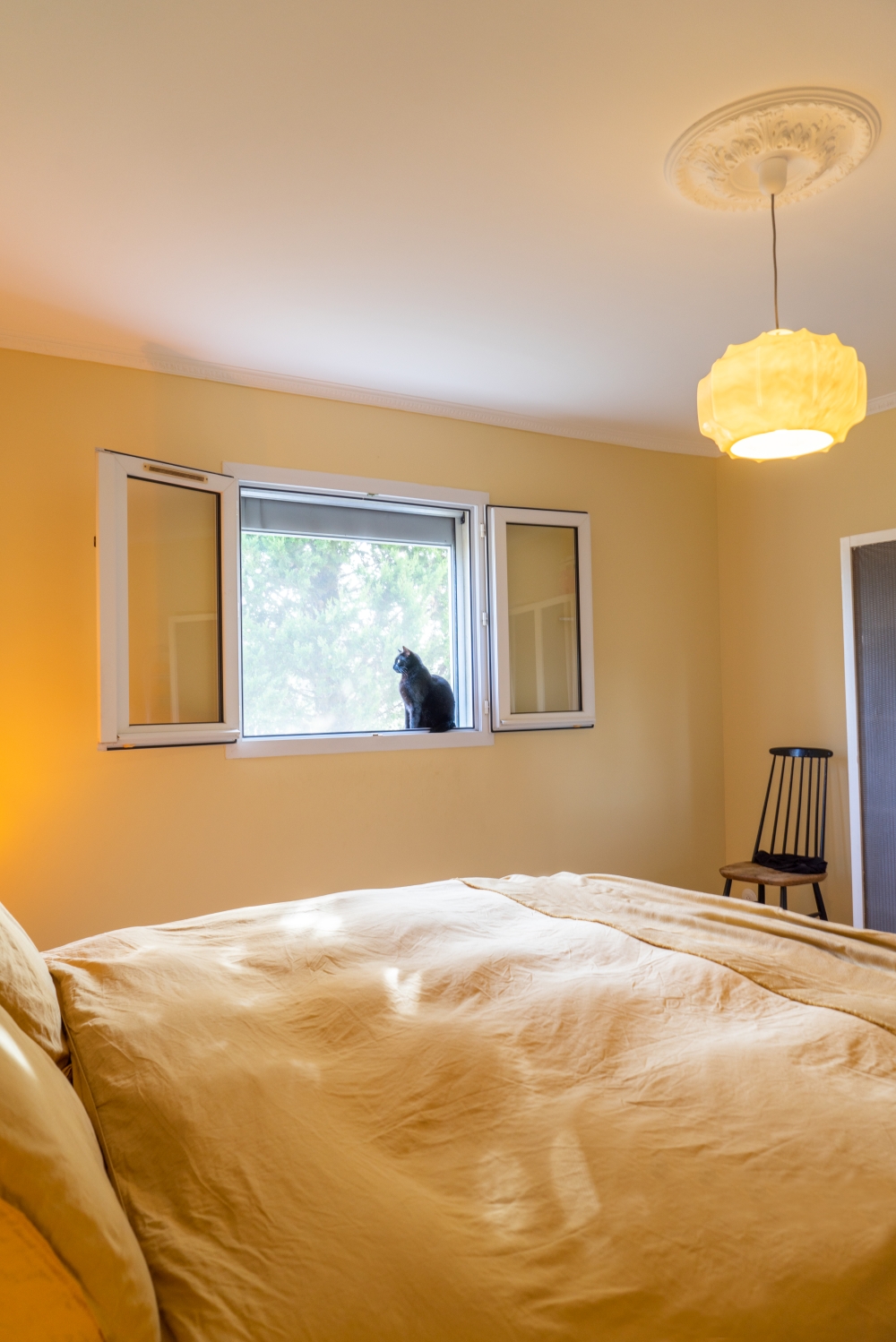 The plantshelfie in the bedroom: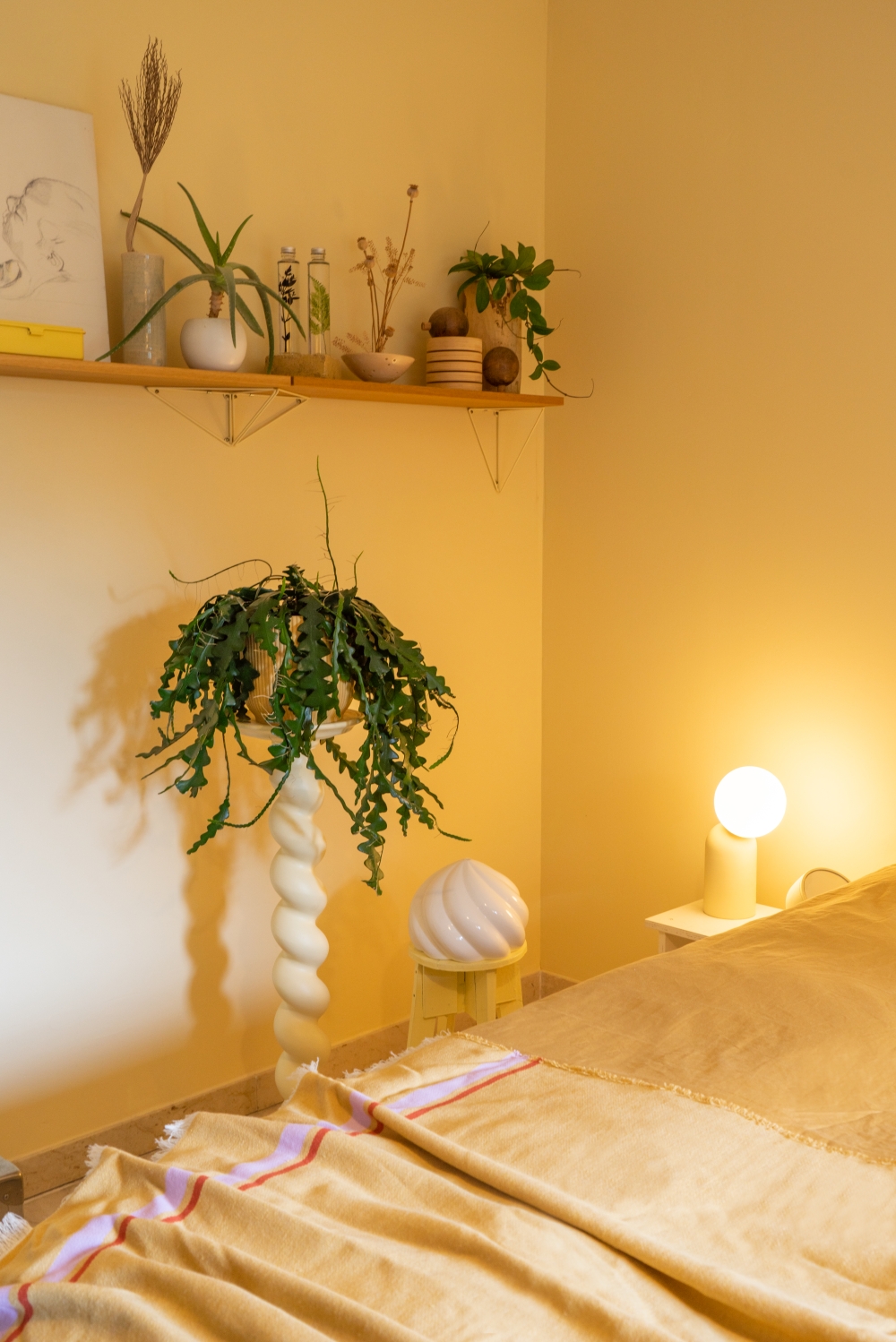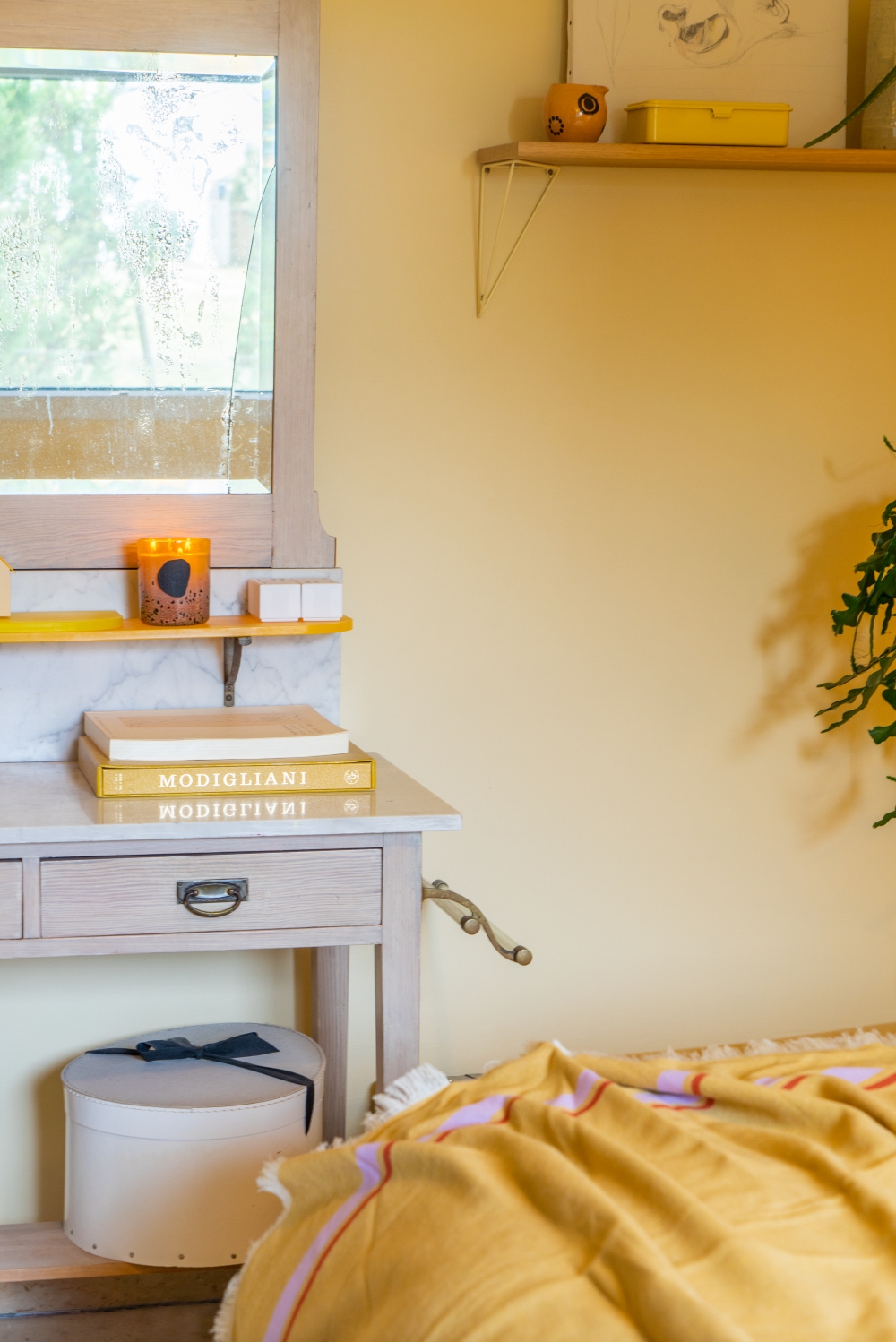 A super soft fragrance: the beautiful mouth-blown glass with hand poured scented candle created by Grand Sable on Belle-Île in France. It is called Flore Power, it's a mix of soy & mineral wax with a cotton wick, the fragrance was created in Grasse, it is CMR free and smells gently flowery, yet very fresh and island-like. Even for Robert who cannot stand most scented candles, this one is soft and subtle enough.
My friend Catherine first introduced me to this beautiful brand from Belle-Île, an unspoilt island off the coast of Brittany in France. In their own words: Grand Sable is a creative workshop inspired by the island and its nature. A place hidden in a tiny fisherman's house humming with ideas and a constant longing for fragrances, photographs, and authentic, handmade objects. After spending days sniffing the sea winds, we create and craft Grand Sable objects to share our irresistible desire for fresh air, new horizons, and exquisite islets. Every desire gives life to a small collection that mixes colours and smells, capturing the island's raw, wild nature, as well as our long summers spent barefoot on the sand.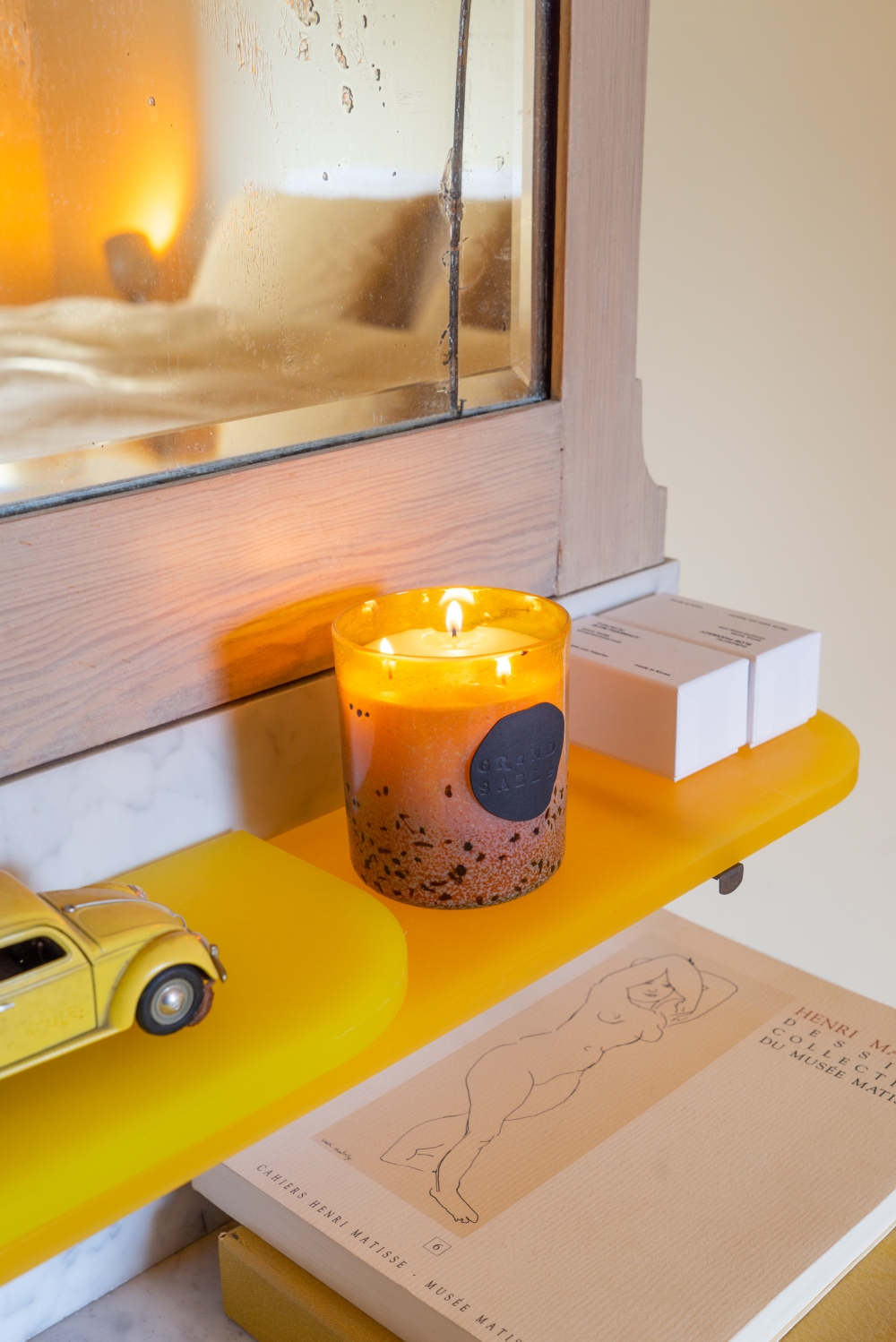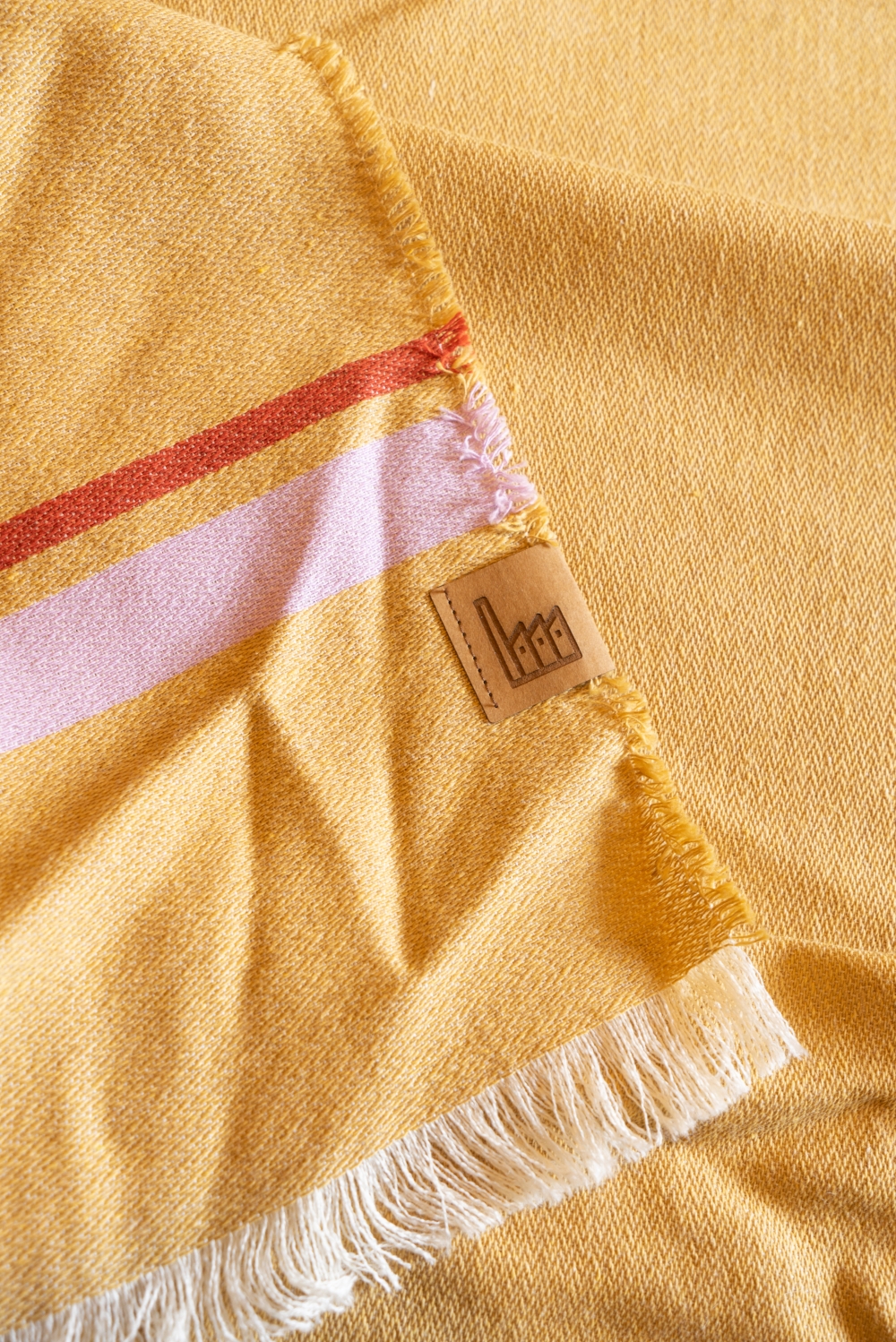 A soft blanket that was sustainably created by Textielstad Enschede and Sustainable Fabrics in Enschede, a Dutch city in the east of the country. The weaving mill is located close to where my sister lives and because she knows the founder, we were invited for a quick visit of the factory when I visited my family during Christmas time. It was lovely to see where my blanket was made and even more so: to see how it was created from sustainable and locally sourced yarns, such as recycled denim, European linen, old T-shirts, clipping waste from garment manufacturers and more.
In their own words:
Enschede Textielstad stands for a combination of sustainability and quality. We only work with recycled raw materials (including recycled jeans, old workwear and production waste) and natural materials (including organic cotton). We do not dye or bleach our fabrics. This saves a lot of water and chemicals in the production process. All our fabrics are woven in our factory in Enschede. The ready-made products, including tea towels, pillows and plaids, are made at various Dutch manufacturers. These studios have in common that they work with people who need to work in a protected working environment. In this way we contribute to the training of skilled professionals and job creation. For us, that is part of sustainable, social and local production too. Our objective is to produce as locally as possible, and enable entrepreneurs to choose for a sustainable production method. In this way we make a sustainable and honest product that we can be proud of.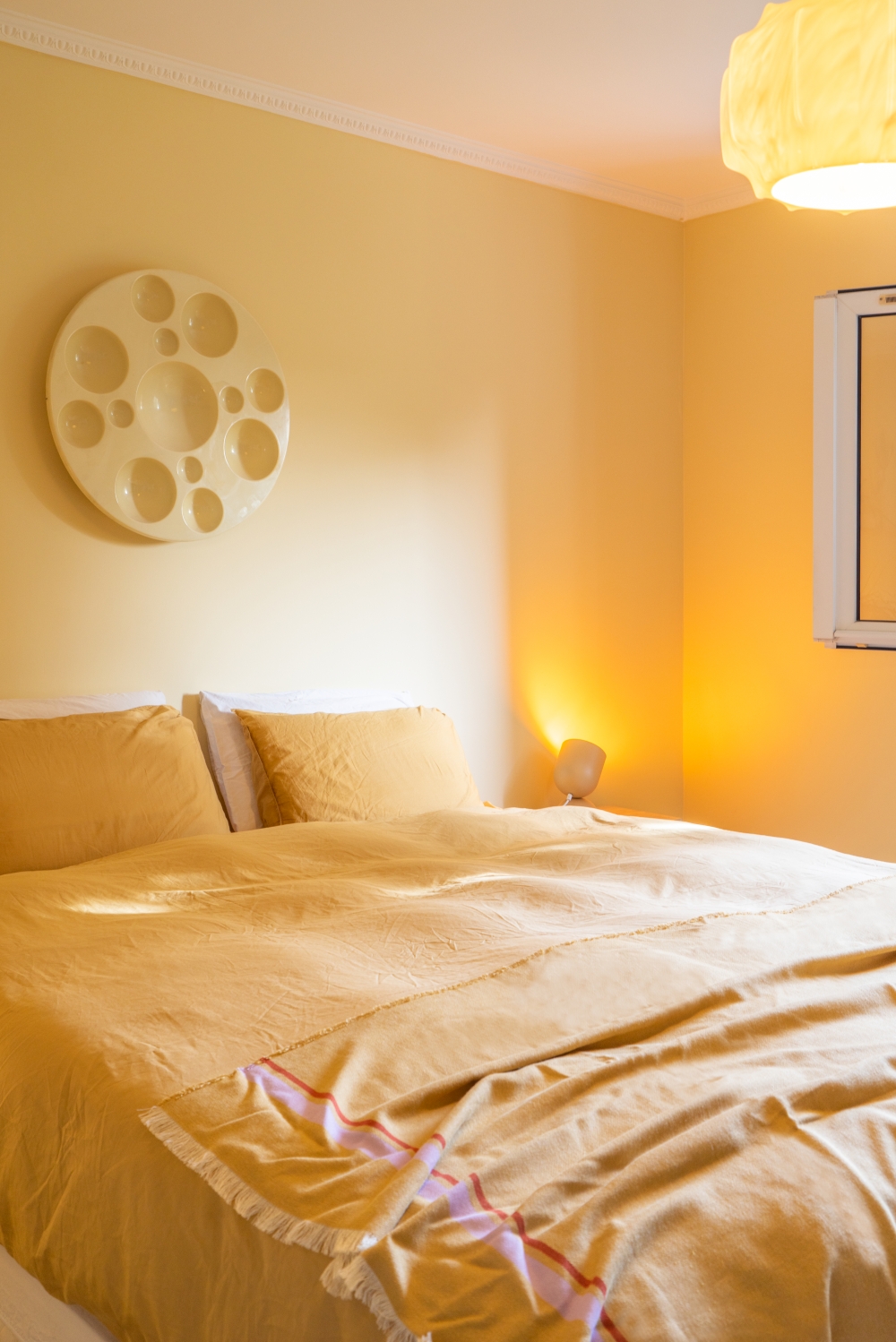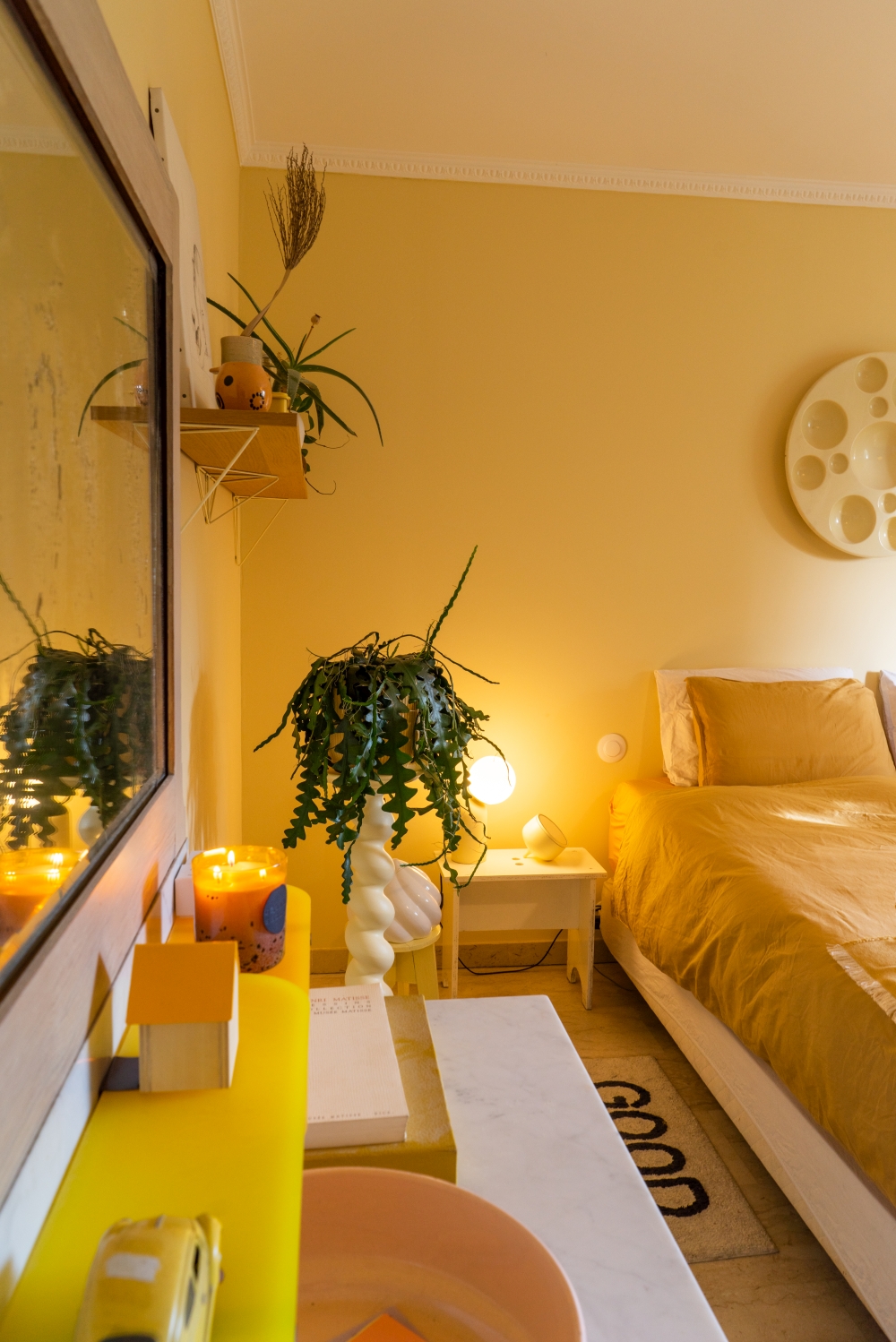 A soft new year, filled with focus, love, common sense, trusting your intuition, and many sweet dreams!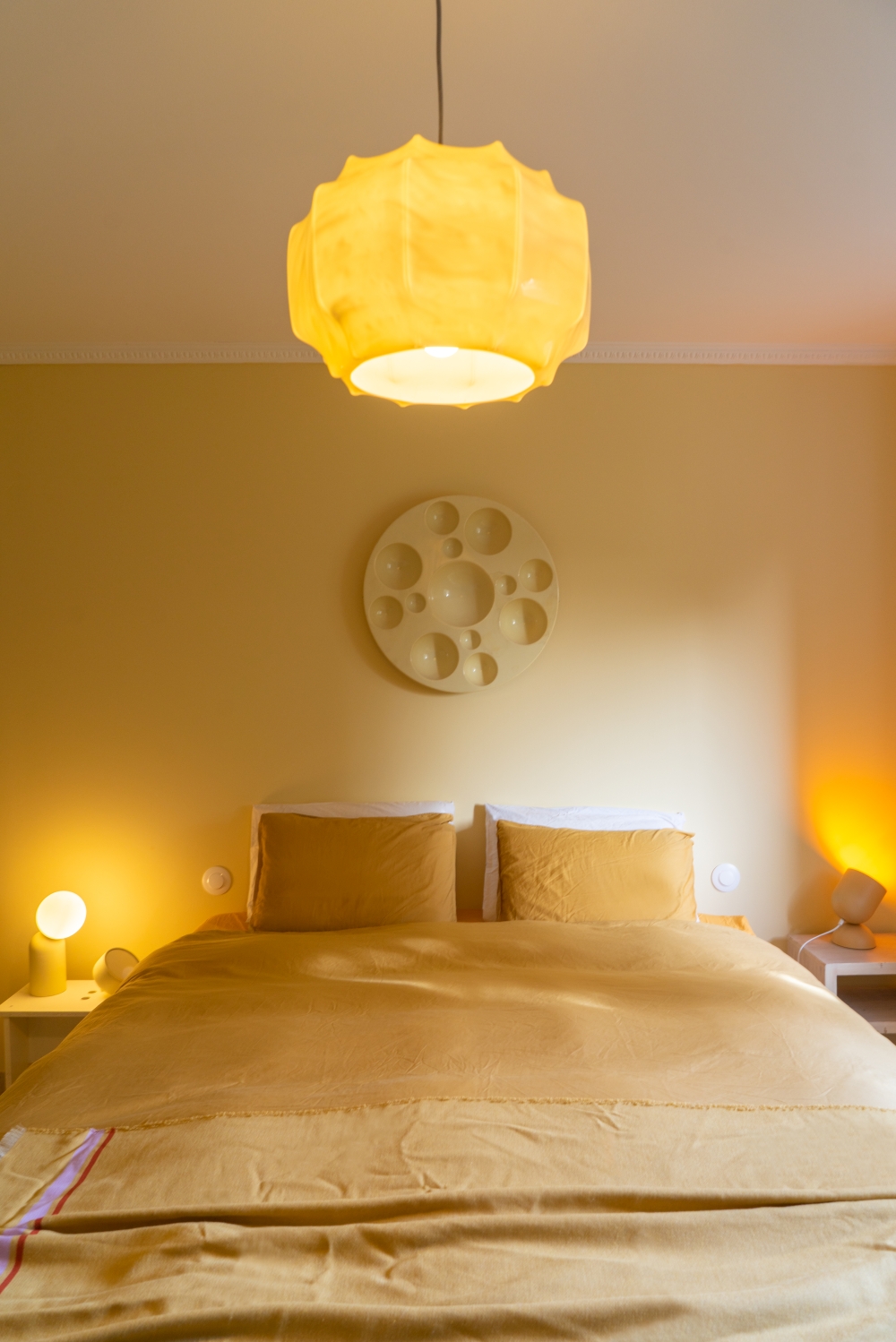 This post includes pr gifts and personal Christmas gifts, but all photos, opinions and words are my own. Happy New Year!