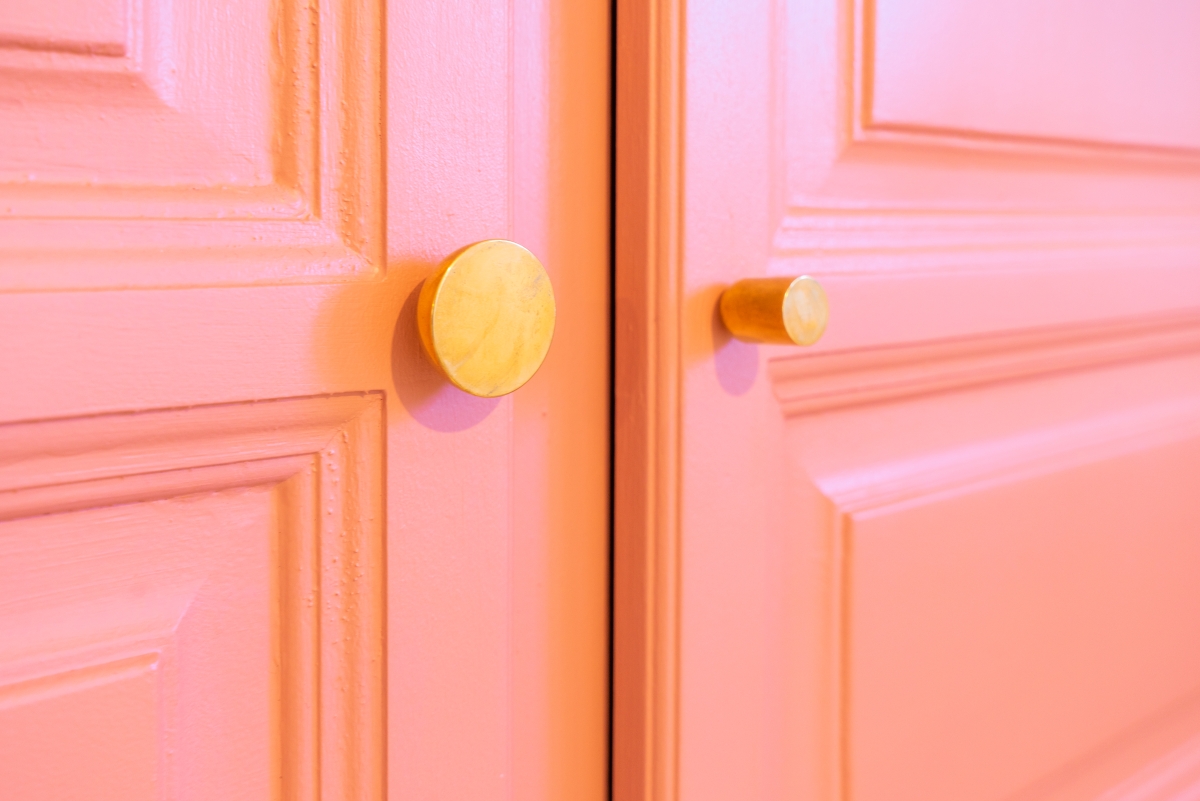 Now that 2022 is in full swing, I'm delighted to FINALLY share our latest project: the room makeover of our dressing, storage room, office, baby room, guestroom. At the moment it's a multifunctional room that was also the darkest room in the house. When I spoke with Charlotte Cropper during our Lick Colour Consultation almost 3 months ago, I mentioned the room and she was excited to help me find a solution for this space. She created a moodboard based upon my wishes to add warmth into the room and to cover the dark color of the sliding walls. For a moment I thought I could cover them with some kind of wallpaper (Lick has some really fun ones), but it would be way too much pattern for such a large wall. We decided upon priming and painting the doors with an eggshell paint from Lick.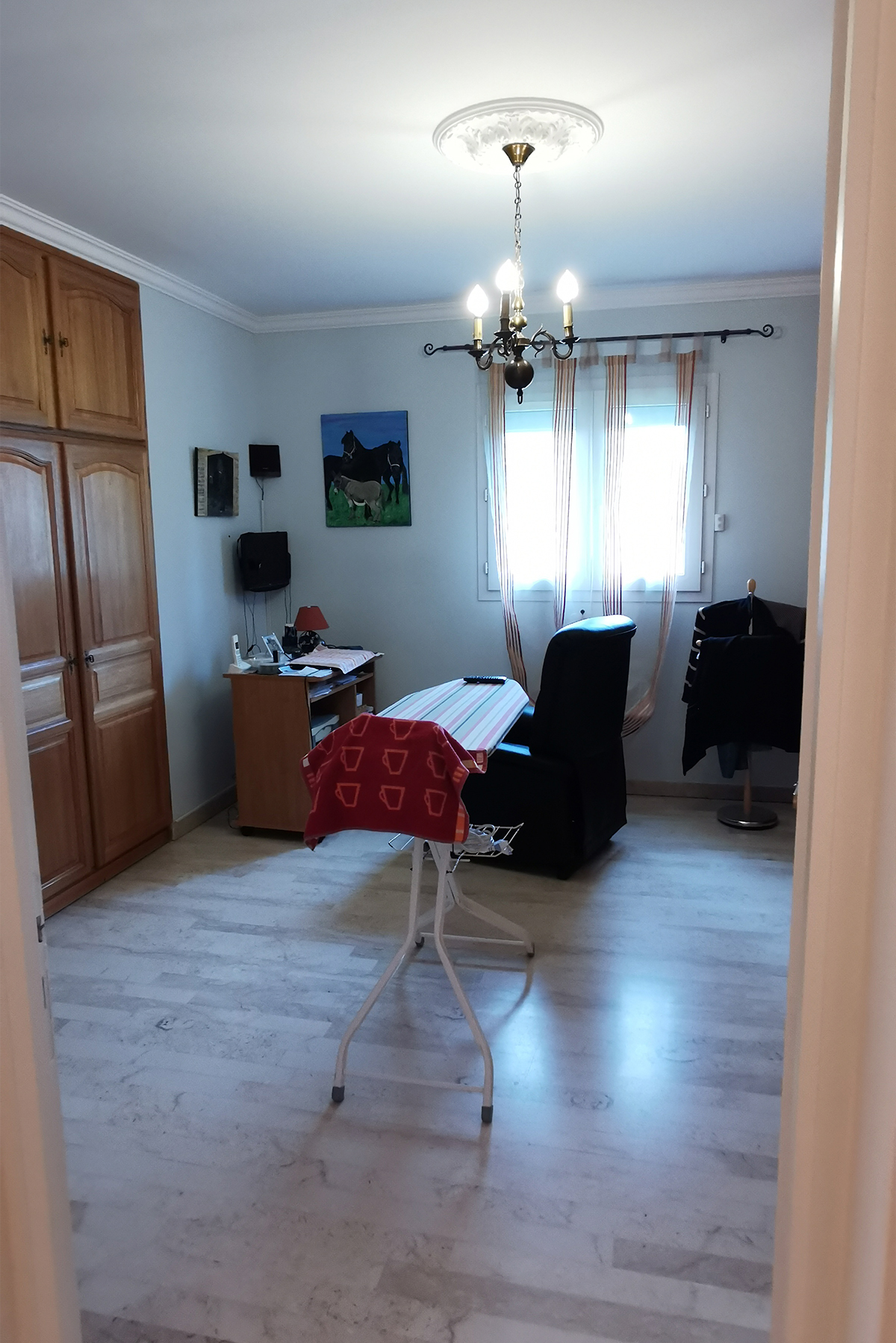 In this room, we have only one small window located north/north-east, and the walls were painted in greyish blue. On the left we have an integrated wardrobe with wood panel doors that were dark brown when we arrived. Painting them basic white was one of the first projects I tackled last year: it brightened the room a little bit until we decided what to do with the room. The entire room still looked dull, grey and cold. On the right we had this huge wall with sliding doors in a dark brown/orange-y hue. Behind these laminated sliding doors used to be an old dressing structure that was nearly falling apart: we replaced it with Ikea shelving units that we brought from our previous home, and we use them as storage space, as we don't need another wardrobe.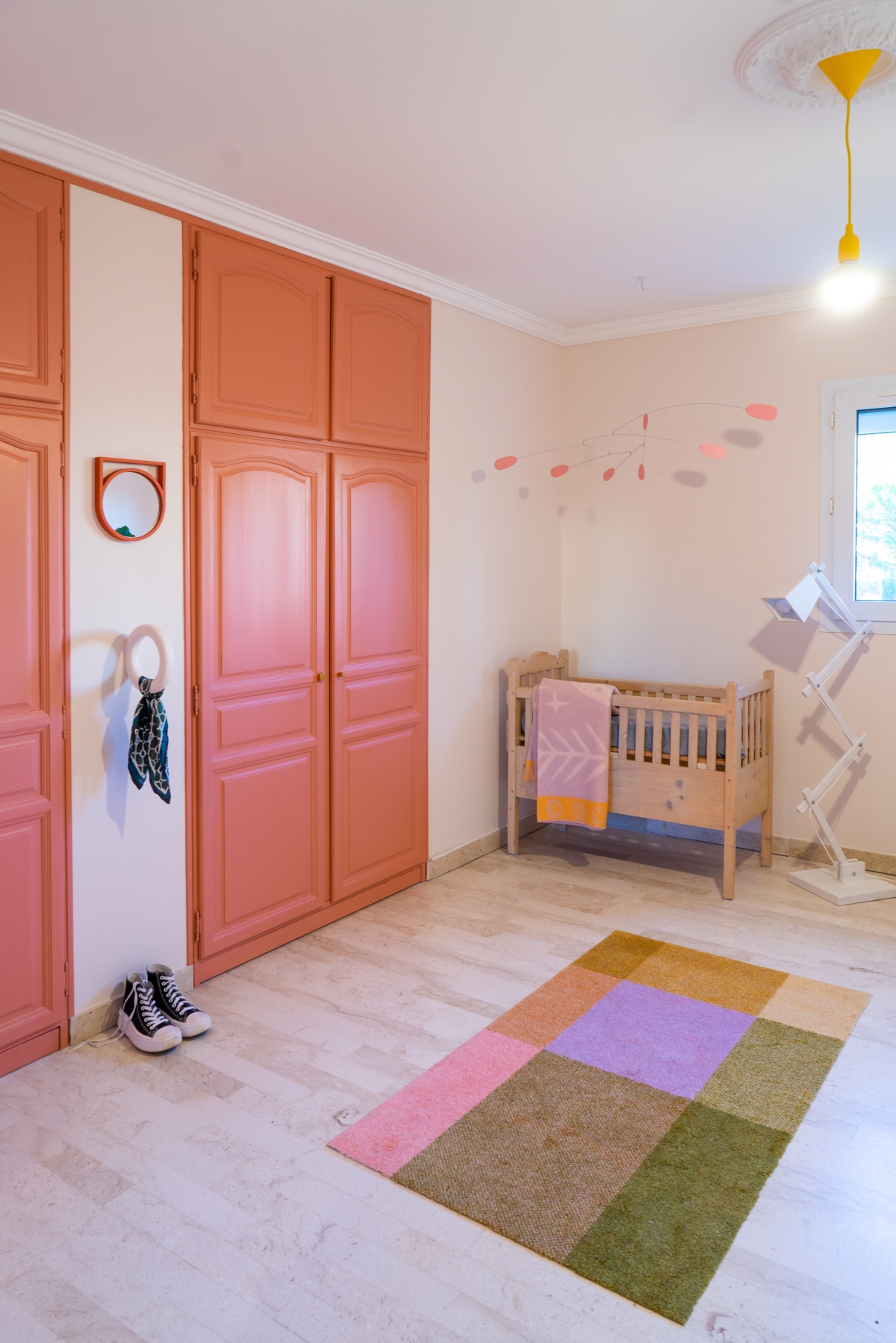 When the light in a room is dark and cold, it is usually recommended to work with colors that have a warmer tone. And that's exactly what we did. We painted the walls in Lick Pink 01 matt, and the sliding doors in the same Pink 01 but in eggshell to give it a nicer finish. But because we are not afraid of color we picked a fun RED 03 accent color for the wood panel doors: it's a deep terracotta with a peachy pink core. We dismissed the alternative RED 01 accent color as it looked very dark for this space.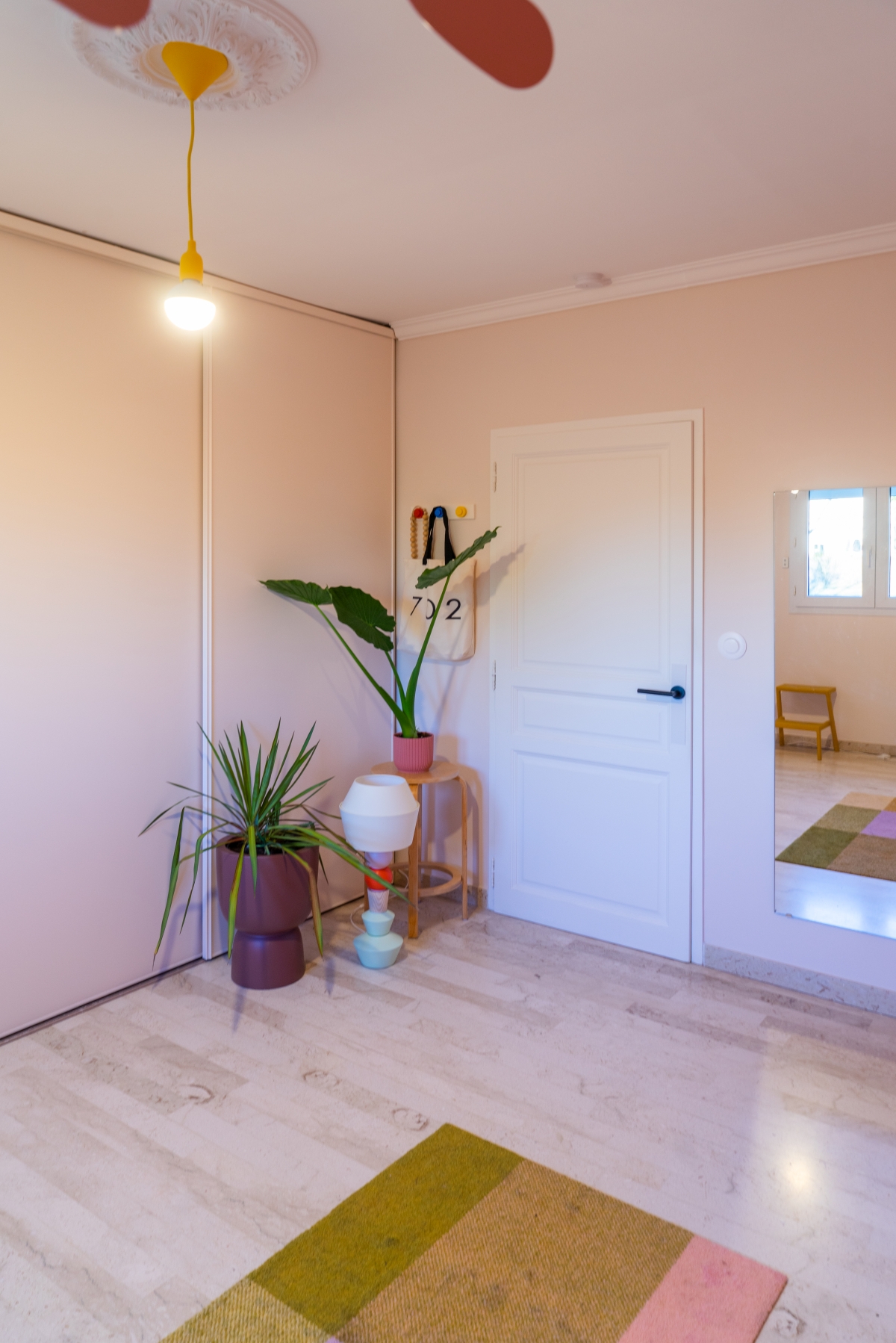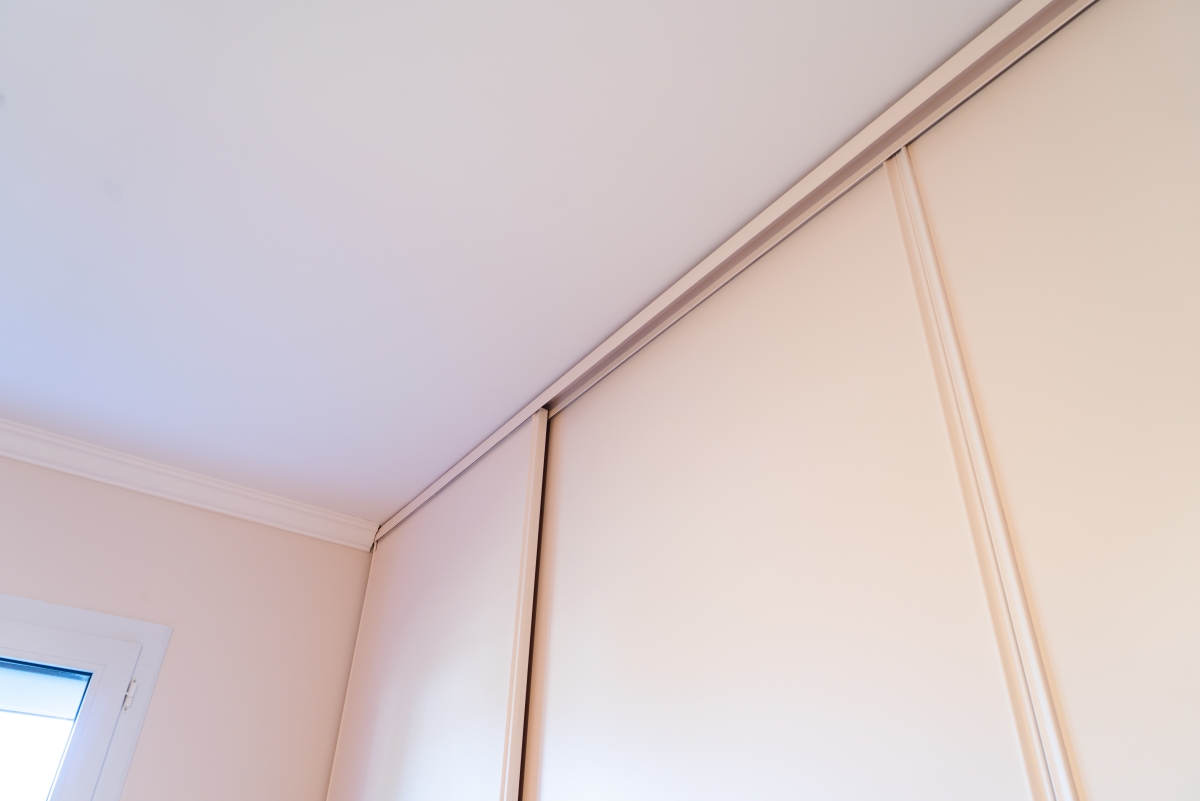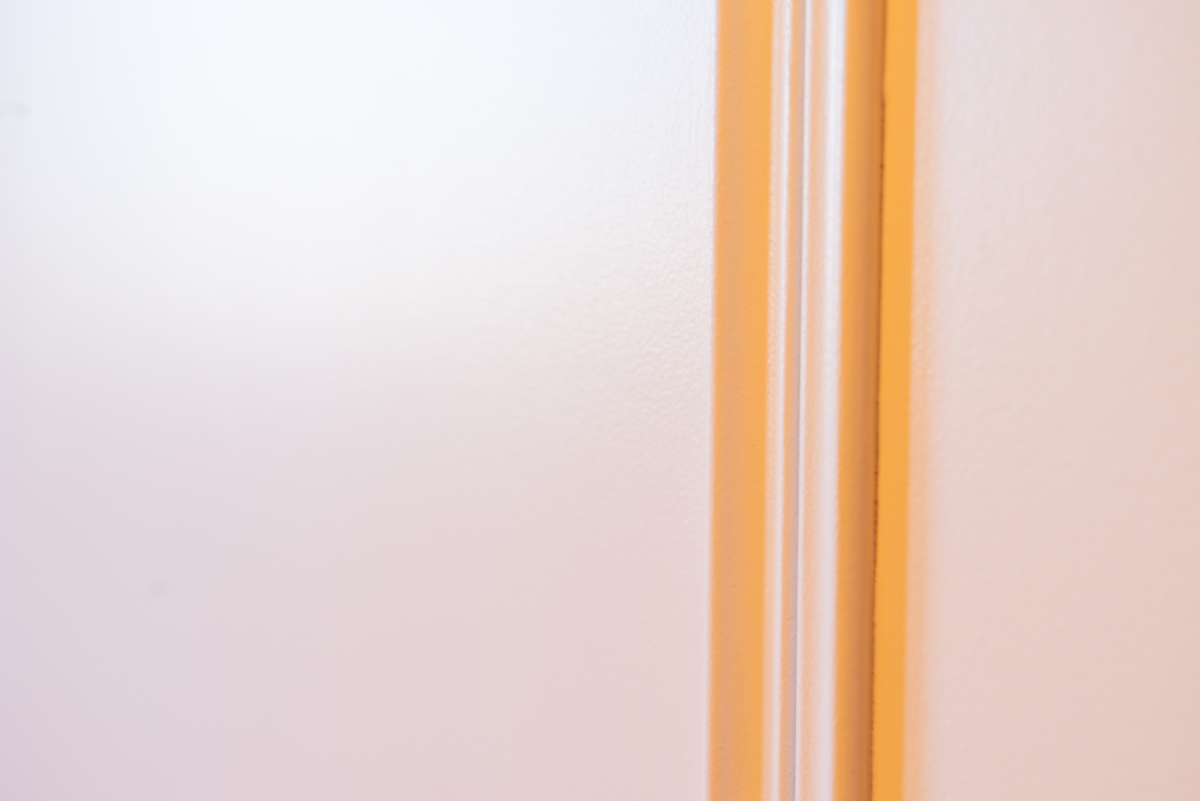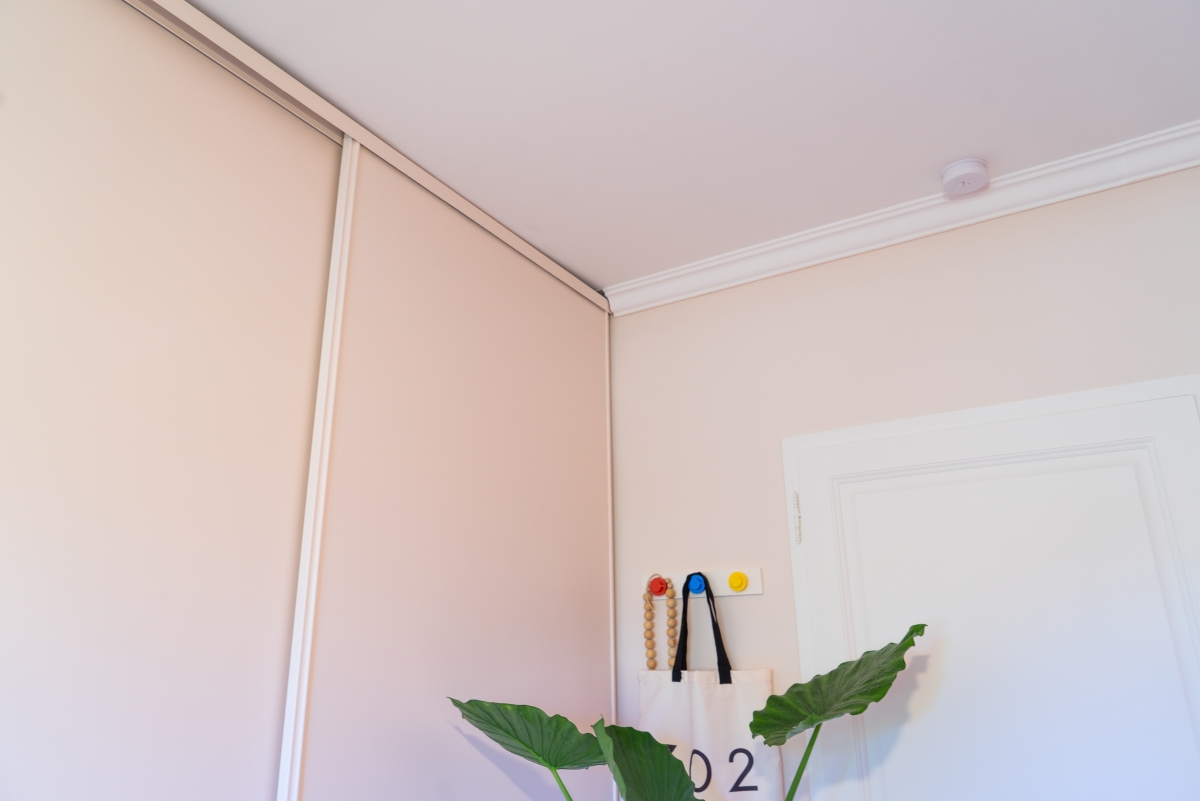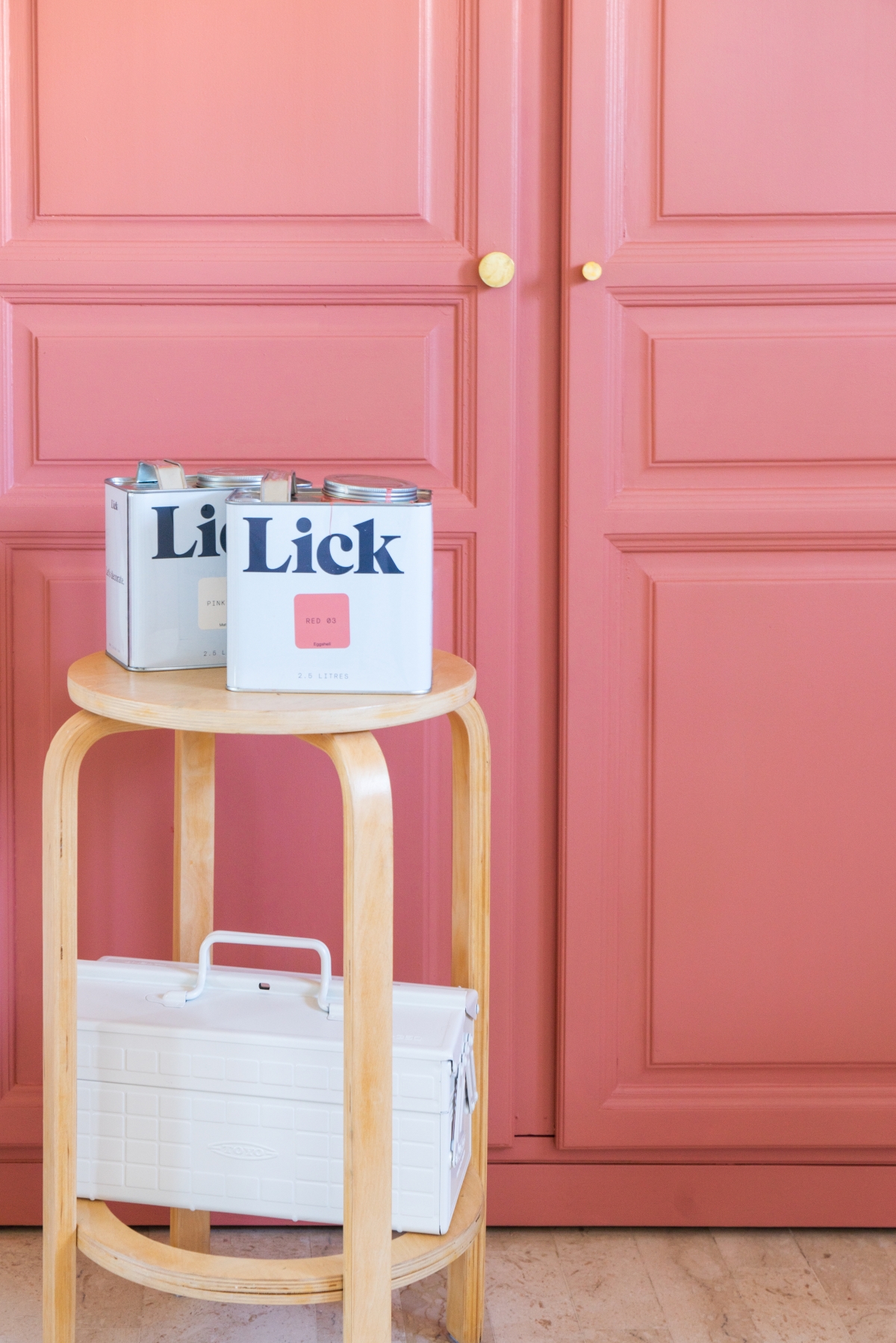 The painting process was one of the most longest and spread-out paint jobs that I've ever done. Usually when I start a painting job, I like to go as fast as possible to get rid of all the mess that comes with a painting project, and to style a space and enjoy the result. Not this time: I was interrupted several times, and especially the sliding doors need a lot of layers to get the coverage I wanted. I added 3 layers of primer before at least 4 layers of paint. Throughout the process I decided to also paint the rails and frame of the doors, so that took more time as well. And I also forgot that I needed to fill a lot of holes in the walls that needed to dry and be sanded before I could start that part. Anyway, in the end it was worth it, as the result it a sleek result with warm colors. The space feels much softer and warmer now.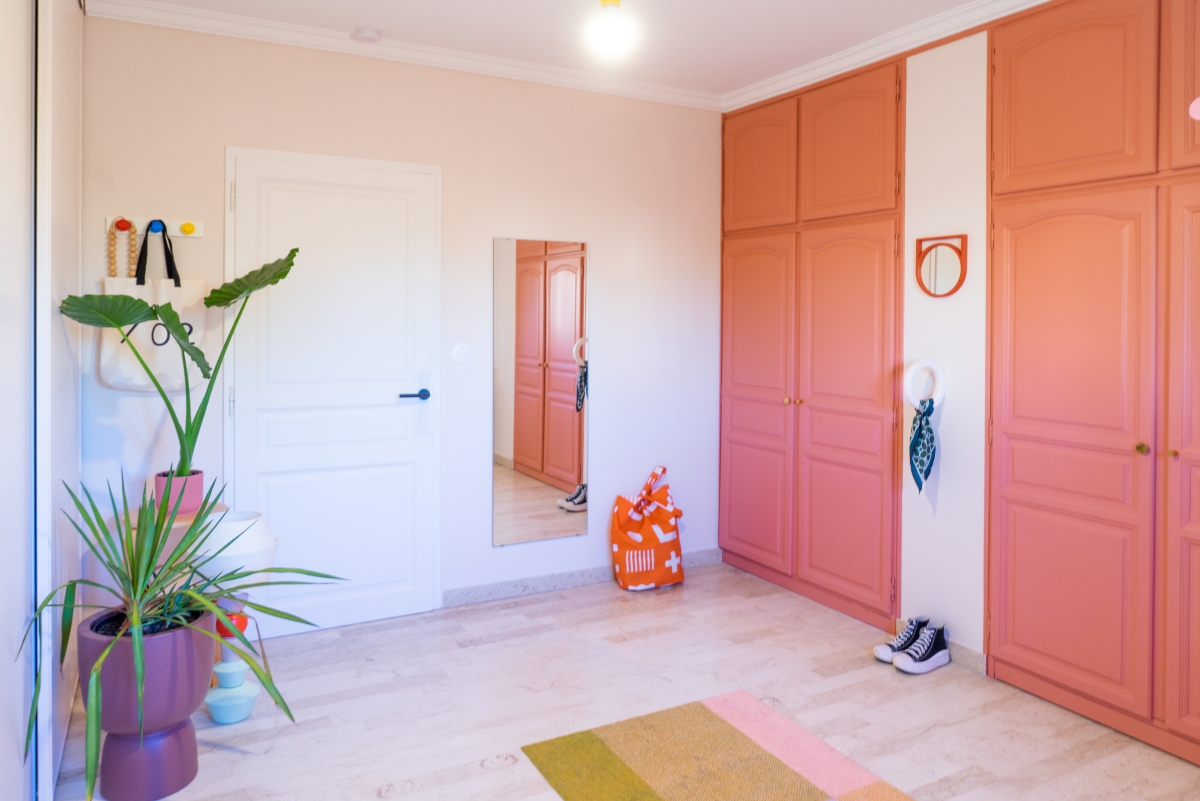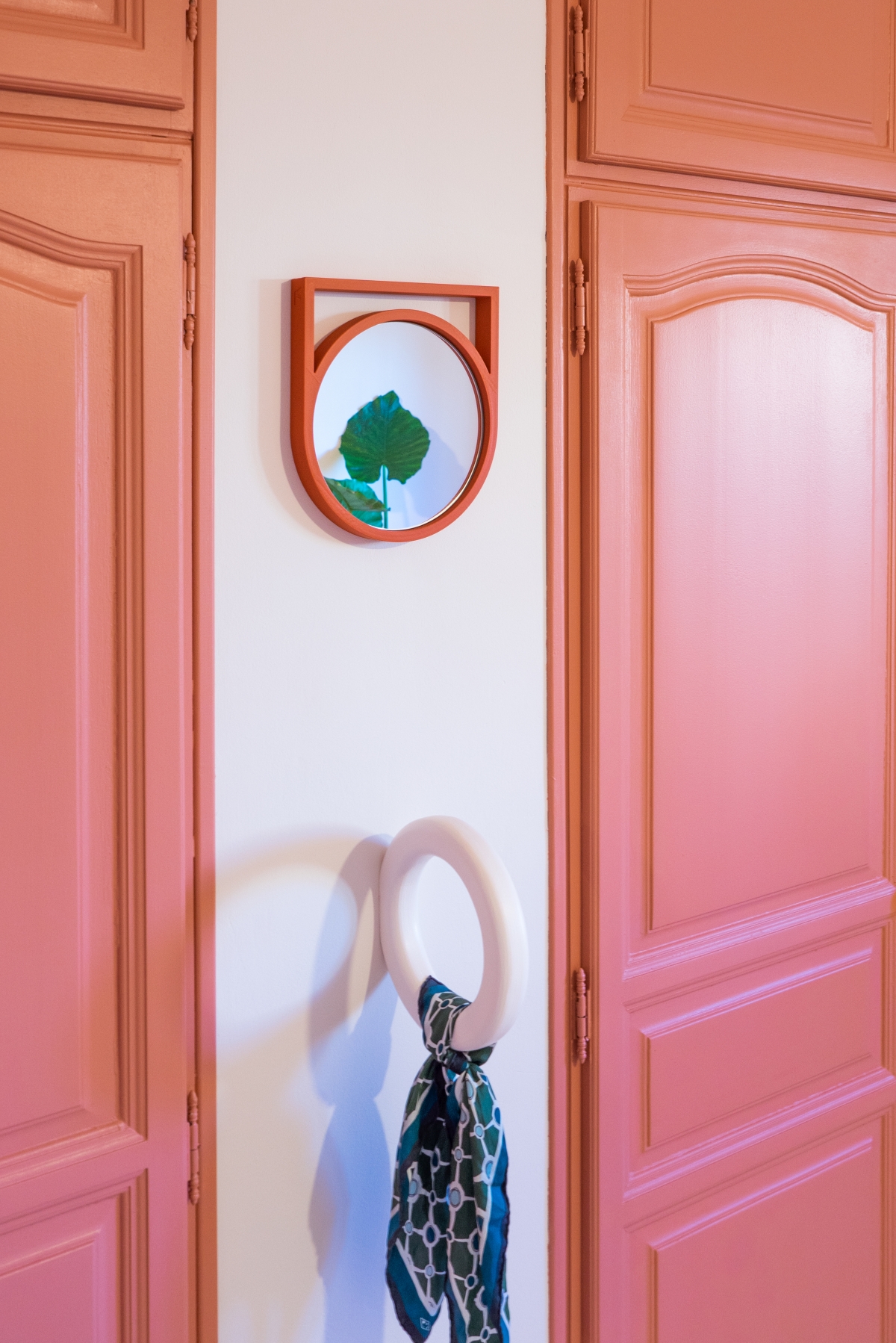 Once I got to the styling part: it became fun: as you can see I used the Heymat Mix Teklan mat again as it matches the color palette of this room so well. Actually the mat looks amazing in our guestroom and entry as well, I keep moving it around because I love the colors so much. The metal ladder that I used to hang my clothes disappeared and we mounted a round wooden wall hook that my papa created for us years ago to the wall between the panel doors. I painted it in the same Pink 01 eggshell so it blends right in. We also hung a Lego coat rack and a beautiful 3D-printed Halo+ mirror by Valentin Lebigot in terracotta red. On the crib, is the soft pink Cat Mountain blanket from Tropical Scandinavia. The colorful lamp is designed by me for Cubit, the plant pots are by elho (models "pure coupe" and "vibes"), the white floor lamp was designed and created by my parents, just like the crib. The Alvar Aalto lookalike barstool was thrifted. The panel door knobs are called Reflection from Superfront.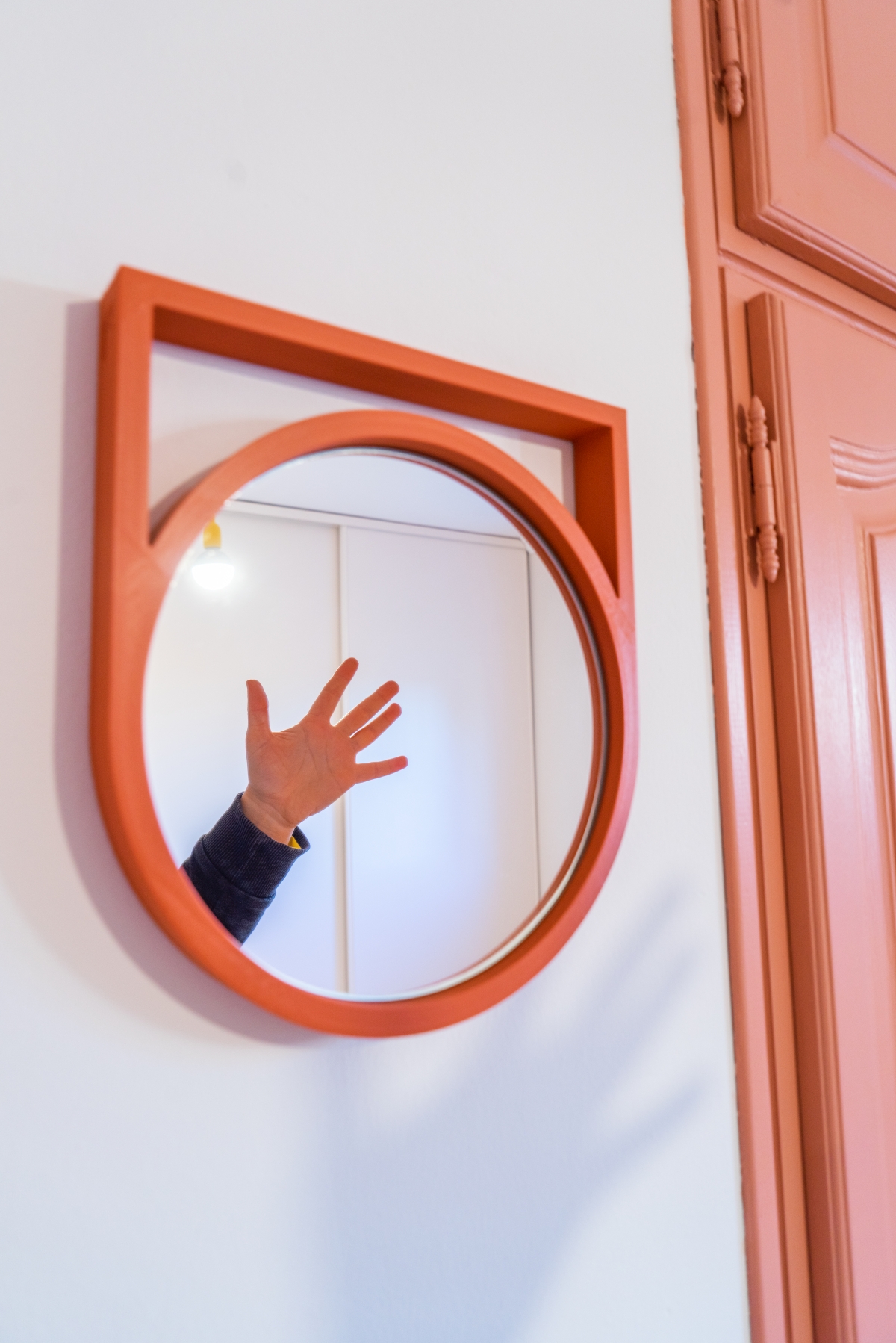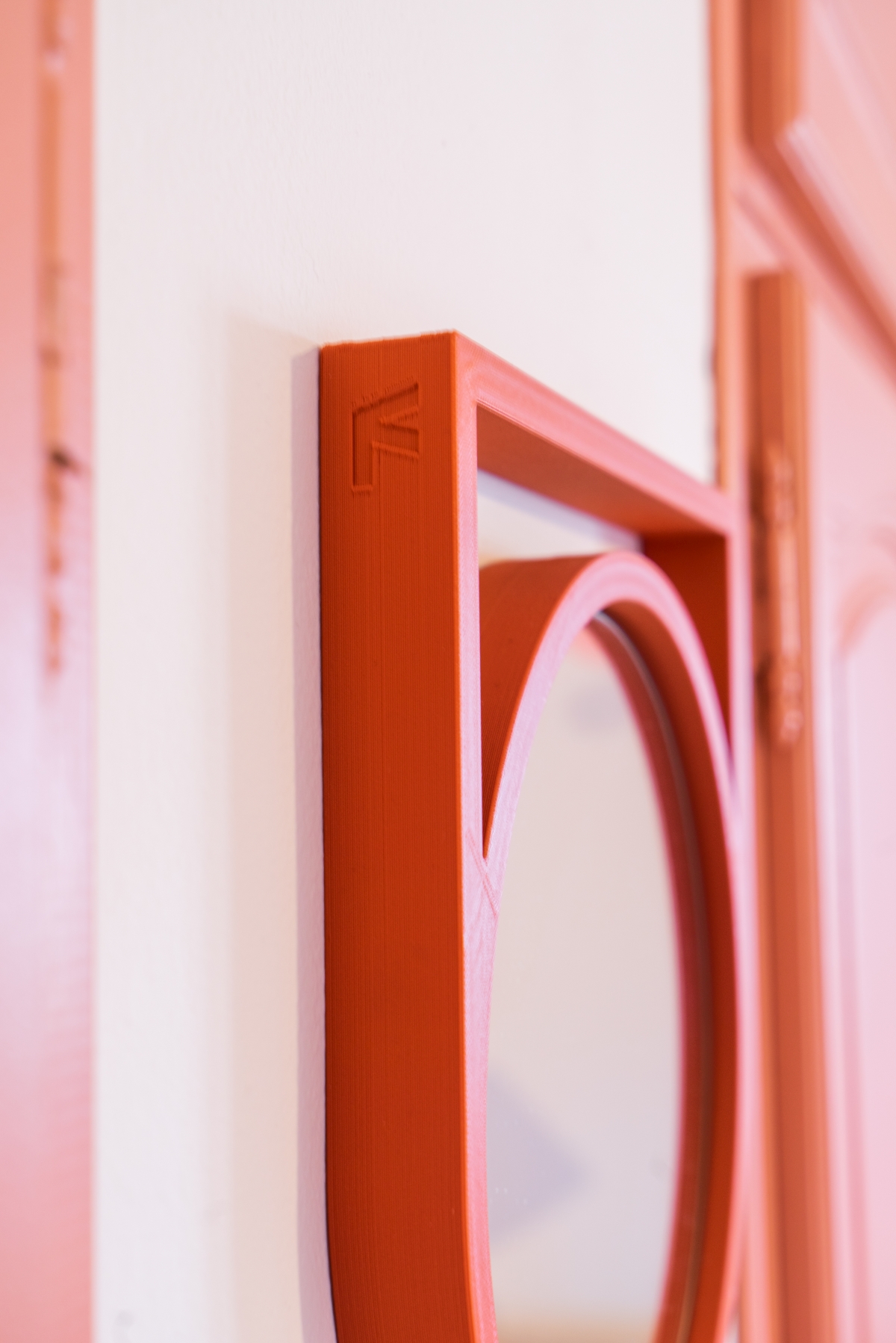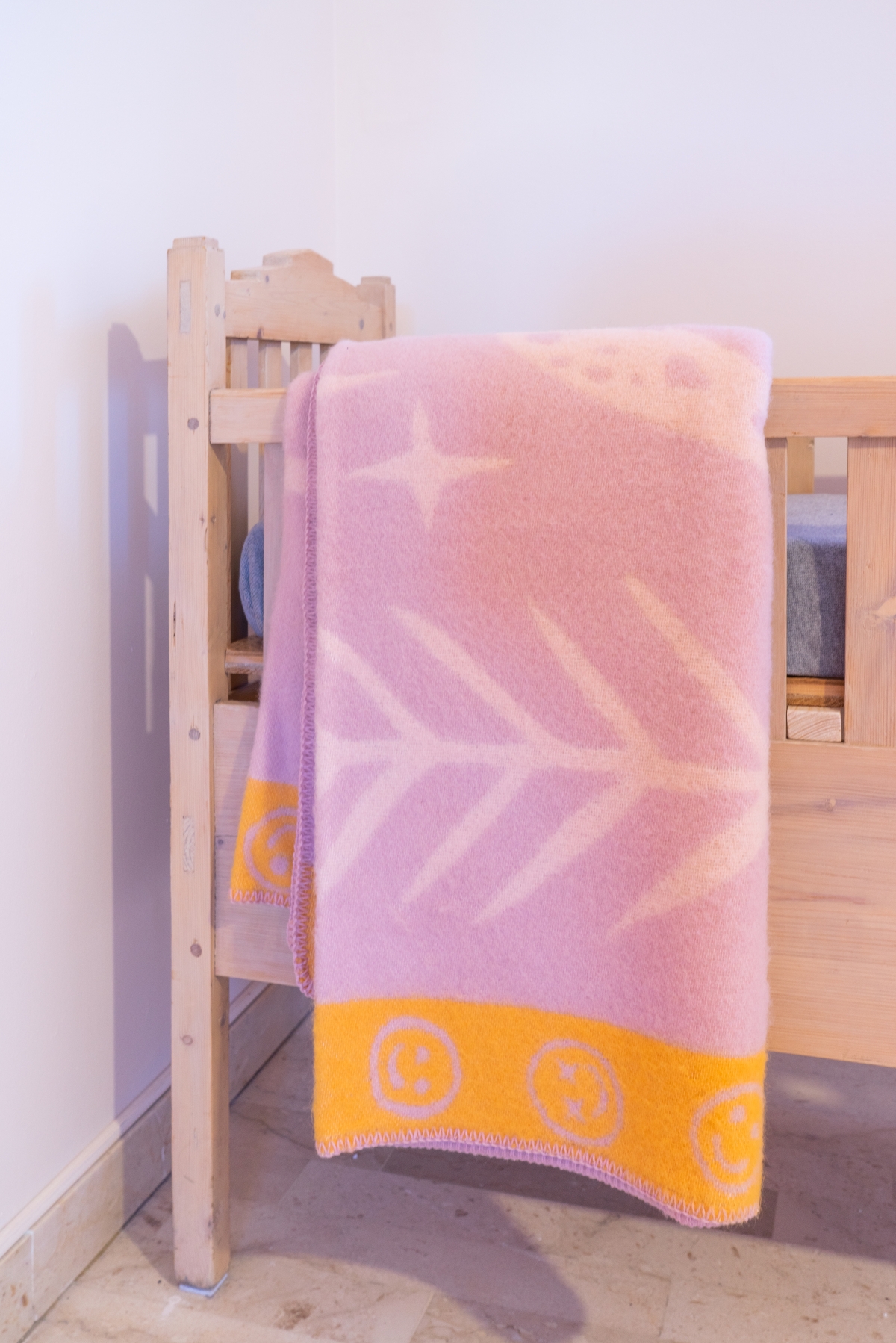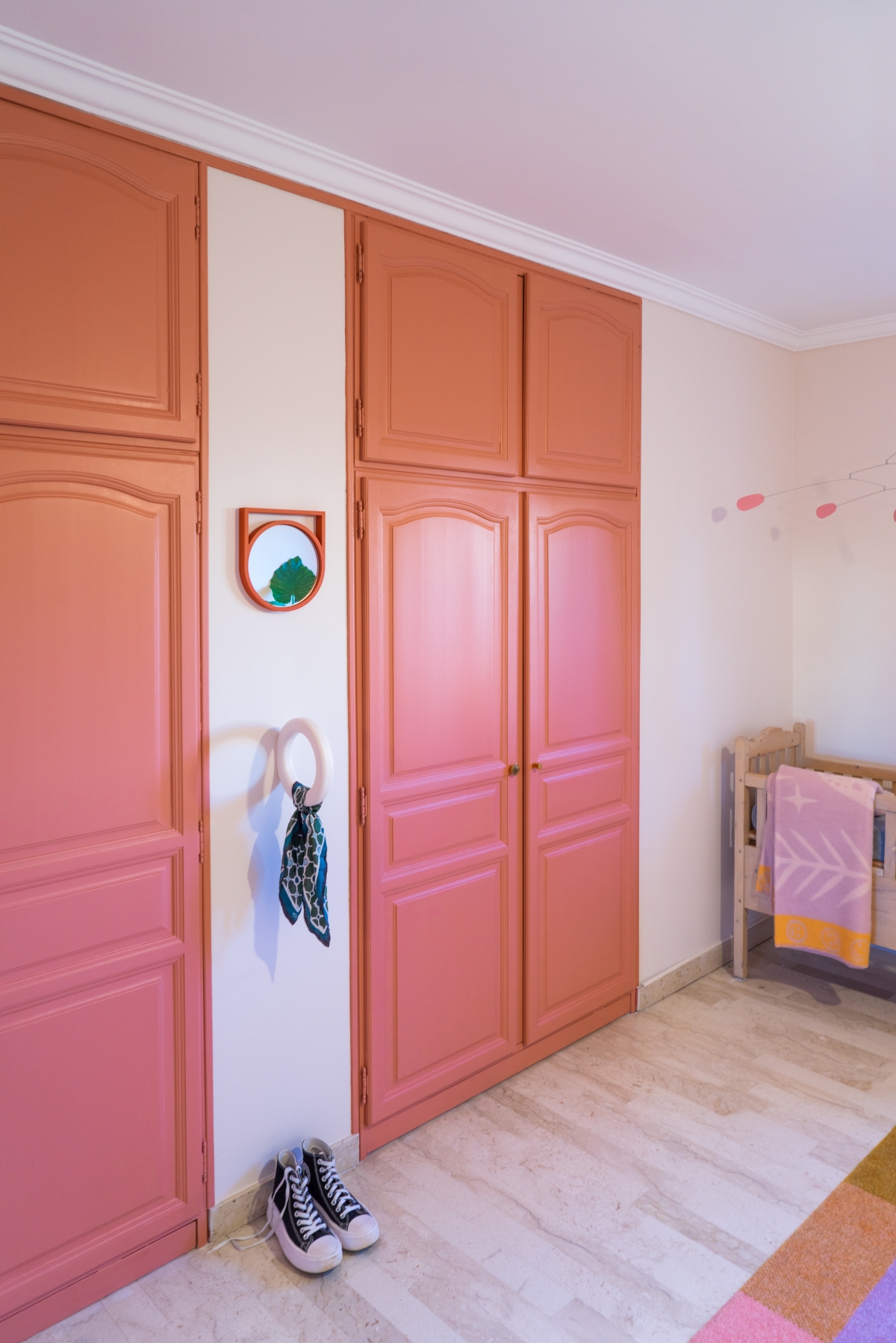 So that's it! A multifunctional room that looks so much brighter, warmer and softer and that actually feels nice to be in. You may be surprised to not see a lot of plants here: this room is too dark for most plants to thrive, the two that are there now, are only hibernating here. For these kind of multifunctional rooms that you don't actually spend a lot of time in, I don't recommend to fill them with plants. Plants also enjoy our company and it's also easy to forget about them when you don't see them ever so often. I also very much appreciate that the color palette of this room flows with the other colors in our home: the panel doors have a more pink terracotta hue than the coral brick walls in our kitchen, but they feel good together.
Here's to the next SOFT project of the year!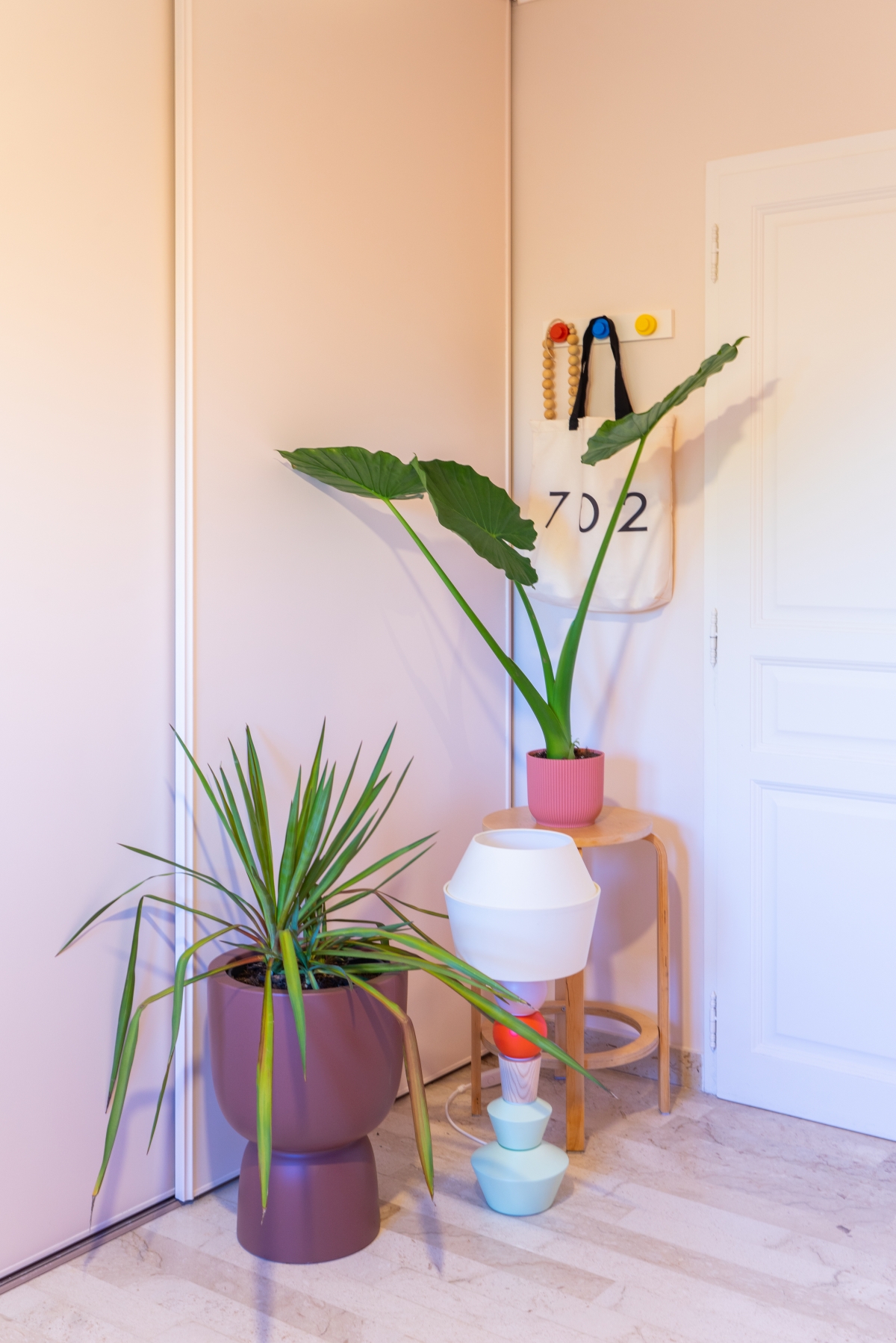 Paints (Pink 01 matt, Pink 01 eggshell, Red 03 eggshell) were kindly provided by Lick.