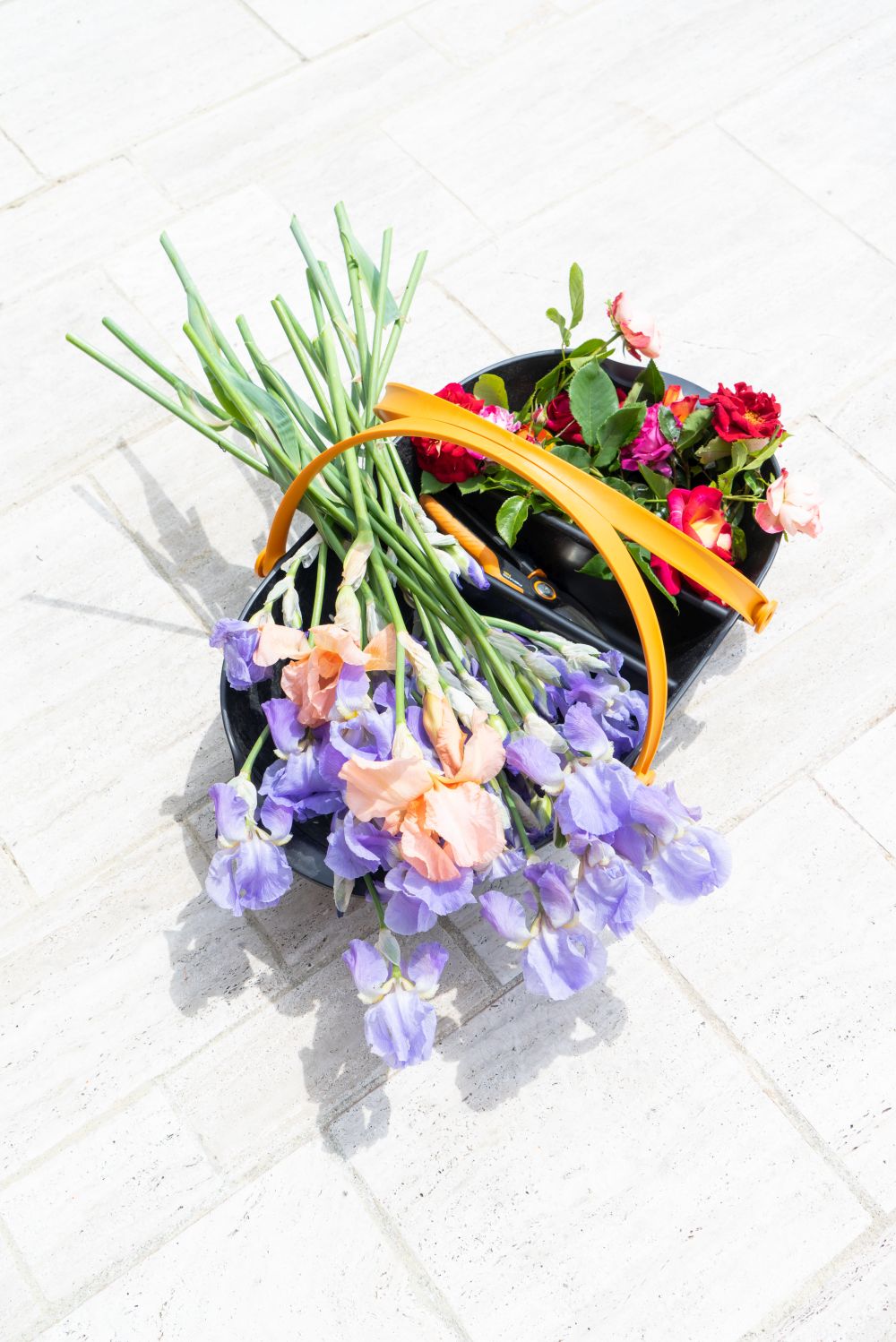 Spring is here and it's vibrant, sunny and "sauvage"! We keep large parts of our garden wild and free with wildflowers, wild thym, sage, rosemary and lavender and it has been loudly buzzing for weeks now with honey bees, beetles, wasps and butterflies. Of course the irises and roses in the garden have been blooming as well, even though they attract less bees (and more beetles). That's why I was so happy when Fiskars invited me to be one of their ambassadors of the Fiskars Happy Bees campaign this spring to promote sustainability in our gardens and help the bees. I've been using their scissors and pruners for many years and to have the opportunity to share some ideas for a bee friendly garden is such a joy!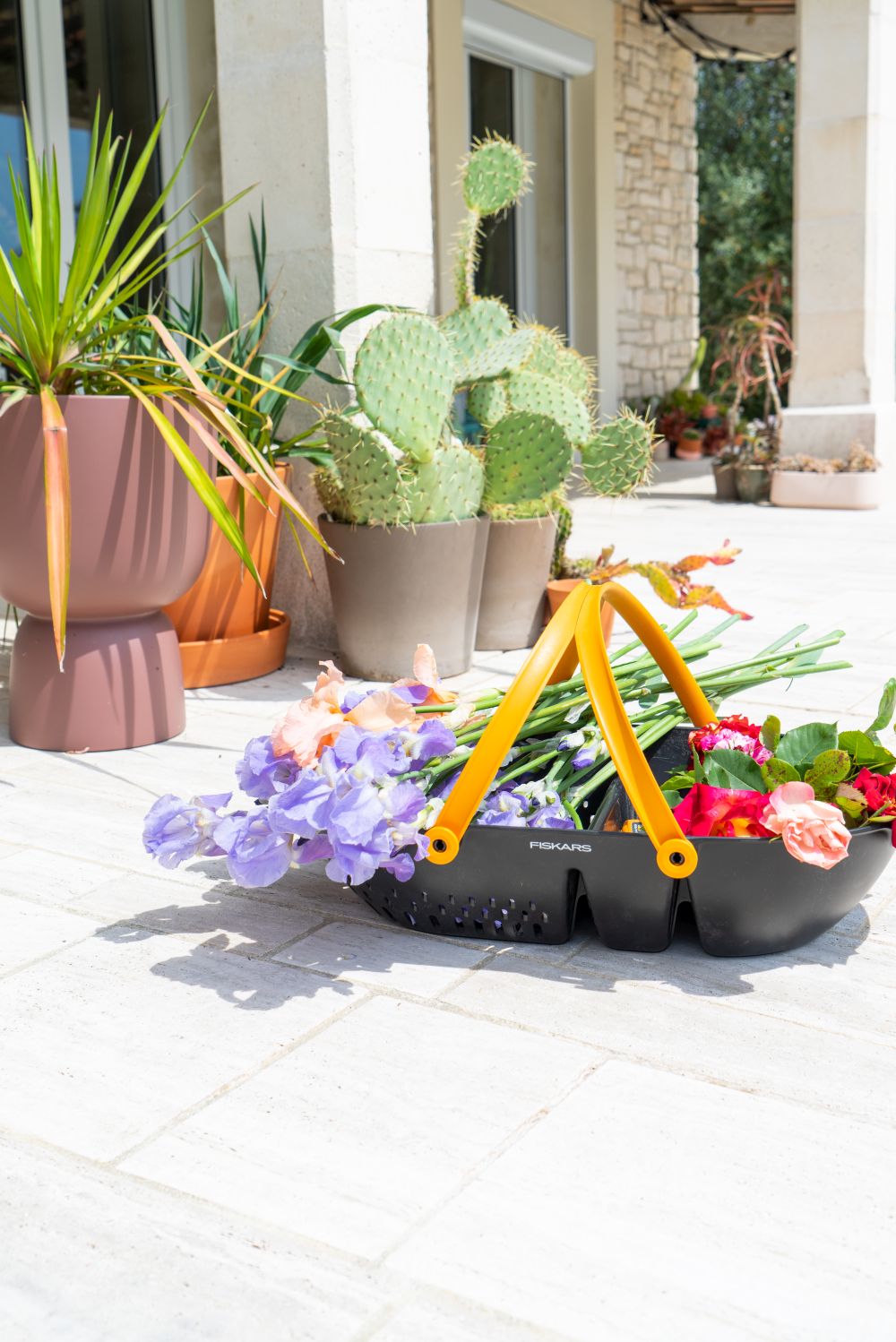 There are so many (small) things we all can do in our gardens/balconies/small urban patches to help and the support our precious bees. Planting honey flowers, aromatic herbs and trees (that blossom!) help the bees to find nectar and continue to pollinate. Because without bees: no life!
In our garden we grow a lot of aromatic herbs, like sage, rosemary, thym, lavender, mint and verbena that attract a lot of bees once they're blooming. All these herbs thrive with little water in our dry Southern French climate. But all beekeepers agree: dry flowers don't provide enough nectar to the bees, so it's important to keep them hydrated. I started watering the garden (however sparsely and ideally with rain water) with the Fiskars Waterwheel XL. The hose automatically rolls back into the housing, a bit like a seatbelt in a car, so clever! No more water hoses laying around the garden after watering the garden. Love it!
Different kinds of sage including the yellow blooming Jerusalem sage that attracts a lot of bees: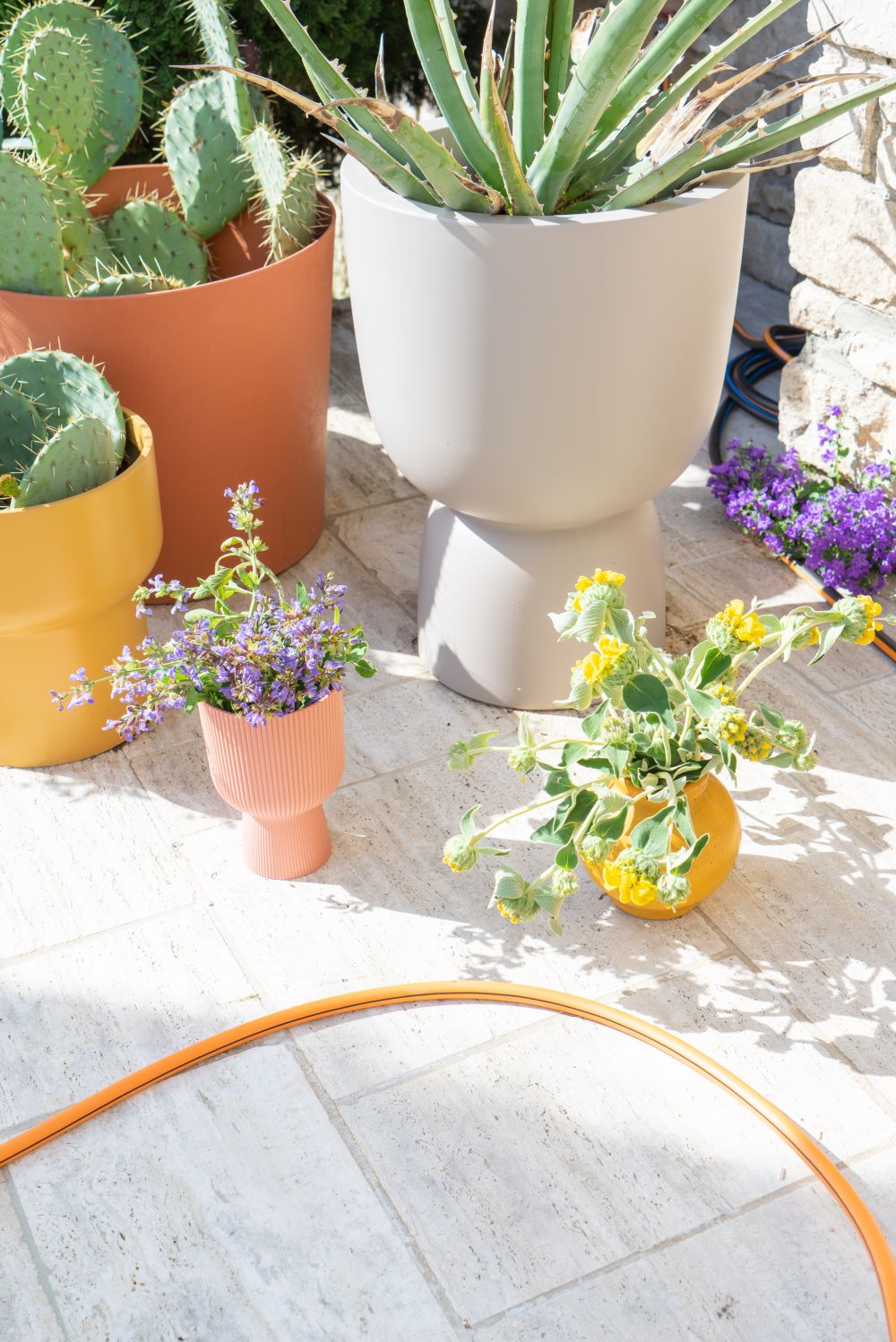 During this spring, which has been particularly dry, we decided not to water a lot. Water is a precious resource, and even though we have our own well, we don't want to push it to its limits as we depend on it for years to come. I've been watering some tropical plants as well as some of the plants that are dear to my heart, but I tend to underwater the rest of them because it's just not worth spilling water in 2022. Having the water hose makes more precise watering so much easier, I only water the areas and pots that I want and don't have water running everywhere. Also, there's no leaking and the Fiskars spray gun with 4 functions is really nice: it can sprinkle, mist, shower and rinse.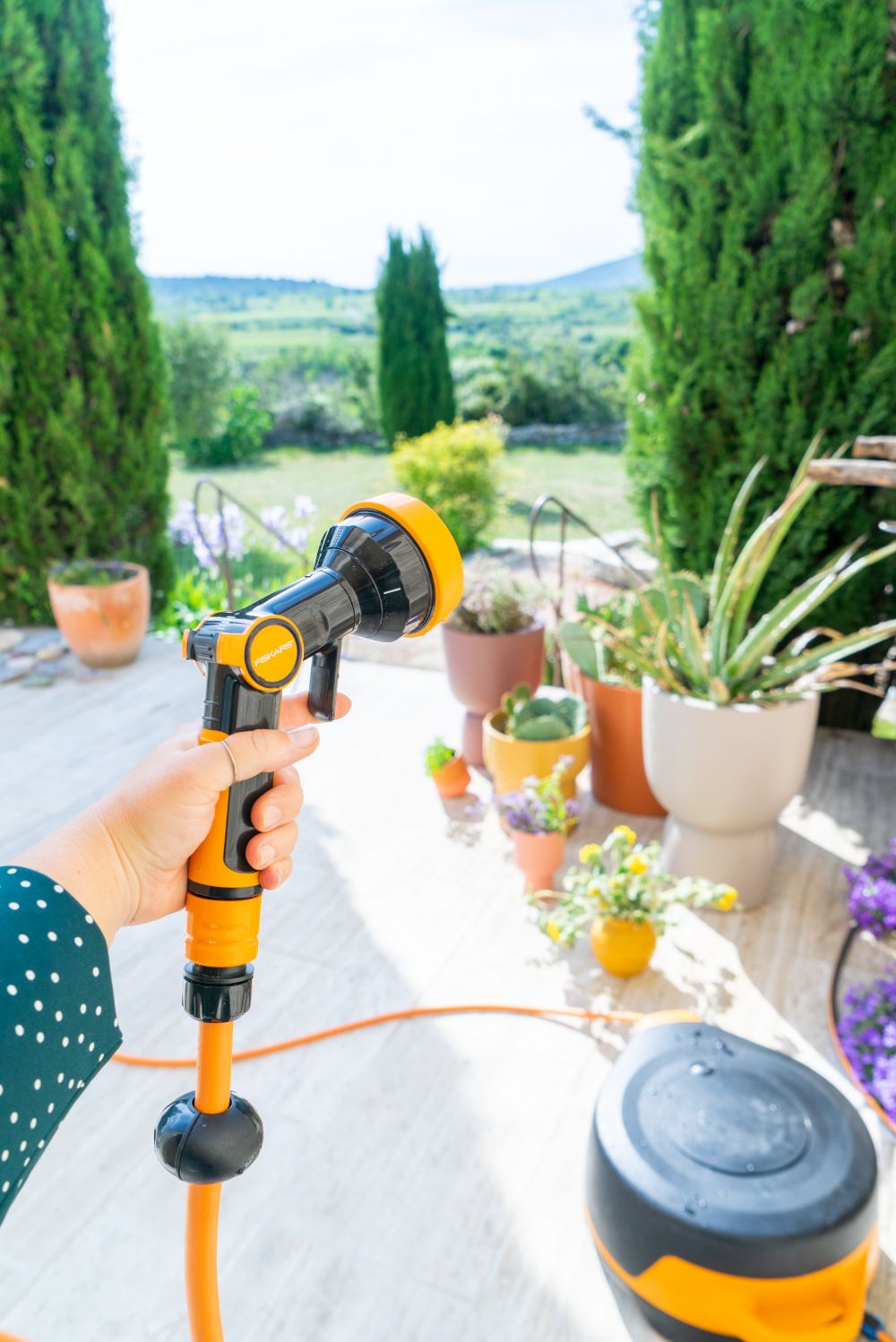 The intensity of the sage flowers:
Refreshed after a little shower: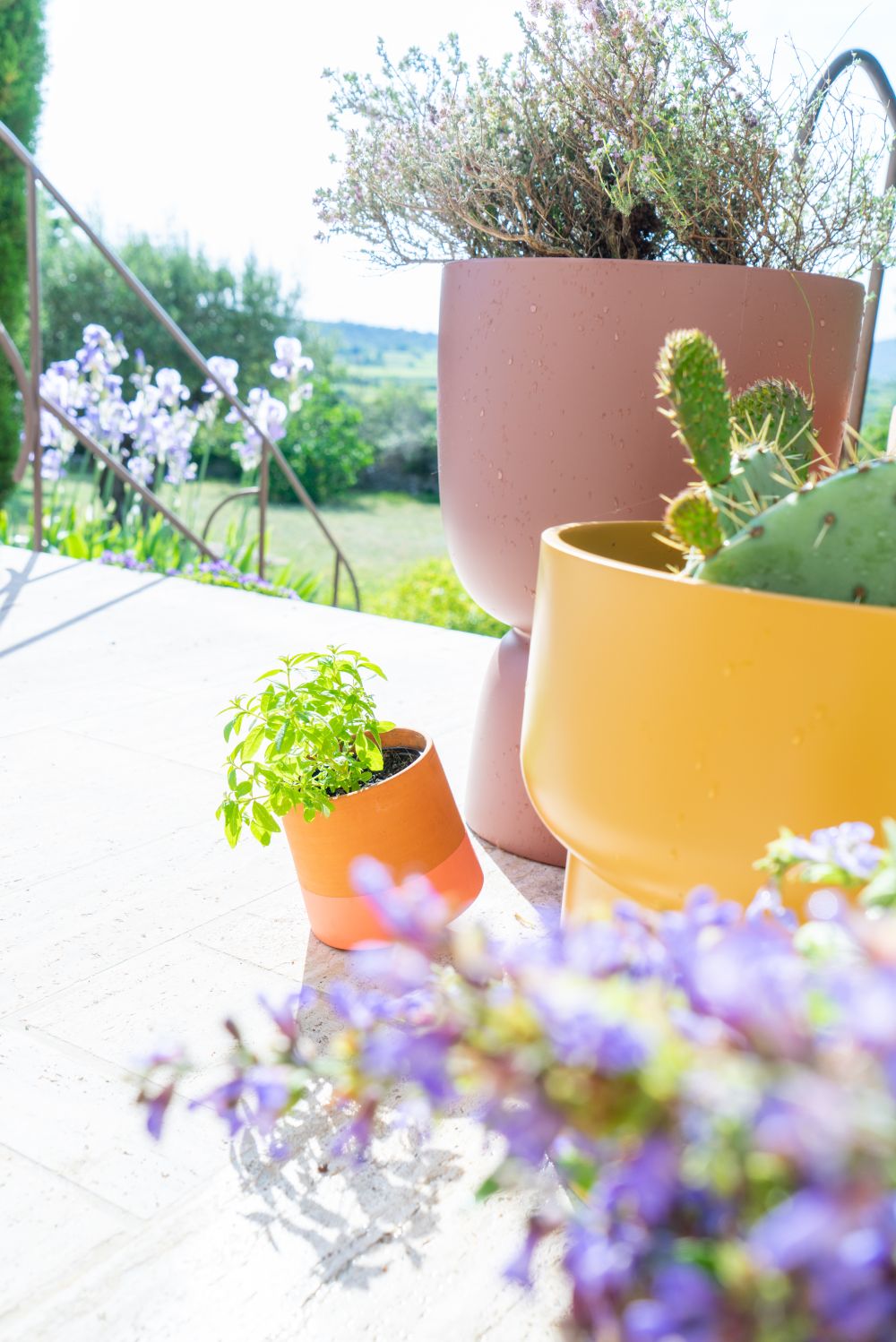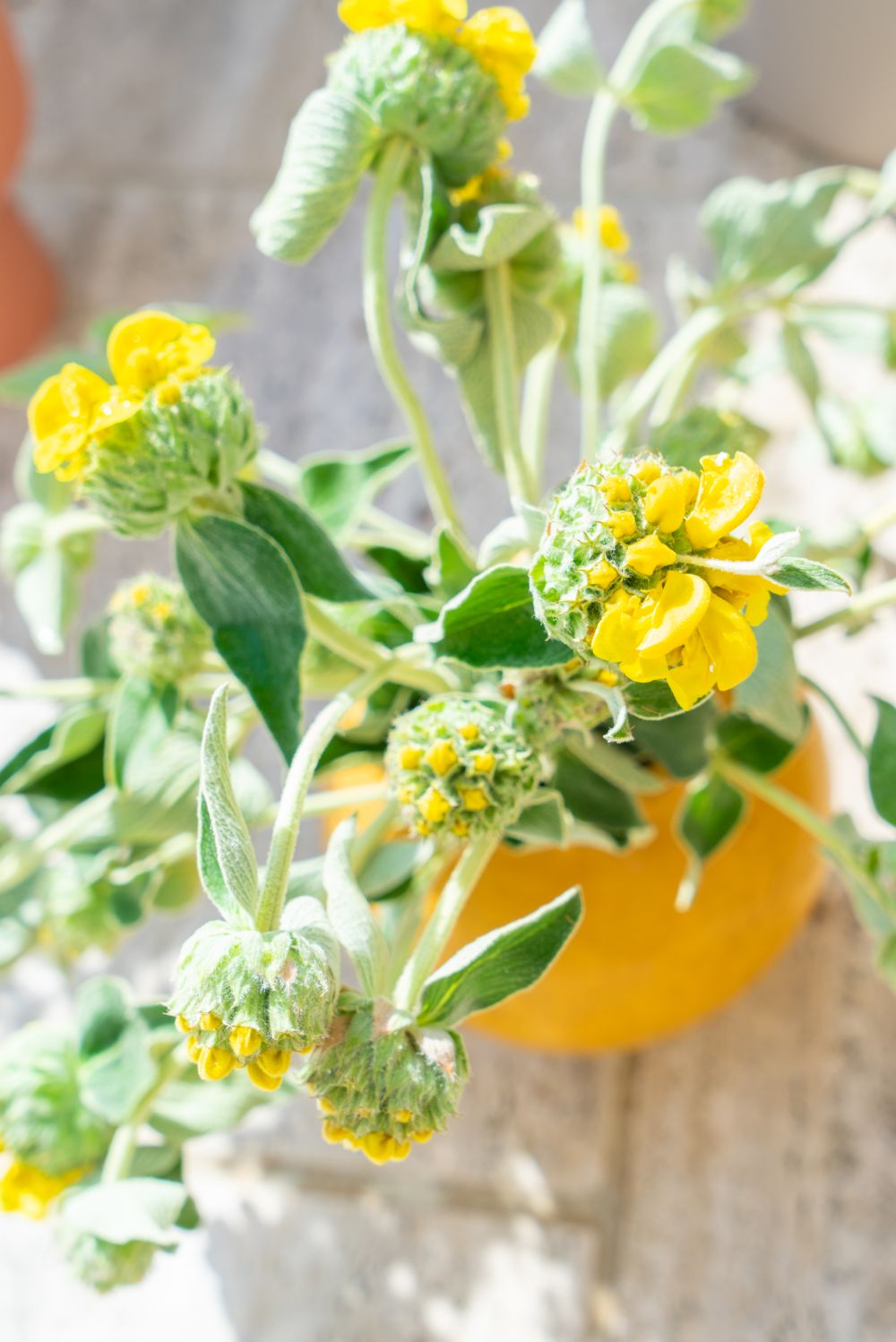 The Fiskars waterwheels is so compact when you roll it back up and it's long enough to go around the entire terrace area and a large part of the garden as well!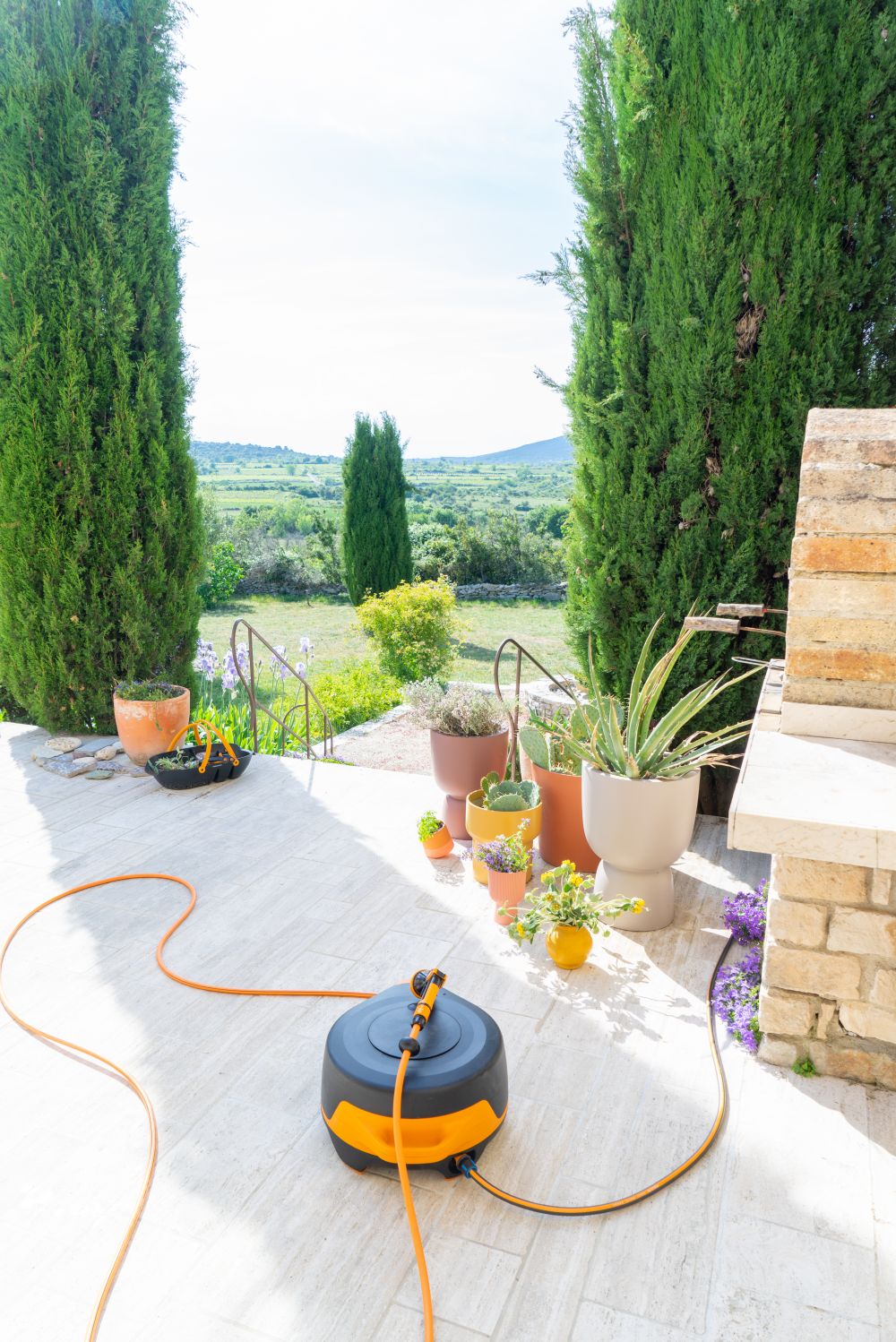 The smell of home: blooming wild thyme: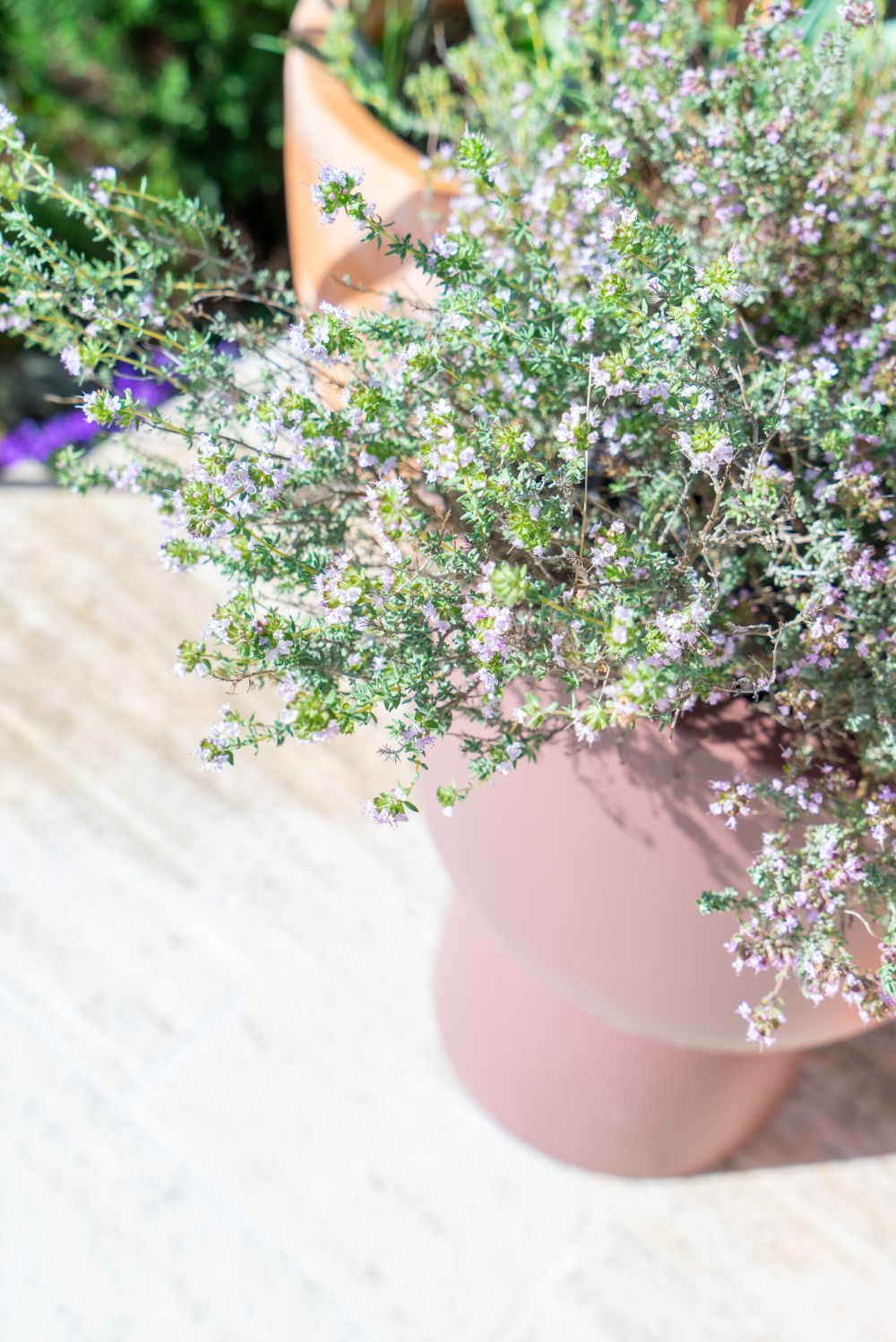 And because Fiskars also has a lot of harvesting and planting tools, I ventured to my neighbor Fleur's beautiful and flowery garden to use some of the pruning and planting tools.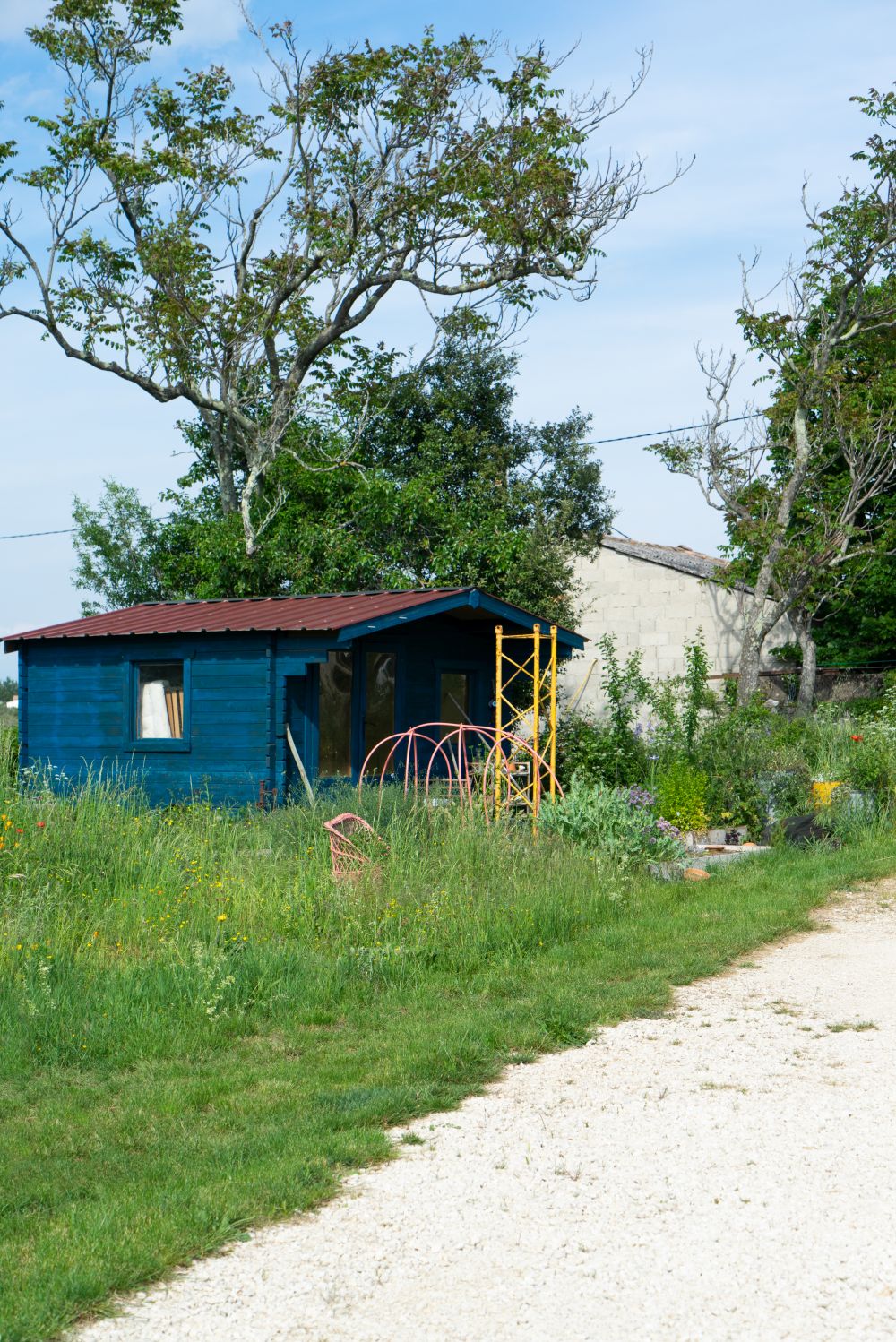 The harvesting basket is so practical for tools and transporting to-be-planted seedlings: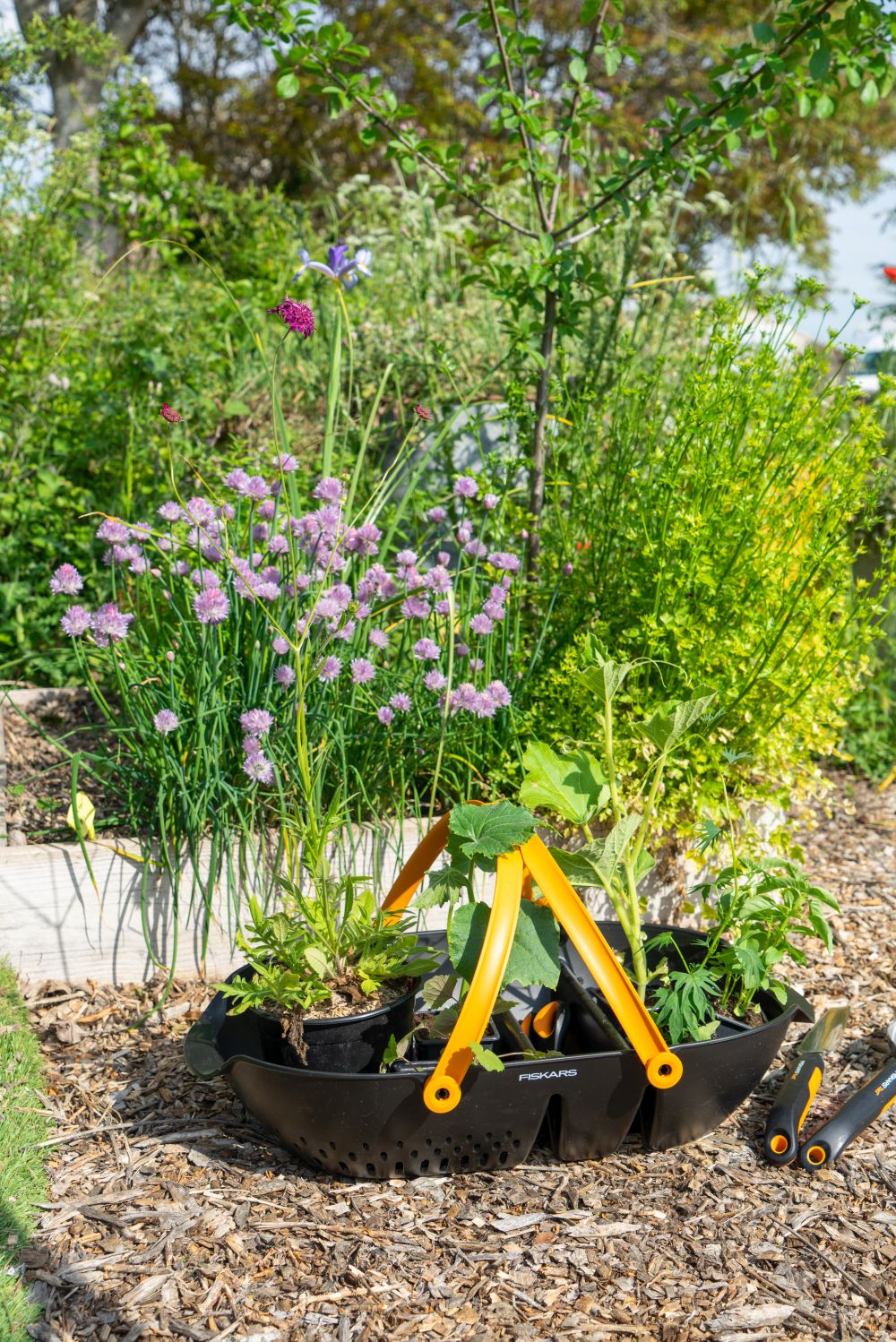 The Fiskars Xact™ Weeder tool in action. It can be used to remove weeds from your garden, but also to create a hole for plantation: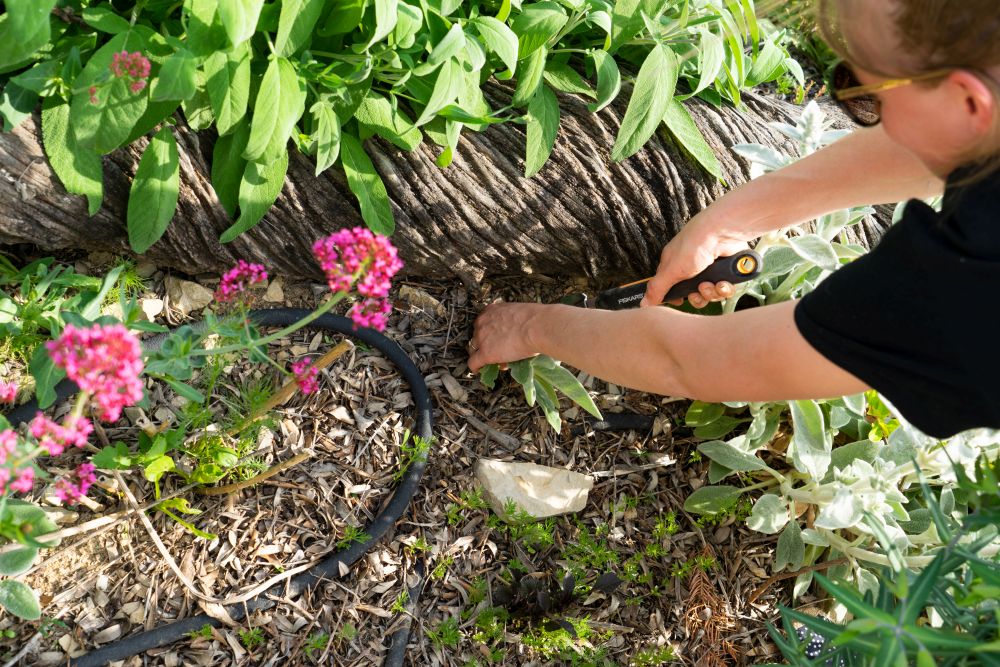 Probably our favorite tool: the Fiskars Herb Snips: they cut so precise that you can cut off individual leaves or remove wilted flowers from the plant. Perfect for harvesting some Verbena leaves for a delicious herbal tea: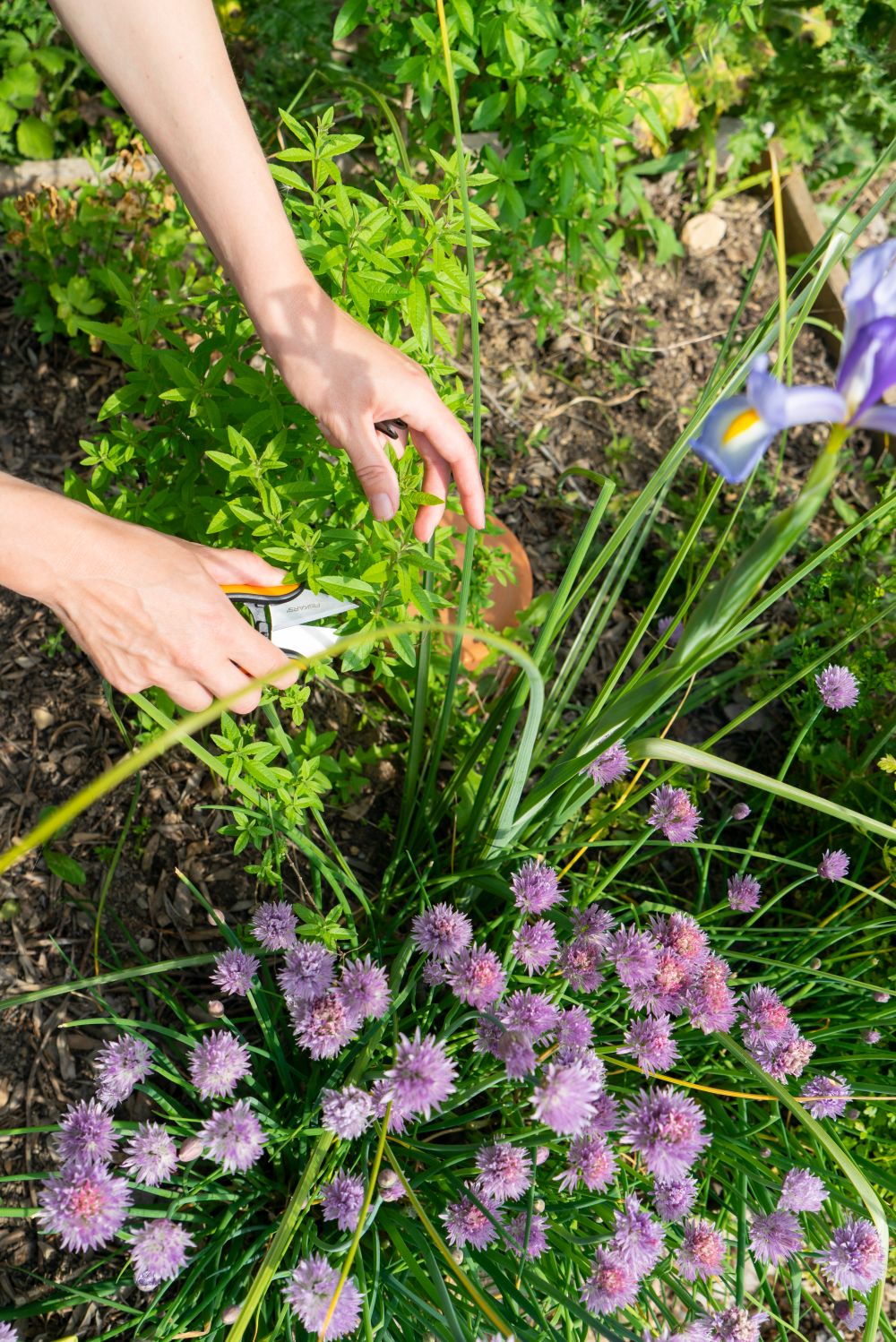 The beautiful flowers in Fleur's garden: giant Allium flowers, lamb's ear, California poppies, Valerian, Nigella and a lot of wild aromatic herbs: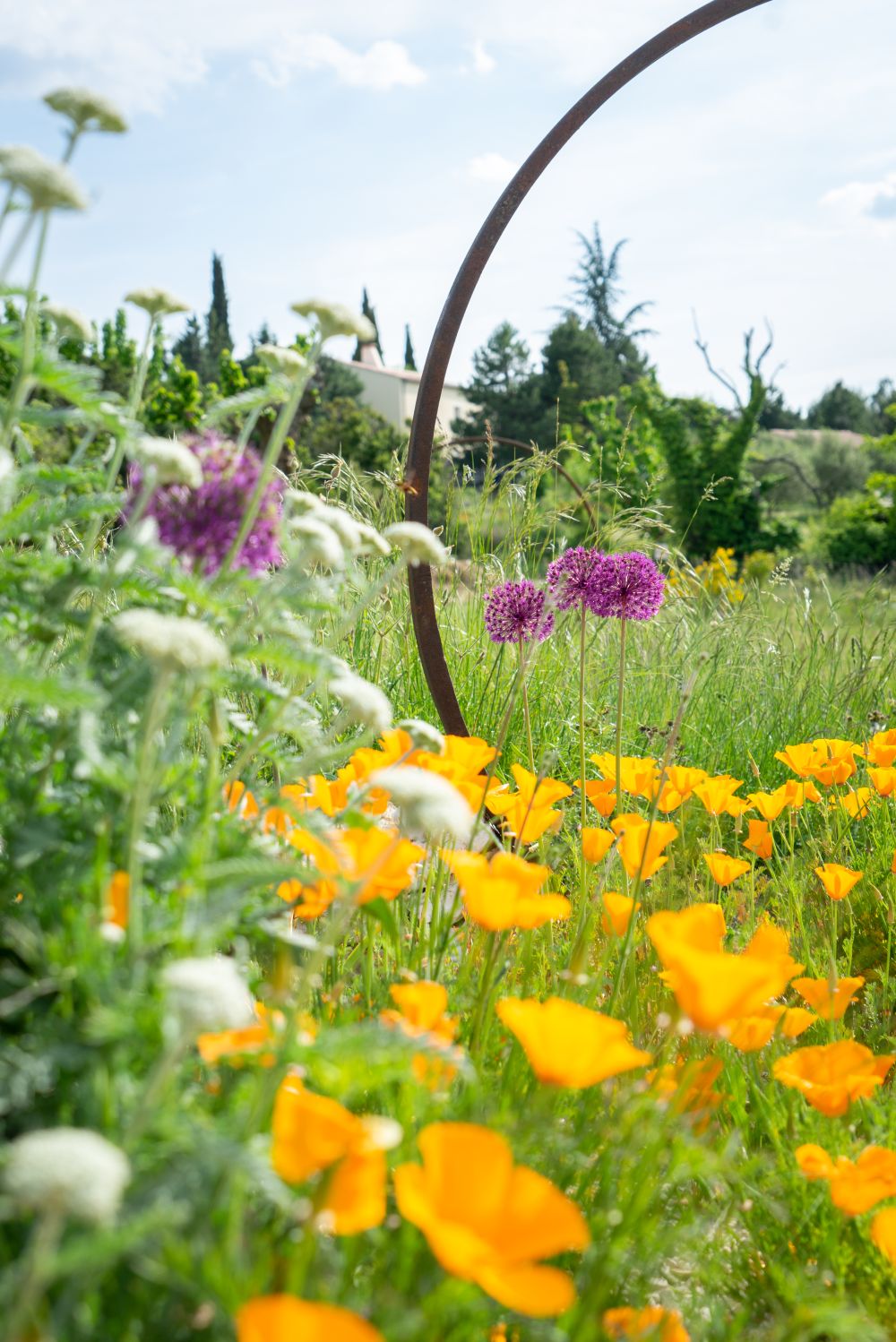 Buzzing here too: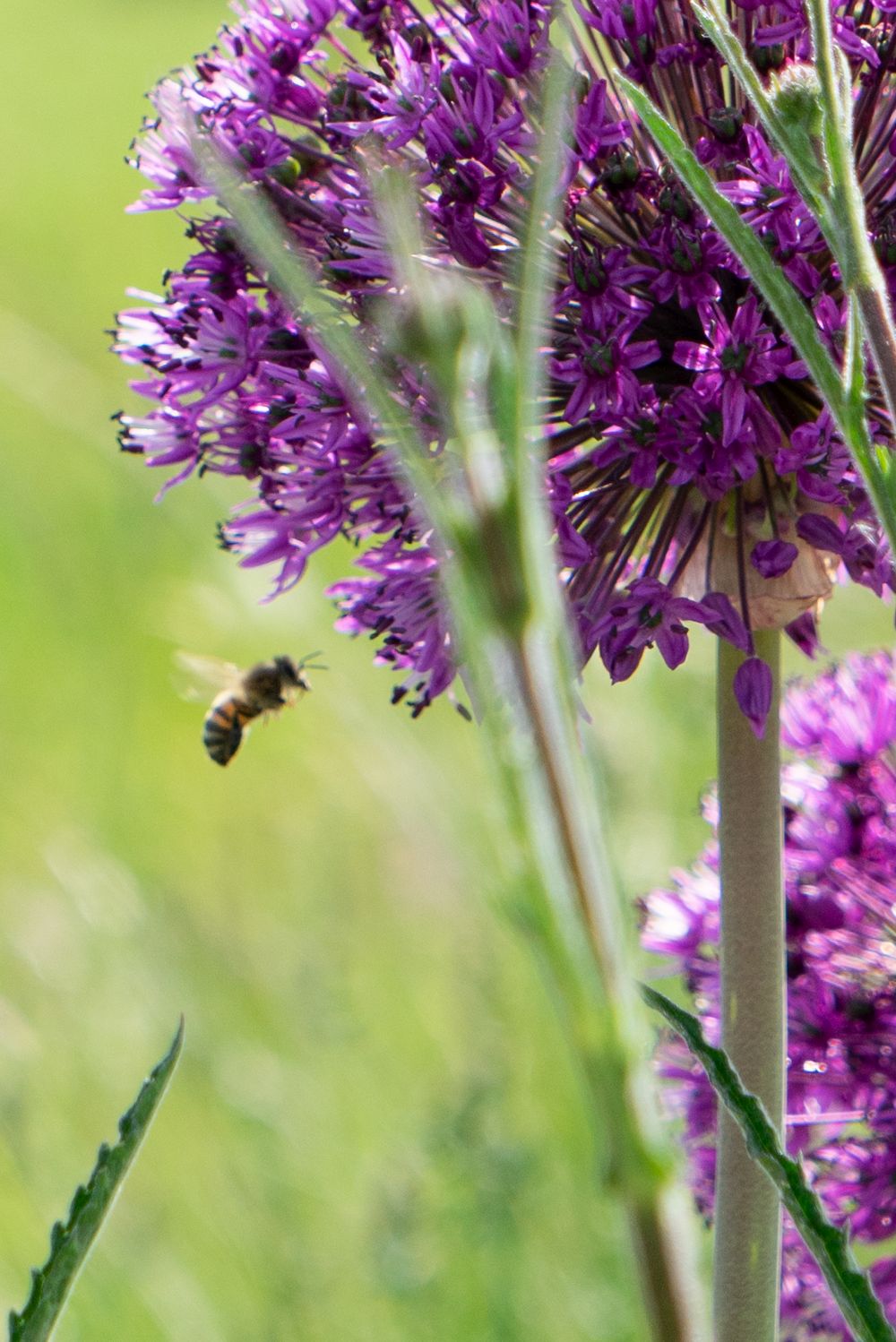 The Fiskars Bee Better kit with a planting tool, honey flower seeds, garden labels, honey and more: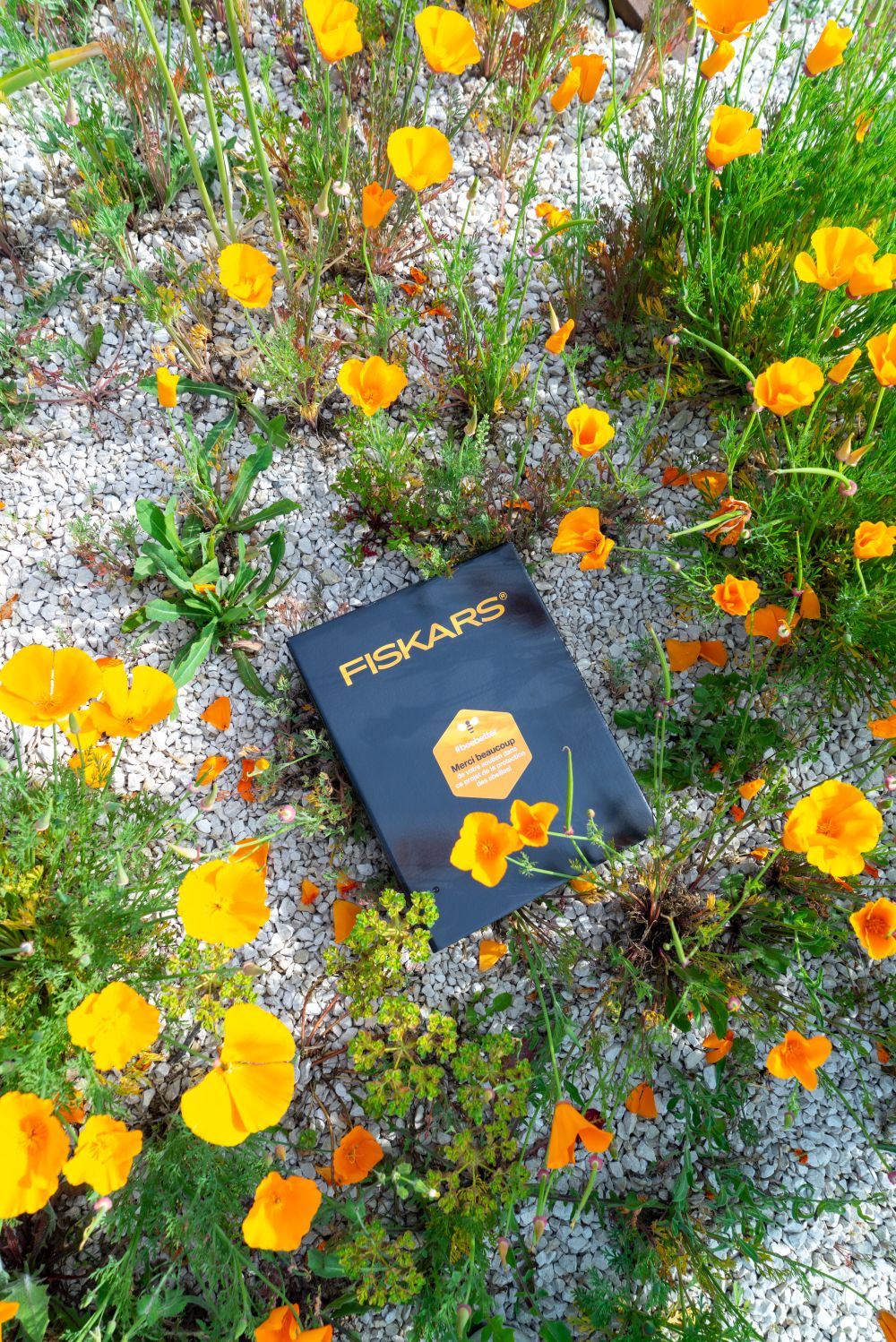 The hand seed sower: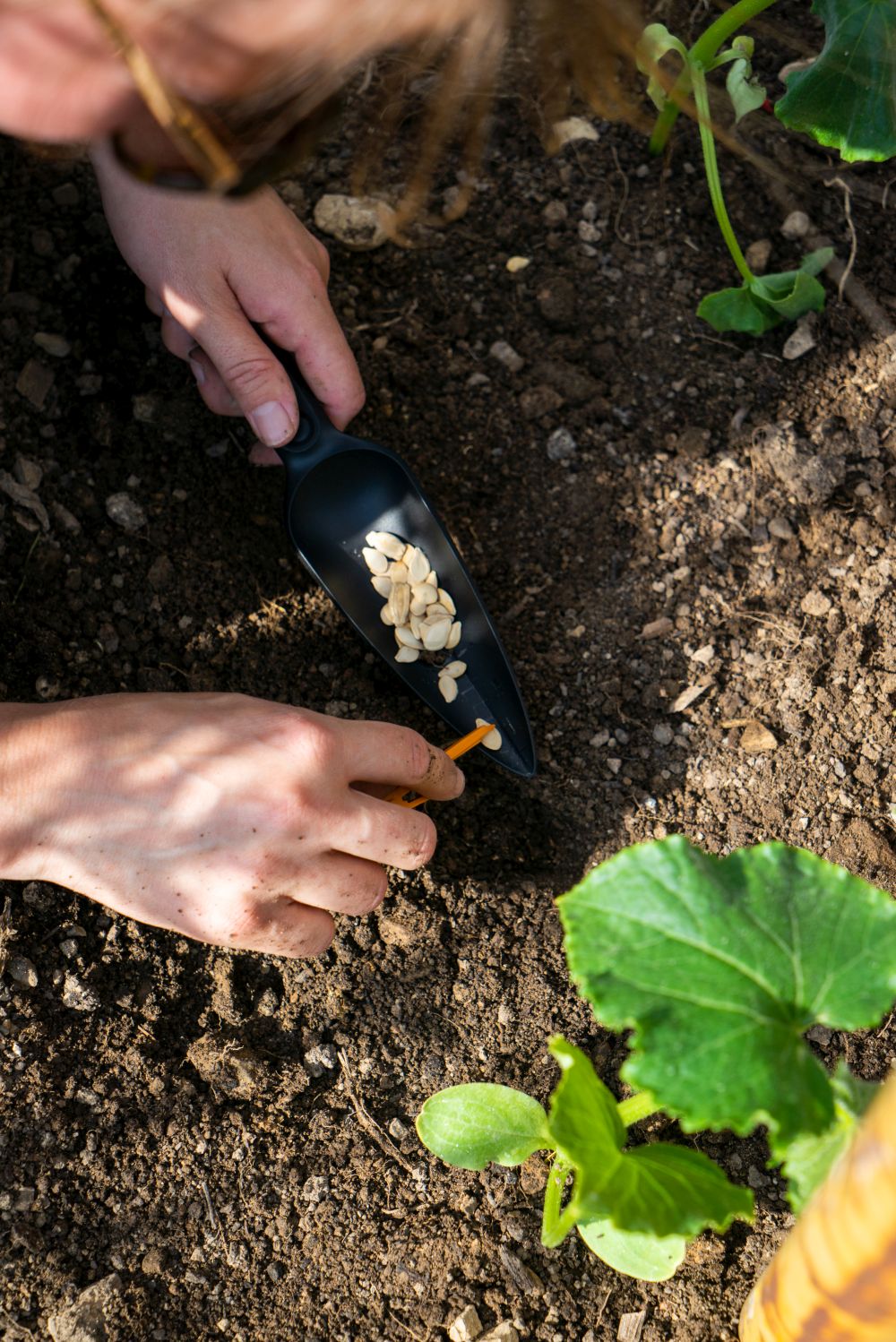 The Fiskars Xact™ Weeder tool in action. It can be used to remove weeds from your garden, but also to create a hole for plantation: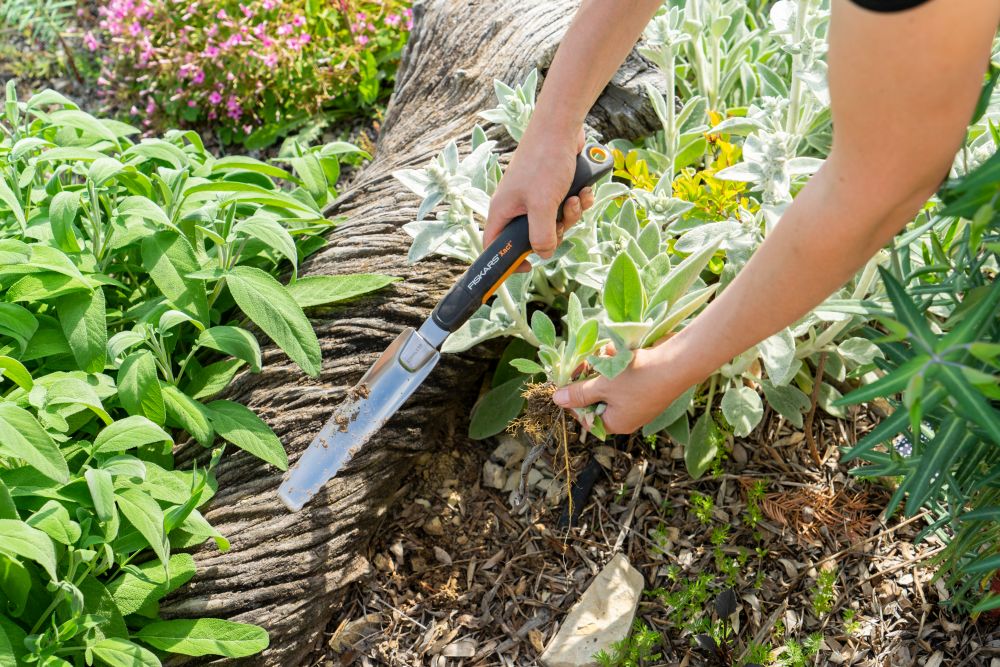 A beautiful DIY idea in Fleur's garden: a chicken wire dome to protect the seedlings from birds, with a vintage glass knob on top!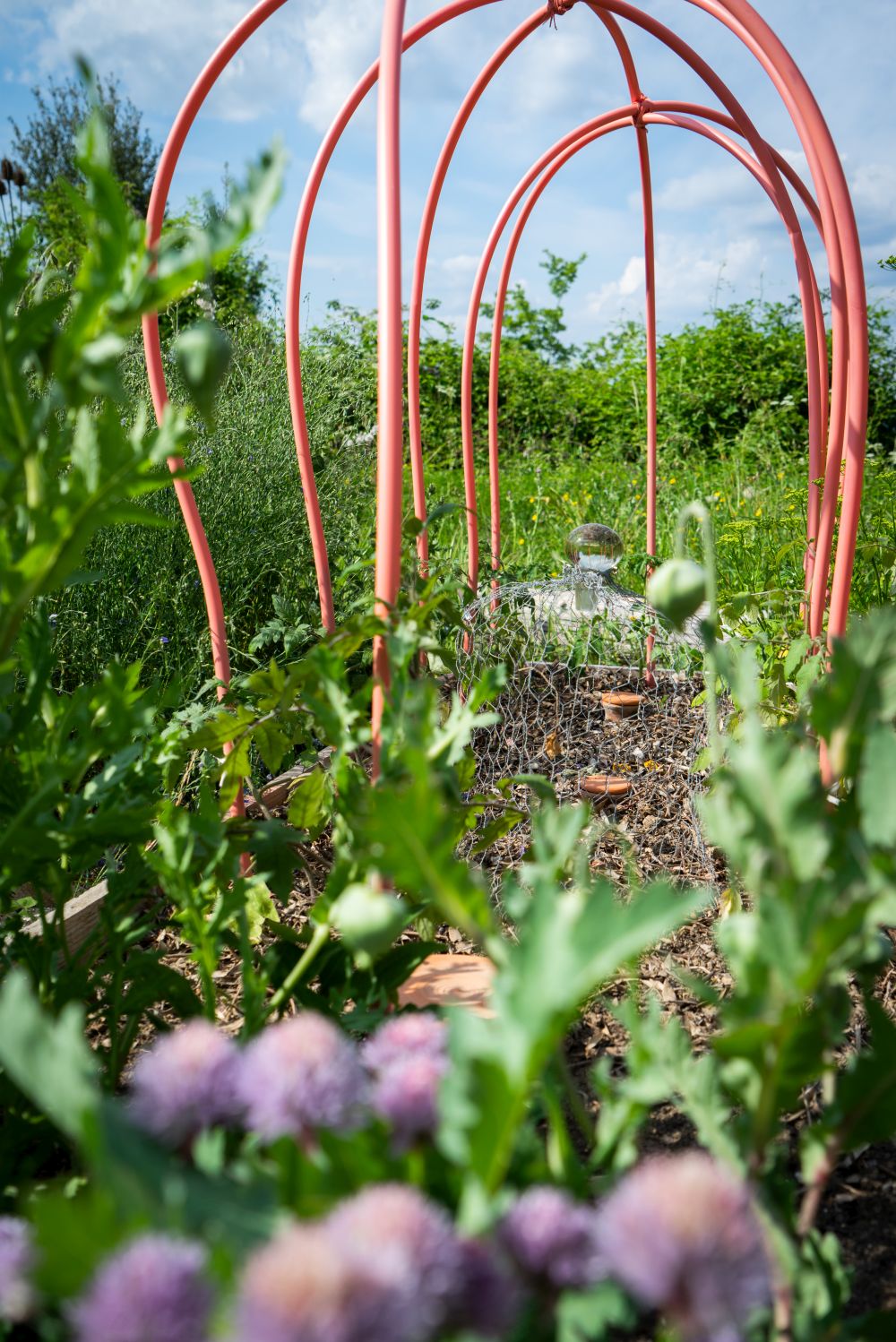 The world upside down in the glass knob: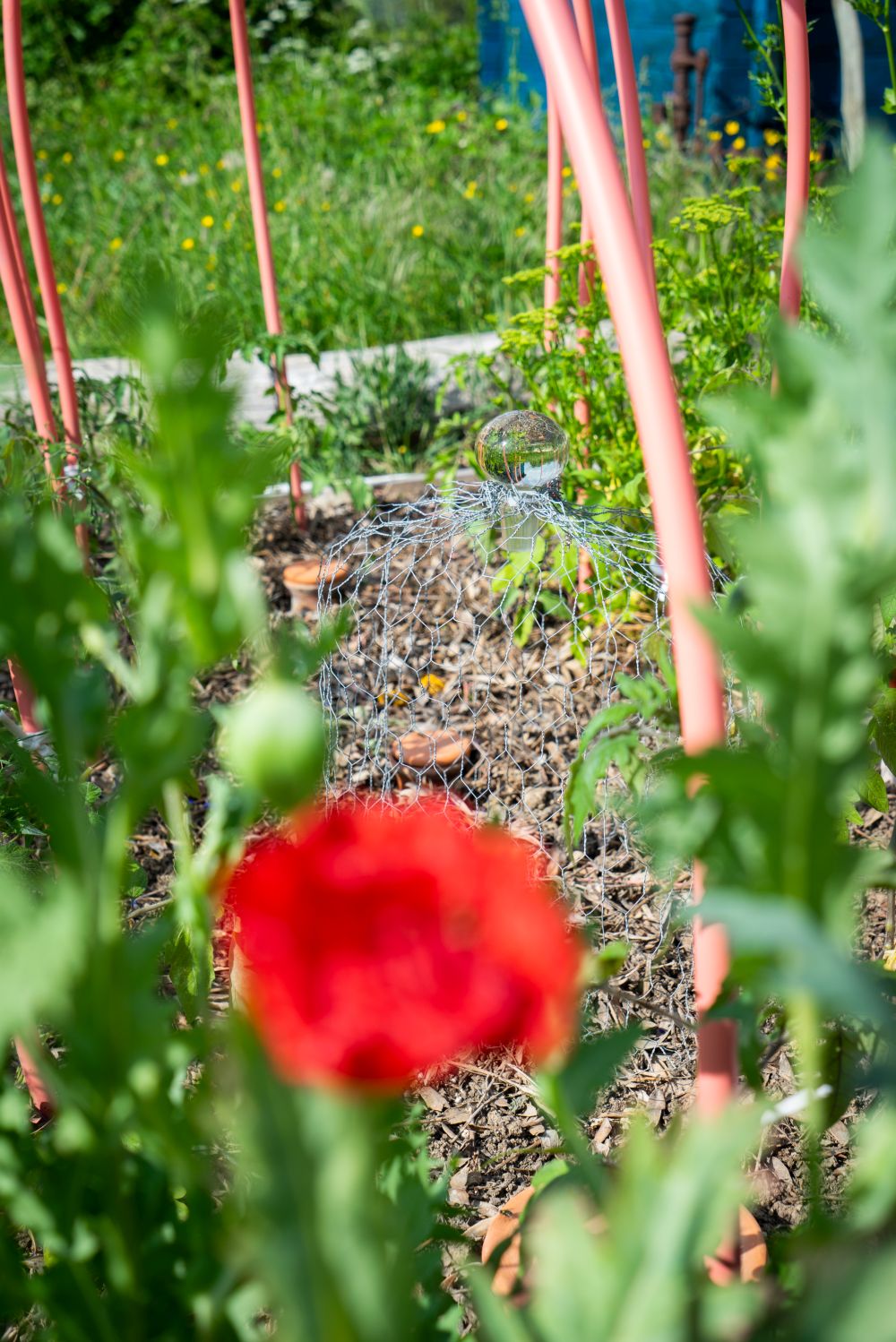 Beautiful Nigella flowers: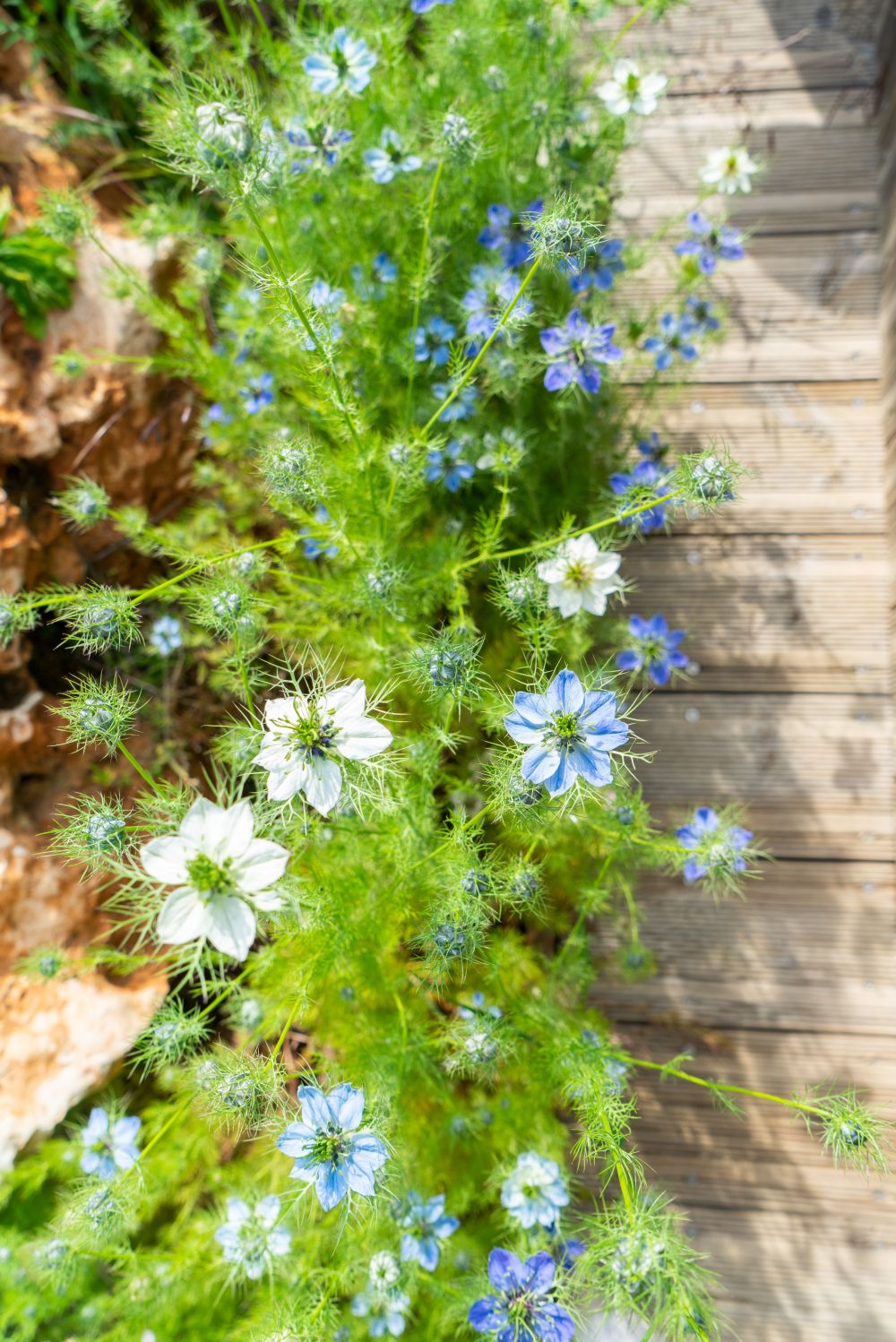 Fresh mint to add to the herbal tea: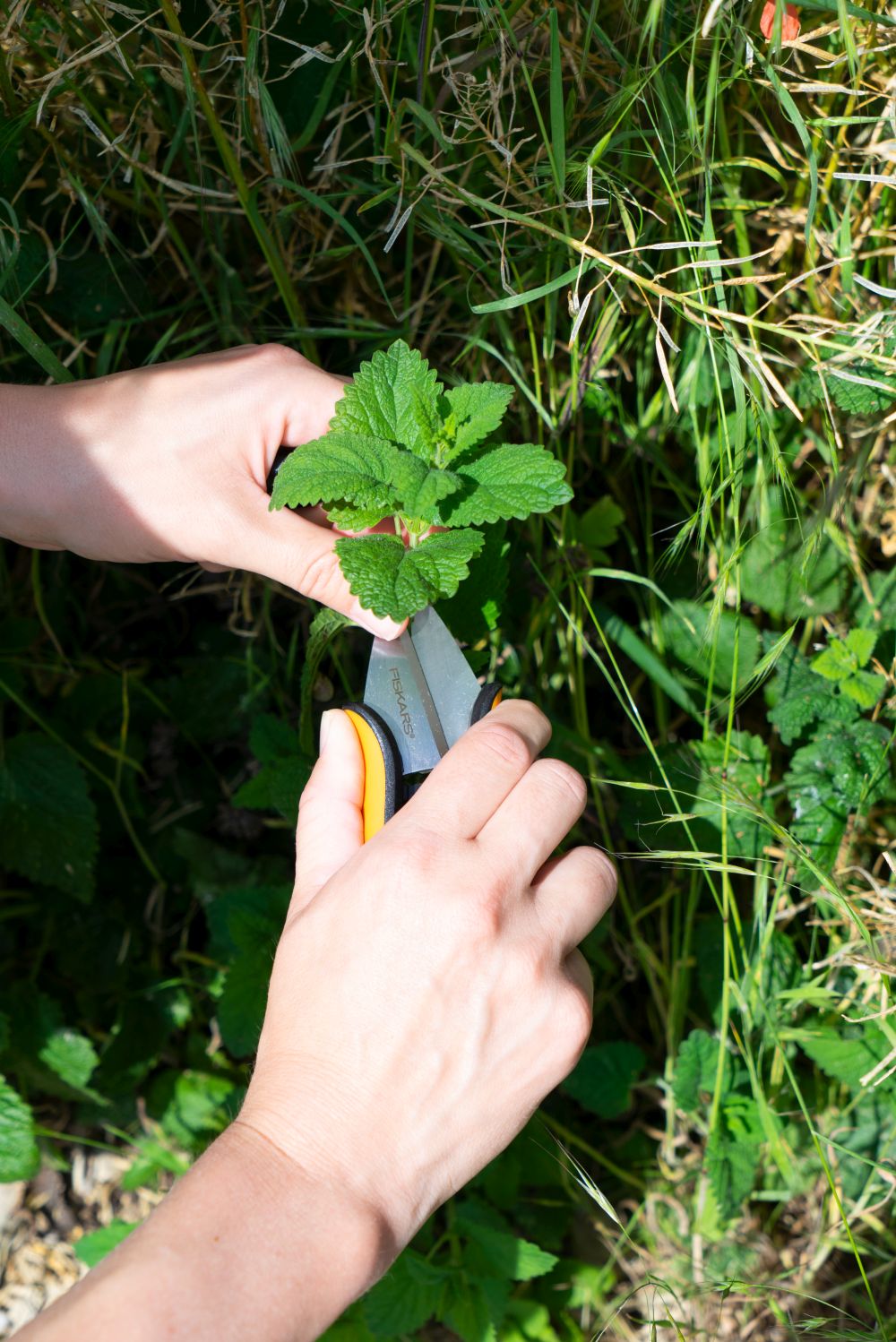 And some wild thym, snipped off: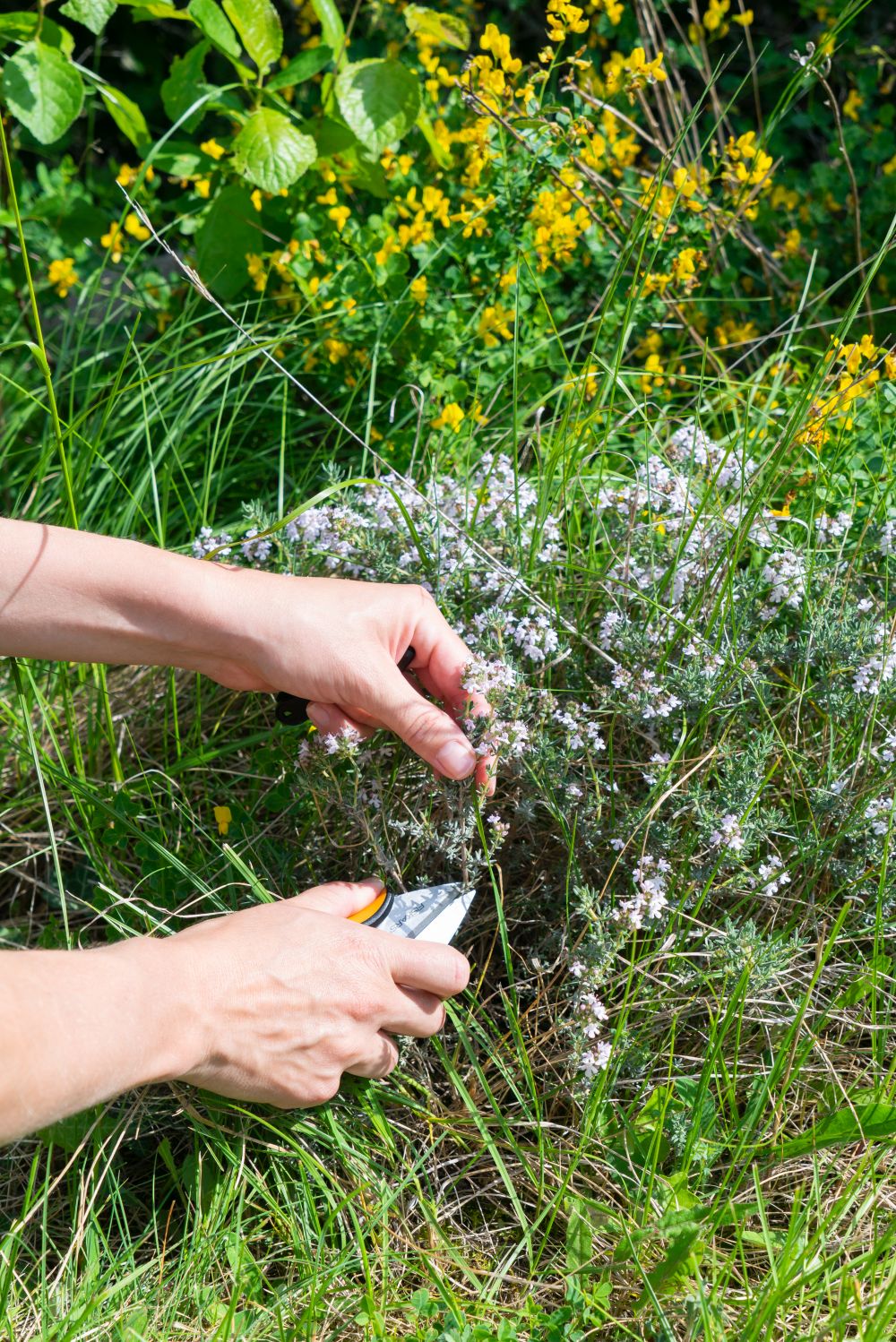 I hope you enjoyed this little tour of Fleur's garden and see how easy the Fiskars tools are to use for small scale gardening. The Fiskars tools are durable, you can keep them for a long time: my Fiskars scissors for example have been my favorites for the past 20+ years. The quality is so nice, and the tools that I've been using in this post all feel really nice and ergonomic in your hands, with good finishes and sharp cutting blades. These will last me for years to come! Thank you Fiskars 🙂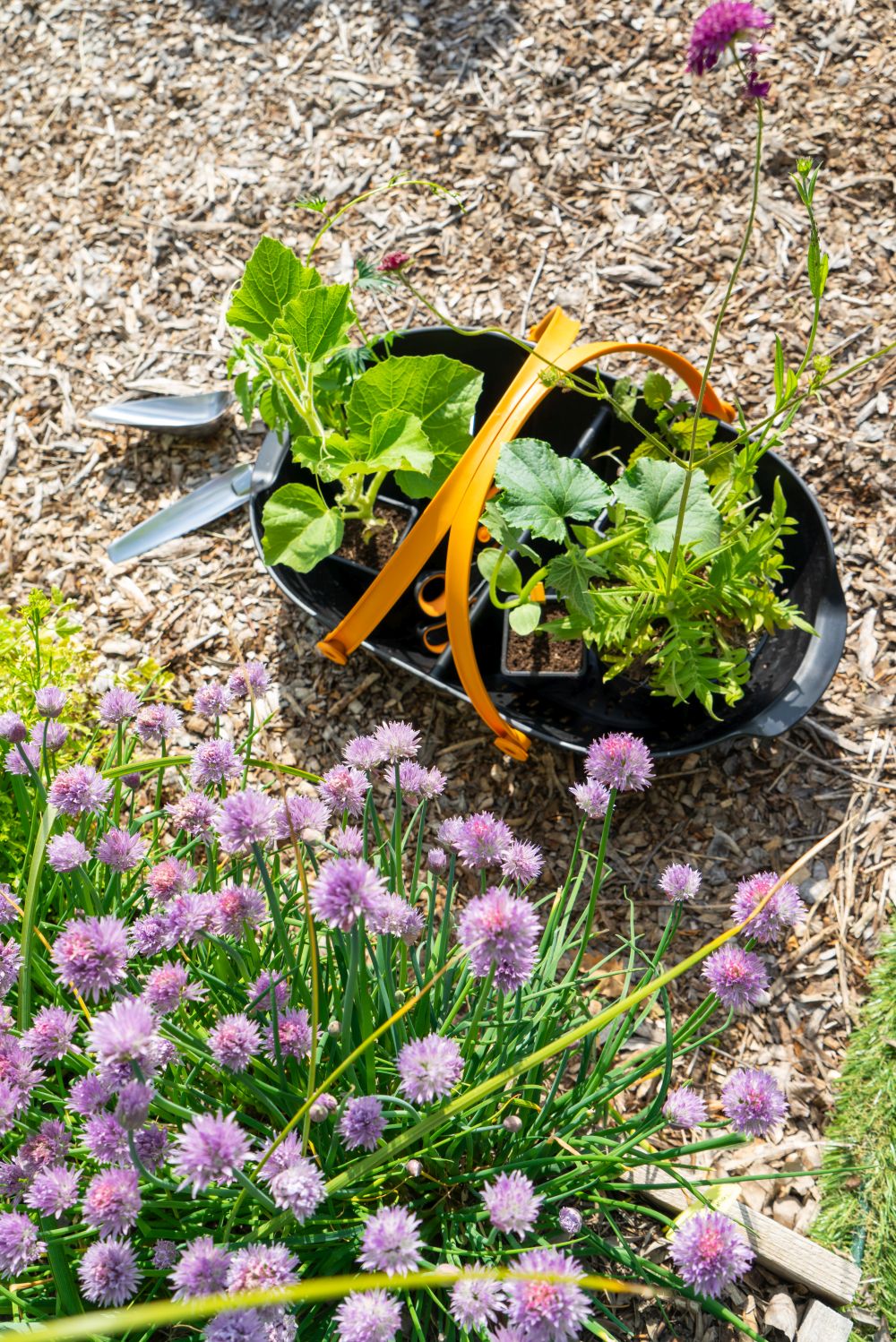 All photography by me, as always. This post was not sponsored or paid, but all Fiskars products were gifted by the brand. I attended the Fiskars Happy Bees event in Paris and love using their products so much, that I decided to share it also here in the blog.