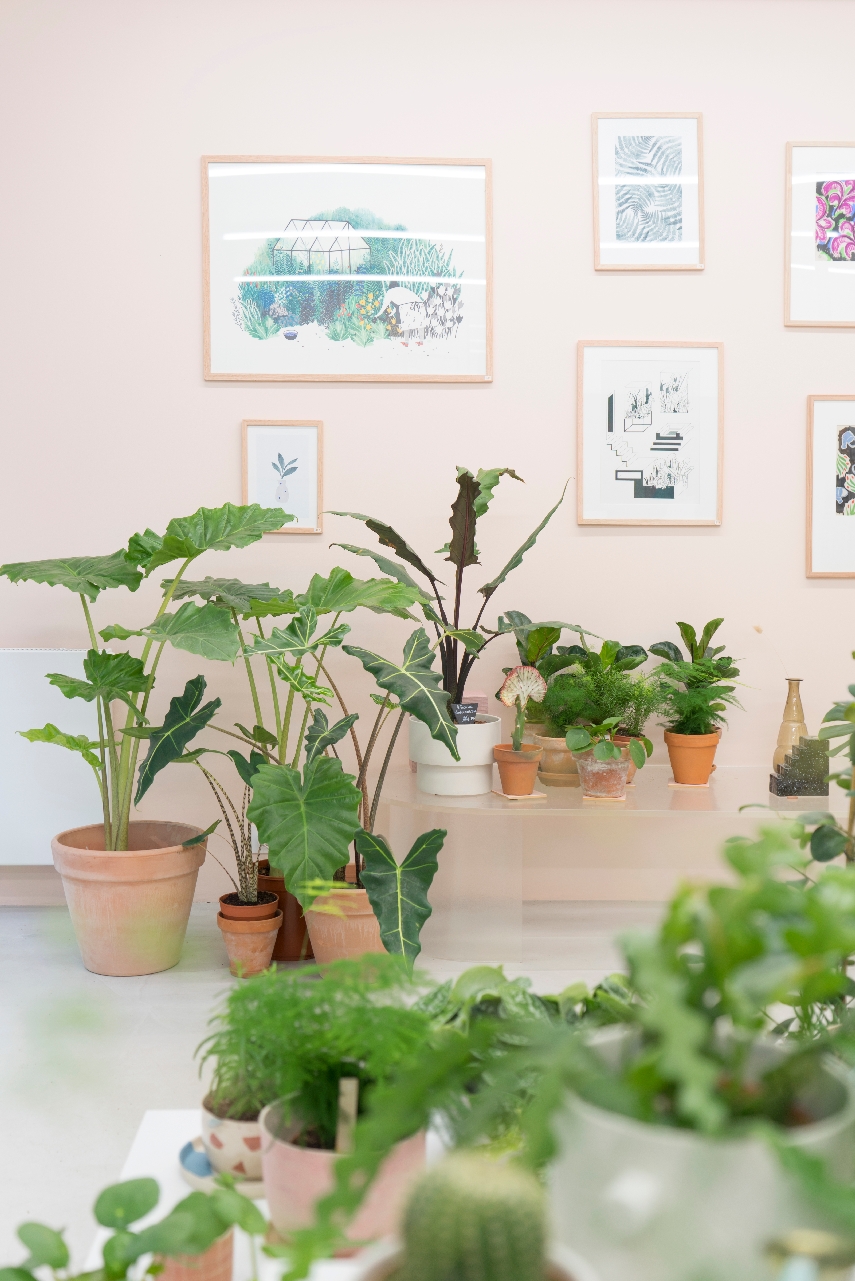 Even though I just came back from two crazy and intense days in London, where I spoke at an event and wandered around the city (and visited several plant shops as well… bien sûr) I wanted to show you this peek into the newest plant shop in Paris today: Leaf shop végétal! After four years of contemplating, planning and preparation, owner Axelle opened the doors a few weeks before Xmas. Several friends that visited Leaf sent me messages that they loved it and knew I would too, so I knew I was in for a treat. The space of Leaf, close to the Place de la République, is designed by the talented duo heju. Remember, they also designed this beautiful courtyard of Les Petits Hauts. I think it looks just wonderful, very feminin, contemporary, bright and not too full: you can actually see individual plants and admire the ceramics. Let me show you around, here we go: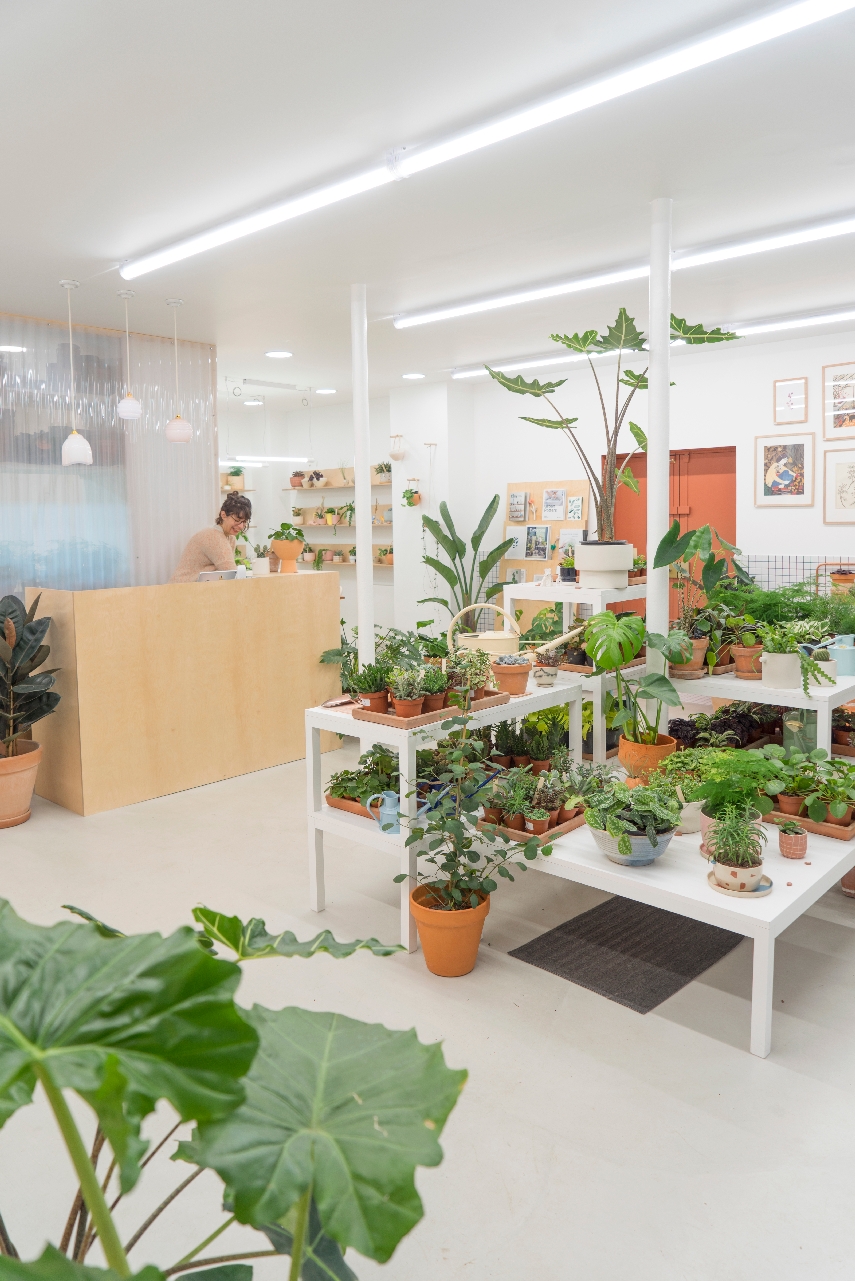 The space of Leaf is very very bright, lit with neon lights, white and pale pink walls and some iconic heju tiles: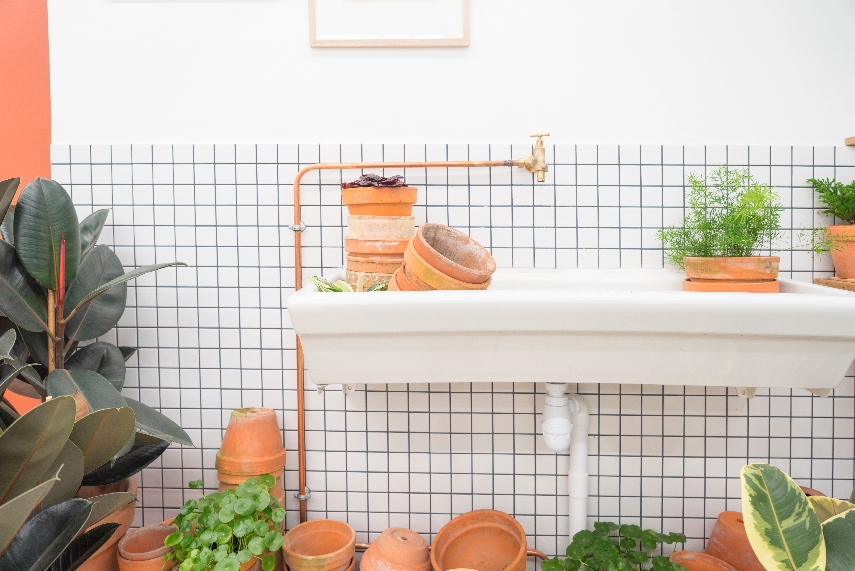 The sleek counter is made in plywood, with 3 thrifted semi opaque vintage lights hanging above. The corrugated sheet wall behind it, frames the stock room where Axelle keeps a large amount of plants that needs to be repotted or taken extra care of.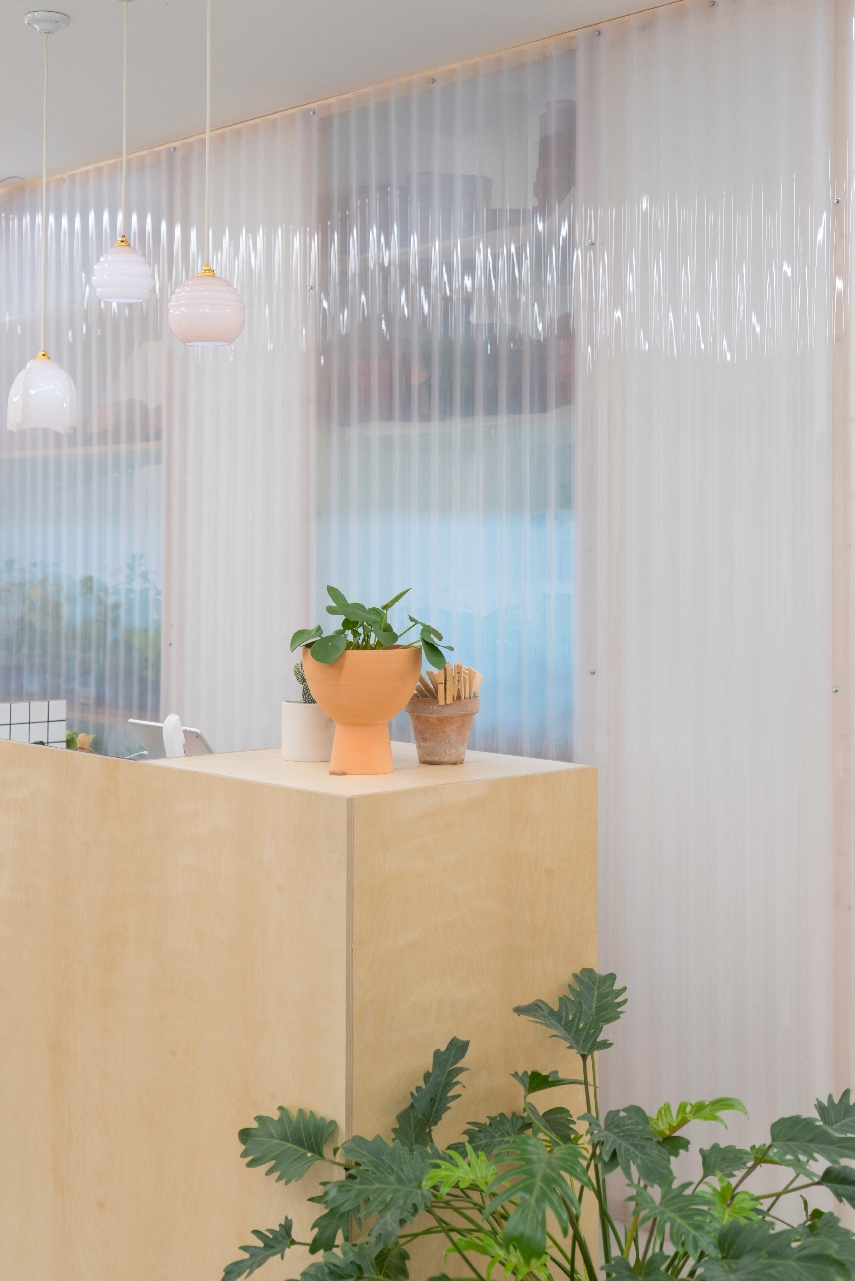 The 3 thrifted vintage lights: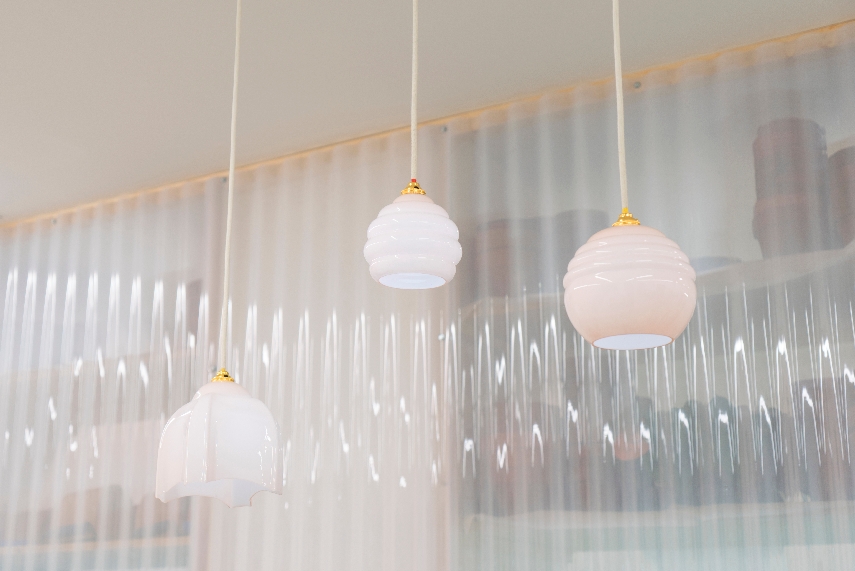 One of the things that is often overlooked in plant shops, is the choice of plant pots. Axelle's idea for Leaf was not only to propose a large selection of French-grown plants (where possible, as stocks are very limited at the French houseplant growers), but also show off the work of talented ceramicists from around the world. Which means that you can not only buy a nice new plant, but also find a unique handmade plant pot for it. Axelle will happily repot it into the plant pot of your choice. Speaking of finding a perfect gift for a friend… or yourself!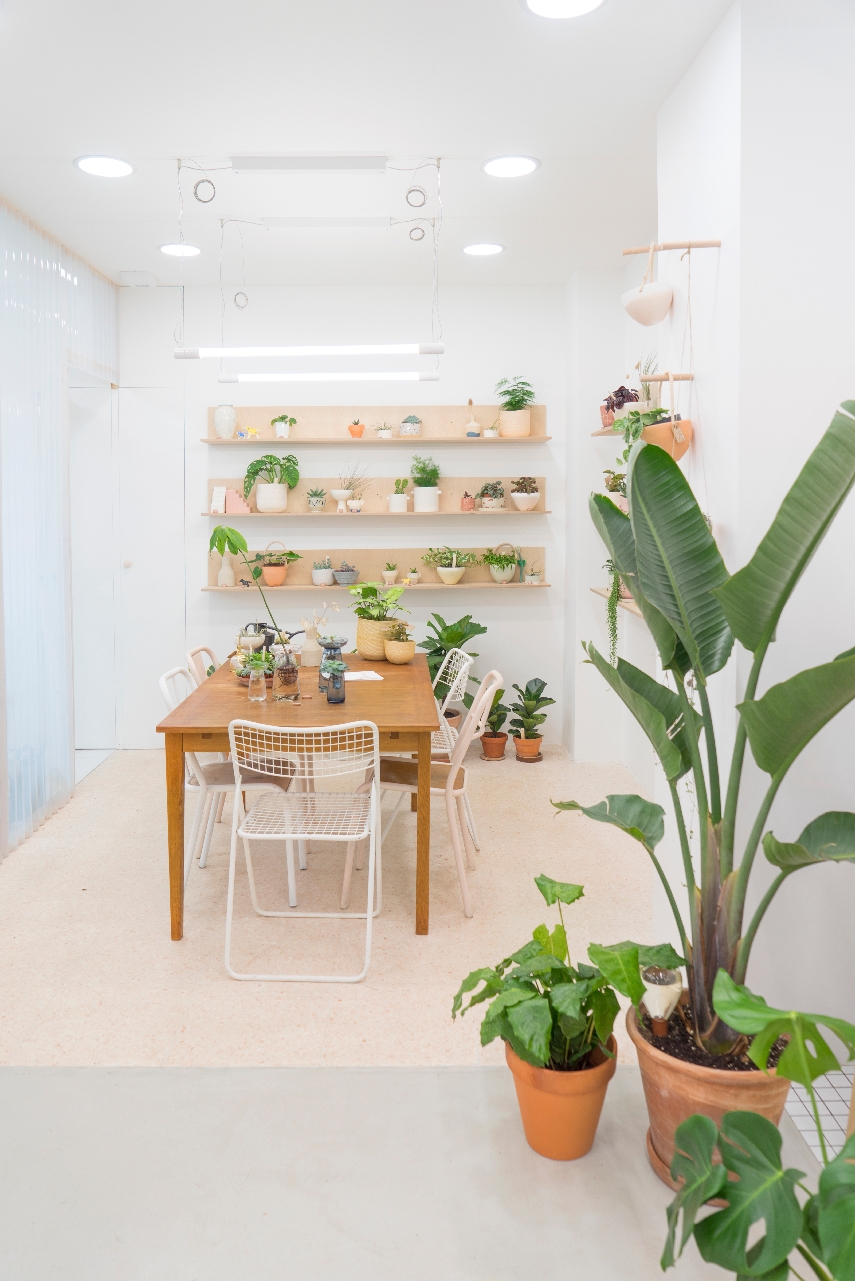 Most of the ceramics at Leaf have a truly contemporary, feminine and graphic look and have a drainage hole and sometimes even a matching saucer. You can completely change the look of a plant by changing its plant pot. It's all about the proportions of plant and pot, their colors, shapes and structures. I think Axelle is doing a great job of making a plantshelfie with small houseplants look simple and pretty (and makes you want to buy everything too!):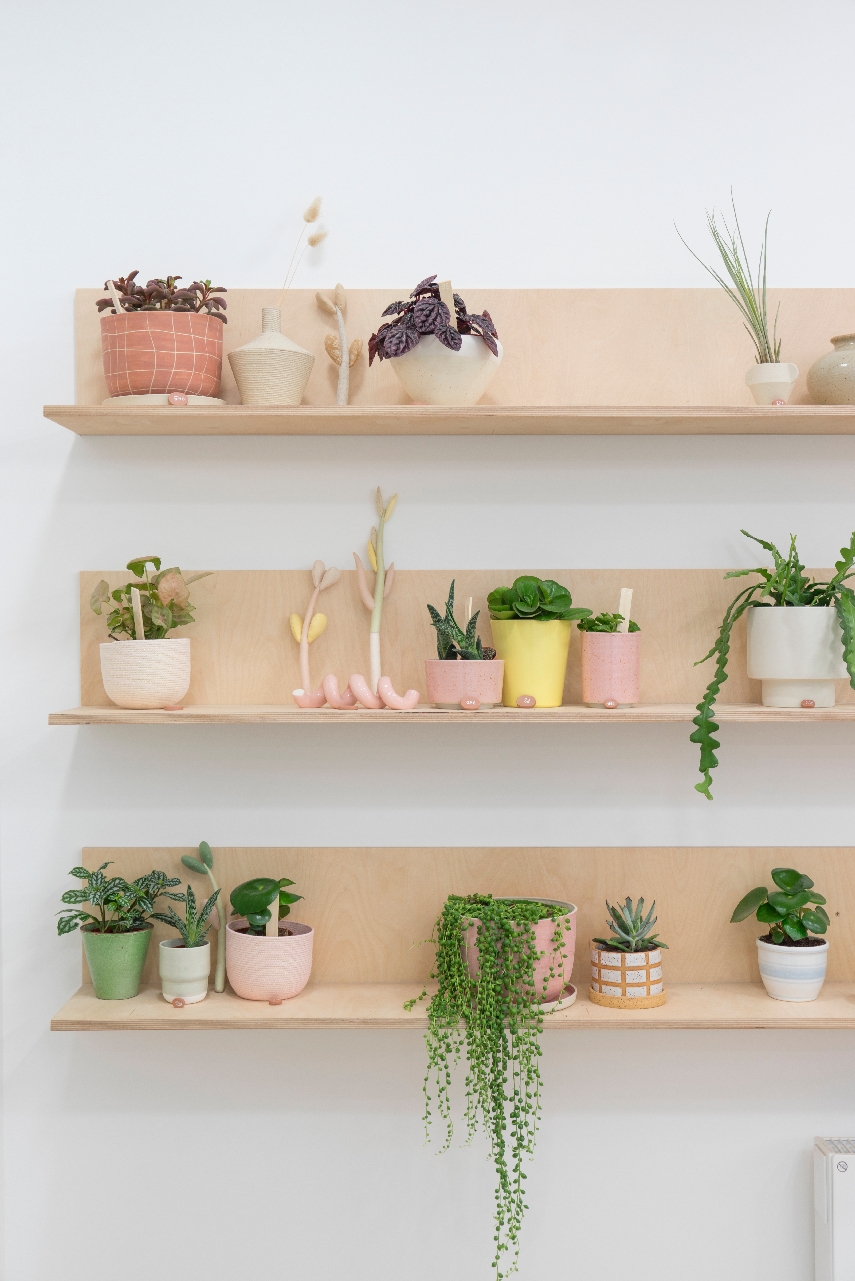 A key design element in the shop are the pale pink steps that allow to present colorful ceramics and a hanging Hoya: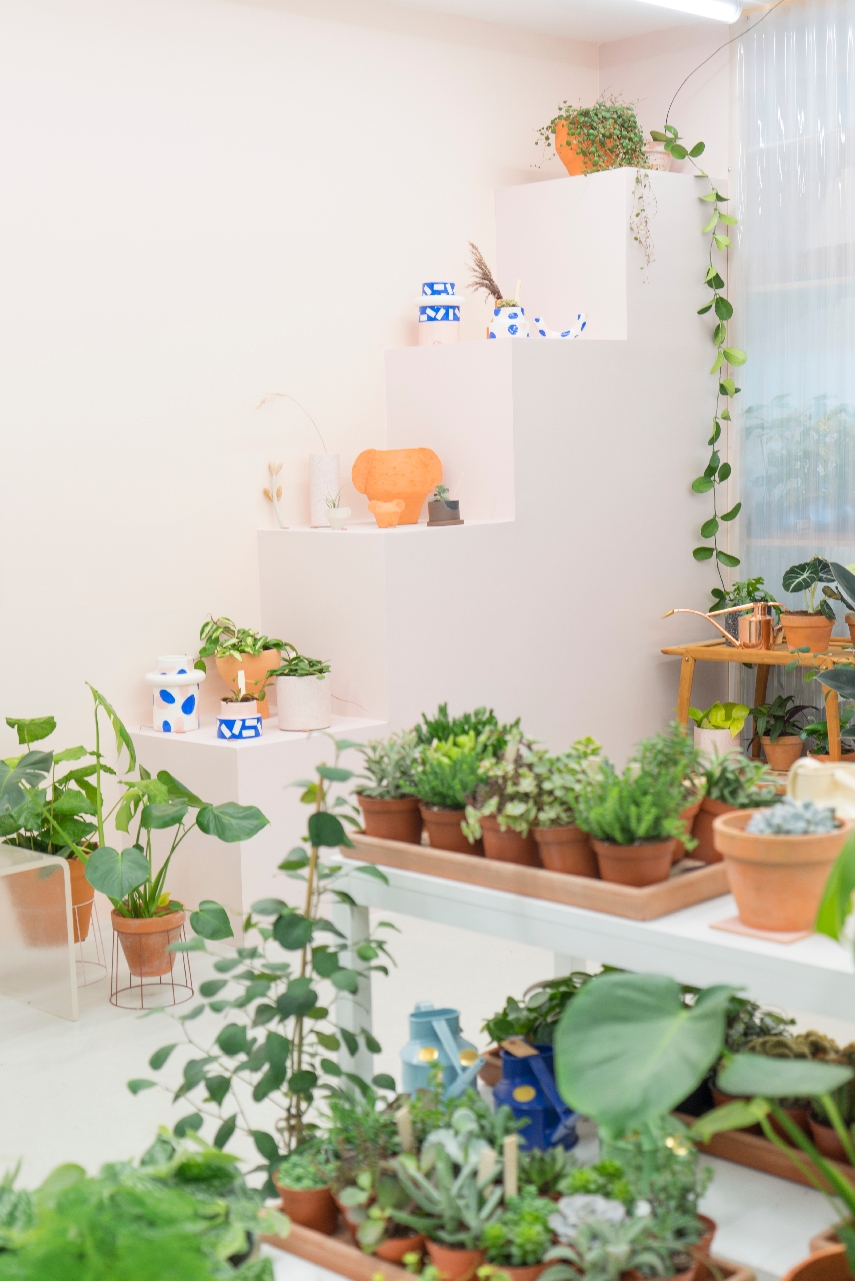 Gorgeous ceramics from talented ceramicists like Cassandre Bouilly, La Cueva Studio and Working in the Red Woods: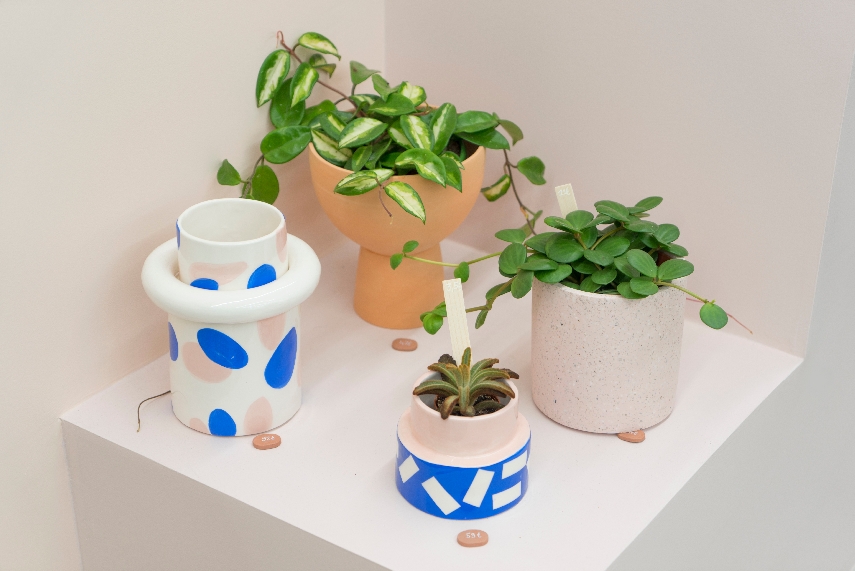 Axelle at work: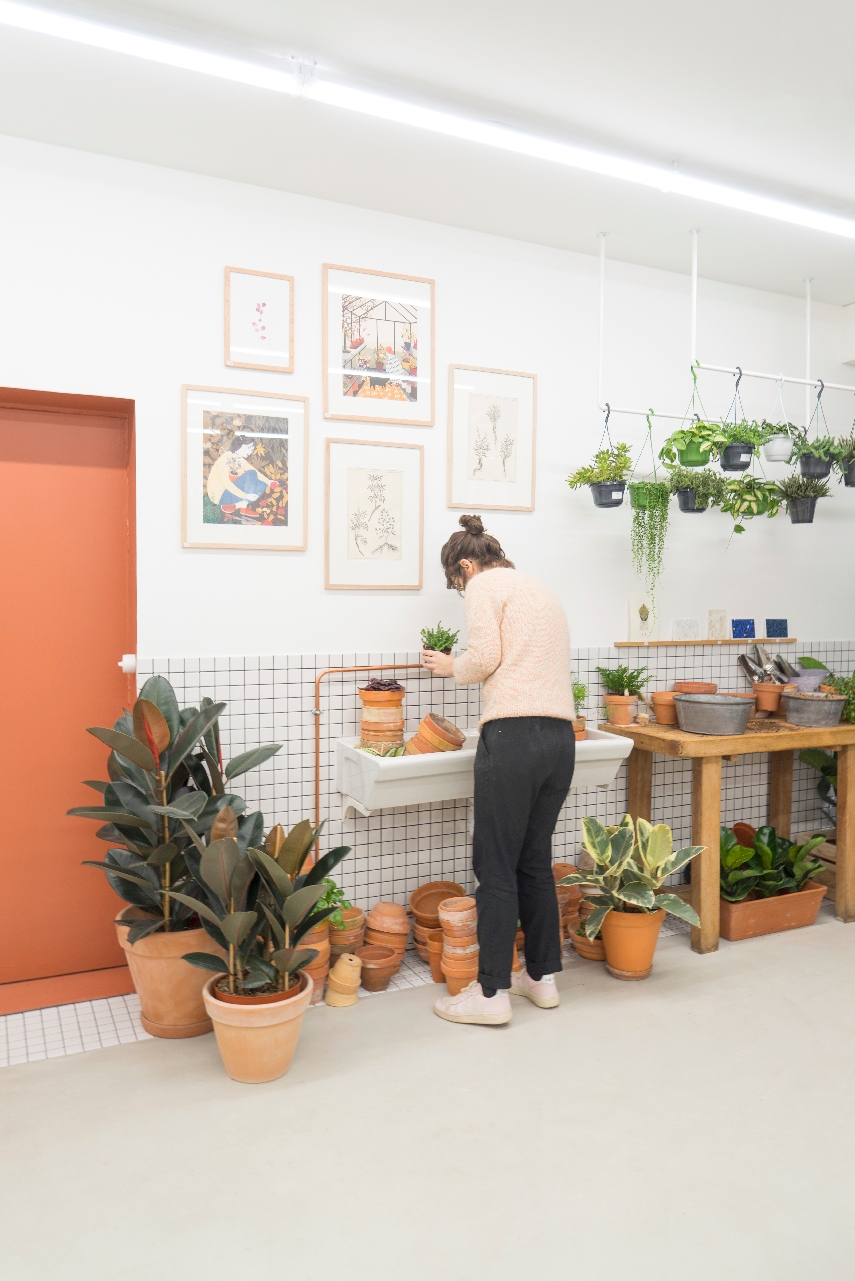 The detail of the square ceramic tiles is repeated in the shop window: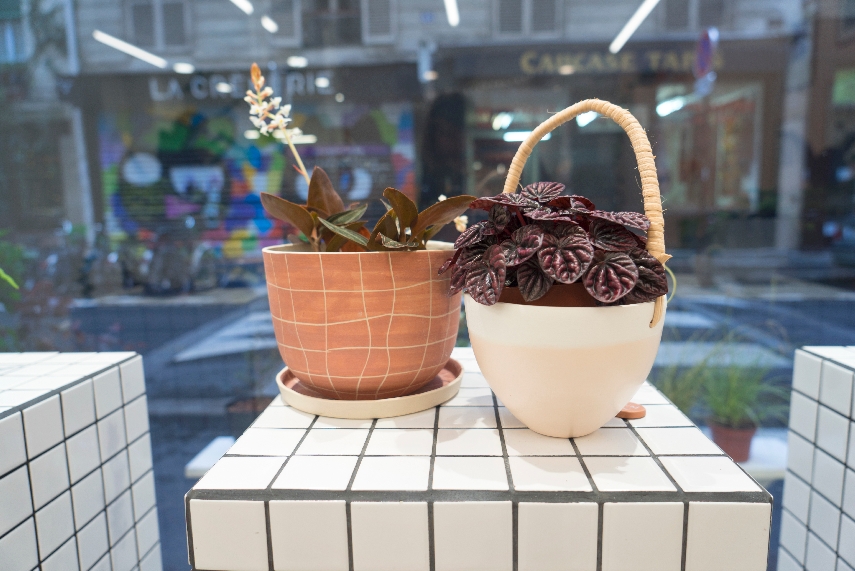 A little seating area for humans & fiddle figs: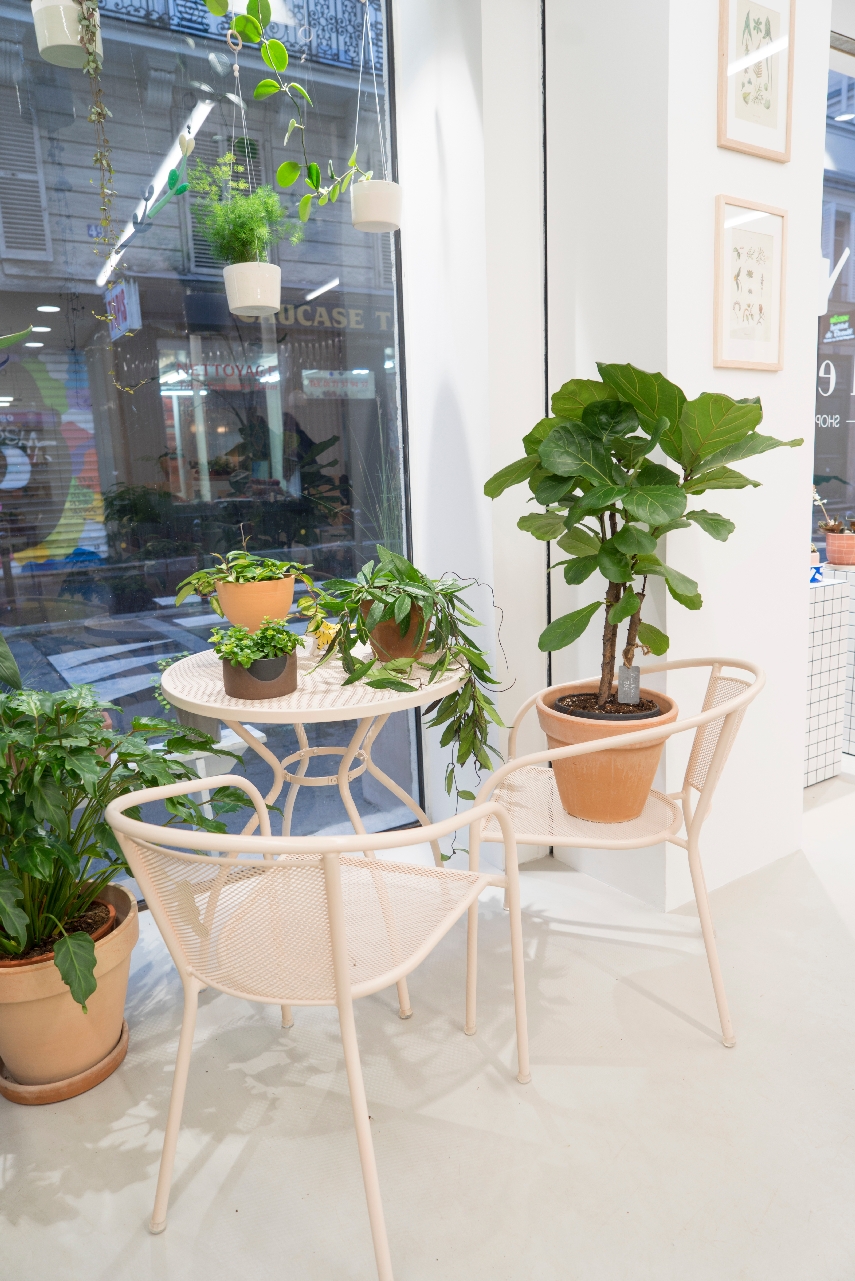 The cute little leopards and tigers by Dodo Toucan are hiding in the jungle: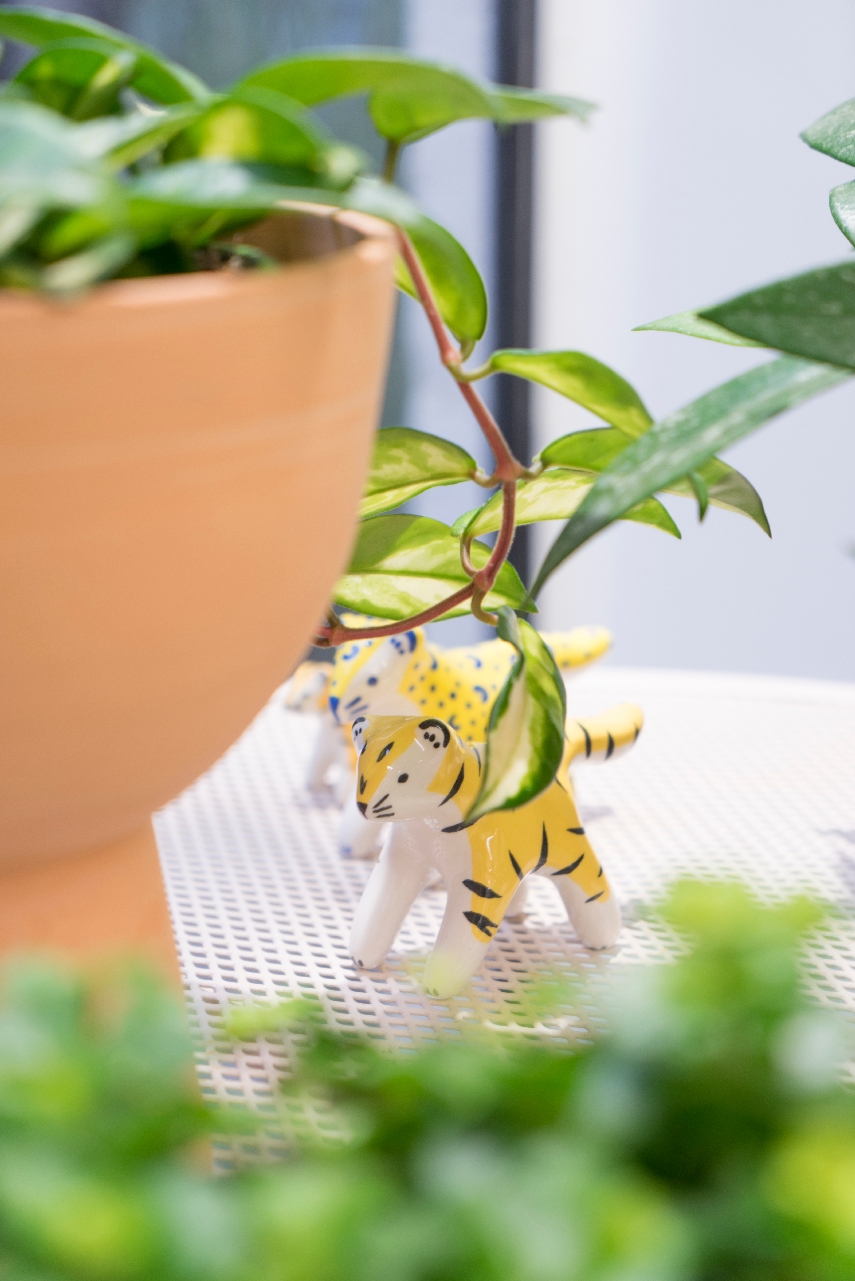 I love the color mix as well of all kinds of greens, pale pink, bright white, plywood, and this rusty terracotta color on the door: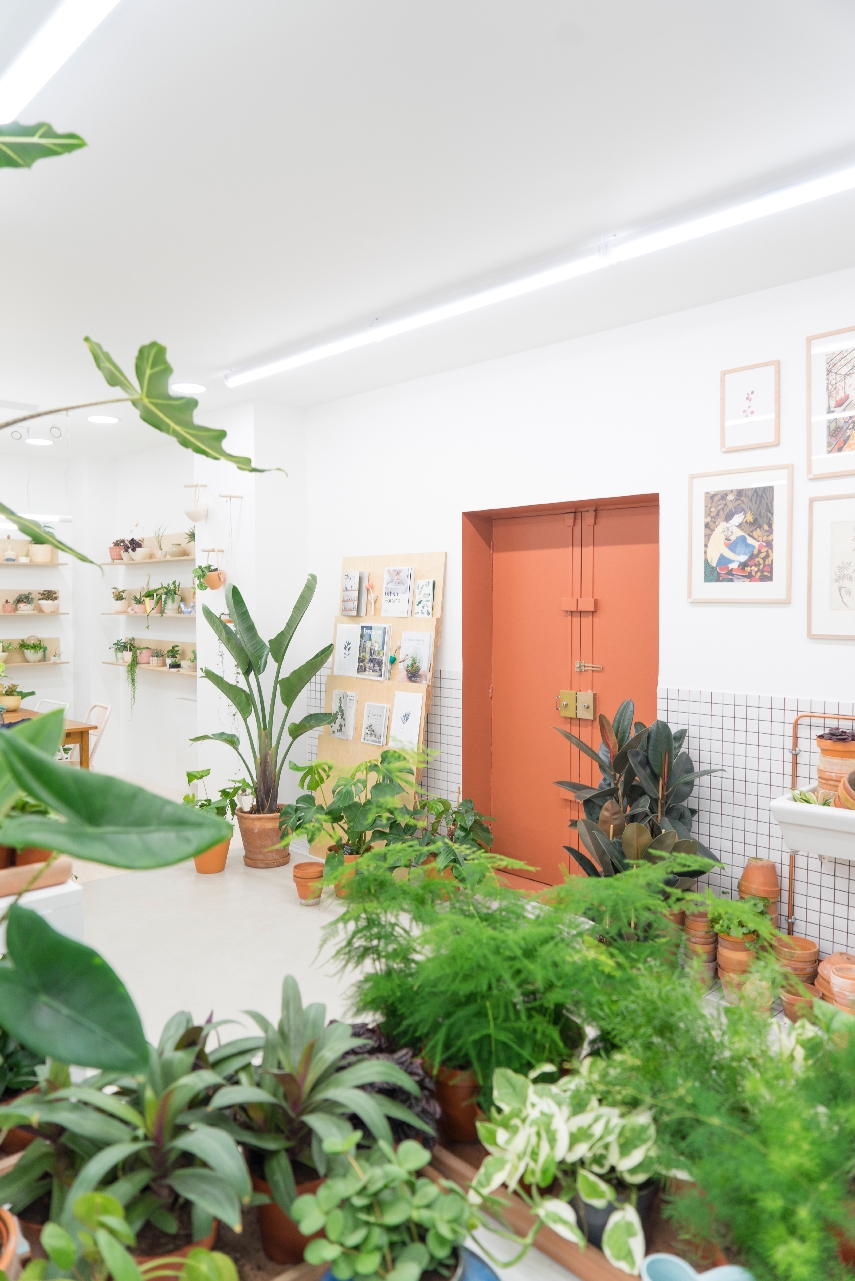 Leaf shop végétal /// 46 Rue Albert Thomas /// 75010 Paris (very close to République)
Open Tuesday to Saturday 11am – 8pm
P.S. If you can't get enough of Leaf, hop over to Urban Jungle Bloggers as we are sharing more photos there too!