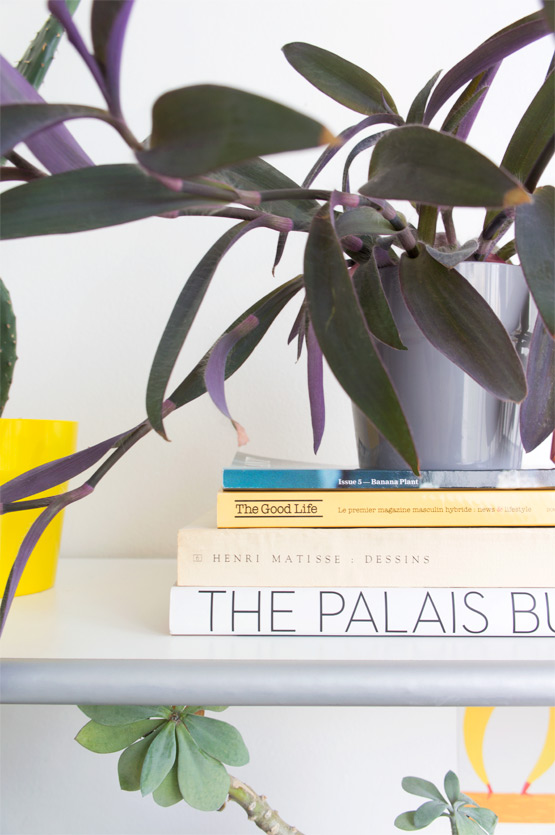 Today's Urban Jungle Bloggers Plant Shelfie topic made me realize that we really need some new beautiful shelves. We don't have many wall space here at home and only a few basic Ikea lack shelves, which I really don't like anymore. But well, for now we have other priorities. Like a bathroom for example! Because, yes, let's face it, it's been a mess here for a little longer than expected 😉
So back to my #plantshelfie. I built a little installation with some random shelves, broke a plant pot and the plant inside also lost a few branches. This is what was left: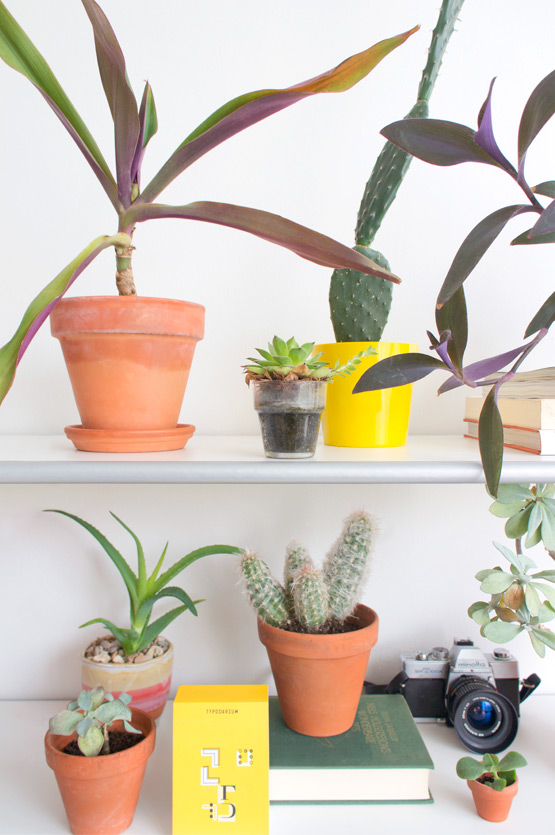 My favorite new postcard illustrated by Daniel Frost I got at You Can Now in London this weekend: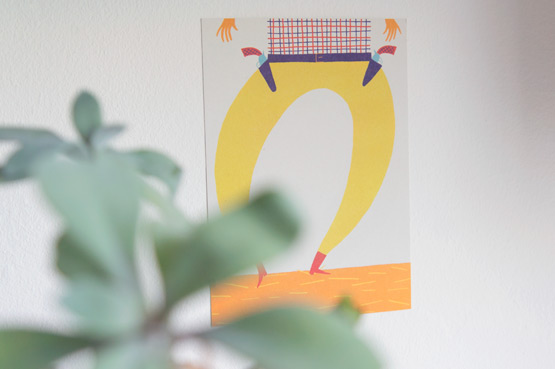 My beloved Minolta, I need to get me some film and start using it again: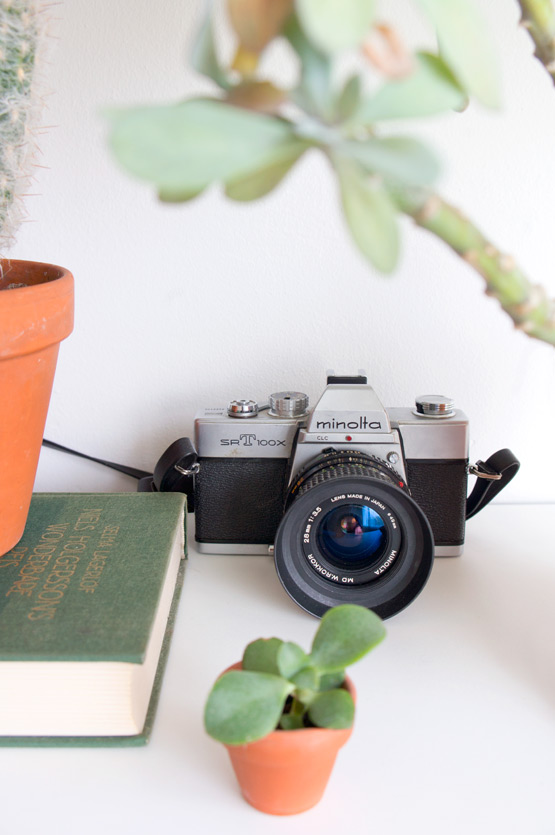 Another new thing at home: the Typodarium calendar for 2015 that my husband bought for me. It's a tear-off calendar with a daily dose of typography.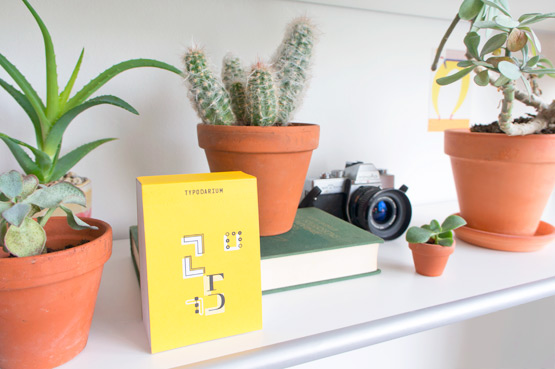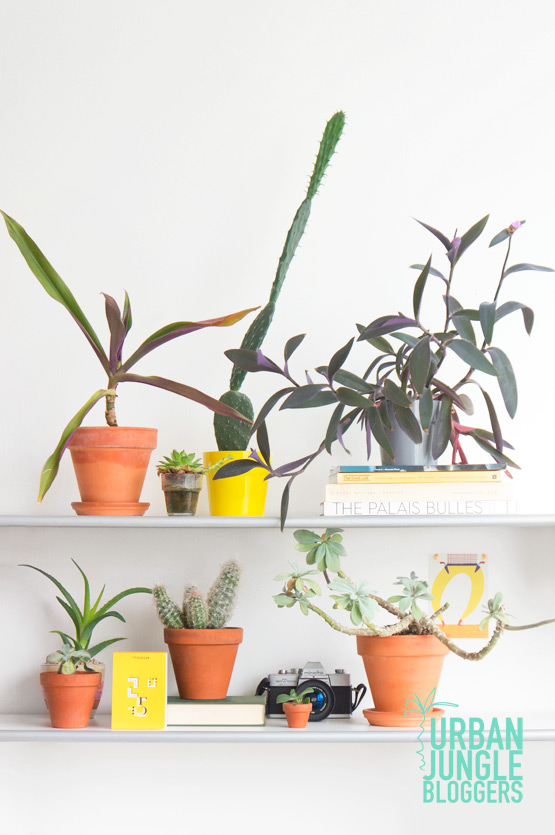 And proof that Urban Jungle Bloggers is really a lot of fun, also behind the scenes, this is what my installation looked like: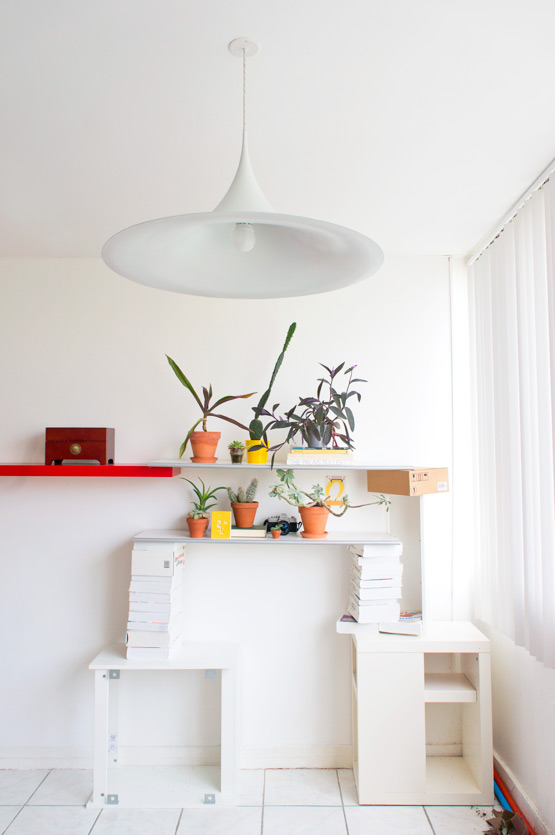 Will you show us your #plantshelfie too? We will pick 5 winners with the best plant shelfies and they will receive a little something from us! You can join until November 15th, can't wait to see yours!

Urban Jungle Bloggers is a monthly series hosted by 2 bloggers: Igor (Happy Interior Blog) and Judith (JOELIX.com). Every month we share ideas to create an urban jungle through styling ideas, DIYs and green tips & tricks. You can find additional inspiration on our Urban Jungle Bloggers Pinterest board and keep up-to-date via our Facebook page. Want to join? Find how on our website and use #urbanjunglebloggers on twitter and instagram. Let's bring some green into our homes and blogs!

► Fore more "plantshelfies" also check out: Happy Interior Blog /// Alspice Design /// Pretty Nice /// Apartment Apothecary /// Look! Pimp your room /// Colourliving /// Appunti di Casa /// Blue Moth /// Vivere a piedi nudi /// Enter my Attic /// Allihoppa /// Design Lovin' /// Beeldsteil /// Objects & Use /// Speculaas /// Decordots /// It's nice here /// + deco blog /// Luzia Pimpinella /// Wanesia /// My Paradissi /// Mouseblossom /// Northern Winds /// Craftifair /// Kreavilla /// Aentschie's blog /// Dramaqueen at work /// Helarious /// Hipaholic /// Bold Color Glass /// Svo margt fallegt /// Flohmarkt Schaetzchen /// Mademoiselle Poirot /// Ida Interior Lifestyle /// Flora Inspiro /// Capello a Bombetta /// Junifaden /// Eat Blog Love /// Interior Novice /// Pötit /// Soyz blog /// Myriam schrijft /// Confetti Option /// Refreshed Designs /// Un Due Tre Ilaria /// Traedraum /// Armoire, Pegs et Casserole /// Holunderbluetchen /// Kebo Homing /// siebenVORsieben /// Coopers Apartment /// Growing Spaces /// LapinBlu ///