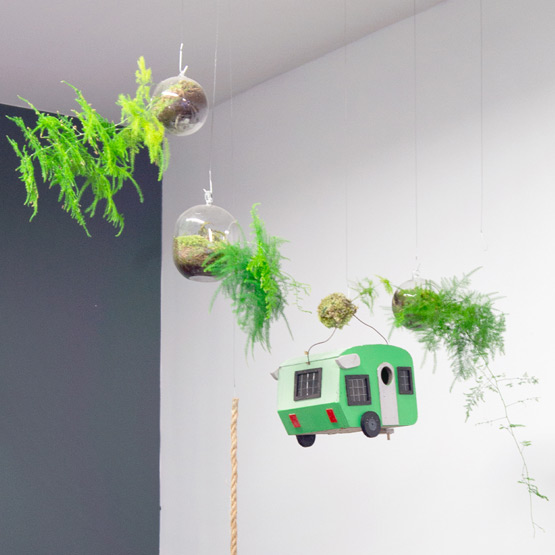 Last night was the official opening of a wonderful new green place in Paris: Green Factory. Unfortunately I couldn't make it, but I was lucky to visit a few weeks ago and seriously: if you are an Urban Jungle Blogger, you want to add this place to your Paris list. And even if you're not that good with plants, owner Noam Levy has a solution for you.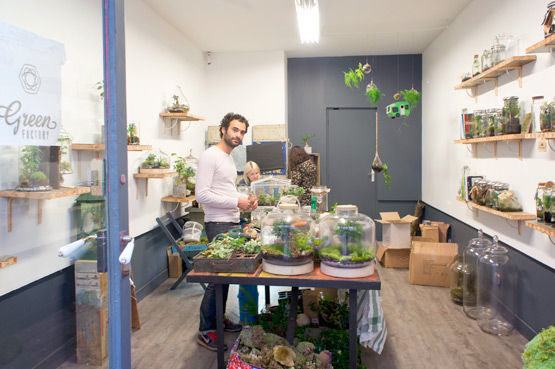 In their very cute workshop & boutique close to the Canal Saint Martin, Green Factory proposes a large selection of self sustaining terrariums in all different kinds of shapes. Miniature landscapes with a real tree as its main character: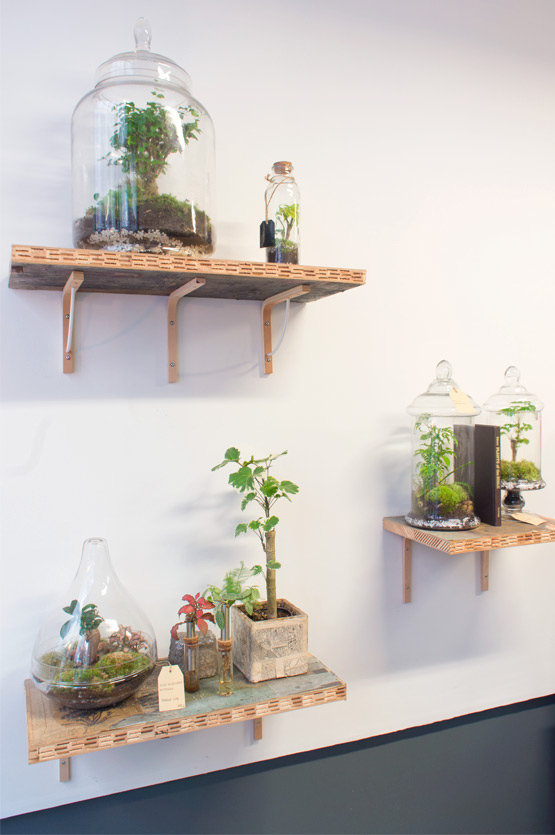 You've heard it before: I don't think a black thumb exists. Of course I've killed more than a few plants, but I believe that if you take time to care for your plant and do your homework (just Google to find out what your plant likes), you'll have a fair chance of enjoying a thriving urban jungle.
But if you like plants but don't have time for them, you should get yourself a Treeki. Taking care of plants couldn't be easier than with this completely self sustaining ecosystem in a glass jar. A Treeki is equipped with a LED light, powered by a solar sensor in the lid. Which means if it becomes dark, the light goes on and you still get to enjoy your beautiful greens. (you can see what that looks like right here)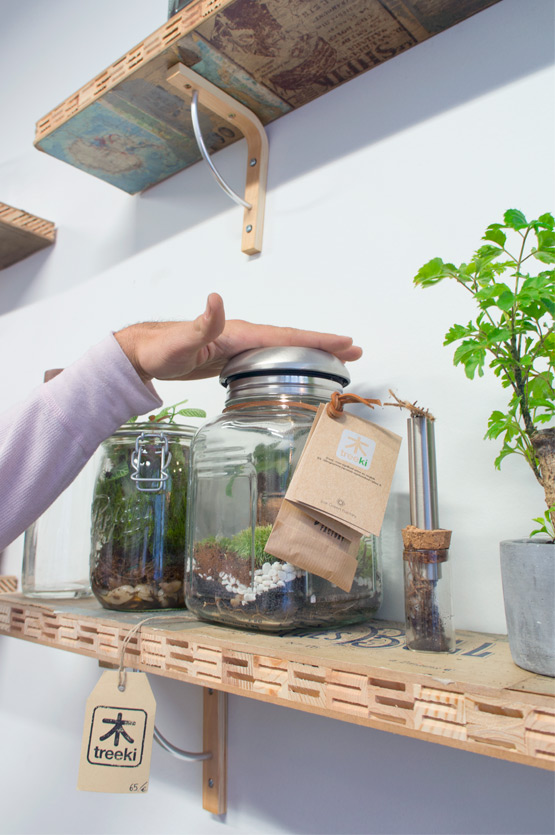 The little LED light doesn't really change anything about the photosynthese, it's purely decorative. You only have to water your Treeki twice a year and nature takes care of the rest: the water is absorbed by the plants, they reject it as steam and this becomes liquid by condensation on the glass walls. Which means the water is constantly recycled inside the jar.
The shelves in the store are also recycled, from nice wooden pallets: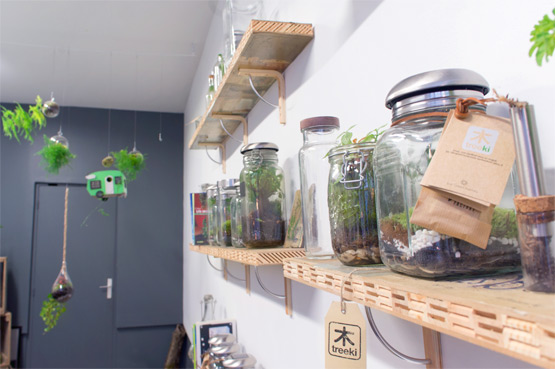 A little Kokedama: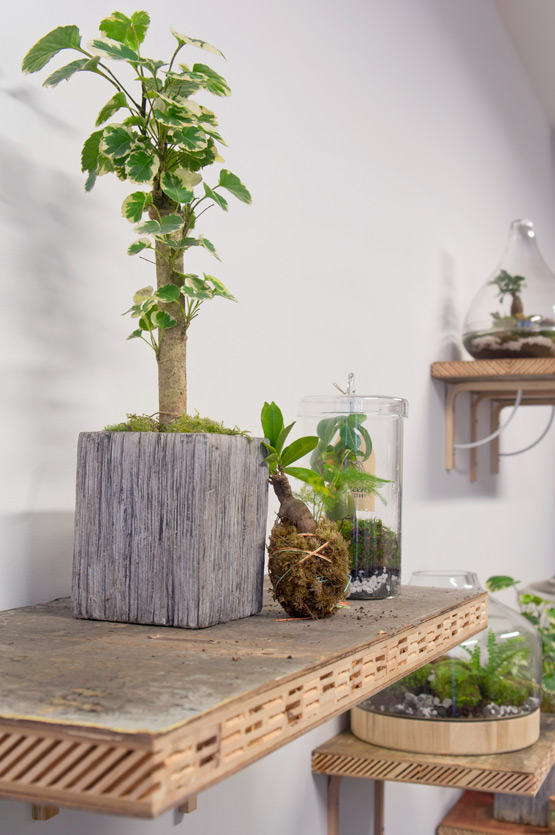 I love that the workshop of Green Factory is in the middle of the action. You immediately get a peek behind the scenes, with misting tools, glass containers, little Ginseng ficus trees, planters and soil. My hands got all itchy, I wanted to make something too: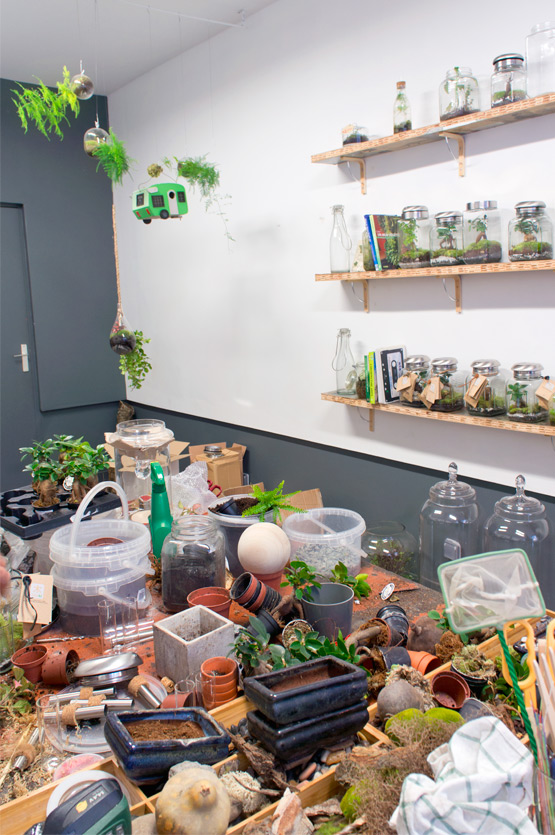 Another corner of the store with a large diversity of plants like les Filles de l'Air (air plants), mosses and beautiful Asparagus ferns: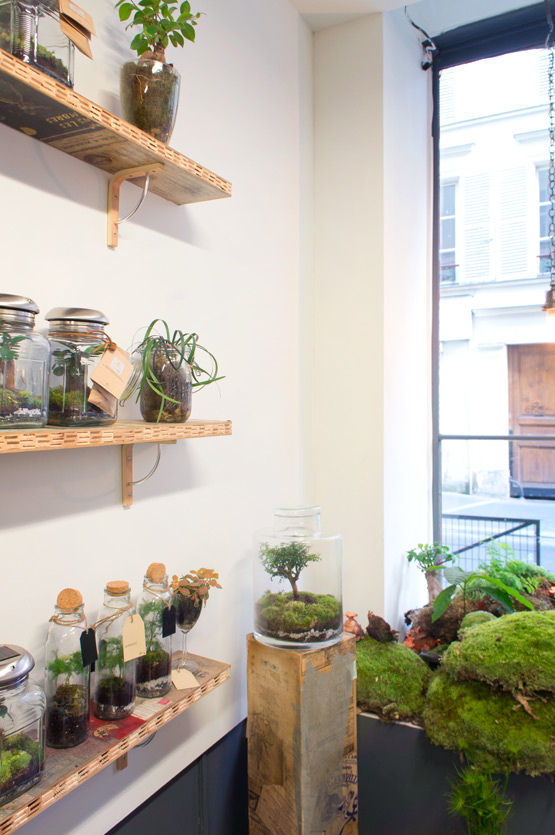 So, what do you think? I know I'll be back soon for a real workshop 😉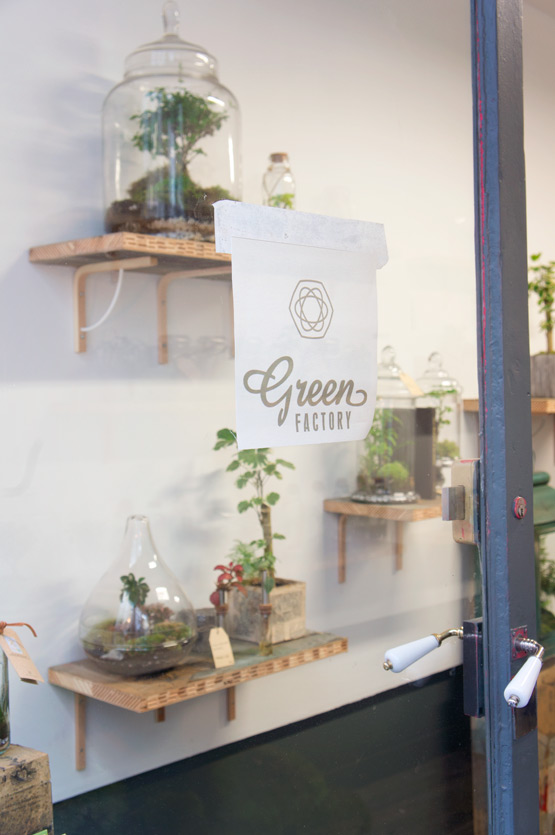 Green Factory /// 17 rue Lucien Sampaix /// 75010 Paris /// 06 07 96 67 16
open every wednesday through sunday 11:30 – 19:00