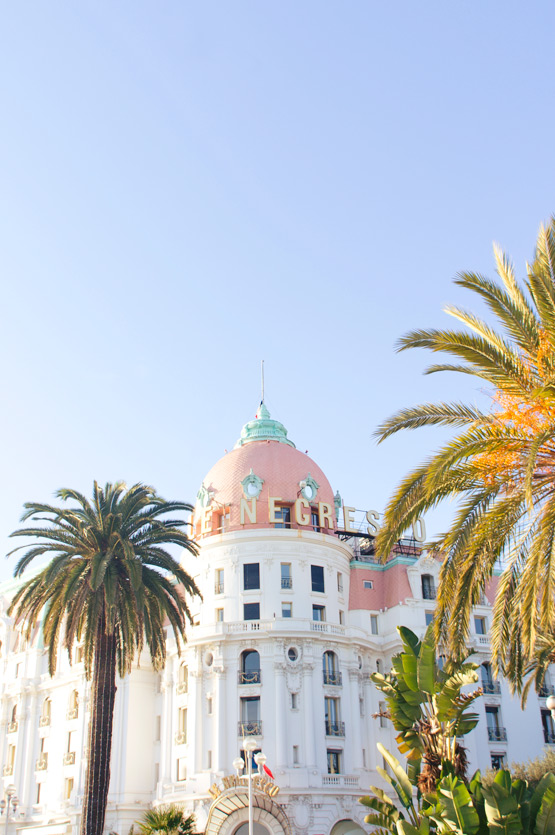 I never imagined running a race would actually be FUN! When I teamed up with Kalenji a few months ago to celebrate my 200th run, they challenged me to run 10K in Nice in January. For me running is rather personal, a way to just be outside, clear my head and get sweaty. Not something I imagined sharing with almost 9000 other runners. But I was curious and accepted the challenge. After a particular rough week, with the tragic terrororist attacks in France, I left Paris for Nice "right in the middle of it". The sunshine and beauty of Nizza warmed my heart.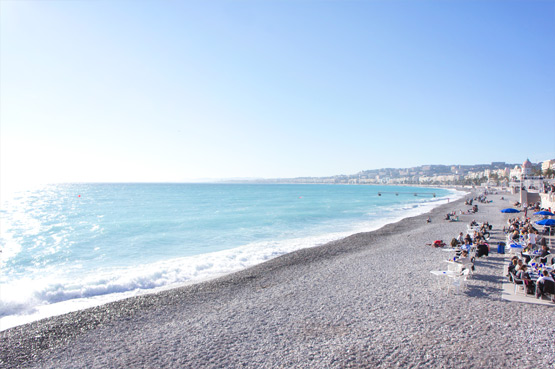 The Prom'Classic is a 10km race along the world famous Promenade des Anglais, along the Mediterranean. You run from the Old town, Vieux Nice, to the Airport and back. The entire time you can see the sea, the many many palm trees along the promenade and pass by the gorgeous Negresco.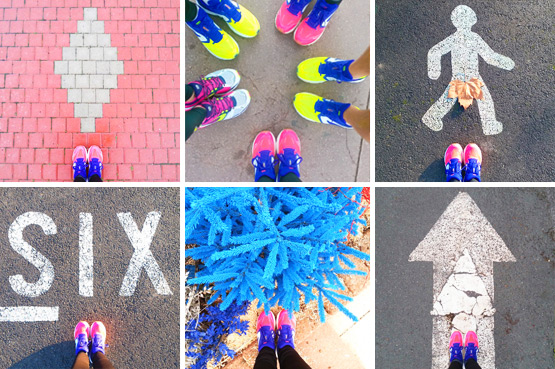 Part of the challenge was to run on the new Kalenji Kiprun SD3 running shoes. I've been running on them since December and they are bright neon pink, super light and I honestly like them a lot. Ever since my first visit at Decathlon (where you can buy all kinds of Kalenji running gear), I've been running on their shoes. First a pair for short distances, then a pair for medium distances with a little bit more bounce and firmness. But design-wise they were not the prettiest. Their new 2015 range is definitely more up-to-date!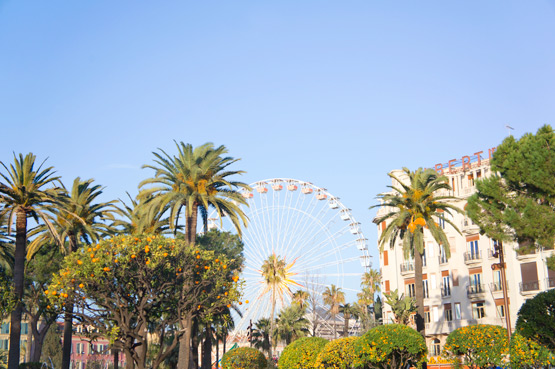 Now let me tell you about the race. My first race ever! I was ready, the weeks before the Prom'Classic I ran 10km twice. I was also slightly nervous. Because how do you run with so many people around you? Would I need to use my elbows?
Minutes before the race, the mayor of Nice (one of the runners!) reminds us that we all wear the same shirt. That we run to show that we are free, that we are not afraid and that the values of solidarity and sharing will triumph barbarism. Followed by a minute of applause and then the first group of runners, that would run 10km in less than half an hour, are off.[[more]]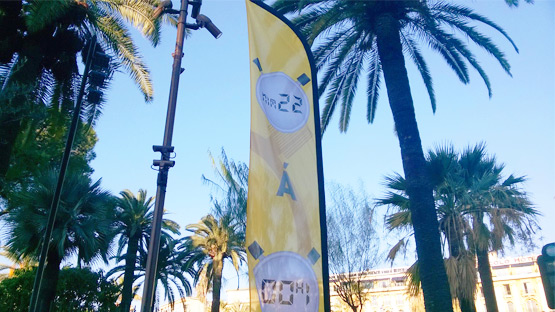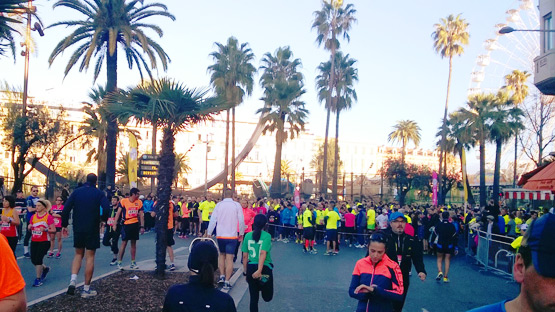 Together with Ana from Corra Comigo and Charlie from The Runner Beans, two of the other bloggers invited by Kalenji, we decide to start in the Ladies SAS: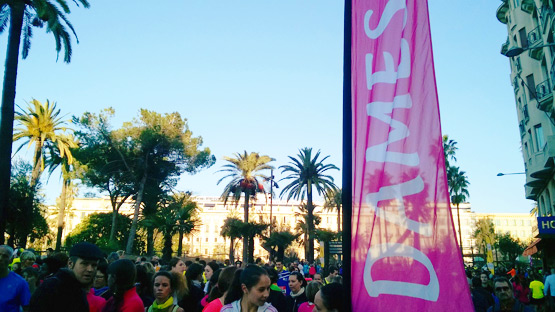 The crowd is rather quiet before the race, no elbows, no more warming ups. Just impatient to kick off.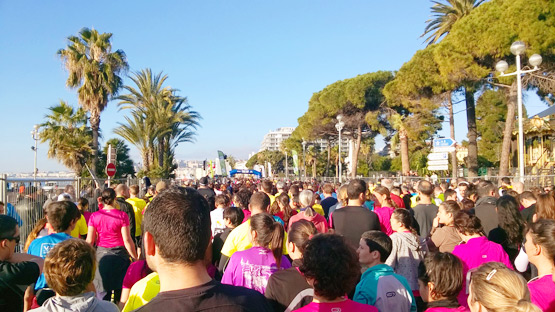 ► And then GO! The first 2 kilometers are extremely quiet. No one says a word, no sweating, no gasping. Just silence, the view on the Negresco and the Mediterranean. In the middle of the silence, we pass by a a few girls that are cheering on their girlfriend Carol. Their boundless enthusiasm makes all of us runners feel like Carol for a moment. It makes me smile and run a little faster 😉
► After the first two kilometers, the sweating and runner's noises starts. I pass by the first Brazilian drumband and the giant inflatable Santa in front of the maternity of Nice. The airport marks half of the race. I watch my phone and see that I ran the fist 5km in less than half an hour. Just after the return, volunteers hand out cups of water. I don't take any, but many do so: the pavement is covered with empty cups.
► I pass by a guy that seems very untrained. He is being cheered on by his personal coach and he almost gives up. Another woman decides to walk for a minute. Some Sapeurs Pompiers run with their disabled buddy in a wheelchair. A husband rides his bike along his running wife and they talk about a family member. I see the 8km mark and can see the roof of Le Negresco again. We see a banner above the Promenade, but realize it's not the finish yet. A few runners are annoyed, they expected it would be "finally" over.
► Then the cheering becomes louder, everyone starts running faster, and then Yay: the real finish! We did it! I pick up some water and a banana. And my official medal! I send a happy and sweaty selfie to my family. I'm so happy that I did it, loved that it wasn't the big massive event that I expected, but a very honest, fun and sunny run.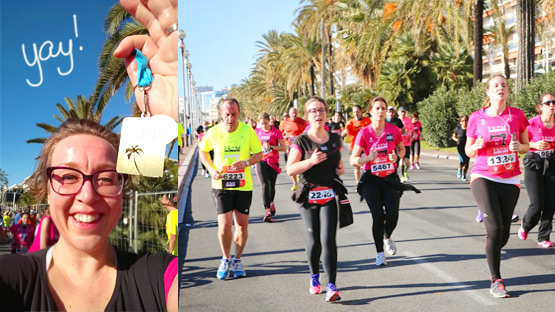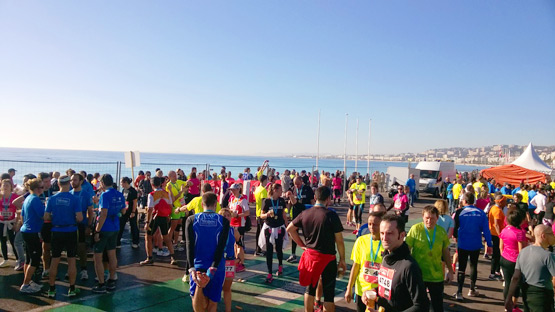 Hi from the Kalenji bloggers: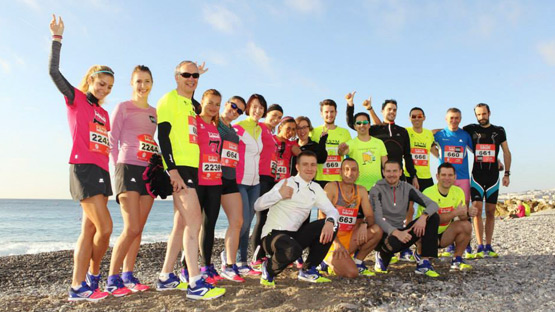 Another highlight of the weekend was meeting with the other running bloggers. All of them were well trained runners, marathon aficionados, thriathlon champions or very enthusiastic (and fast!) runners. Even though I was (!) a 10K newbie, it was all about having a great time. I loved hearing all the insider details, about speed, training, gps tracking watches, cute running outfits and previous races. Merci Kalenji for the wonderful weekend! I'm so glad I accepted your challenge!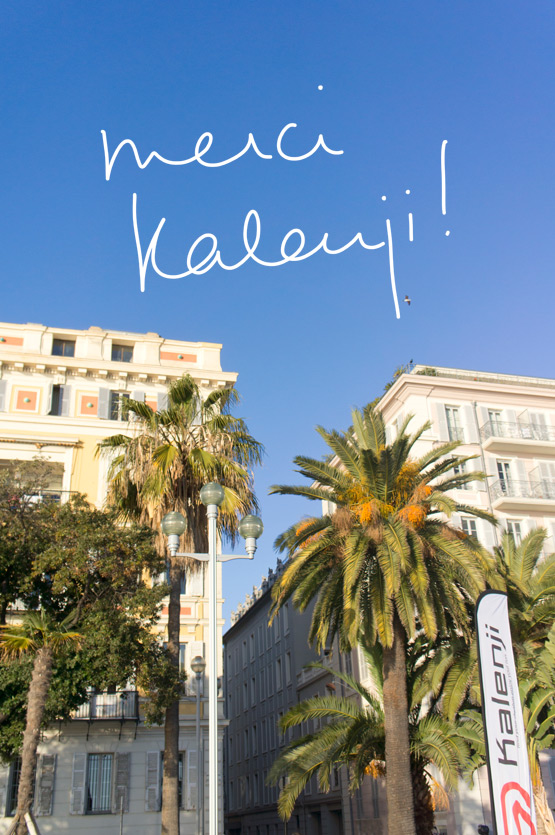 Now tell me, did you ever run a race? Did you like it? Or could you imagine running one… ever?