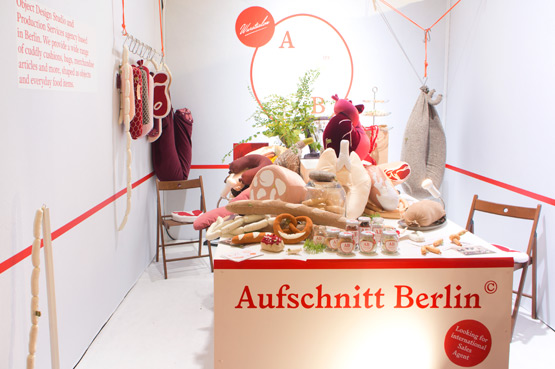 Yesterday I was at Maison & Objet in Paris and my first crush was a rather unexpected one. It took me two seconds to realize this was fresh and different (and let's admit: a little bit crazy too). Aufschnitt Berlin is a Textile Butchery: they create products that mimic regular sausage and meat products in traditional sewing techniques.
Designer Silvia Wald is a vegetarian but loves creating cold cuts in wool, lycra, microfiber and fake leather. She also designed human organs, like lungs, a stomach, a tongue-backpack and a beautiful heart: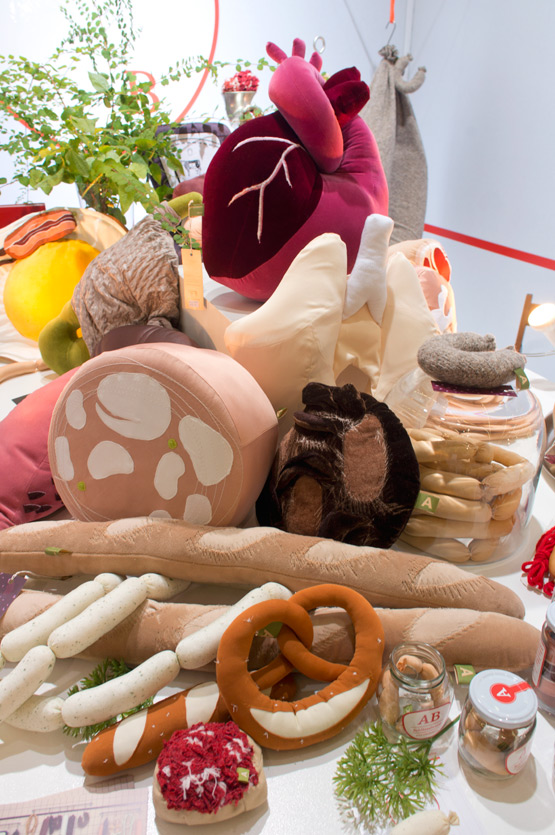 I never thought I'd say this: but I fell in love with a sausage! My favorite is the salami, but look at that Face-sausage: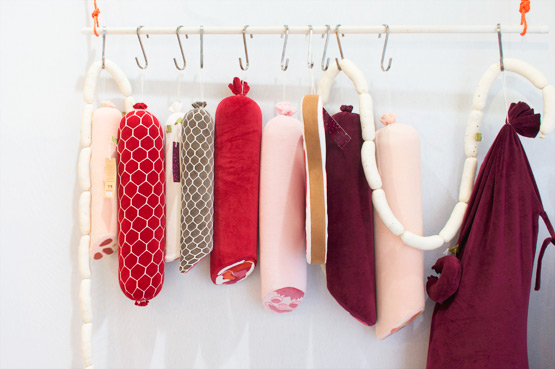 The chicken leg below has a removable skin (eewww!):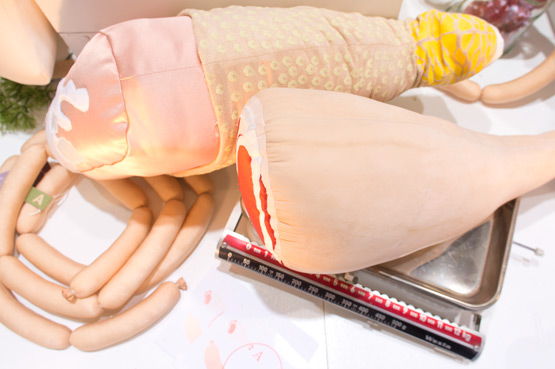 These are not just some kind of cheap plush toys: they're actually really well made, some fabrics are tie-dyed to obtain a very meat-y aspect and the fillings are customized to ressemble the fat and veins in real sausages.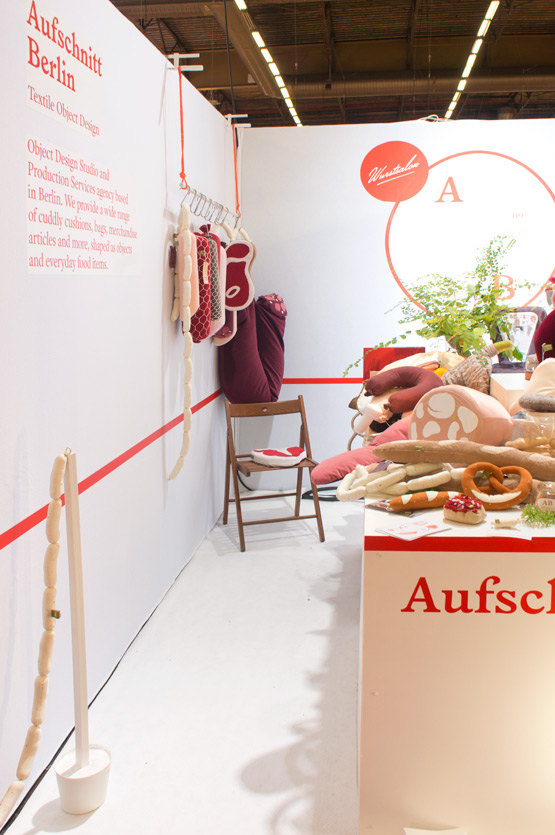 What about some bacon & eggs, a.k.a. a sleeping mask and pillow: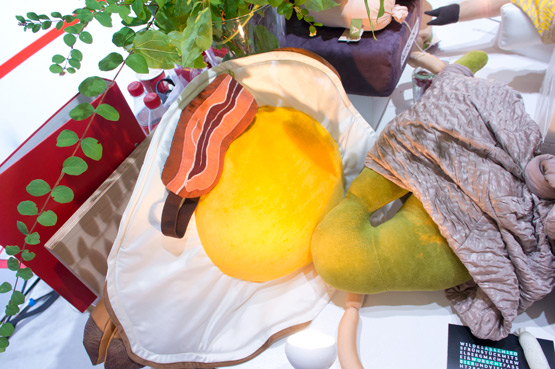 And not only do the meat and organs look great, their entire branding and styling is spot on. I'm such a sucker for nice branding…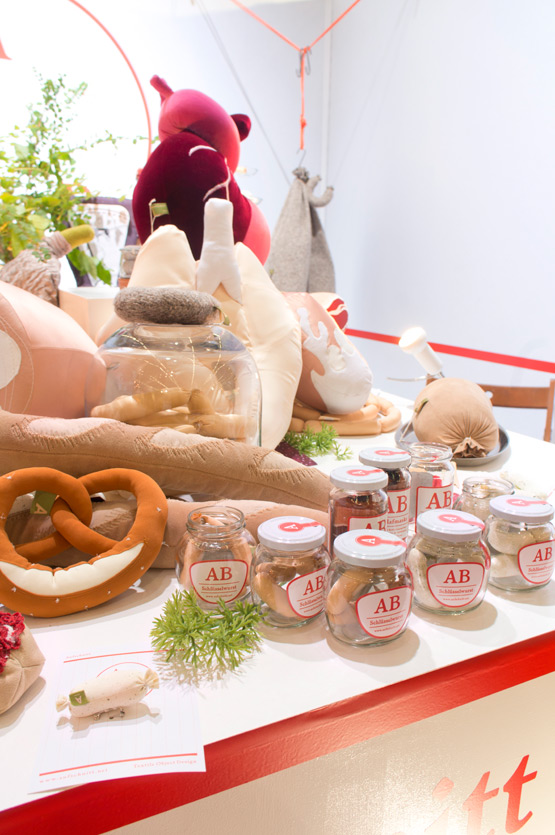 Another fun fact: earlier this year Aufschnitt presented their sausages at Markthalle9, where Streetfood Thursday takes place every week. If you're ever in Berlin on a Thursday, you don't want to miss it. I wrote about it here.
Silvia showing me her lungs: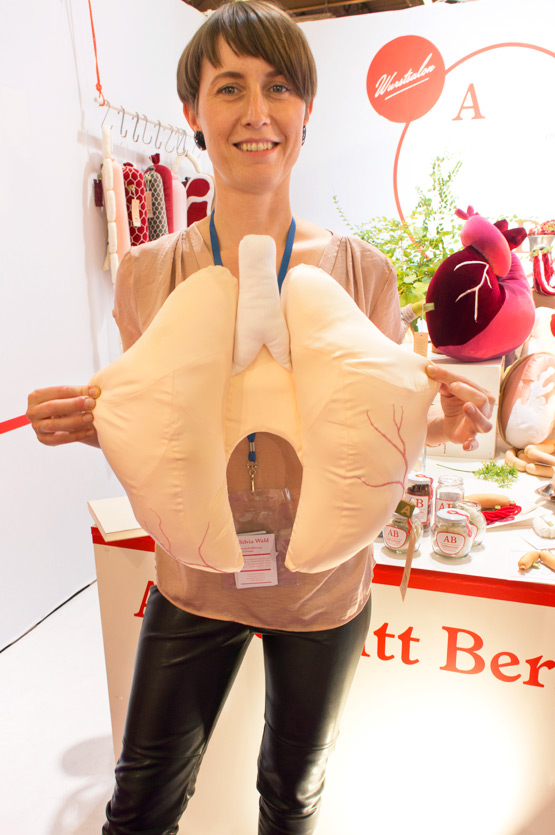 Although Aufschnitt is a Berlin-based brand (hence the pretzel!) they also included French baguettes in their collection: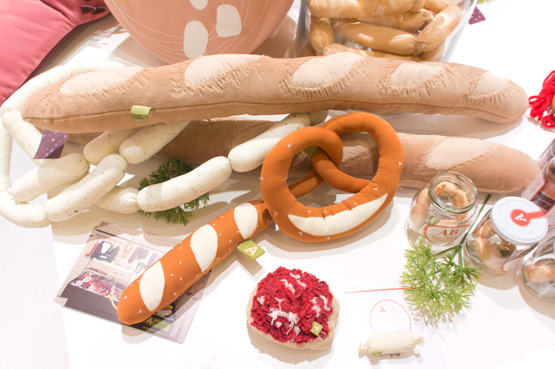 So, what do you think? Yayy or nay? I totally wishlisted the Heart and a Salami.
I'll be back very soon with more design from Maison & Objet. In the mean time you can check out my favorites from last January, if you like. Enjoy your weekend!