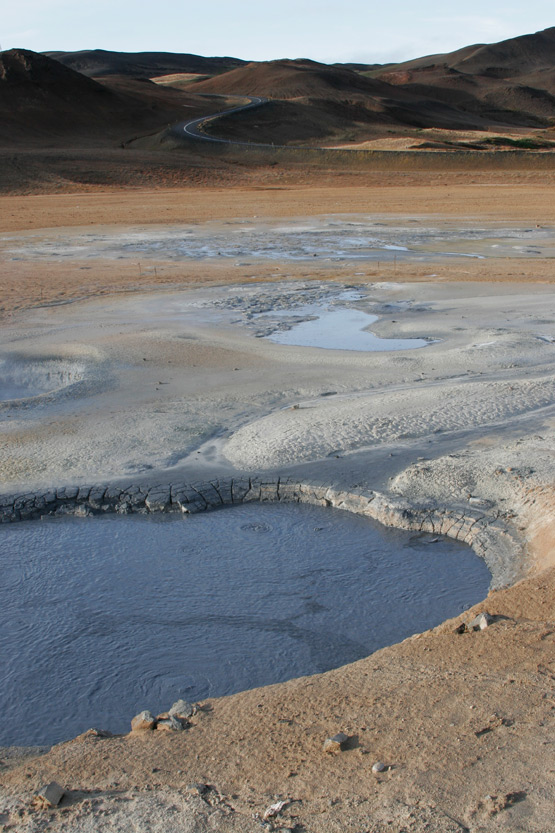 Previously: part 1 and part 2.
After our adventures in Reykjavík, Vestmannaeyjar, Skaftafell and Jökulsárlón, we are now in Akureyri, a small town in the North East of Iceland. Upon arrival by bus we immediately decide to find a rental car. It would be so much easier to explore this area by car. We find a great deal at Thrifty and check in at our apartment in downtown Akureyri. It's spacious and the air is fresh and it feels healthy to be here.
We do some grocery shopping and I do my very best purchase of 2009: a 66°North Vik jacket. It's soft & warm and the perfect layer to keep me warm. Over night it snowed and in the morning we make plans for the day. First stop: Gullfoss, a huge waterfall where we are (again) the only visitors. We watch the water, take some pictures and the splashing water gets us wet.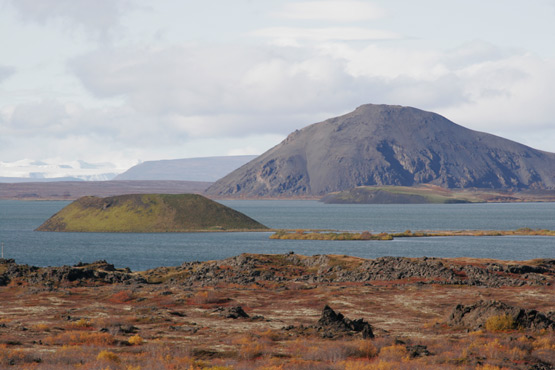 Next stop: Húsavík, the hometown of whale watching. The weather is too windy and there's no whale watching that day, but we don't mind and head for Lake Mývatn. Mývatn is a lake situated in an area of active volcanism, not far away from Krafla volcano. The lake and its surrounding wetlands have an exceptional rich fauna of ducks and midges (only in the summer, lucky us!), but most of all it's good for stunning views: the color of the lake, the sunshine, the surrounding volcanoes… wow!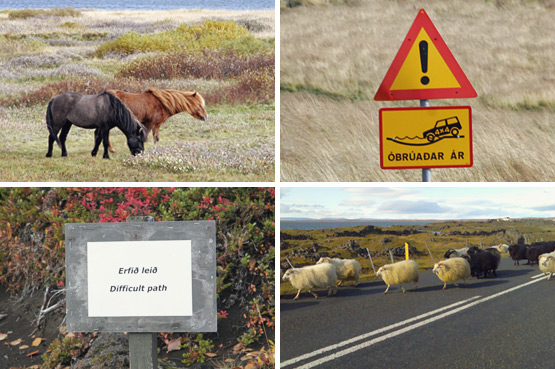 We then drive to Hverir, a solfatare field near the lake, which means: lots of fog, mudpots, steam, colors and rotten egg odor (due to the hydrogen sulfide). We feel so lucky to be here all by ourselves with this beautiful sunlight & mystic athmosphere. Truly amazing. I can hardly stop taking pictures, this place is just surreal.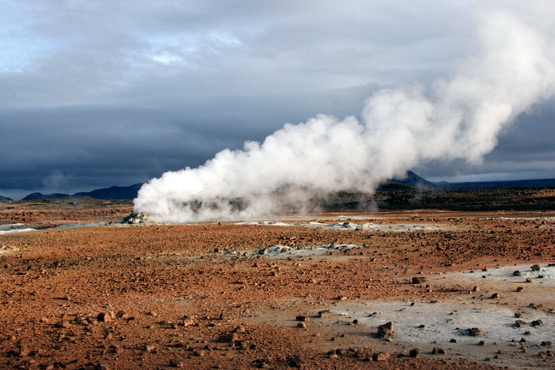 The next day we head for Dimmuborgir, a lava field with unusually shaped lava pillars and chamber-like constructions. Once there used to be a lake and the boiling water and rising vapour formed lava pillars when the lava flowed across it. It's quite a touristy place and the Yule Lads (santa's helpers which come down the hill in the 13 days before Christmas), didn't really help. It may be a cool Icelandic folklore tradition, I wasn't charmed.
We continue our trip to Dettifoss, Icelands biggest waterfall. After all the waterfalls we've already seen, this one is just HUGE and so is the river valley. On our ride back to Akureyri along the Northest peak of Iceland (we saw the Norwegian Sea!) it starts snowing and soon we're stuck in a true ice storm. The weather changes so fast in Iceland!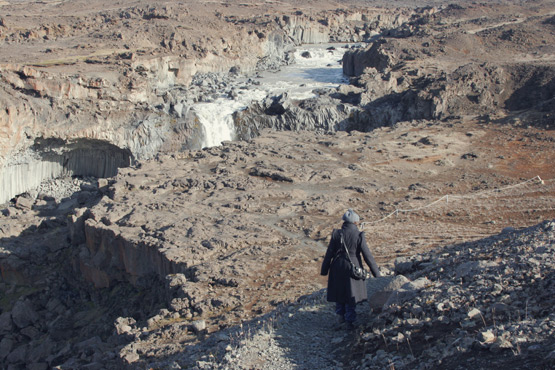 No Blue Lagoon for us, but the Myvatn Nature Bath. Smaller, less touristy but a great experience nevertheless. We needed it to warm up after a cold day. Which we started driving on a gravel road (prohibited for small rental cars like ours: we are true dare devils!) to Aldeyjarafoss, Svartifoss's big brother waterfall with huge vertical basalt formations and a very steep river valley. The ropes along the road to the scenic points, are not in good shape. It's a little scary, escpecially with all the wind. We warm ourselves up at a local farm café where they serve traditional soup with lava bread and delicious homemade chocolate cake.
Then off to Krafla where we stand on an active volcano for the first time! It was very impressing, but so very cold. We wear at least 5 layers of clothing (including my new 66°North vest) but we are still freezing. Even when we soak in the Myvatn Nature Bath we are cold. The wind lowered the temperature of the water by more than 10 degrees. And the outside temperature is around 0°C. Brrrrr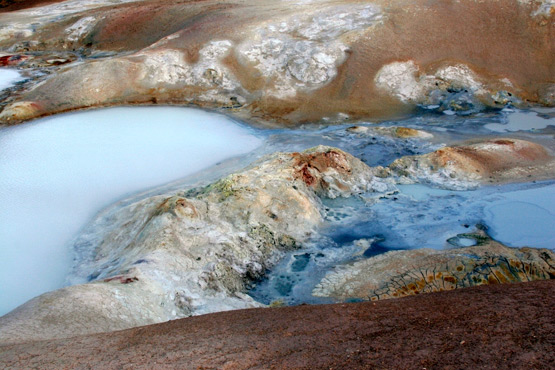 We get dressed and head "home" to Akureyri. Again we are surprised by a snow storm. While we drive slowly and look at the sky clearing up, we see the Aurora Borealis! It's a fantastic end of the day. I had never seen it before, but now I totally understand why people believe in elfs and other mystic creatures. The movements are unlike anything I've ever seen.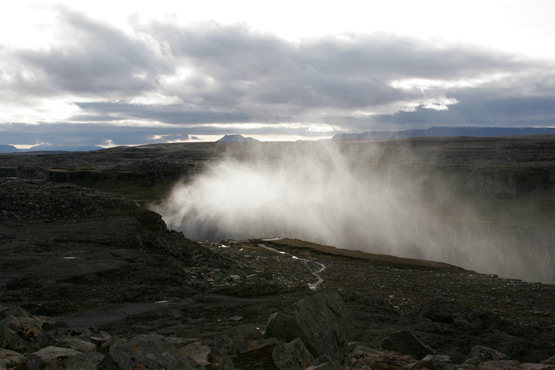 Before flying back to Reykjavík and Paris, we visit the city center of Akureyri (kaffihus again) and the Art Museum, with a beautiful collection of Icelandic photography. One of my favorites was this one where schoolboys get light therapy in the 1960s (see below). The long Icelandic winters must be quite something…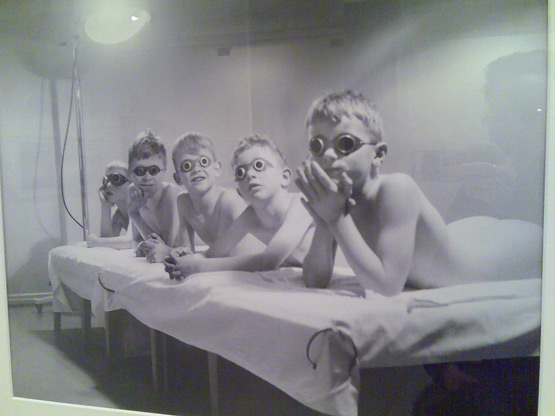 Overall: Iceland was more than amazing. We are definitely coming back and already planning on buying a Defender 110… Plus we might sign up for one of these cool invitations by locals.