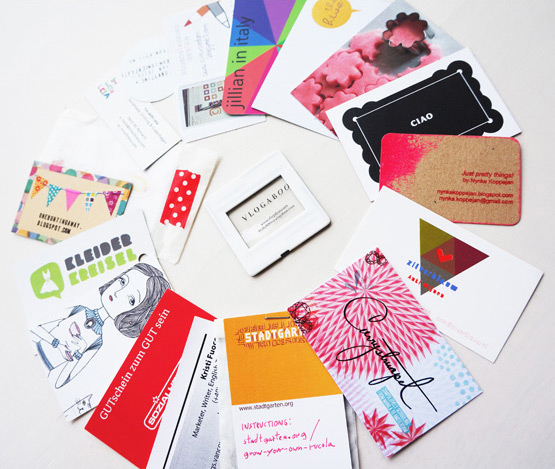 This weekend I attended The Hive in Berlin, a European Blog Conference with speakers like Freunde von Freunden, Design Mom, sisterMAG, Zilverblauw, Prêt-A-Voyager, Hauptstadtmutti, Fryd + Design, Lost in Cheeseland, My Paradissi and many more.
Besides the interesting & inspiring talks, it meant lots of pretzels, colorful frocks, many cameras, tons of tweets & pregnant bellies (I loved @Überlin's tweet: RT if you're at #hive12 and you're *not* pregnant!), lots of stairs (4th floor venue), so many smiling faces, enthusiastic conversations…
…and lots of cool business cards! As a graphic designer, I was curious to see what others came up with and it turned out to be quite a colorful bunch. In Germany the idea of handing out business cards on social events like The Hive didn't seem very common. Some German bloggers told me they were a little surprised that others would expect them to hand out their card. Above are a few of the cards I collected.
Clockwise starting at CIAO: Reisefreunde, Just Pretty Things, Zilverblauw, Currystrumpet, Stadtgarten, Kristi Fuoco, Sozialhelden, Fräulein Text, KleiderKreisel, One Bunting Away, Almalu's Place, I'm with Leila, Funkytime, Tante Taart An and Circus Edgar, Jillian in Italy, The Girl at the Laundromat, Mat & Mi, and in the middle the cute dia slide by Vlogaboo.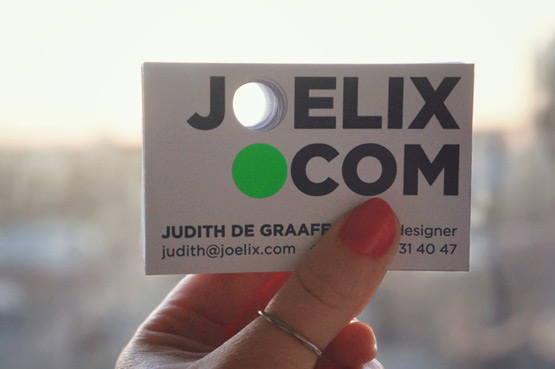 The week before The Hive I made a bunch of new fresh cards. To me, good design is all about simplicity, so I just used some vintage sticker paper from Studio Sapique, a hole puncher and the sturdiest printable paper I could find to make my cards. Here is what they look like: