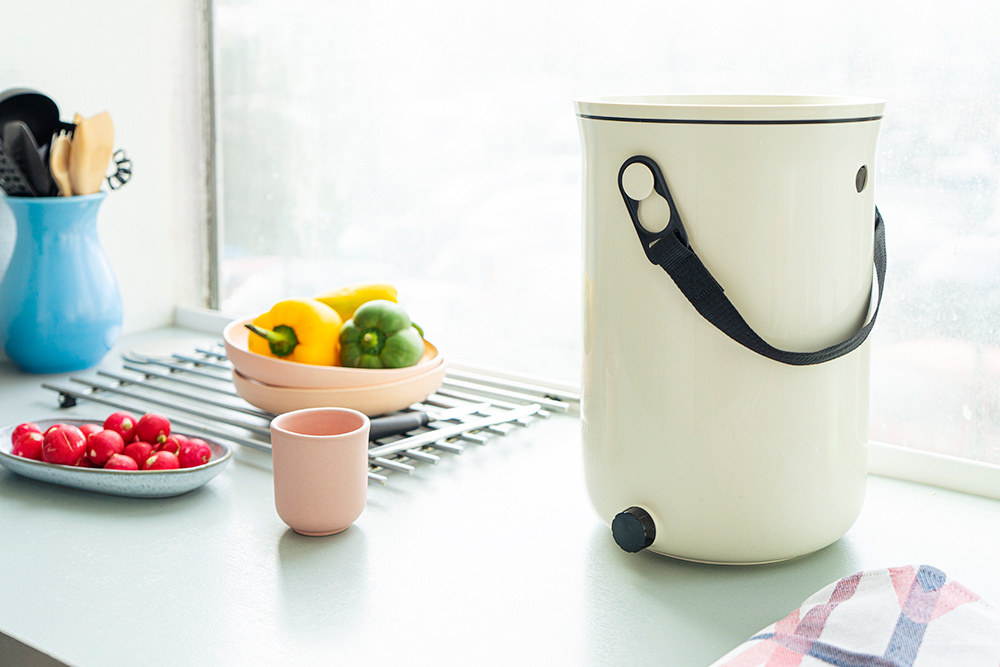 Being conscious about what we buy, eat, where and how we travel, how we use fossil resources, water and electricity has been a big part of my upbringing. Yet, I never do enough. For example, in my childhood home we had a composter in our garden, but now as an adult I hardly ever compost, except from the occasional apple core that I toss into the garden. I knew it was something that I wanted to do, because it's so easy and allows to reuse organic waste: as fertilizer for my indoor plants and as organic compost as well. And it reduces the amount of trash that goes to landfill.
When choosing a "practical" item for our home, both function and form are key decisive factors. Tools and useful items should be easy to use, but also look good, especially when you use them daily, like a composter. That's also why I hesitated every time I saw those dark green kitchen composters, that even look ugly in a kitchen cupboard. Not to mention the smell. Most small organic waste bins don't have anything to prevent the bin from unpleasant smells. I don't know about you, but I'm rather sensitive to smells and perfumes, so no way I was considering a classic organic waste bin in the kitchen. That's why I was very enthusiastic when I spotted the new Skaza Bokashi Organko 2 at Maison & Objet in January. What at first looked like a sleek bucket, turned out to be a home composter that won a 2019 Red Dot Award. They guarantee absolutely no smells, because the BO2 presser, keeps the content of the composter completely vacuum. The team at Skaza kindly sent me Bokashi Organko 2 to test at home and to share my experience with you. So here we go!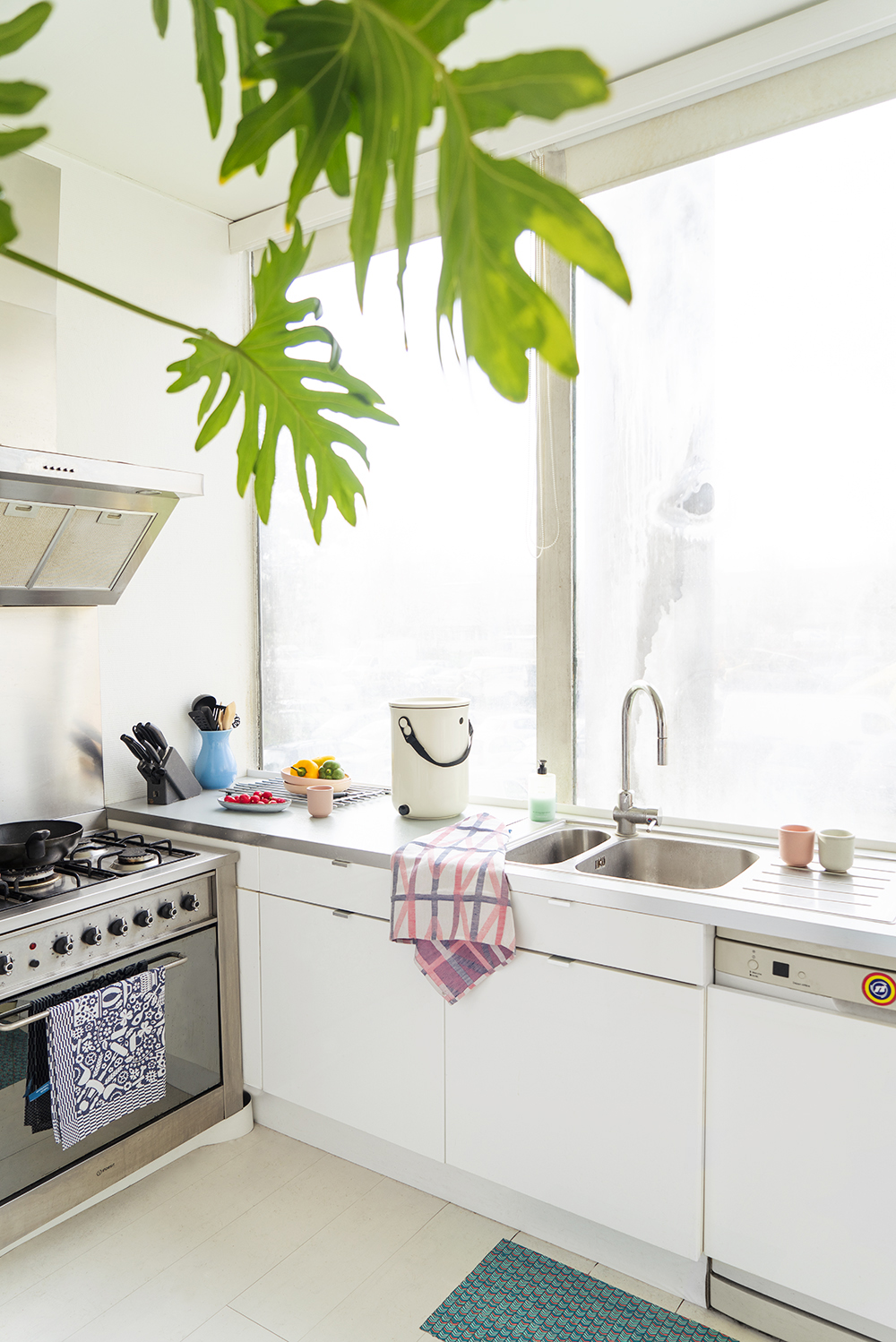 As you can see, the Skaza Bokashi Organko 2 looks a bit like a bucket, however it is made of recycled plastic, and their new dark blue version, is even made of ocean plastic. The composter comes in different colors as well, like orange or khaki green, but I think this beige version is versatile and looks good in most kitchens.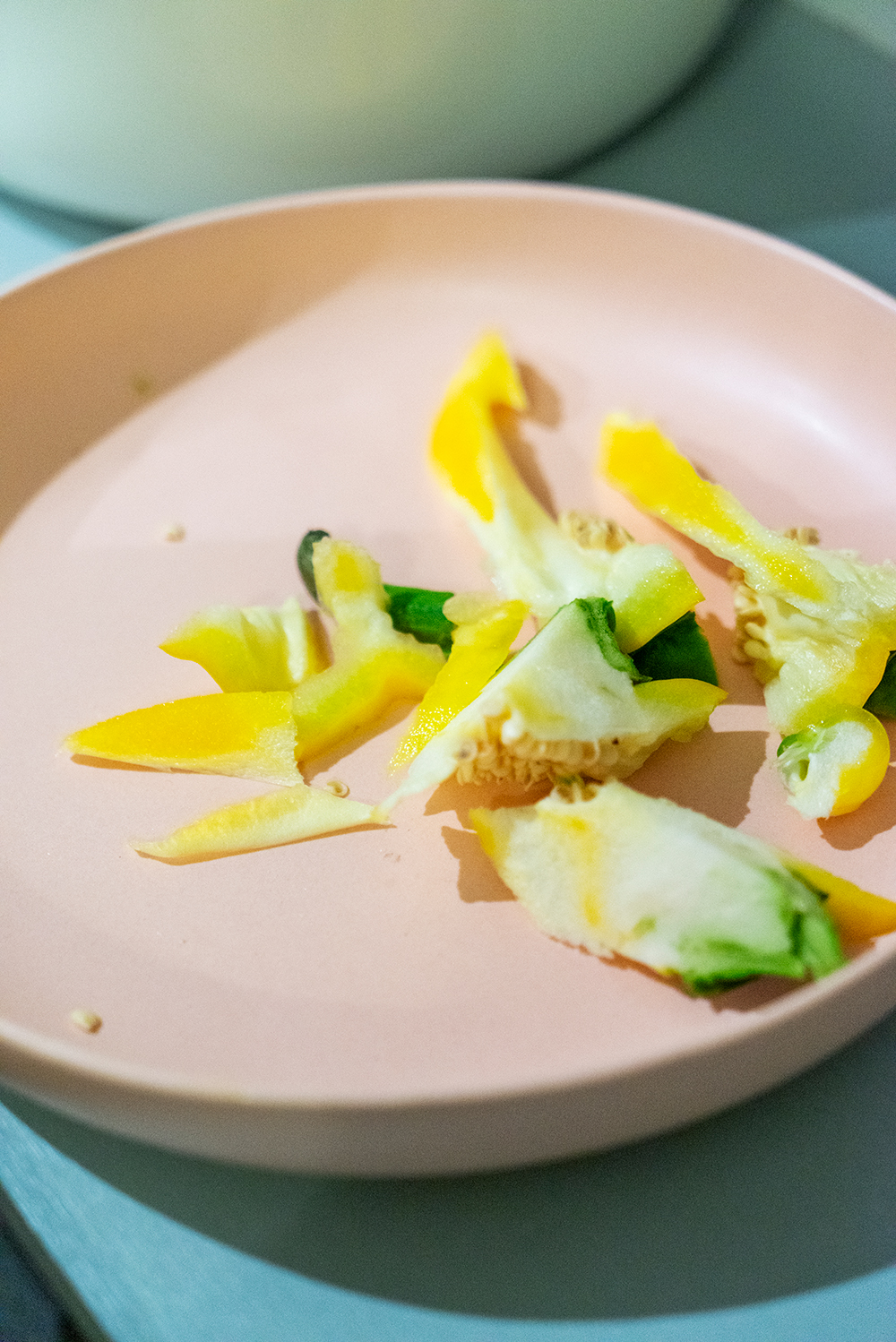 Using the composter is easy: you chop up your veggies, and gather anything like vegetable peels, fruit skins, peels, leftover salads and everything that you would throw in a traditional composter. Unlike a traditional compost system, you can also add cooked food scraps, meat, bones, dairy, baked goods (bread, cookies etc), egg shells… All food waste!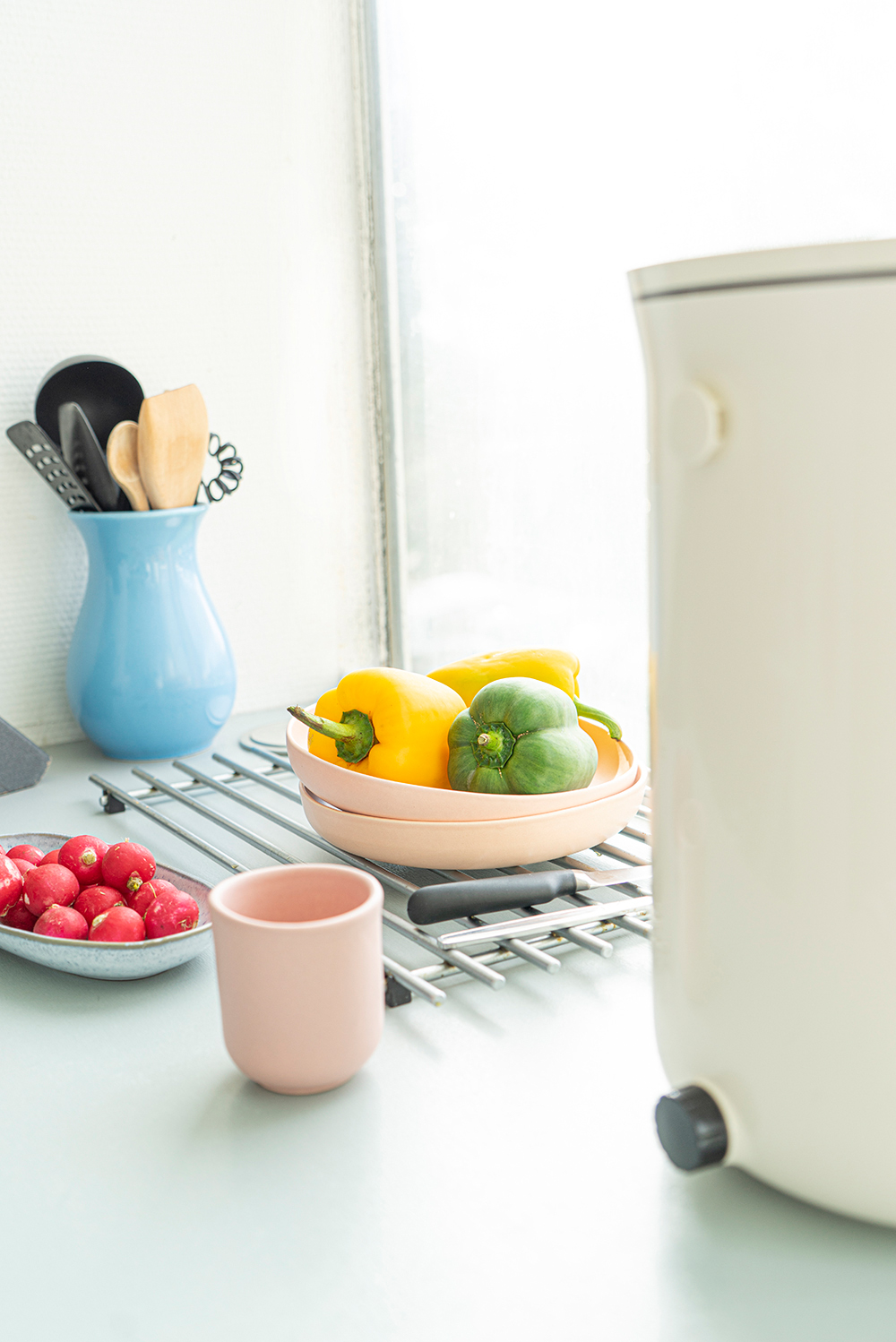 In this video you can see more of the different steps of using the Bokashi Organko 2:
Before starting to use the composter, have a look inside, don't these holes look cute and "organic"? 😉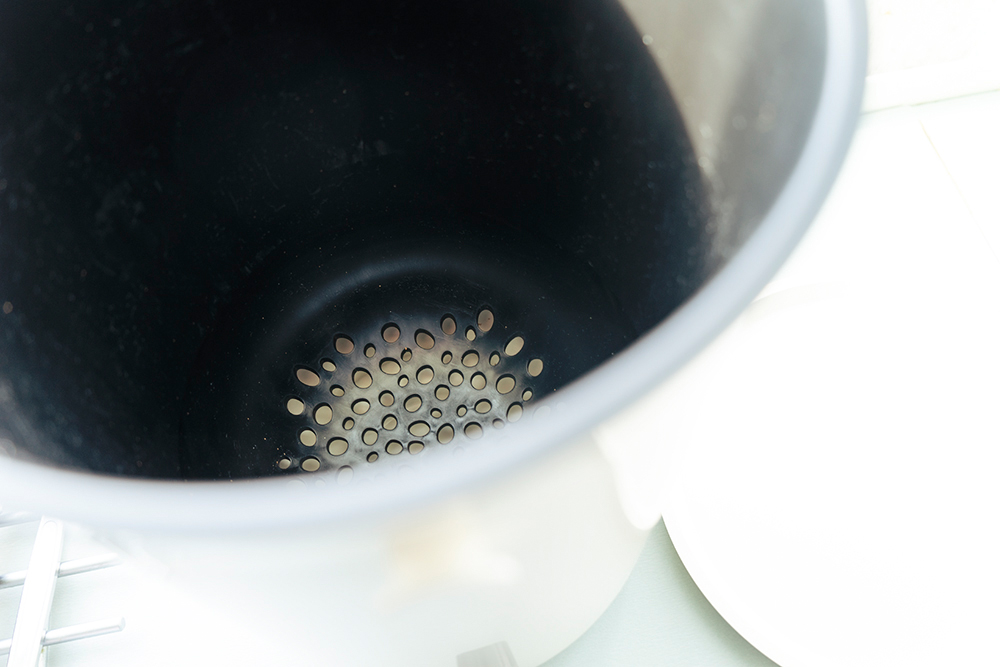 To improve the fermentation process of your organic waste, you use Bokashi Bran. This is a mixture of bran mixed with molasses (sugar and water), enriched with useful microorganisms (lactic acid bacteria, yeasts, photosynthetic organisms, enzymatic active fungi), which initiates the fermentation process and prevents the rotting of waste in the Bokashi Organko composter. I must say that this Bran has a very particular smell and I advise to store it in an airtight pot. The first day I kept it in the sealable plastic bag only and the entire kitchen had this sweet earthy smell.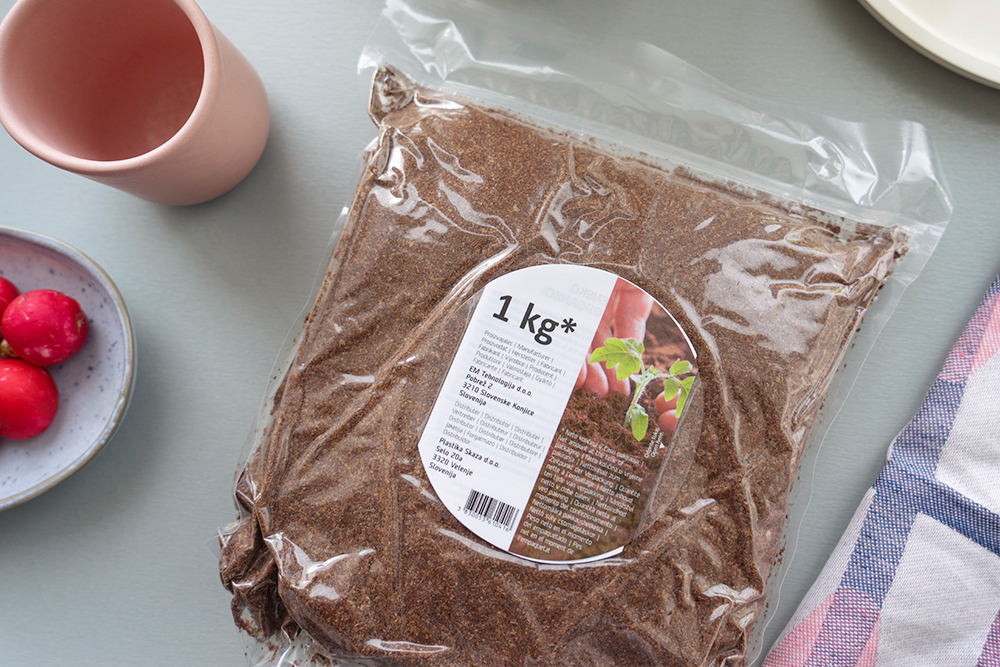 Every time you add organic waste to the bin, you add a scoop of 20gr of Bokashi Bran to improve the fermentation process:
The BO2 presser lid keeps the content of the bin completely vacuum: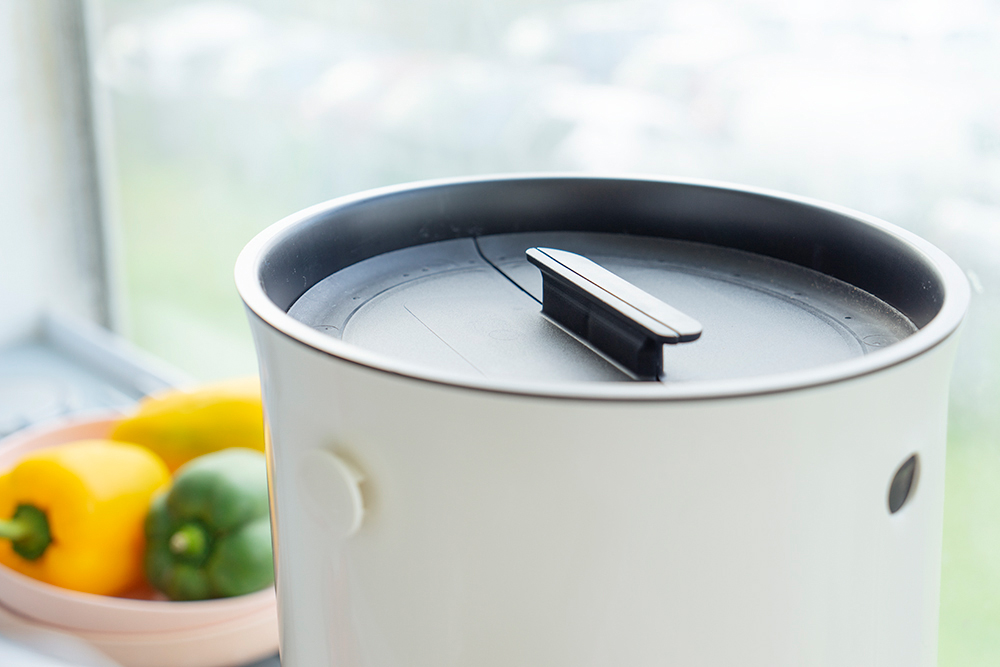 Simple and easy to use: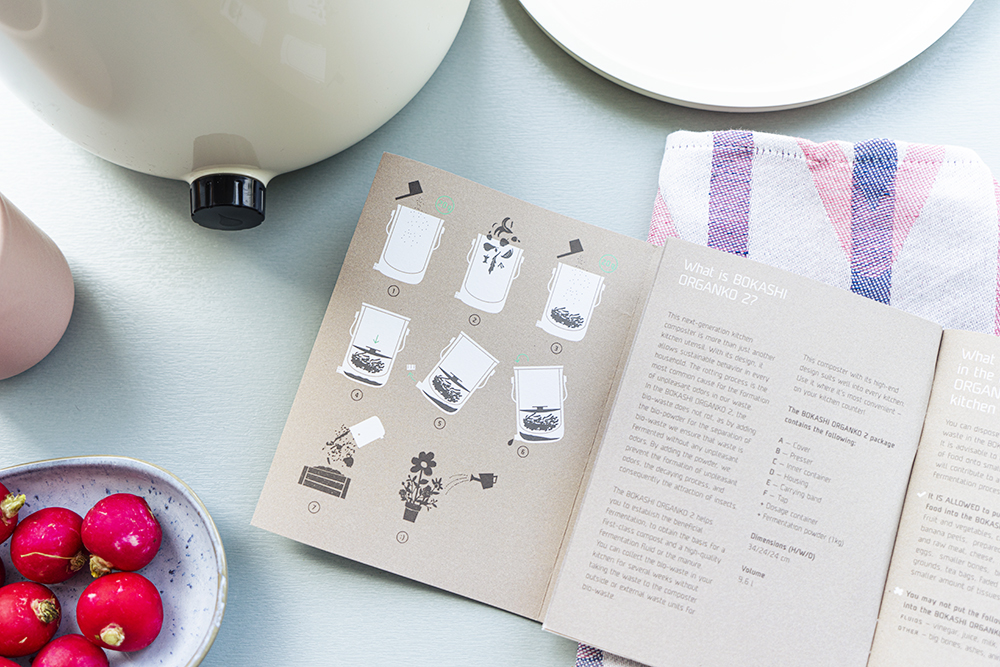 Scoop scoop: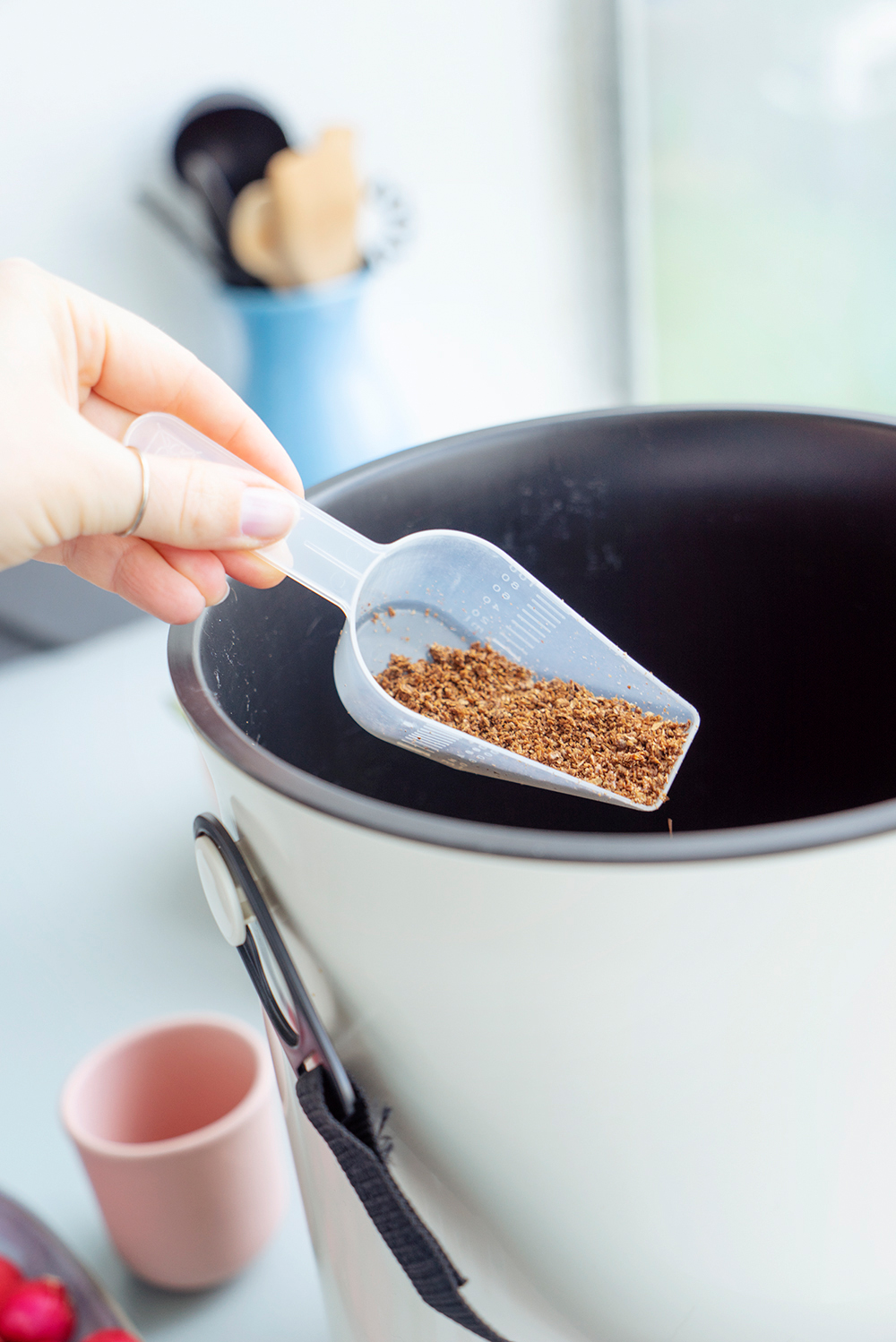 Organic waste: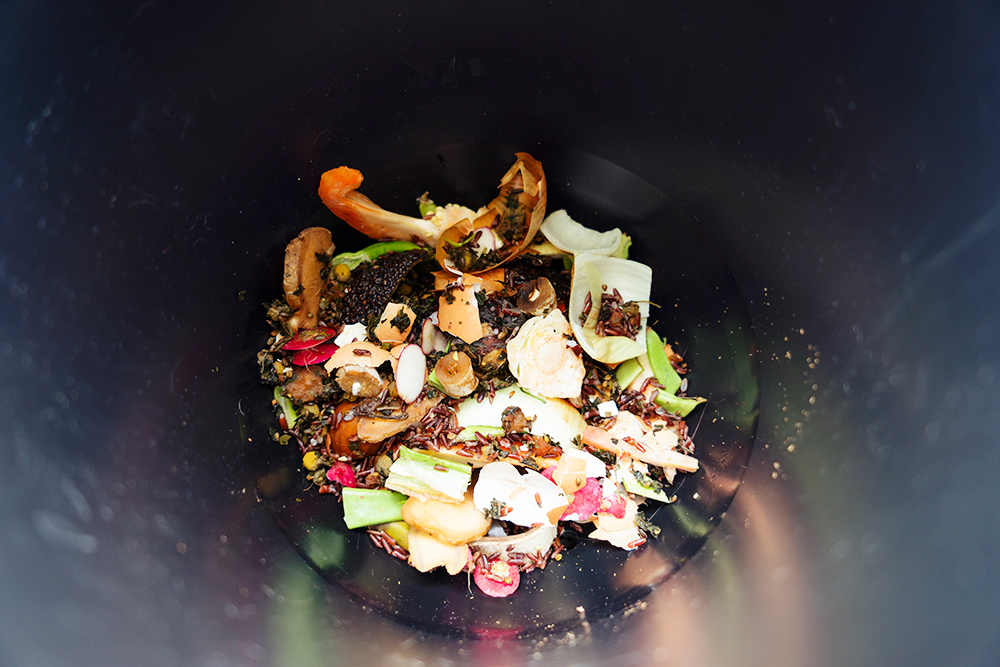 Organic waste and a scoop of Bokashi Bran: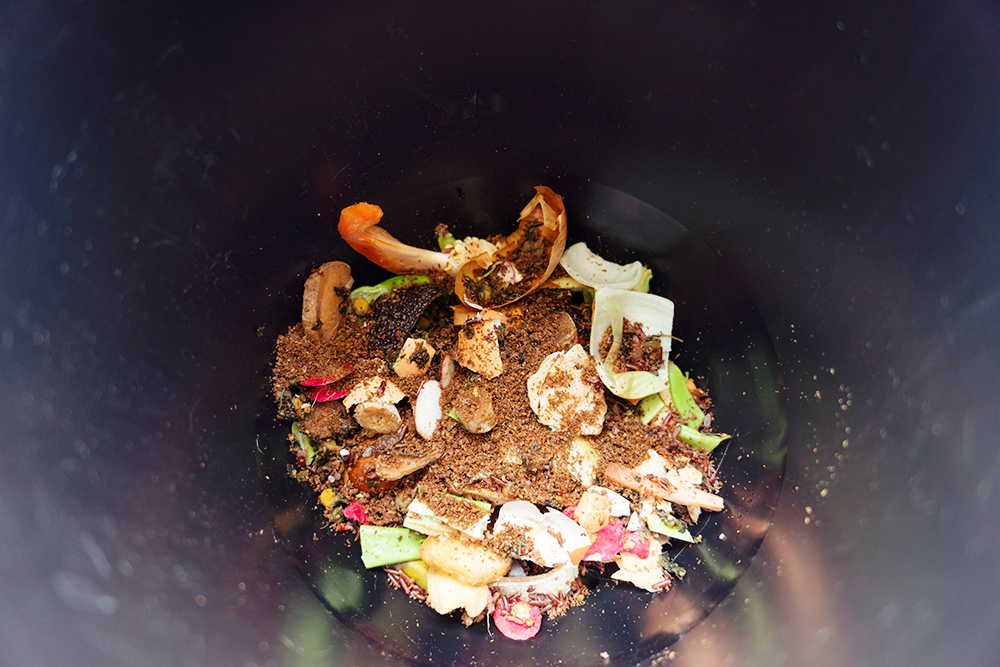 Put the BO2 presser lid down to keep the content vacuum, place the lid on top and you're done! And really: no smells!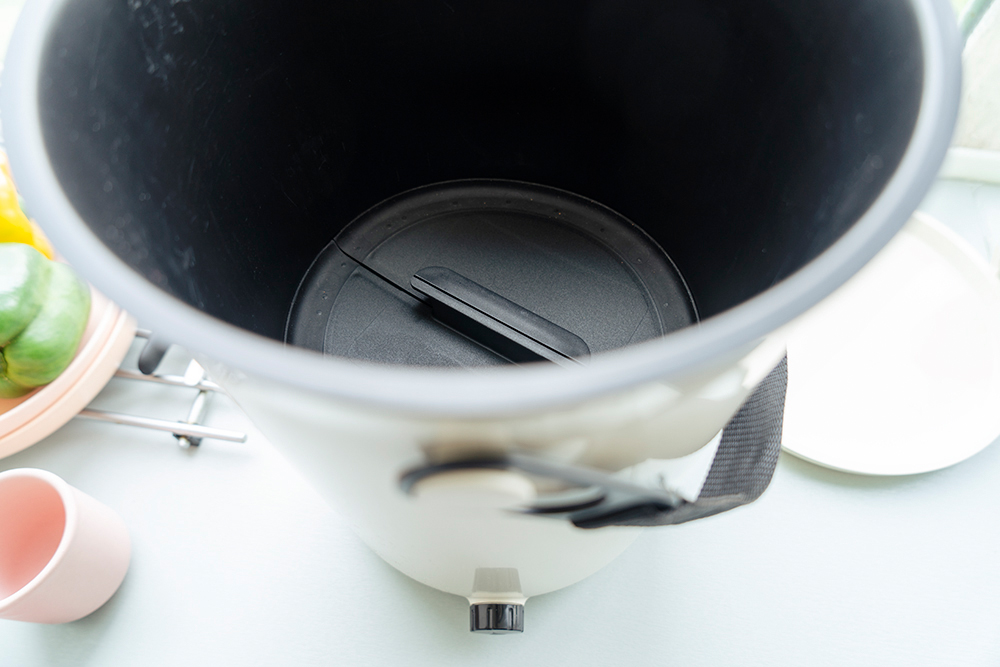 During the fermentation process, liquids are produced, that you can tap from the composter and use, heavily diluted though (at 1/20), to fertilize your plants, or pure as a natural drain cleaner.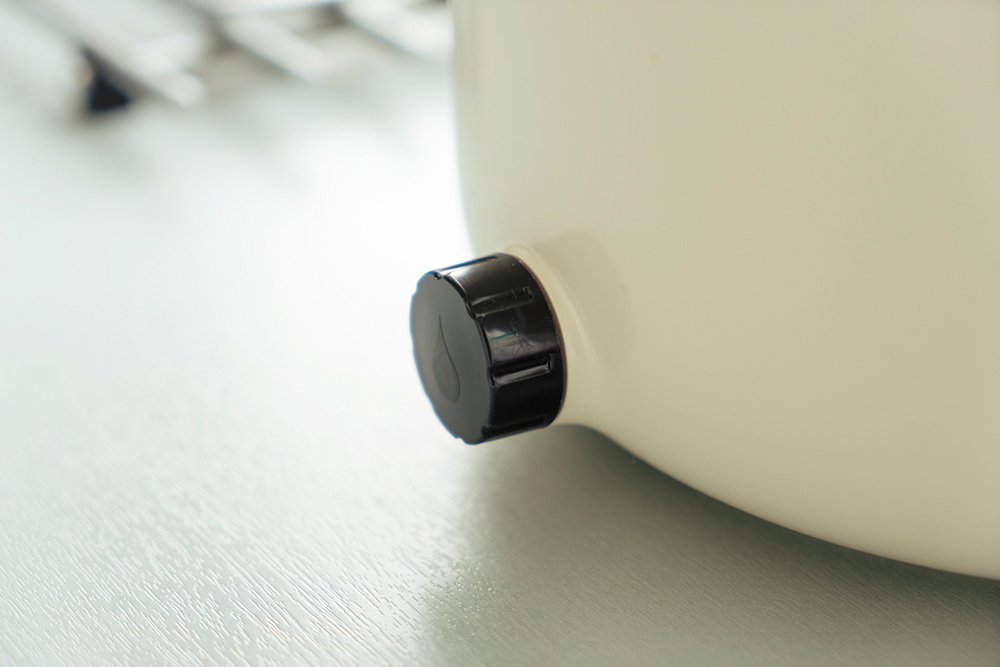 As Robert does most… I mean ALL of the cooking in our household, he is using the Bokashi Organko 2 on a daily basis. For now the composter is not full yet, it takes quite a while! But I'm already looking forward to using our own compost for my plants, in the garden and to use the fertilizer for my houseplants. They will need some fertilizer once they wake up from hibernation in the next weeks, so the timing is great!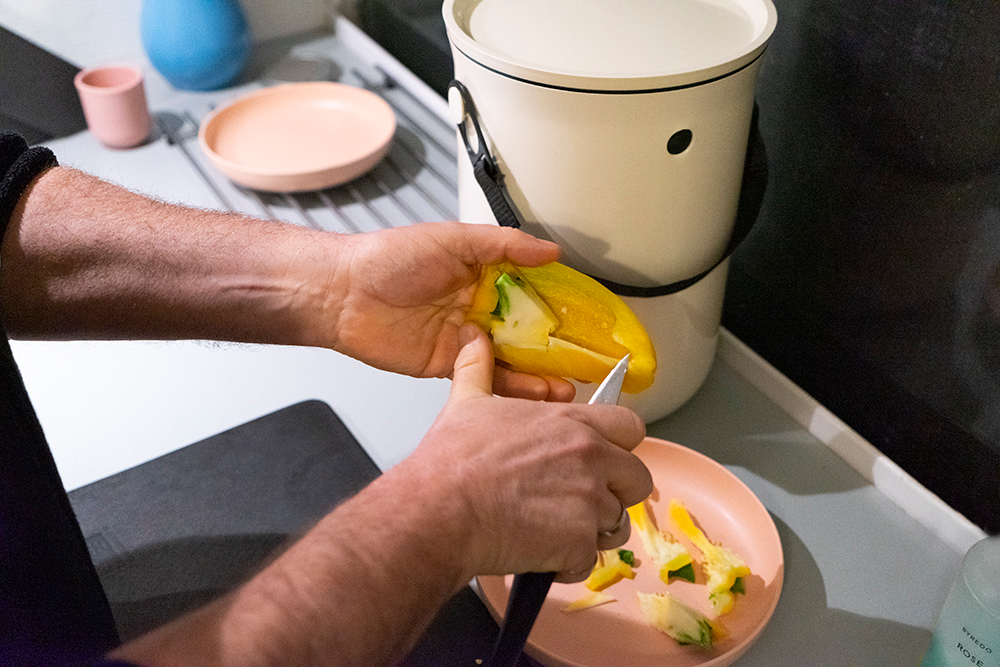 What do you think? Do you already use a composter at home? Or are you interested in getting yourself a composter? Up until this point, I can warmly recommend the Skaza Bokashi Organko 2 because it's so easy to use, doesn't smell, and it looks really nice too. You can easily store it somewhere else than your countertop with the attached handle, or keep it there while you cook. I will give you an update in a few weeks when we have been using it for a while longer, and share my experience here again.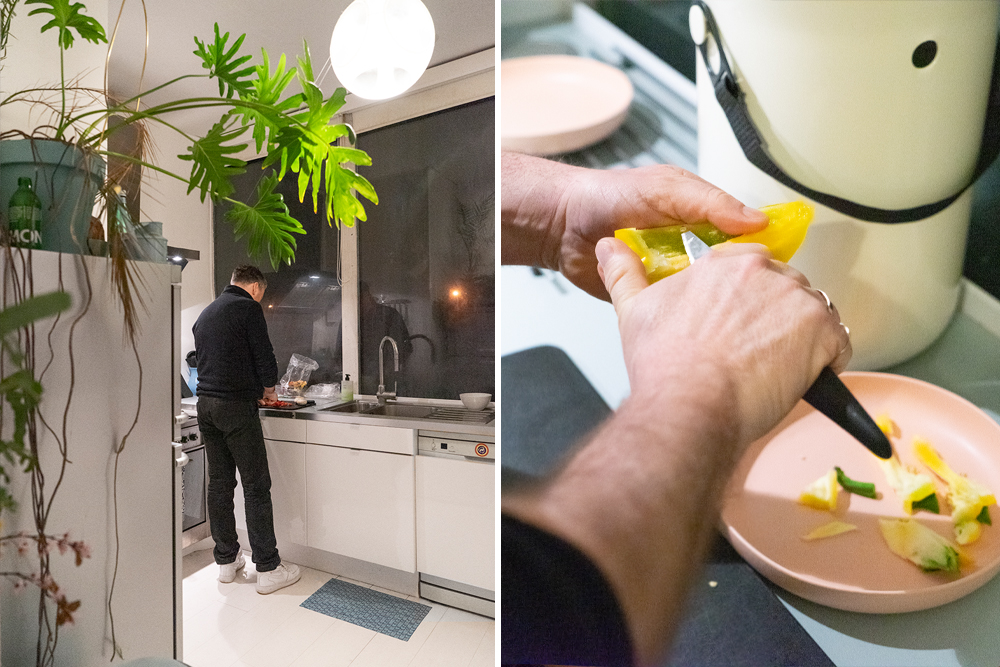 The Skaza Bokashi Organko 2 is available for purchase online, but also in garden centers (like Gamm Vert, Leroy Merlin, Nature & Découvertes here in France for example).
This blogpost was created in collaboration with Skaza. They kindly sent me the Bokashi Organko 2, but all photos, opinions and words are my own, as always. Thank you for supporting the brands that keep JOELIX.com going!