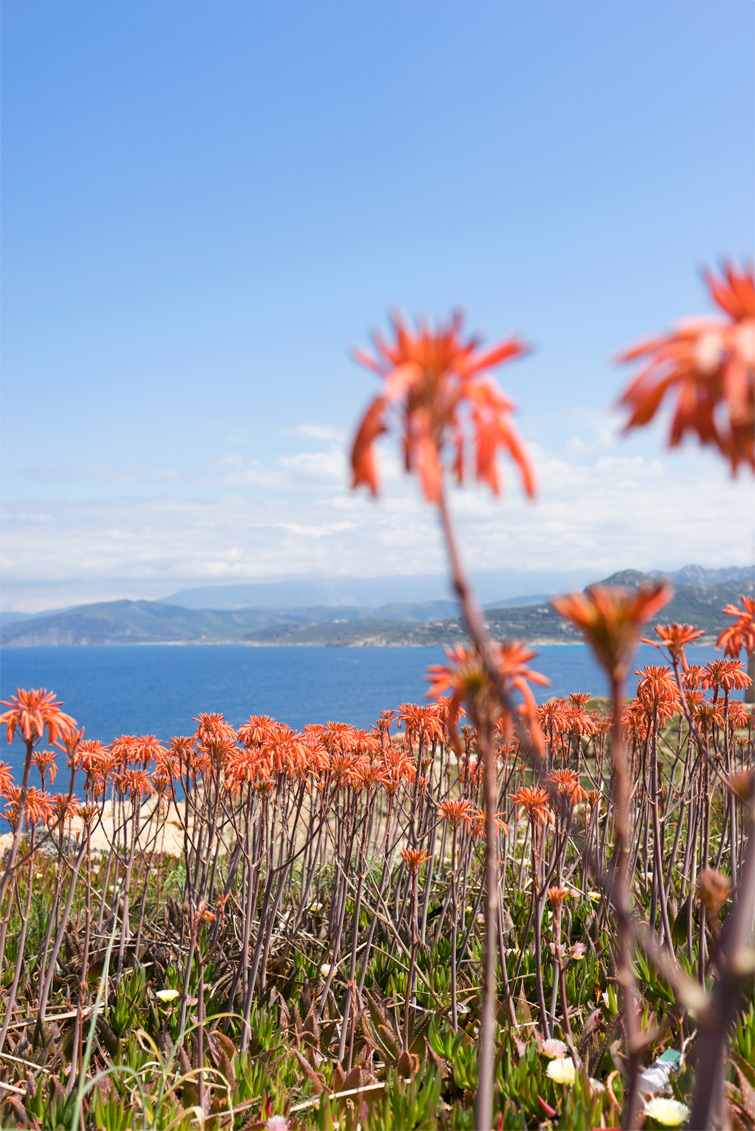 Wow, that was good: three entire weeks on Corsica! Our much needed holiday brought us to l'Ile de Beauté, the isle of beauty. It was our second time on Corsica: after our first trip in 2010 we really wanted to go back and explore this wild island some more.
Corsica really is a beautiful French island with a perfect mix of wild mountains, turquoise sea and private beaches. If you like to be outdoors, walk, hike or hit the beach, this is your island. It is covered with maquis, fragrant evergreen shrubs that smell amazing. I love it! It smells of eucalyptus, juniper, laurel, rosemary, myrtle, sage, mint, thyme and lavender. The aromatic herbs grow everywhere and give that special holiday perfume to your trip. ♥
Before going I decided to give myself a break from social media and to let go of any I-need-to-blog-about-this pressure. The result was that I had a lot of fun sharing daily short stories over on my Instagram and that I took hardly any photos with my real camera for my blog. But then I received so many messages on Instagram asking where I was and if I had some Corsica recommendations. So yes, here we go!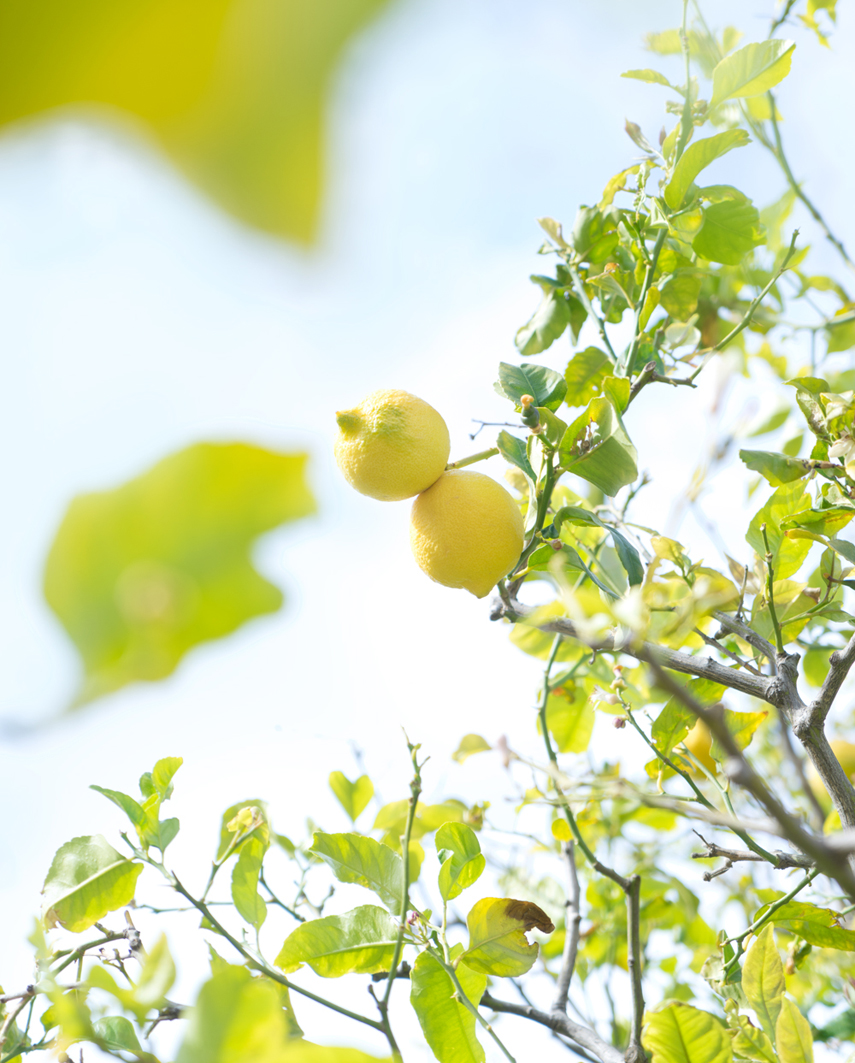 ► When to visit Corsica?
In July and August, Corsica is very touristic and busy, so if you have a chance of traveling in the spring or fall (or even the winter!): go for it! We visited in April/May and had many beaches to ourselves, when we hiked we usually only crossed paths with a few locals. And holiday rentals and hotels are more affordable too.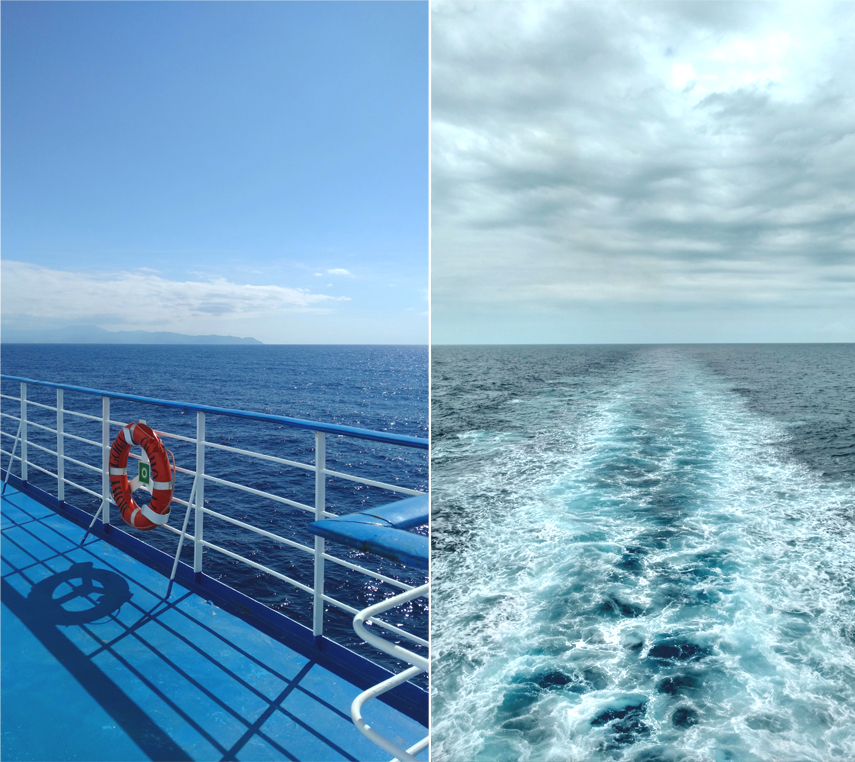 ► How to get there?
You can either fly and get a rental car, or drive to Toulon or Nice and take a ferry from Corsica Ferries or Corsica Linea. We really wanted to be on a ferry during day time (I get seasick very easily) and thus opted for a ferry from Genua, Italy to Bastia (by Moby lines). I would recommend to get a cabin (even during daytime), so that you can relax and sleep and have some privacy.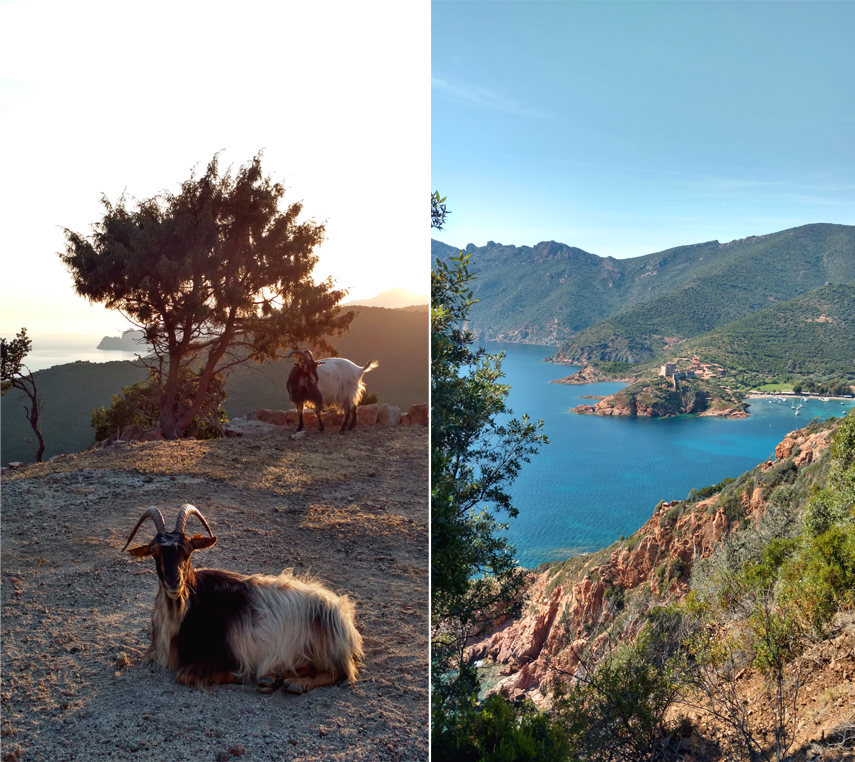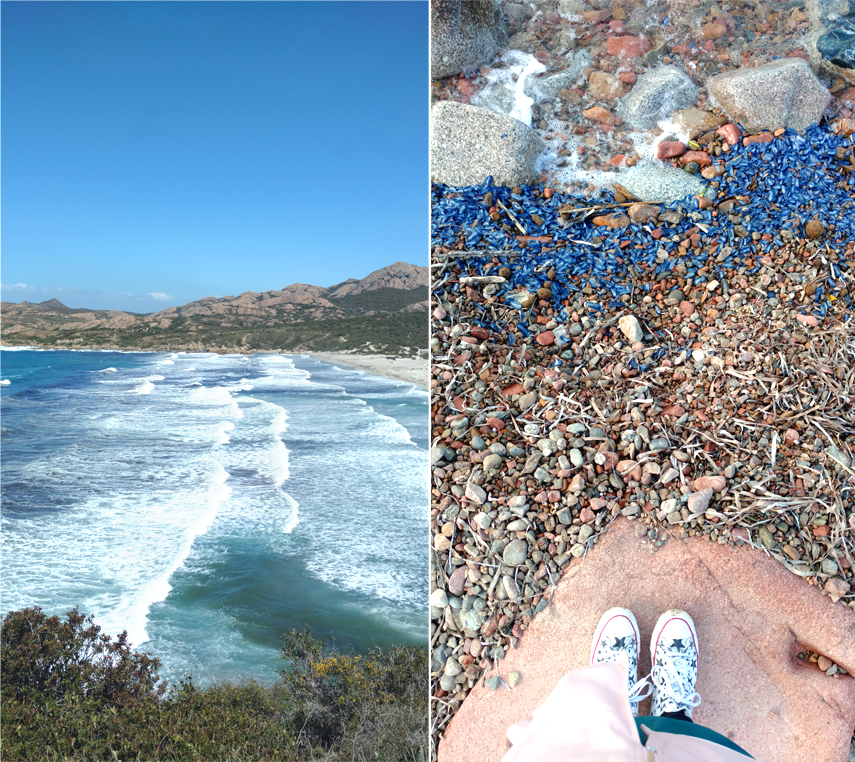 ► Where to stay?
• Hôtel Moby Dick We stumbled upon this hotel near the Santa Giula lake and beach. It's located in a peaceful area with a private beach and from the rooms with shutters you have either a lake or a sea view. I'd love to stay here next time on Corsica!
• Grand Hôtel de Cala Rossa The hotel has a very classic style, but the location is amazing!
• We booked several AirBnBs during our stay because we wanted to cook our own meals. We booked this apartment in Sari-Solenzara, which was bright, spacious (especially for just the two of us!) and very clean. I also really liked this apartment in Bastia (where we didn't stay by the way!), mostly because of the yellow sofa 😉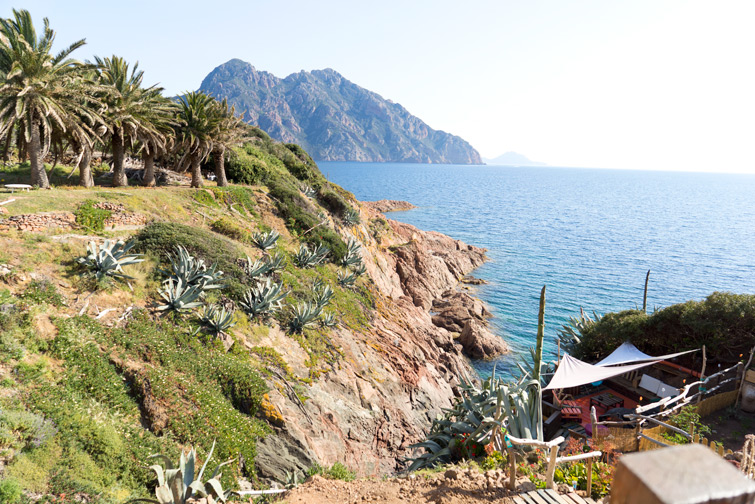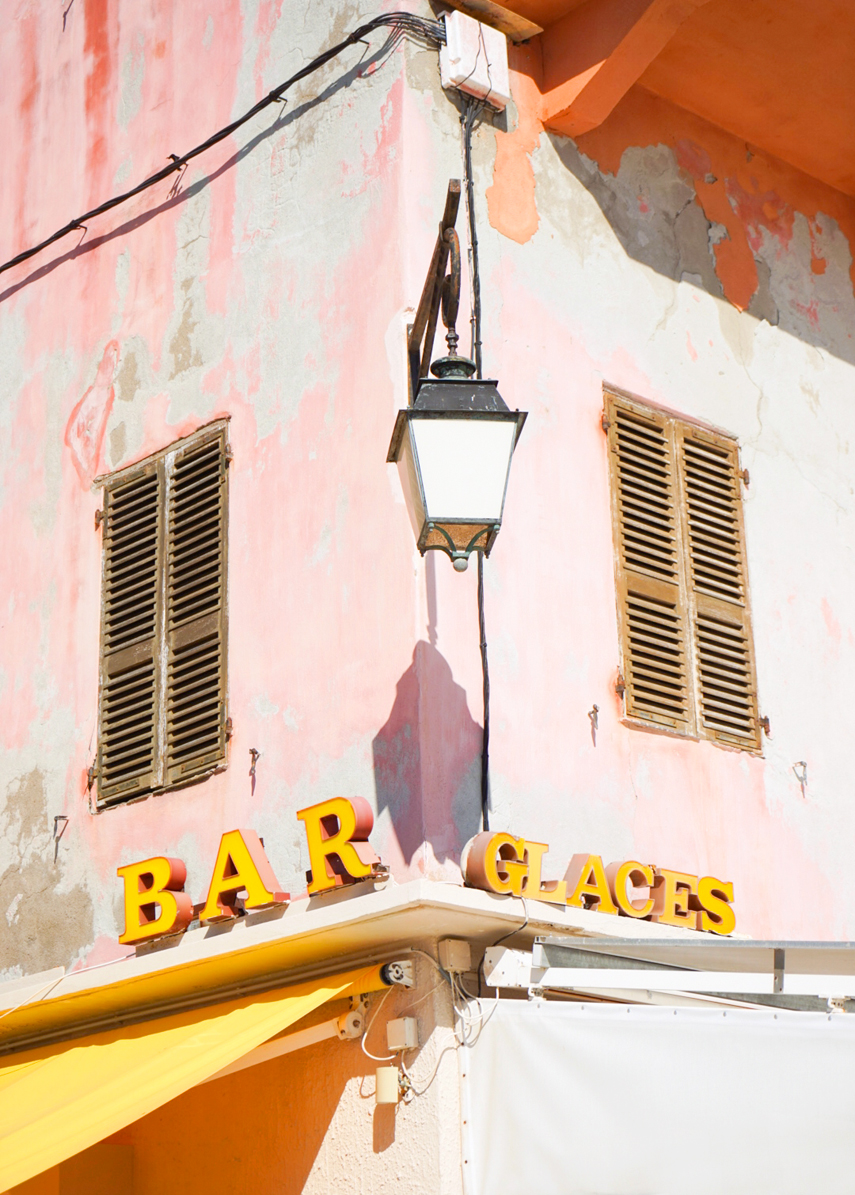 ► City life?
It may be due to the time of the year (read: off season) or my allergies for mass tourism that brings ferries and cruise ships full of tourists to the Corsican cities: I didn't quite fall for the urban areas of the island. Between Bastia, Île Rousse, Saint Florent, Calvi, Ajaccio, Corte and Porte-Vecchio, I liked Ajaccio best. And I also really loved the amazing Opuntia cacti near the fort walls of Calvi, which are huge, amazing, overwhelming! Don't miss the Sunday brocante in Ajaccio on the Place de Gaulle, it's really cute! I also really liked the village of Cargèse, which was calm when we visited. People in Cargèse were very kind and helpful and during the high season you can take a boat from here and visit the nature reserve of Scandola for example.
One tip if you want to invest in a breezy summer outfit: look for Karma Koma shops (in Bastia, Porto-Vecchio, Porticcio, Île Rousse, Calvi and Bonifacio).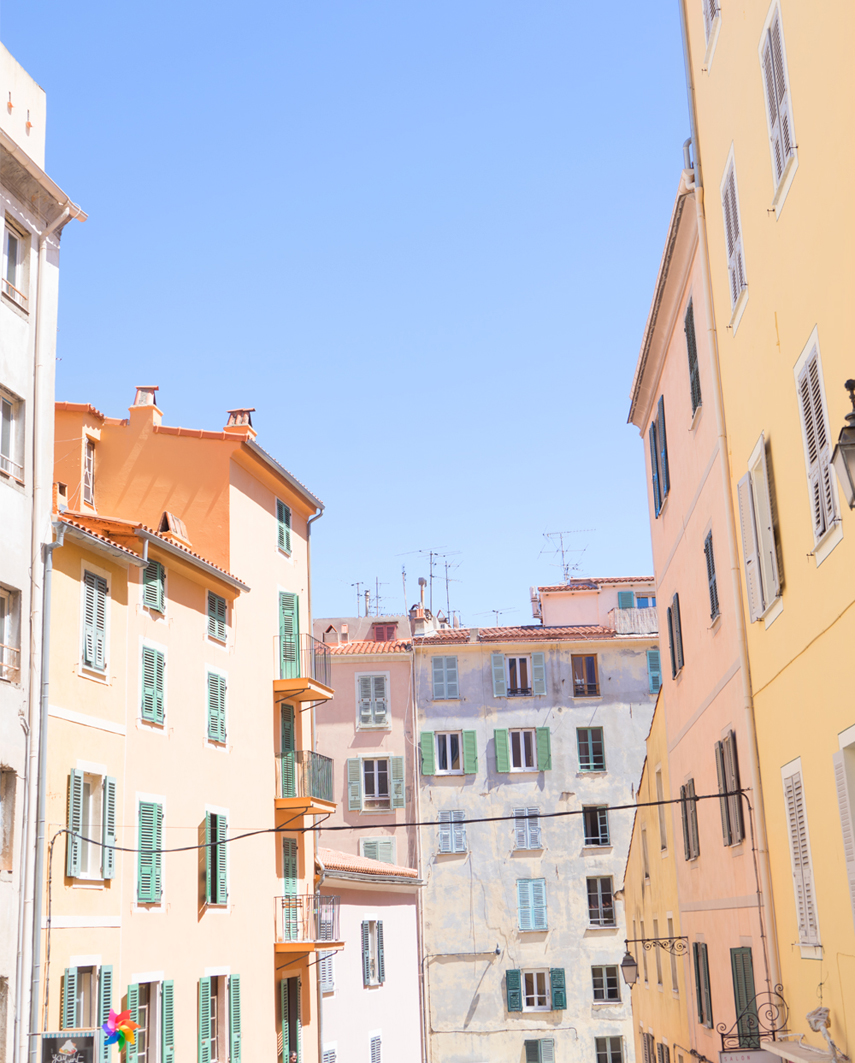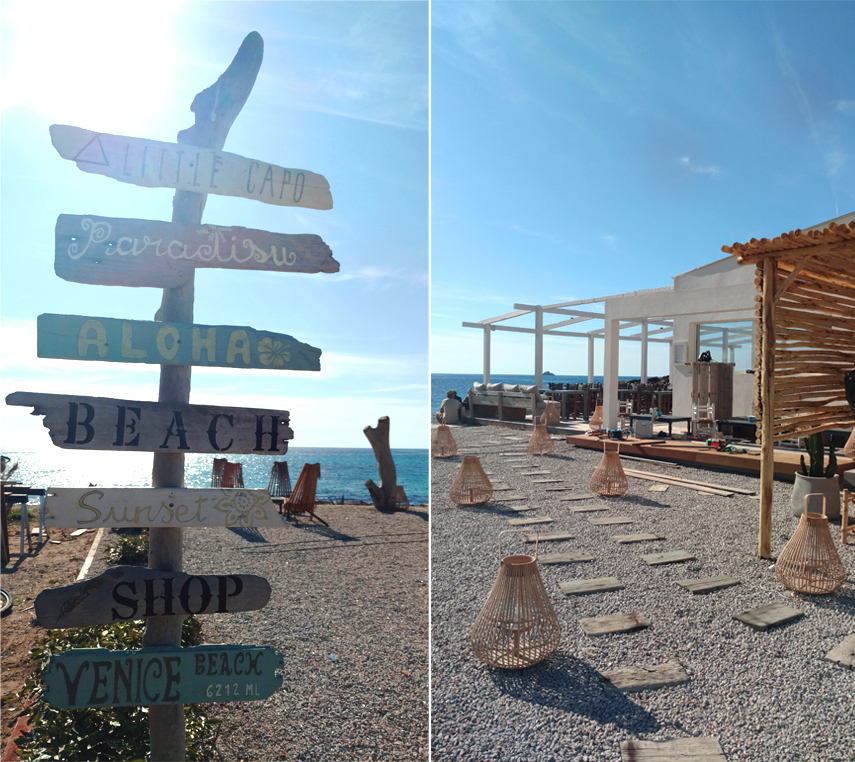 ► Where to chill?
• Little Capo (not far from Ajaccio). Hang out on comfy sofas with your feet in the sand, see the sun go down (in the sea, not behind a mountain!) and even do some shopping in the Little Capo boutique. It has a bit of a bohemian Ibiza vibe 😉 (or what I imagine to be an Ibiza vibe, as I've never been there).
• The terrace of the Grand Hôtel de Cala Rossa. We visited the Cala Rossa beach seven years ago and I never stopped dreaming of this place. Cala Rossa is a neighborhood just north to Porto-Vecchio and the Grand Hôtel is part of a gated community. We even spotted our dream home in this area, in a small forest of pine trees, sea view and large bay windows. It sold for around 4 million euros a few months ago.
• Le Yuka in Cargèse. Coffee, lemonade and salades with a retro vibe and sea view!
• La Sassa in Nonza (Cap Corse). Perfect for Sunday brunch or coffee with a view!
• Auberge A Tanedda in Bocognano. Not the best place to chill, but a really good spot to eat some simple traditional mountain dishes.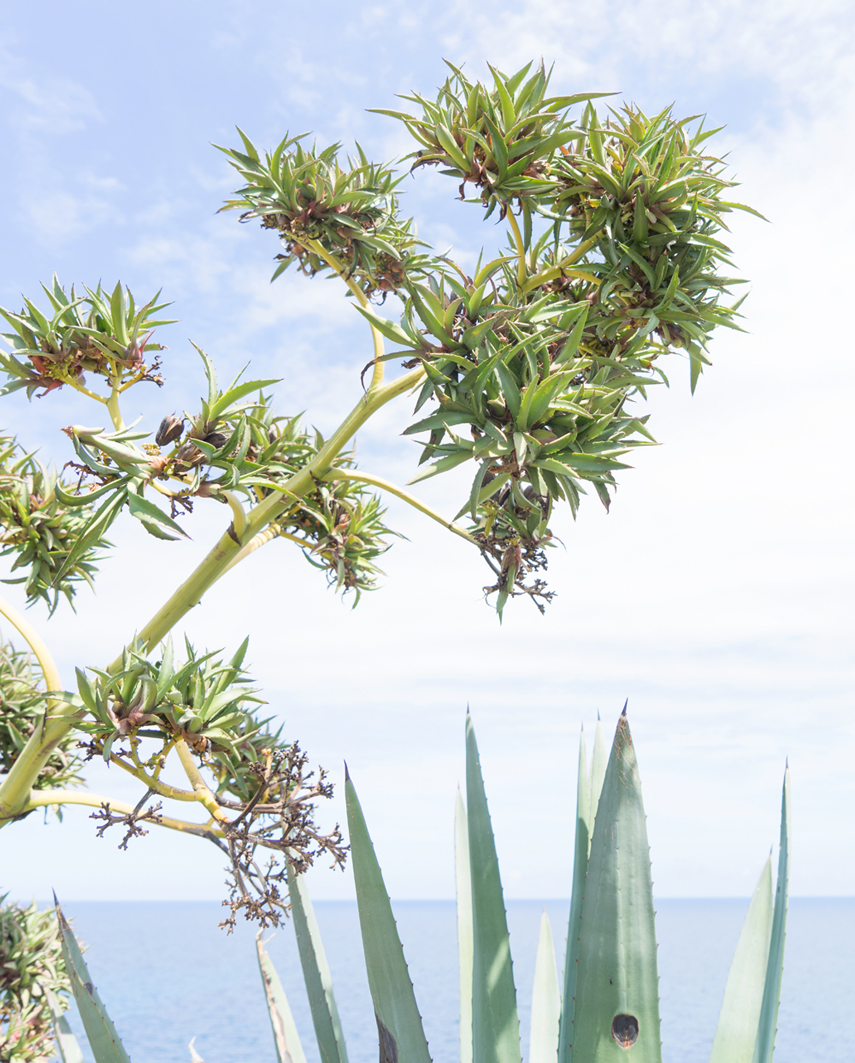 ► Green souvenirs?
Whether you are allowed to bring home some plants from Corsica depends on the country you live in. As we technically stayed in France (with a little detour to Italy to catch the ferry), there were no legal restrictions. However, because of the parasyte destroying palm trees on the island, it is forbidden to take some specific palm tree seeds from the island.
On the side of the road and in public areas you can find a lot of nice succulents and cacti. I collected quite a lot of them (see here, here and here) and kept them in a few open boxes during our trip and potted them once we got home. Most of these plants are so easy going or even considered weed, that they can easily survive a few weeks without water and soil. They will always remind me of our holiday and make for the best souvenirs! Please note that the flowers and plants in the Parc naturel régional de Corse and all other Corsican nature reserves are protected and you're not allowed to pick up anything there. Just stick to the Opuntia, agaves and aloe that grow abundantly everywhere and you'll be fine!
I also visited several pépinières, garden centers and nurseries. Two of my favorites:
• Les Pépinières de Saint Ciprien (near Porto-Vecchio)
• Jardinerie La Ruche Foncière (near Bastia)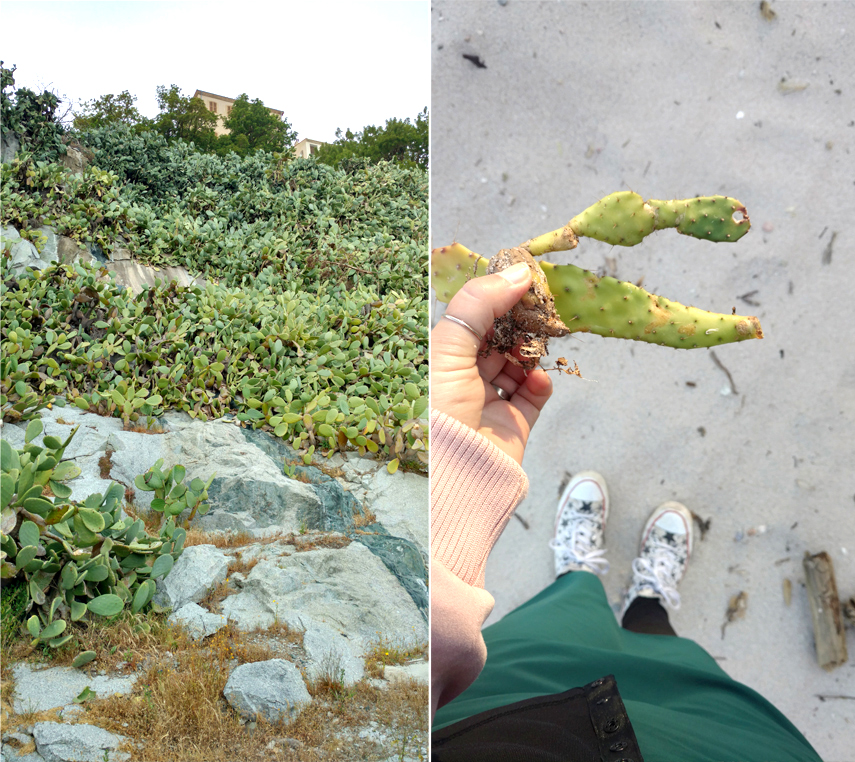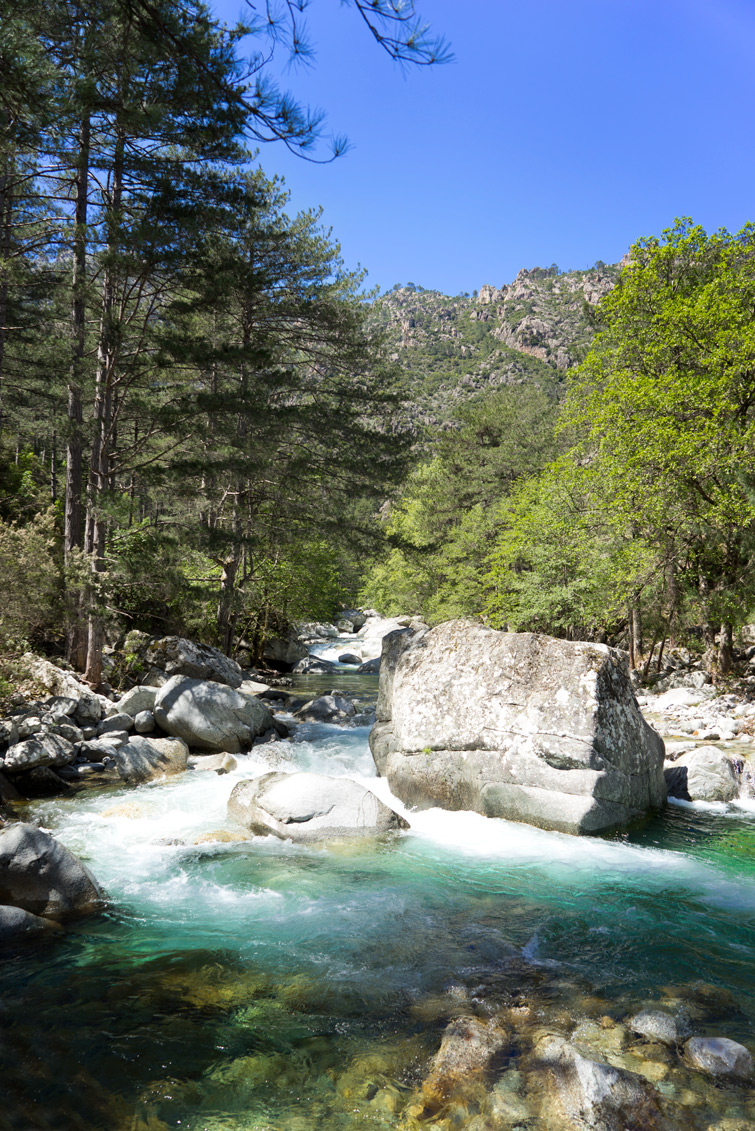 ► Where to hike?
If you love walking or hiking (if you have to use your hands 😉 ), Corsica is paradise! We went on several walks and hikes and these were our four faves. All of them are easy and up to 4 hours max.
• Gorges de la Restonica. One of the bridges in the valley collapsed a month before we visited and the road was blocked at 9km from the top. Which was also the start of the hike that we planned to do. Adding 18km to our hike was too much for us, so we decided to walk along the Restonica river instead. After the marked path stopped, we did some free hiking on the huge rocks that are part of the river bedding. It was quite a wild walk, but the reward, a spectacular view of a spraying waterfall, was well worth it!
• Sentier du Douanier, Cap Corse. You walk on typical Cap Corse hills that dive into the Mediterranean, with amazing views over the cliffs. It's a rather easy walk, but quite spectacular nevertheless. On one of the beaches along the way is a restaurant and bar where you can relax and grab a bite.
• L'ospédale, Piscia di Ghjaddu. It's a very easy walk to the Ghjaddu waterfall. Be sure to hike down to the foot of the waterfall, despite the warning that "after this point it's on your own risk", because the view from there is spectacular. If you stay on the platform you only see a small part of the waterfall, you really miss out on the highlight of this walk.
• Sentier du Facteur, Girolata. The village of Girolata, where Garance Doré grew up, can only be reached by boat or via this path. It's a scenic track with amazing views over the Mediterranean and the bay of Girolata and you pass by a large beach, where we met a group of wild cows.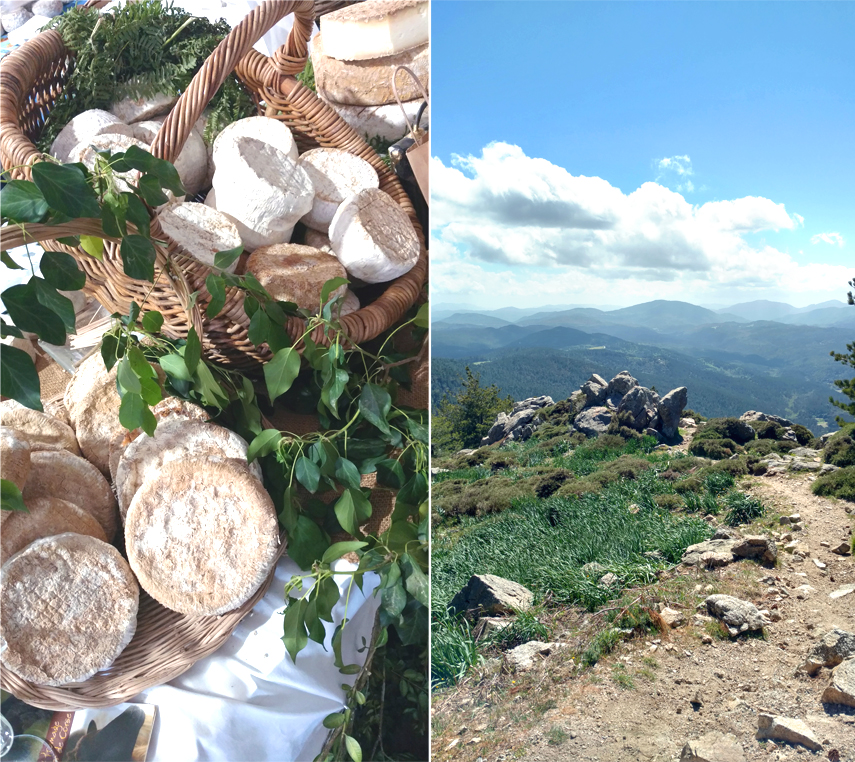 ► What else to do?
• Take the train! We did it twice and it was really cool! The train from Île Rousse to Calvi (and back) rides along high cliffs and through the maquis. A nice afternoon trip if you're based in either of these towns. More spectacular even is the regular train between Ajaccio and Bastia via Corte. It rides through the mountains and over dozens of bridges and you ride through areas that cannot be reached by car. We went from Bocognano to Ponte-Leccia, but the most spectacular part is definitely between Vivario and Corte.
• Visit Barretalli, where the ancestor of the lemon, the cédrat is grown. The itinery from Nonza to Barretalli was probably my favourite drive on the entire island! Beautiful seaviews and impressive green marble formations that are shaped by the wind!
• Check out the island from above via this 360° viewpoint called Serra di Pigno (not far from Bastia and Saint Florent). You can see a large part of the island from here, including the Cap Corse and the Italian islands like Elba and the Italian coast of Livorno.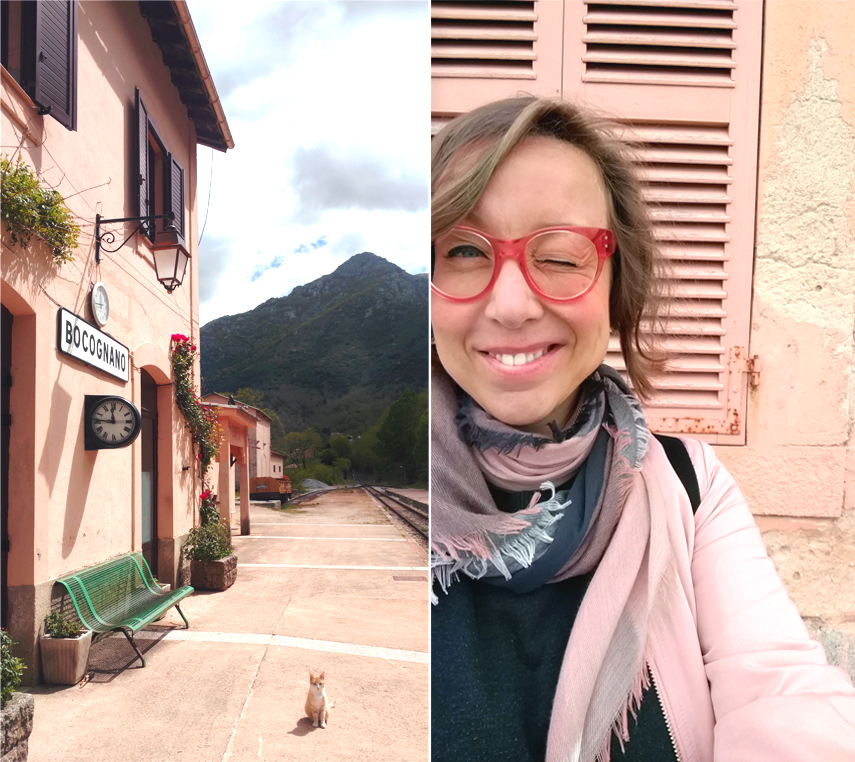 For more travel ideas for Corsica, check out Alex's Instagram account (where all spots are geo-tagged!) or her blog On my way (in French), she lives on the island and loves sharing where she goes. For interesting hikes around the island, we used Basile's blog called Les Passions de Basile (in French) which is very detailed, including photos of the directions where you shouldn't go. Very helpful!