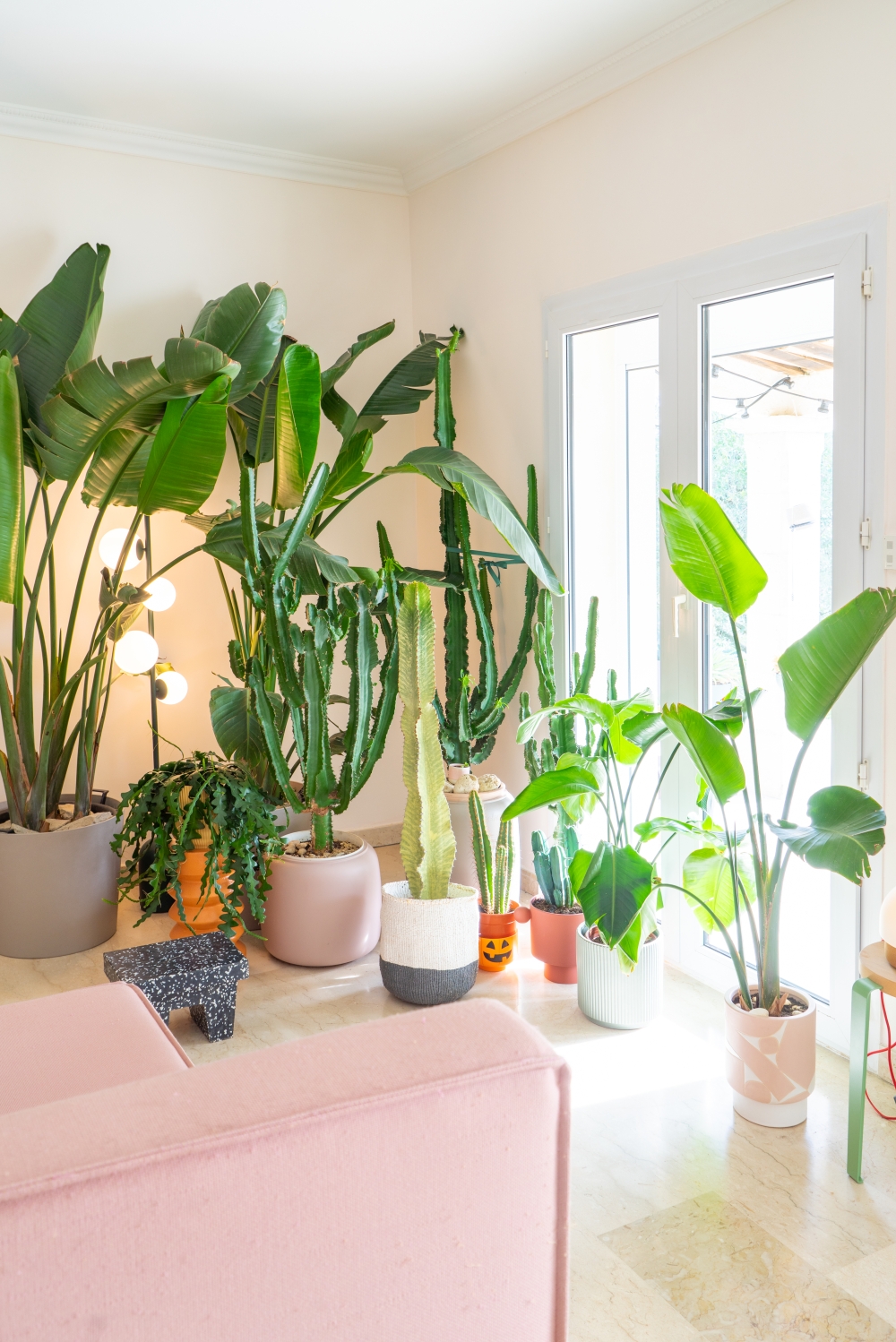 Right now, at the end of the year when the days are getting shorter is THE moment that Azalea plants start blooming. This fall, Ghent Azalea asked me to show how I would style Azalea around the home. A fun challenge, because as much as I love houseplants and flowers, Azalea are something else! They're not quite a houseplant, not quite a bouquet so that requires a different approach. The perk of these blooming plants is that they are super easy to care for and the flowers can last up to 6 or even 8 weeks. So the visual interest lasts for a long time.
Above you can see the urban jungle corner in our living room BEFORE adding the flowery Azalea. Check the AFTER: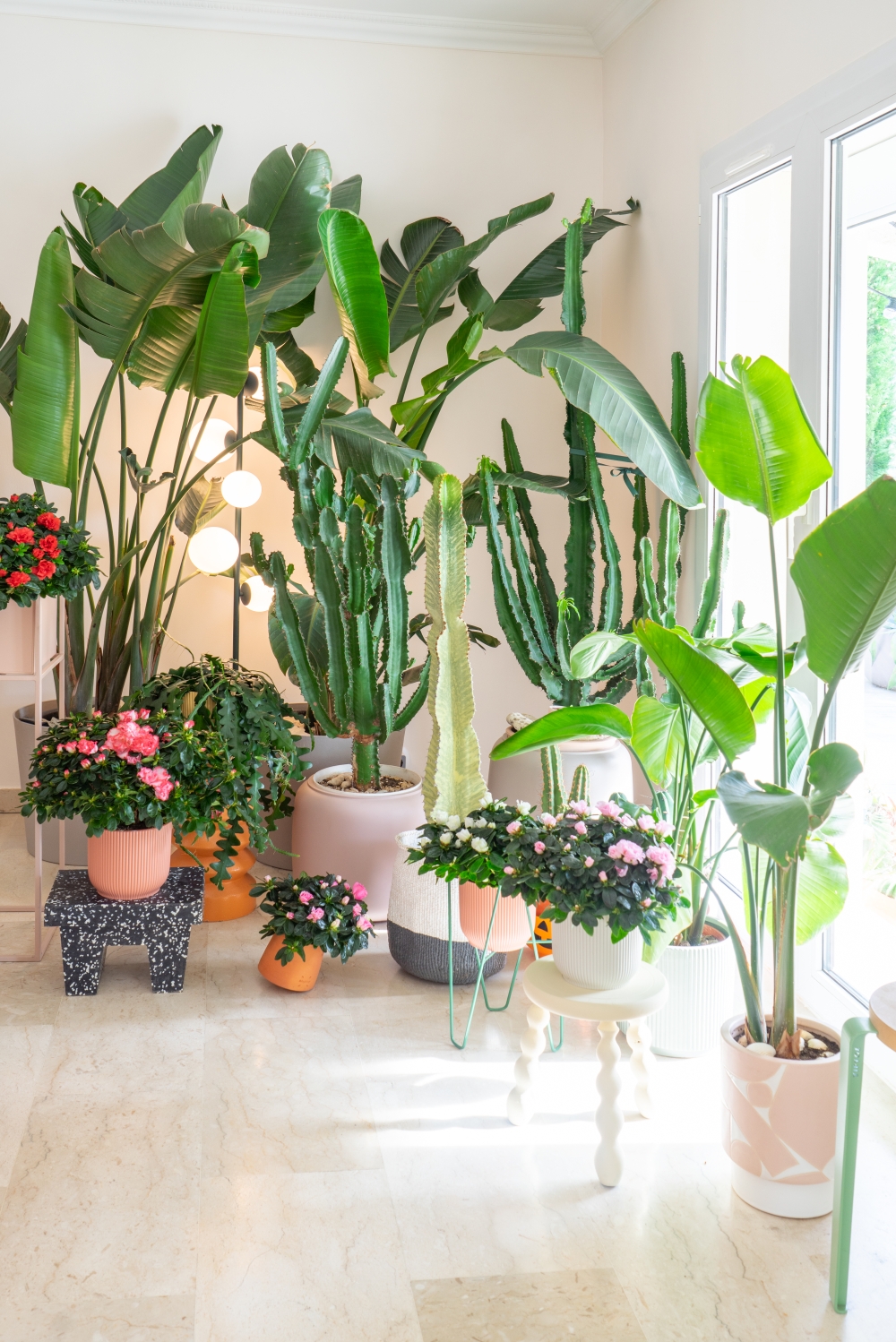 Never did I imagine adding Azalea to my urban jungle would look this fun and colorful! They blend in really well with the wavy Strelizia and strong Euphorbia and add so much color to this corner: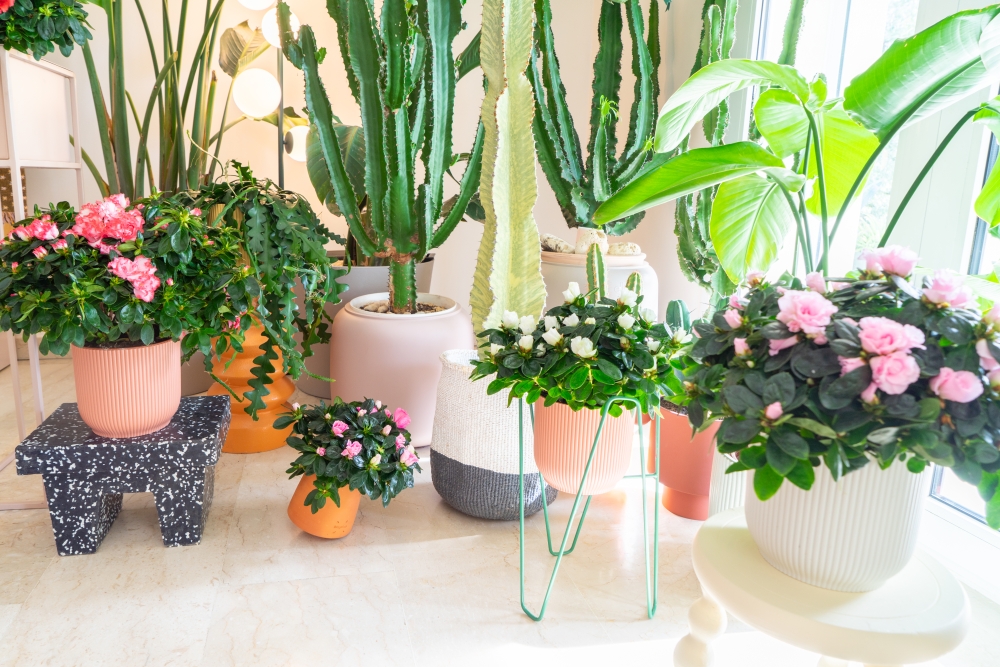 My favorite Azalea: this lilac shade is really pretty. I can't wait for them to open and fully bloom in a few weeks: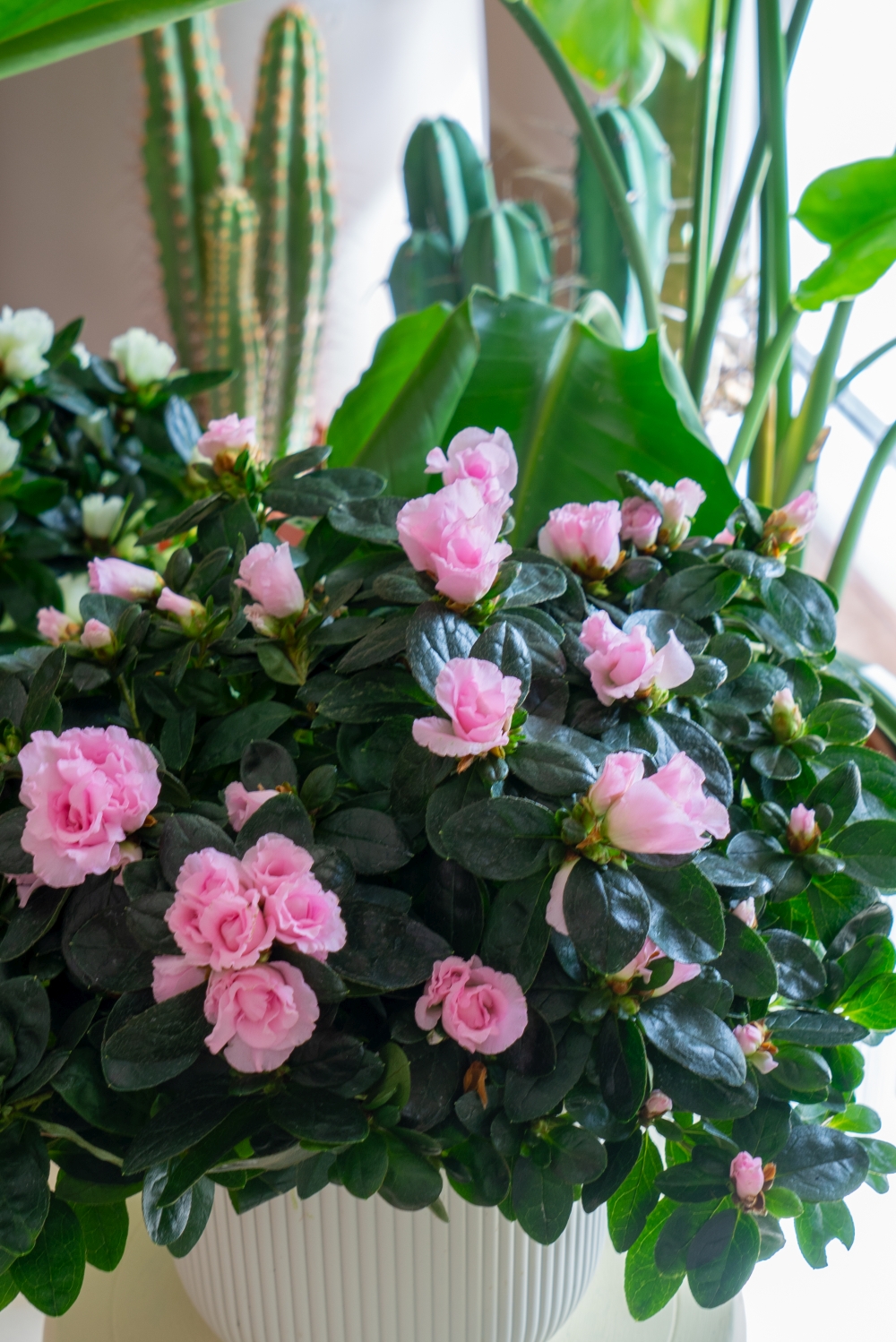 My styling tips
Use contemporary cachepots for your Azalea. I used these recycled plastic Vibes pots from Elho and a tall plant stand from Urban Outfitters that make the plants easy to water.
Don't repot your new Azalea in a terracotta pot like you would with a common houseplant, but place it with its grow pot in a cachepot. Azalea need very regular watering, unlike most common houseplants, so make it as easy as possible to give them a sip of water.
Create visual interest by placing your Azalea on a small stool or in a plant stand. My favorite plant stools are thrifted: with a quick coat of paint you easily update a dark brown wooden stool to match the colors in your home.
Be funky and choose your Azalea in a different color than the more common white or red: there are almost 500 varieties of Azalea to choose from. Personally I really like the lilac plants, or Azalea with big fluffy coral pink flowers.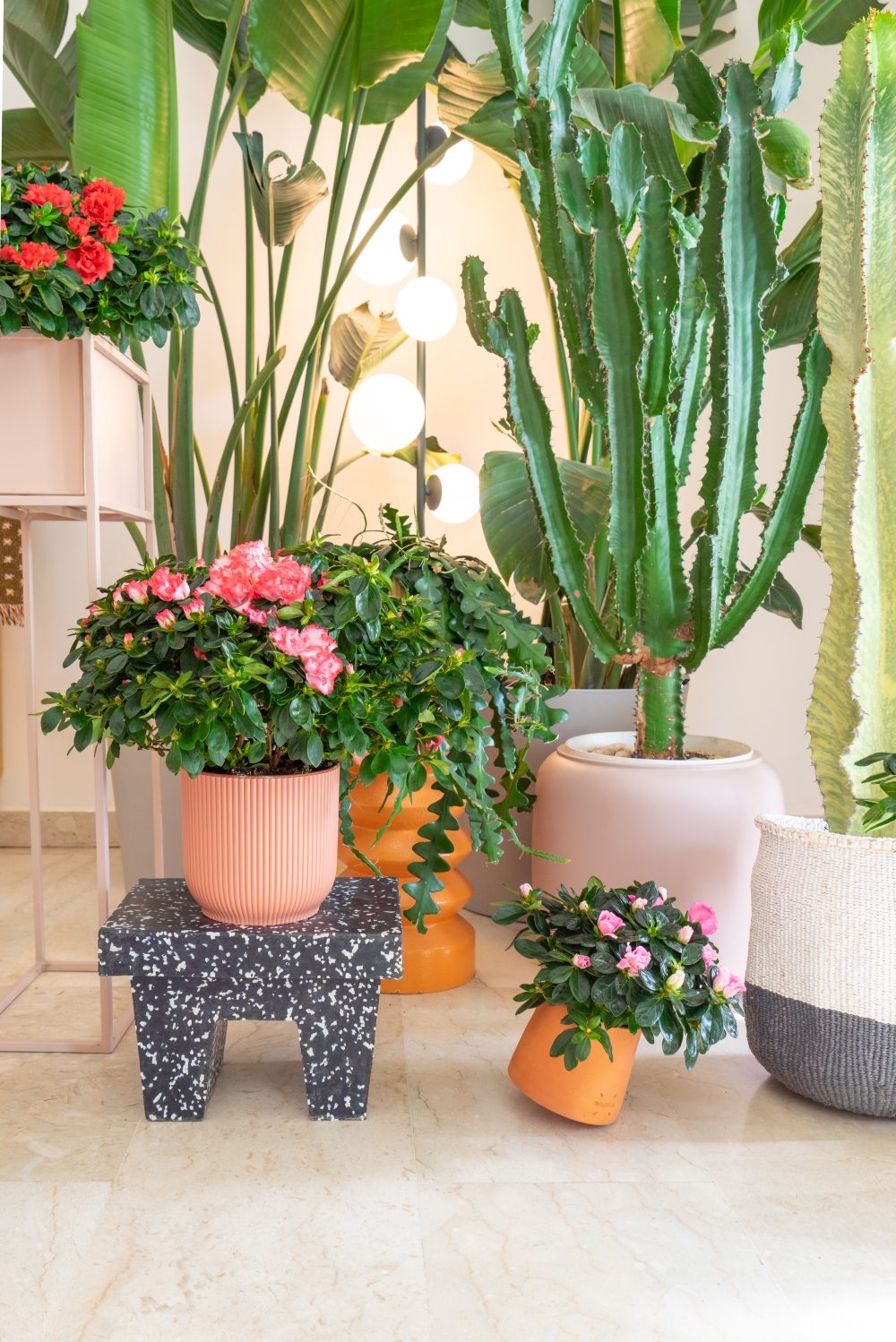 Plant Care
Caring for your Azalea is very simple: they adjust really well to a space with a room temperature between 15°C and 25°C. Water your Azalea regularly: immerse the grow pot in a bucket of water twice a week and do not leave any water in the saucer or cachepot. When you give them a cool spot in the home, ideally with bright indirect sunlight, your Azalea can flower up to 6 to even 8 weeks! Mine just started blooming as you can see, in two tone: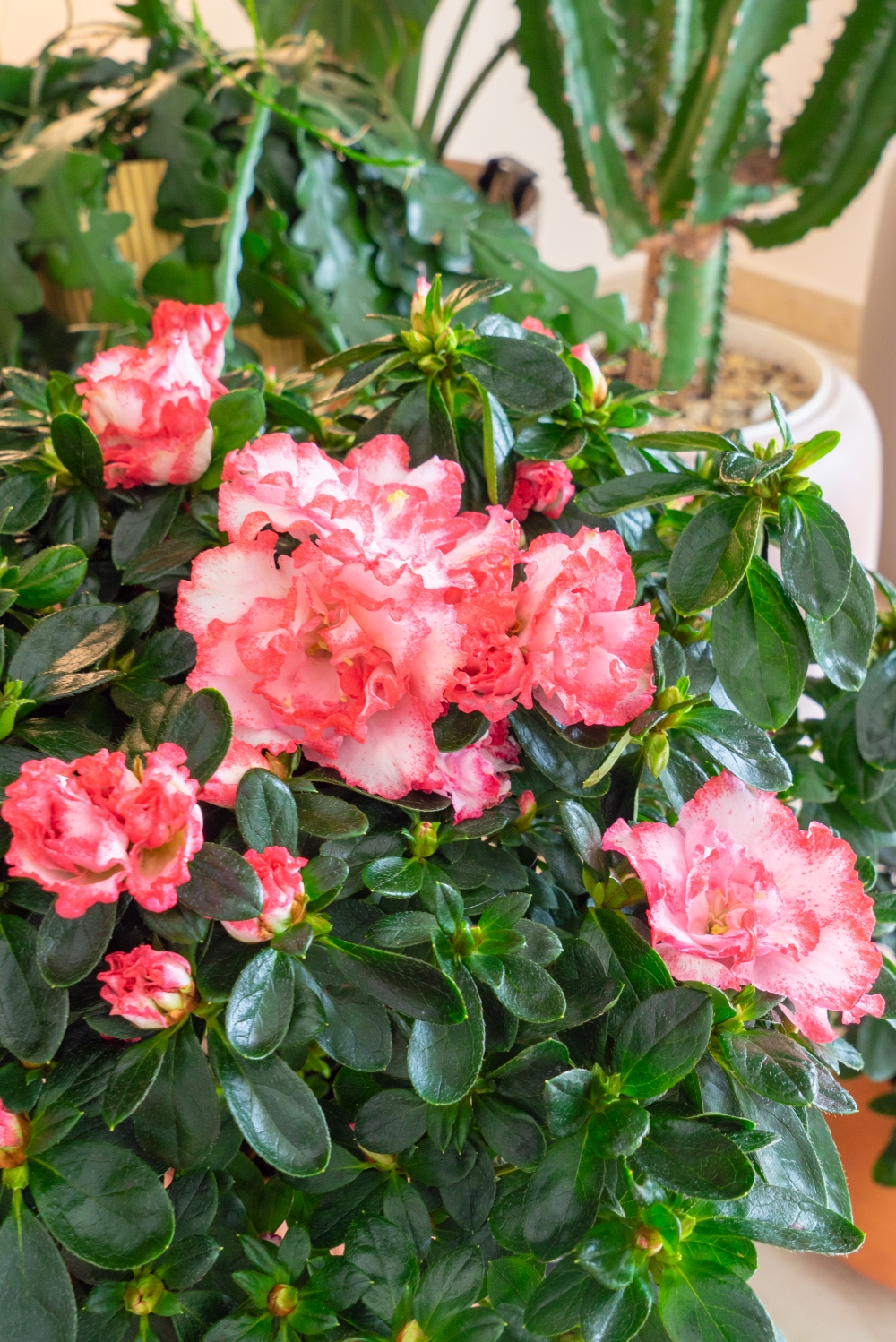 This area does not get too much direct sunlight, so the Azalea will love it here: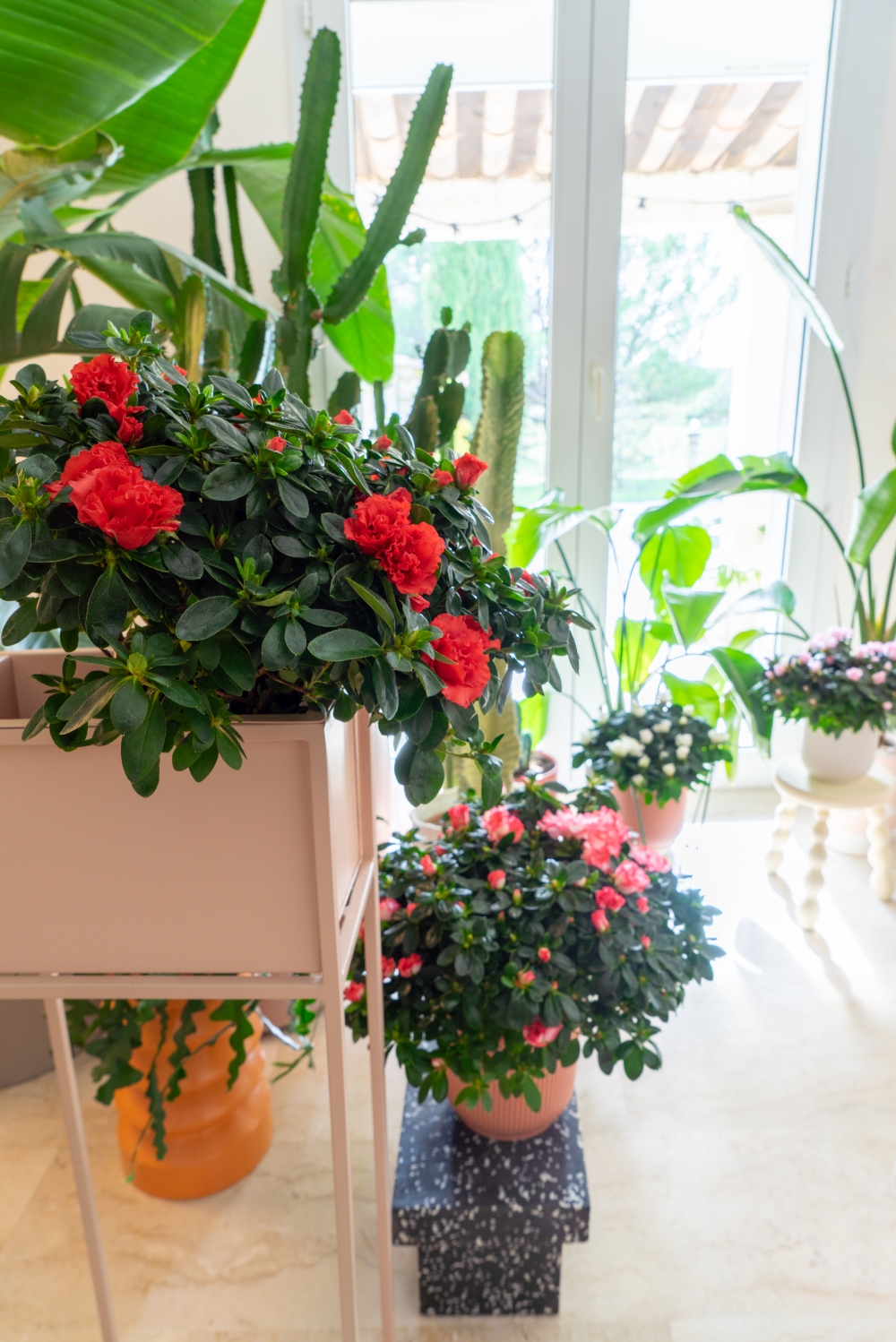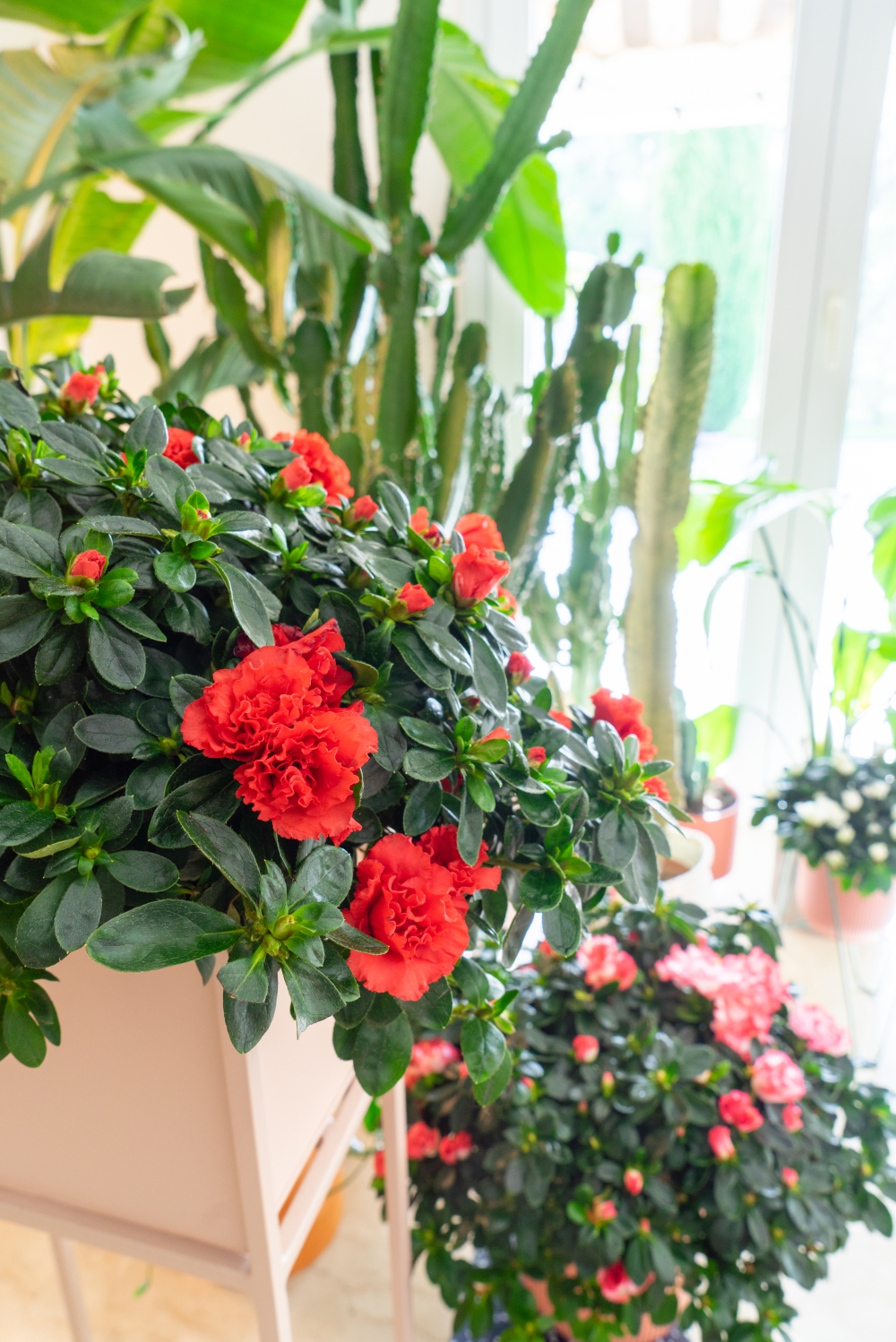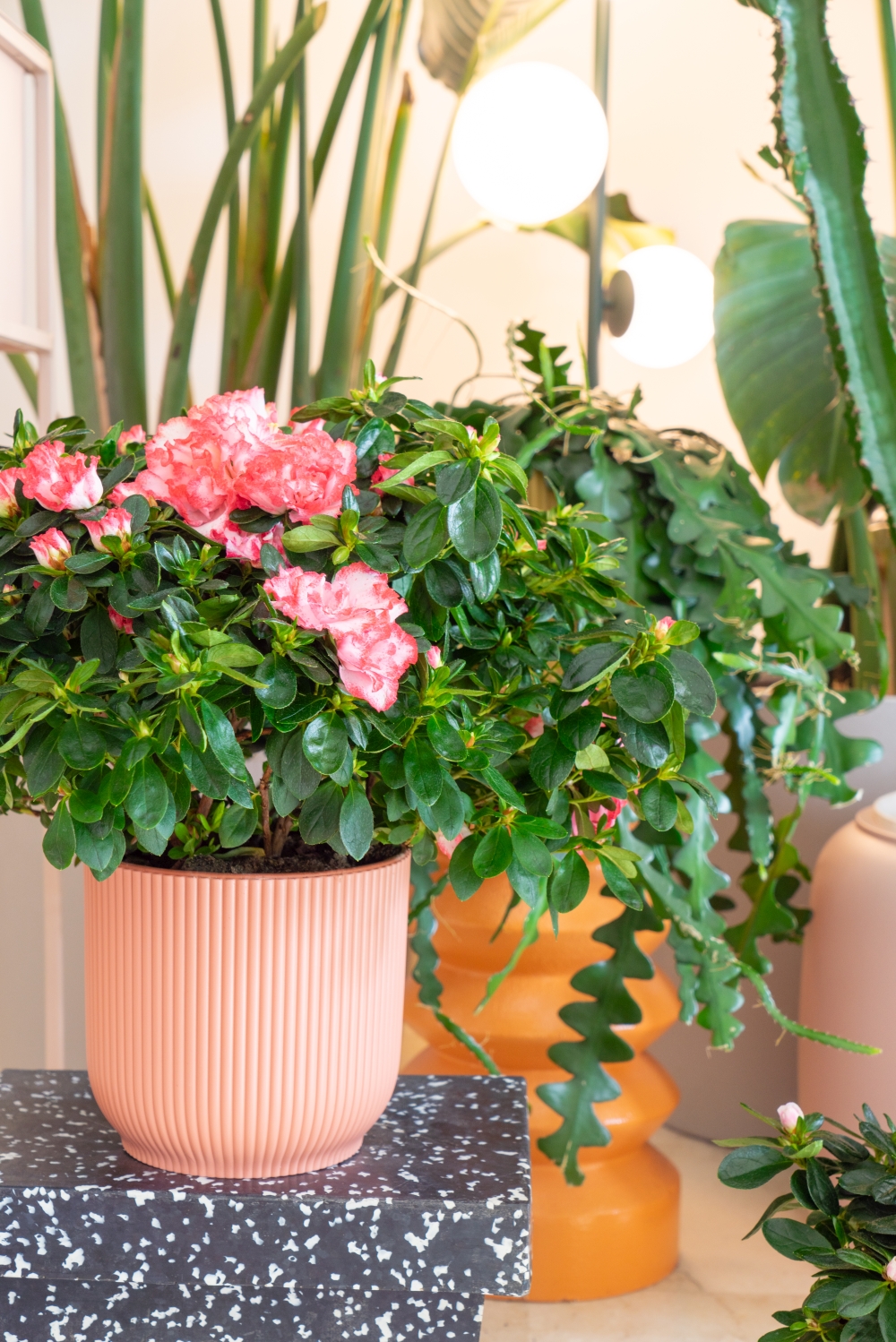 Using plant stands and stools literally elevate your Azalea, but also make them look elevated: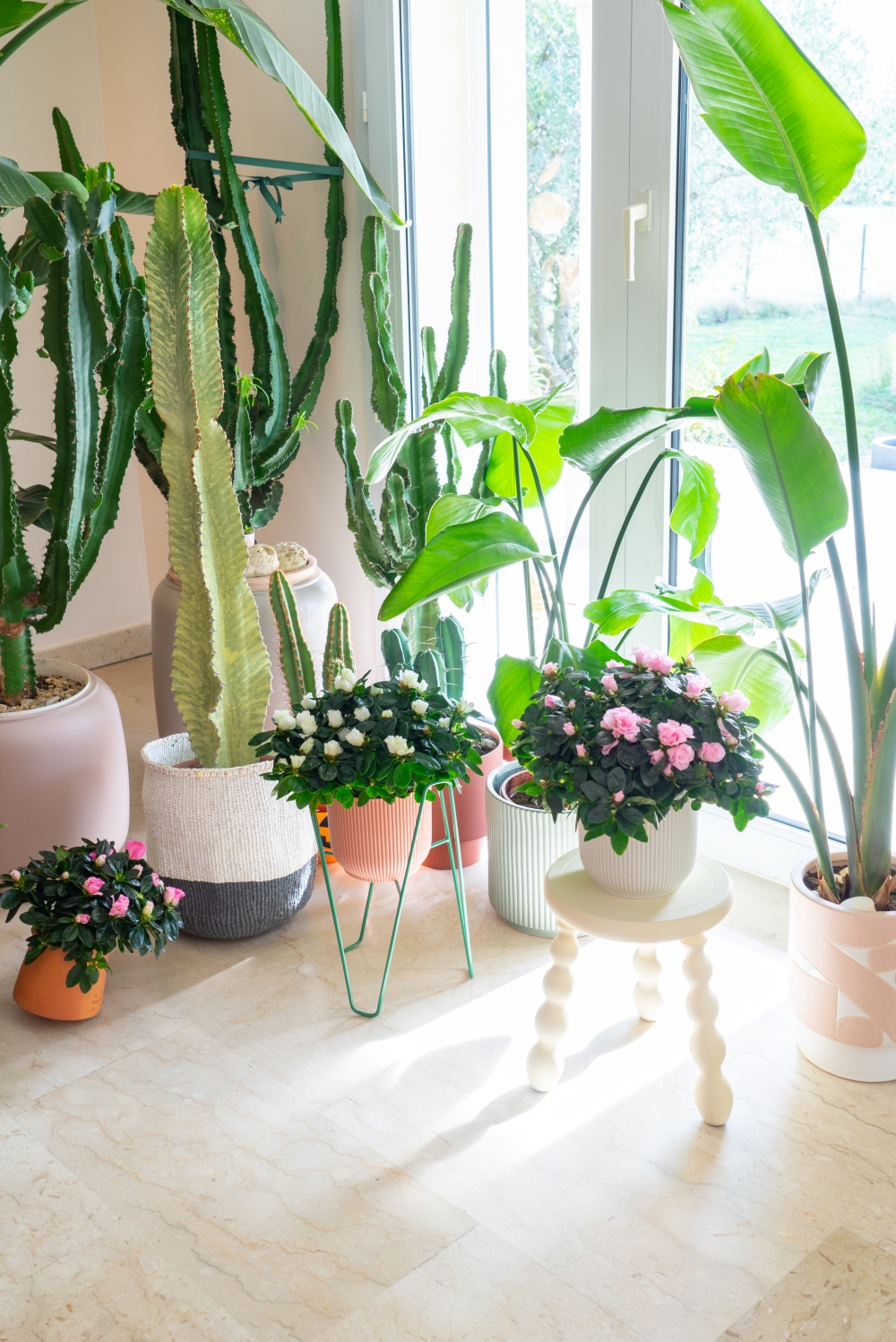 However…
Azalea plants are moderately toxic to pets. Which means in general your pet won't die when he or she nibbles on a leaf, but ingesting several leaves may cause your pet to become sick. Now, our three cats never eat any of our plants: they like to play with their leaves, especially palm leaves are VERY interesting, and Retsina even sleeps in one of the bigger plant pots. But you better be safe than sorry, so I decided to spice up our sunny guestroom with the Azalea. Our guests can enjoy the blooms when they wake up, and it's also slightly cooler in there, which will allow the Azalea to bloom a little longer.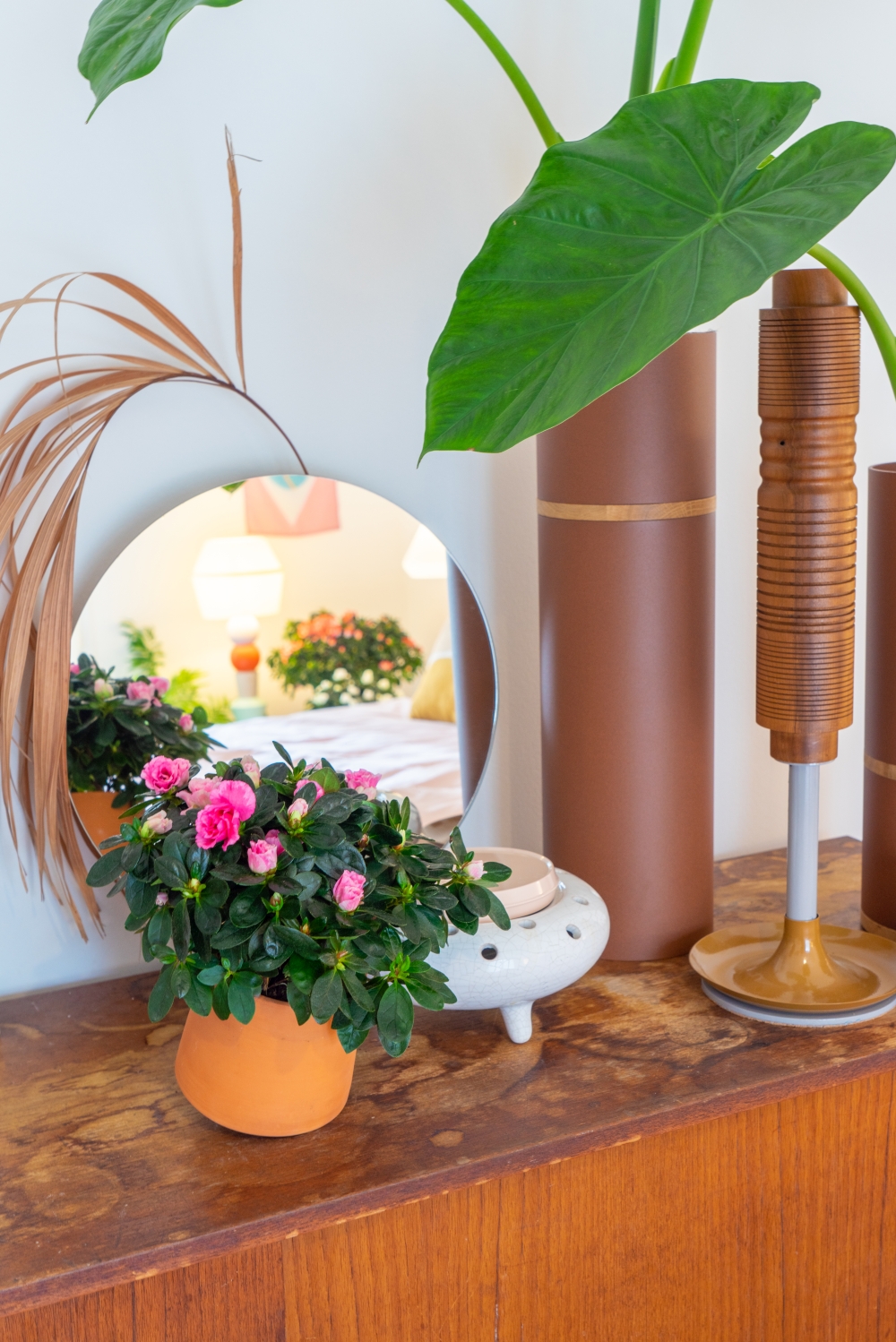 What I like about plants like the Azalea, is that when you place them low on a plant stool or directly on the floor, you can enjoy their bright blooms from above. This works particularly well next to a bed from where you get a "top view" on the plants. Imagine waking up and seeing all these colorful Azalea flowers!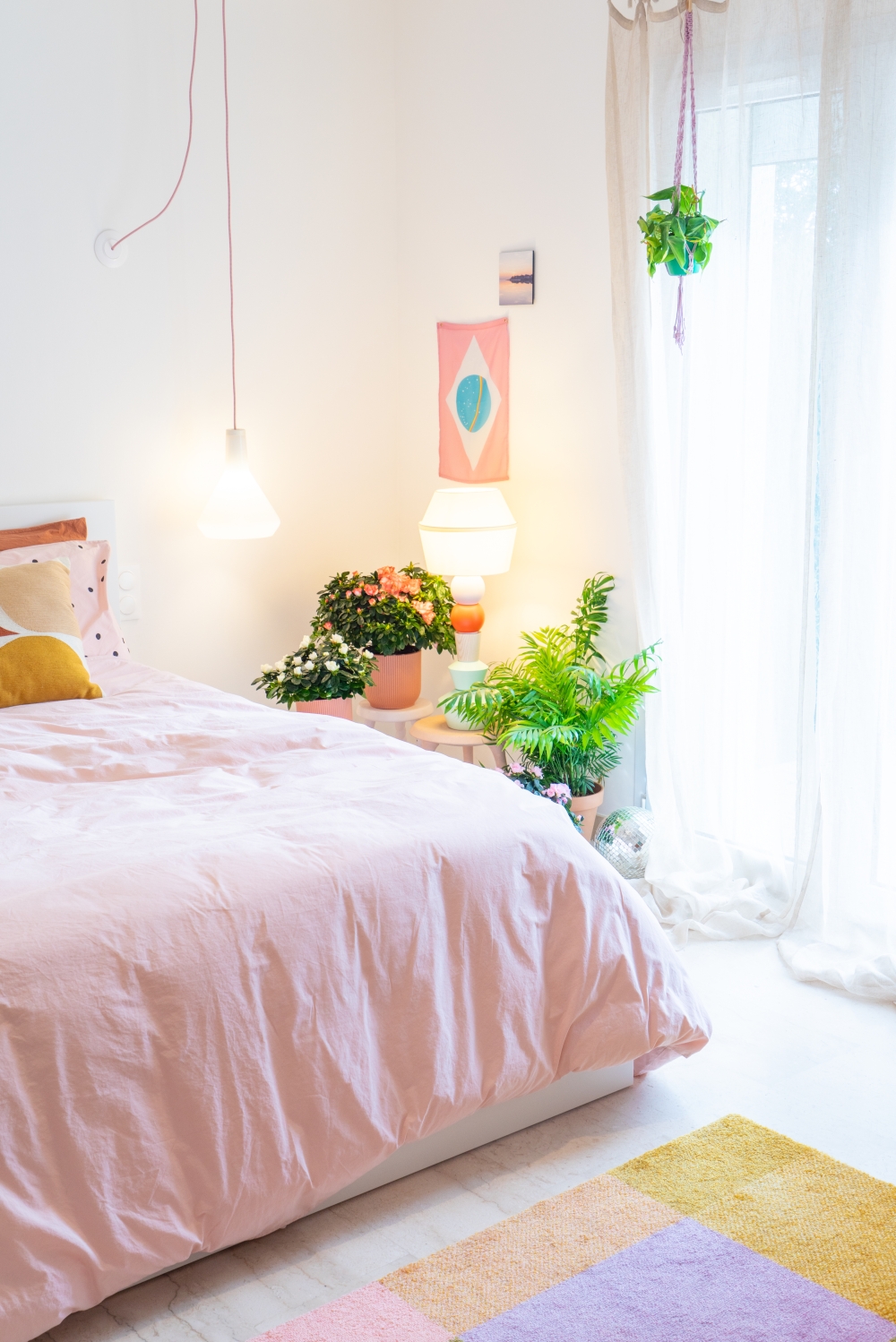 See what I mean: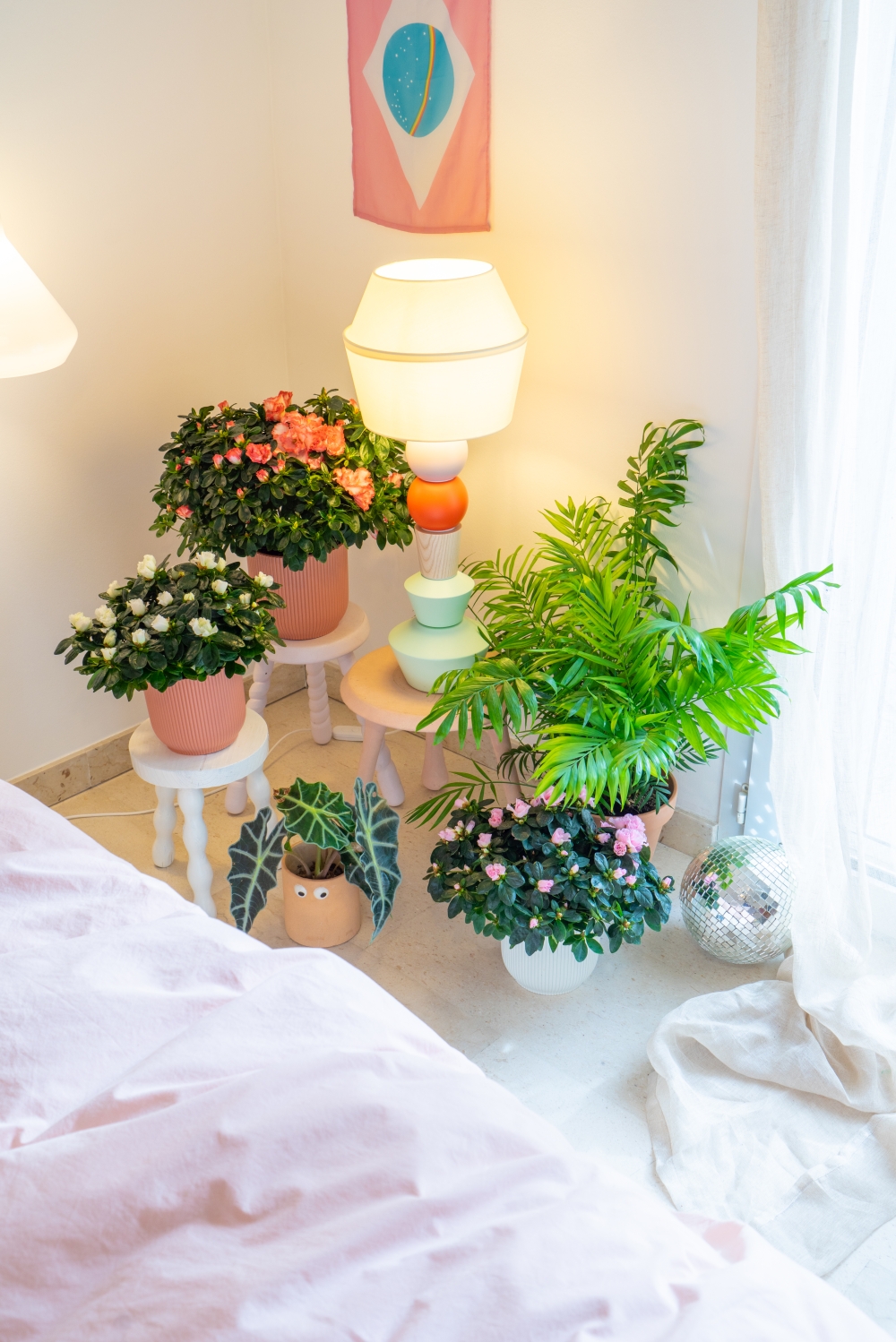 What do you think? Do you feel inspired to get yourself some Azalea this season? I hope so! If not, I'll share more Azalea styling inspiration in a few weeks, so stay tuned!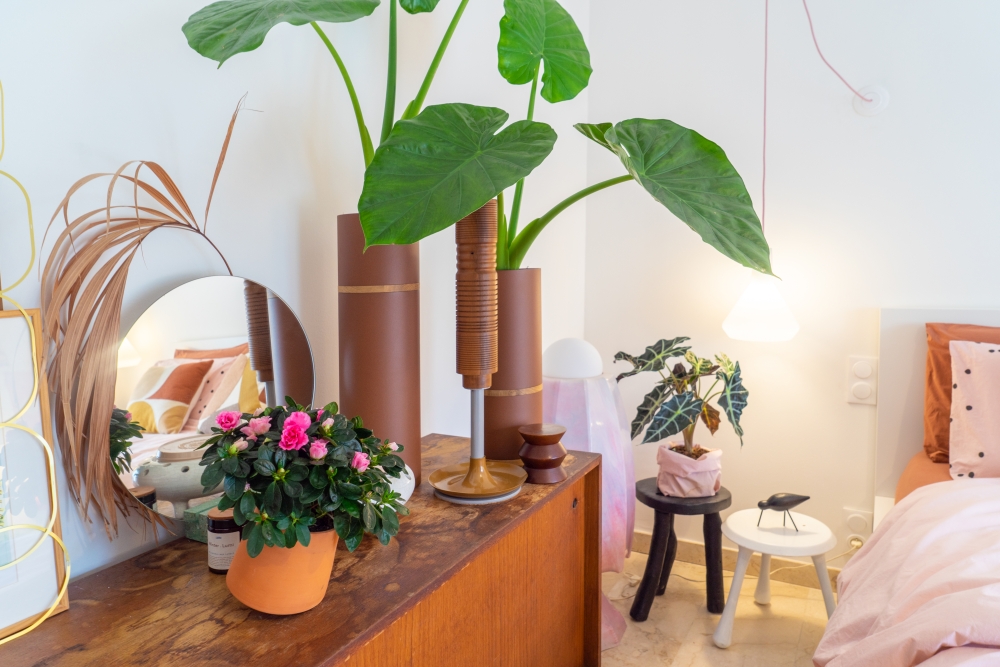 Blogpost created in collaboration with Ghent Azalea.
Click here for all points of sales of Ghent Azalea in France
Pour tous les points de vente de l'Azalée Gantoise en France, cliquez ici.