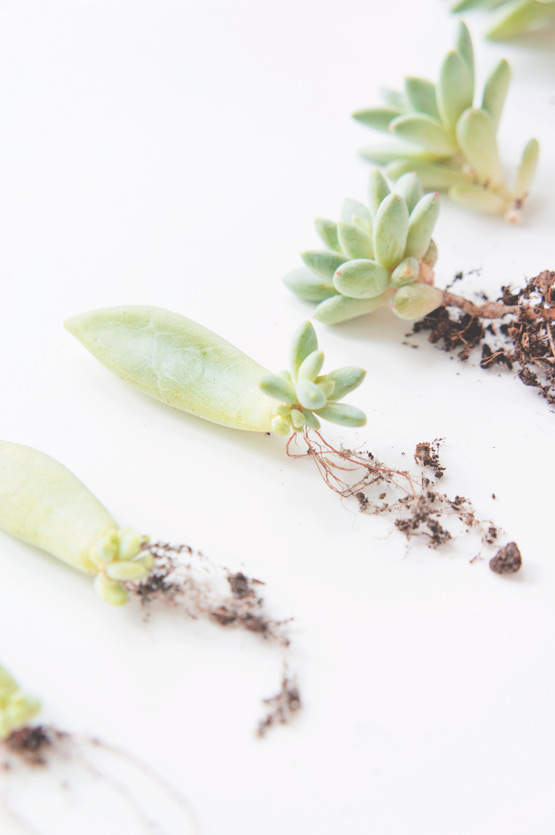 One of the many reasons Igor and I founded Urban Jungle Bloggers, is to share our green knowledge. So today I'd like to show you a very simple trick called succulent progagation. Of course you can buy the most beautiful succulent plants everywhere, but it's also a lot of fun to grow them yourself from leaves. I've been doing it for many years now and enjoy sharing the green love by offering baby succulents to friends or by sending some via snailmail.
There are many different ways to propagate succulents, but this is what works for me. First you need a succulent plant with leaves, like the one on the right: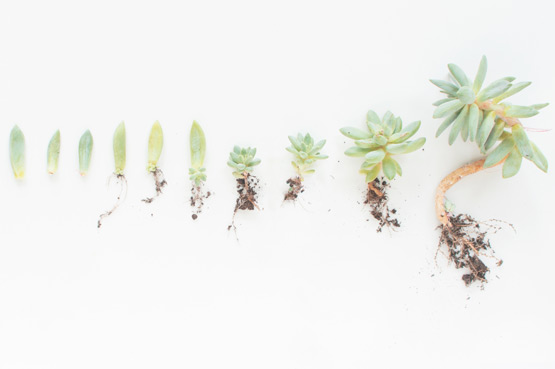 Don't cut the leaves, but gently pull off a few leaves from the stem of the plant. When they don't come off it helps to twist them a little bit. But be careful, it's important to have a clean pull, which means that nothing gets left on the stem.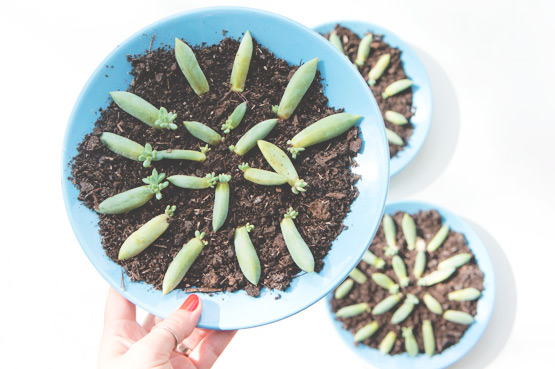 Lay your fresh leaves horizontally on some soil. For my current "mass production project" I used some plates with a thin layer of soil, but you can also lay them on the foot of a plant in a plant pot. My succulents also grow without soil (I sometimes find babies randomly in our home!), but appear to grow faster and stronger with it.
Now you'll want to let your leaves dry out for a few days, so don't water them immediately. After a few days gently sprinkle water over the plate. Water again once the soil is completely dry. I tend to water once every 10 days or less. Just like a grown up succulent, they don't like a lot of water. Place your leaves in a place with lots of indirect sunlight.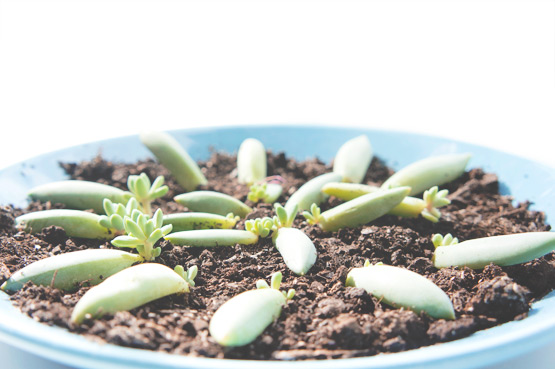 After a few weeks some miniature white or pink roots will sprout from the tip of your leaves. And a teeny tiny baby plant will start to grow. Oh how I love their cute pink roots: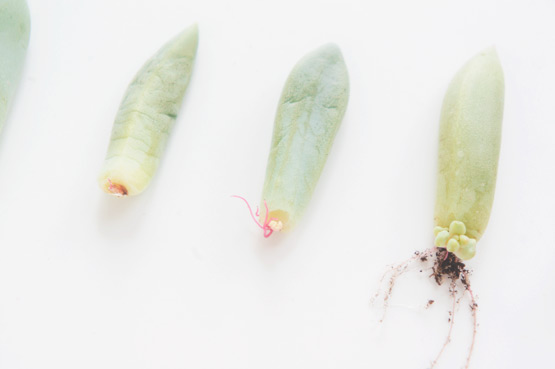 Once your new succulents are a little bit bigger, you'll notice that the initial leaves will become wrinkly, yellow, or dry. You can carefully pull them off and plant your succulent in its own plant pot.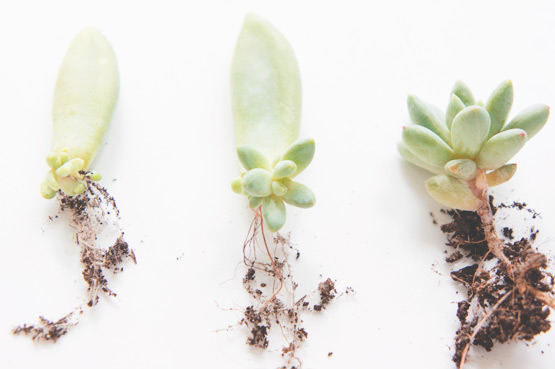 Oh and if you want to send some baby succulents via snailmail, simply wrap the succulents in some moist tissue paper and wrap it in paper (not in a sealed plastic bag!). Most succulent babies are strong enough to survive a few weeks on the road without water.
Have you ever tried growing your own succulent? Do you have any tips & tricks? Or some questions maybe?