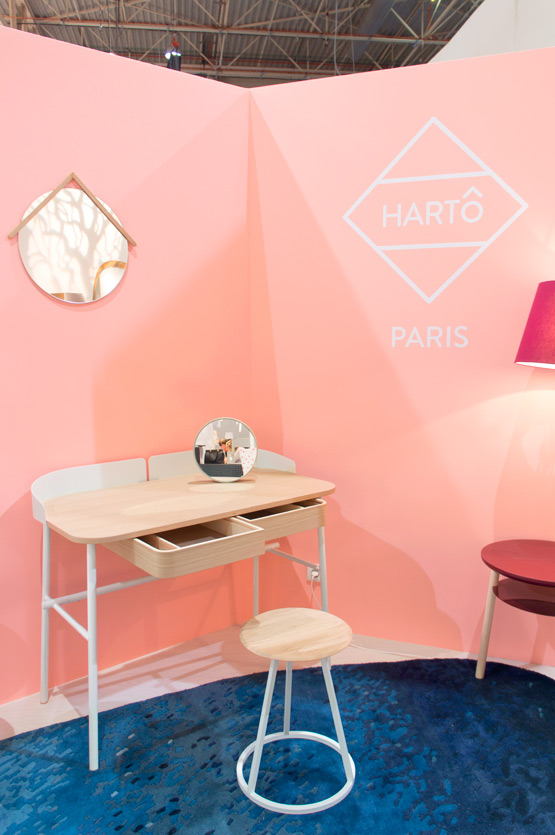 By now, it's not a secret anymore that I ♥ Hartô. Hartô is a small Paris-based furniture & accessories brand that uses bold colors with a vintage twist, or like they call it: clever & colorful furniture for happy homes. Most of their designs are perfect for small space living (it's like they were created for tiny and stylish Parisian apartments!). And even though we have 27 spacious rooms here at Studio Sapique, I wouldn't mind adding a few pieces to our home 😉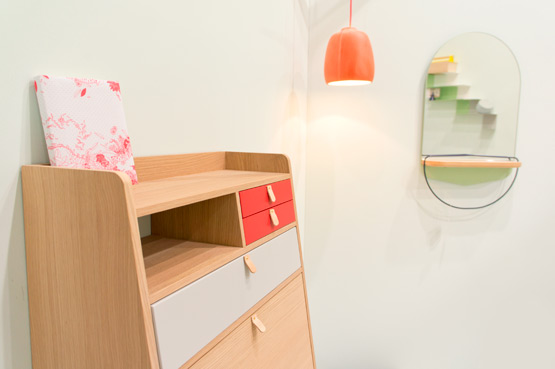 One of the things that I love above all, is Hartô's use of color: petrol blue, salmon pink, minty green: they are not afraid of color. Visiting their booth at Maison & Objet always makes me want to paint our walls in all different kinds of shades. Colored walls create such a nice "negative space" around objects and furniture. It makes them stand out in a completely different way than a bright white wall.
Side table and lamp Josette now comes in a new cérise color: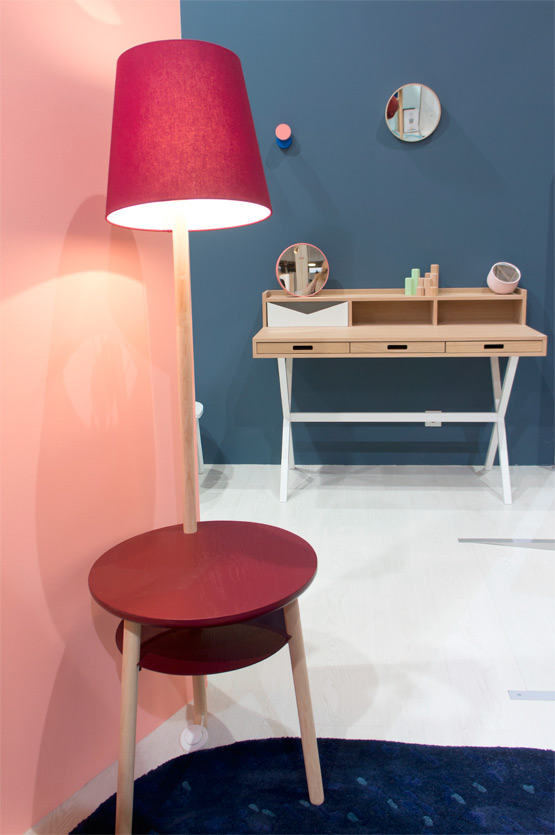 Another piece of the new collection is this secretary desk, Hyppolite. It's a little bit deeper than the secretary desks in their existing collection, which makes it easier to work on a laptop with books (and the regular desk mess hihi).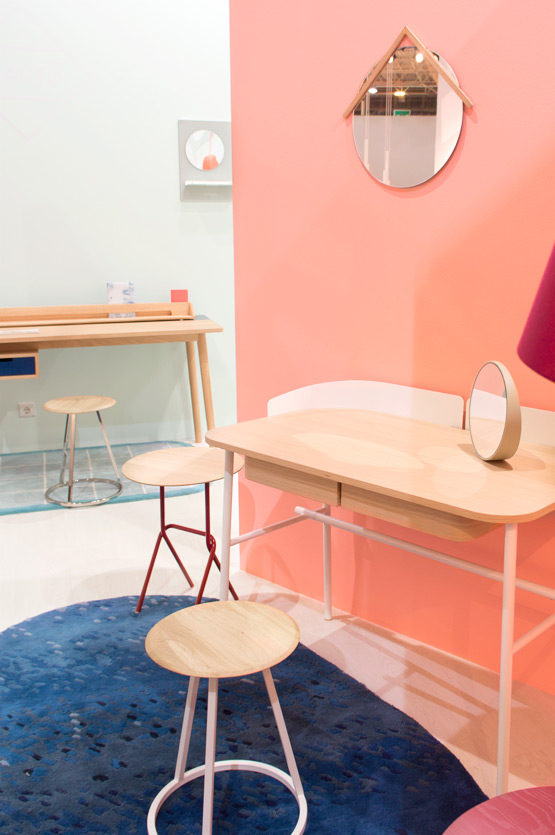 Hartô also makes the cutest mirrors, very playful with a little shelf, like the Modeste, or super sleek for your wall and/or table, like Odillon, that litterally rocks on your table: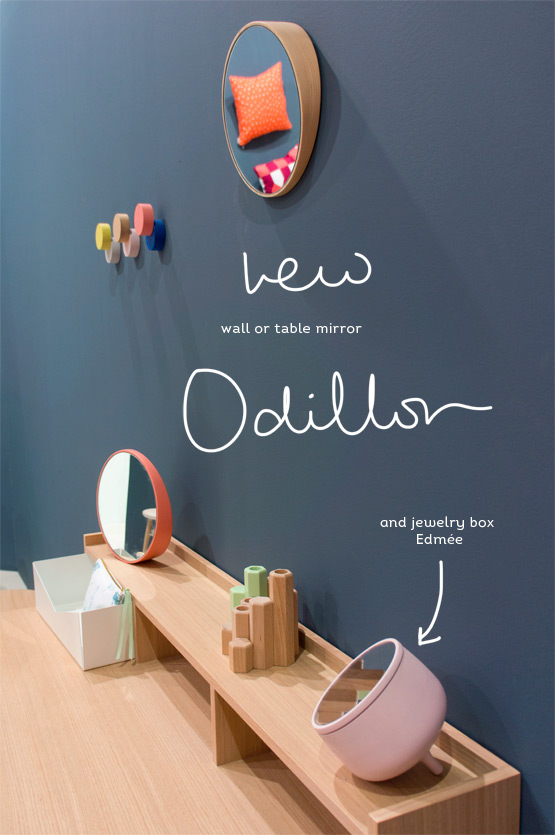 Of course I had to make a #selfie in the new Lubin mirror in oak, designed by Thomas Kral: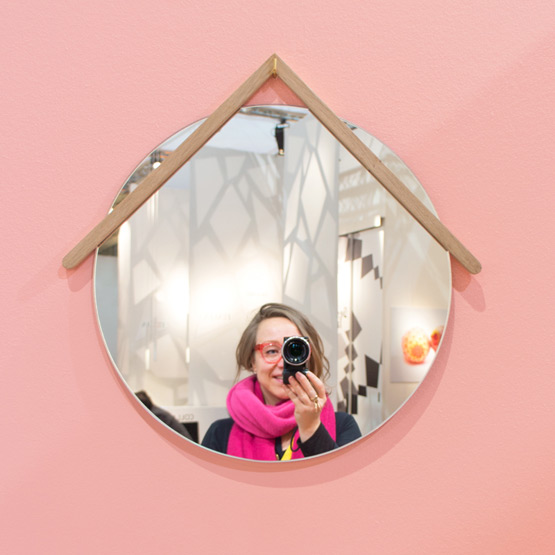 The eycalyptus branches made this part of the booth smell really nice. The red and orange cushions on the wall have a new print, called Plumes (feathers), and on the right wall you see coat rack Fermin in strawberry red: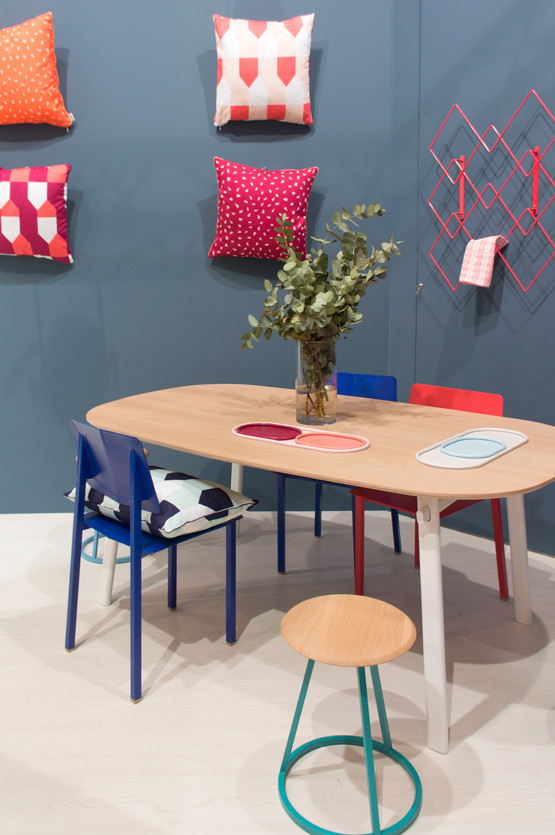 What do you think? Would you like some Hartô at home too?
Previous collections of Hartô at Maison & Object: January 2014 and September 2014.