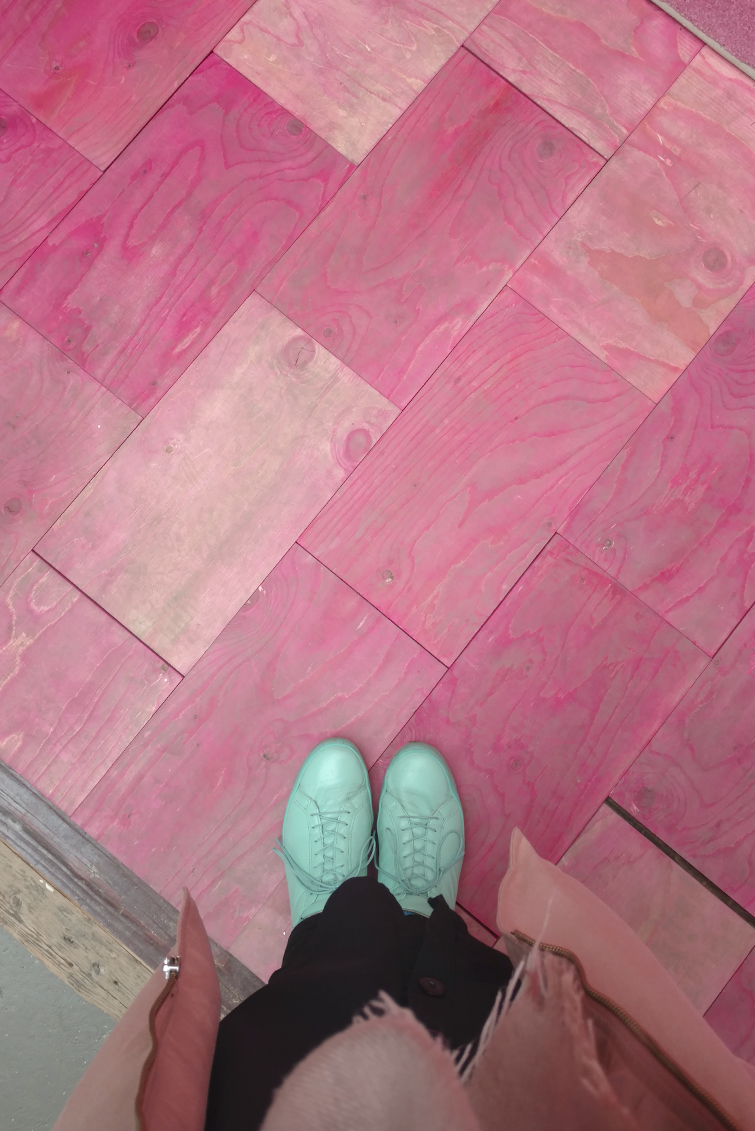 Five years ago was my last time at Dutch Design Week (you can read more about that here), so a visit was long overdue! When Holly from Decor8 invited me to be part of #blogteamDDW I knew there was no excuse 😉 We had a fantastic weekend with 15 bloggers, great food, lots of laughter, plenty of Dutch Design… And also a lot of "zachte G", the typical accent in Brabant, the region where I come from and where Eindhoven is located, home of the Dutch Design week.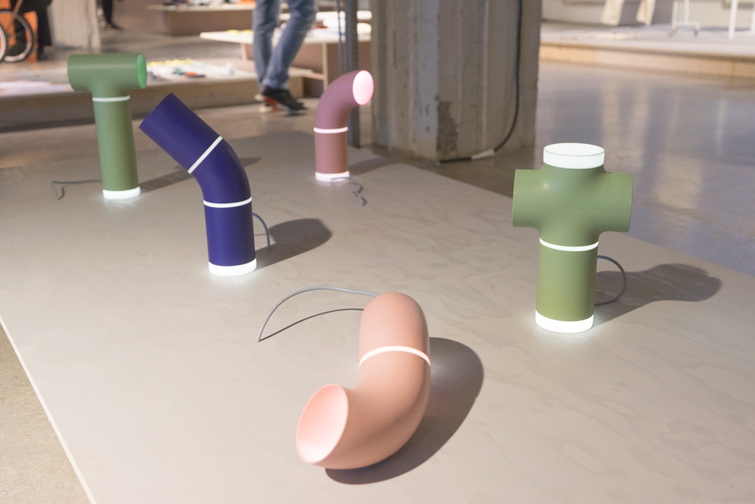 During this week, Eindhoven becomes the heart of Design in the Netherlands, it's literally buzzing with design exhibitions throughout the entire city that you can easily visit by foot, or if you prefer: grab a free Volvo cab that brings you to the next exhibition.
After an early breakfast at The Studenhotel, we kicked off the day at the Design Academy Eindhoven where 177 students presented their work. We were the firsts to visit, even before the official opening of the Graduation Show, and I loved how eager the students were to tell us all about their projects. I had a hard time moving from one to the next, there was so much to see, so much to ask and so much quality!
A little side note though: One thing that I found to be rather shocking though: the students of the Design Academy don't learn about marketing, sales and social media. They don't learn how to sell their work and make a living. The reason why? "Our students don't want this to be part of their curriculum at the Design Academy. However, there is an alumni programm where they get help with this". As a former art student, I think this is very sad: you can be the best artist in the world, if you don't know how to make a living by creating, you'll end up in a random job just to pay the bills. And while there is nothing really wrong with that, we do need these talented designers to focus on what they're best at…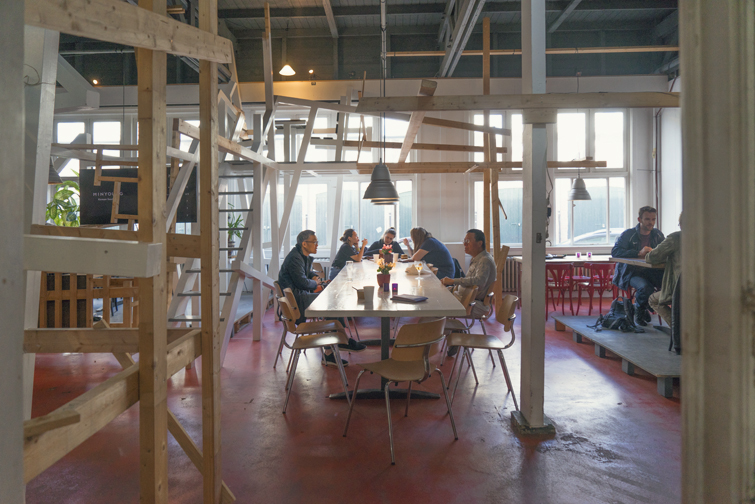 Anyway, after visiting the Graduation Show, we had a quick coffee break at Bean Brothers and lunch at Kazerne, which is also one of the exhibition hubs during DDW. In the afternoon we roamed around TAC (loved this!) and Strijp S. In the evening we were invited to the launch of the new NLXL Timber Strips wallpaper by Piet Hein Eek, where Paola Navone cooked a delicious risotto alla Milanese for all of us (including the very down-to-earth Rossana Orlandi). She brought the ingredients for the meal directly from Milan: why cook with Dutch ingredients when you can have the very best 😉 Despite the 4 hours of sleep the night before, it was a joyful evening and on Sunday we indulged in more design at Piet Hein Eek and Broeinest. For Urban Jungle Bloggers, we prepared a post with our favorite green highlights (coming soon!), but I saw so many interesting things, that I really wanted to share these here with you. So here we go!
My eye caught a few things: new color combinations (like the fantastic vintage pale blue kitchen and yellow/orange shelf) in the showroom of Piet Hein Eek: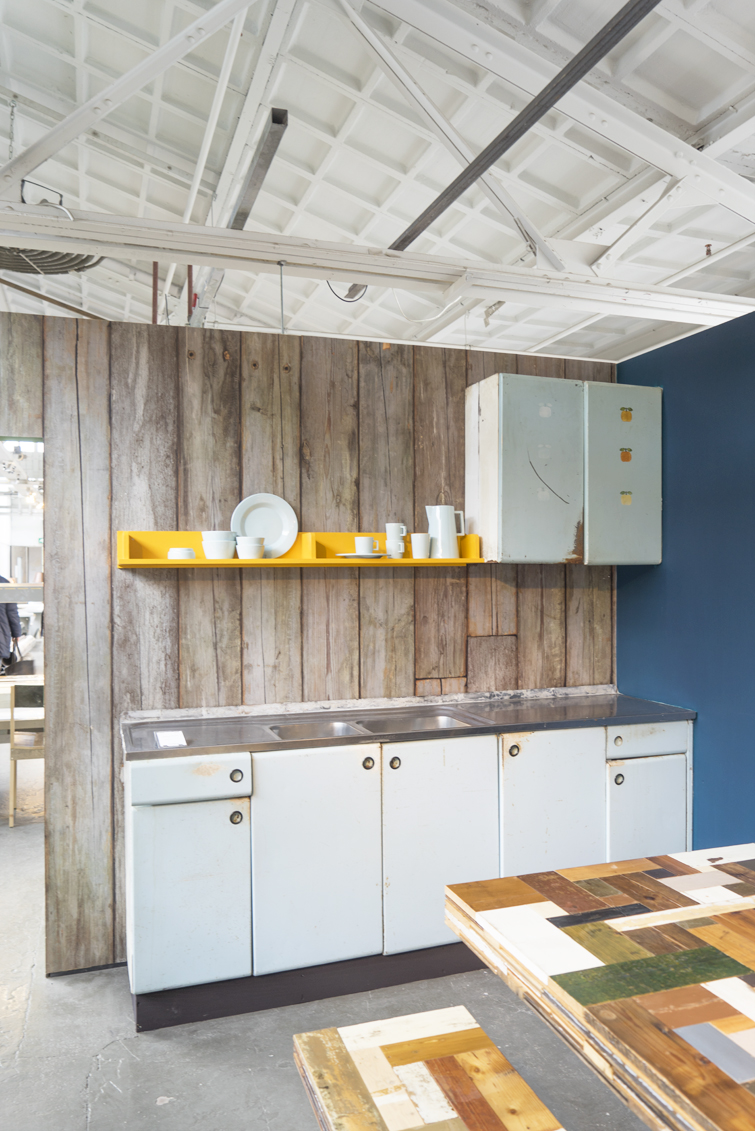 Or the deep purple and deep fuchsia at the exhibition of Ontwerpduo: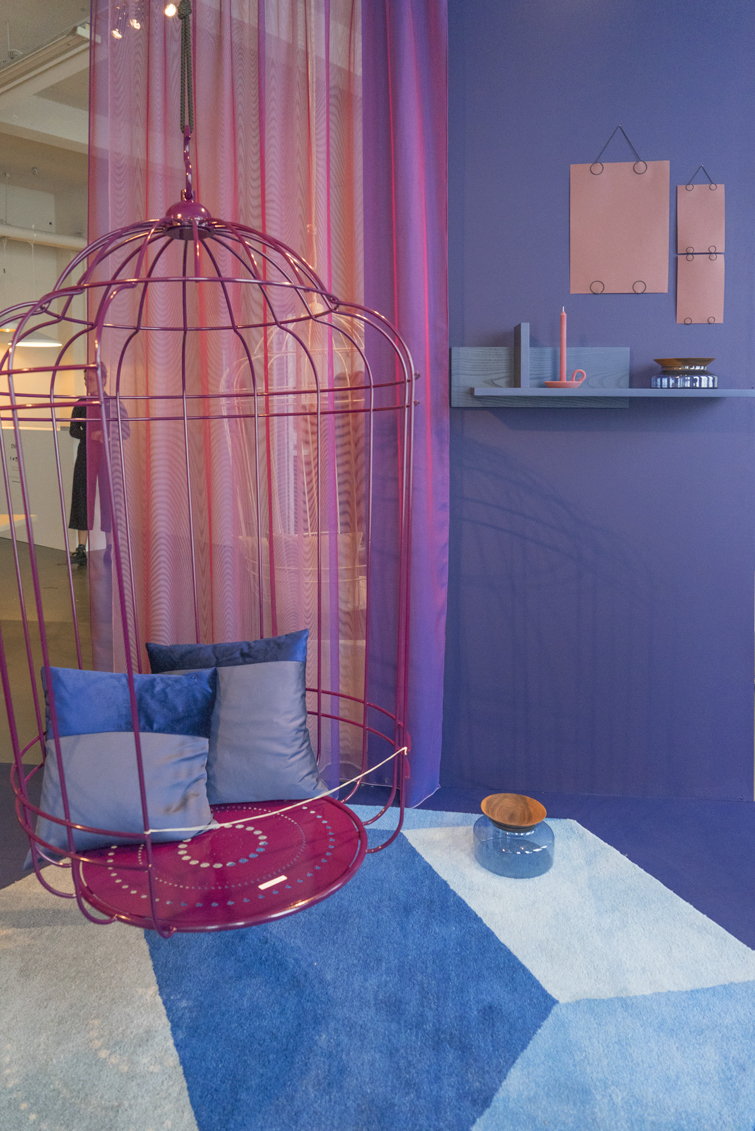 My eyes (and hands) were also intrigued by some really nice haptic designs that you want to touch, feel and experience, like the erotic sculptures by Fleur Hulleman, called Porn for the Soul: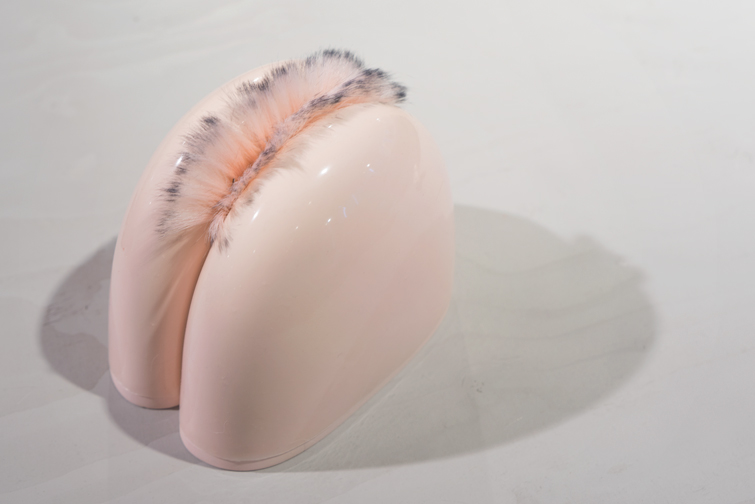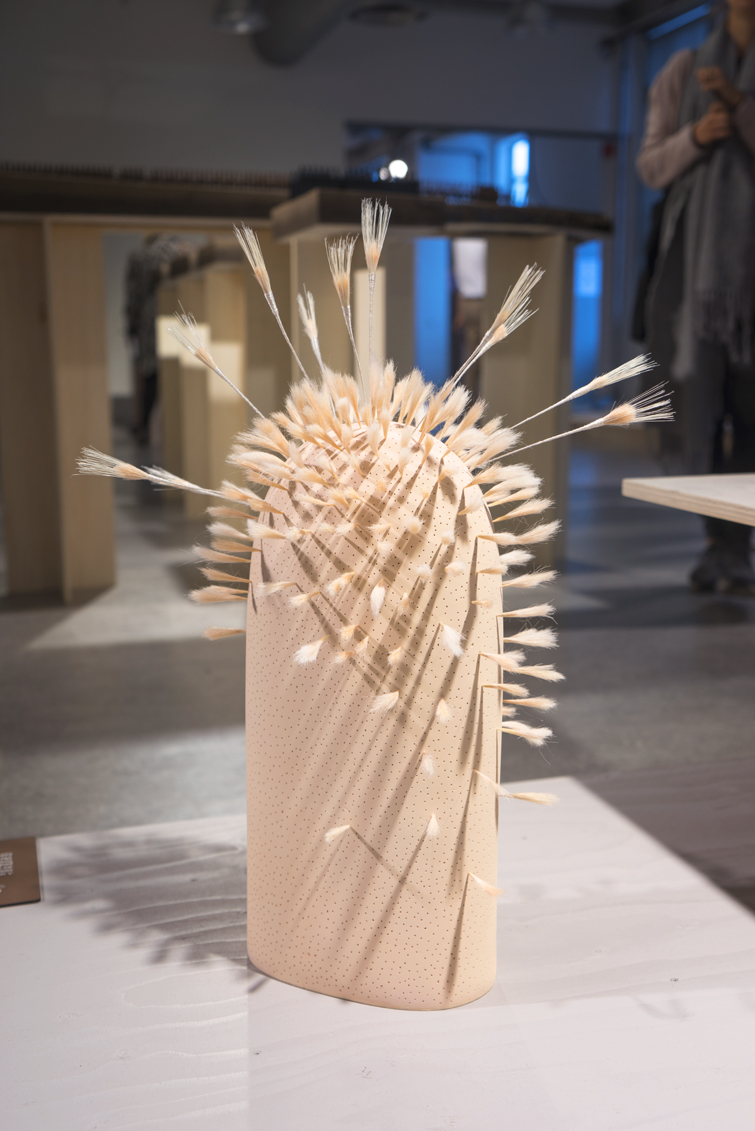 These flasks with wooden and leather handles by Mickey Philips: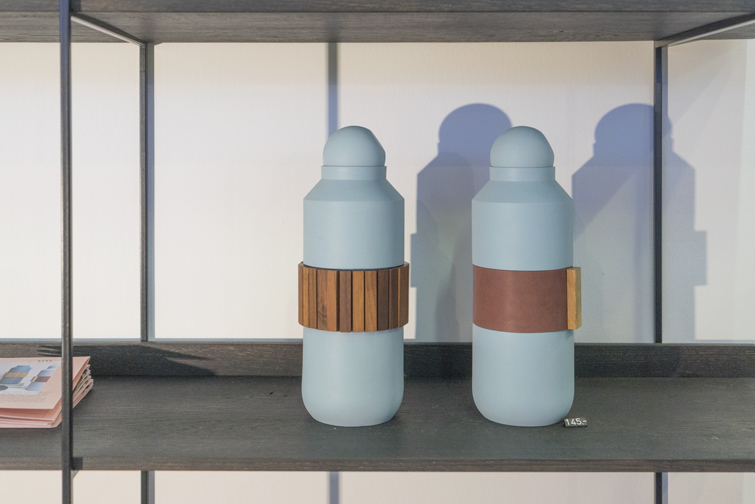 These delicious surface designs by Julia Thomann: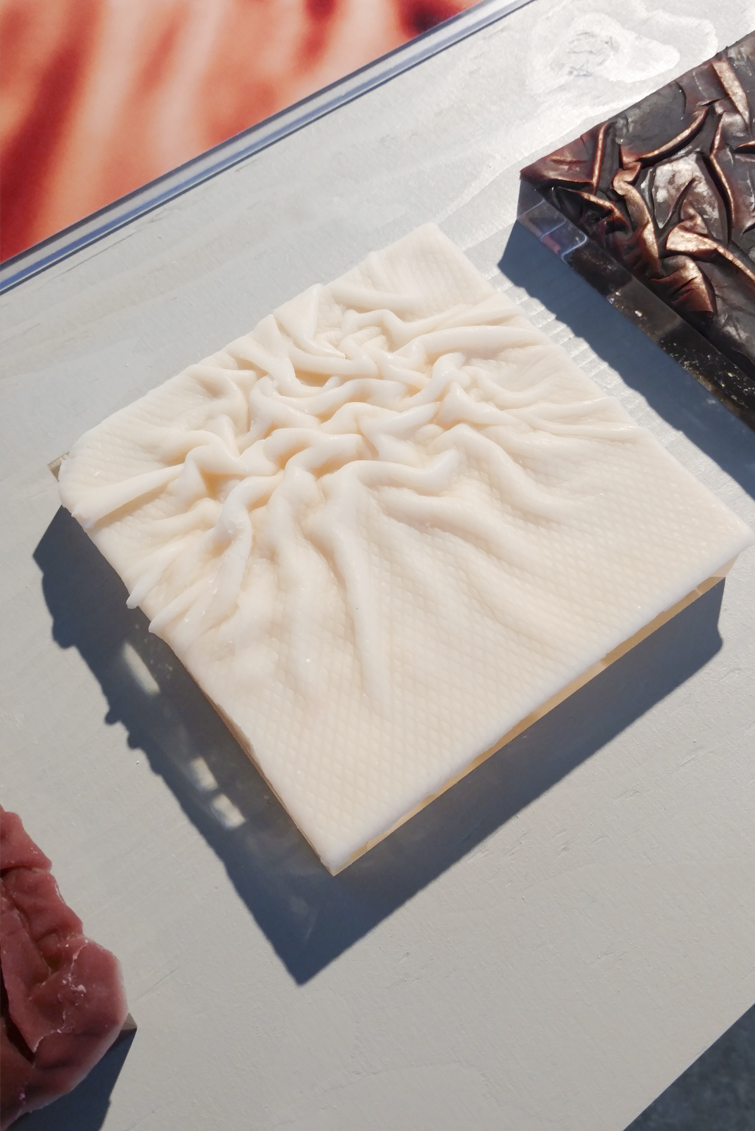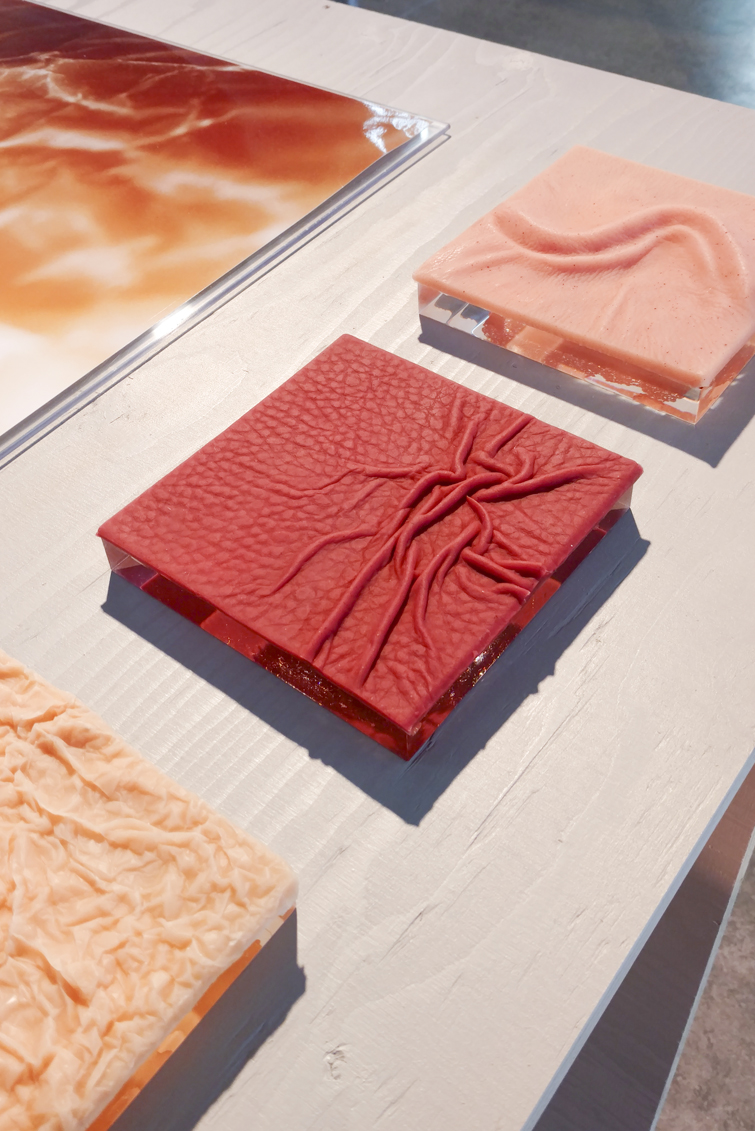 Another thing that echoed with me was the playfulness of many projects. Quite litterally in the building blocks for adults by Michiel van Gageldonk: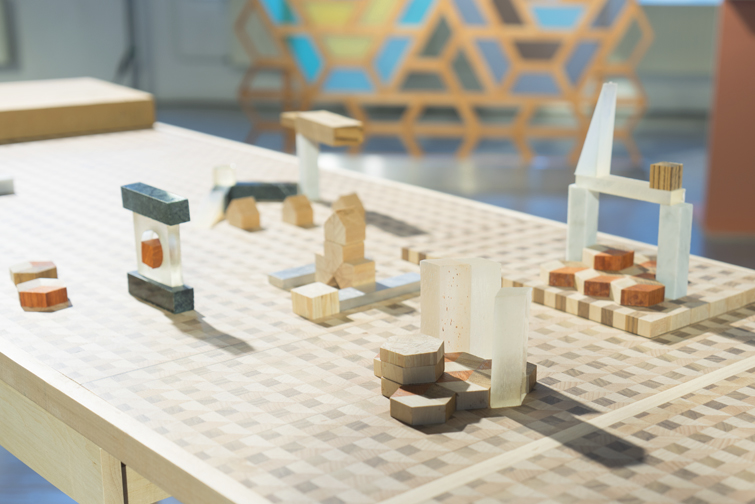 Or playful, just by being cute and delicous in shape and color, like this sculpture by Sejoon Kim: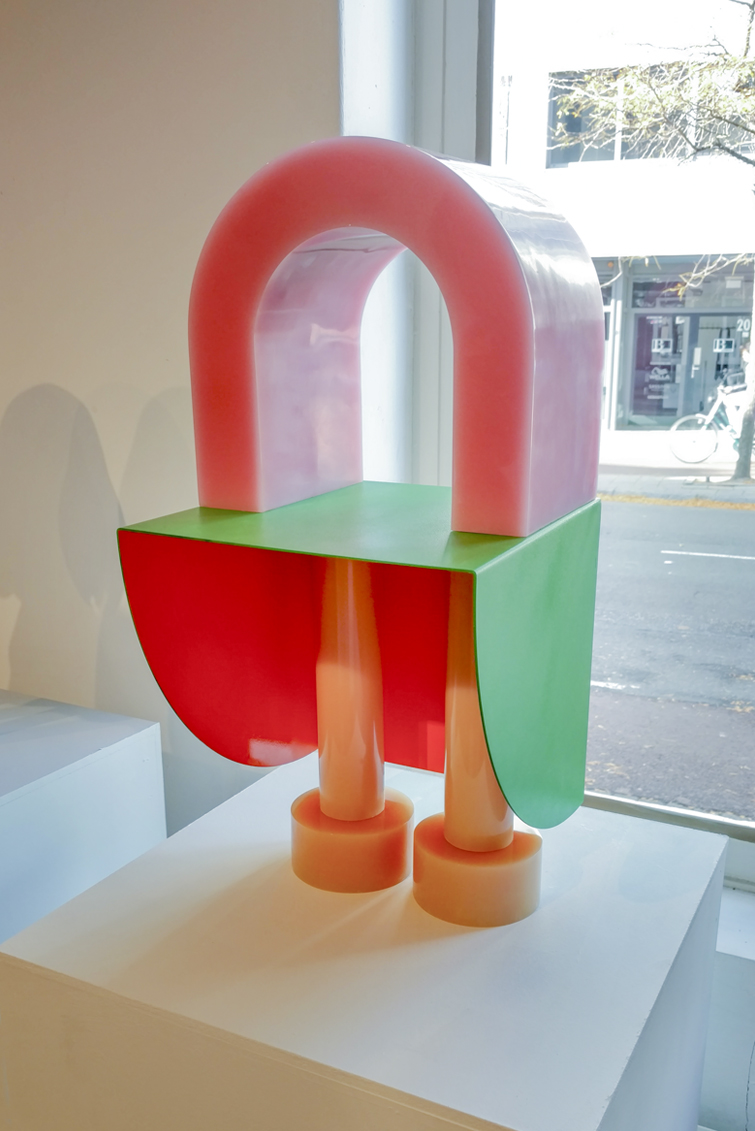 Playful was also the first word that came to mind when I saw the LED lights from Nicks Beens. The super strong LED light in the base, shine through the powdercoated tubes that give the light a colored glow. Can someone (like a cool design editing company) please purchase the rights of Nick's designs and add it to their collection, because I want it!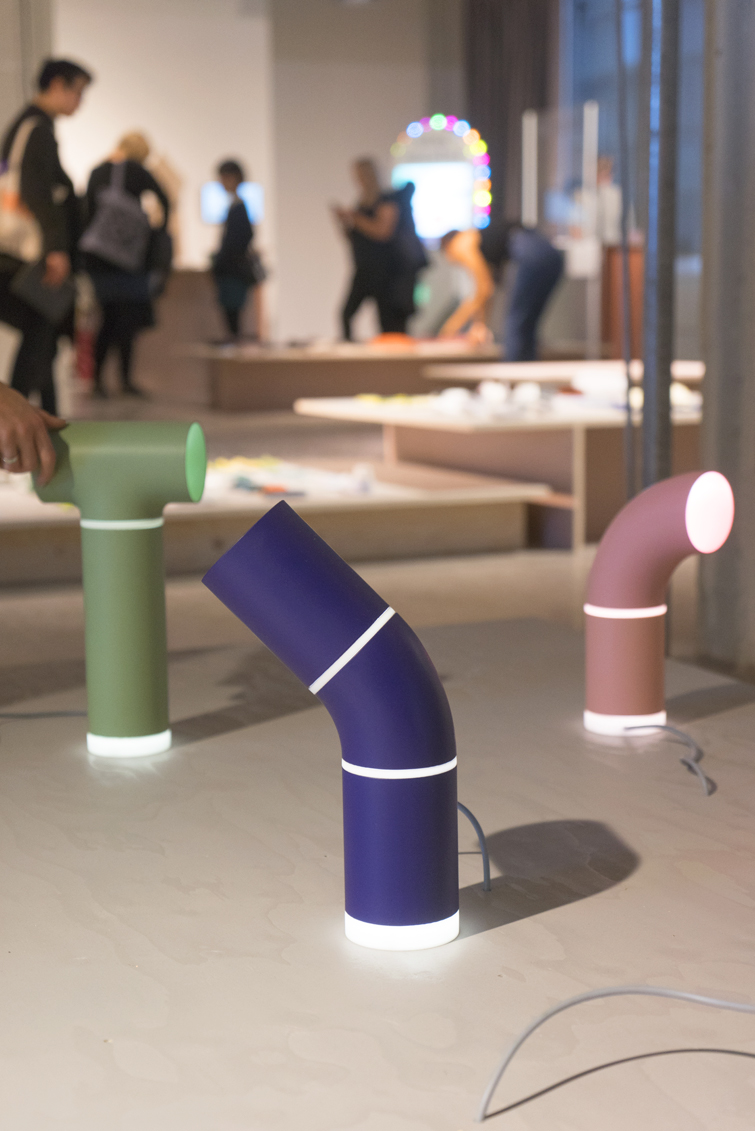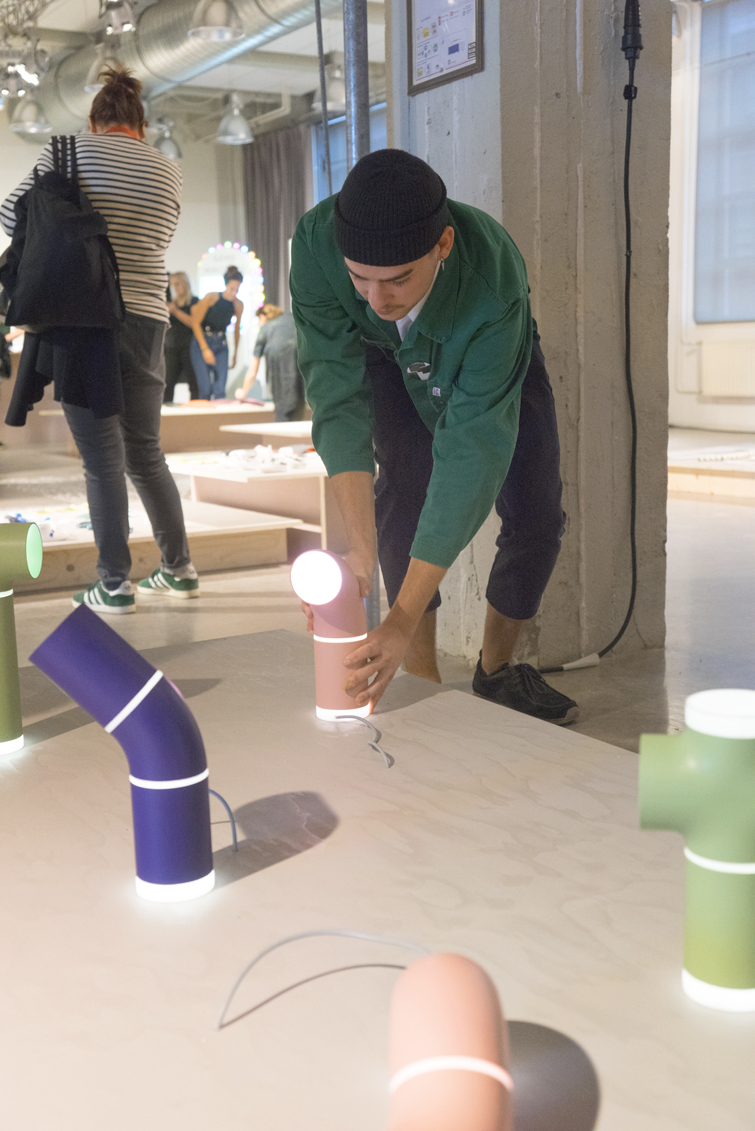 By accident I caught Nick on photo later at the Design Academy Graduation Show: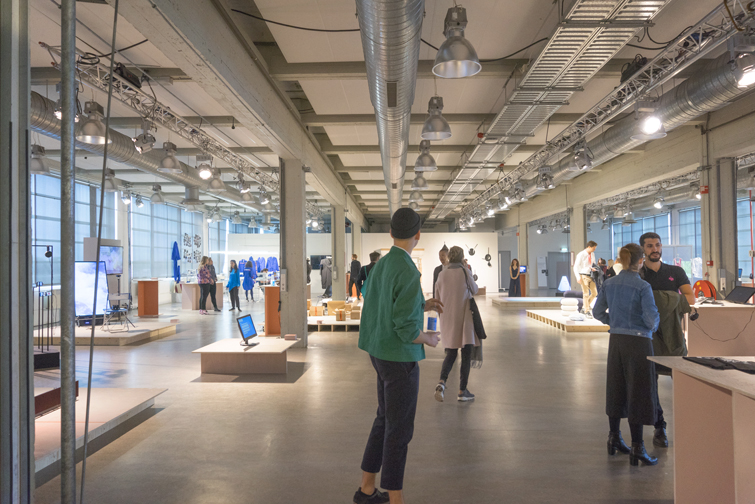 Another big crush were these playful vases and pendant lights by Sokolova Design Studio in an incredible color palette combined with copper: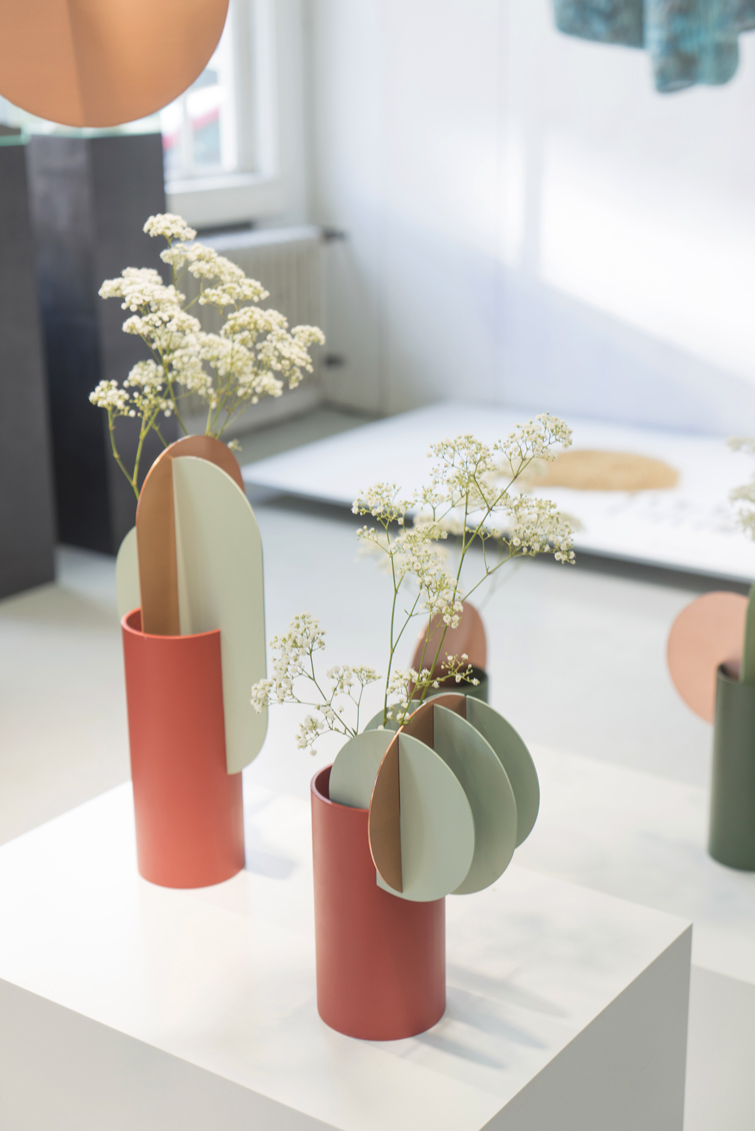 The Suprematic 2 vases, combine different circles and tubes, that are so trendy right now (and for me an alltime favorite, I <3 circles):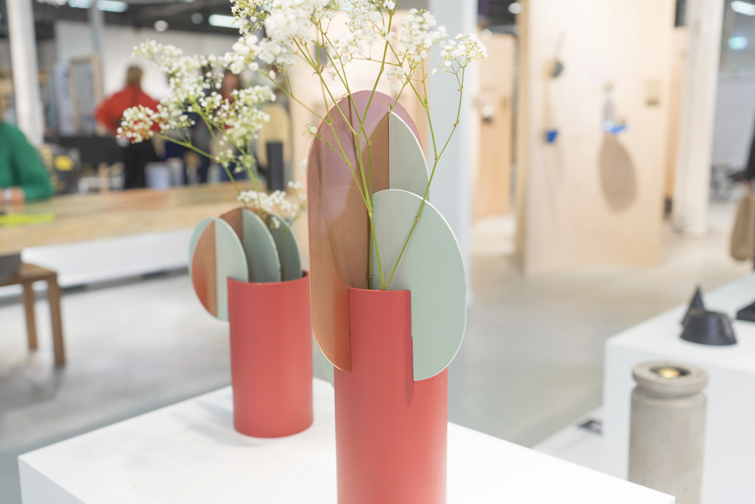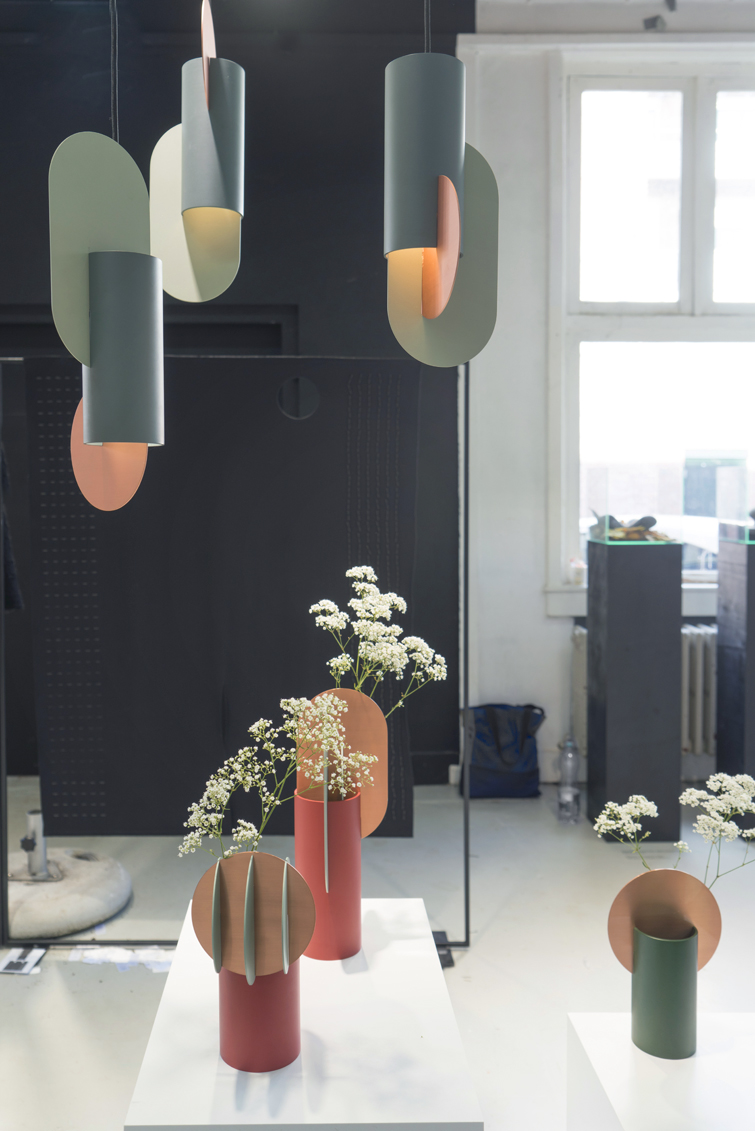 I love TextielMuseum ever since I visited as a kid. The museum is all about textiles and its applications, tools, machinery, history and future. In their TextielLab designers can work together with technical staff to create new innovative textiles. At DDW they launched their new teatowels designed by Studio Job, created at TextielLab in Tilburg. If you're ever in the neighborhood, this is a place you don't want to miss (together with De Pont museum). And the exhibition was quite playful (and colorful!) too: you could buy your own teatowel and pick your favourite icon that they embroider live on your towel? Like the Dragonfly in pink below, can you see it?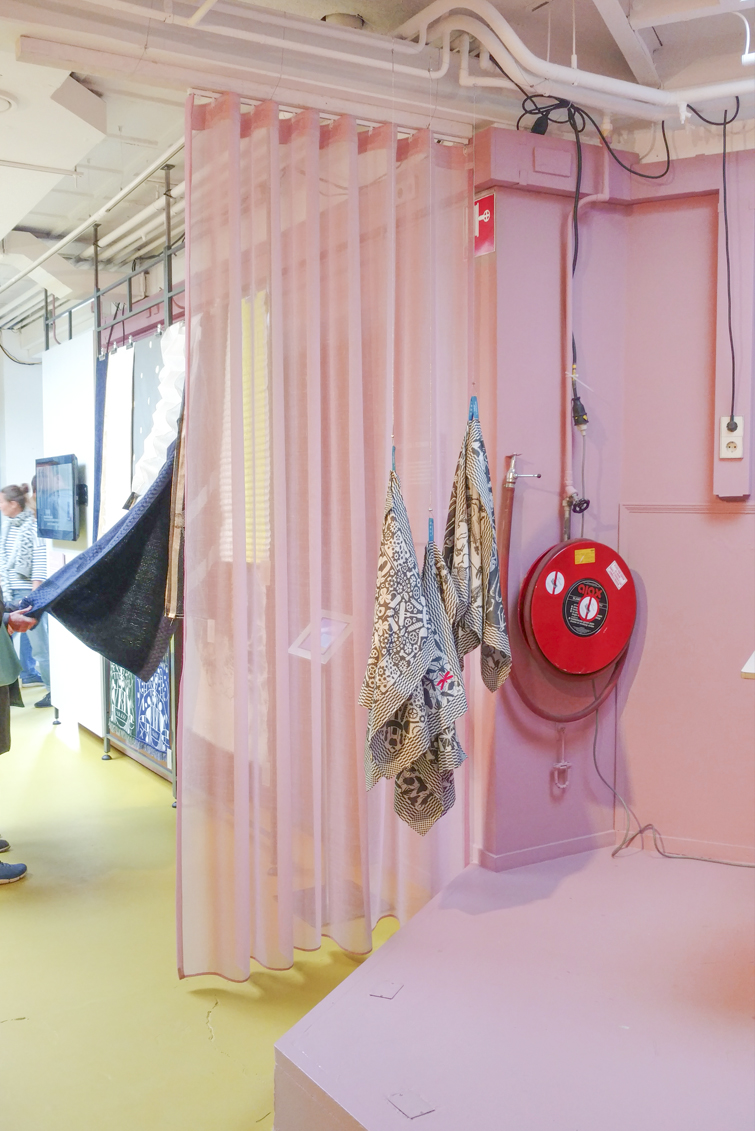 Teatowels by Studio Job for TextielMuseum: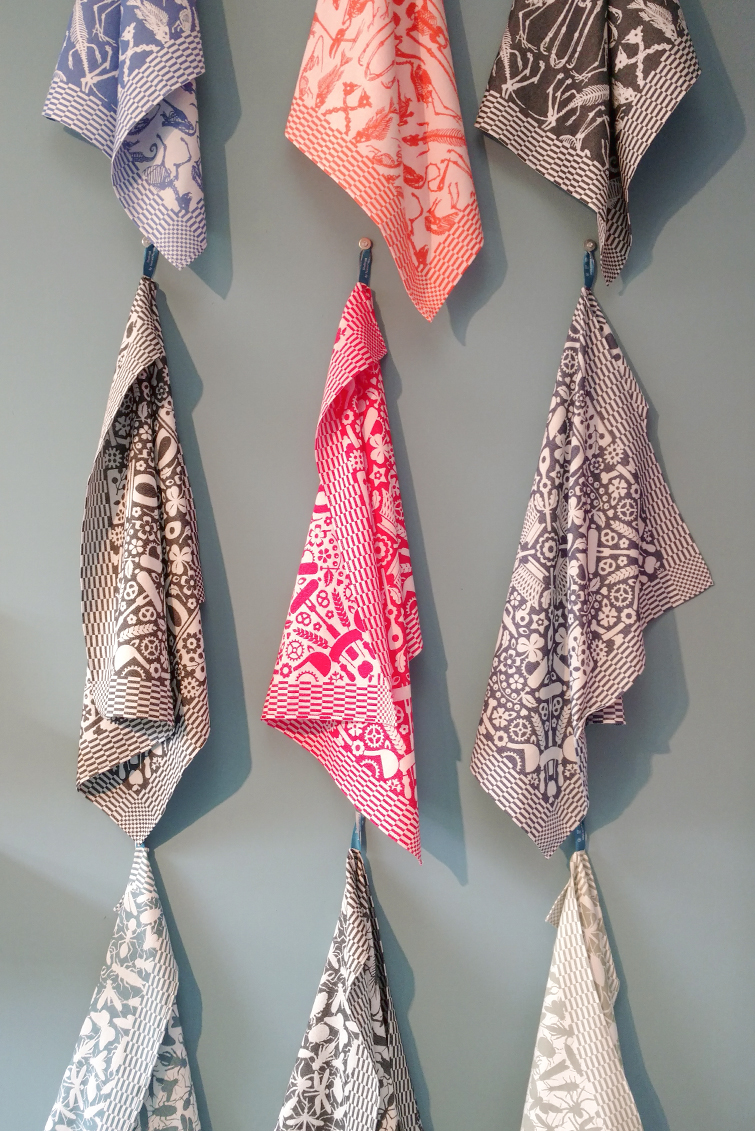 And the last 3 projects were my favorite, just because they were simple, beautiful, well executed and I liked the shapes. Like the room divider by Nord Interior Design: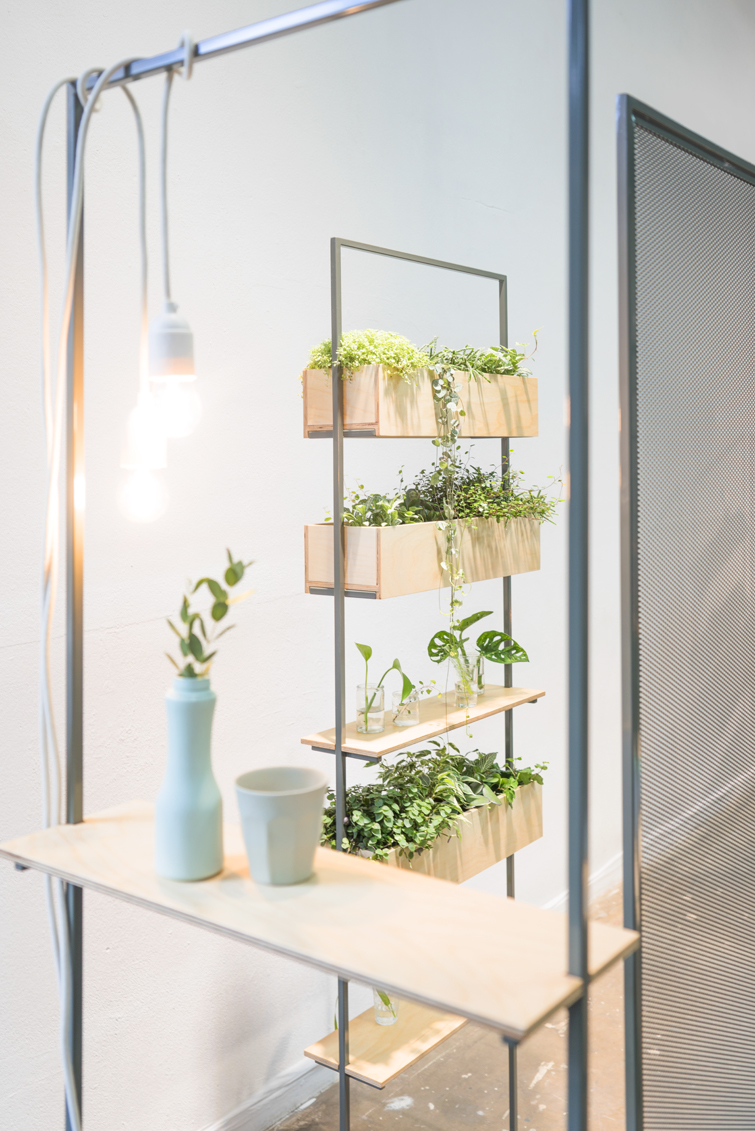 This glassfiber Monade Capsule by Alice Bleton: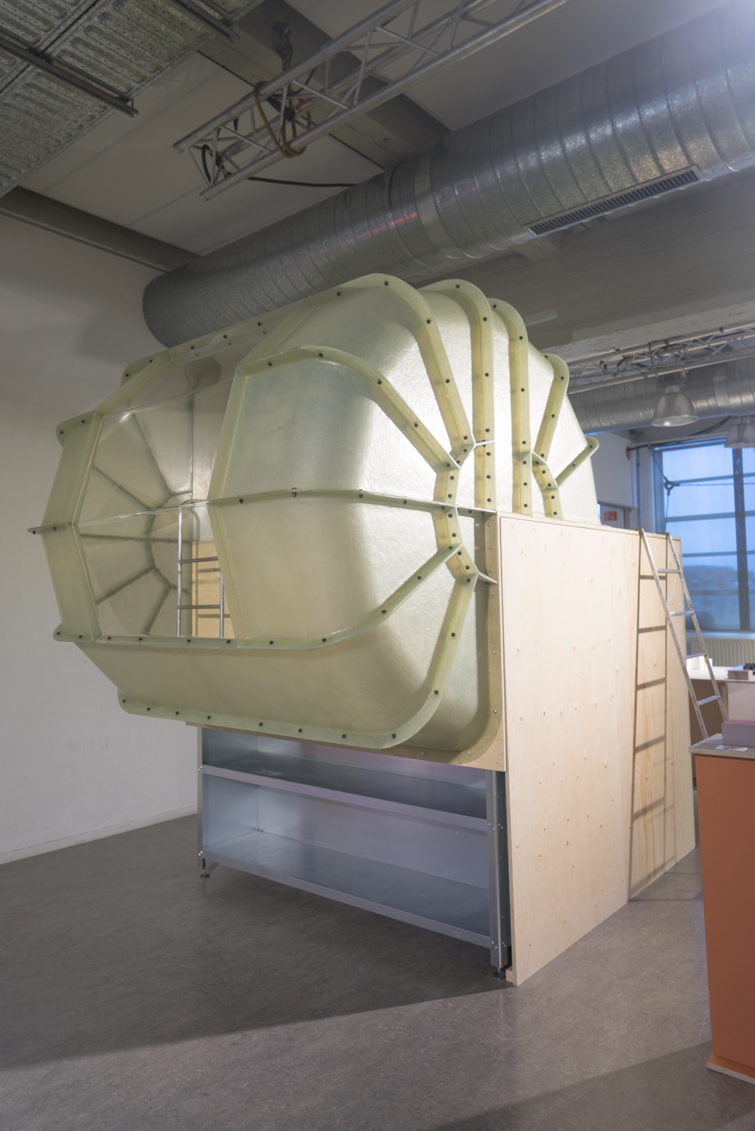 Another room divider and chair by Mae Engelgeer at the Transitions III exhibition at Broeinest. I loved Transitions II in Milan earlier this year (see it here).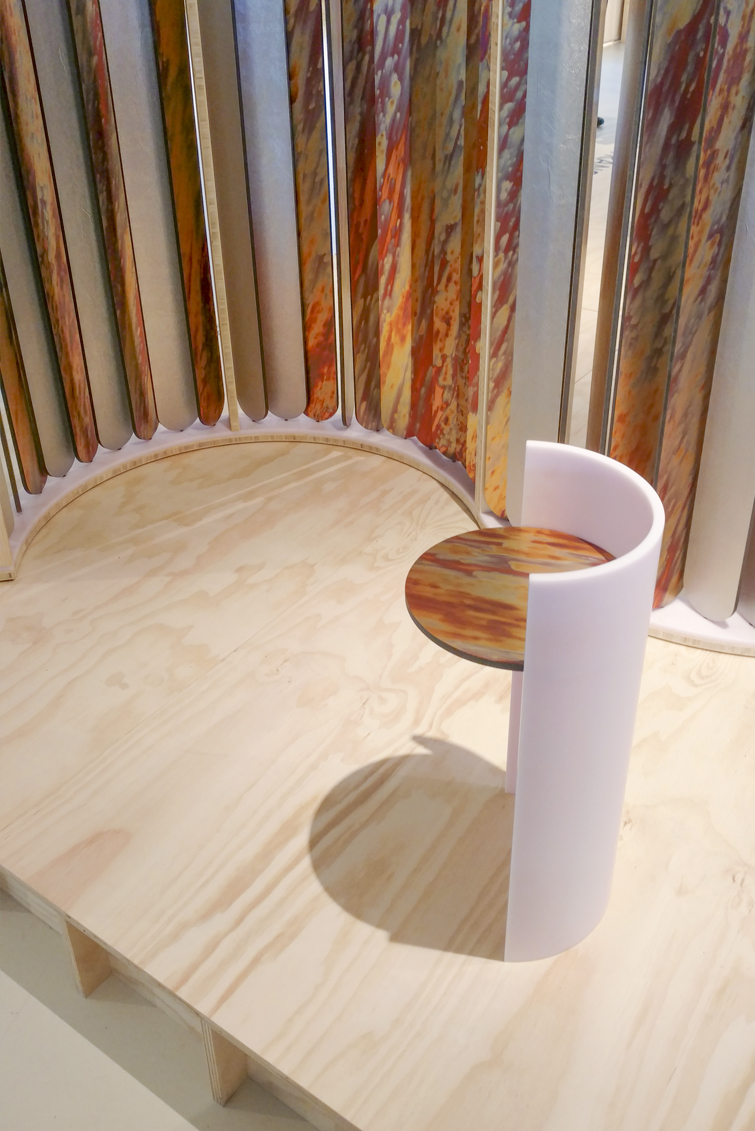 For more highlights from Dutch Design Week, hop over to the blogs of my fellow blog friends that were part of #blogteamDDW:
Decor8 /// Vosgesparis /// Stilzitat /// Happy Interior Blog /// Monsters Circus /// Styled Canvas /// Everyday Marta /// Yvestown /// The Style Files /// Passion Shake /// April and May /// BeeldSteil /// Trendstefan /// Sandra Kaplanovich /// Urban Jungle Bloggers