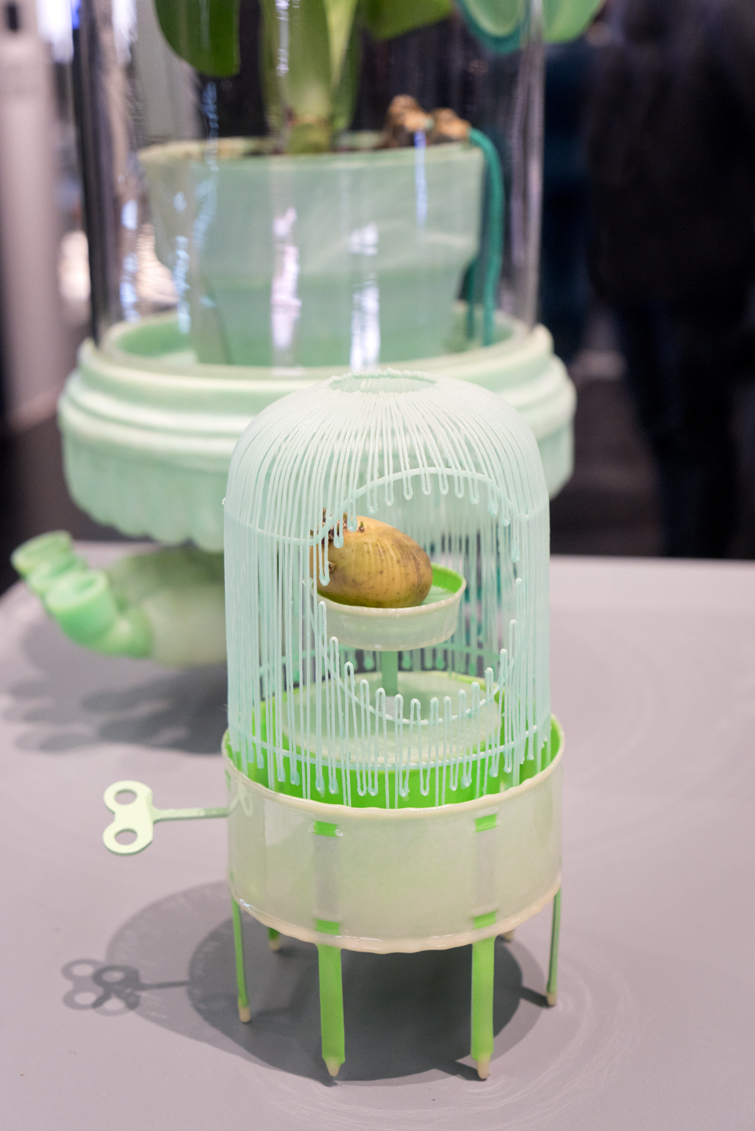 Earlier this week I was in Germany, in Cologne to be exact, at the IMM fair: an international furniture & interiors fair. While I was there mostly to work, I also took some time to check out some of the other booths and to spot new plant ideas for Urban Jungle Bloggers (more about that later this week!). One of the first things I noticed was that a lot of brands used bigger plants in their stands. The random and small succulents were gone and it looked much more attractive and interesting, just like the Pinterest board with large plants in interiors that we created with Marie Claire Maison last year. I also noticed lots of blush colors, muted greens and pale wood. A pretty nice combo I'd say 😉 These were some of my personal IMM favorites: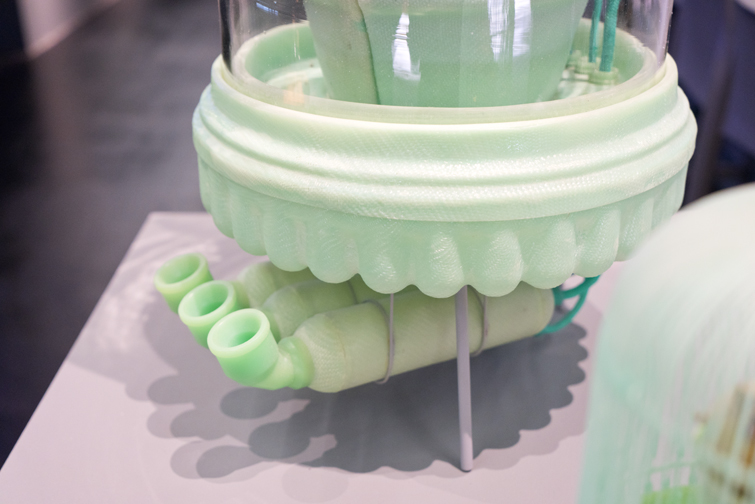 My first crush is this crazy cool plant vessel designed by Juliette Warmenhoven, part of Frame's Living Kitchenlab booth with Dutch designers showcasing DIY cooking. It's not entirely clear if it works (it's supposed to irrigate your plant with minimum effort), but I actually don't even mind: it looks fantastic as a plant display. The little 3D-drawn potato-cage (top image) is also pretty amazing, don't you think?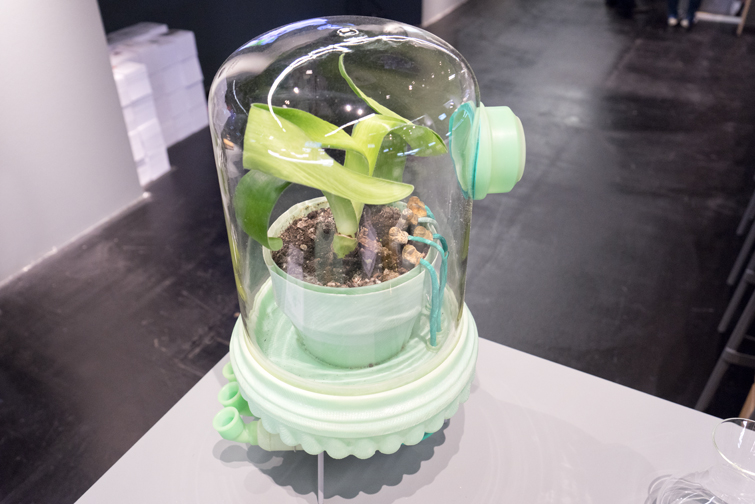 The booths of French design editor Petite Friture at Maison & Objet in Paris are usually really nice, but this time they surprised me by including these amazine felt plants by Dutch design couple Wandschappen. These are true pieces of art with metal spines and gold tips (and cost a little fortune… I couldn't help thinking about how many real plants I could buy with that… whoops!). Have a look: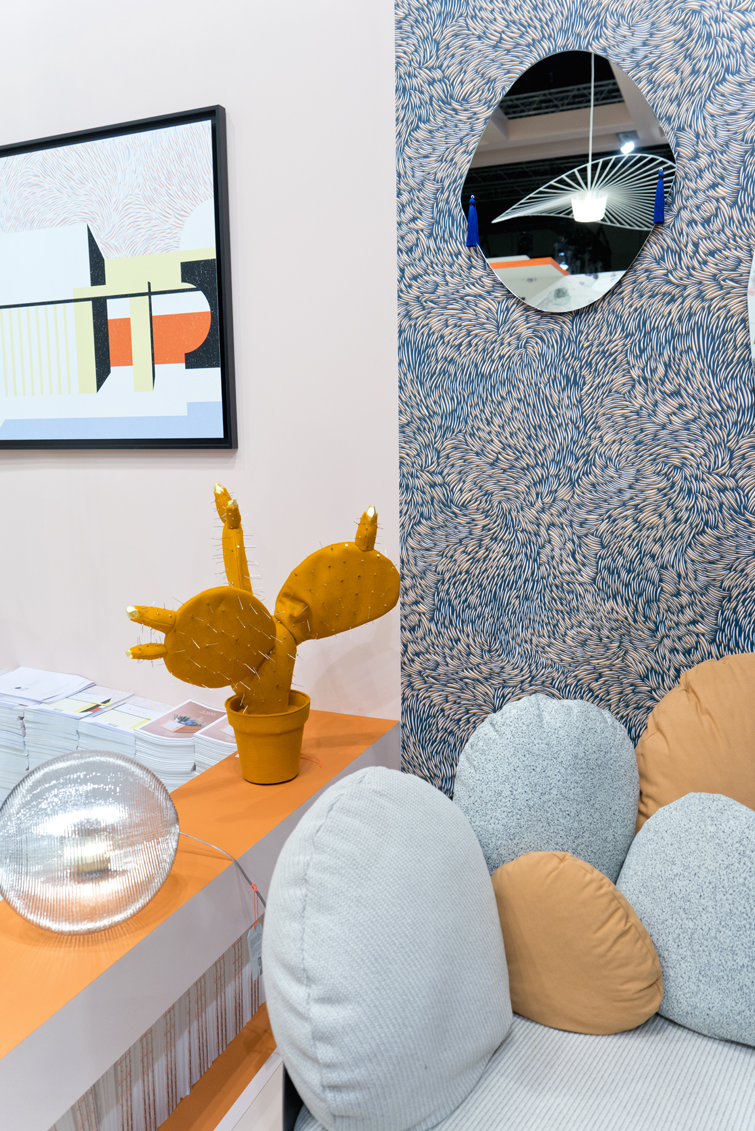 Also, a Wandschappen Sansevieria in felt: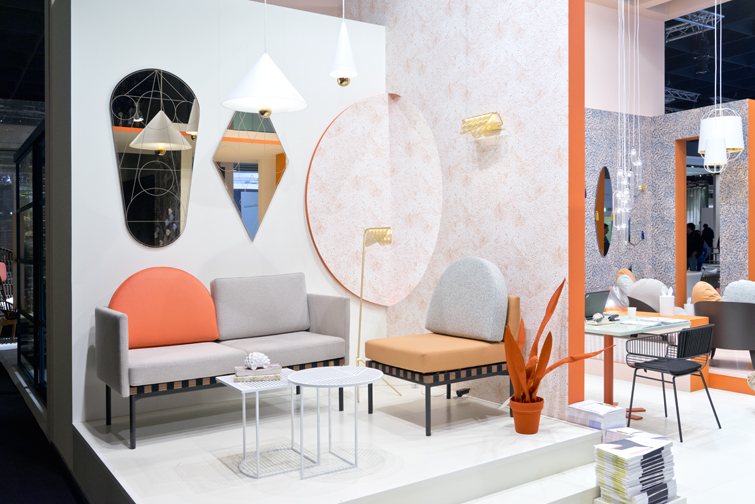 Also love these graphic cutouts and placemats: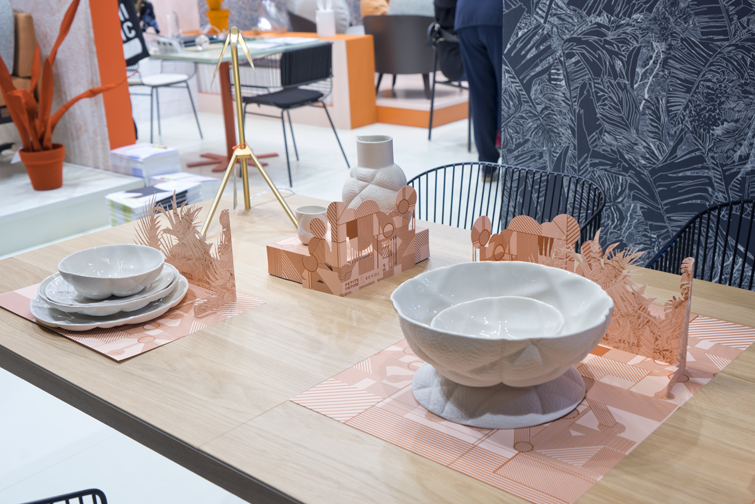 Beautiful rugs by Studio Zaven for CC-tapis on the left, and two new designs by Patricia Urquiola for CC-tapis on the right: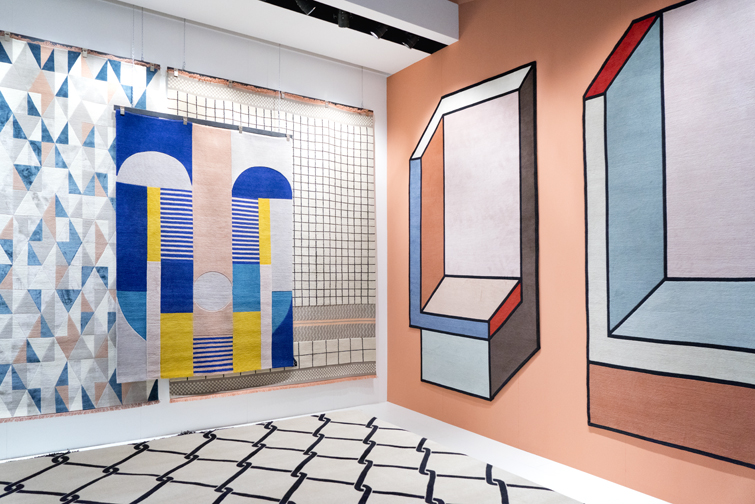 I was totally smitten with these colors and shapes at the stand of Vitra, I mean how beautiful is that vessel, X3 Kontextur watering can and the donkey's tail succulent and the Euhporbia tirucalli (pencil cactus) look in this corner: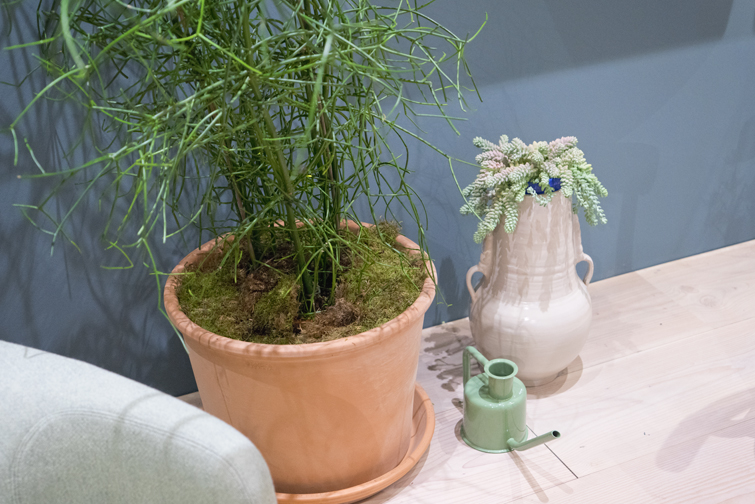 And just behind the corner, two big Euphorbia triangula succulents and a mother-in-law's seat: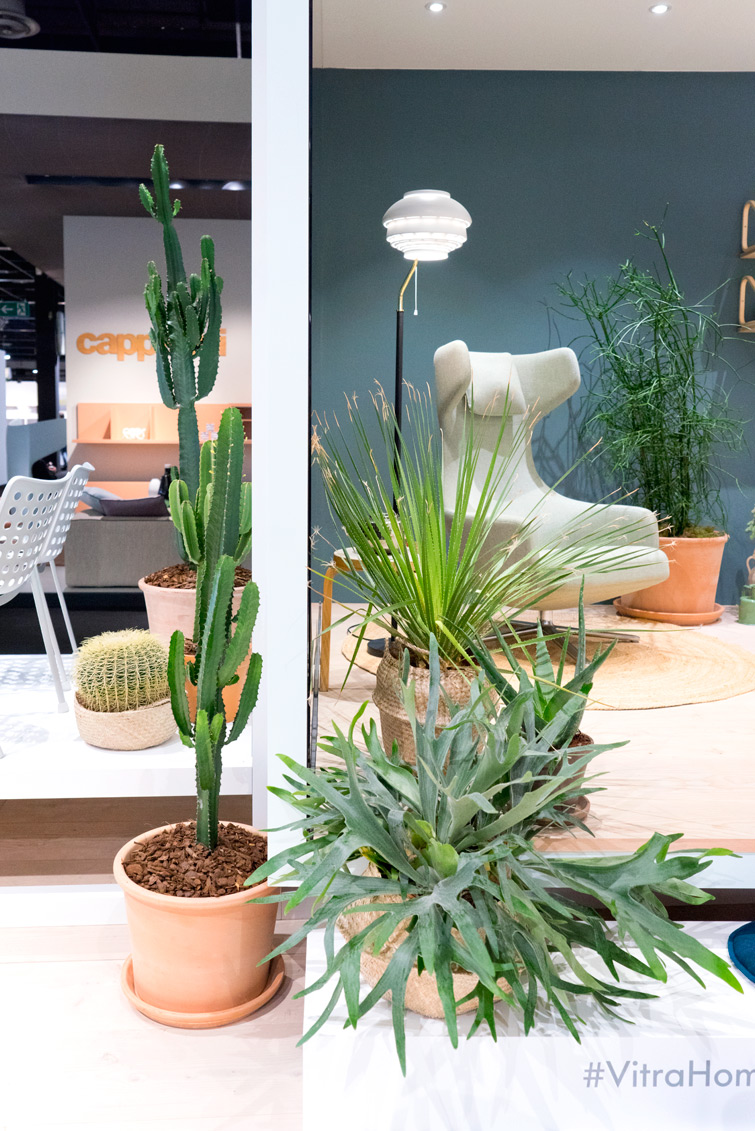 The beautiful Edge terracotta plant pots by Skagerakt x Stilleben that I also listed in my recent favorite plant pot roundup. You can now pair them with beautiful brass trays (or those cool green benches!) for a Nordic vibe. Love it!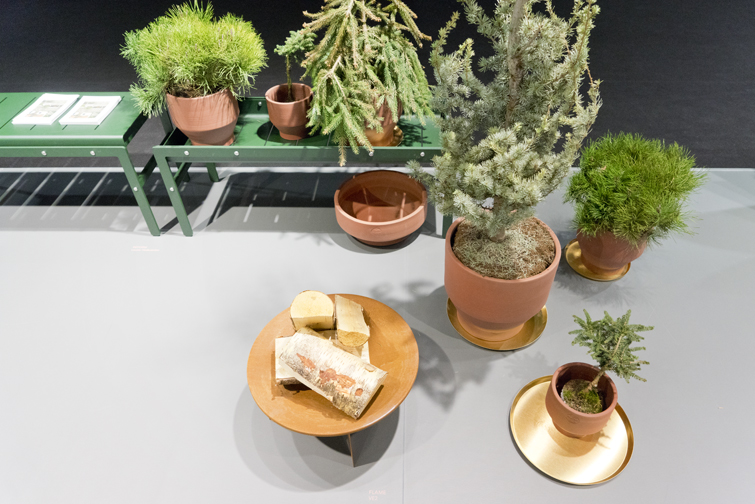 One of my favorite French interior brands Hartô because you never have enough mirrors… or plants, right?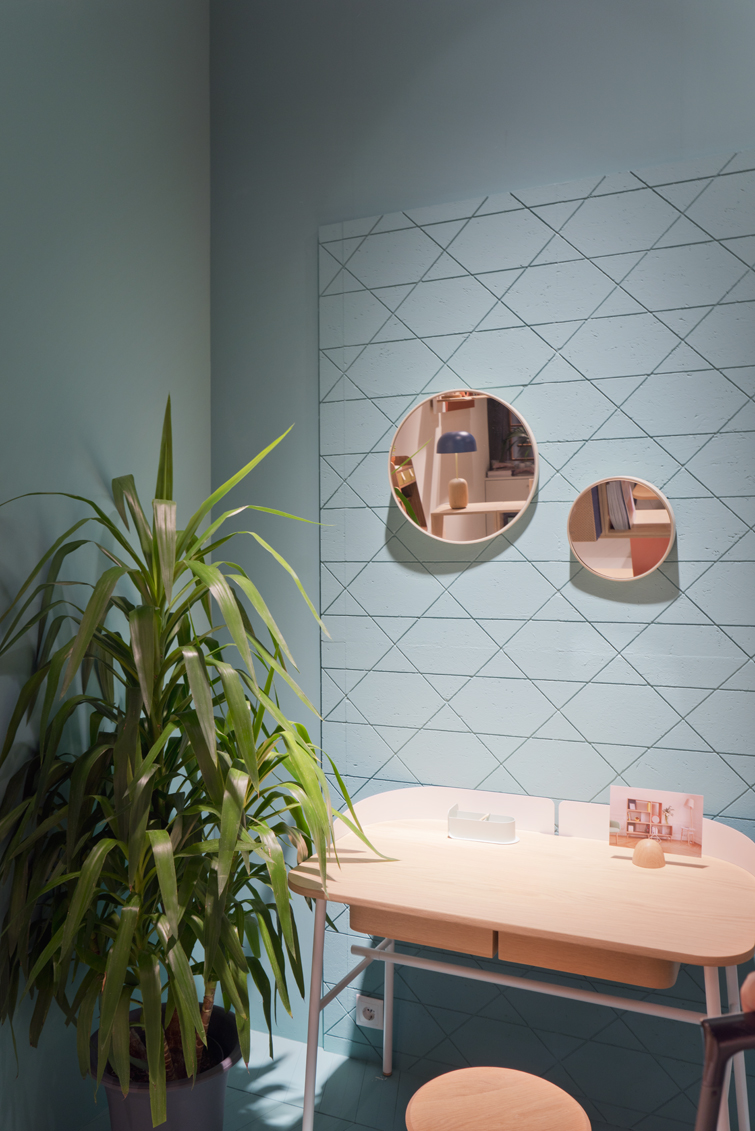 This is another brand new design discovery (for me at least): the Bosnian brand Zanat. By working with some very talented Scandivian (!) designers, like Harri Koskinen and Monica Förster they created beautifully manufactured wooden furniture with a hint of boho. The Igman lounge chair with pale blush/pink saddle leather and beautifull carved wood is not only great to look at, it's also very comfy. When I sat down, I couldn't stop touching the patterns in the wood: an amazing combination of beauty and haptics: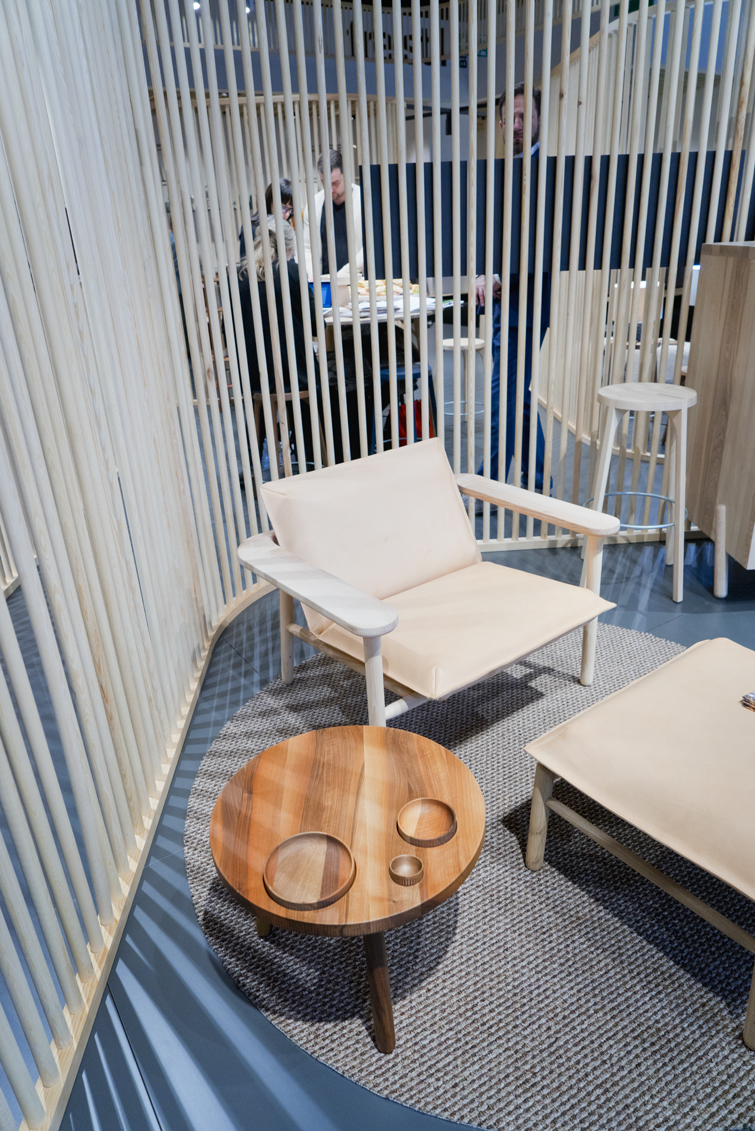 A handcarved detail of the Tara shelves cabinet: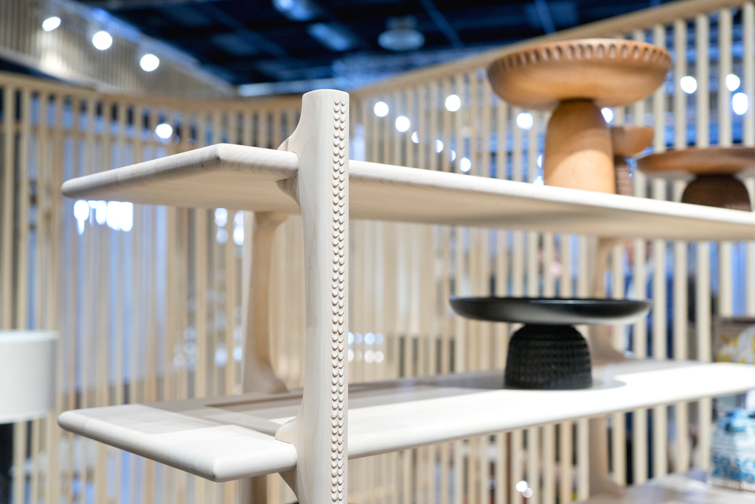 Another product that makes you want to touch and play is this Bowlkan table, with three wooden bowls that fit perfectly into the surface of the table: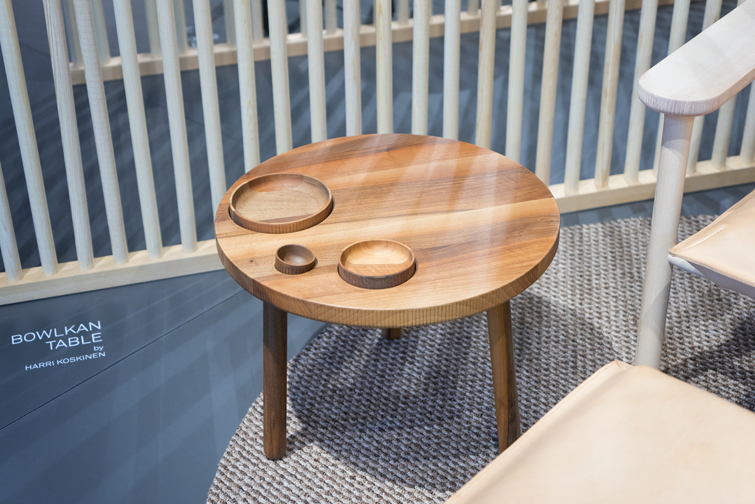 And my final favorite: this outdoor Pipe shower by Marcel Wanders for Boffi… for in our dream garden: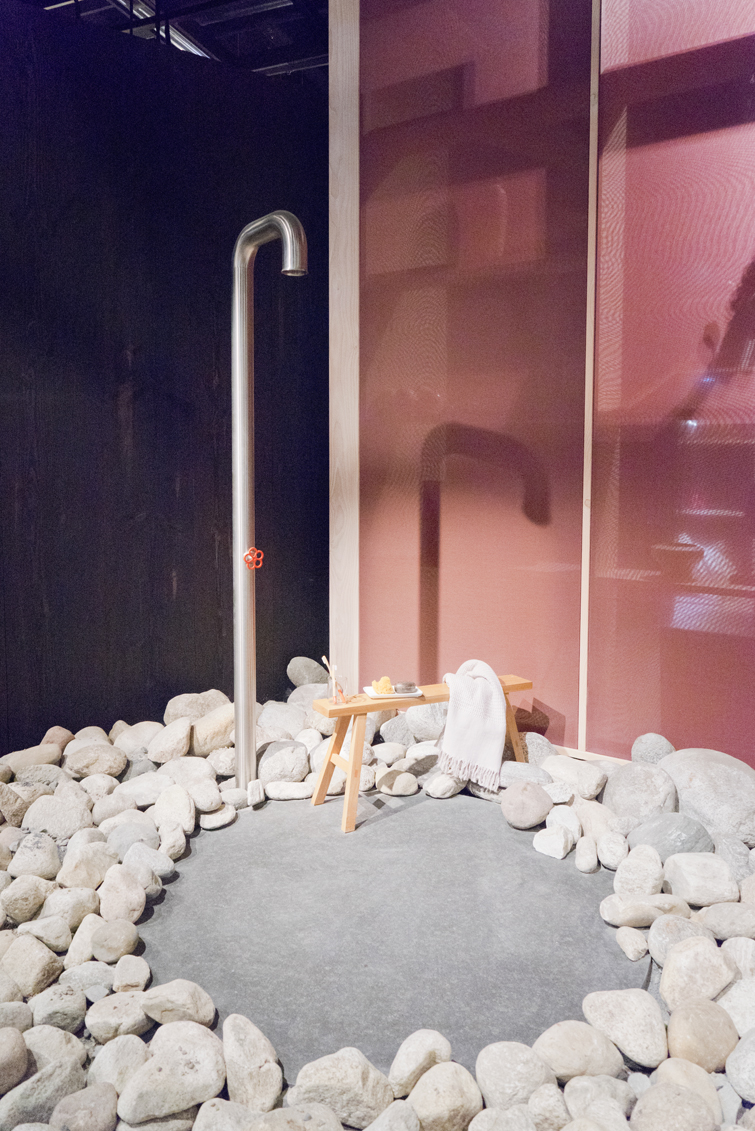 Later this week I'll be at Maison & Objet here in Paris… so you can expect some more design favorites from me very soon.