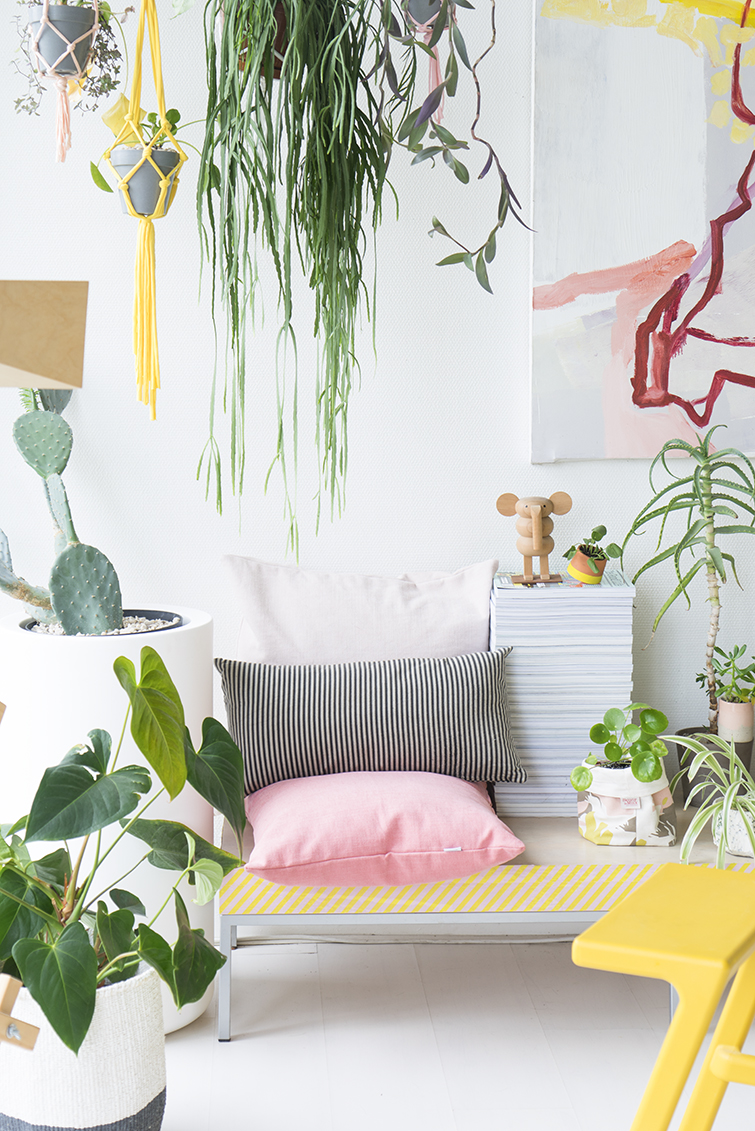 C'est la rentrée ! It's Back to School! And I'm going back to work with what feels like a new living room! Over the summer we decided our living room needed an upgrade. We gave away our two yellow Ikea Klippan couches because we never sat on them, and the only thing left, were two very comfy Ikea Karlstad armchairs. They were dark grey and made our living room look dull, dark and not very stylish. But the truth is that it's one of my favorite places at home, where you can find me reading or Instagramming, almost daily. So it was time to make it look good too. And that's where Bemz came in, as they make custom covers for Ikea furniture! As well as cushion covers, curtains and bedroom textiles.
From over 250 (!) fabrics I got to pick what would look good for our Ikea Karlstad chairs. Not an easy task, because there is so much to choose from, including textures and prints. Bemz recently launched their velvet range together with Designers Guild, that has a luxurious and vintage look. And what I didn't see before: they also introduced a recycled fabric called Bemz Respect that is made of leftover cutouts from the fashion industry, that are transformed into a high quality sustainable fabric without dye or water! However, picking a fabric is not only about the quality of the fabric and its look & feel, it's also about the color. And as you know, a photo on a screen looks different on every device, so to make the best decision, I ordered a pack of samples with some of my favourite fabrics (that you can see here on my office wall). Some from the recycled line, some textured and regular cotton and what turned out my favourite fabric: this super soft Linara Peach Skin cotton.
It may come as no surprise that I went for yellow & pink. I could have skipped the yellow and picked pink-only, but the home office and dining area are in the same room and have yellow accents. To brighten up this big north-facing space of 8 by 4 meters, and tie the room together, a mix of both seemed like a good idea. So that's when I placed my order: two Sun Yellow covers for the Ikea Karlstad chairs, and a whole lot of soft pillows in Linara Peach Skin (Rose Quartz and Pomelo).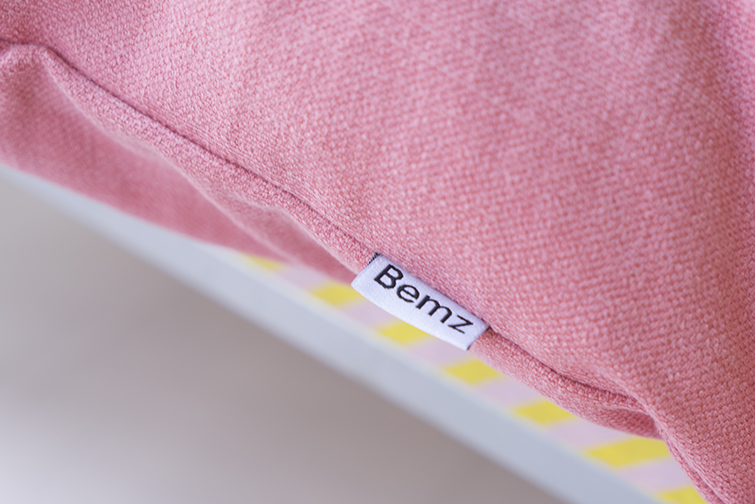 It took two weeks for the covers to be created and when they arrived I couldn't wait to get started. I watched a little tutorial on YouTube before changing the covers of the Ikea Karlstad chairs. I was surprised to see how well they fitted, the scratch that is used to attach the covers to the frame of the chairs was in the exact (!) same place, the covers fit tight and smooth. Once covered, I used my dear Jiffy steamer to make the creases disappear (you can also use a Mister and wait for the pleats to disappear the next day) and wow, what a difference! What do you think: from dark grey to bright and yellow: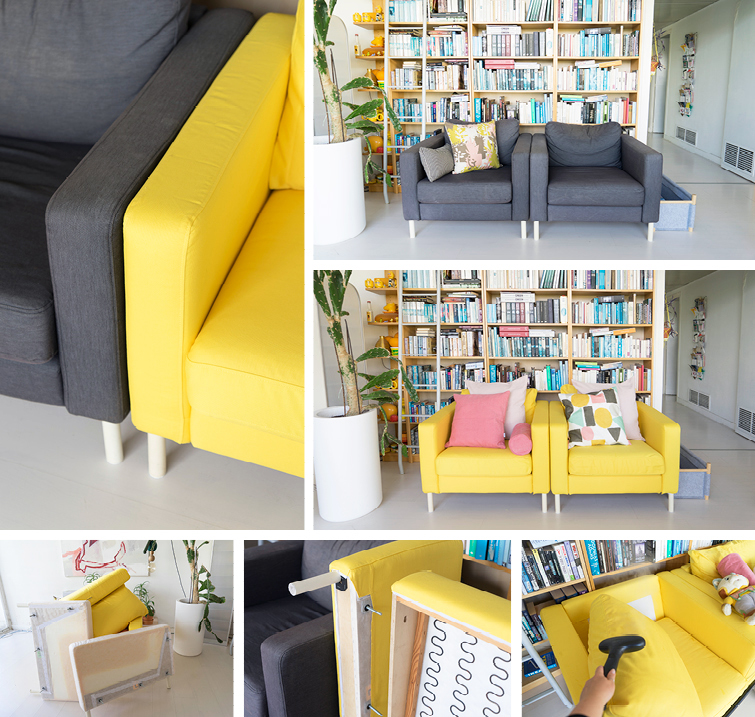 For the styling of the room, I brought in some extra greens, including the Anthurium in the Mifuko basket and the Haeng x UJB pendant. The large white pots with homegrown cacti are by Elho, the wooden elephant is called Smelly Fant by LZF, pots are from Yfna x Green Monsters, Maevo Studio, Matagalan Plantae, Living Things, Ikea and vintage.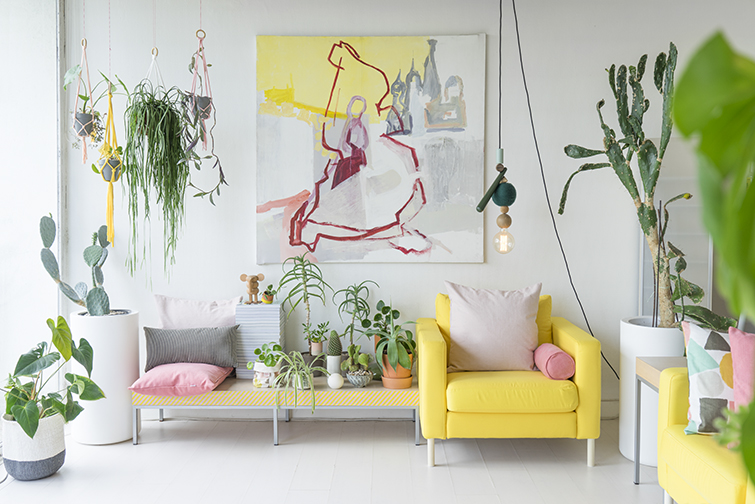 The perfect fit: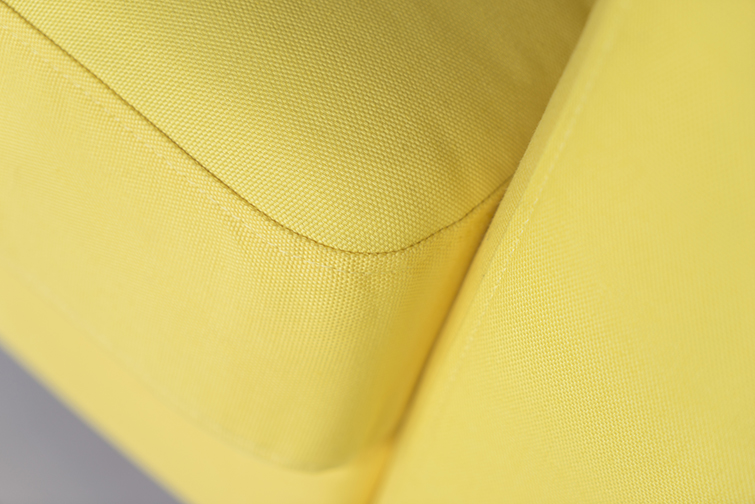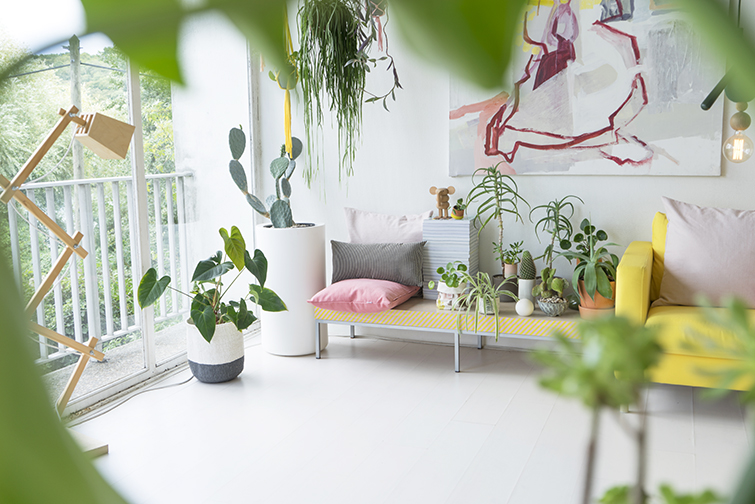 Gathering plants in small groups and to mix and match pots and foliage, always makes me happy. Another little #plantgang: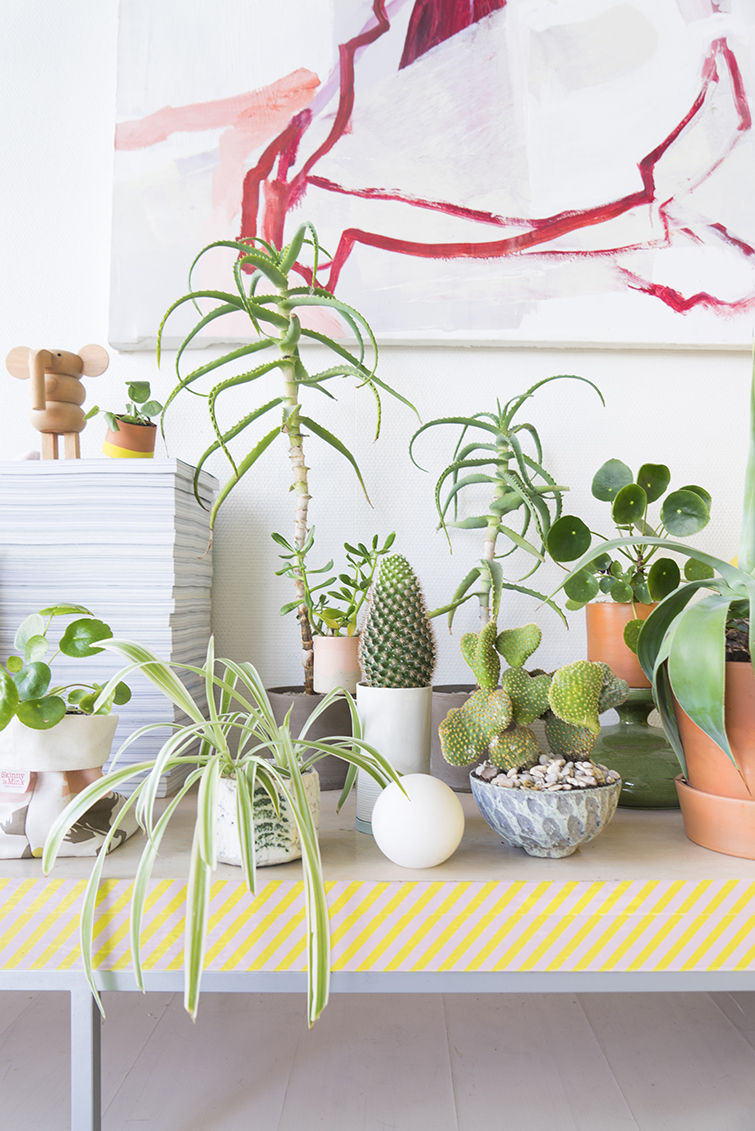 I like the "new" view from my home office on the other side of the same room! For this blogpost I only took photos of this side of the space, this is the dining table in the middle, and my home office.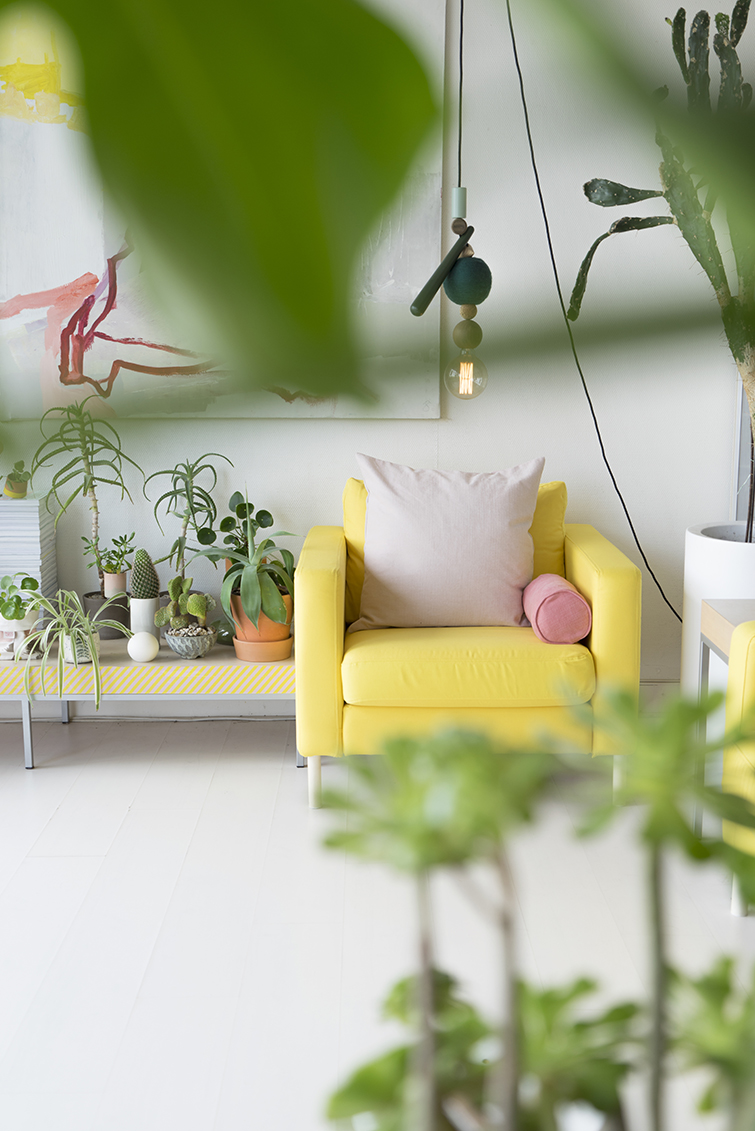 A super soft round pillow, that softens the very square Ikea Karlstad chairs, here in Bemz Linara Peack Skin Pomelo fabric, 63% cotton, 37% linen: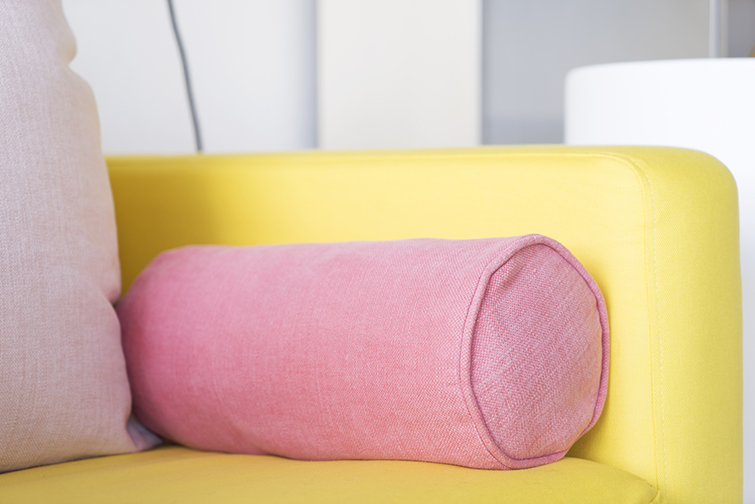 Another reason why this is my favourite seat in the room: the view on the Oise river: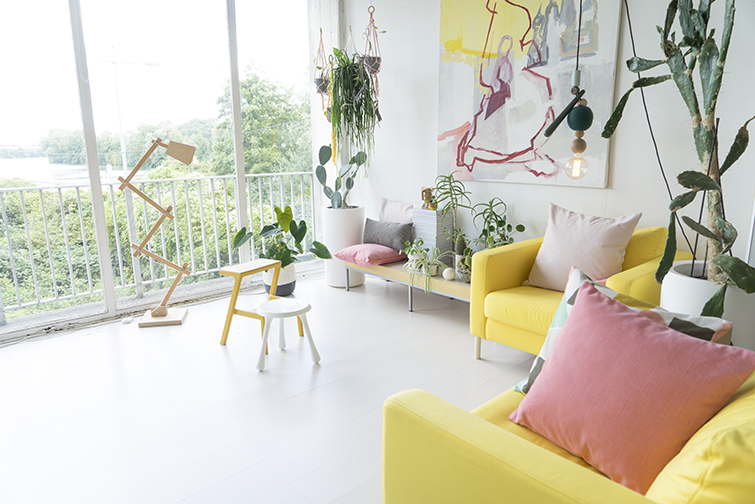 The Littlephant Geometrics cushion cover, blends right in: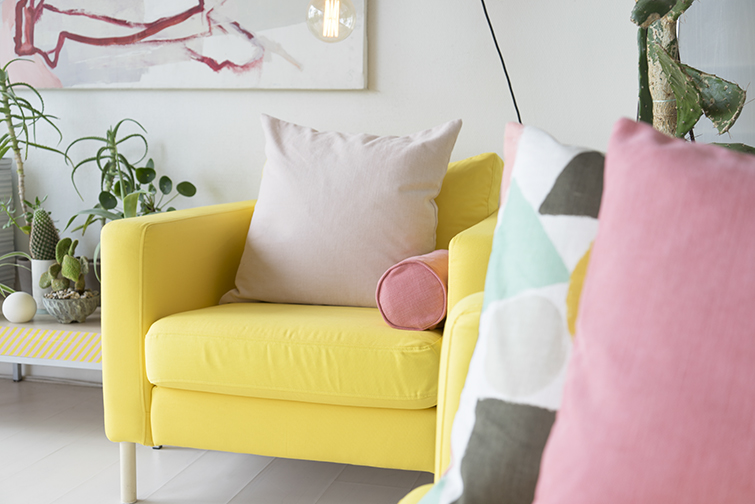 Impossible to count the number of planthangers I knotted over the past year, so I just "had to" hang a few in here. If you like them: you can find the tutorial in our #urbanjunglebook!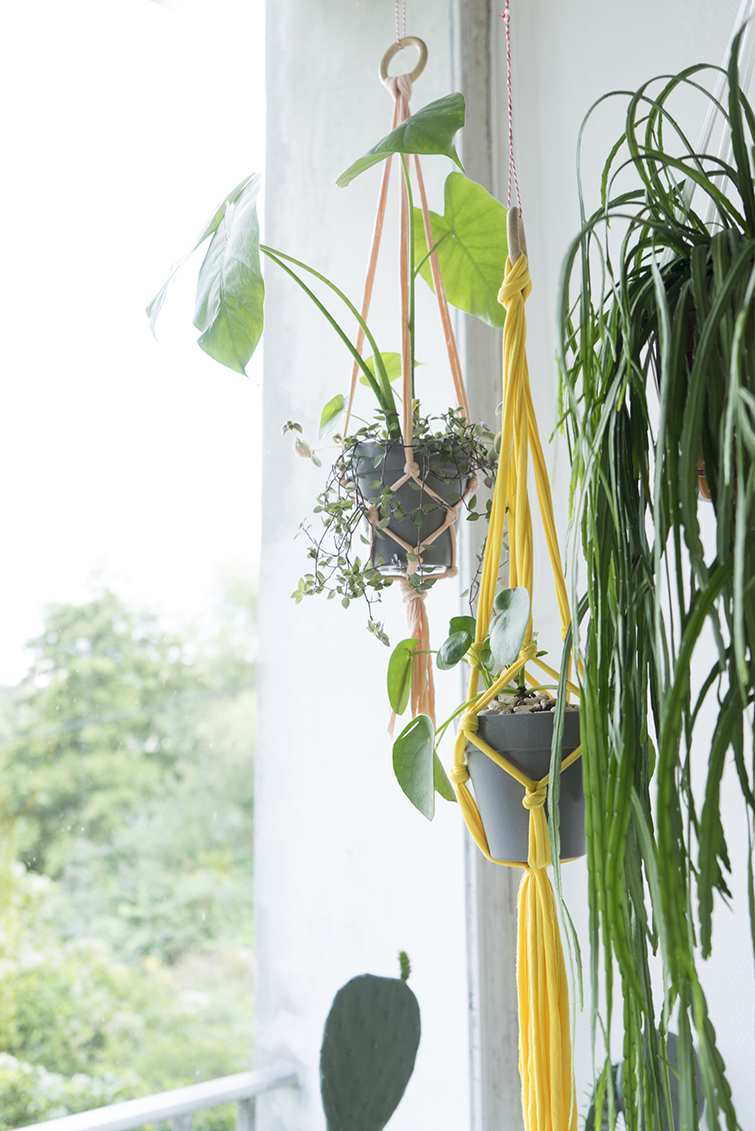 I'm very happy with how the revamp turned out. I love the soft cushions, the sleek yellow covers of the chairs, that make the room look so much brighter (also at night!). Perhaps, our little cat Otta loves Bemz even more than I do: she immediately claimed one of the pink pillows as her own and sleeps there 23 hours per day ever since. Good to know the covers are machine washable 😉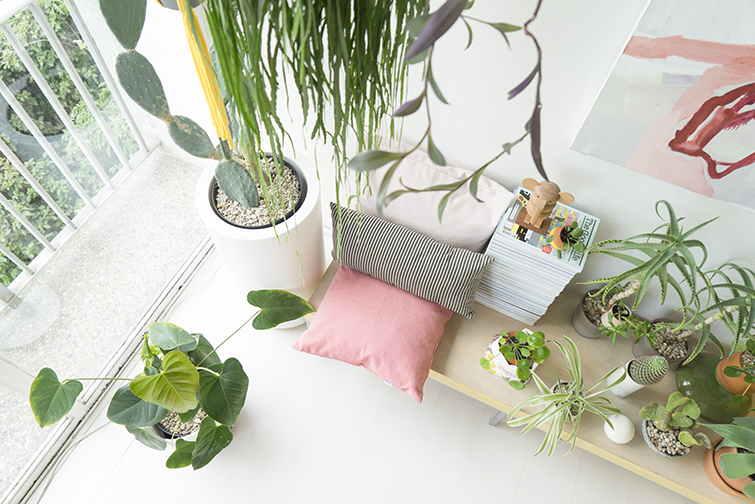 This blogpost was created in collaboration with Bemz. As always, photos & opinion are my own! Thank you for supporting the brands that keep JOELIX.com going.