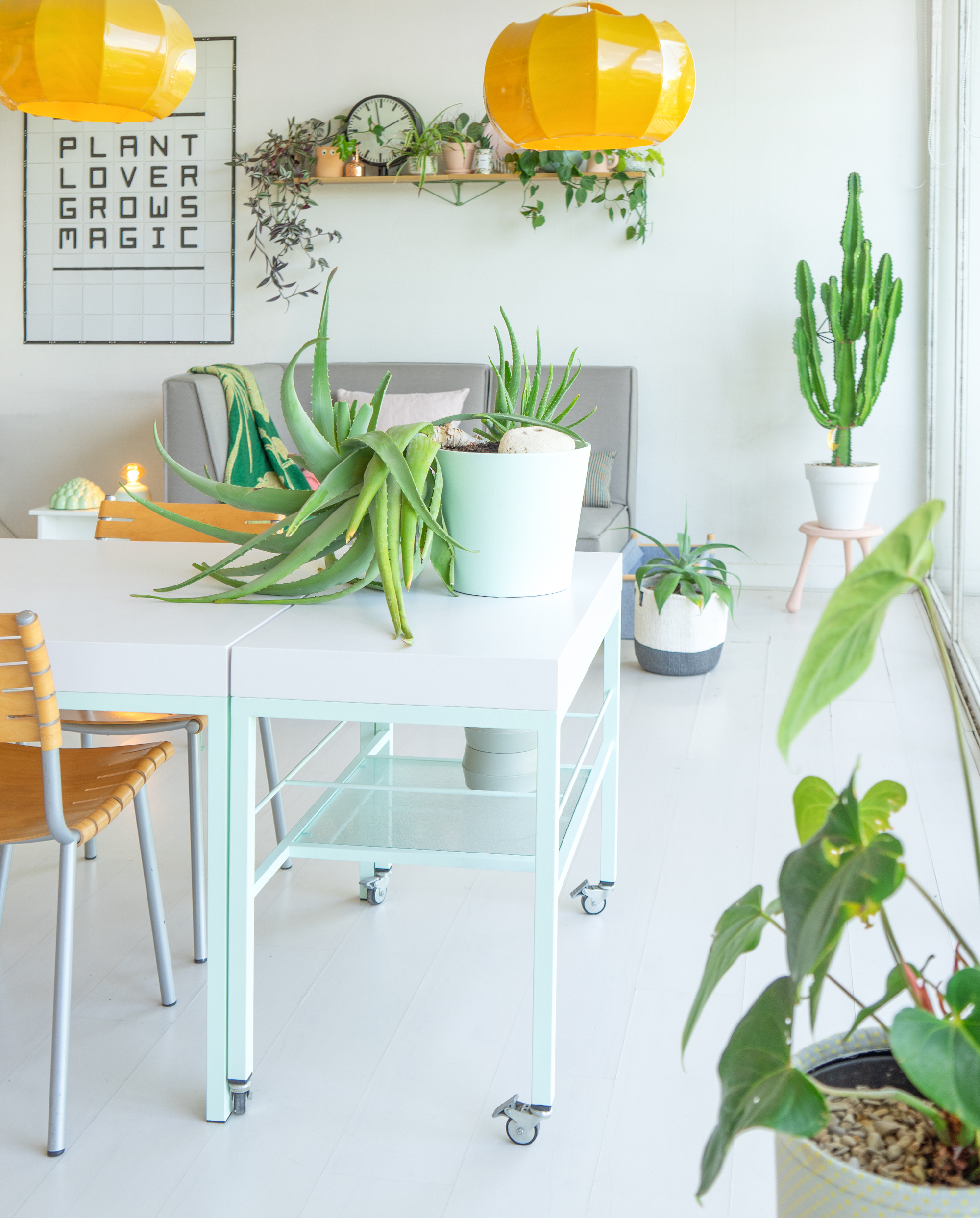 One of the reasons I don't show our entire living room very often, is that our large dining table and bar cart were in bad shape. Well, their structure and quality are great, but the surface of the table top was dented and stained and the veneer was damaged on the edges. We bought the set, together with two smaller coffee tables for our first apartment in 1999. Even after almost two decades we still like the design and size, but I was dreaming of replacing the table top with something new. A huge piece of wood, or even better: a huge chunk of resin like in the work of Sabine Marcellis, or like this table by Dimore Studio. But then someone suggested to simply paint the table top in the mean time. And I liked that idea, so a few weeks ago I spent a few days sanding and painting with new colors from Dulux Valentine.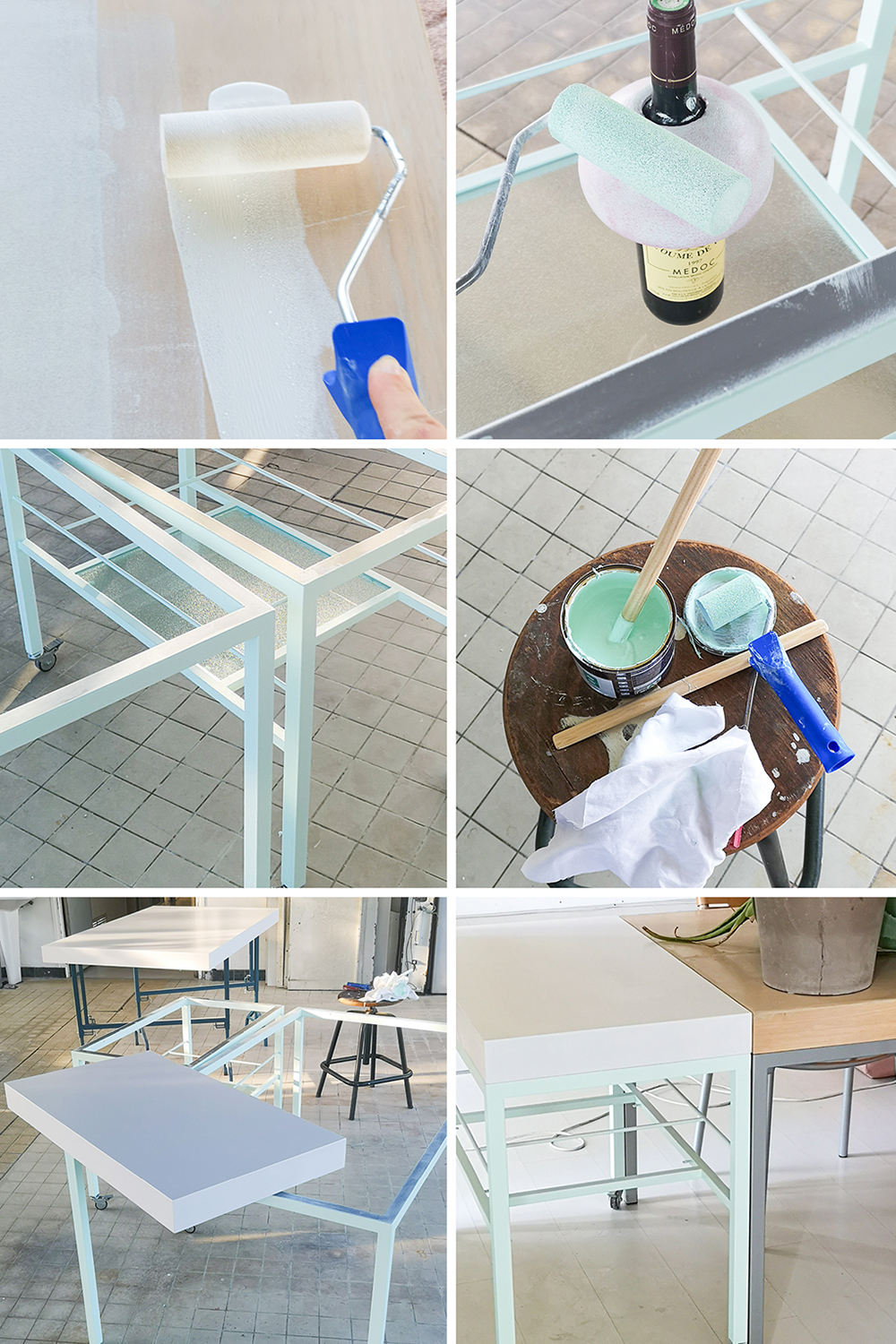 The aluminium colored base became green: a soft "Vert d'Eau" tint from the Crème de Couleur line. And for the table top I picked the Architecte "Blanc de Rose" paint with a velours matte finish. It turned out much lighter than I expected, but it's extra fresh and the table and bar cart look like new! It looks so much like the colors used at the Leon 16 B&B in Brussels, don't you think?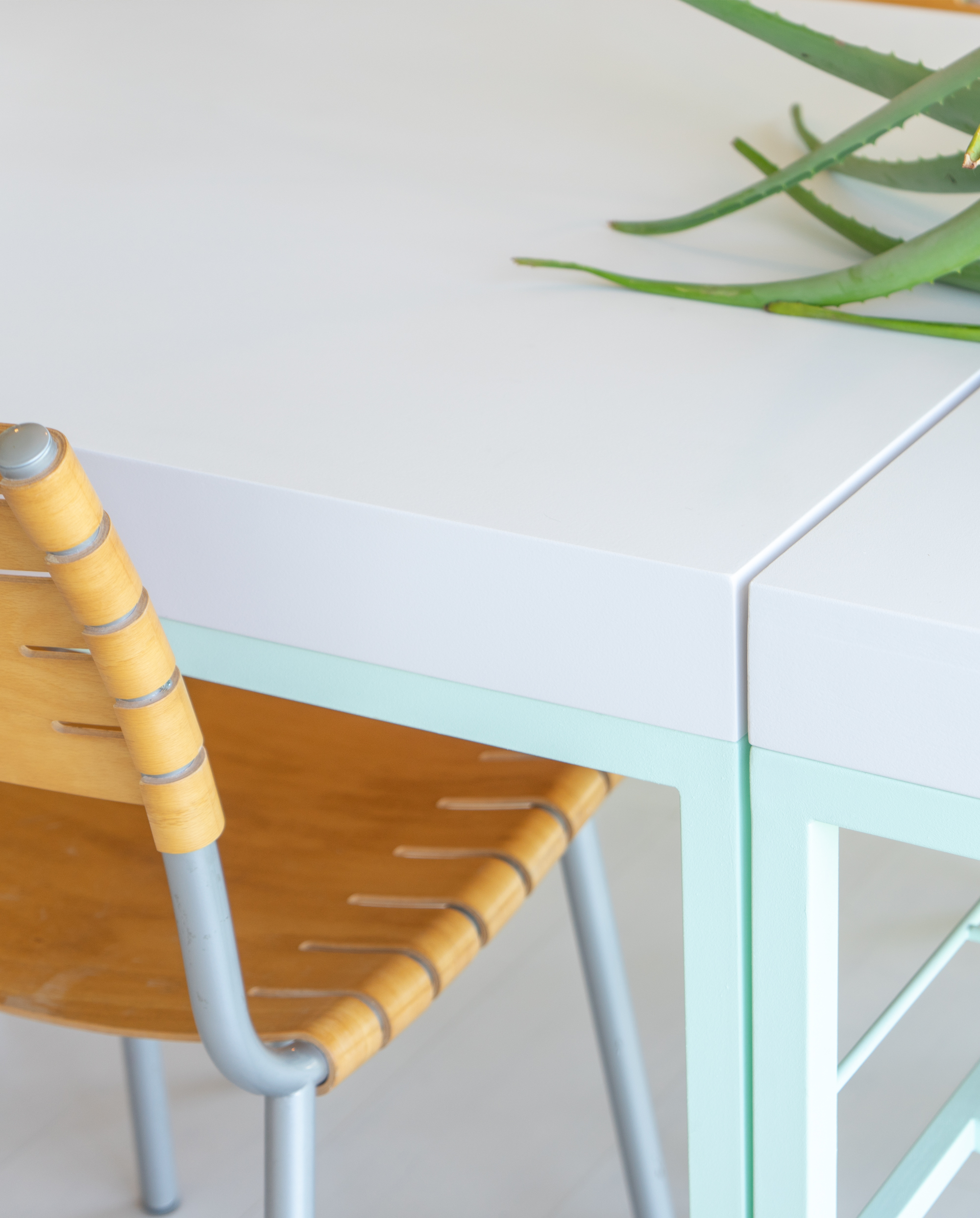 Before starting the paint job, I wondered if the powder coated base needed some kind of primer. But I was a little too impatient and decided to spend some extra time sanding it really throuroughly and then just go for it with thin layers of paint. I have no idea how durable it will be over time, but for now there are no chips and it looks really good. I particularly love the soft satin/matte finish of the Architecte paint on the surface of the table, it's not too matte, not too glossy and feels nice when you touch it.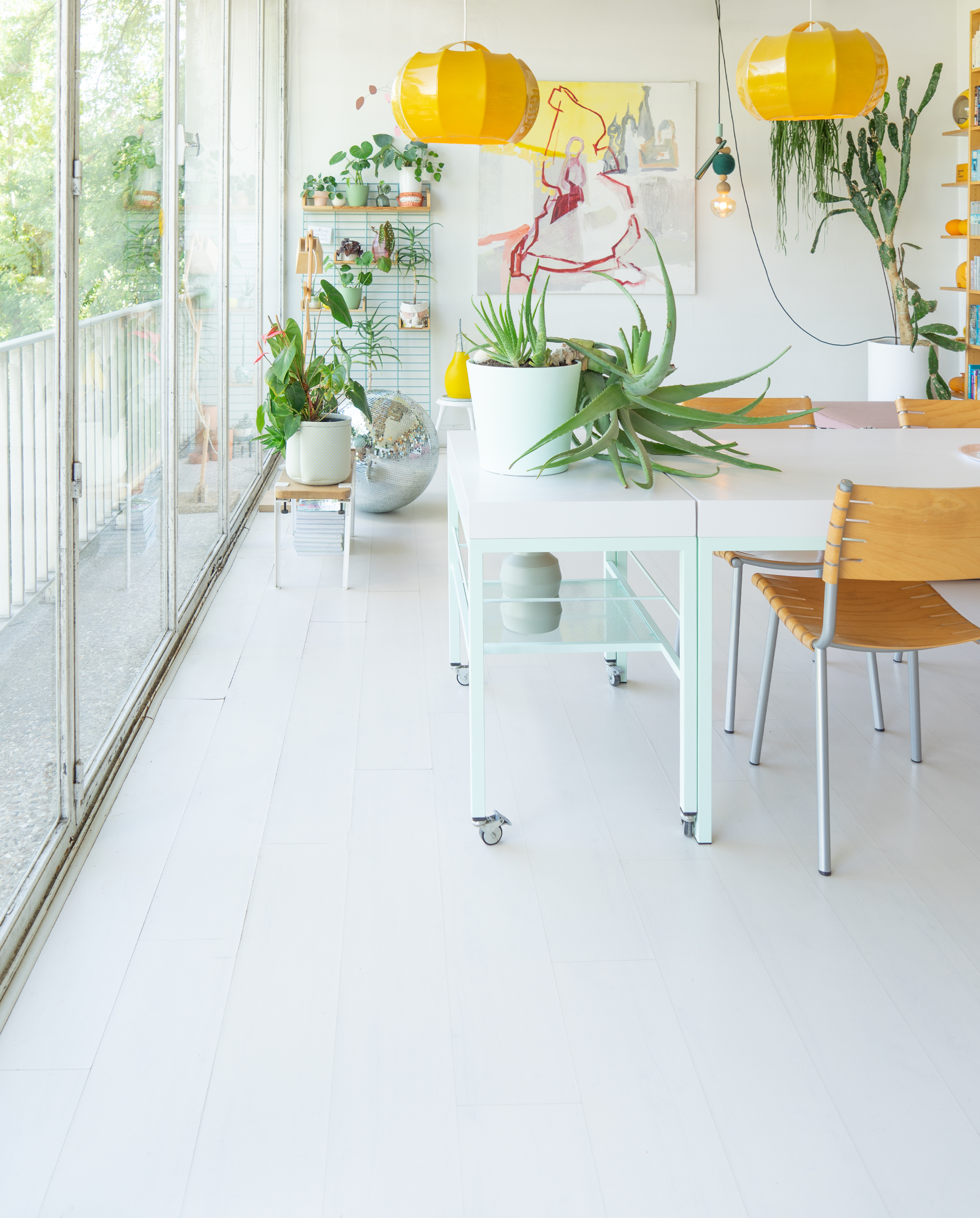 Now that the table is so fresh and bright, the dining chairs look so yellow! We bought them at the same time as the table, so I think it's time for something new…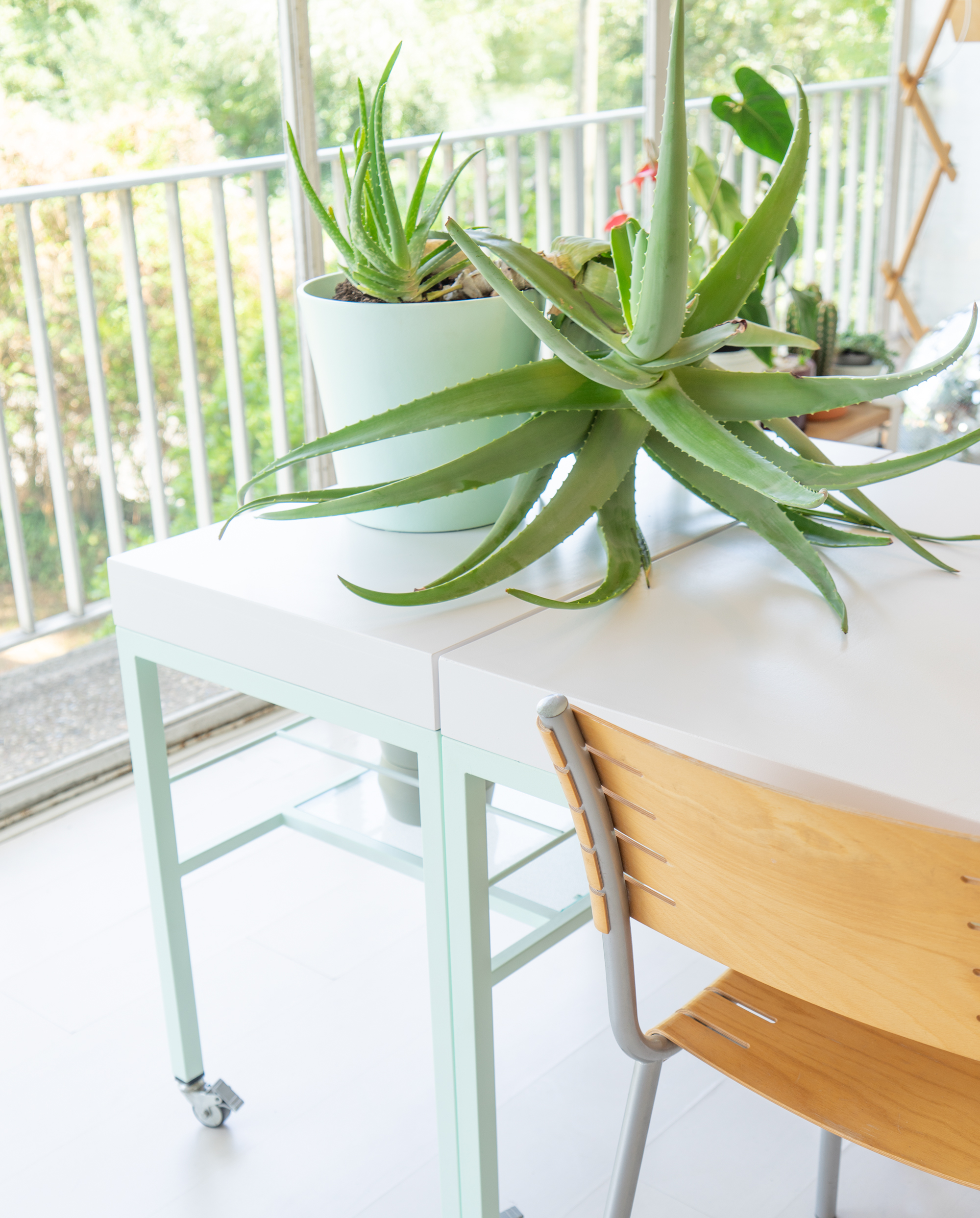 Have you ever tried painting a table? Or would you do it?
Full disclosure: the paint was provided free of charge by Dulux Valentine.