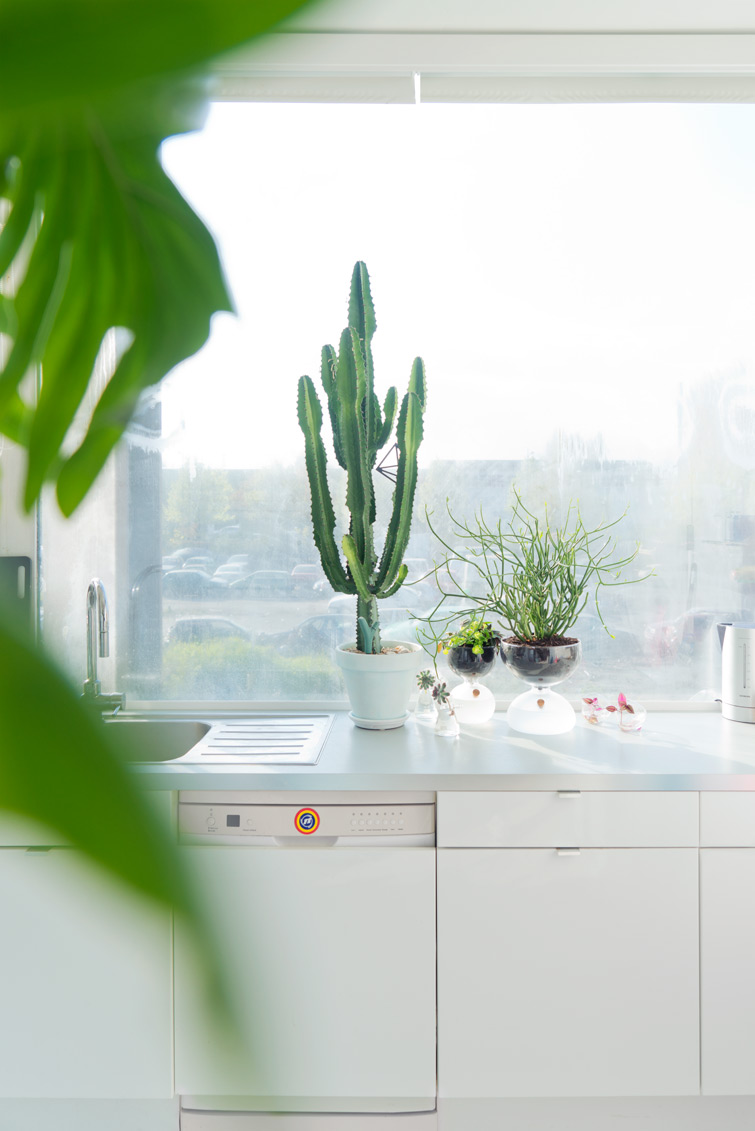 Plants & Glass: seems like the perfect topic to get back into the blogging groove as Igor and I have been delved into planty of work for #urbanjunglebook in these past few months. We just finished the first manuscript and lots of photography, so I almost feel like my plants: waking up after months of hibernation, or well after lots of work & focus. I was so inspired by one of the homestories we shot for #urbanjunglebook that I added more saucers to my plant pots, bought a new watering can and put a few succulent cuttings in some Pyrex lab flasks filled with water. More water, more plants, more glass! It's a very tiny revolution because I never grew cuttings in water. Avocado pits, succulents, palm trees: I usually propegate them in soil. But water and glass looks pretty. And the big advantage: you can see the root development through the glass instead of guessing and pulling out cuttings from the soil to see if they are still alive.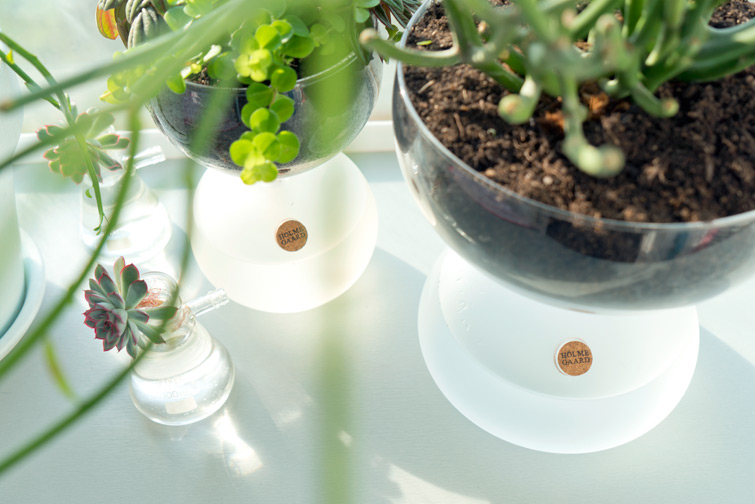 For this month's Urban Jungle Bloggers topic Plants & Glass we worked together with Holmegaard, the Danish Design glassware brand that just launched a beautiful collection of botanical glassware. Their new Gaia Plant Glasses immediately caught my eye: I love their matte bulb shape and the bowl on top, almost like an hourglass. But little did I know that these beauties are actually very clever self-watering vessels! You simply fill the lower bulb with water (and close with the cork stop) and a nylon wick makes sure the plant gets the right amount of water, immediately at its roots. And really: it works like a charm! I planted some Peperomia in the smaller vessel a few weeks ago and they grew significantly bigger than the ones I watered myself. The pencil cactus also loves the Gaia plant glass: look at all the fresh new branches!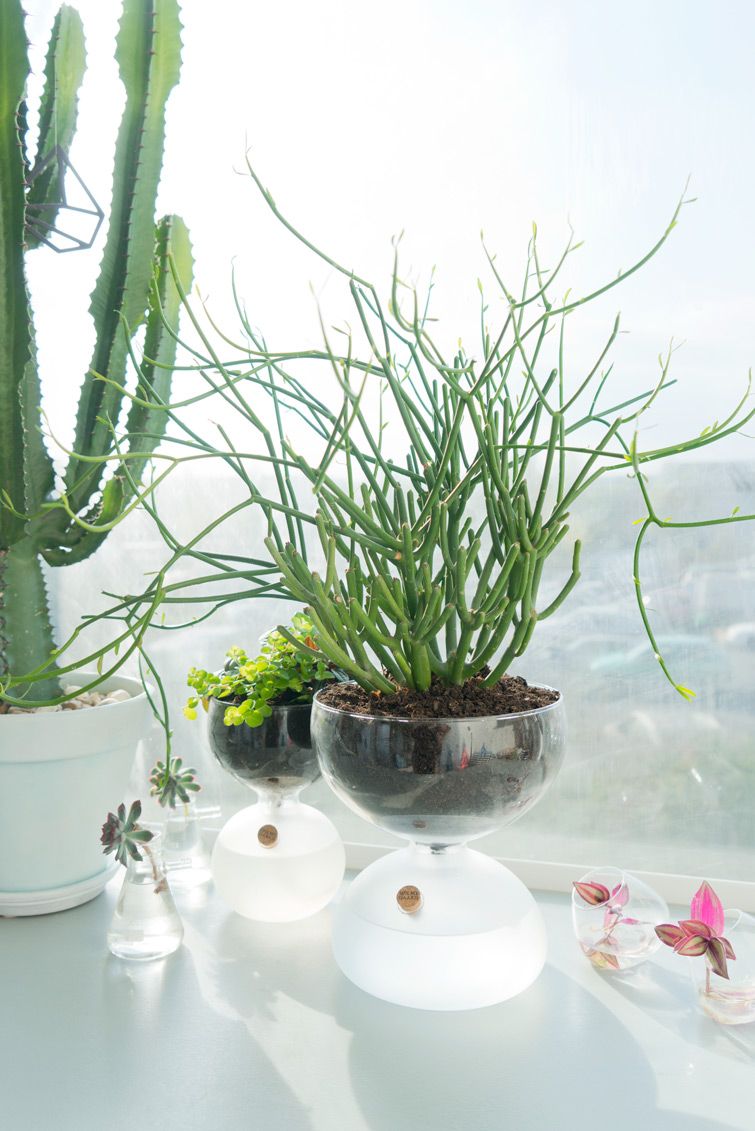 The Gaia plant glasses are designed by American glass designer Aric Snee for Holmegaard. All Gaia plant glasses are hand blown and have a clear glass top and a frosted glass base. Depending on the kind of plant, the reservoir can hold enough water for 2 weeks. I love how the sunlight shines through the matte glass: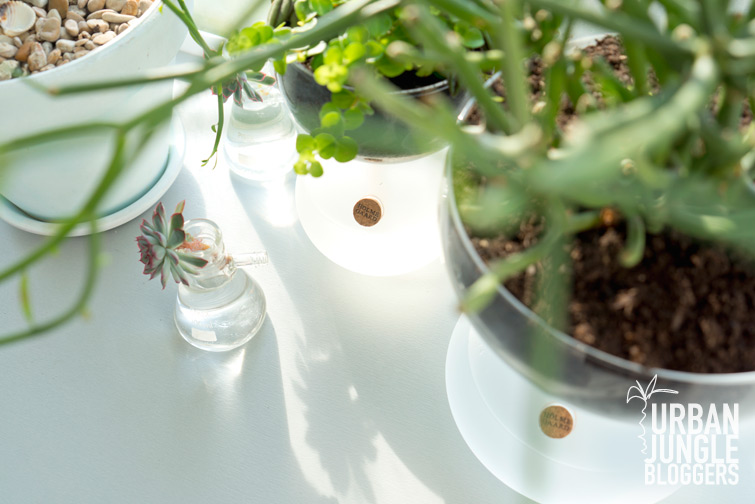 Remember the wandering jew cuttings (Tradescantia zebrina) I "found" at a lounge bar in Helsinki? They're growing like crazy in the Normann Copenhagen cognac glasses: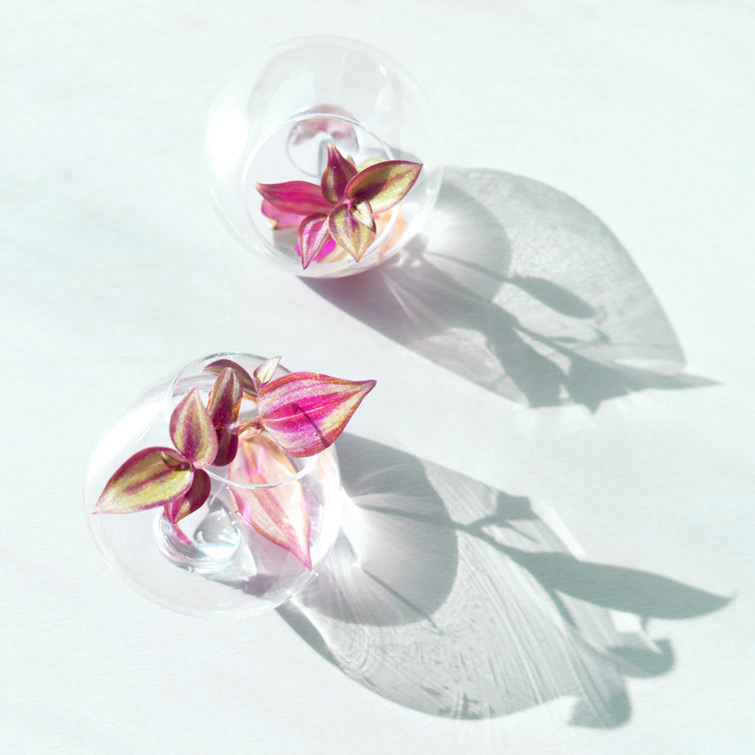 In the smaller Gaia plant glass I planted four cute Peperomia plants with different foliage. Peperomia are very hardy plants, they handle neglect very well and come in surprisingly different kinds of foliages: blueish green, burgundy, fresh green. They usually stay low in height and like humid air, so I may place them in our bathroom next! And a cute detail: in Brazil they are seen as a lucky charm and used as a reassuring gift that says: "Everything will be all right". And I think everything will be all right in my jungle!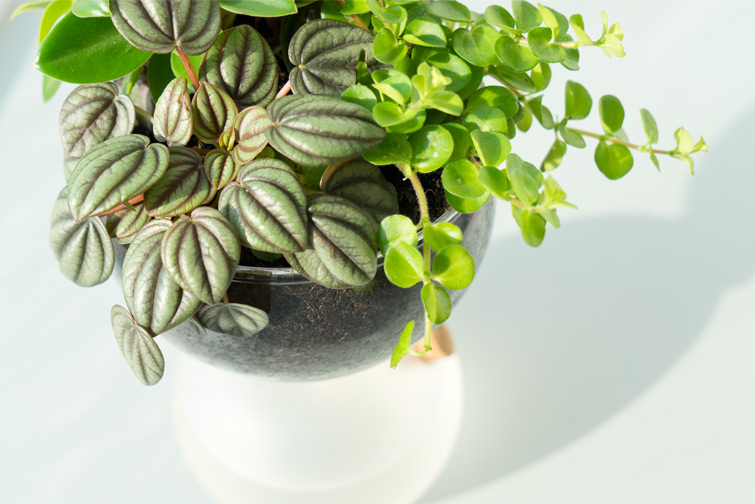 Urban Jungle Bloggers is a monthly series hosted by 2 bloggers: Igor (Happy Interior Blog) and Judith (JOELIX.com). Every month we share ideas to create an urban jungle through styling ideas, DIYs and green tips & tricks. You can find additional inspiration on our Urban Jungle Bloggers Pinterest board and keep up-to-date via Facebook or Instagram. Want to join? Find out how on our website and use #urbanjunglebloggers on twitter and instagram. Let's bring some green into our homes and blogs!

► For more Plants & Glass, check out the gallery!
Blog post in collaboration with Holmegaard