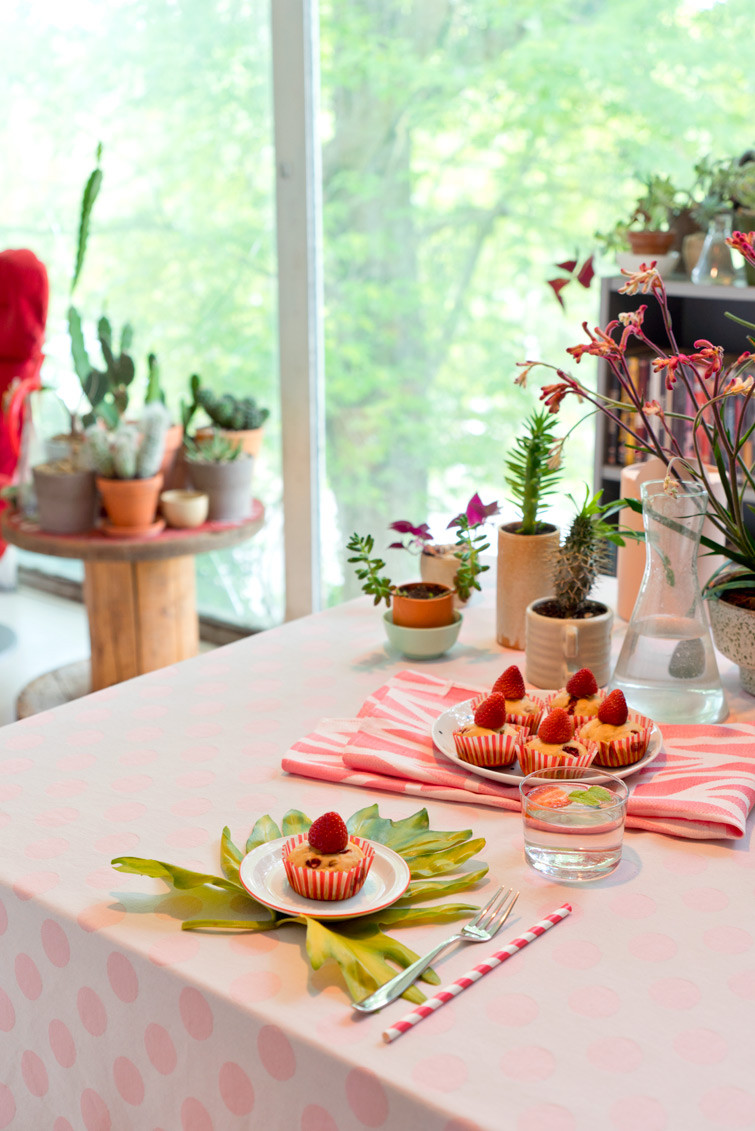 This month's Urban Jungle Bloggers topic was rather easy. Because in our cinema room where Robert and I have dinner-for-two, it's impossible to dress the table without plants. Well, usually they are not ON our dining table, but the last time I counted there were 66 plants in this room. On top of all the Billy drawers full of movies, are tiny cuttings, like the Tradescantia zebrina from Finland and my first Pilea peperomiodes and older plants like the Philodendron xanadu and my thrift shop plant. Every night before having dinner I check to see how things are going and give them some water if needed. It's part of my routine. It helps that I never cook and simply wait for dinner to be served by Robert 😉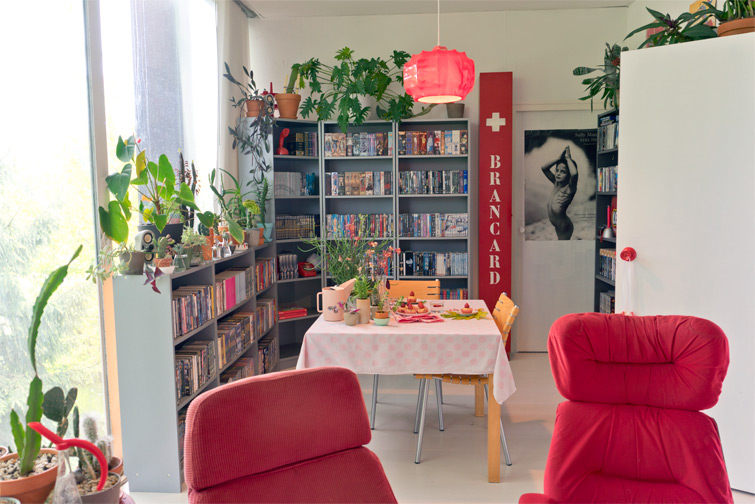 Because it's too dark to take photos by the time we have dinner, I decided to bake something for "le goûter" (a late afternoon snack in French). Some simple sugar-free strawberry cakes did the trick. The recipe is very easy and a slightly different version from these orange cookies. I used less butter, added a little baking soda and 2 egs instead of 1, mixed a few cut strawberries through the batter and put a strawberry on top. Easy peasy and a nice little snack for the two of us.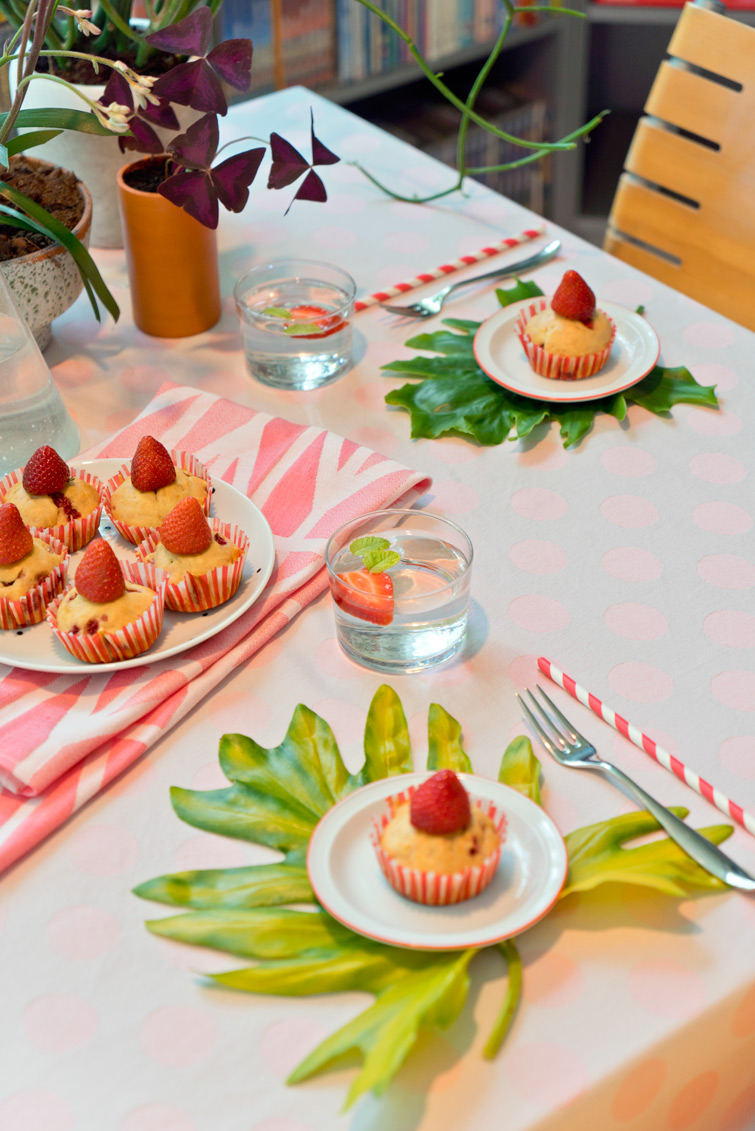 As a playful twist I used two Philodendron leaves as botanical placemats. Two leaves were starting to fade from the plant on top of our fridge. As you can see one leaf even turned limegreen/yellow, so I cut them off. If you want to do this, make sure to avoid touching the stem of the leaf, as Philodendron and the juice is toxic when ingested by humans and pets. As a safe alternative you could use fake leaves or leaves from non-toxic plants like Boston Ferns or Banana leaves.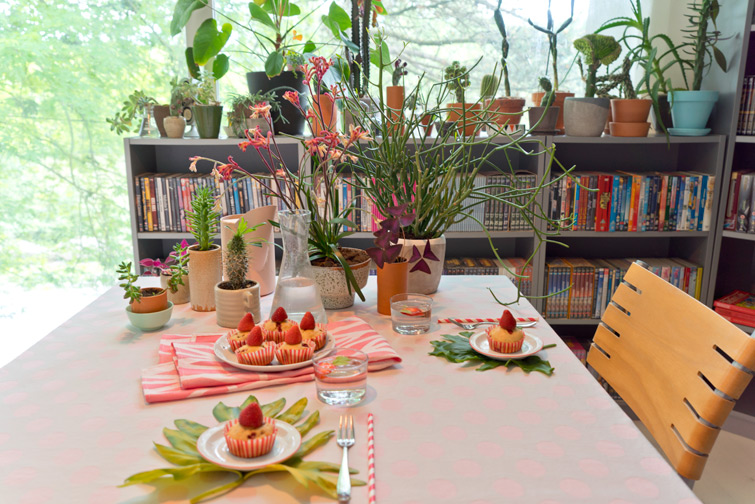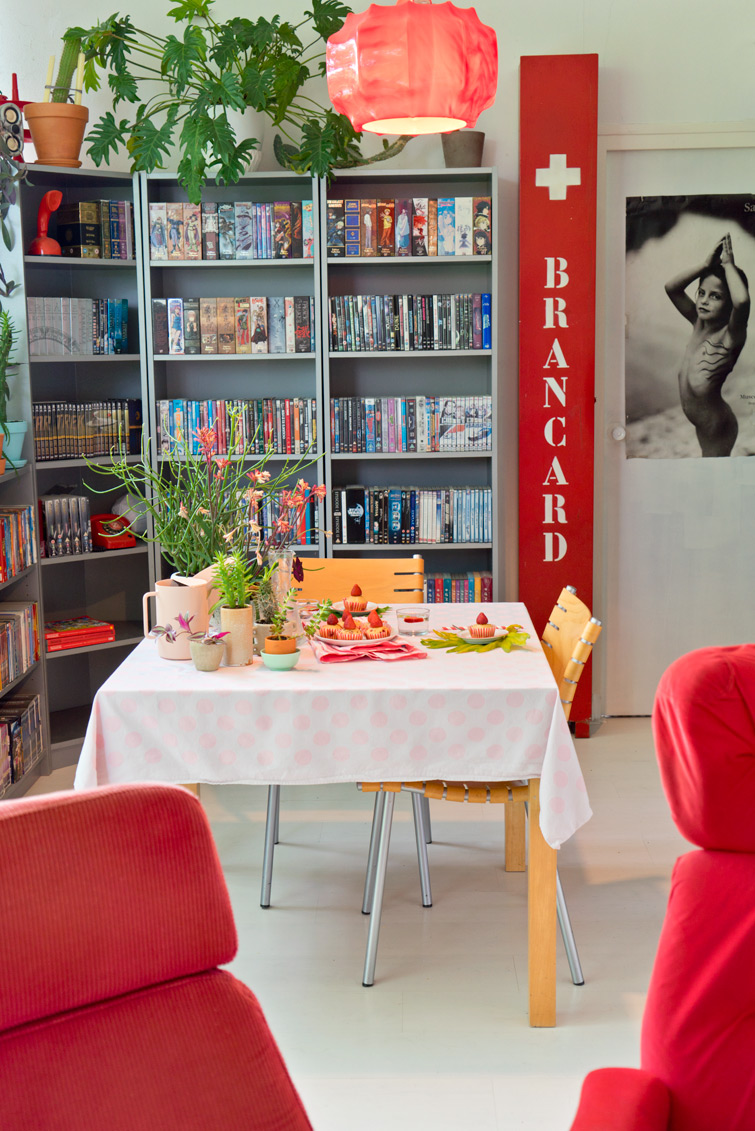 Another little green tip that I discovered the other day when I took some mint twigs from my overgrown vegetable pad (yesss I'm a bad gardener!): if you place the twigs in a glass of water, they will grow roots in no time and you have a nice new mint plant. I used some leaves to add some flavor to the water, but also use if for mint tea every now and then: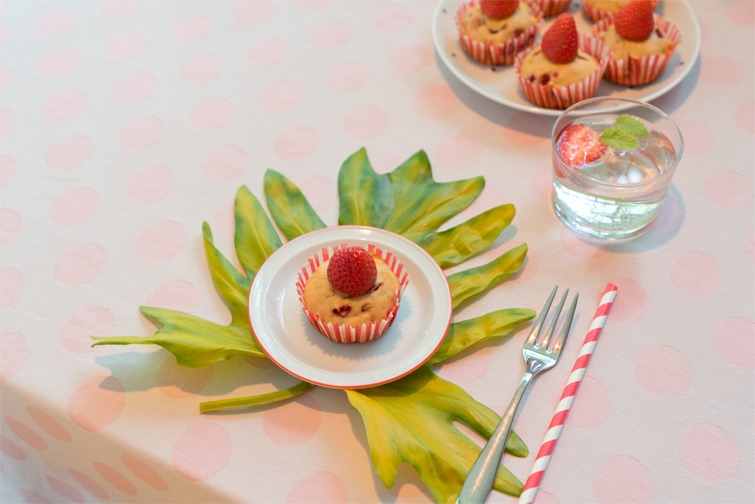 I'm curious: do you ever use plants when setting your table?

Urban Jungle Bloggers is a monthly series hosted by 2 bloggers: Igor (Happy Interior Blog) and Judith (JOELIX.com). Every month we share ideas to create an urban jungle through styling ideas, DIYs and green tips & tricks. You can find additional inspiration on our Urban Jungle Bloggers Pinterest board and keep up-to-date via Facebook or Instagram. Want to join? Find out how on our website and use #urbanjunglebloggers on twitter and instagram. Let's bring some green into our homes and blogs!