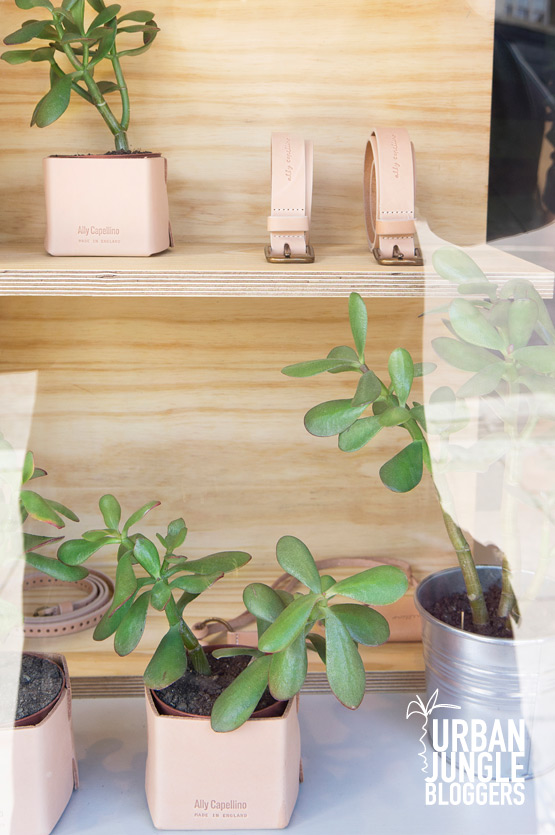 Ever since my friend Igor and I started our Urban Jungle Bloggers adventure last fall, I see green plants everywhere. Not only on blogs or in our home, but so many cafés, shops and restaurants use plants in their interior design and displays. Greens are definitely a thing right now and I love that!
For the May edition of Urban Jungle Bloggers I was looking for a unique place. Obviously I expected to find it on my recent trip to London. My first jungle stopover was at House of Hackney. Seriously: they take the idea of an urban jungle to a whole new level: couches, bikinis, lamp shades, tea pots, oven mitts, bedlinen and notebooks: all covered in palm trees! That shop breaths jungle fever but it was a little bit too much for me.
And then, just minutes before taking the Eurostar from London back to Paris, I found my place: the Ally Capellino shop in Notting Hill. Once I spotted the lucky money plants and plywood displays I knew this was what I wanted to show to you today: British, stylish and green!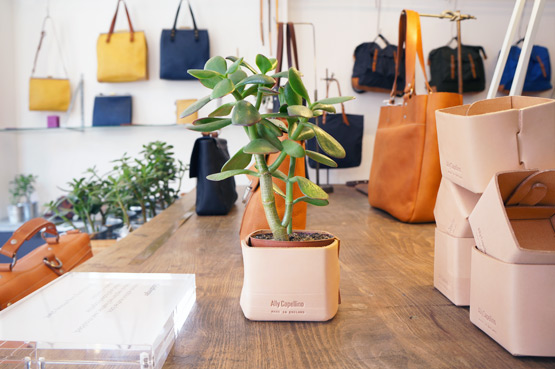 Ally Capellino is a British designer of beautiful bags and leather goods. Her rather timeless designs are made in Italian veg tanned leather and waxed cotton. But I completely fell for the Goldfinger, a leather box in natural uncolored leather constructed without a single stitch or stud. And when you buy one, it includes a lucky money plant!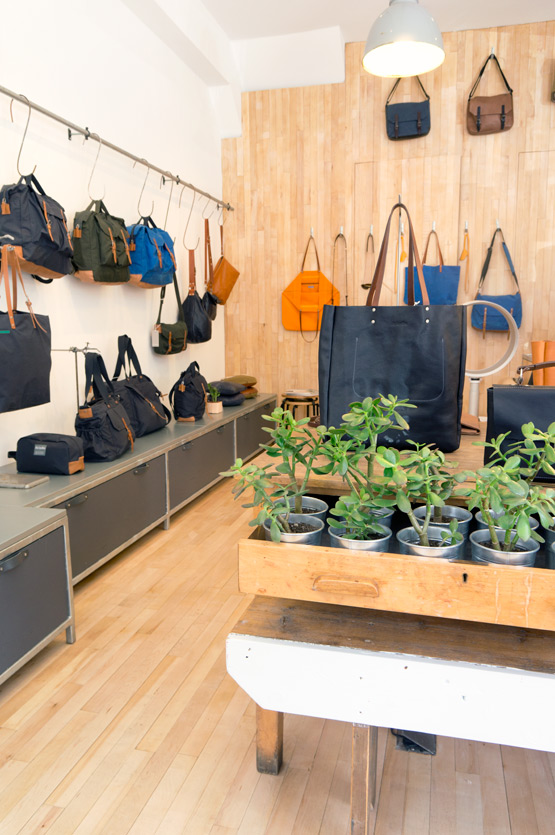 I counted several dozens of lucky money plants in the shop without making it feel like a screaming jungle. The repetition of the same kind of plant is a nice trick to make a place look green, yet very stylish.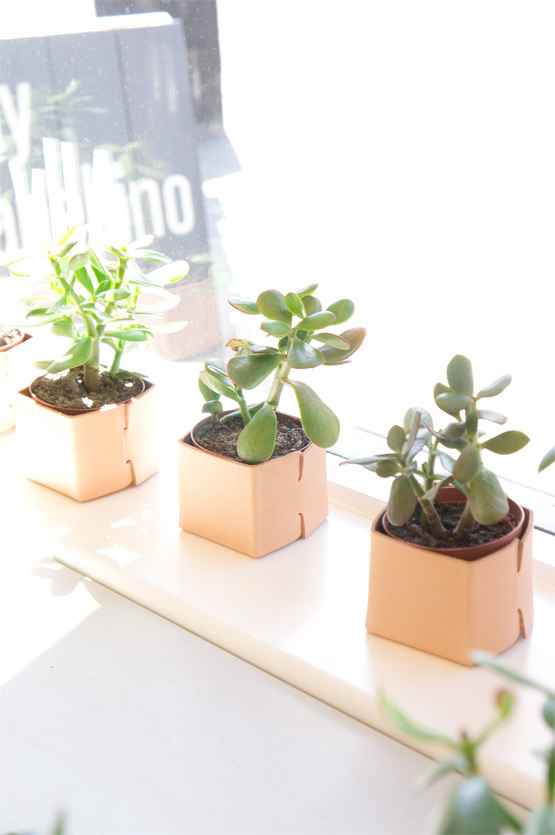 When browsing around this place felt nice: lots of plywood everywhere, beautiful bags & belts (I really love their Kitty belt in yellow/nude) and friendly staff and customers. I found they regularly organize workshops, like Indigo dyeing or a talk about Matisse's cut outs.
And if you happen to be in London today: Lovage at Ace Hotel is offering complimentary tasters of their freshly pressed, green Viridian juice in both Ally Capellino shops. More info here.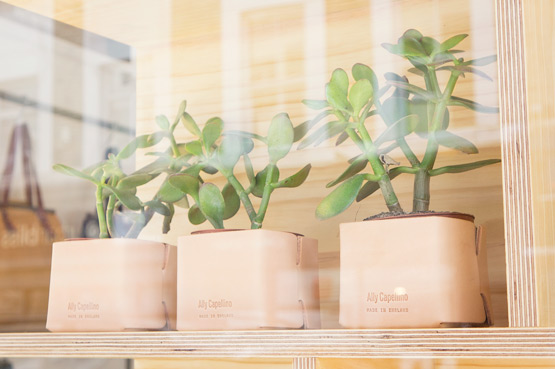 I love how the money plants are even part of their spring communication: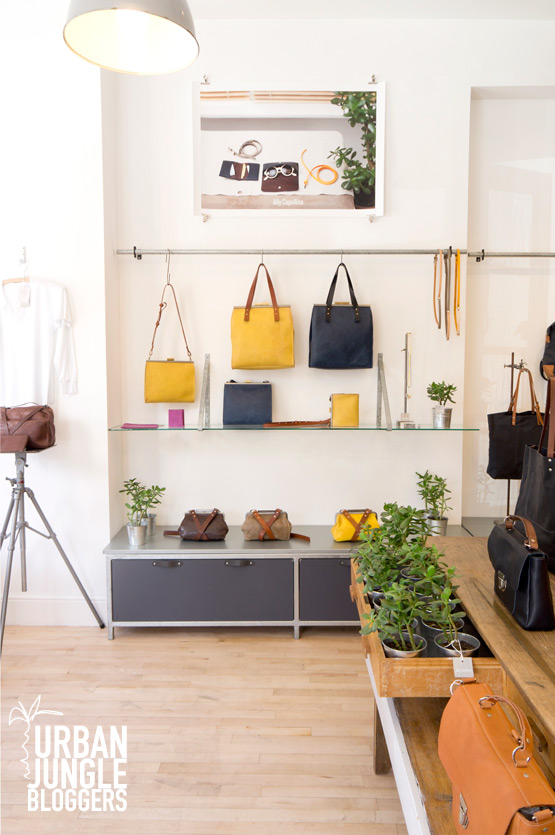 And did you see that vintage drawer? Entirely filled with lucky money plants! That's something you could easily achieve at home, right?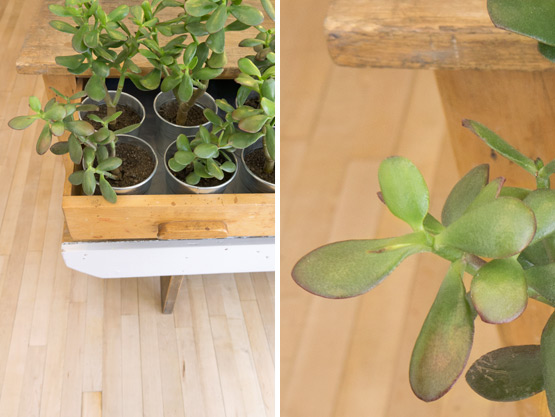 Ally Capellino /// 312 Portobello Road /// London W10 5RU /// +49 (0)20 8964 1022
Open Monday to Saturday 11am – 6pm Sunday 11am – 5pm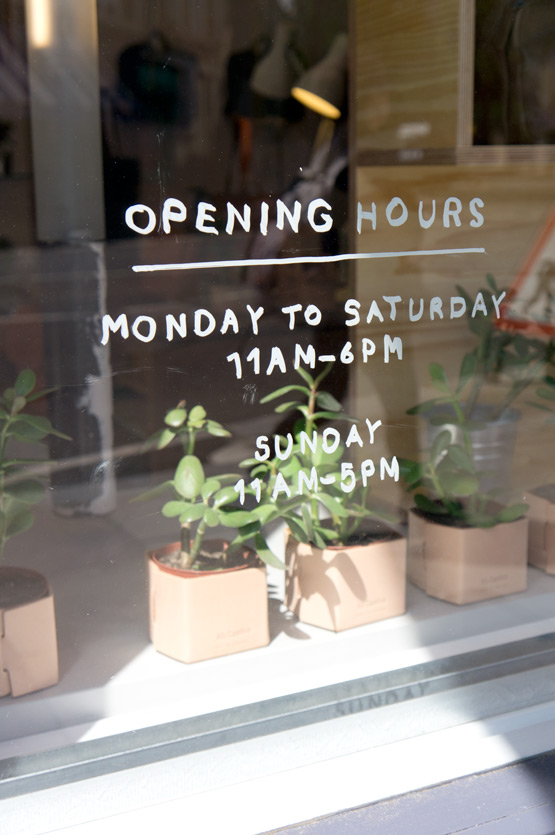 Urban Jungle Bloggers is a monthly series hosted by 2 bloggers: Igor (Happy Interior Blog) and Judith (JOELIX.com). Every month we share ideas to create an urban jungle through styling ideas, DIYs and green tips & tricks. You can find additional inspiration on our Urban Jungle Bloggers Pinterest board and keep up-to-date via our Facebook page. Want to join? Subscribe to our monthly topic newsletter or use #urbanjunglebloggers on twitter and instagram. Let's bring some green into our homes and blogs!

► For more greens in cafés, shops & restaurants also check out: Vivere a piedi nudi /// Blog a Cavola /// HHallerlei /// Colourliving /// Facing North with Gracia /// Mocha /// Mamlo Connection /// It's nice here /// Brigi Co.De. House /// 23qm Stil /// Interior Novice /// IDA Interior Lifestyle /// Look Pimp your Room! /// Hviit /// Volle Lotte /// Hipaholic /// Anne Li West /// Miris Jahrbuch 1 2 ///