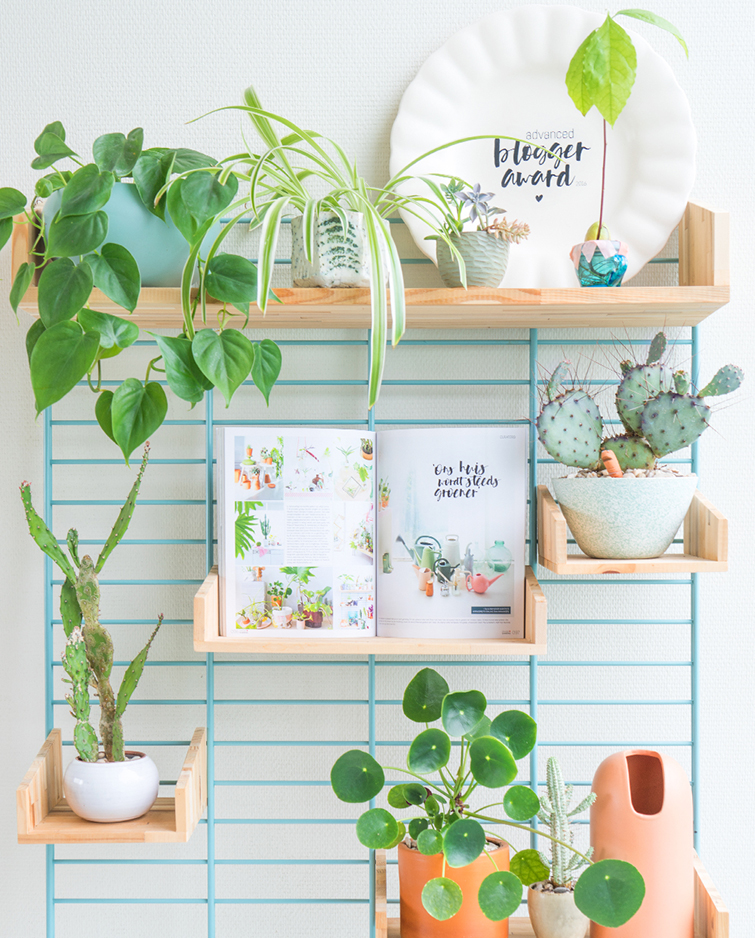 Earlier this year I was asked to work with the team of vtwonen on the new vtwonen loves sharing magazine. In previous editions of this annual blogazine they featured our home and we also did a series with bloggers from the Urban Jungle Bloggers community. But this year was a little bit different as my fellow blogger & vtwonen blog award winner Theo-Bert and I were asked to be "Guest Editors"!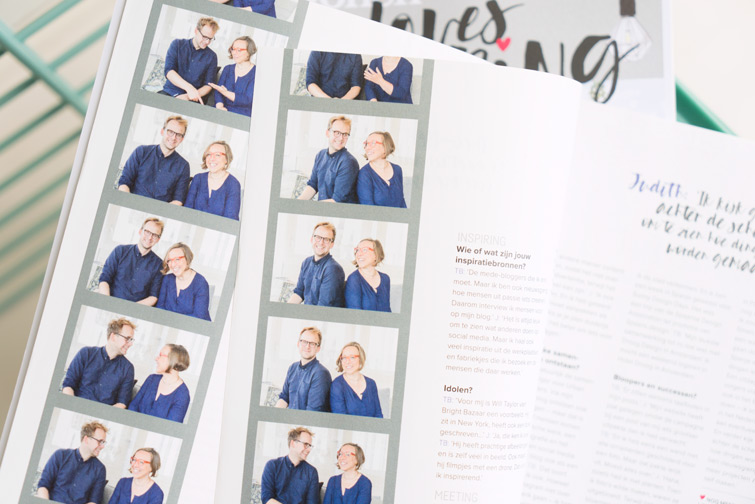 Everyone that has ever worked with Theo-Bert and the vtwonen team, knows that this means a lot of fun, sweet treats (Theo-Bert loves baking!), laughter, creativity and brainstorming. We were interviewed for a story about what our blogging and Instagram experiences and everything that comes with that, and Souraya from Binti Home shot our portraits (in matching blue!), that you can see above. The result is an inspiration packed magazine with several home stories, the most inspiring Instagrammers, illustrators, interviews, city guides and more. I'm so proud to be part of it and even more so, because I got to interview four of my favourite creatives that are featured in the magazine too.
You can order your copy of vtwonen loves sharing magazine online.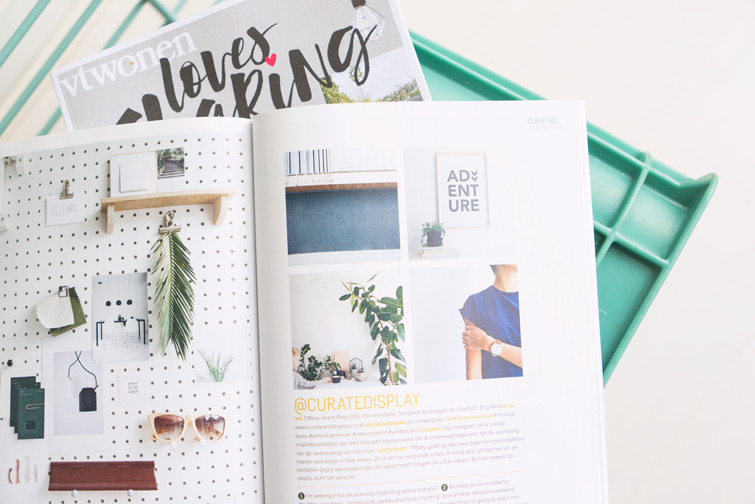 Of course I'd like to present my selection of four here on my blog too. First up: my friend Tiff from Curate & Display. On her blog and Instagram Tiff gives followers a minimal and stylish peek into her life as stylist and photographer. She recently styled a window at Heal's in London! I like how she went beyond her usual muted color palette but still kept it very "Tiff". It always makes me smile when I see her putting up a dozen of paint chips on a wall, in different shades of grey to choose from. It's all in the details! And how cool looks this moodboard in her home office: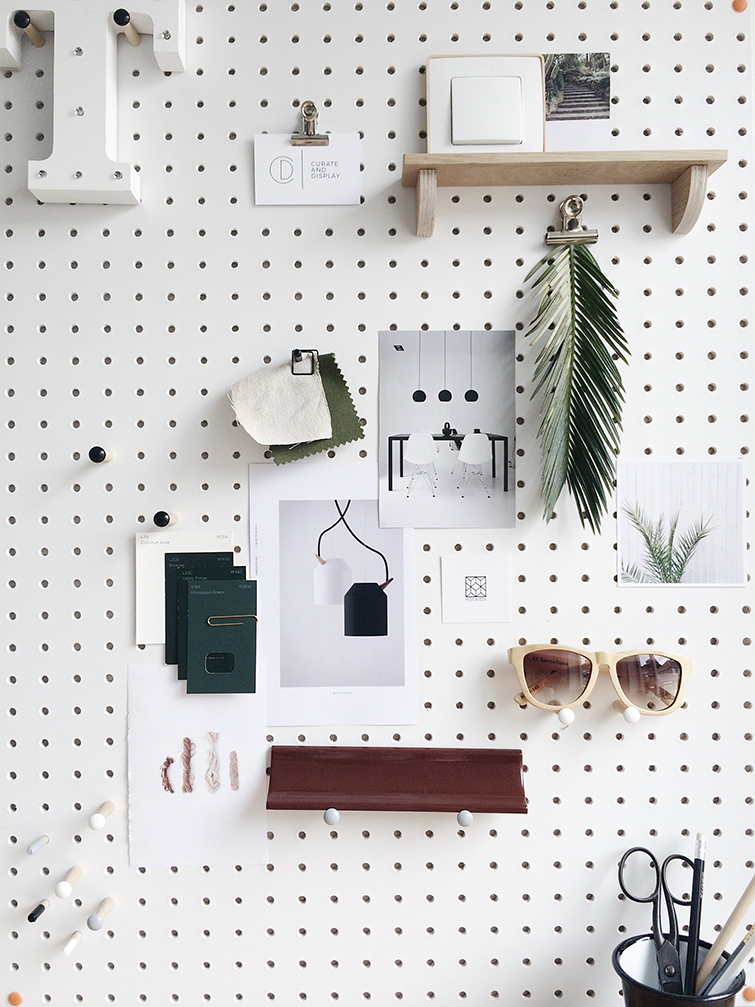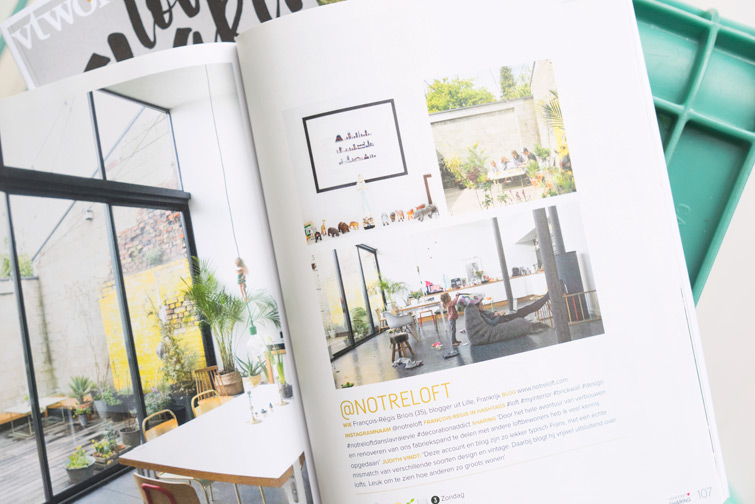 One of the things we focused on for the magazine, was to select some "new" talents, bloggers and Instagrammers that are not very well-known in Holland (yet)… and I couldn't not pick some French creatives too ;). Freg from Notre Loft started blogging when he documented the building of his own loft, which over time turned into a fulltime job. He blogs about anything that has to do with lofts: interior design, cool new (French!) brands, with an industrial and contemporary vibe. Maybe you have seen his cool video from last week's Maison & Objet? His loft in northern France is so bright and a real family home where he lives with his wife and two daughters. Check out the Barbie doll in the image below (and make sure to follow him along via @notreloft):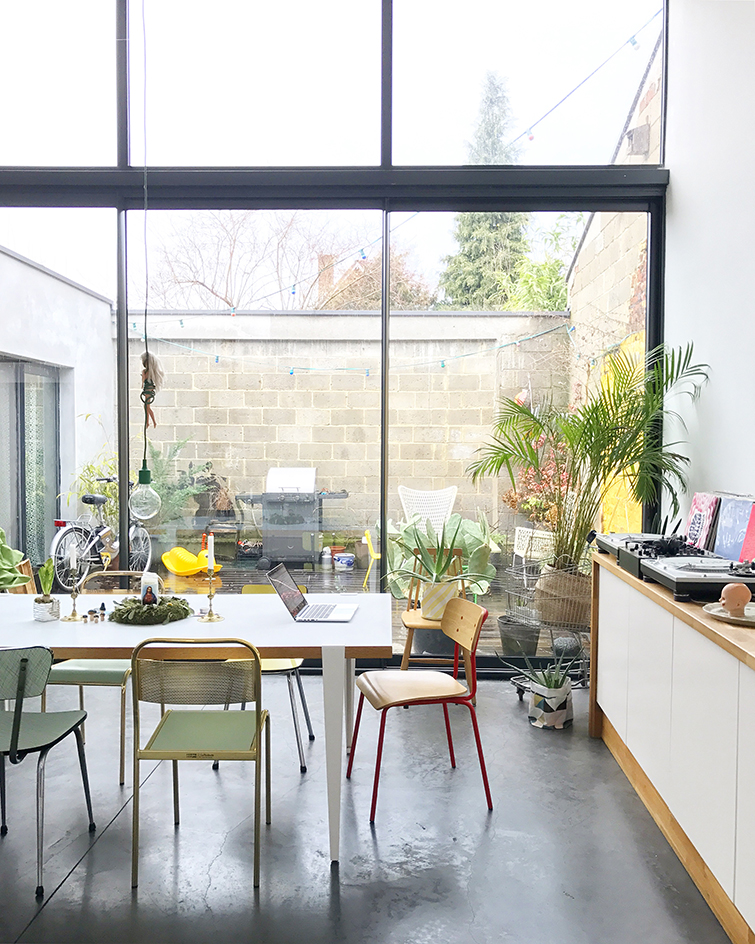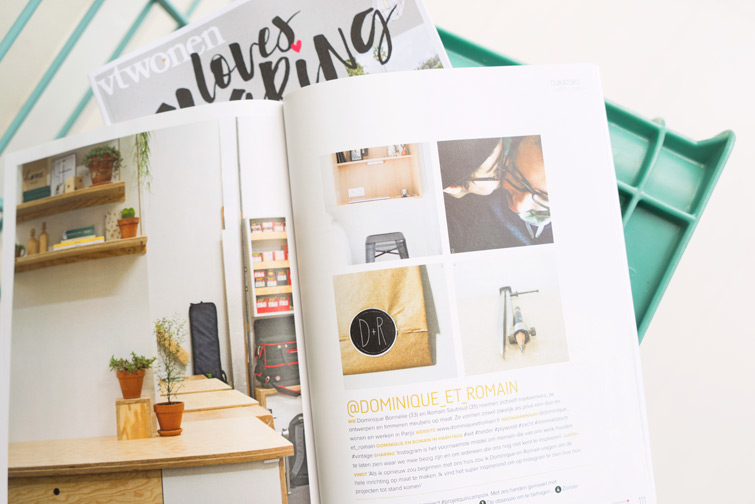 My third pick is not a blogger, but a Parisian couple of creatives. Dominique + Romain are woodworkers & designers and make custom made-to-measure interiors for clients. I visited them in their atelier in Paris where they explained to me what they do and how. I love their approach of working with their clients: they prefer to work along with them, not just for them. Which makes sense, dont you think? If I would have to start the renovation of our home from scratch, I would ask Dominique and Romain to take care of the interior. Check out their latest design projects on their website or follow them via @dominique_et_romain for a peek behind the (Parisian) scenes!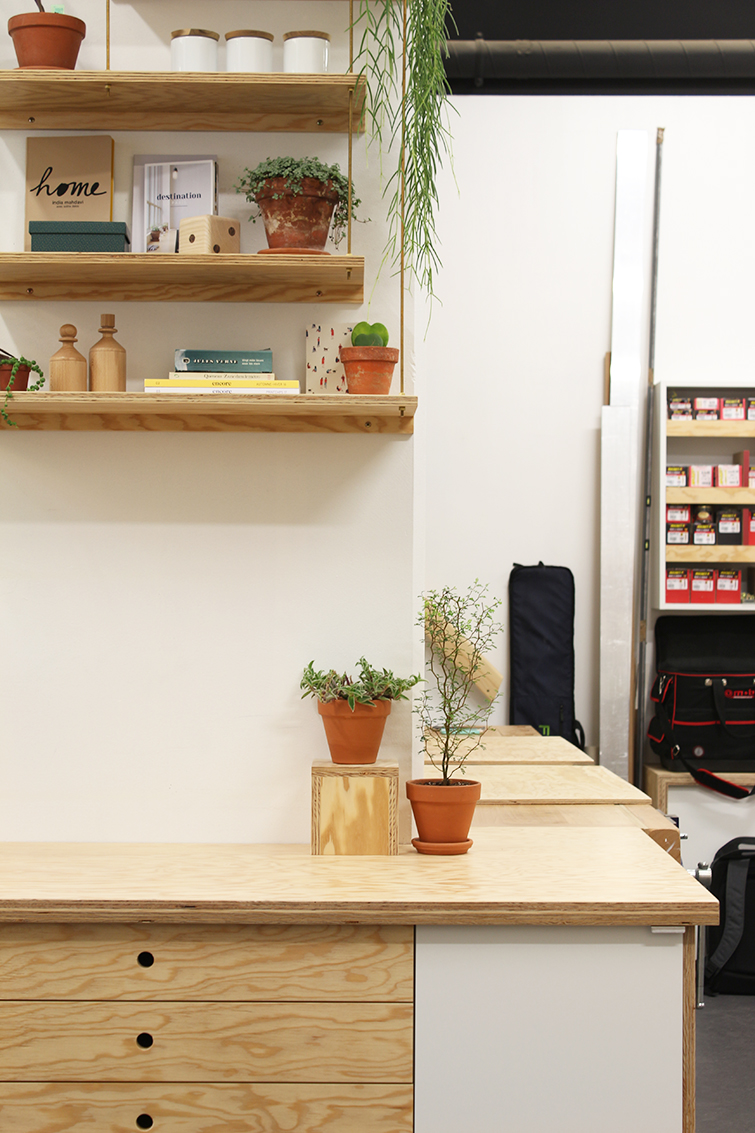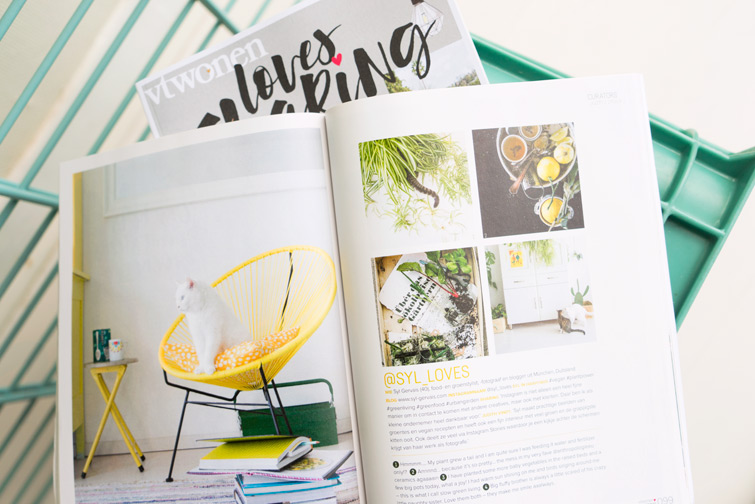 There's a reason why I'll never be a foodblogger: once there is food on the table, I forget about the rest. But when I think of one photographer that catches food, and particularly vegetables, in such a beautiful way, it's Syl Gervais. Her two funny cats, plant-filled interior and her cute accent (in Instagram stories) are very charming too. I love the peeks behind the scenes of her work as a photographer as well as her adventures as an avid urban gardener and her Green Living Kitchen workshops. Follow her via @syl_loves and on her website to see more!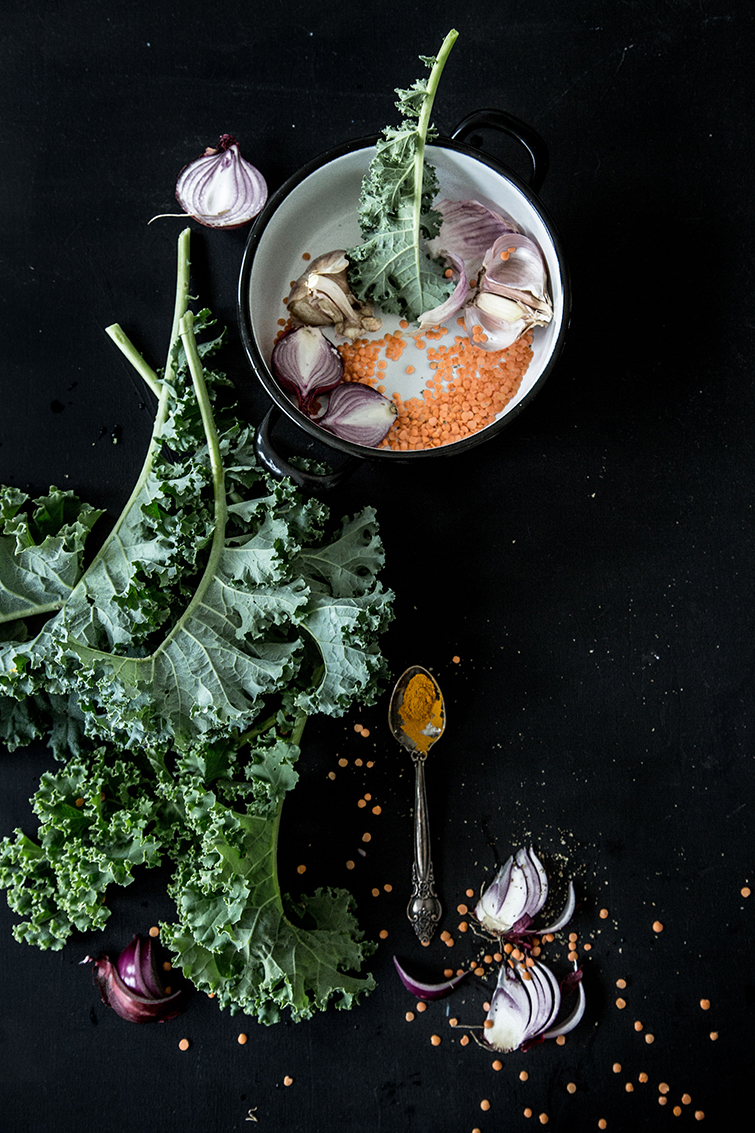 I hope you enjoyed my four picks! You can read so much more about them in the vtwonen loves sharing magazine, that you can buy online here. There's also this little video (in Dutch) of when the makers of the vtwonen loves sharing magazine (including me) met for lunch at the vtwonen beach office this summer: