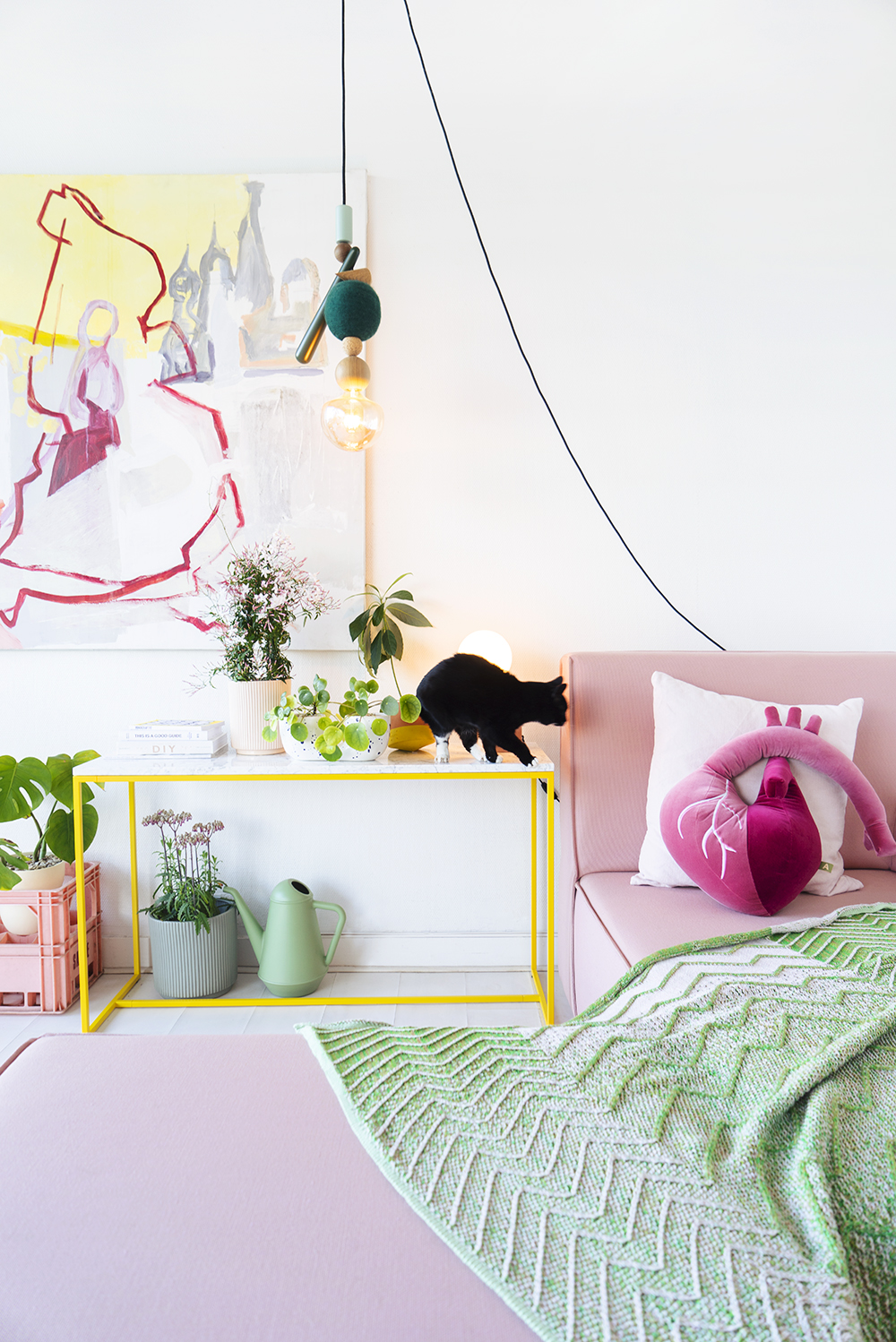 This post could totally begin with a quote about Spring; new beginnings, freshness, sunshine, longer days, nature that awakens after a long winter… but don't worry, I'll try to get to the point without actual clichés, despite the bright spring colors & flowers in this post 😉
A few months ago I was invited to visit the Parisian showroom of Berlin furniture brand MYCS. I had heard of the brand before, but didn't know much about their range of products and concept. Mycs proposes all kinds of furniture: sofas, sideboards, coffeetables, chairs, dining tables, wardrobes and bookshelves in a large variety of sizes, colors and finishes. And the fun part: you can customize them to fit your style and home! All items are made in Europe, using only premium, FSC-certified European wood, environmentally-friendly lacquers and hard-wearing materials like marble, stainless steel and glass. There are quite a few options to choose from (this is an understatement!), so after playing around with the online configurator, I absolutely wanted to get an idea of the quality and colors in real life. In their showroom in Paris (I included some picture at the end of this post!) they have samples of materials on display, as well as all the different pieces of furniture that you can customise.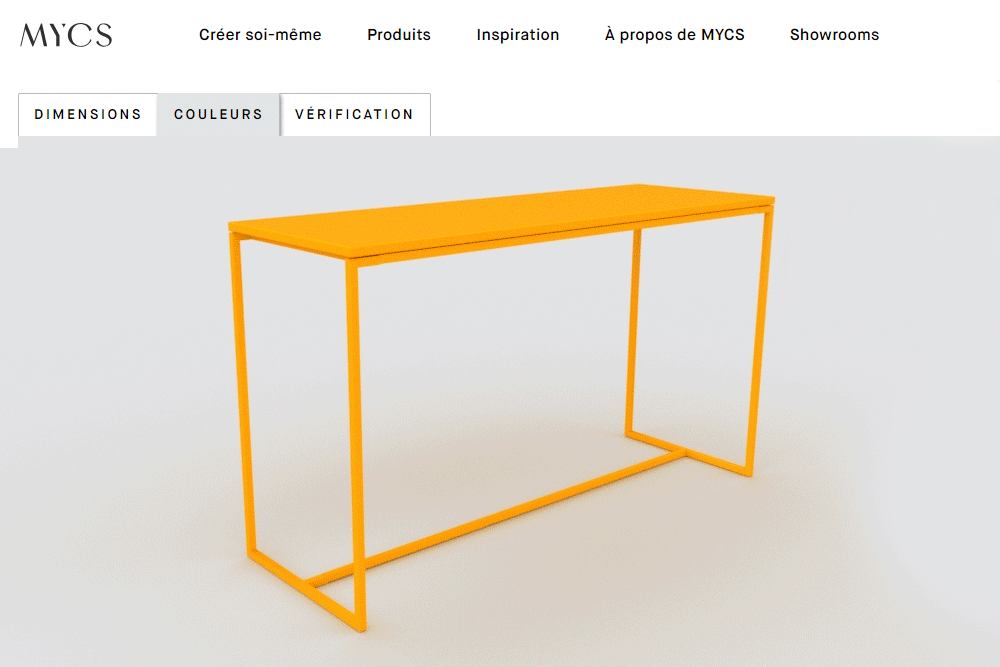 My favorite MYCS items are the Pryme chairs and Syde table as they have good shapes and are timeless. Seeing and testing the furniture live in the showroom confirmed that the quality is really nice and the colors have a satin finish and are really intense. Particularly important as I was looking to add a dash of sunny yellow brightness to our living room. When you live with plants and have a growing collection, you never have enough space to display and style them. A sideboard or console table is such a practical piece of furniture: it looks good agains a wall in a livingroom, or even in a hallway. When you move around plant pots on a laquered surface there always this risk of scratching, so I opted for a marble countertop: MYCS proposes 4 different marble options, nero Marquina, white Carrara, brown Emperador and green Guatemala marble. It may not come as a surprise that I chose the brightest option as it blends in best with the colors in our home.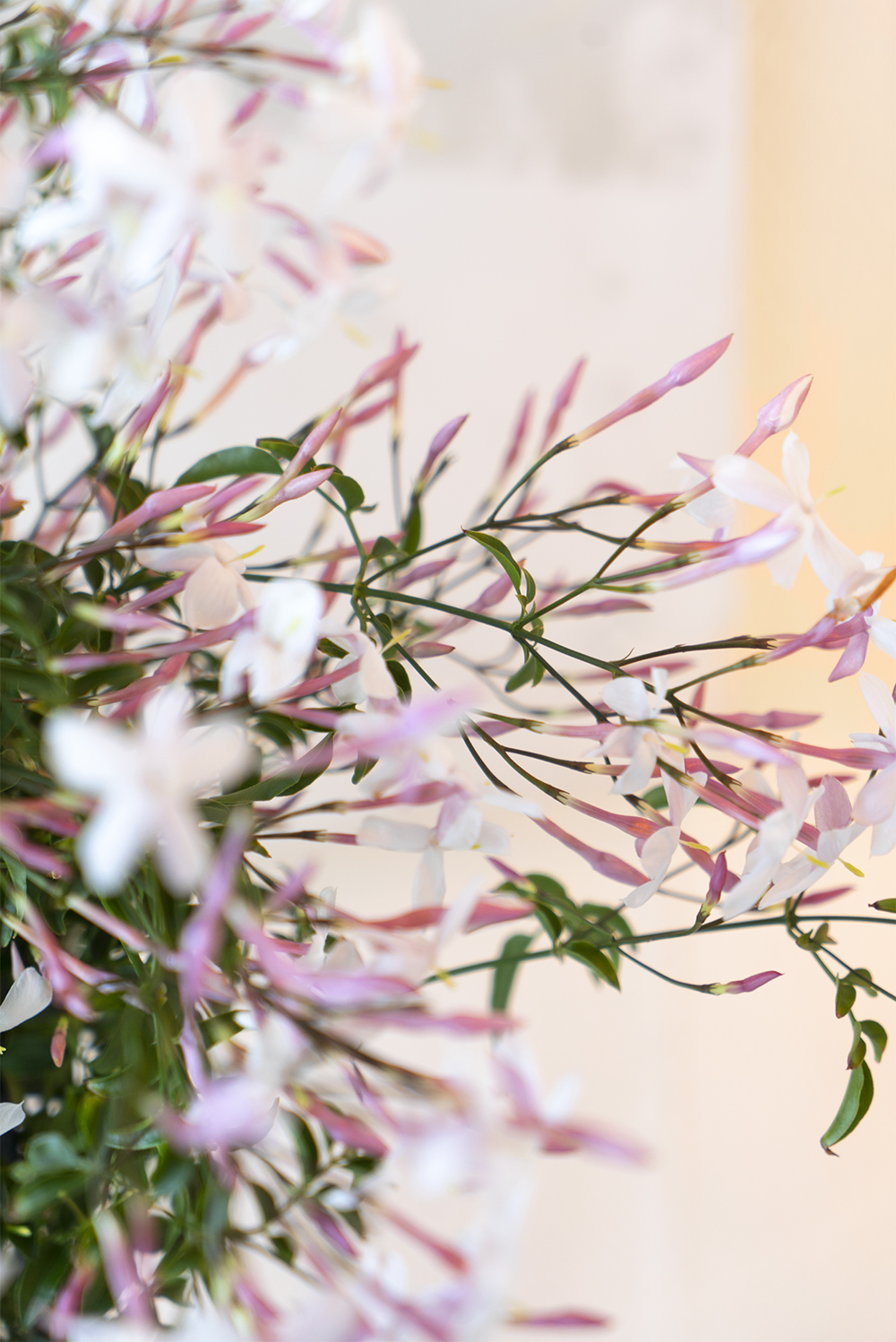 Once my order was placed, I had to wait for delivery. All pieces of furniture are custom made, so it takes a bit of patience to receive the final product. Which is totally worth the wait: the table was delivered in excellent shape and the yellow is super bright and the veins of the marble give the Syde console a nice pattern top: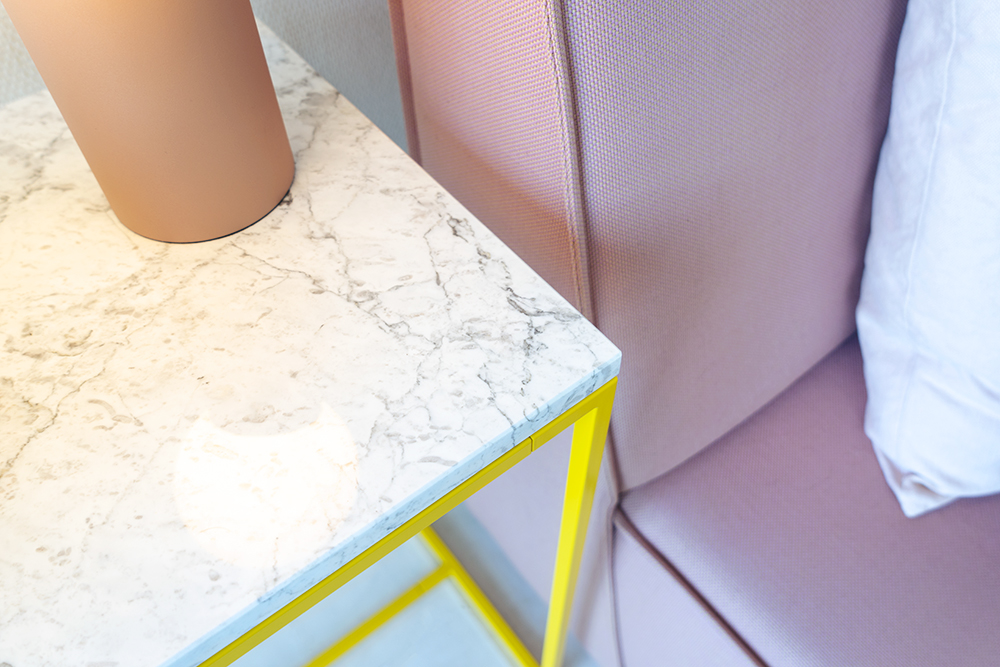 Sleek and bright, speckled patterns of the Angus & Celeste connected plant pot with a small family of Pilea peperomioides, on the bright marble: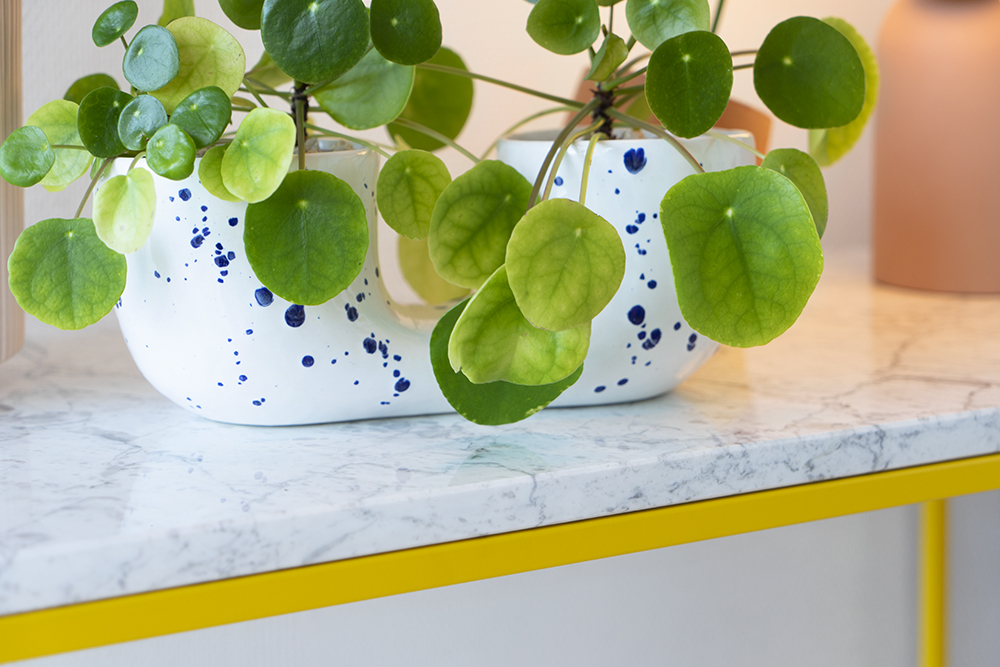 And can we talk about this beautiful Jasmine plant for a minute? Last week I got it at Jardinière Sauvage in Paris: it smelled so nice and strong: a scent of pure spring! Everywhere I went people turned their head to smell them, asked me where I got them, smiled because of the beautiful flowers… Really, I can warmly recommend walking around town with a nice bush of jasmine 😉 And as an icing on the cake I met this old man in the metro, who told me he grew up in the City of Jasmine: Damascus. The smell reminded him of home. He gave me lots of tips on how to care for them (lots of water in the summer and a lot of sunshine) and he asked me to take good care of it, as jasmine meant a lot to him. These are the encounters that can just make your day, right?!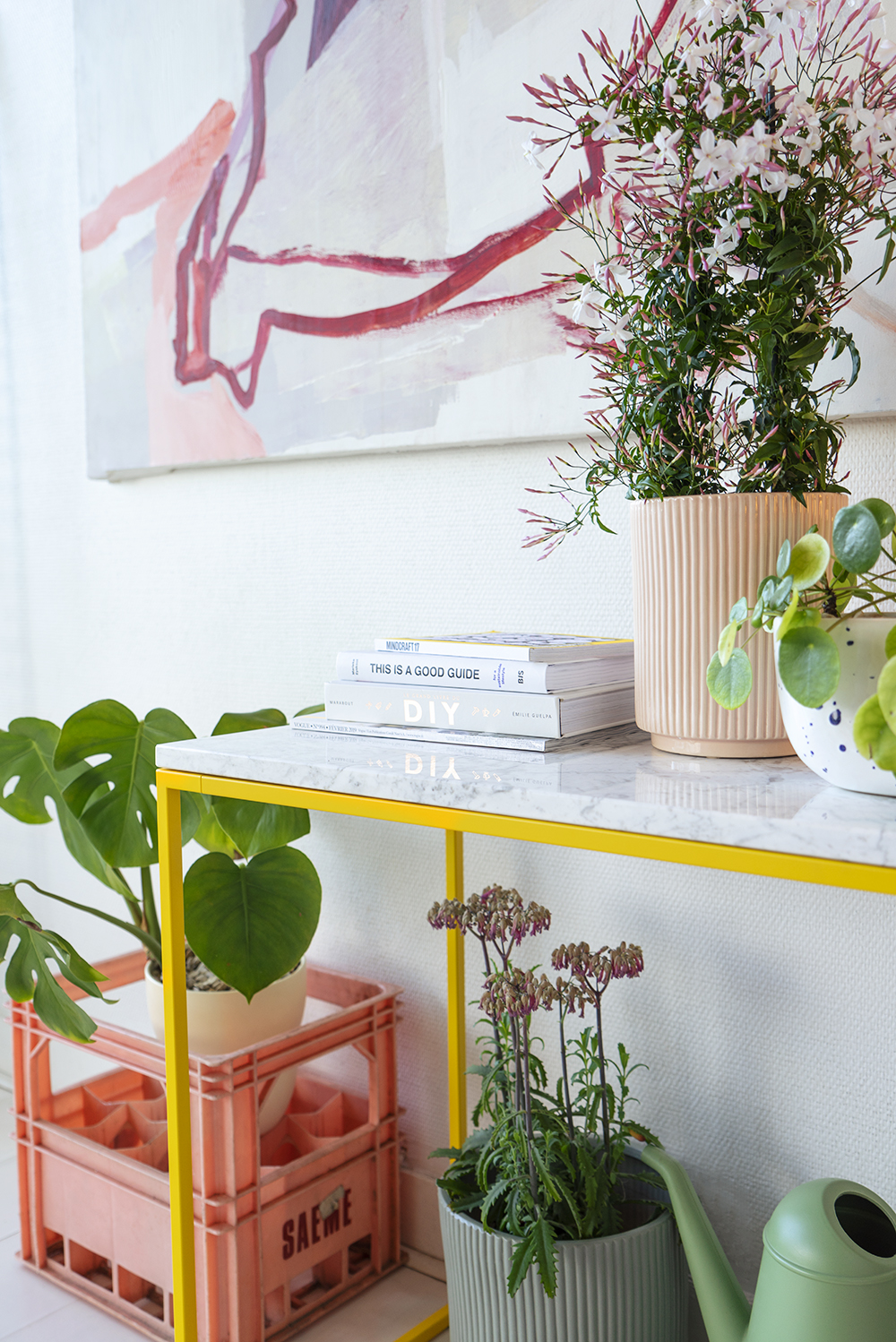 Jasmine makes me smile: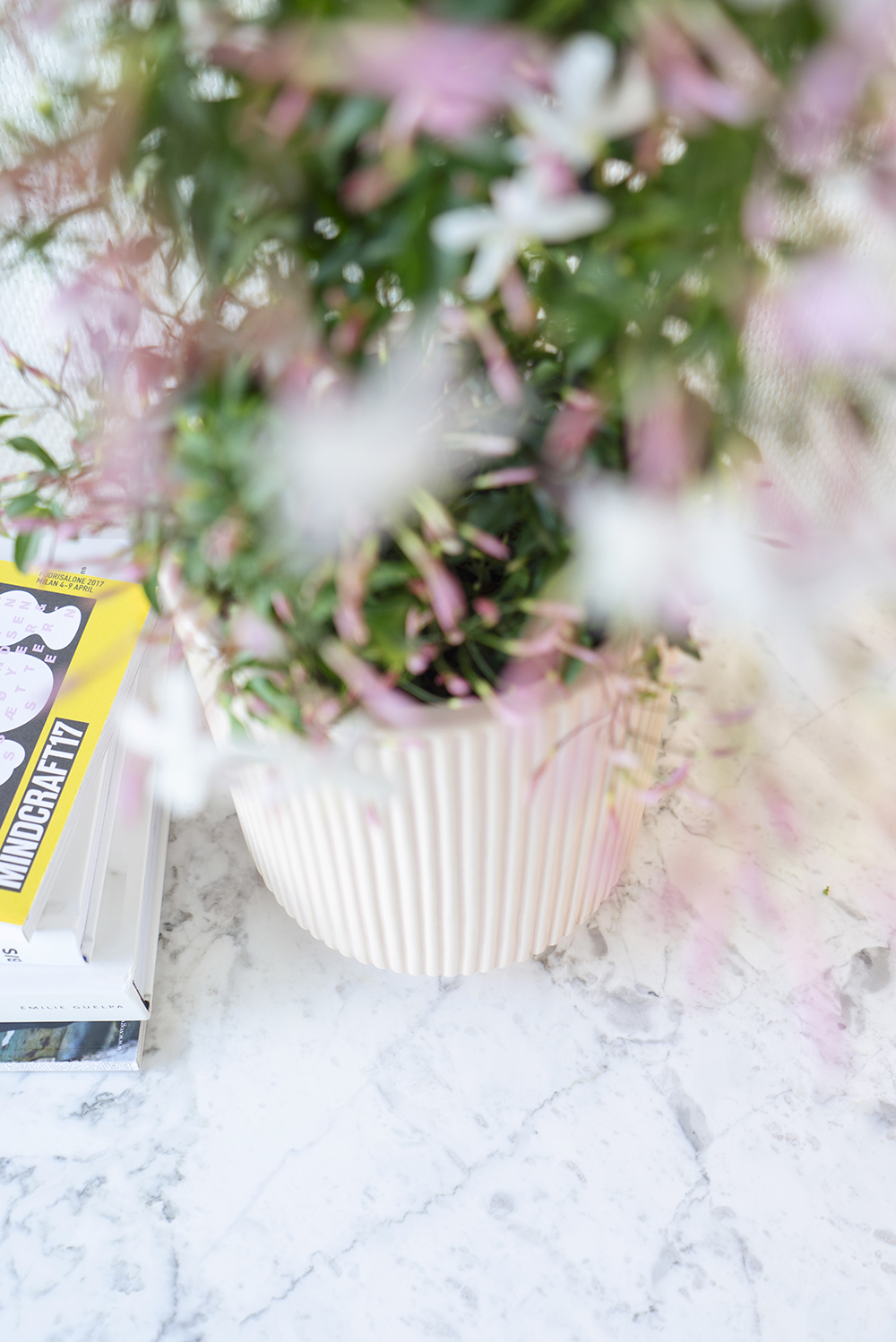 On top of the Syde table: a copy of Vogue, Emilie de Guelpa's big book of DIY, This is a Good Guide, filled to the brim with tips on living a more sustainable lifestyle, and the catalogue of the fantastic 2017 edition of Mindcraft in Milan.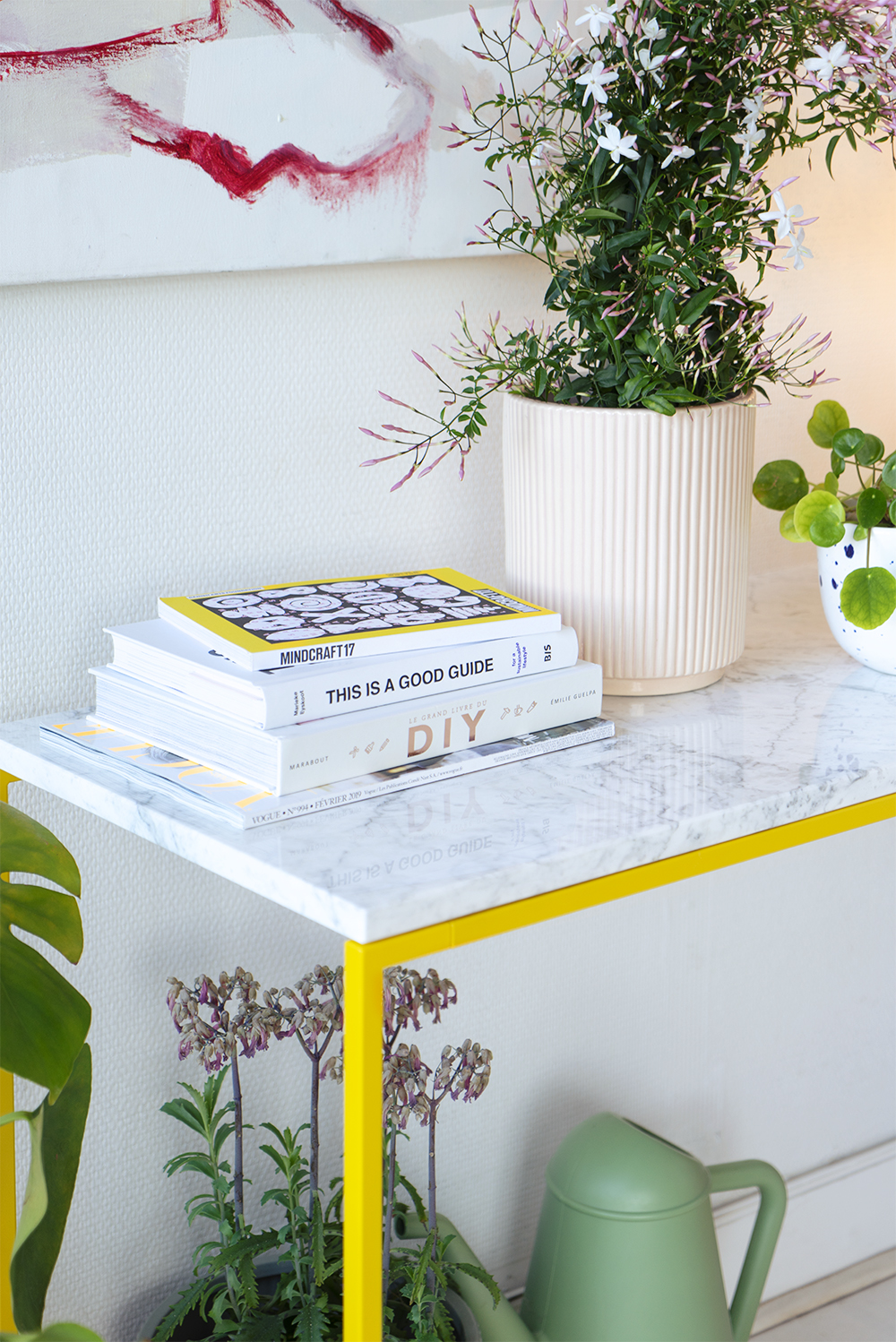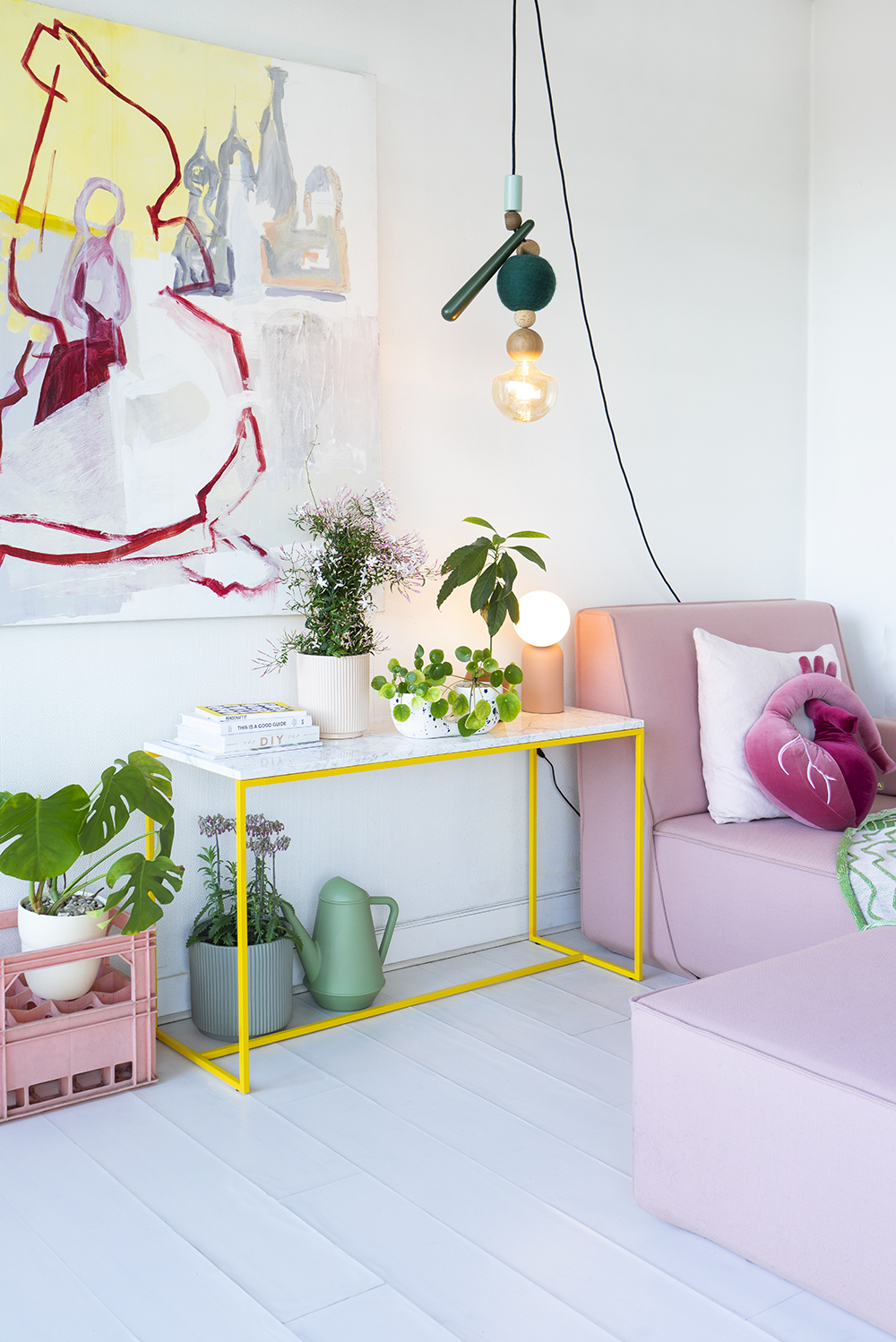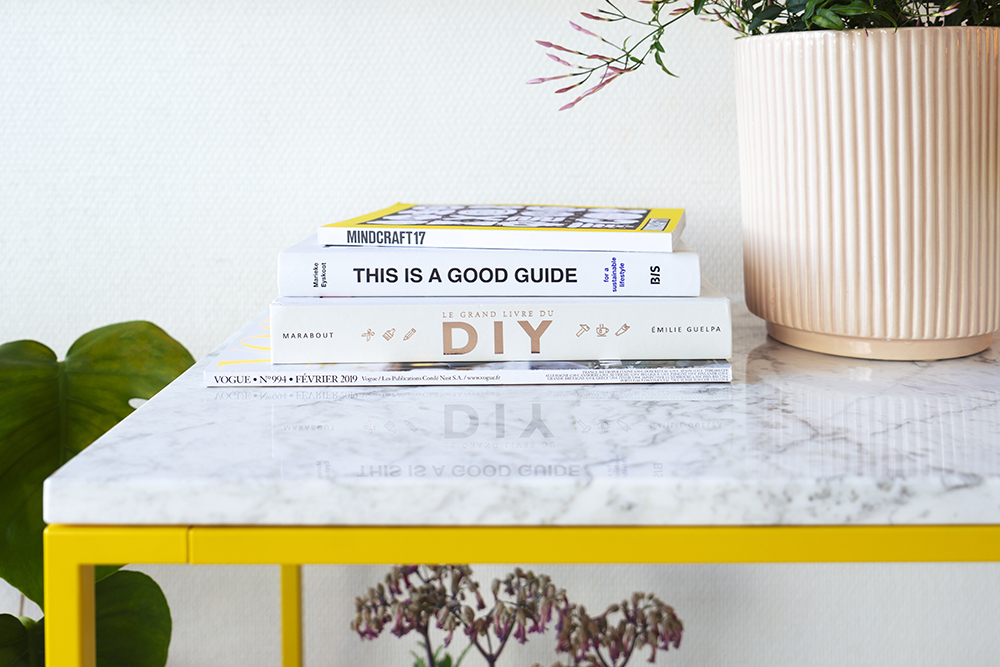 Happy homegrown avocado plant twisting and turning in my favorite Voltasol pot: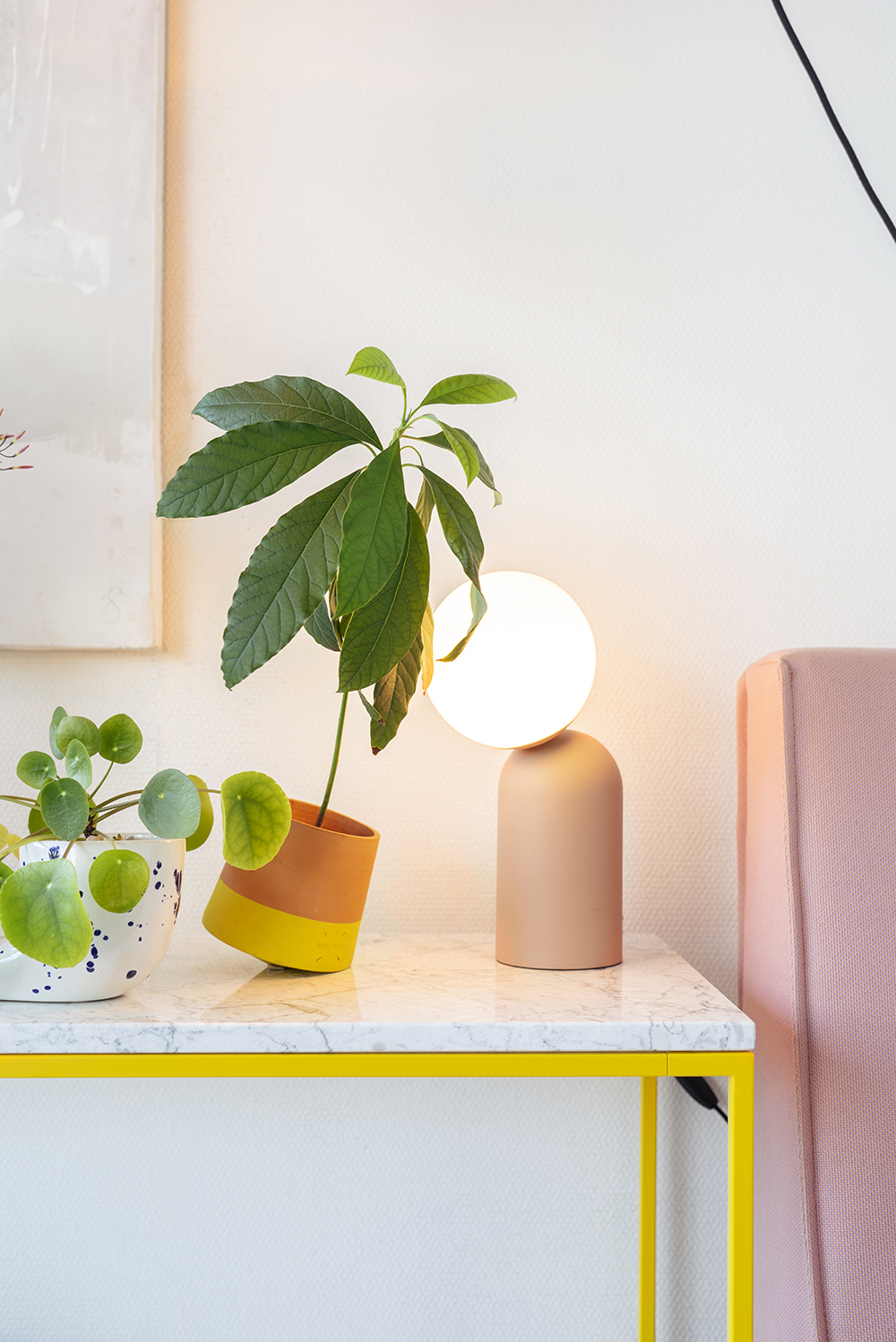 Some extra images from the MYCS showroom in Paris… on a beautiful sunny day!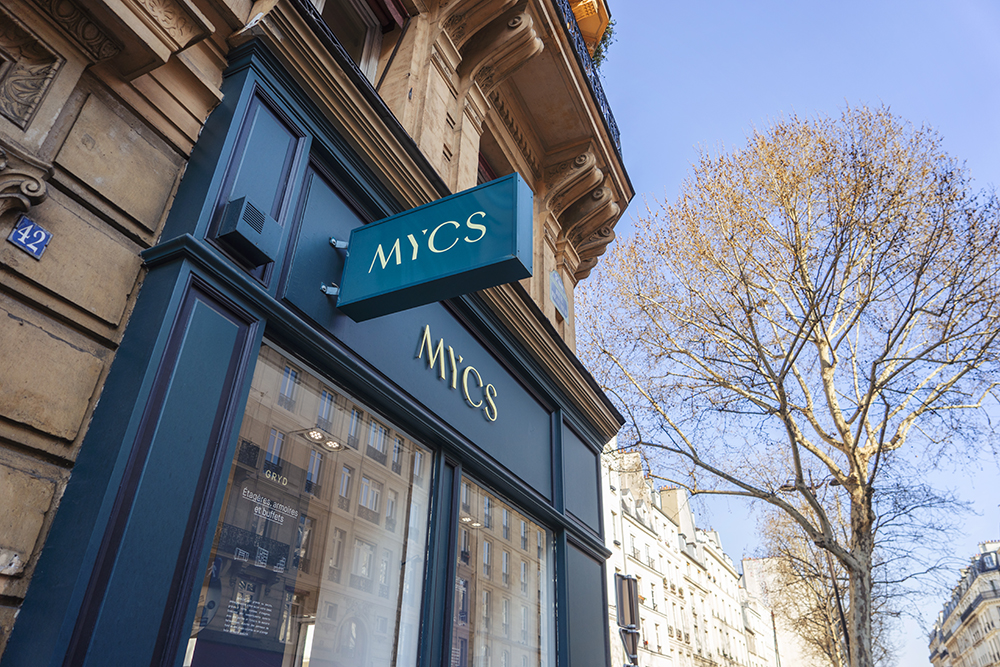 MYCS Showroom Paris /// 42 Rue Réaumur /// 75003 Paris /// +33 1 86 65 12 20 /// Please check HERE for up-to-date opening hours and items on show.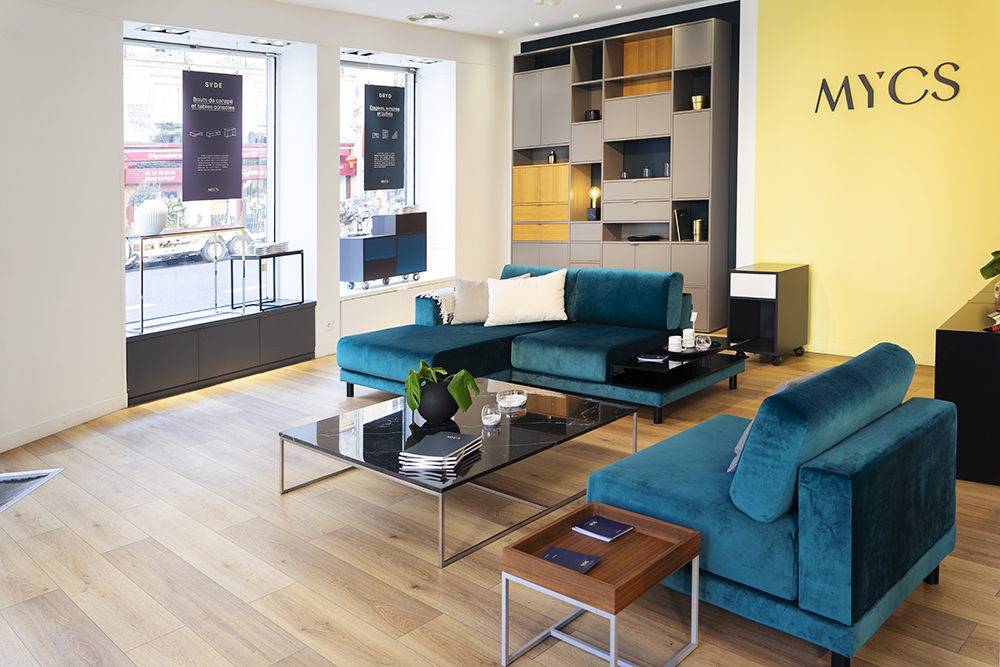 A large variety of velvet and felt fabrics that can upholster any MYCS sofa or armchair: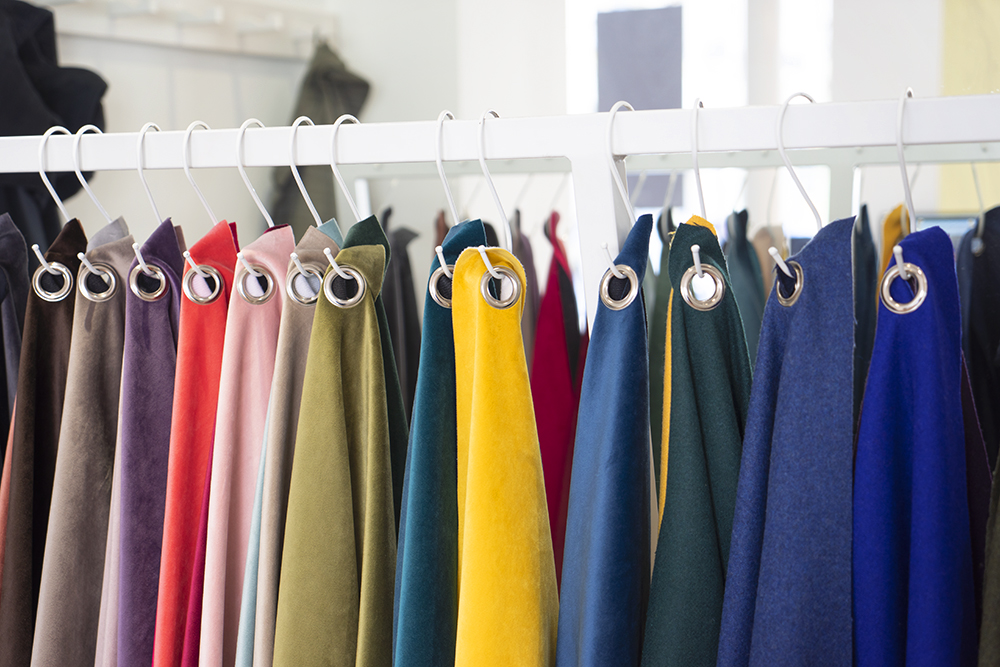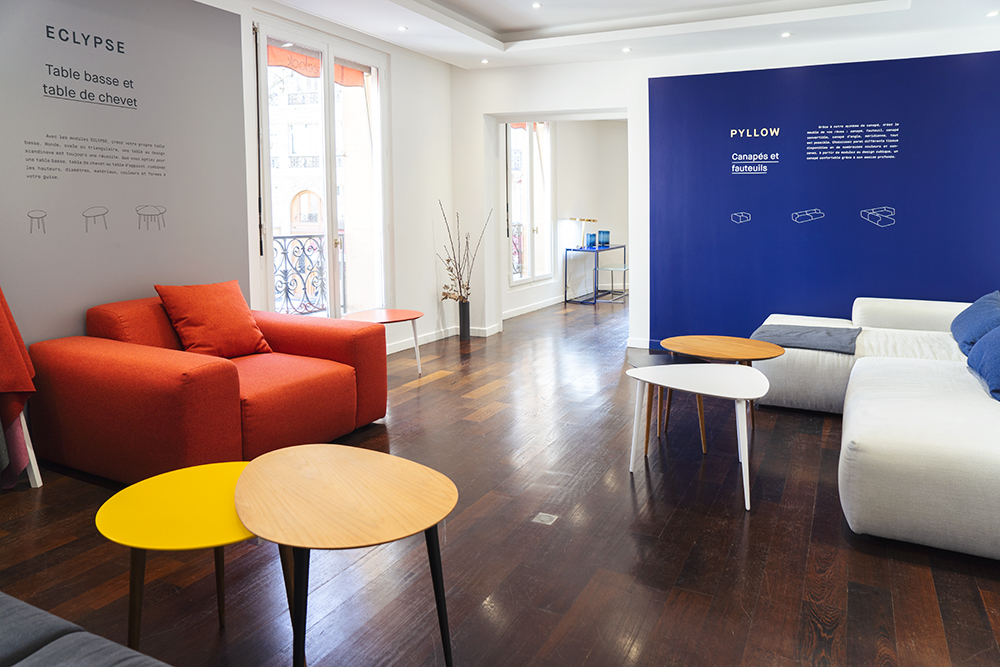 The Syde table also comes with in a laquered version and a glass top version:
Furniture company MYCS has a website in French, and is also available in English and in German. Happy shopping!
This blogpost was created in collaboration with MYCS. As always, all photos, opinions and words are completely my own. Thank you for supporting the brands that keep JOELIX.com going! Merci beaucoup MYCS for the nice table!