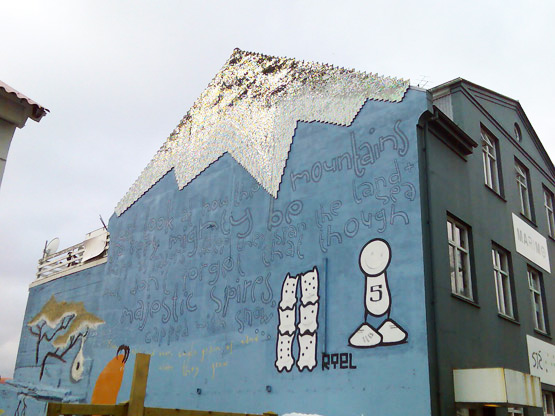 So far, 2012 has been filled with quite a bunch of short trips. For fun (London!), sad (a cremation), exciting (The Hive) and happy (a wedding!) reasons. But only a few more months before we go on a longer trip. As "everybody" is going on holidays soon, I thought it would be nice to look back at some of our travels. To inspire and get in the mood for new adventures! Off we go to Iceland!
In september 2009 we flew to Iceland with 2 backpacks. No suitcases or car rental as we were in for some adventure and wanted to travel by bus. We rented a nice designy apartment in the heart of Reykjavík to relax and start planning the next few weeks of our stay. The only thing on our wishlist: Vestmannaeyjar island, mostly because we loved the name and because there were puffins. Upon arrival at the Reykjavík harbor we discovered that the Puffins had left Iceland, as stated on a note at the Puffin Express ticket office. But we didn't really mind.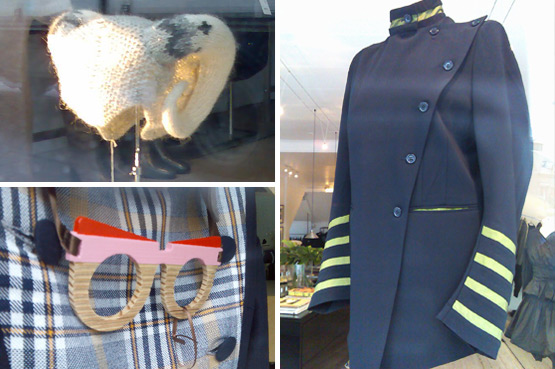 Reykjavík feels like a small town, but has some cool & super creative shops. One of my favorites was Elm Design, an Icelandic fashion brand by and for women. A tad pricy, but truly amazing designs. On Laugavegur, the main street of downtown Reykjavík, you'll find second hand shops, yummy bakeries, bookshops and lots of kaffihúses (coffeehouses), where it's nice to relax and watch people. In september the important tourist season (mid june – end of august) is absolutely over in Iceland. Just perfect for us!
As of september some inland roads are impassable because there's already too much snow and a few shops & restaurants are closed. But days are of an average length and the weather is not too harsh. By the way, the weather in Iceland is not as cold as you might think. Average winter daytime temperature in Reykjavík is about 0°C. Although with ice storms, rain and sunshine only 5 minutes apart: layering your clothing is key!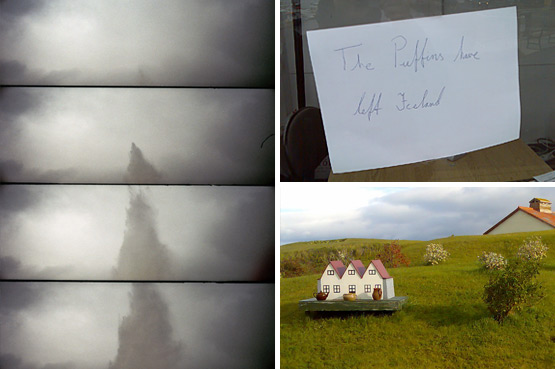 And then we made a mistake. We bought tickets for a guided bus tour called The Golden Circle. On this tour (which everyone visiting Iceland seems to "do"), you'll visit the highlights of a small area on the south east of Reykjavík. And really, these places are truly stunning. The national park Þingvellir, the waterfall Gullfoss, the geothermally active valley of Haukadalur (with geysers Geysir & Strokkur), Skálholt church, and the Nesjavellir geothermal power plant. But we weren't prepared for the many tourists and the need to hurry up to catch the bus and go to the next stop. The tour guide soon hated us because we were far behind on the "group". But anyway, we survived and couldn't wait to see more!
We left our lovely Apartment K, with private hot tub (which was bliss!) and headed to the harbour of Þorlákshöfn by bus. The former Dutch (!) Oost Vlieland ferry was ready to bring 1 Italian backpacker, a few freight trucks and us to Vestmannaeyar. We were told to be prepared for some rough weather: it was late september after all.. While the truck drivers ordered some pylsur (Icelandic hot dogs), the Italian tourist opened his first can of cheap beer. That wasn't such a good idea. The sea got very rough and the ferry started to move in many directions… The Italian tourist became green, while I did my best to not get seasick. My husband felt okay and laughed at me while I was screaming on deck upon every move of the boat.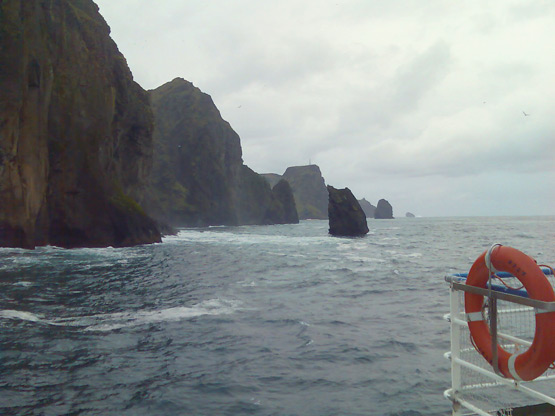 After more than 3 hours on the ferry it felt great to have our feet back on the ground. We asked around in the harbour and found a simple but huge room for rent with a nice view on the harbour. We were the only tourists on the island (besides the Italian backpacker) and had dinner at a small local restaurant where we ate traditional food (fish & potatoes with lots of sauce), probably best suited for habour workers, because it was very rich.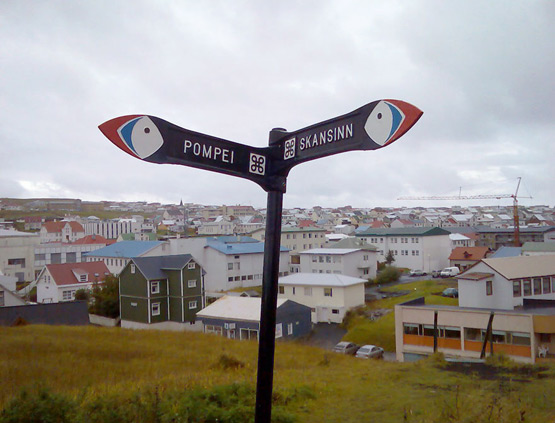 The next few days we hiked around the island through the pouring rain and saw what's called The Pompeï of the North because of several volcanic eruptions. The last one dates back to 1973. While there was only 1 victim and lots of buried houses & ash, the lava threatened the fishing harbor but stopped right in time, due to the hard work of firemen dousing the lava with cold sea water, and by chance created an extra shelter for the harbor.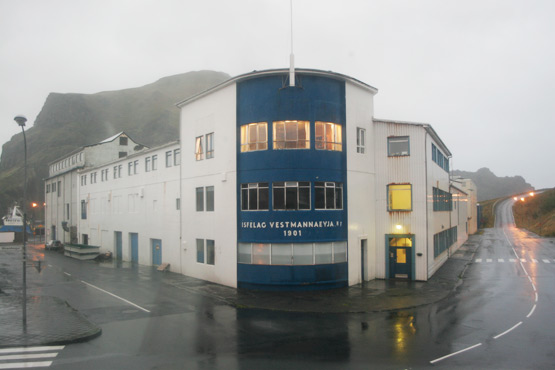 Vestmannaeyjar is also home to the puffin, it's where large colonies of puffins nesting inside the burrows around the cliffs. But not in september. However we saw our first puffin at the grocery store! We were talking to a local who told us his autistic son was taking care of an injured baby puffin. He called his wife to bring his son & the puffin chick to the grocery store for us to see. I'm not sure what was more endearing: the baby puffin or the family proudly showing their fluffy "patient".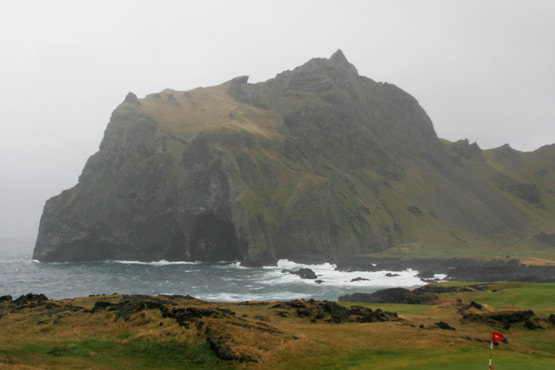 When heading back to the harbor to check out the next day's ferry schedule, we found out the evening ferry wouldn't leave Vestmannaeyar because the weather was too bad. We were told to check back in the morning to see if the ferry would leave or not… So we were stuck on the island…
More next time!
P.S. Visiting Vestmannaeyjar became so much easier with a ferry sailing off from the Icelandic coast at only 30 minutes from the island!
Oh and if you happen to be in Iceland in august, check out the famous Þjóðhátíð festival on Vestmannaeyjar. Locals told us it's spectacular!