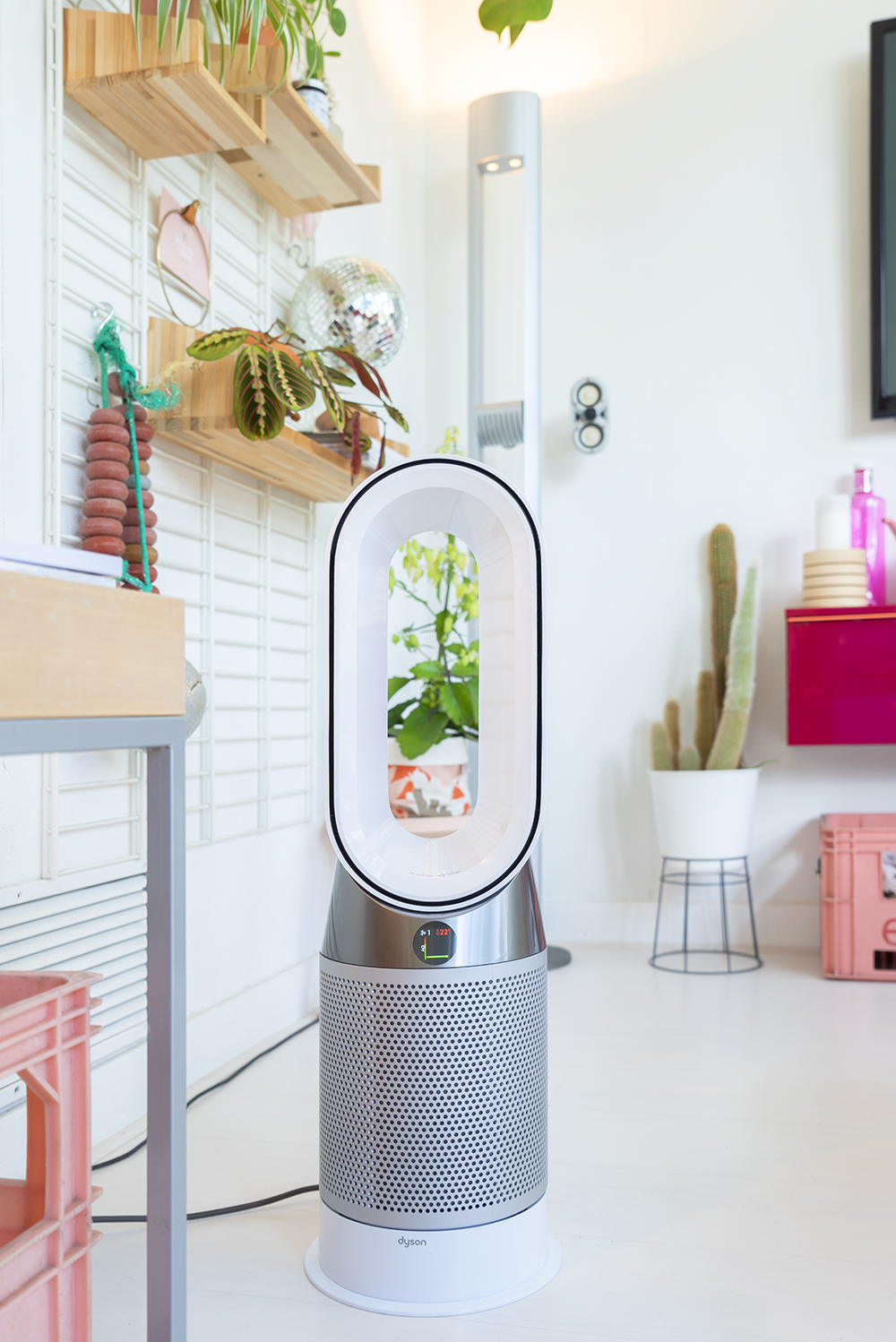 This early Spring weather is wonderful…. and messed up. We had the warmest month of February EVER. So freaky! And together with these high temperatures and sunshine come peaks of pollution here in and near Paris. While the quality of the air outside is really bad, the quality of our indoor spaces are often even worse and more polluted than the air outside. Many materials used in interiors, like foam in sofas, paints, glues and building materials contain harmful substances and cause headaches, asthma, allergies or fatigue. Even our cosy scented candles release toxic formaldehyde… and that's where the Dyson Pure Hot + Cool comes in.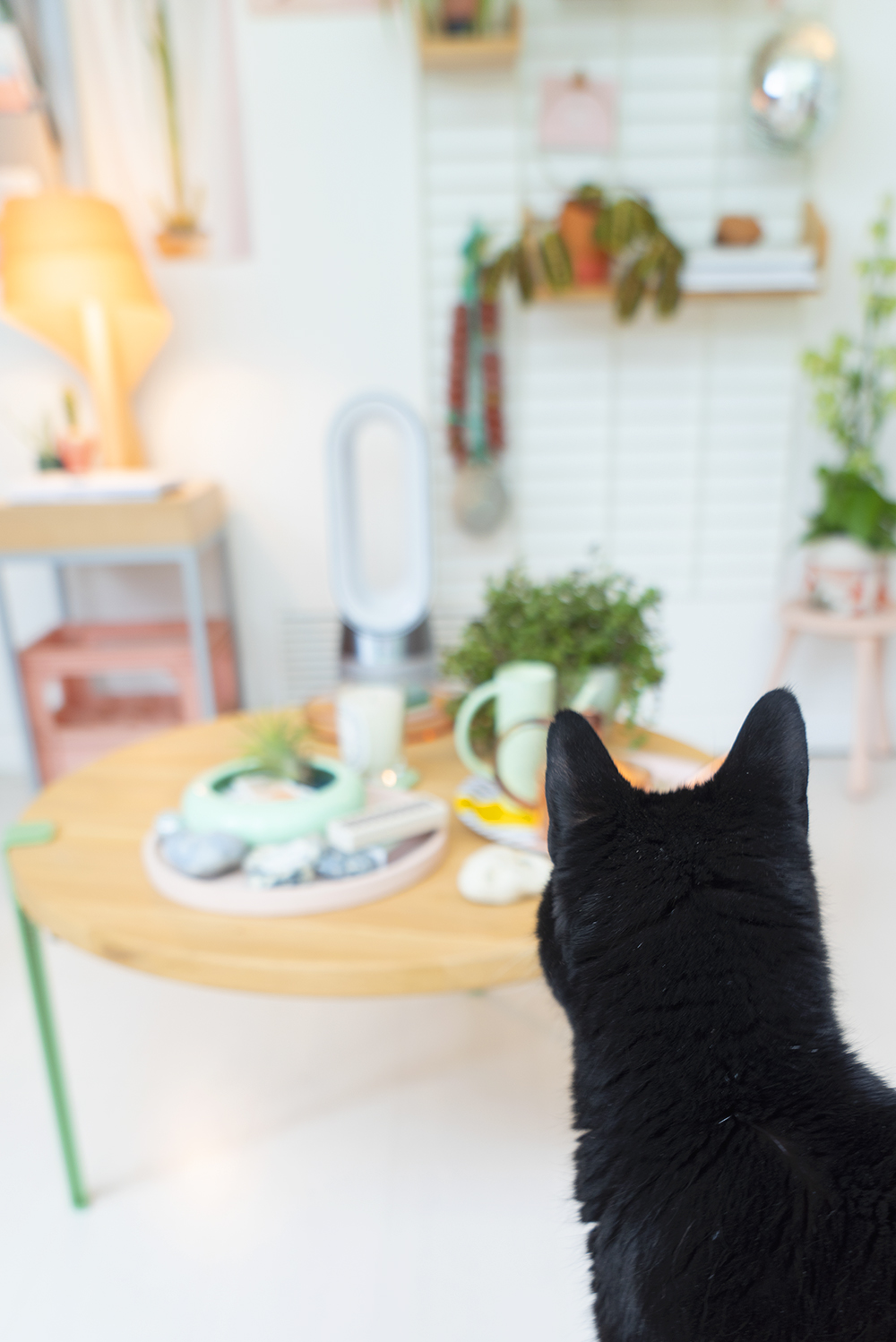 The Dyson Pure Hot + Cold moved in a few weeks ago: it filters 99.97% of allergens and pollutants from the air and keeps them trapped. And while doing so, it can also heat in the winter and cool in the summer. The heating option is very much appreciated by Otta, our almost 18-year old cat: like all kitties she loves her home to be extra warm and cosy. And Robert is very much looking forward to stay cool this summer 😉
But why use a Dyson airpurifier when you have a home filled with houseplants that also purify the air? Good question! Actually the Dyson is very much more effective than the plants, especially more quickly. It senses and displays the real time air quality. When I turned it on: the screen immediately showed that the quality was good: green light! I felt very relieved that what we feel (good air quality at home) is actually reality and confirmed by technolgy! Until we had dinner and lit a dozen of non-scented candles: the air quality immediately dropped and spiked on fine particules from cooking and candles. In no-time the Dyson Pure brought back the air quality to its normal "good". Being good and fast at filtering the air in a room can be a life changing quality when you suffer from this season's pollen. With these elevated end-of-winter temperatures, there is more pollution in the air, but also much higher doses of different pollen that cause a runny nose, an itchy throat, teary eyes, sneezing and an overall feeling of blehhhh, for everyone suffering from hay fever. The Dyson airpurifier can help you feel better, as long as you stay inside 😉
The Dyson Pure Hot + Cool is really easy to set up: it's basically plug & play! All you do is download the app to control the device via your mobile phone. It allows you to schedule air purifications, heating or cooling as well as oscillation, air flow, night mode. And you get live reports on the current state of the air quality, but also of the air outside in your village or city.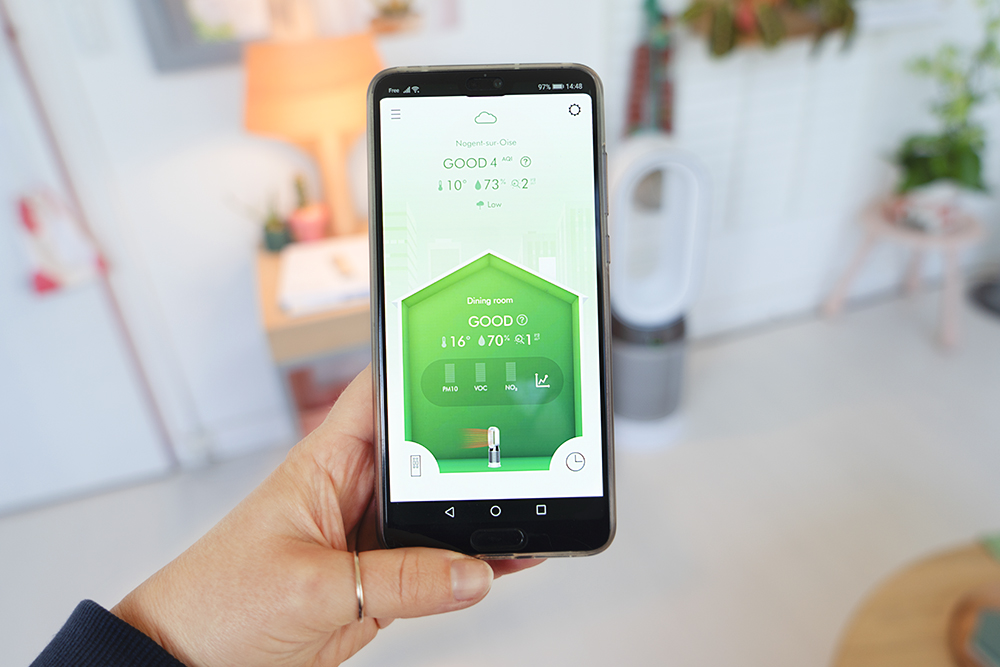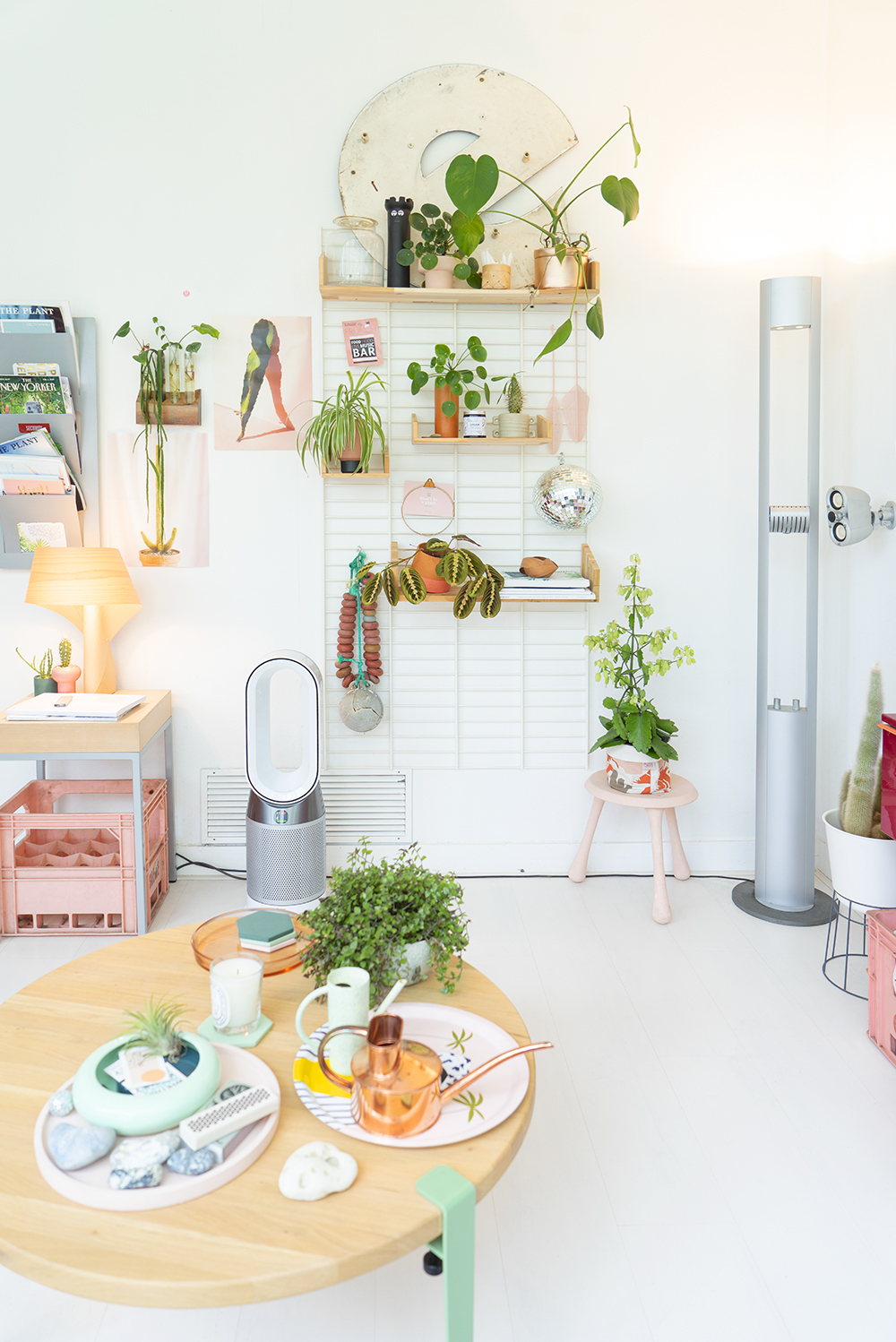 If you don't walk around with your phone, you can also use the remote control to adjust the settings. Ever since Dyson launched their first products, like their well-known vacuum cleaners and bladeless fans and airblade hand dryers, I've always been intrigued by their sharp British design aesthetic: no fuss, very sleek, with a technical look and intuitive interface control. Their graphic identity is very minimal and even the booklet with (minimal) instructions is a joy for eye. My only (minor) regret with the Dyson Pure Hot + Cold is the color of the device and the electrical cord: there is a lot of grey. I'd prefer an all white version, with a colorful textile power cord 😉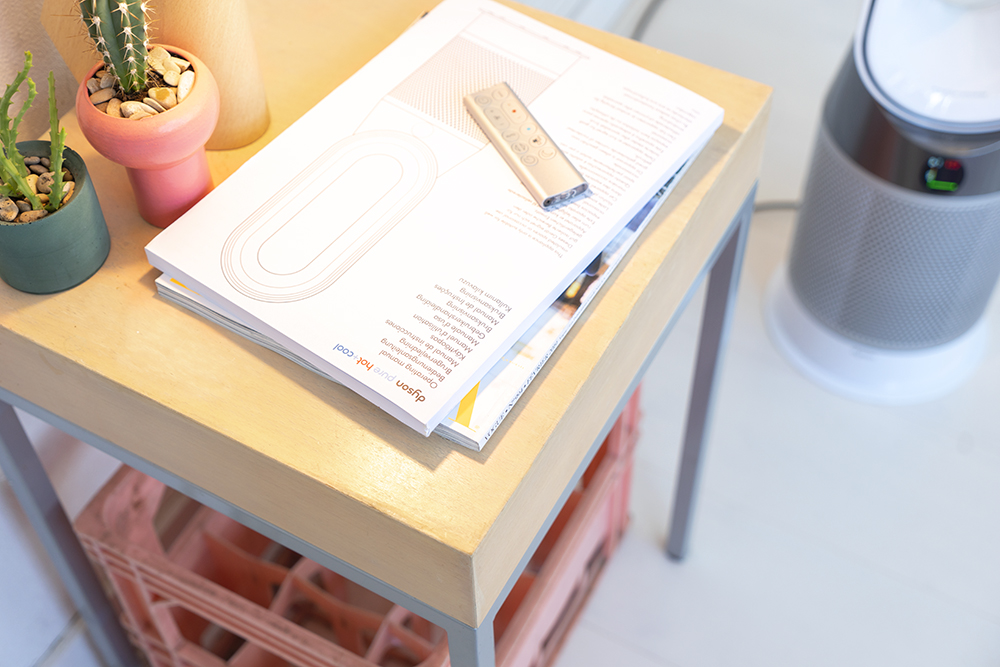 Very relieved: the air quality in our home is "good" (and green!), the humidity a little on the high end, but the Dyson Pure is working on it!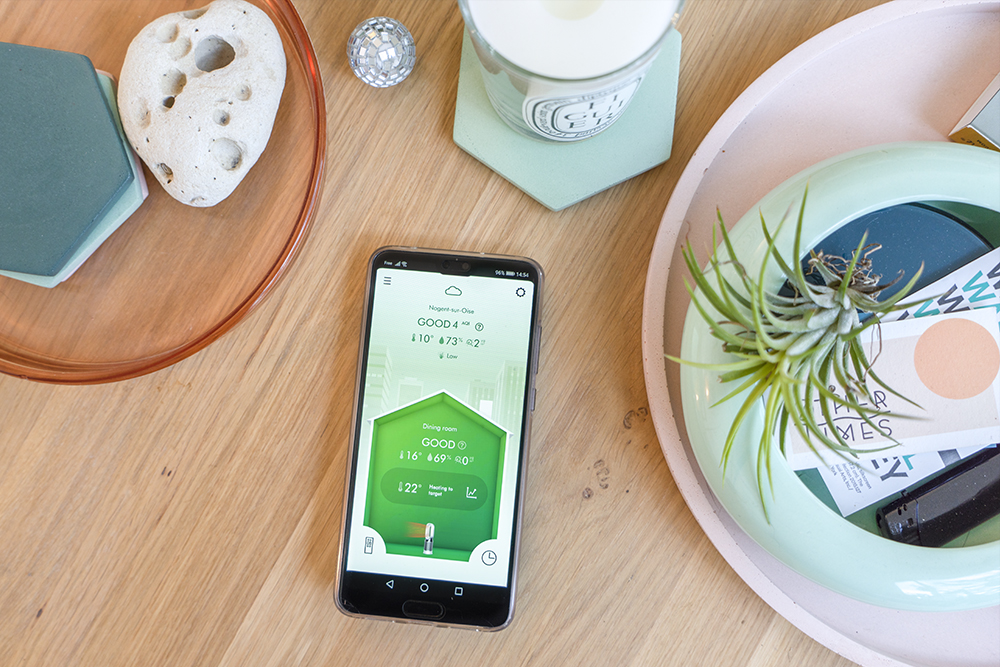 Even though we have underfloor heating (which is sooo nice!), it is lovely to warm up the room a little extra when needed. Otta really loves it too and likes to position herself in front of the warm air stream! For now I truly enjoy the Dyson Pure Hot + Cold, and it looks so much better than the average airpurifier or electric heater too! Will let you give you some updates in a few weeks on Instagram if you like. Have you ever thought of getting an airpurifier device?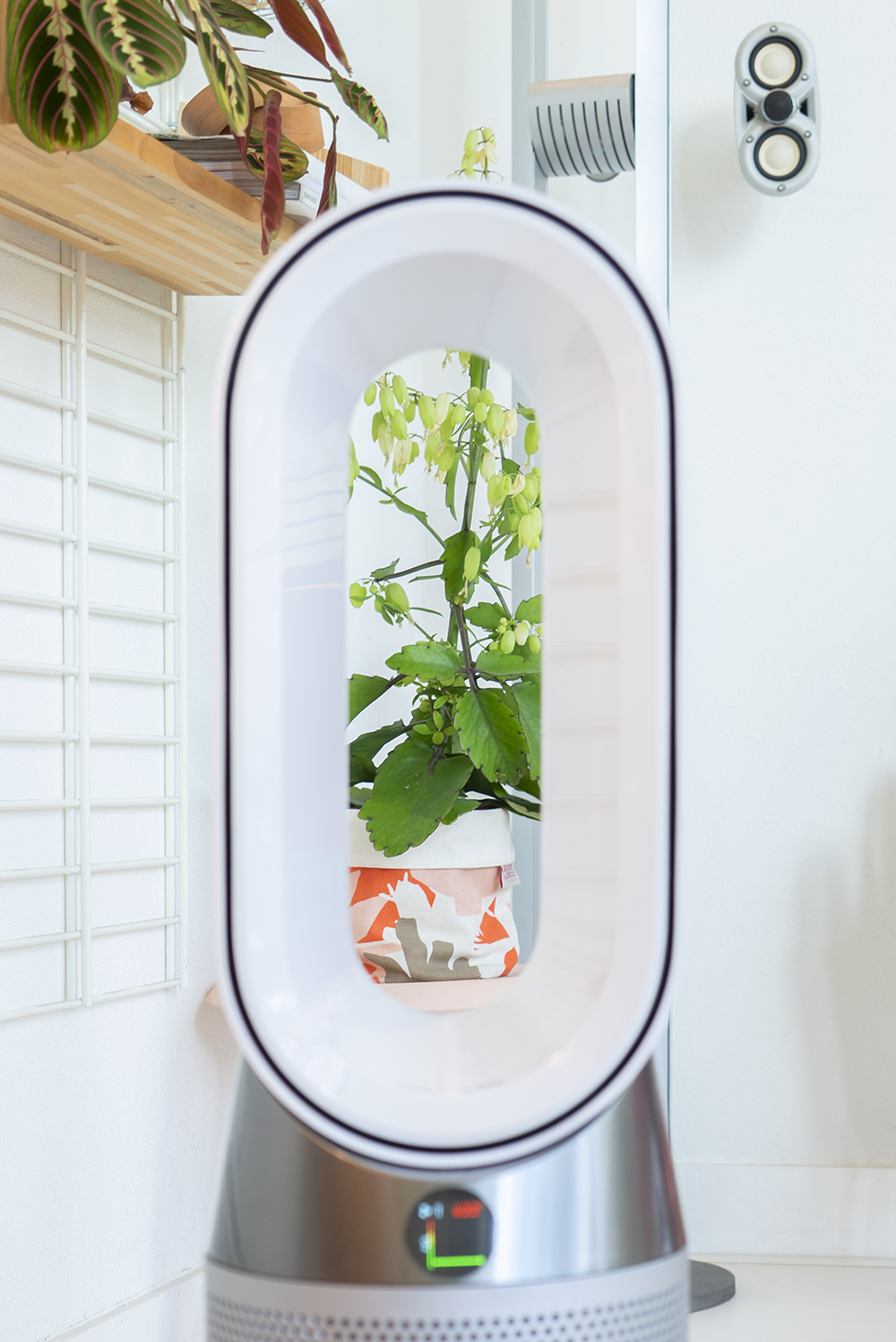 This blogpost was made in collaboration with Dyson. As always, all photos, opinions and words are completely my own. Thank you for supporting the brands that keep JOELIX.com going! And merci Dyson for your confidence and cool products.