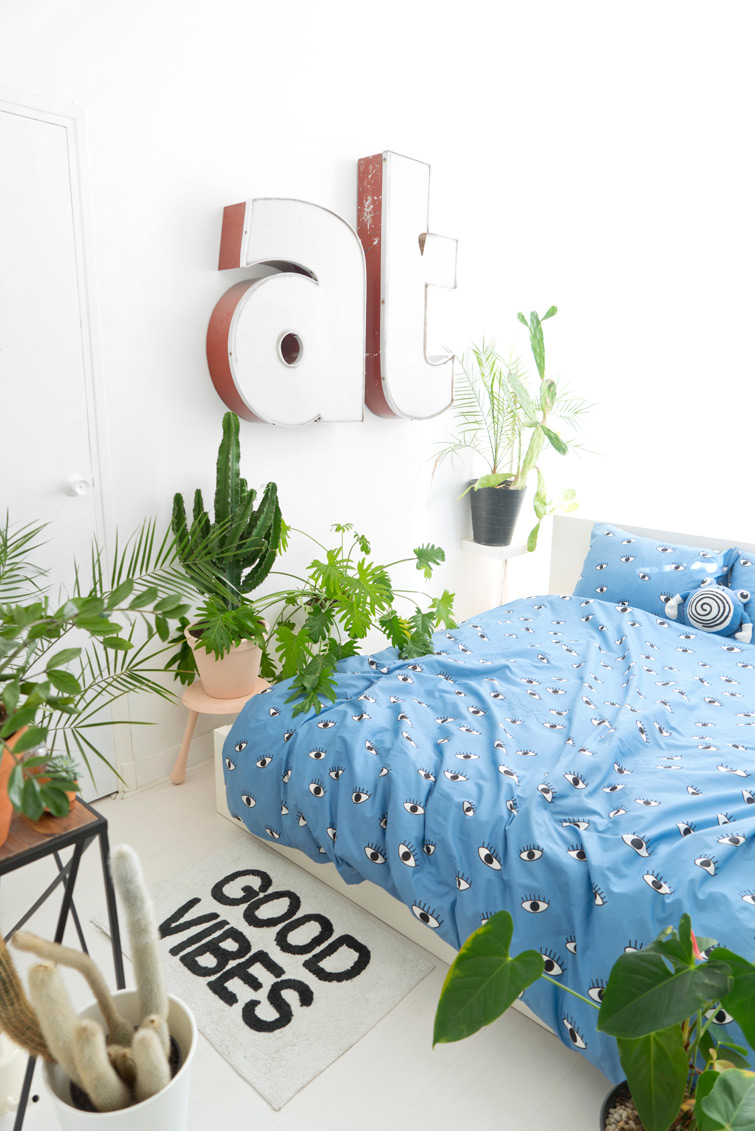 Hibernation mode is in full swing in our home! Most of the plants from the greenhouse are now in the warmer parts of our home, waiting for the winter to start be over. Some plants are actually occupying the guestroom and it looks like a jungle in there. Which I like a lot! Almost enough to spend the night in the guestroom, as we don't have any plants in our own bedroom because there's not enough light. So when Urban Outfitters asked me to pick some products from their new collection, I knew I wanted to make the guestroom extra cozy with some good vibes. The bath mat was the first product I put in my shopping basket, because who wouldn't want to wake up with good vibes?!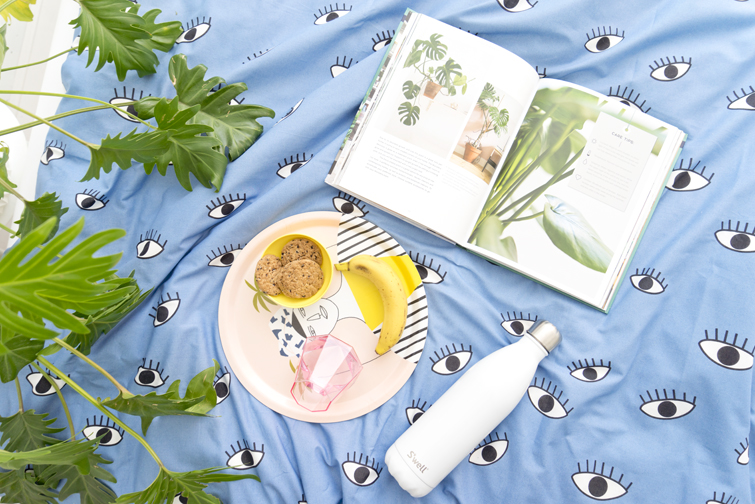 The eye-catcher of the guestroom is no longer the plants, but this cool bedding with hundreds of eyes watching over our guests in their sleep! Or when having a little snack 😉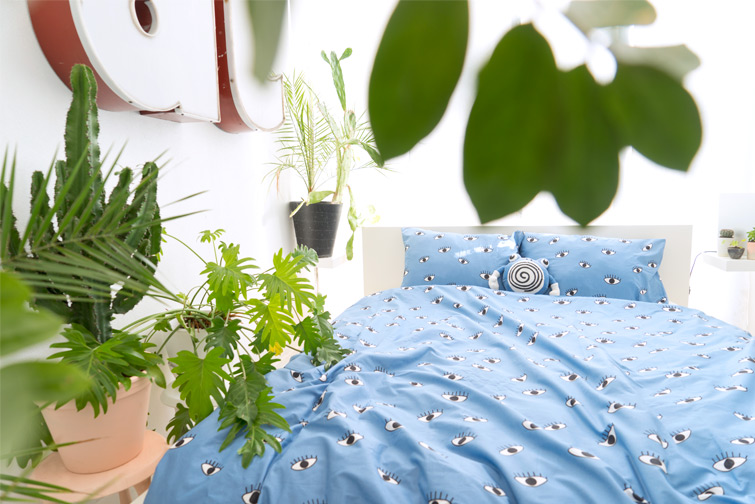 If you're into Pokémon, you probably recognized Poliwhirl making himself comfortable between the pillows. He seems to quite like the jungle vibes in here!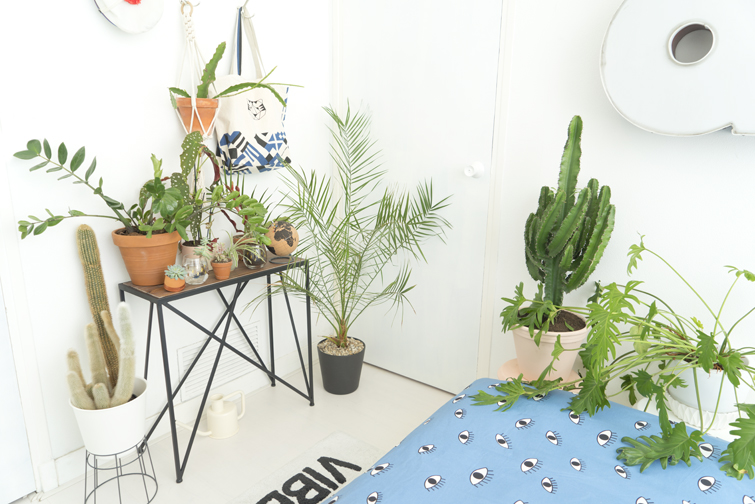 On the console table I displayed some of the smaller plants that need some rest for the winter. I stopped watering all my cacti but keep watering the succulents, palms, Euphorbia, the big Zamioculcas and the Begonia maculata.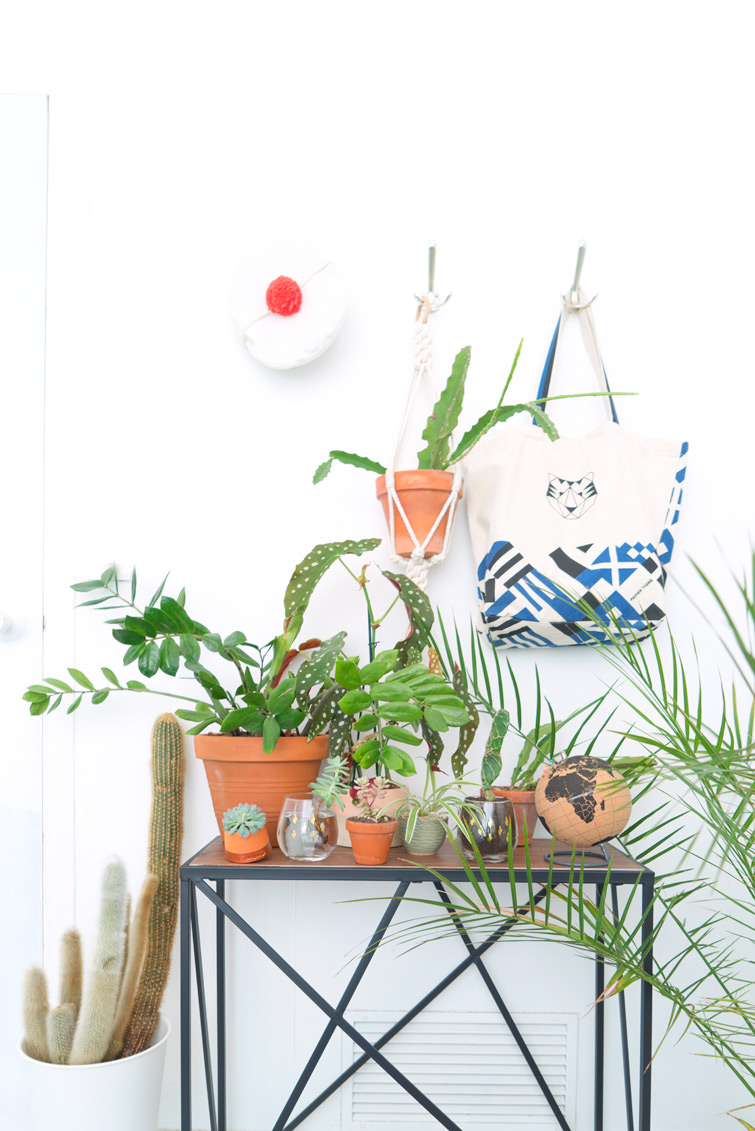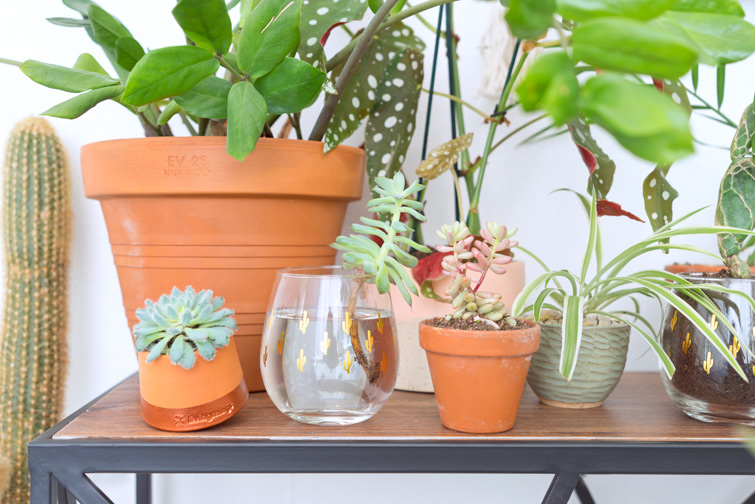 As you know, I'm always on the lookout for containers for my growing plants or new cuttings. Small laboratory flasks, French ceramic yogurt pots or glassware, like these cute glasses with cacti are perfect to grow small plants, as long as you put some drainage balls or pebbles on the bottom. The Opuntia zebrina cactus below loves it! On the cork globe I pinned all the places I've traveled to this year, like Madrid, Helsinki, Berlin, Toulouse and the UK.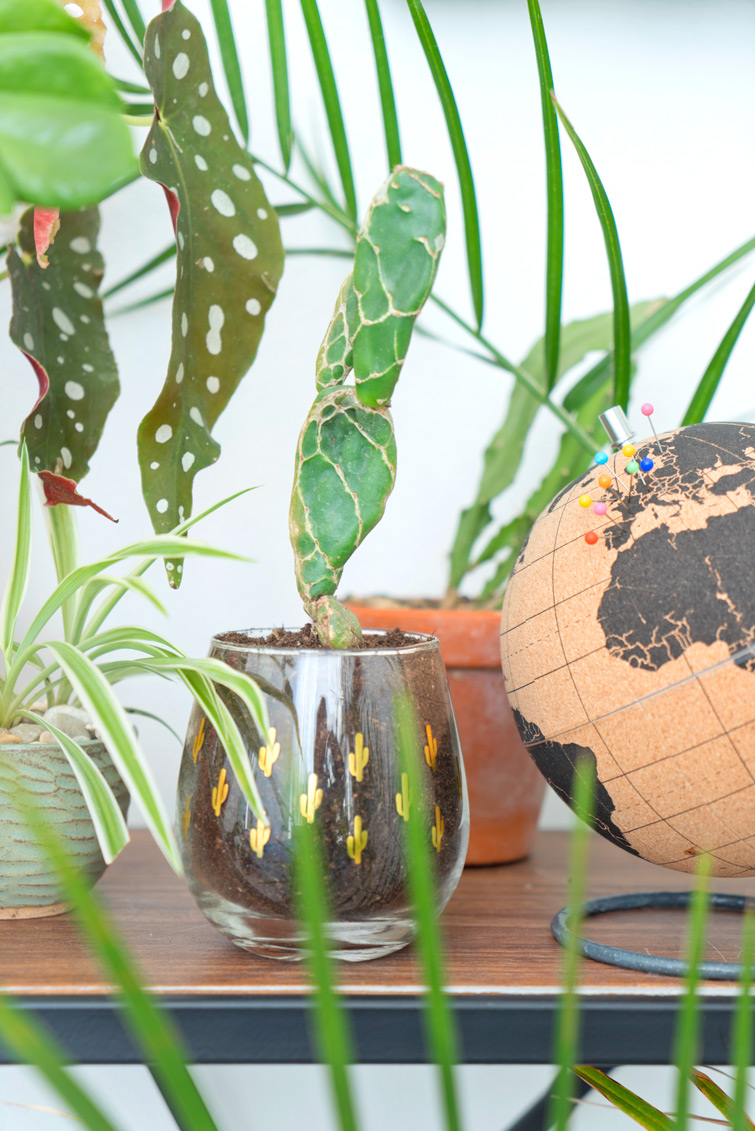 Of course I provide my guests with some good reading material (a.k.a. our own #urbanjunglebook), the cozy perfume of a Byredo Pavillon candle and the joys of this mini plantgang: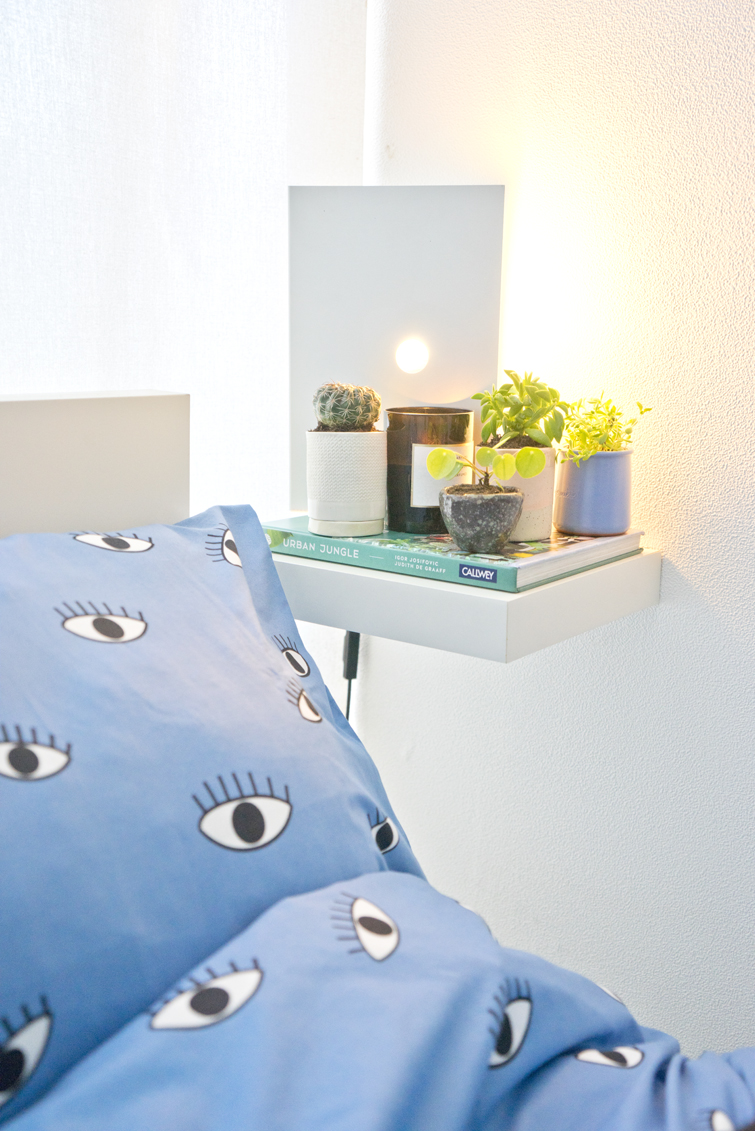 So now the big question is… who will be the next guest in our guestroom?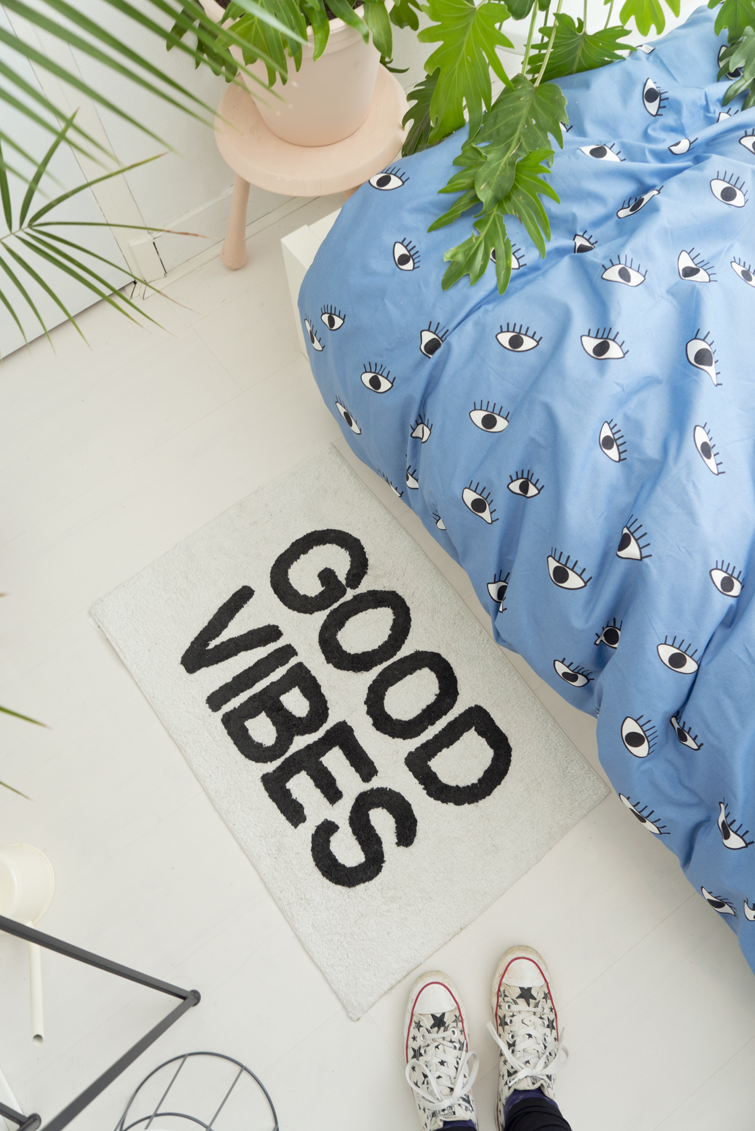 Urban Outfitters products used: Eye bedding /// Good vibes bath mat /// Cork globe /// Cactus wine glasses /// Pink Diamond glasses /// Nelson console table /// S'well water bottle
Plus lots of plants and the #urbanjunglebook
This blog post was created in collaboration with Urban Outfitters. All photos, words and opinions are my own.