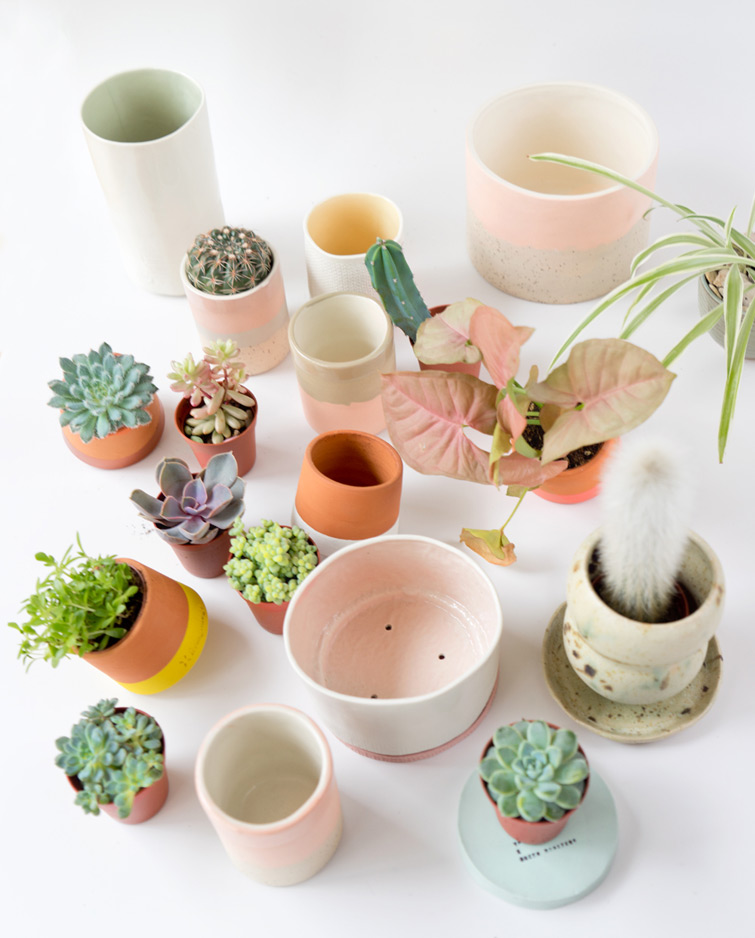 November's Urban Jungle Bloggers topic consists of one of my current obsessions: creative plant pots! Ever since my collection of plants reached the number of 150 I stopped counting. I have no clue if I have more or less plants than that today, because some of them didn't survive this year's lifestyle of (too) much work, lots of traveling and constantly moving them around for photoshoots and other projects. Anyway, with a large number of plants at home, I'm always looking for nice beautiful plant pots to compliment my dear plants. As you know I love French vide greniers (flea markets) for unexpected vintage treasures. Instagram, Pinterest, Etsy and blogs are some of my other go-to-places when I want (or need!) something new. While I was preparing this little roundup of some of my favorites I noticed a pattern: cylinders, terracotta, speckled glazings and graphic shapes and patterns… oh and tits 😀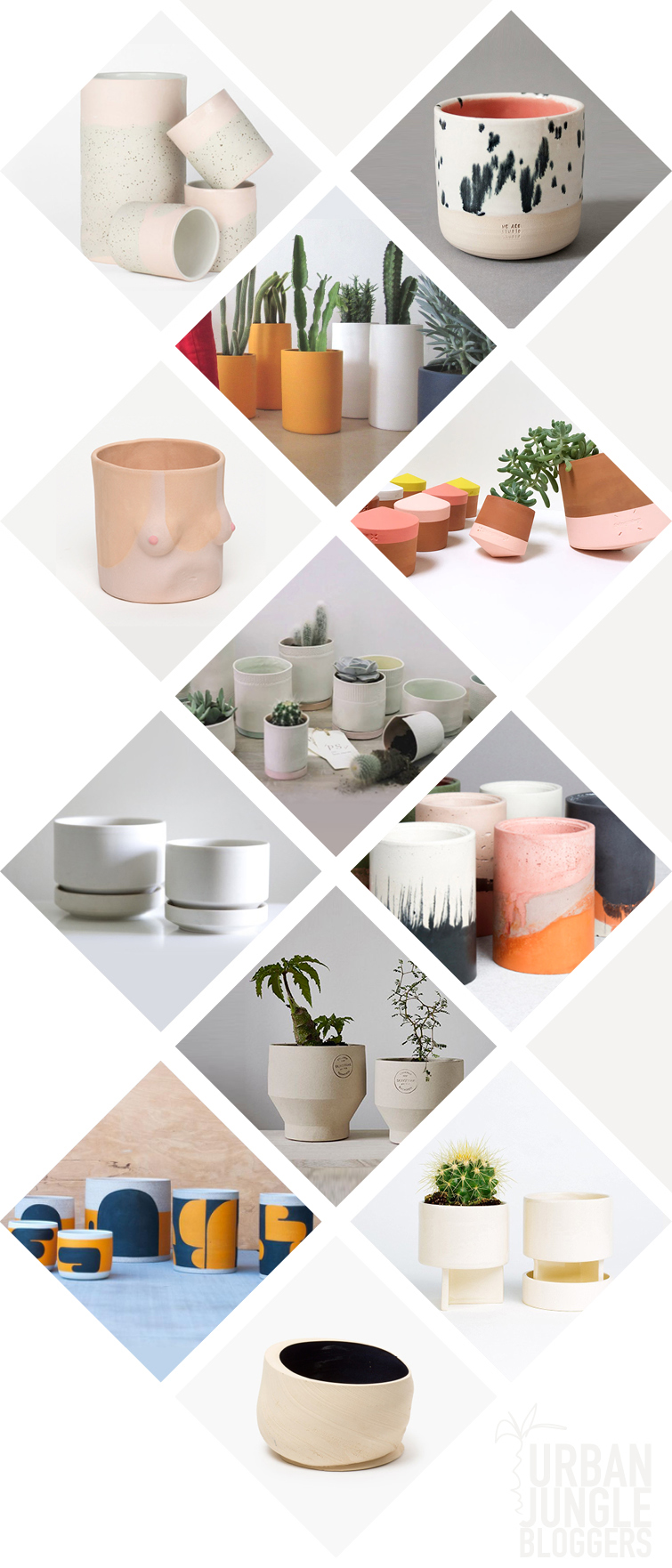 1 /// Maevo Studio (via Etsy) /// speckled from the outside, glazed from the inside and made in Barcelona! (pssstttt you get a 10% off if you follow Mariana on Instagram!)
2 /// We are Studio Studio via Human Empire Shop /// The Dalmatiner cup is almost too pretty to use, love the hint of color on the inside!
3 /// Matagalán Plantea /// Ever since I bought myself a little set of Carolina's cylinder pots, I want more Matagalán pieces! Especially the big yellow pots!
4 /// Group Partner /// Someone said tits? Yep… and tanlines! This fantastic pot also comes in a nude (unglazed) terracotta version!
5 /// Living Things Voltasol /// My friends at Living Things just launched their new baby called Nano: a miniature version of their beautiful Voltasol pots. Cuteness overload! They are also available via Crowdyhouse, find them amongst more pretty Terracotta Design!
6 /// Palm Springs by Yfna x Green Monsters (via Etsy) /// When talented plant lover & professional Fanie meets talented ceramicist Fanny, a beautiful & practical collaboration is unavoidable. The pots come with a matching draining tray with a hint of color (Aurora, Dune and Mint).
7 /// Arabia Finland vintage pot /// A classic that's still on my wishlist.
8 /// Studio Twocan /// Gorgeous colors and patterns, cylinder shapes… a big crush for the colorful plant pots by Studio Twocan from Australia! Also love their name 😉
9 /// Skagerakt x Stilleben Edge pots /// Love the sleek shape of these Edge pots from Copenhagen. And they come in BIG sizes too, which is pretty rare for nice ceramic plant pots. And much needed, because healthy plants grow! Big time!
10 /// Pawena Studio /// I discovered their work via my friend Einat's Instagram. Cylinders and beautiful patterns with a little mid-century vibe, what's not to love 😉
11 /// Light + Ladder Architectural planter /// Interesting shape with matching draining tray.
12 /// Apparatu Extrusion /// This is like potter's art! Made by Xavi in his ceramics workshop in Barcelona that I visited this summer.

Urban Jungle Bloggers is a monthly series hosted by 2 bloggers: Igor (Happy Interior Blog) and Judith (JOELIX.com). Every month we share ideas to create an urban jungle through styling ideas, DIYs and green tips & tricks. You can find additional inspiration on our Urban Jungle Bloggers Pinterest board and keep up-to-date via Facebook or Instagram. Want to join? Find out how on our website and use #urbanjunglebloggers on twitter and instagram. Let's bring some green into our homes and blogs!