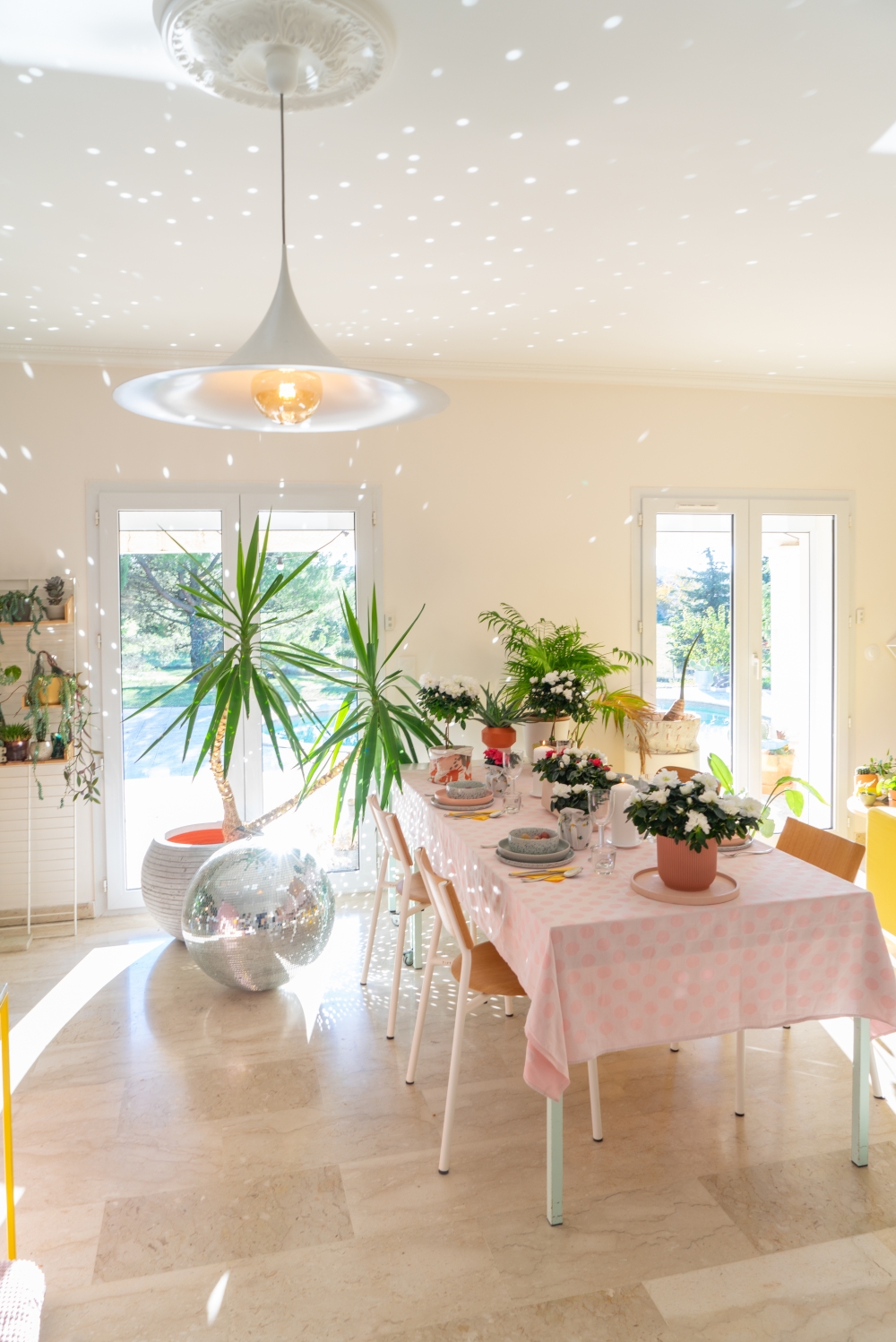 As part of my partnership with Ghent Azalea, I'm showing you a different styling idea every month this fall with blooming Azalea. After the Azalea Jungle in October, this month it's time to set the table for a dinner party! With Thanksgiving, Hanukkah, Sinterklaas and Christmas coming up soon, there will be plenty of opportunities to share meals with our friends and loved ones in the next few months, so why not add some Azalea flowers to your dining table? Azalea are available in many places (click here to see all points of sales in France for example) and right now they are blooming in white, red, pink, coral, purple, orange, yellow…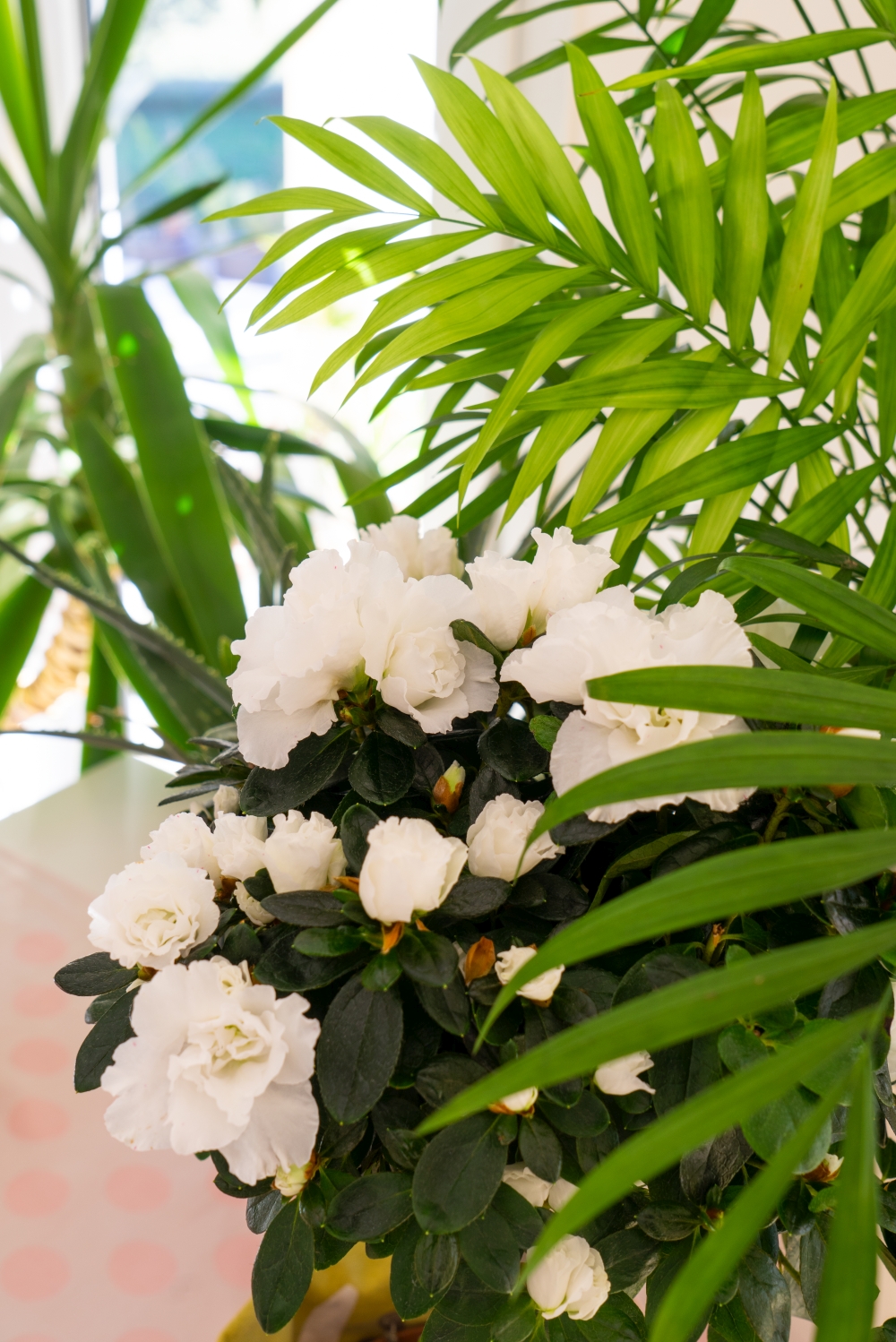 Setting the table with Azalea is super easy: I used two Azalea mini trees and a lot of smaller Azalea plants. For the mini trees I used cotton cachepots that match the cotton table linen. Then I filled a medium sized wide plant pot with four small Azalea (in red and fuchsia pink) that makes an blooming centerpiece. Next to each plate is a mini Azalea in a small pot, wrapped with cactus tissue paper: they make cute little gifts for guests to take home!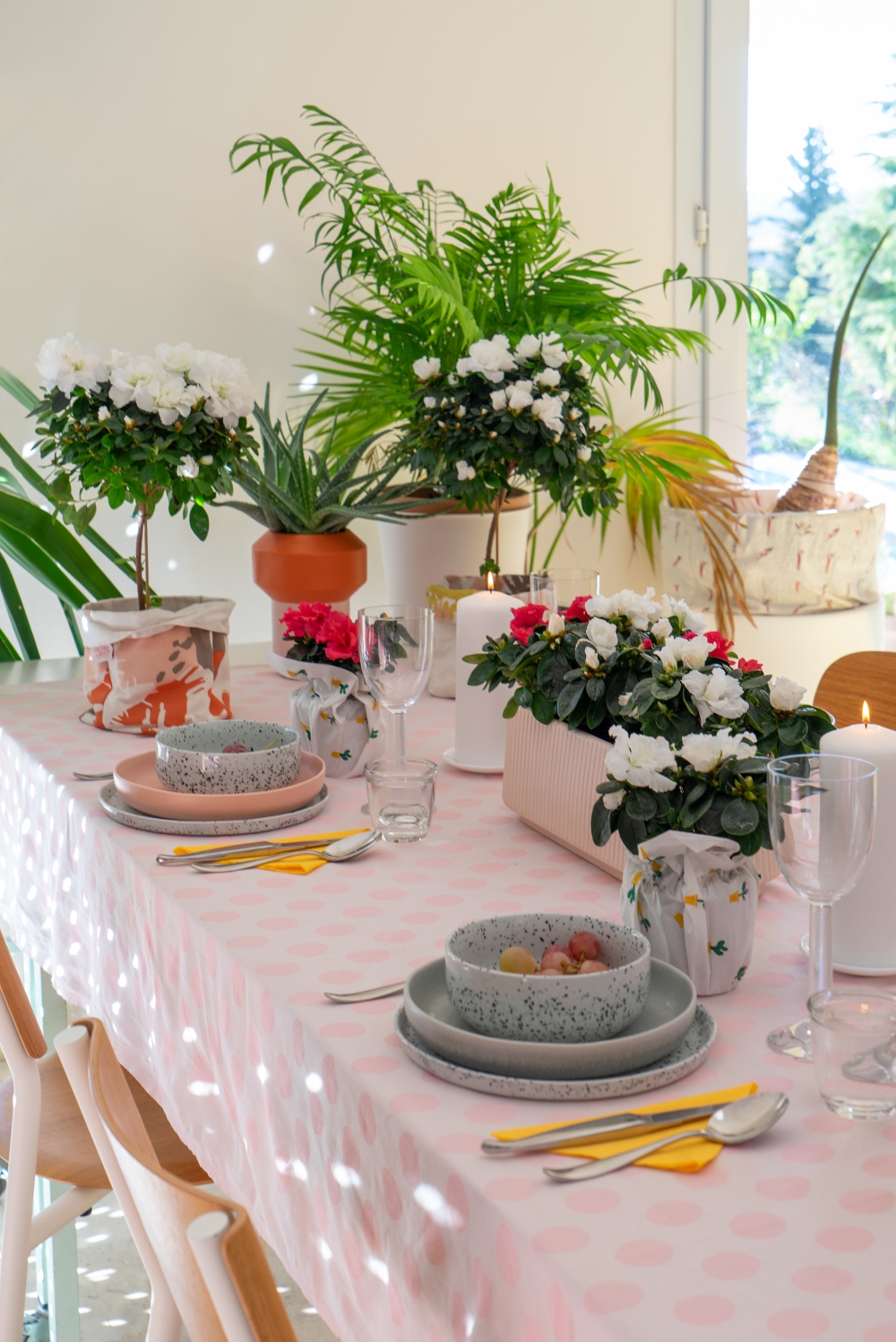 Pretty cute right: a mini Azalea to take home as a memory of the dinner party: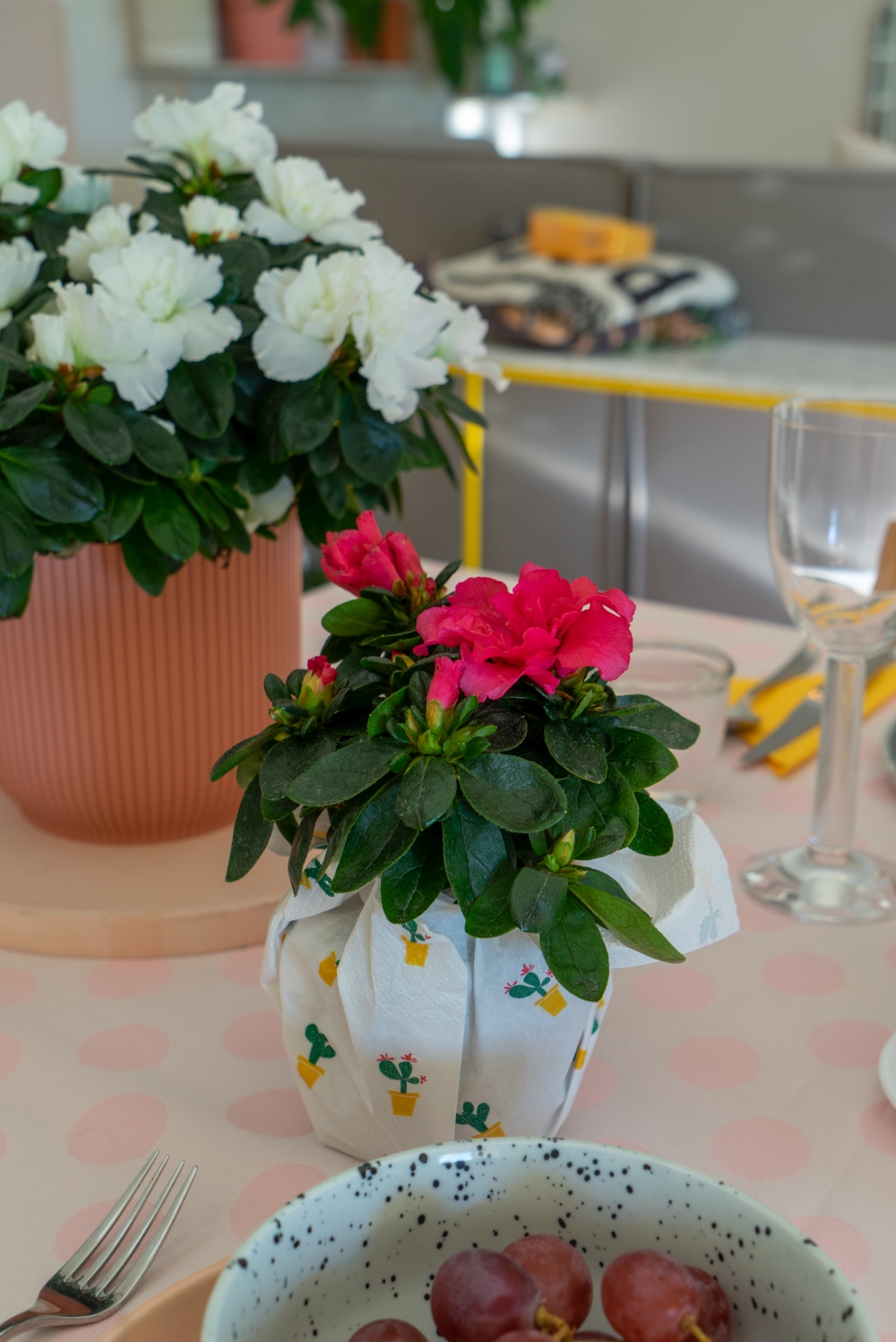 The white Azalea remind me a bit of snowflakes: they are so fluffy: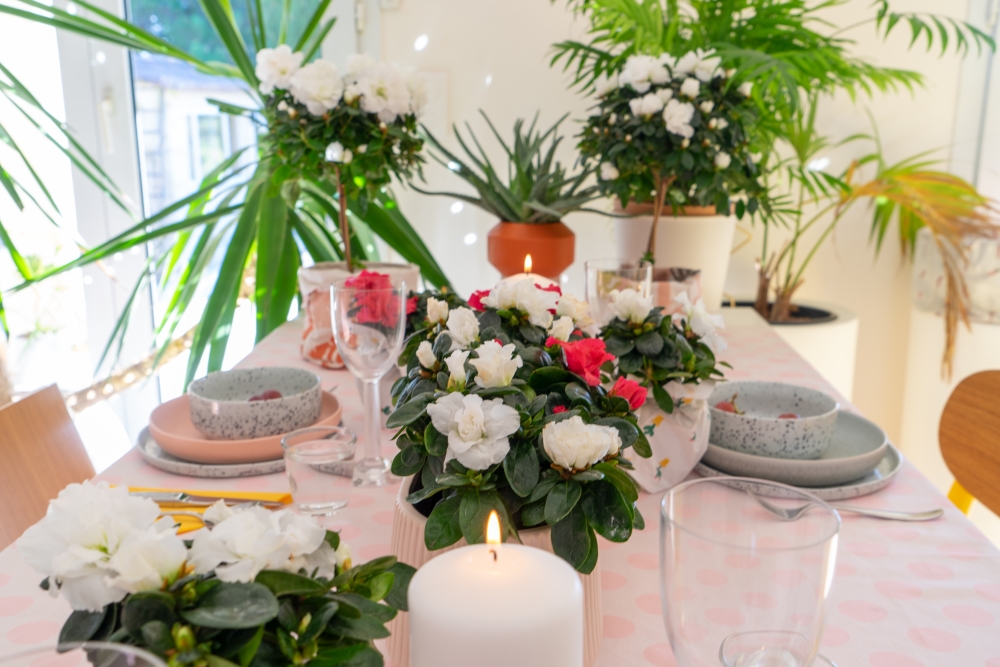 When I set the table it was still sunny outside, but once dinner is served: you need candles! Big stump candles, or tall and swirly candles, or both, it's up to you!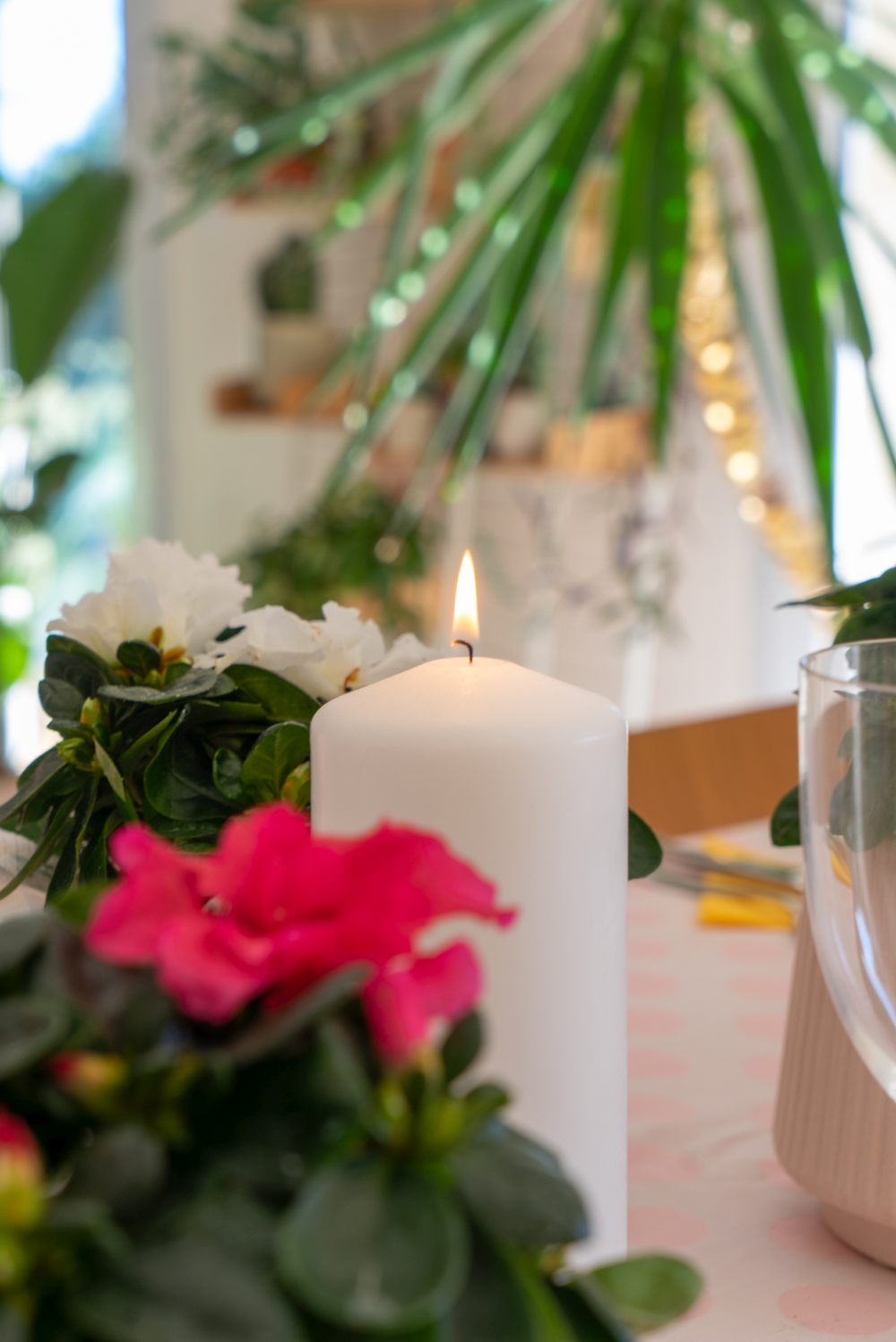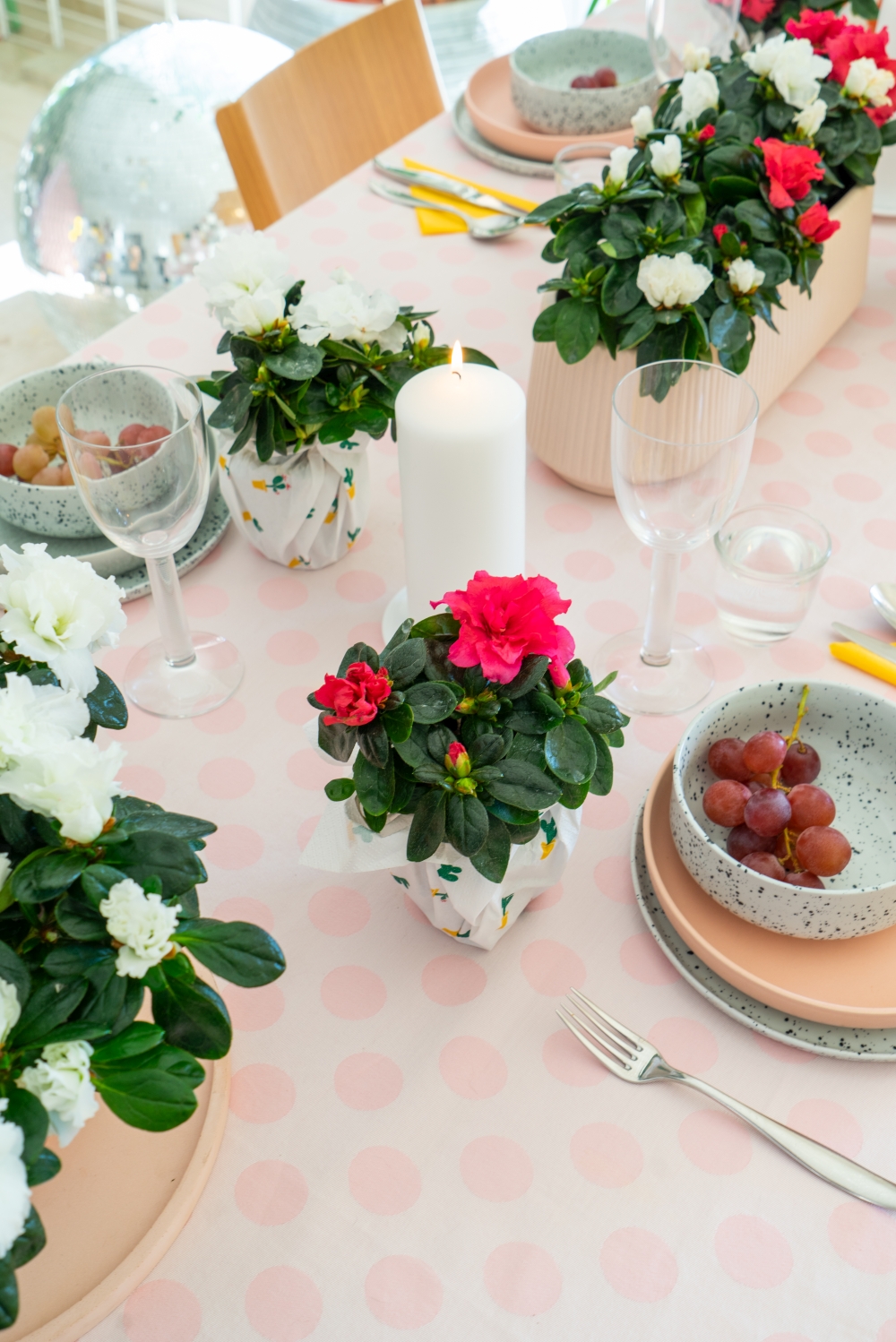 My styling tips
Potted Azalea plants turn your simple dinner table into a lush blooming setting in a heartbeat. Instead of using terracotta or ceramic pots for the plants, use cotton cachepots that match your table linen.
Small Azalea plants make for cute take-away gifts that your guests can take home after the dinner party. I potted mine in small pots and wrapped them in cactus printed tissue paper.
Go for a colorful look with white and fuchsia pink Azalea, yellow napkins, pink table linen and lots of greenery. Or keep it traditional by opting for a red/white color palette for the festive season. There are almost 500 varieties of Azalea to choose from, so there's a lot of choice to make your dinner table look fabulous and blooming.
Now you may wonder why I added grapes in the bowls? Well, I thought it would be a shame to spill hot soup, hours before dinner, and I snacked on some grapes during the photoshoot, so there you have the real answer.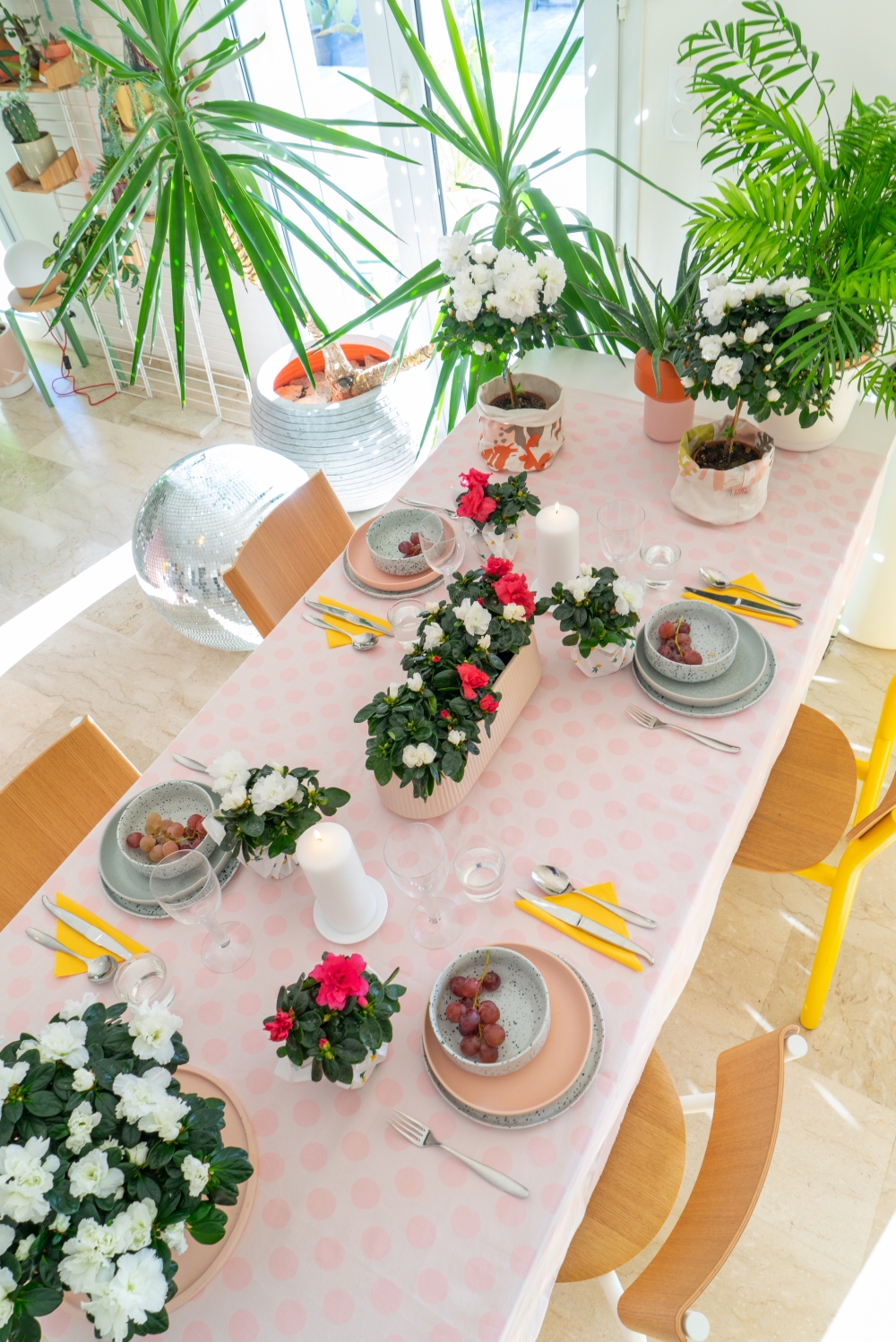 Plant Care
Azalea are easy-to-care-for dinner party gifts, as they adjust really well to a space with a room temperature between 15°C and 25°C. Tell your guests to water their Azalea regularly: immerse the grow pot in a bucket of water twice a week and do not leave any water in the saucer or cachepot. When they give them a cool spot in the home, ideally with bright indirect sunlight, their Azalea can flower up to 6 to even 8 weeks!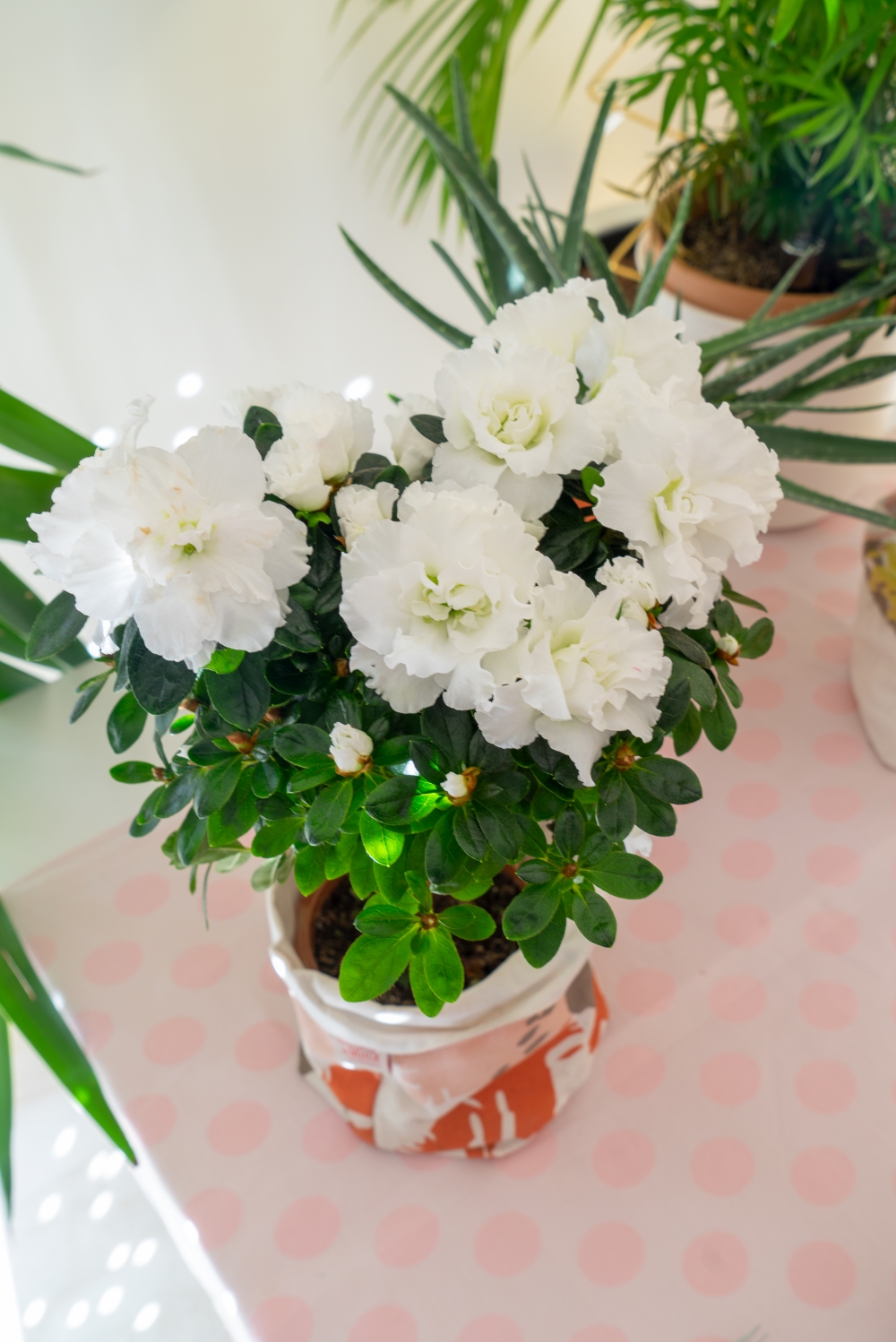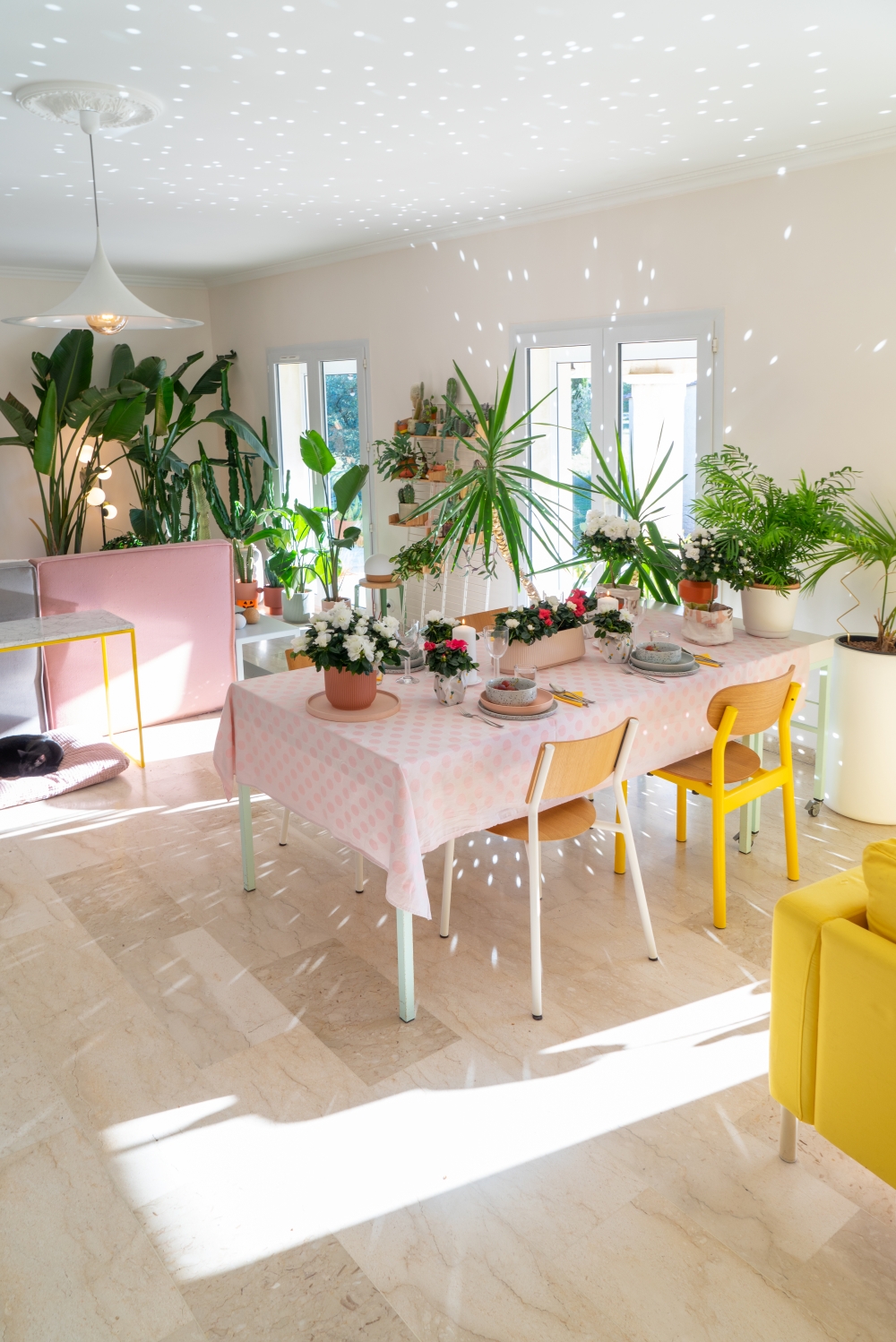 Per Hammar was patiently waiting for our guests to arrive: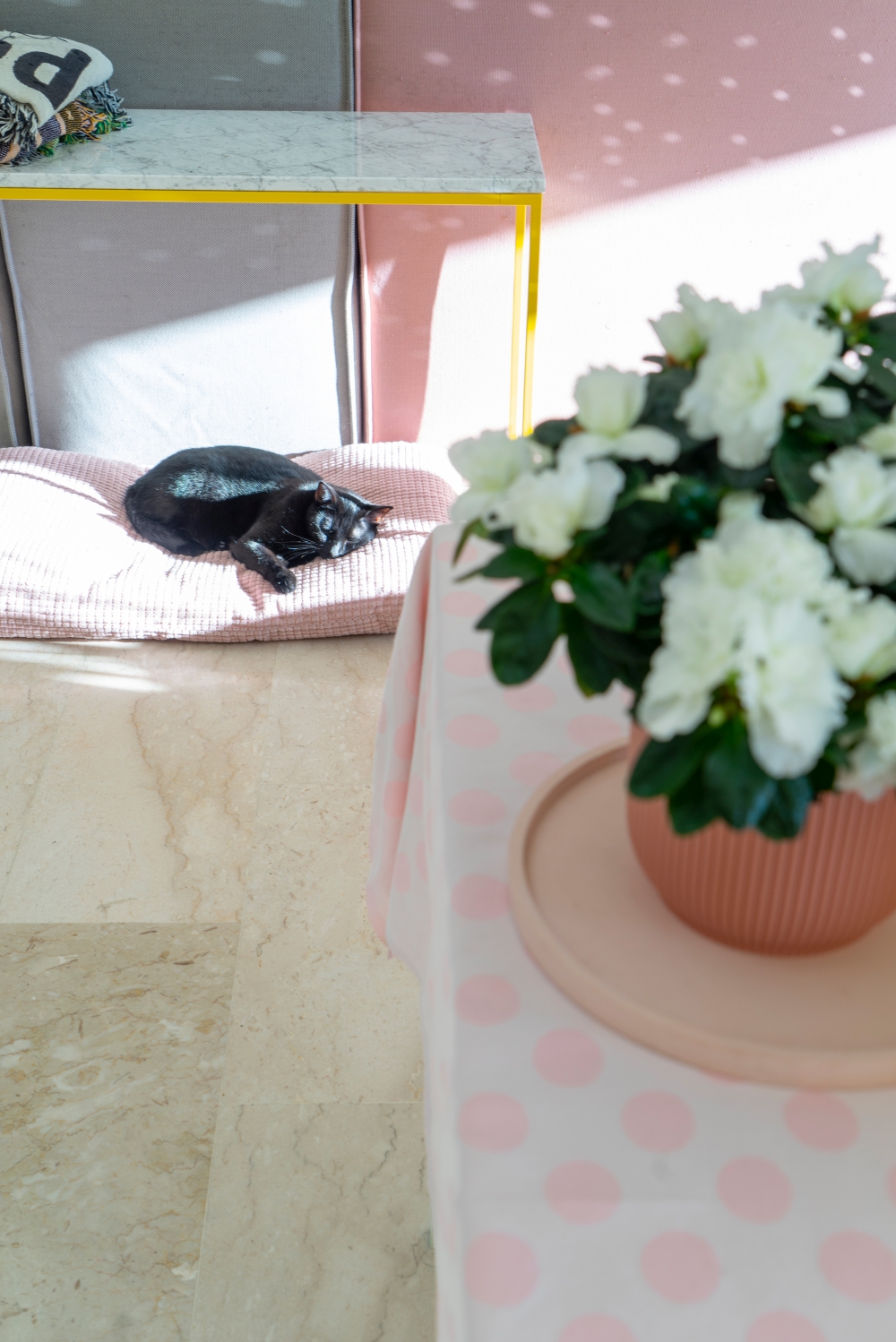 Blogpost created in collaboration with Ghent Azalea.
Click here for all points of sales of Ghent Azalea in France
Pour tous les points de vente de l'Azalée Gantoise en France, cliquez ici.