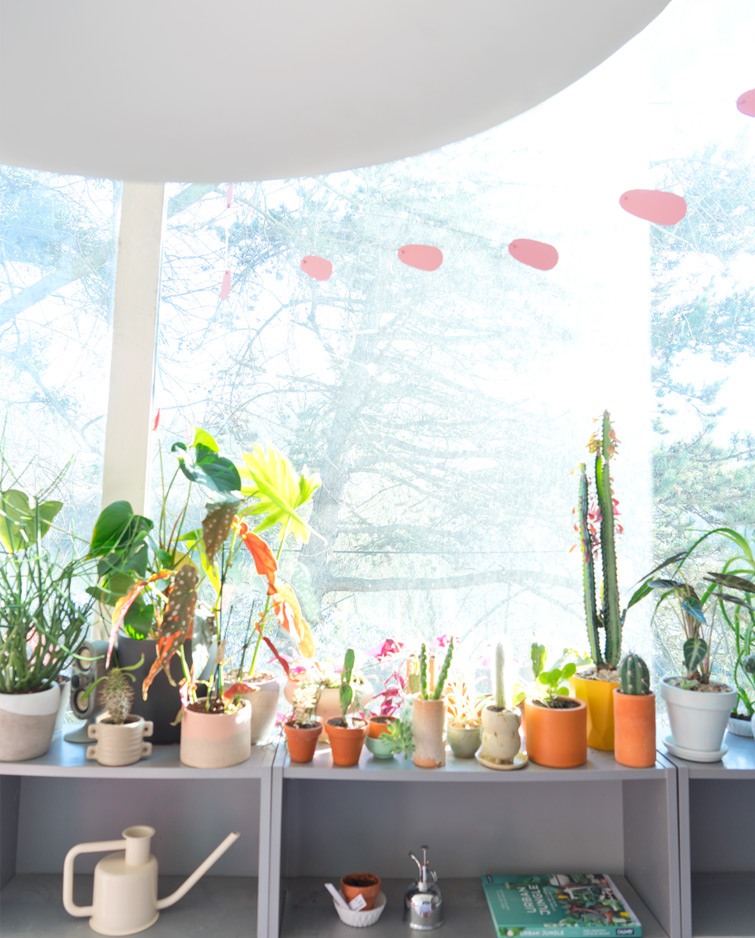 As you already know I don't need a lot of stuff. I'm currently in an over-the-top getting-rid-of-stuff phase. Very Mary Kondo style, although I don't follow her instructions 😉 It just feels like it's time to right-size. But there's one thing I never have enough of: plant pots for my ever growing urban jungle. For last month's Urban Jungle Bloggers topic I listed my favorite plant pots and where I find them: in webshops, thrift shops, brocantes, flea markets, design shops, Instagram, Etsy… And oh boy how I got lost in the latter: if you start browsing all the wonderful handmade or vintage products on offer on Etsy… let me tell you: I spent way too much time picking some new items for our home. And the cool thing is, that Etsy recognizes your style once you <3 some items, so every time I log in, there are new suggestions based on the items I love or new products from my favorite sellers.
My first crush was on the contemporary ceramics from Maevo Studio from Barcelona. I love the glazings on her coffee cups that are perfect for small sized succulents and cacti. Mariana also creates larger plant pots, so I got a wide one for my Begonia maculata.
While looking for more handmade ceramics I stumbled upon the work of Jenni Oh Crafts from Rome. She creates interesting tea and coffee cups in stoneware, but I spotted one really cute plant pot with a cool shape and little saucer. It's the perfect home for this little hair cactus!
Did you know you can even buy plants on Etsy? Not just plant seeds, but also real living plants! I found this new Etsy store from Toulouse that sells interesting cacti and succulents: The Cactus Corner Shop. I picked 3 cute ones: a Euphobia lacta cristata because I love the color so much, an Euphorbia inermis with it's funky shape and an Opuntia zebrina with interesting zebra stripes. They arrived safe and sounds after a little trip from the South of France and I can't wait for spring when they'll start growing again.
Another big crush are the mobiles of French company VOLTA Paris. Actually I was looking for some artwork for the walls, but couldn't make up my mind. When I lay eyes on these moving metal "sculptures" I knew this was the artwork I was looking for! My Emotif mobile is in constant movement with an elegant twist and I love the dusty pink color how poetic it looks!
And a special mention for the Palm Springs collection of Green Monsters. When talented plant lover & professional Fanie meets talented ceramicist Fanny, a beautiful & practical collaboration is unavoidable. The pots come with a matching draining tray with a hint of color in Aurora, Dune and Mint. They're very pretty and practical at the same time!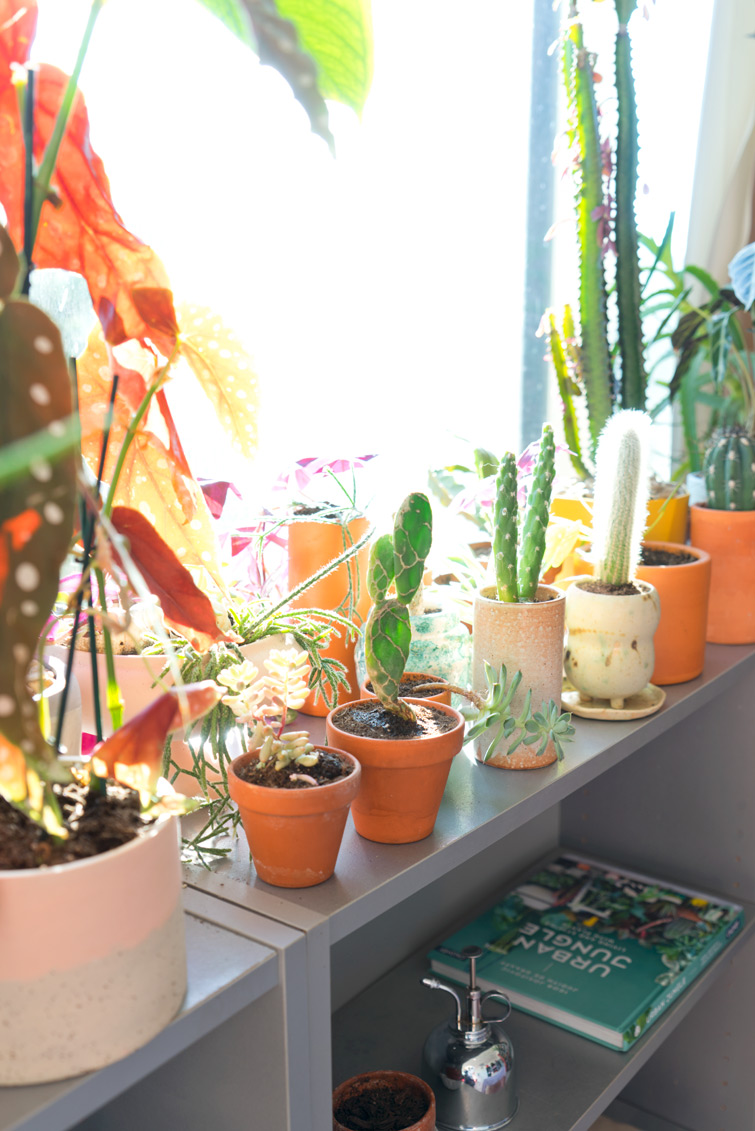 Do you ever shop on Etsy? And how do you find the things you're looking for? I realized it was a bit tricky to find specific items in a specific style, but If you're looking for nice things on Etsy, I can warmly recommend you to check out other people's "Items I love" to find the coolest things. These beautiful items are currently on my Etsy Items I love list: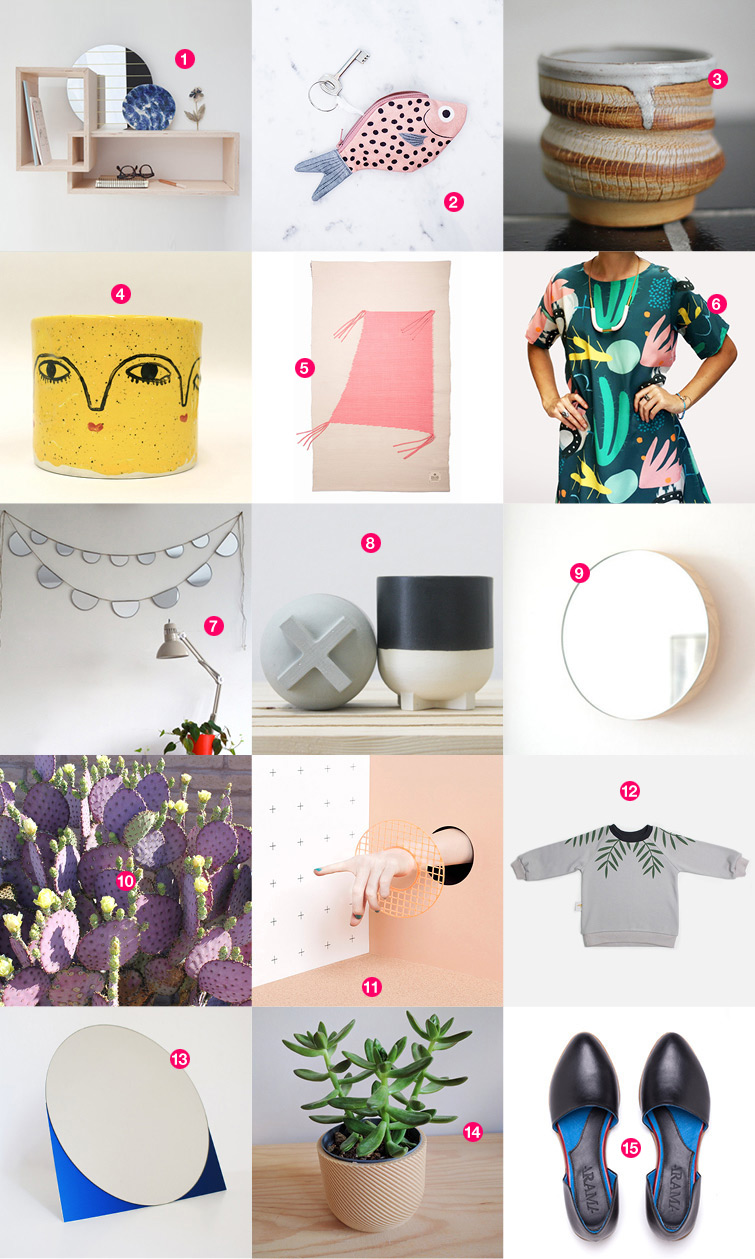 1 Wall shelf daily gems by StudioLilesadi /// 2 Fish purse by DonFisherShop /// 3 Dancing bowl by LAccentNou /// 4 Melted Faces plant pot by KinskaShop /// 5 Chandni Kabra rug by Rug by Gur /// 6 Cactus Silk dress by DoopsDesigns /// 7 Mirror Bunting by fluxglass /// 8 Ceramic Espresso cups by ONEandMANY /// 9 Mirror coat hanger by Etmanufacture /// 10 Opuntia violacaea cactus pad by OldPuebloEmporium /// 11 Modern minimalist bracelet by HominiStudio /// 12 Fern long sleeve by Swearhouse /// 13 Brass Table Mirror by Calvill /// 14 3D printed plant pot by Minimum Design /// 15 Leather flats by ARAMAshoes
Merci beaucoup to Etsy for sponsoring this post. As always all opinions and photos are my own (except for product photos).