Only 2 months ago I discovered the 1st English issue of this beautiful e-mag from Lithuania, called "Llamas' Valley". Which is about perfect places and imperfect people. Born in Lithuania, and now exploring the world. For the spring issue Llamas' Valley asked me to style one picture with a spring theme! It came out today and you'll find my contribution on page 18/19.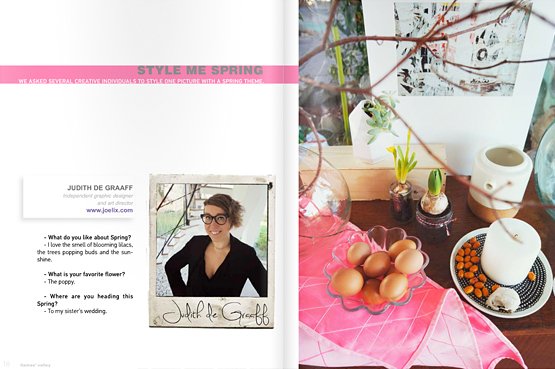 With some fresh hyacinth bulbs and daffodils imported from Holland, a bowl of eggs (how cliché!), a fluo pink tea towel by Hay, my favorite Marimekko Räsymatto plate, some freshly picked palm tree seeds from the South of France, my new Whistler tea pot from Alma Gémea (via Gosto) and a new photograph by my dad, I put together a pink composition.
Very honored to be featured in such a nice publication. Thanks Alge!