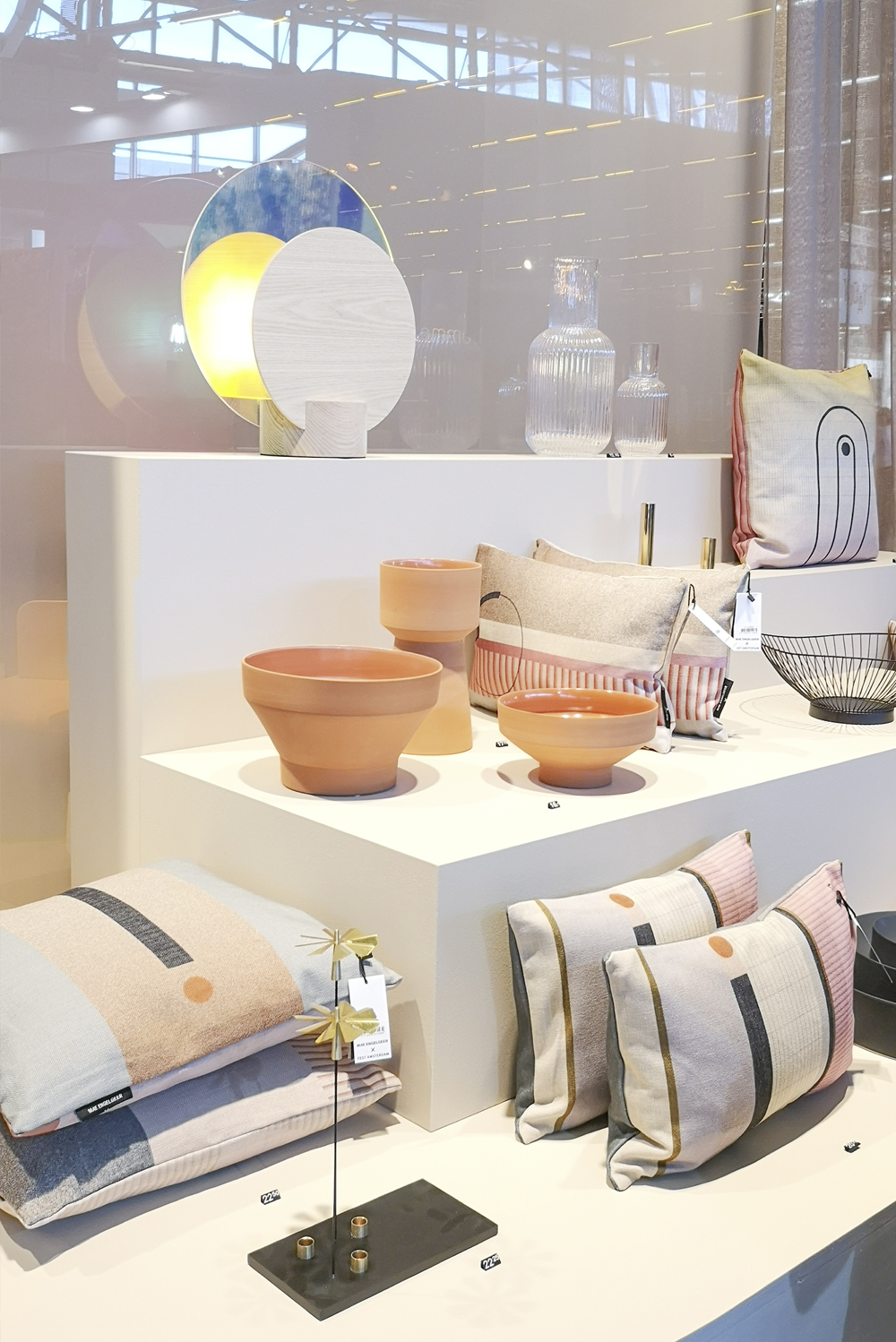 Cane, dusty pinks & corals, terracotta, arc-shapes… and overall rather neutral color palettes. This September's edition of Maison & Objet didn't surprise by its innovative use of colors or shapes, but comforted in what we already know that's coming: more natural materials, better craftsmanship, terracotta, more pink, circular shapes. As always it was nice to speak with designers, brand managers and fellow bloggers (Coucou Ilaria, Valérie, Juliana, Freg, Nannette, Marie, Nathalie) (top image of the booth by Fest Amsterdam)
Let's go for a tour of some of my highlights of Maison & Objet, september 2018:
Maybe I was hungry, but I kept spotting bowls with beautiful fruit & veggies everywhere (prickly pears, cactus fruit on the left, fresh figs on the right):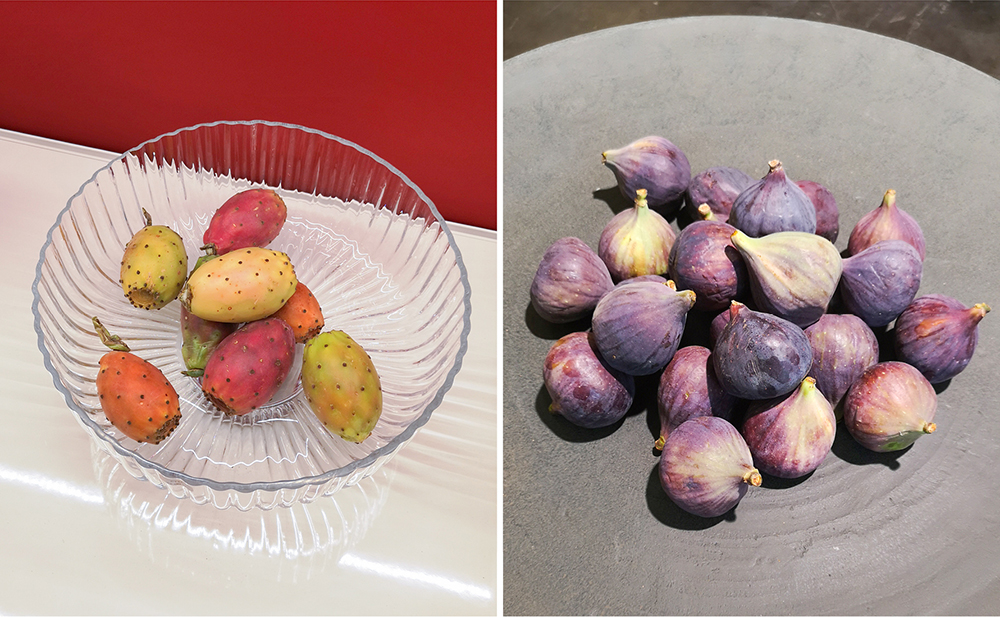 Eco-conscious designs from vegetable tanned leather and recycled leather plant pot covers by Miolos Design. Made in Galicia (North-western Spain), a region which I love, and visited a few years ago. And in the stand of Sprout they had hundreds of cuttings growing in water, elegantlydisplayed on their Sprout porcelain dishes: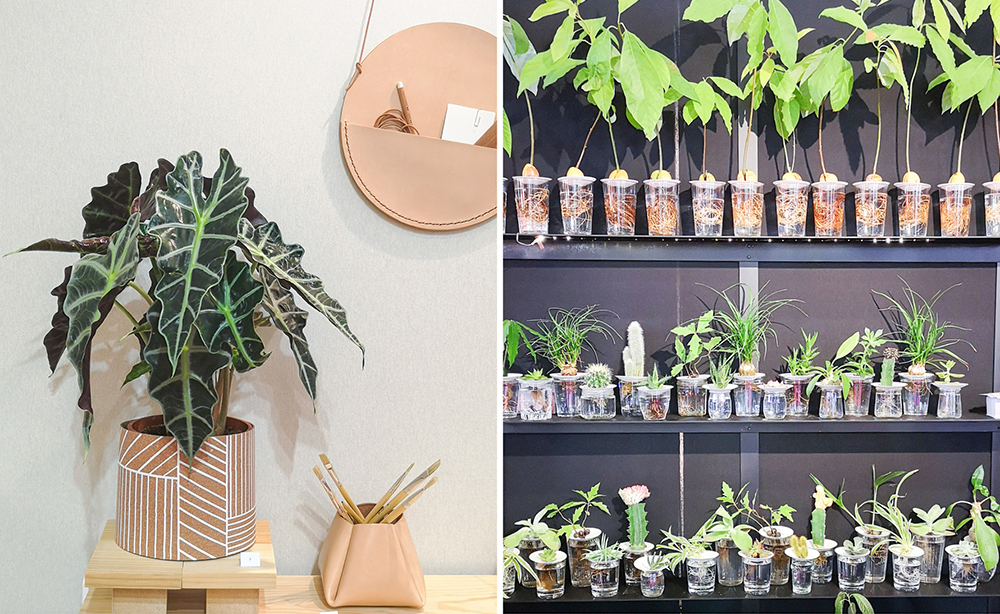 Not new at all, but a first for me: Danish brand OYOY. These amazing ceramic pots with balls made swoon… they're so pretty! The striped Confect pouf and Takara cushions are also really stunning…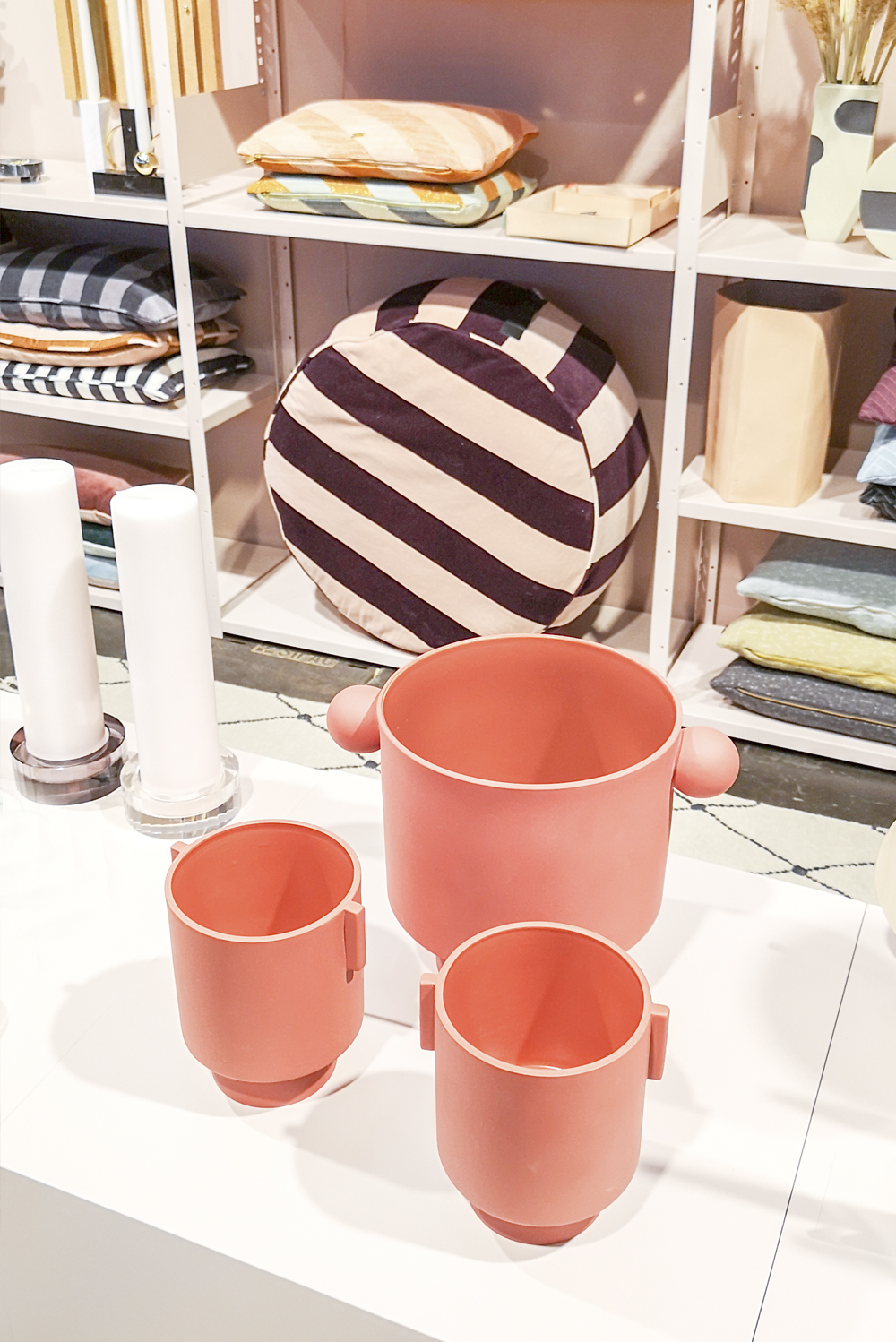 The Inka Kana pots come in two colors: Sienna and Rose. And on the right: glass vases "Riflessi" by Milan-based studio Böjte – Bottari for Paola C: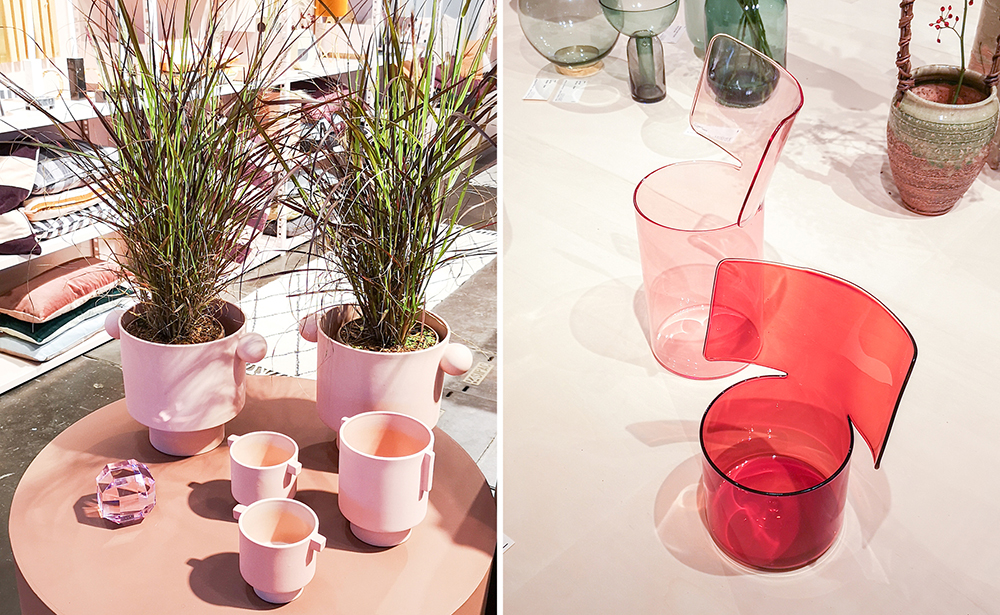 More pink goodness by Bornn Enamelware from Turkey. How amazing is their new line of enemal dishware. The details and colors are just stunning!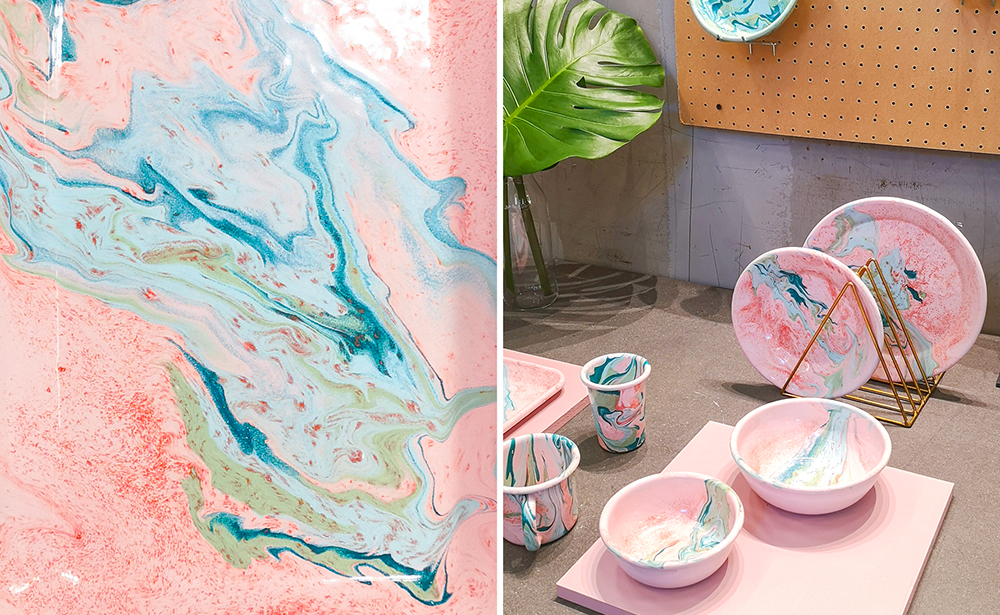 These products may look familiar if you follow me on Instagram: I use the Fumario vases as planters for an Aloe plant and a Spider plant. Lucie Kaas' latest product is a set of "Leaflike" decorative leaves in chrome, brass, pink and black. They add a contemporary botanical touch to your home. And the shadow patterns they create are equally eye-pleasing!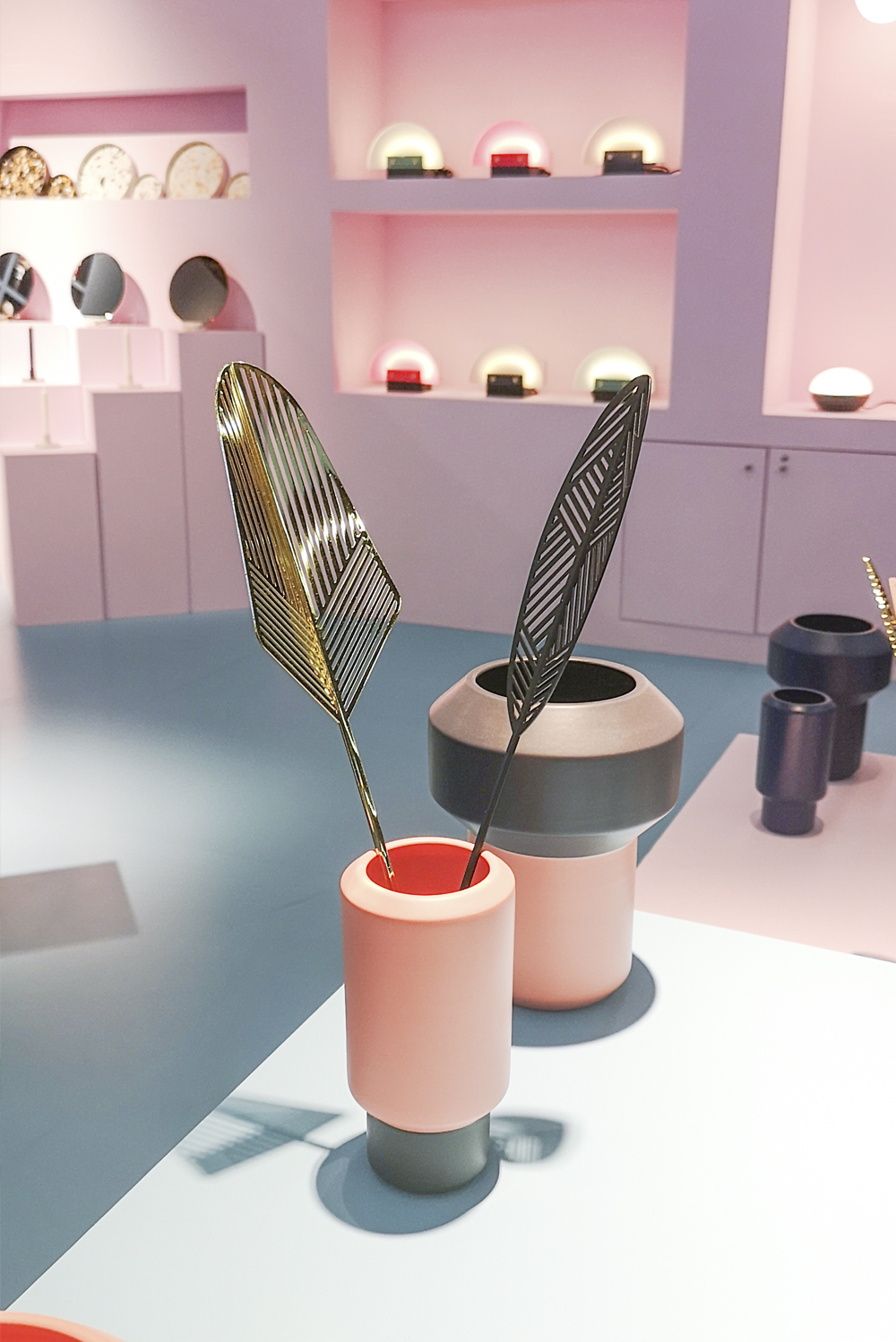 I can't deny the bold (and trendy) colors caught my eye first: but the details, like the Hangry poster by Danish brand MADO made me smile. By the way, the brand is a collaboration of two Copenhagen-based design companies, All the Way to Paris and Paper Collective.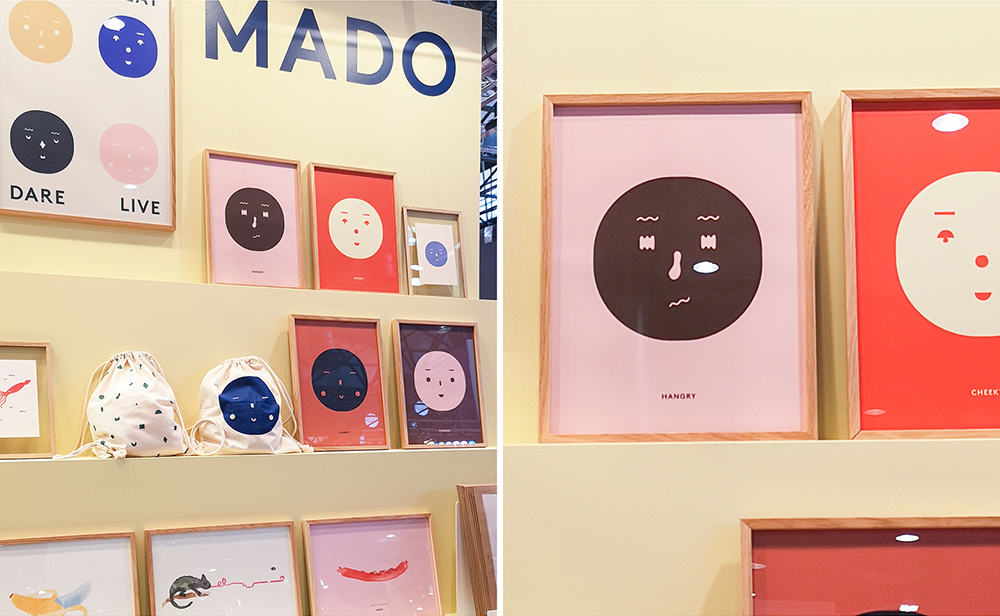 The Eye Rug by Dutch brand Maison Deux made me smile: super simple, fun and clever. The porcelain Tuba vases by Sebastian Bergne for Japanese brand Ha are also very desirable: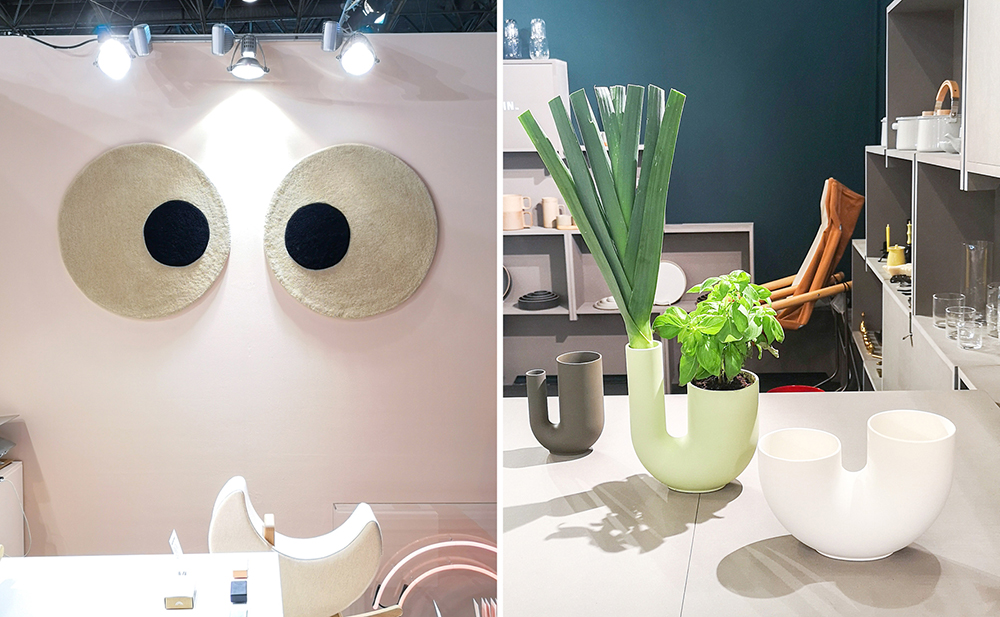 I couldn't resist touching these oversized Cloudy plant pots by Swedish brand DKBD. The cabinet by HK Living, on the right, almost mixed all trends of the moment: arc-shaped, cane paneling, brass base… and the pink is in the items inside.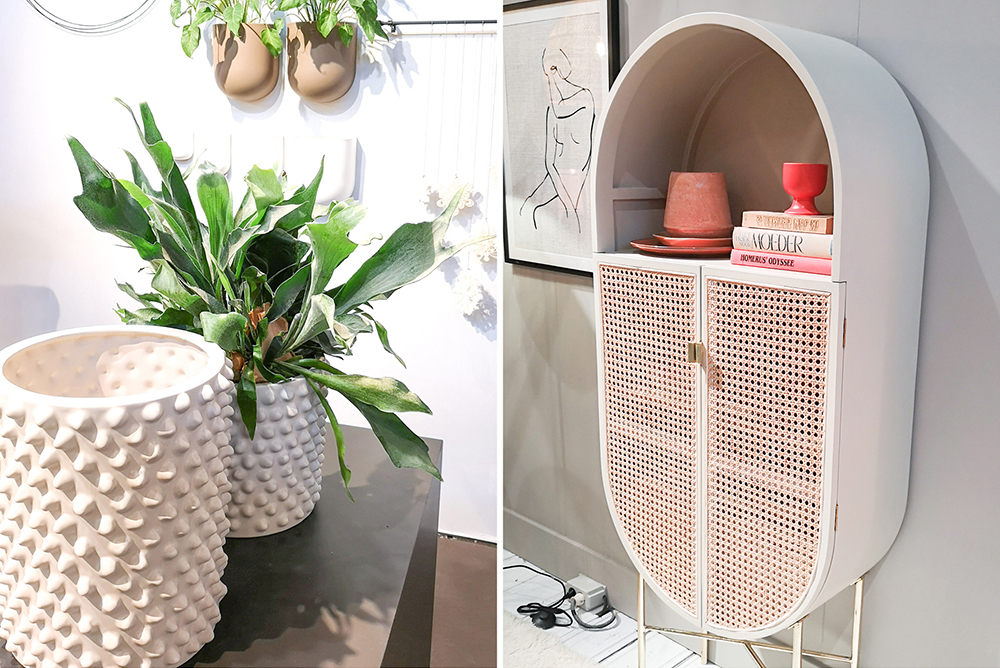 Dutch design brand House of Thol launched their new product called "Flower Constellations", a perforated brass tool that comes in all the signs of the zodiac. It makes a few stems of flowers look like a million dollar bouquet. Also check out my Instagram Stories (highlighted to see how it works). And another favorite on the right: the lamp designed by Ionna Vautrin for the new TGV trains, by Moustache.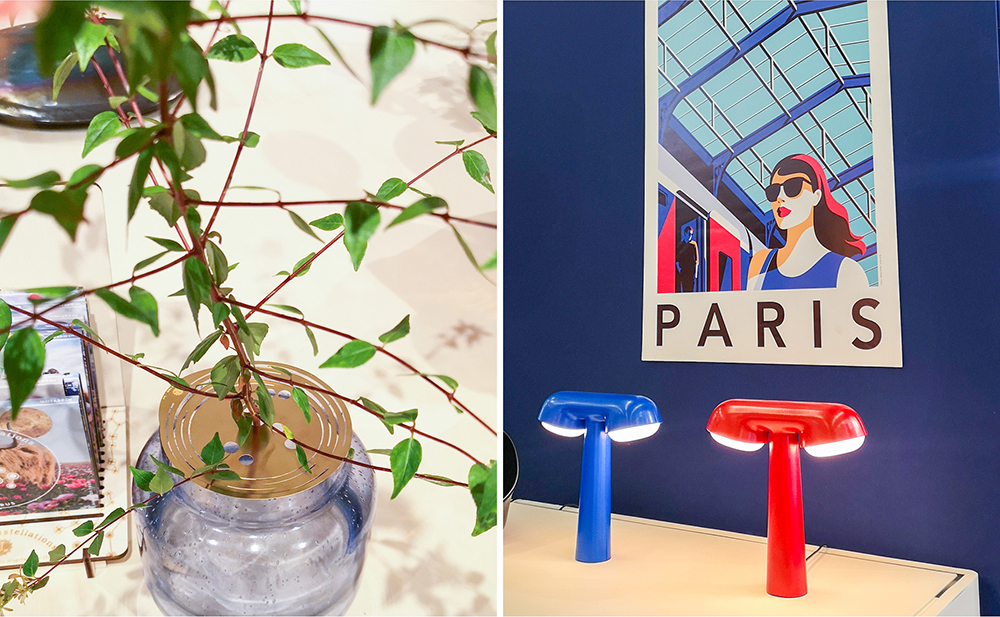 Dutch designer Renske Versluijs launched her new collection of wall jewelry at M&O. The designs come in mix of copper, brass, leather, ceramics, wood. And we find the same Mediterranean / Klein / Cobalt blue at Octaevo from Barcelona, that presented their new range of paper flower vases with bold and colorful designs: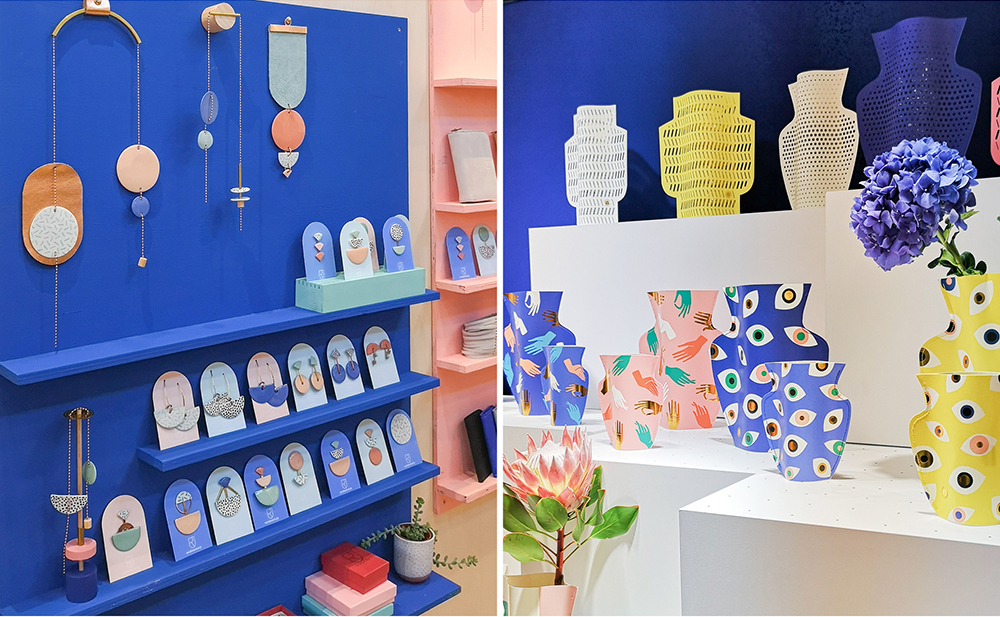 And last, but definitely not least: my favorite booth at Maison & Objet by Valerie Objects. My phone photos don't do it justice, it was warm, contemporary, home-y, easy-going… like a real home where I could see myself hang out and feel good. Their booth looked also very different from their previous setups which were more clean like an art gallery. It reminded me of Veerle's own home in Antwerp that we visited during the Function + Form blogtour.
The new porcelain wall shelves and holders that you see below, would look great in a bathroom! There's even a mirror version, already available in the Valerie Objects webshop.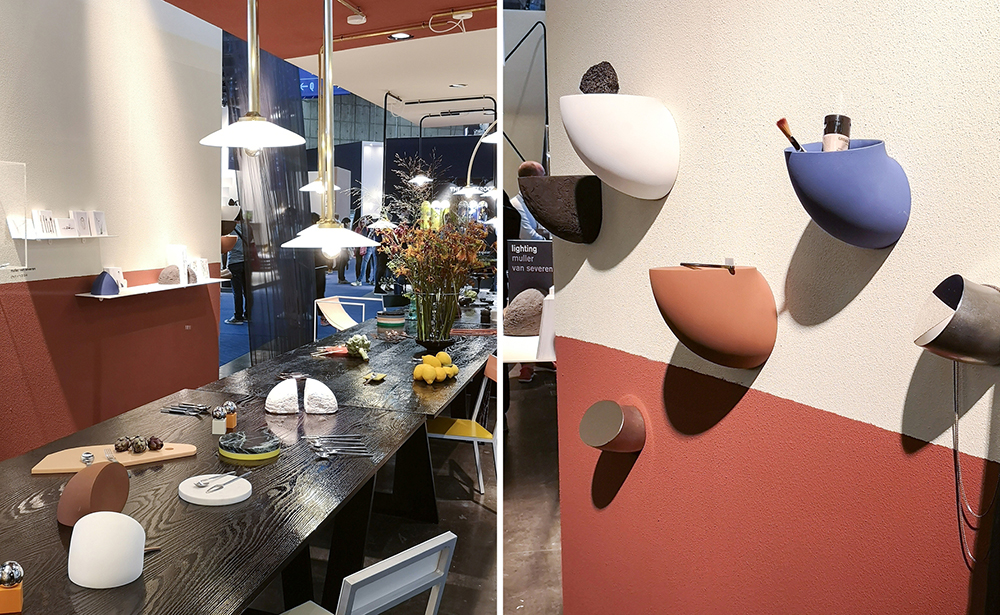 Check my @joelixjoelix Instagram pinned highlight, for some additional images and videos, if you like!