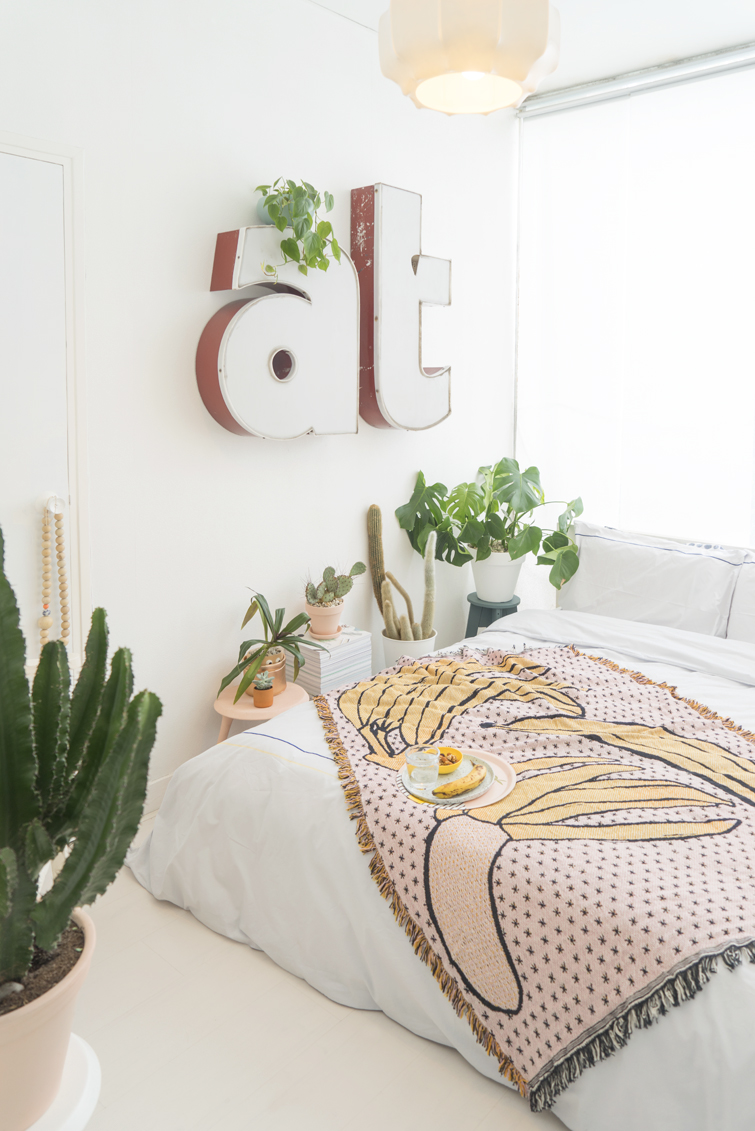 Redecorating our home while it's on sale, feels strange and delightful all at the same time. Secretly I'm already decorating our new home, even though we have no certainties about the where and when. So while keeping our home as "neutral" as possible for the sake of selling, it's a delight to make it actually look nice and cosy and feel like home while we're still here. And to be able to keep receiving guests, because that's what you do when your home has 27 rooms 😉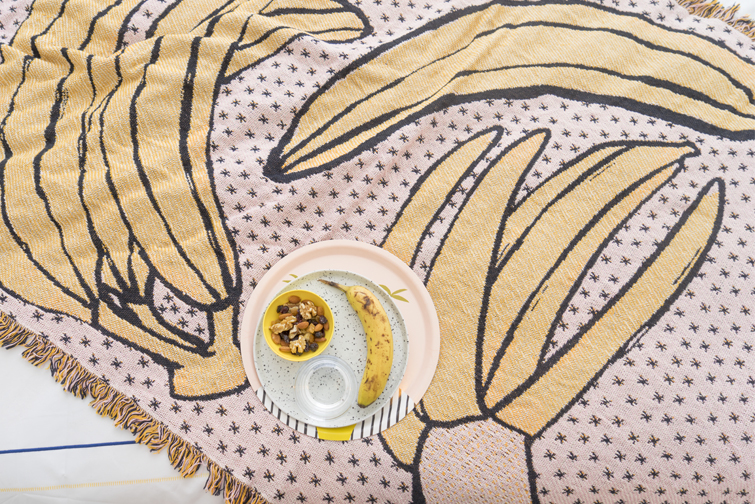 So today I gave the guestroom a new look. More plants, and less mess: I moved out the little cabinet that usually holds bed linen and moved all the coats to the dressing and created a little nook to read or to take off your shoes. Now it's always a little tricky to have a guestroom: I mean we are not a hotel or even an airBnB, but in general our guests sleep rather well in our home. The room is small (245x325cm) with a high ceiling, the double bed and mattress were purchased only a few years ago and in great condition.
But there was one thing that I've been nervous about for a while: the pillows. Nothing sleeps better than your very own pillow, that has this perfect mix of fluffy and firm, with the ideal thickness for your sleeping position, don't you think? The ones we had in the guestroom were very random and usually I would stack two on top of each other, to make sure our friends would have something to choose from. That's where eve Sleep came in: they asked me if I wanted to try their new memory foam pillows. They elaborated a medium firm pillow that gently contours your head, neck and shoulders and relieves pressure points no matter how you sleep. So h*ell yeah I wanted to try those!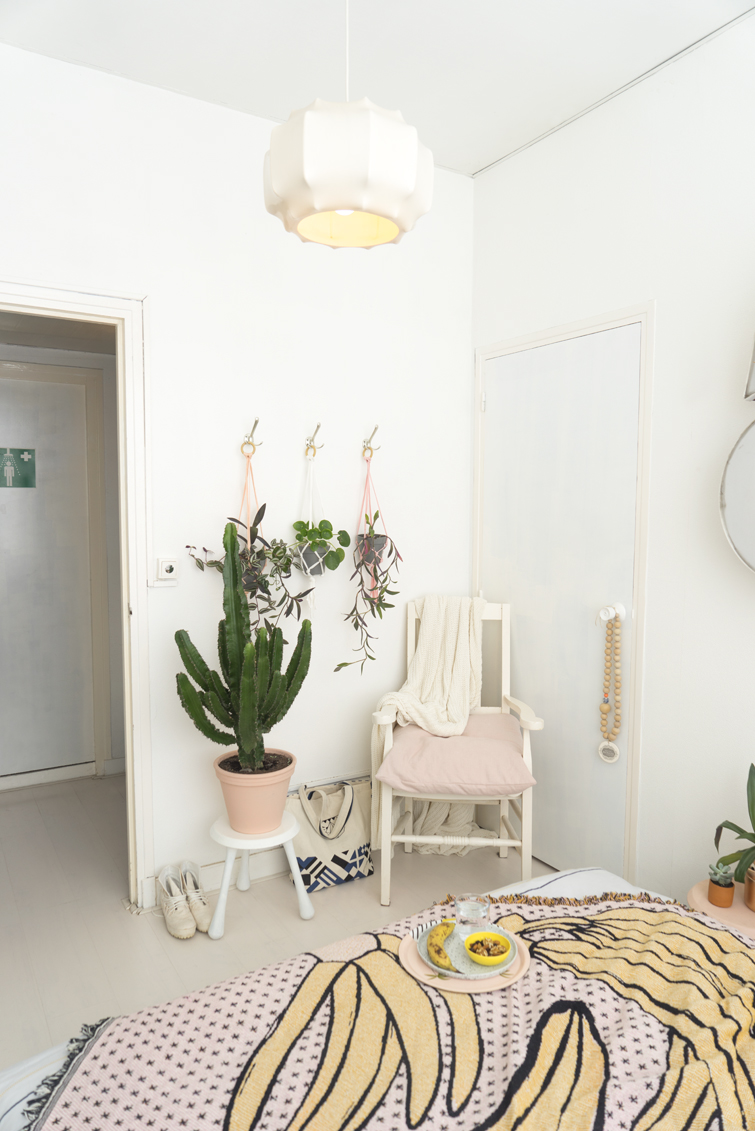 They sent the pillows along with their new eve Sleep x Folk bedding set. The bed linen is really pretty: crispy soft cotton in a surprisingly beautiful blueish grey, with a navy blue and yellow embroidery detailing. It feels so nice that I may steal these from the guestroom and sleep under these in our own bedroom 😉 Totally what you would expect from a collaboration with a fashion brand like Folk: outstanding quality!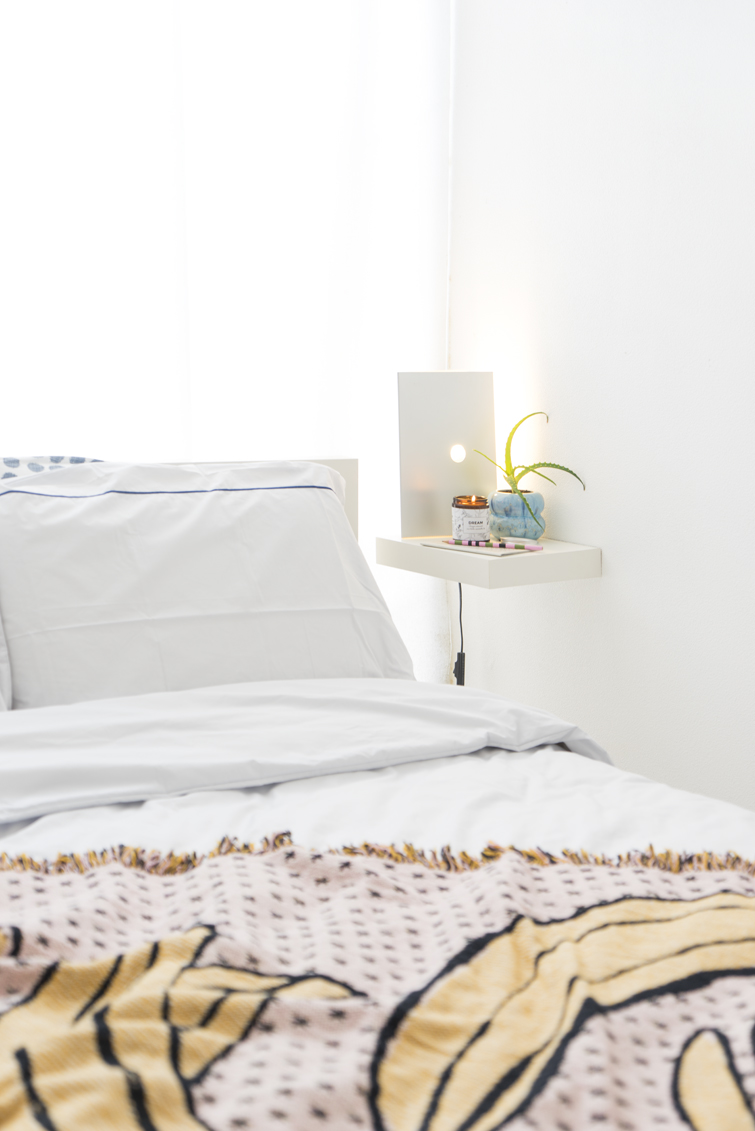 The pillows are indeed medium firm and have a soft and washable cover with a fun yellow rim. Personally I love memory foam (we have a mattress topper on our bed, it makes my movements really slow too hahaha!) and "The Pillow" is nice and comfy and our first four guests fully approved it!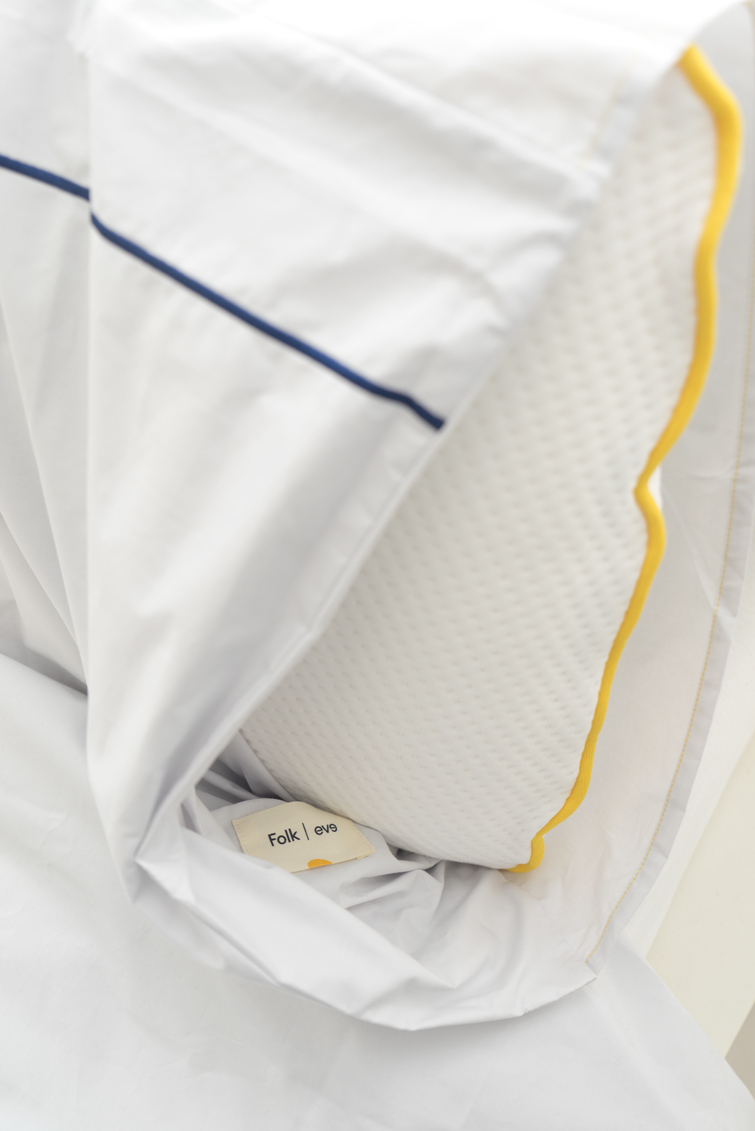 Oh and just so you know: I don't iron bed linen… I may pull out my dear Jiffy steamer (which I love!), but I love some wrinkles. Please tell me I'm not the only one!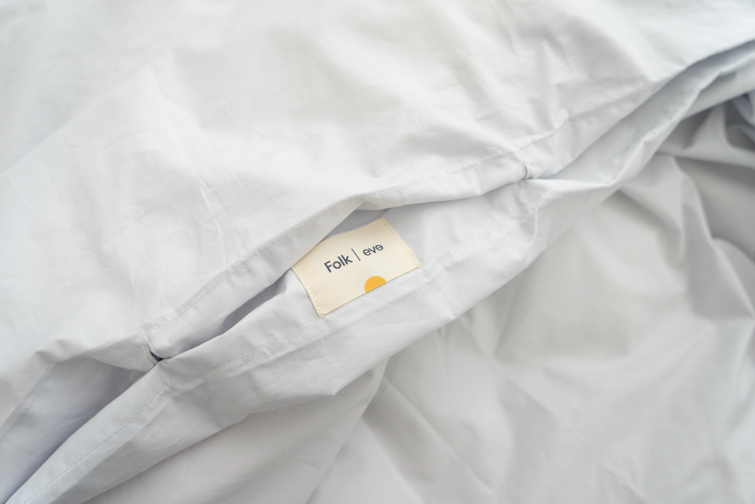 By the way, the banana throw blanket is by Calhoun & Co and I got it via Urban Outfitters. Isn't it bananaaaaas? I couldn't help but serve a little banana & nuts snack too 😉
A little peek in the mirror: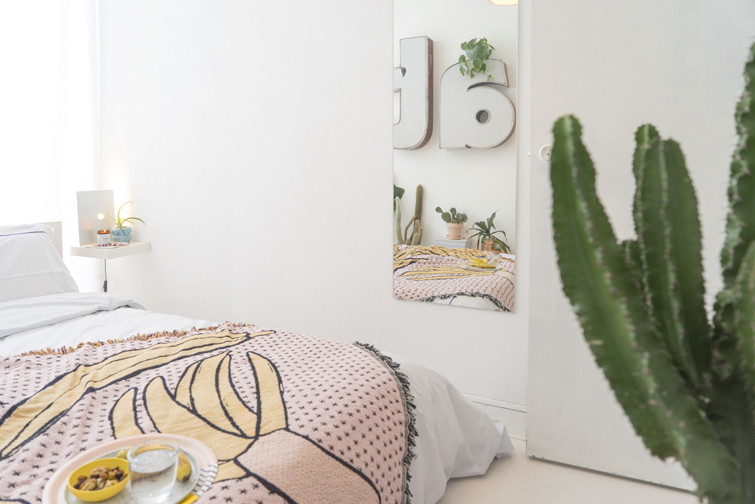 An easy peasy way to add some plants to this side of the wall: by the well known DIY planthangers from our Urban Jungle book! From left to right: Tradescantia zebrina and Tradescantia pallida and Scindapsus pictus, Pilea peperomioides and more Tradescantia pallida: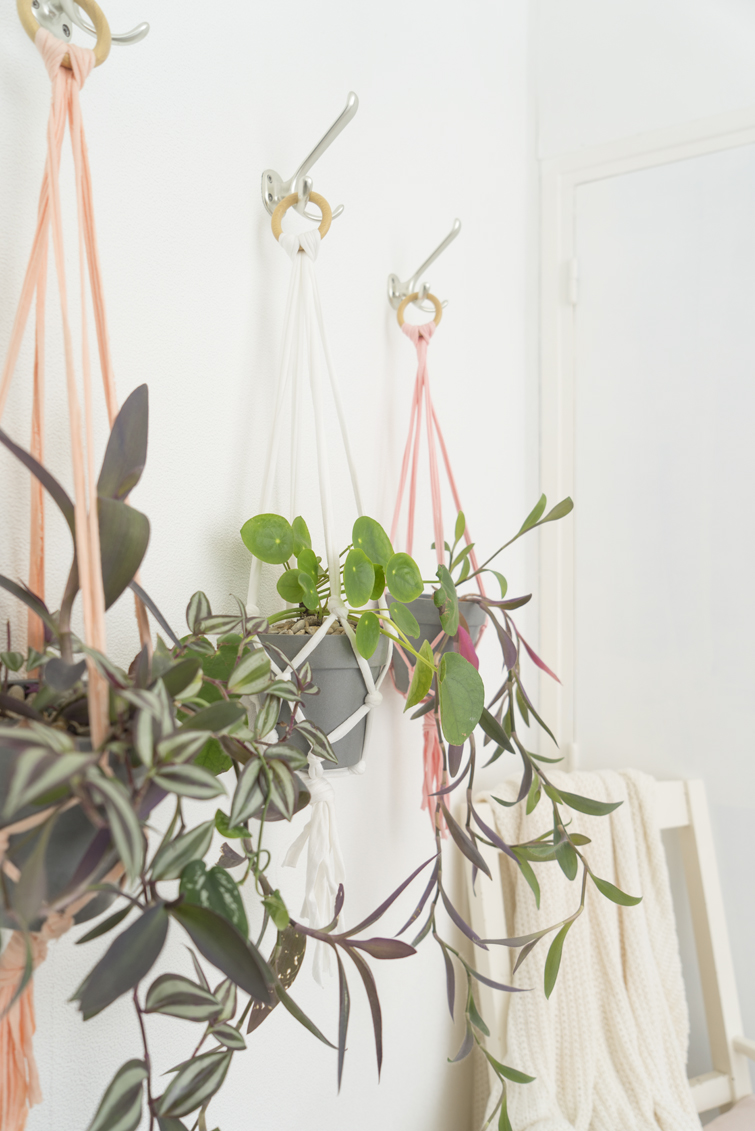 As you can see, our guestroom is one of the rooms along the main corridor in our apartment. You can see more of our home on the website (check "Photos"), if you like.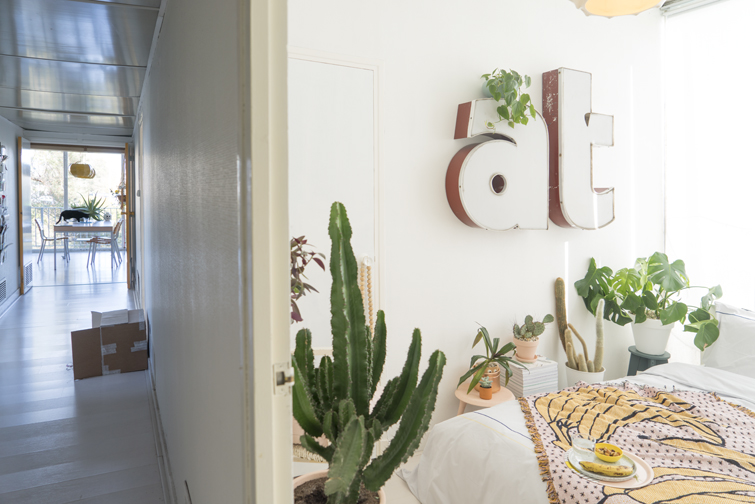 Blogpost created in collaboration with eve Sleep and Urban Outfitters. They kindly provided me with pillows, bedding and the bananas bedthrow, but all photos, opinions and words are my own, as always. Thank you for supporting the brands that keep JOELIX.com going!