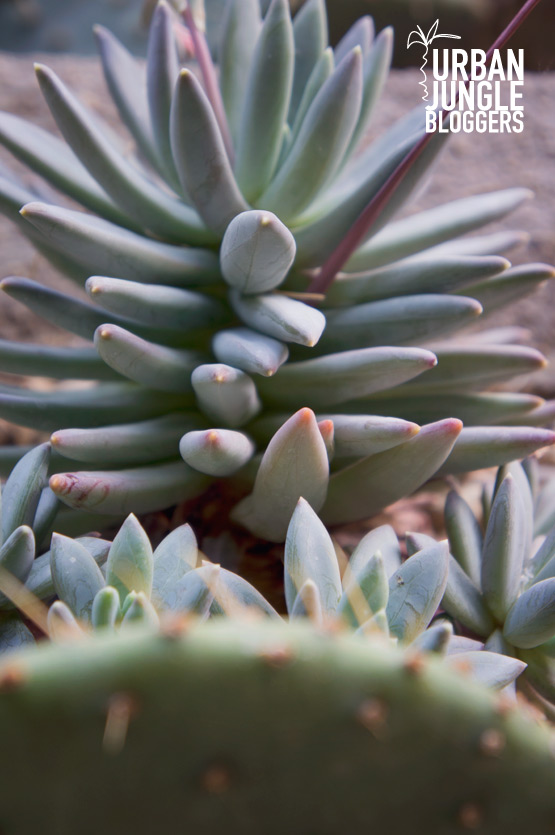 I'm excited, because today my blogfriends Igor (Happy Interior Blog), Jocelyn (The Little Room of Style) and I are kicking off a new blog series, called Urban Jungle Bloggers. Earlier this year we met through our blogs, had coffee in Paris and exchanged a lot of "green" emails ever since. All in our own unique way, we love growing plants at home and decided to join forces in this blog series. Today we are presenting our respective urban jungles. So let me introduce you to our greenhouse:
Our greenhouse is actually an indoor garden and the entry to our home. In the 60s, when Studio Sapique was built, indoor gardens were hip&happening: ours even includes a small pond! When we moved in, the greenhouse was overgrown and looked like a true jungle (see here), but we've cleaned it and it now looks like the image above.
I'm a sucker for succulents: I simply love their graphic shapes and unusual colors. But I'm also growing agaves, cactus plants and palm trees in here.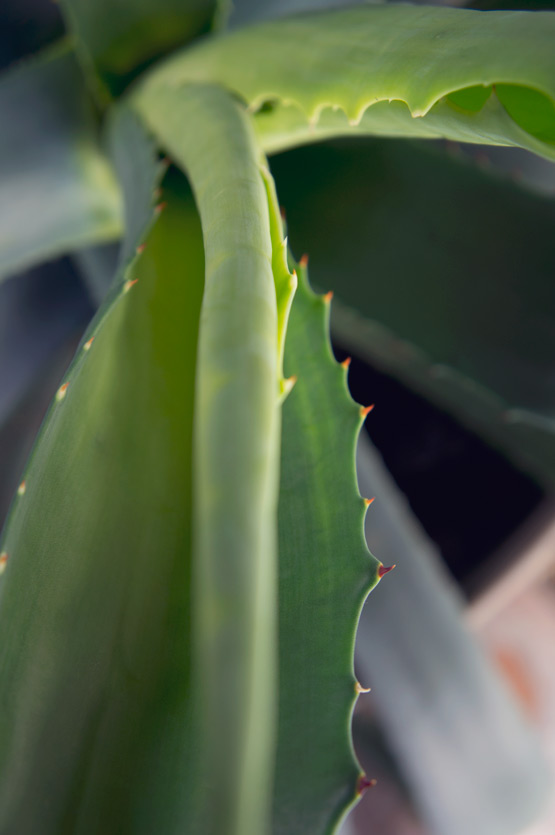 It's a blessing to have a dedicated space to grow plants, because our 3 cats love eating palm trees and messing around with soil and pebbles. Most of the plants love the sunlight in the greenhouse, so it's a good match.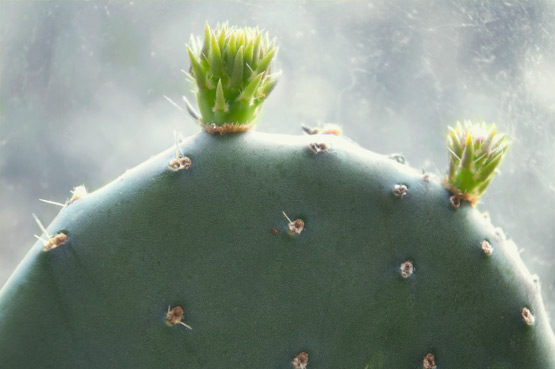 The biggest plant in the greenhouse is a paddle cactus plant. I brought home a few "leaves" from the South of France many years ago and it has been growing 15 to 25 new leaves every year, so it's actually quite big. I love how the leaves are so muscled and spotting new baby paddles make me very happy. In the winter i'm always a little worried if he'll survive the cold, as the greenhouse is unheated, but we've had -18°C and he's still going strong. A part from a few bigger (and boring) plants, the invasive bamboo and a fern I brought home from Corsica, all my green friends spend the winter in their winter storage.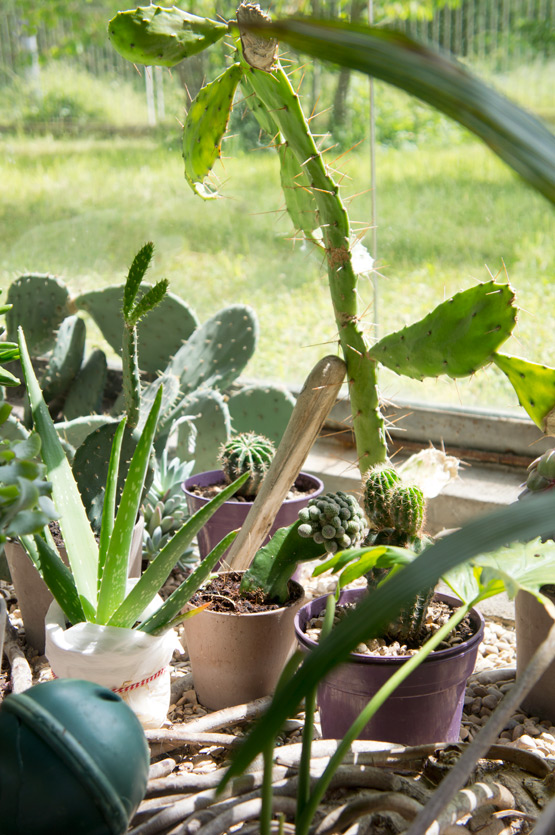 A cutting from the above cactus plant, is residing in our kitchen. They both tend to grow ears in all directions to remain their balance :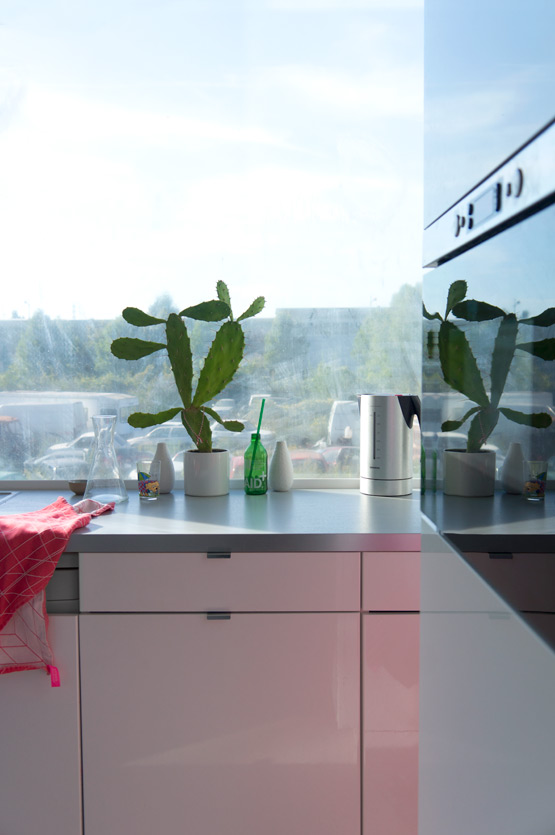 In a cat-free corner of our cinema room, I'm cultivating these tiny succulents. The mini agaves were grown from seeds, the one in the middle is a cutting and the others were gifts from the Jardin Exotique in Monaco. A must-visit if you love succulents & cactus plants.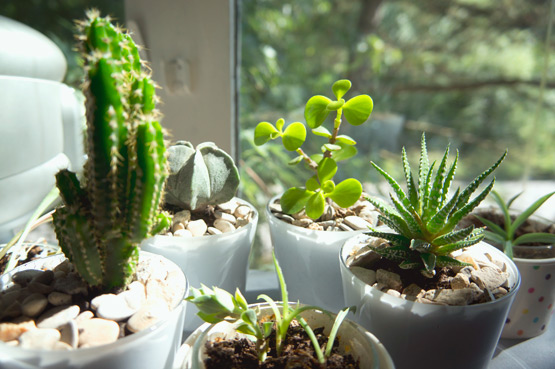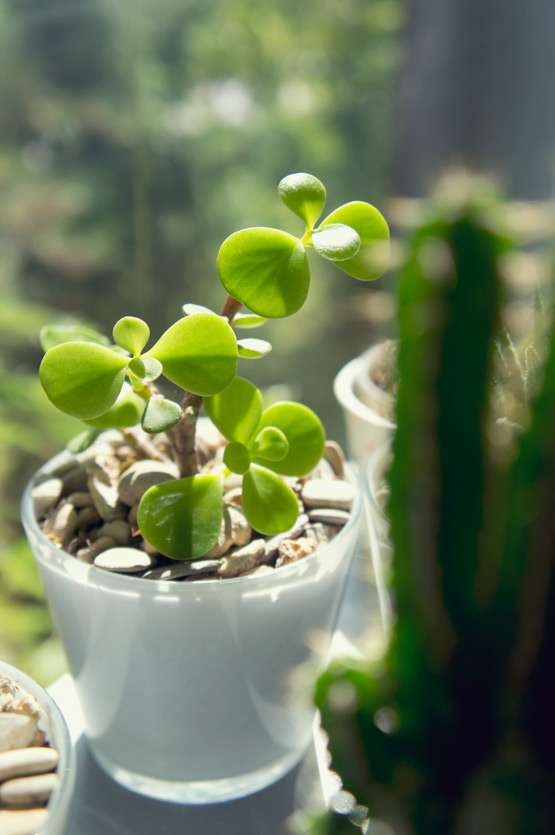 I hope you liked this little tour! Of course there is more to come… Oh and don't forget to check out Igor's and Jocelyn's blogs to see their urban jungles!

Urban Jungle Bloggers is a monthly series by 3 bloggers: Igor (Happy Interior Blog), Jocelyn (The Little Room of Style) and Judith (JOELIX.com). Every month we share ideas to create an urban jungle through styling ideas, DIYs and green tips & tricks. You can find additional inspiration on our Urban Jungle Bloggers Pinterest board. Want to join? Use #urbanjungle on twitter and instagram. Or let us know and we'll share the badge and upcoming topics with you. Let's bring some green into our homes and blogs!