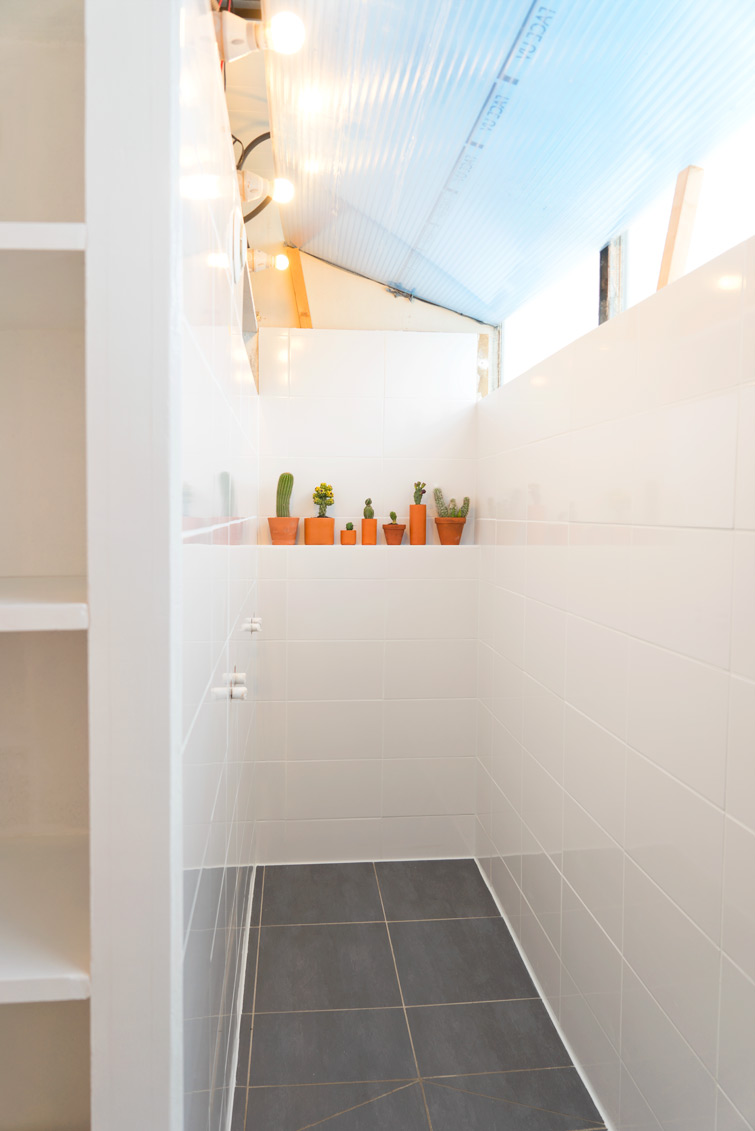 Hola, bonjour, hello, I'm back! After a three lovely sunny weeks in Spain, I'm back in the office! We came home to found our ongoing bathroom renovation completely transformed: there are tiles on the floors and walls and everything has been painted and stuccoed! It finally looks like a real bathroom! And I'm so excited! A few more details, like fixing the transparent ceiling in the double shower, as you can see above, adding the bathroom fixtures, sinks and lighting and we're done. I'm so very happy with the shelf in the bathroom that I couldn't NOT use it for today's plantshelfie for Urban Jungle Bloggers.
If you followed me on Instagram you probably saw that I gathered quite a few green souvenirs during our holiday. I also picked up a set of beautiful sleek Matagalán terracotta pots in Barcelona. So I decided to combine it all: new plants, new terracotta pots and a new bathroom shelf. Ultra simple and I like it. Even though I know the plants will be replaced by shampoo & soap very soon 😉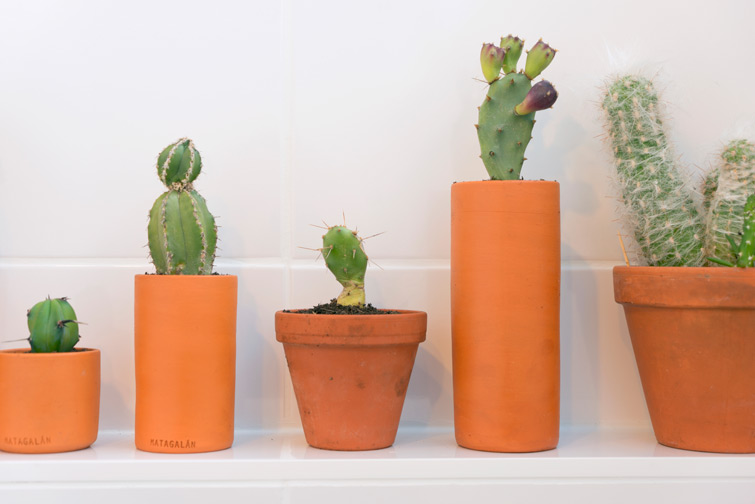 My favorite green souvenirs from our trip were cactus plants. I found 10 different kinds in public areas, like parcs and on the side of the road. One of my rules when I cut off a piece of cactus is to not destroy the mother plant. And I never steal plants from people's private gardens. You'll be surprised by what you can find in public parcs, near the beach or on the side of the road in the Mediterranean countries.
Below on the left you see my new prickly pear (Opuntia) from a green plot near the beach of Valencia. There was a giant Opuntia growing there with these beautiful purple fruits. The Old Men cactus (Cephalocereus senilis) on the right is an oldie that started growing this summer. His hair grows from the top of his head in a very "punky manner", pretty cool!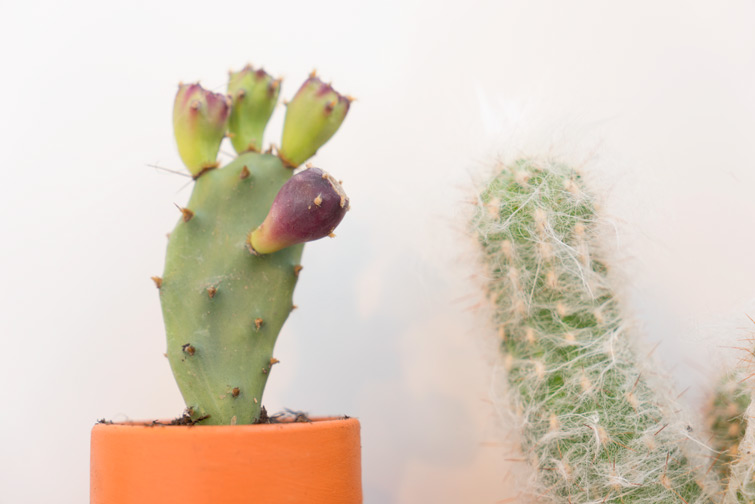 There will probably be plants in our finished bathroom, although I haven't investigated what and where. Just for the sake of it, I placed a tiny terracotta pot in the new circle window: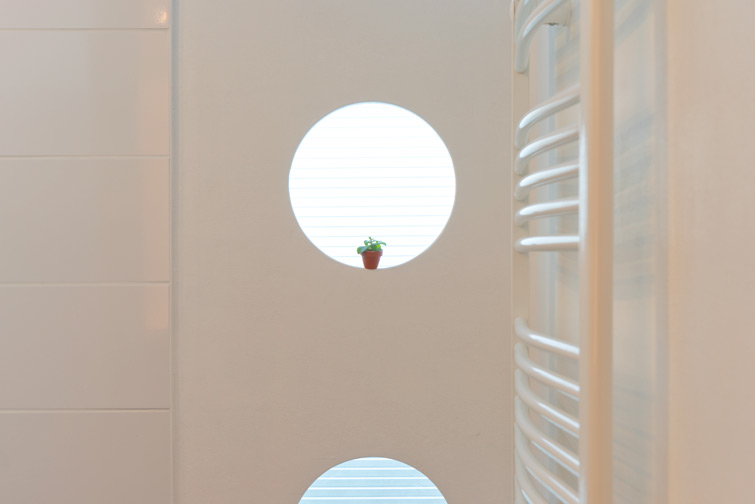 My most magical cactus treasure from our trip is the Organ Pipe cactus on the left. I found it just opposite of the Opuntia plants, hidden under a stack of weed! I cut off a few taller ones too. Now I hope they will grow new roots: aren't they the coolest? The second cactus in row is a Cylindropuntia and the yellow "bulbs" are where the flowers used to be: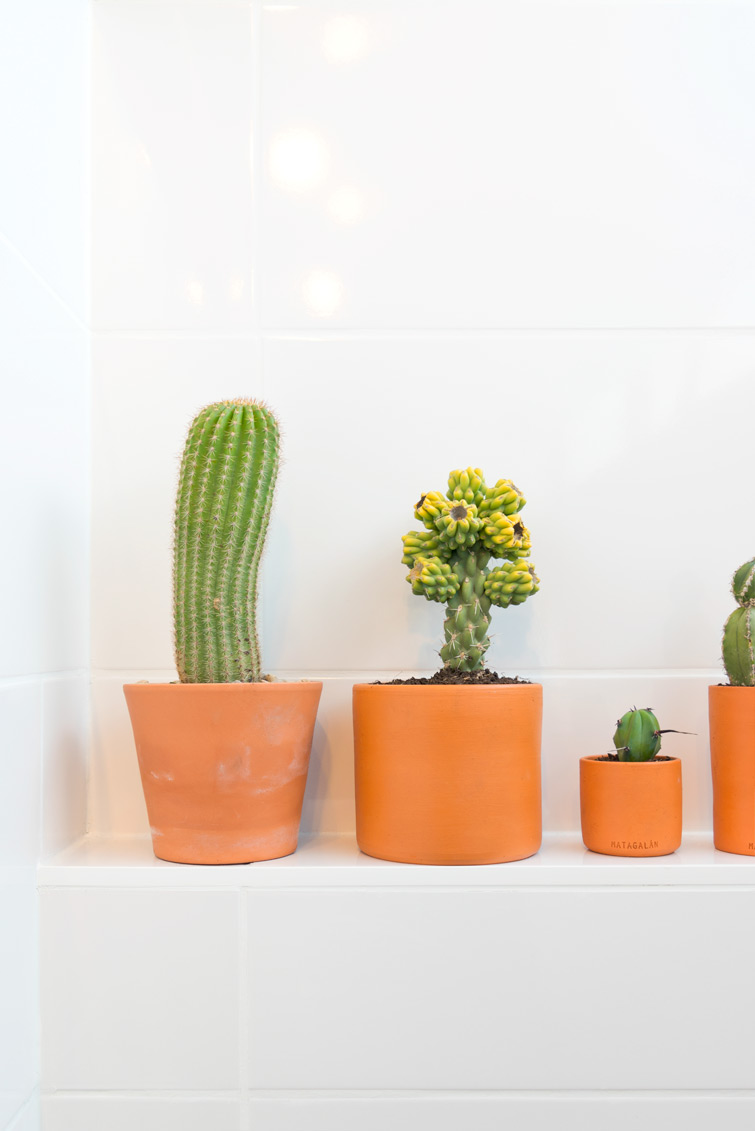 And aaahhhh those Matagalán terracotta pots… I wish I could afford to put ALL my 150 plants in their pots: they are handmade, sleek and just perfect. In Barcelona I met with Carolina, the designer of Matagalán and she told me about the new plant pots she's currently working on. They will be all about "balance"… very exciting! For now, I've paired my pretty pots with some random terracotta pots: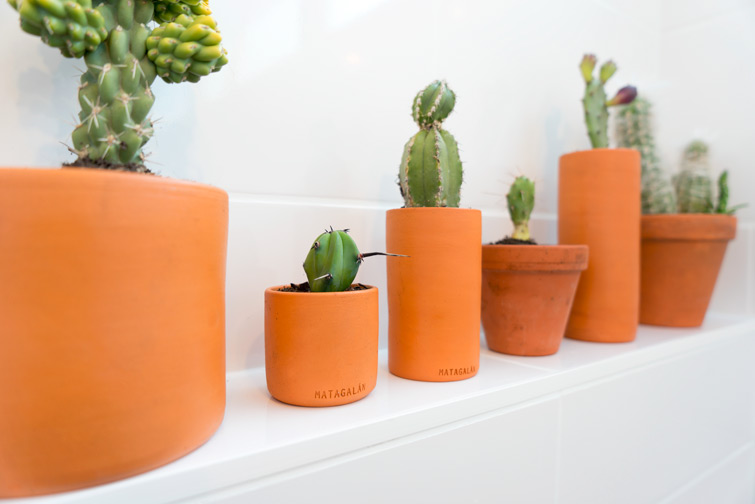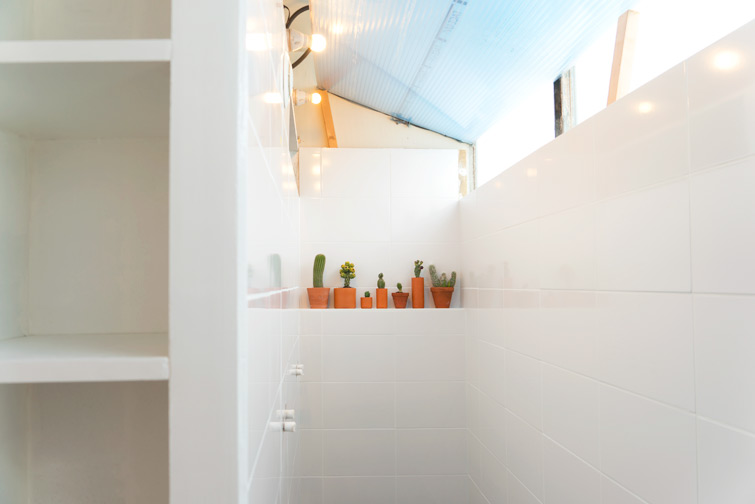 The plants will soon be replaced by shampoo & soap, but today I'll simply enjoy my #plantshelfie in our soon-to-be bathroom: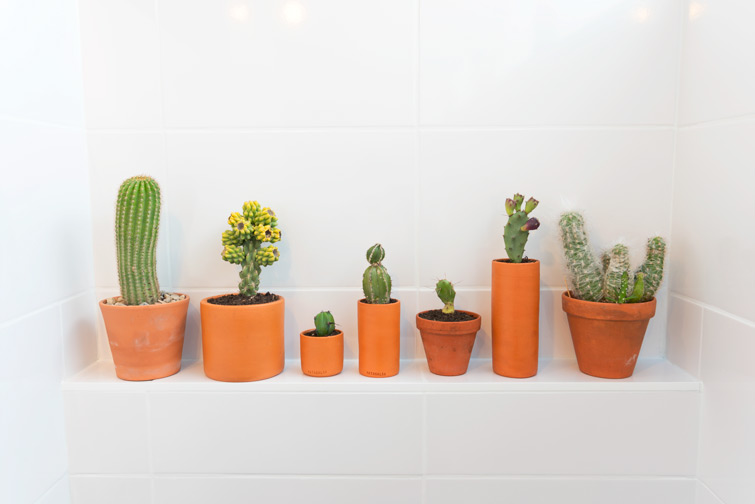 Urban Jungle Bloggers is a monthly series hosted by 2 bloggers: Igor (Happy Interior Blog) and Judith (JOELIX.com). Every month we share ideas to create an urban jungle through styling ideas, DIYs and green tips & tricks. You can find additional inspiration on our Urban Jungle Bloggers Pinterest board and keep up-to-date via our Facebook page. Want to join? Find out how on our website and use #urbanjunglebloggers #plantshelfie on twitter and instagram. Let's bring some green into our homes and blogs!