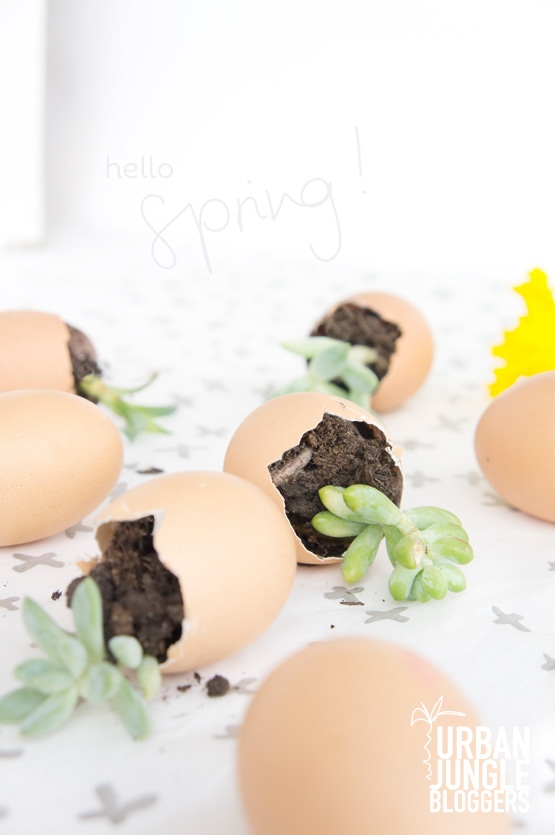 Spring is officially here! And to celebrate it is in style, we Urban Jungle Bloggers style our green plants for Spring or Easter today.
For Igor and I, the most important thing about our green adventure, is to have fun. No pressure, not too many rules, we simply share our passion for greens with fellow bloggers and our readers. So in stead of a sophisticated spring look, I had tons of fun creating a nest and filling eggs with my smallest succulents, a tiny agave and a mini cactus.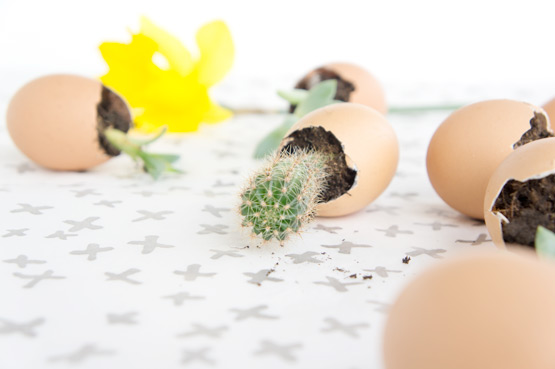 I used my wooden handmade bowl because it has a perfect nest-shape. Then picked a few daffodils, Indian cress and daisies from our garden and ate quite a few eggs too 😉 Which makes for a good day in my book: I love eggs.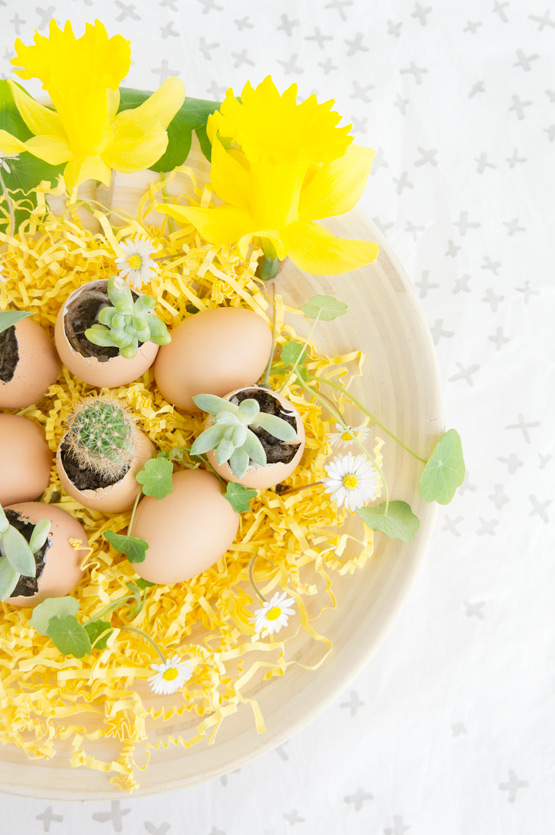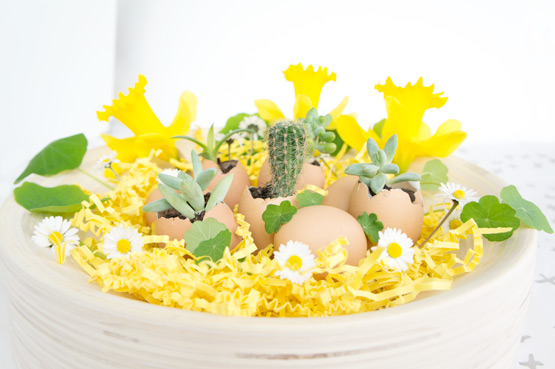 By the way, growing seedlings in eggshells is also pretty eco-friendly and a cheap alternative when you want to growing some herbs in your window sill. Something I learned via our UJB Pinterest board 😉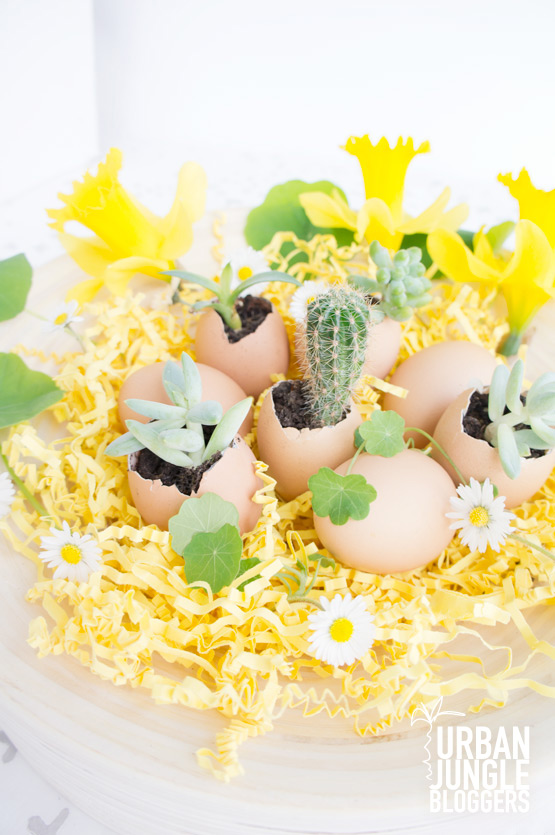 The tiny agave below is almost two years old. I grew it from seeds and it's taking forever to become big & healthy but well… I think urban gardening is also about patience, right?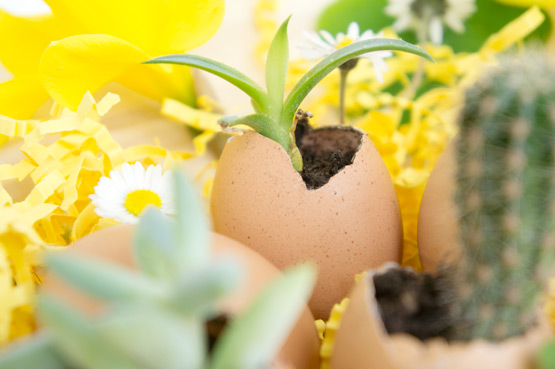 I hope you liked my little egg-styling. Now I can't wait to check out all the other Urban Jungle Bloggers contributions! You can follow along via this month's Facebook album and Pinterest board where we will link all blogposts, or on the bottom of this post.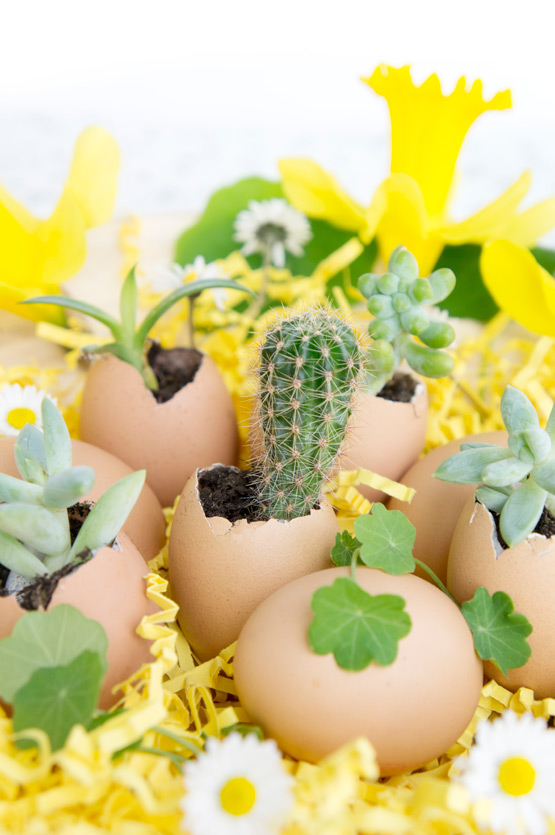 Urban Jungle Bloggers is a monthly series hosted by 2 bloggers: Igor (Happy Interior Blog) and Judith (JOELIX.com). Every month we share ideas to create an urban jungle through styling ideas, DIYs and green tips & tricks. You can find additional inspiration on our Urban Jungle Bloggers Pinterest board and keep up-to-date via our Facebook page. Want to join? Subscribe to our monthly topic newsletter or use #urbanjunglebloggers on twitter and instagram. Let's bring some green into our homes and blogs!

► For more stylings also check out: Fluxi on Tour /// 30s Magazine /// M I MA /// Look! Pimp your room /// One Bunting Away /// Ida Interior Lifestyle /// Neuerstoff /// Junifaden /// Traedraum /// Mocha /// Dramaqueen at work /// Style Space and Stuff /// Frau Mau /// Mia Fleur /// Mouseblossom /// Kreaville /// It's nice here /// Facing north with Gracia /// Regards et Maisons /// Volle Lotte /// Hipaholic /// Jillian in Italy /// Stefi_licious /// Armoire, Pegs & Casserole /// Capello A Bombetta /// My Little Artbook /// Folies du Bonheur /// Trend Daily /// Luzia Pimpinella /// Polly Papier /// The Orange Deer /// Little Star Blog /// Happy Serendipity /// The Peppermint Land /// Spraakwater ///