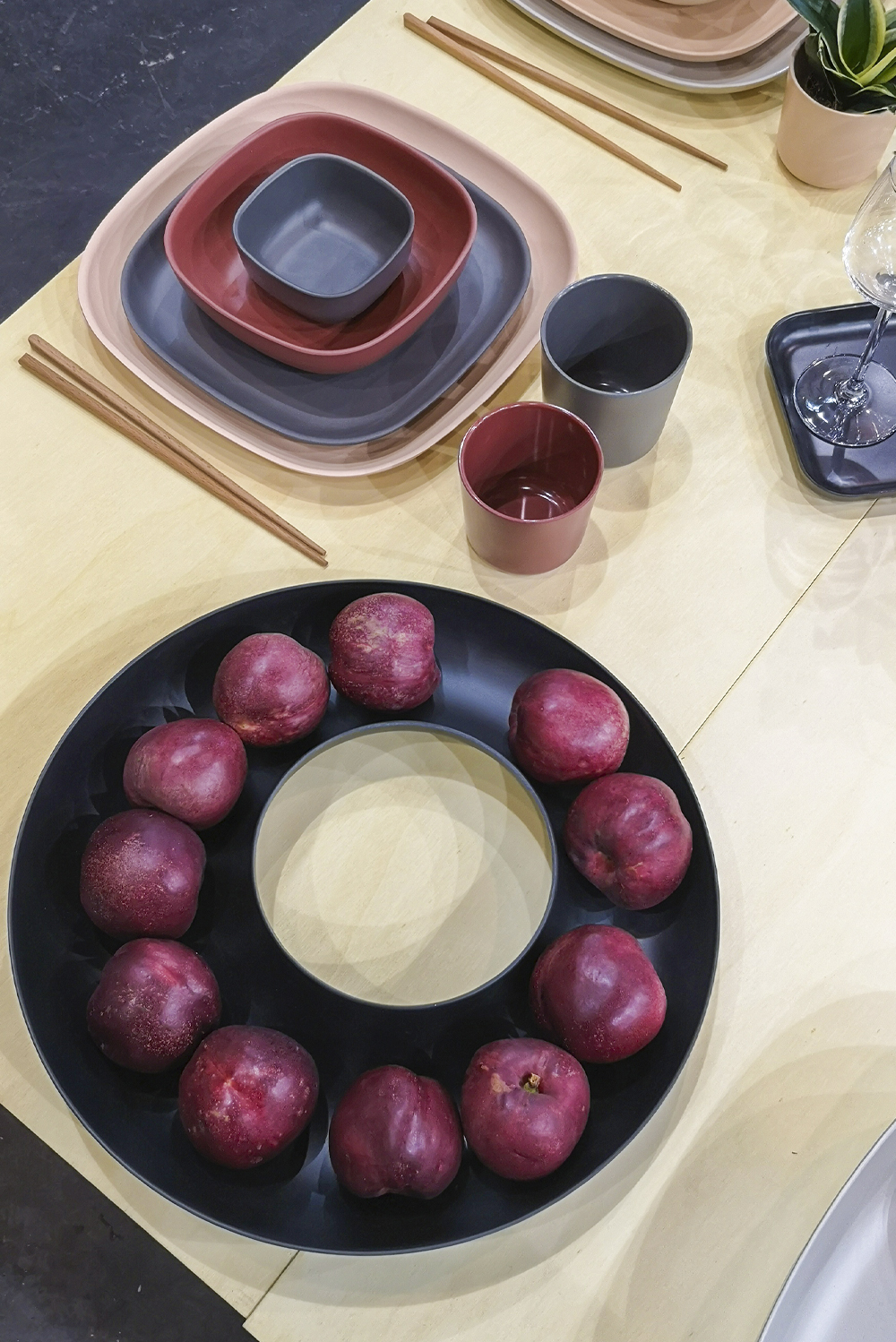 C'est la rentrée, it's back to school, which means it's the season for Maison & Objet. The Parisian fair for everything interior, home decoration is a staple in the agenda, so let's GO for a little roundup of some of my highlights. What felt new for me at this September edition was the focus of more and more brands on sustainable materials and production processes. Recycled plastic, reusable glass and metal, handmade or imperfect objects, natural coatings, re-use of leftover fabrics… and a lot of dried flowers.
But I also found the most gorgeous flowers at one of the brands that always looks cozy, warm and real (like family real): Valerie Objects. The bouquets that were presented in the hidden vases by Chris Kabel were composed with such delicacy, style and eye for color. I loved them! I even went back to see them a few days later at the fair, and I still liked them, although they looked a little less fresh after a weekend of M&O.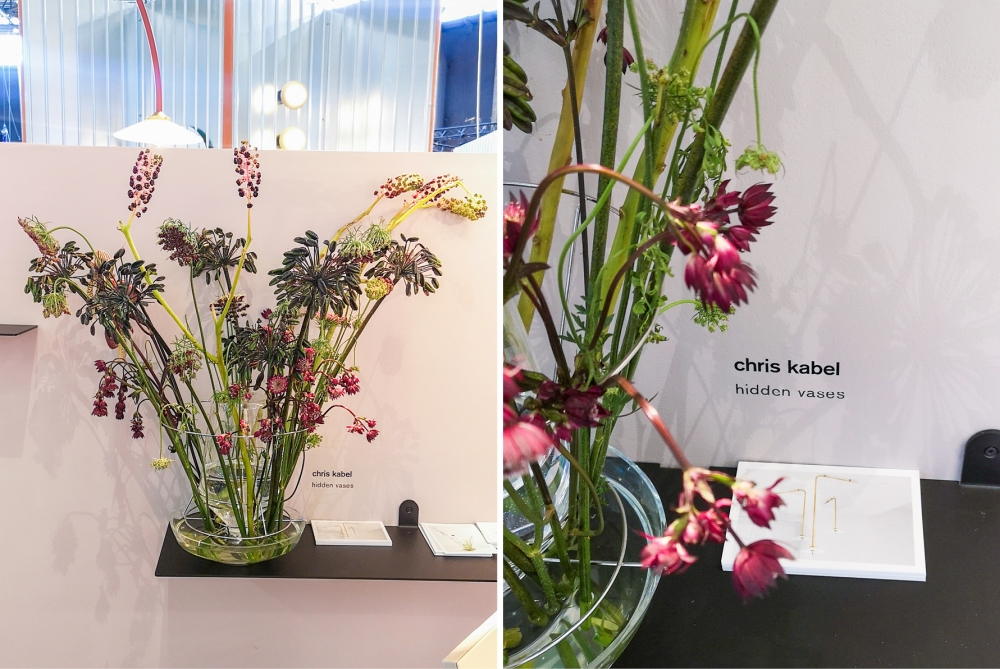 Deep red tones, and beautiful whites… and gold for the brushed brass ETAGE shelves by Linde Freya Tangelder: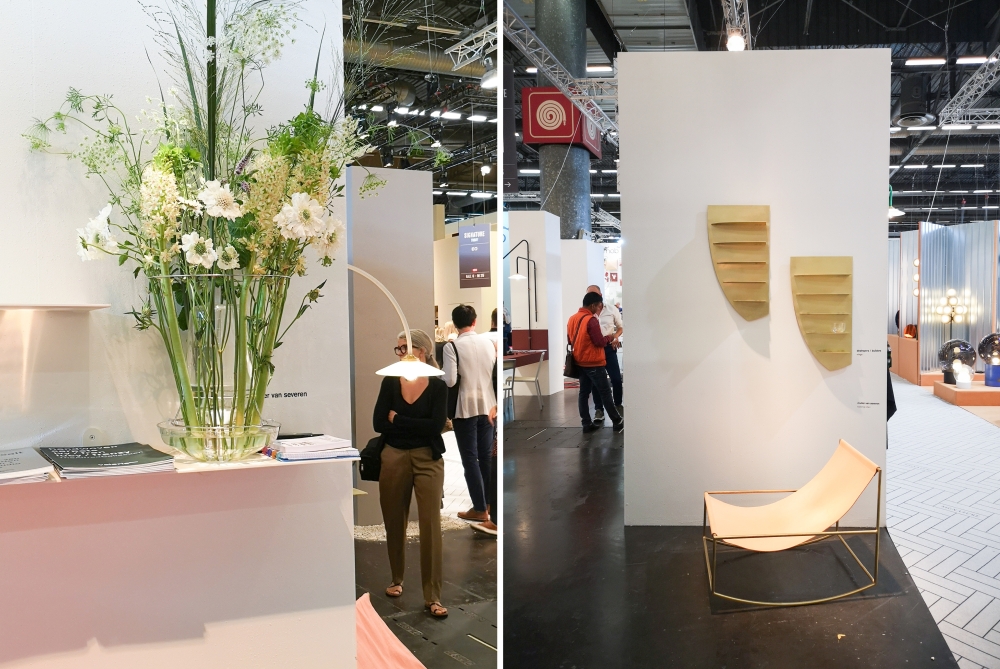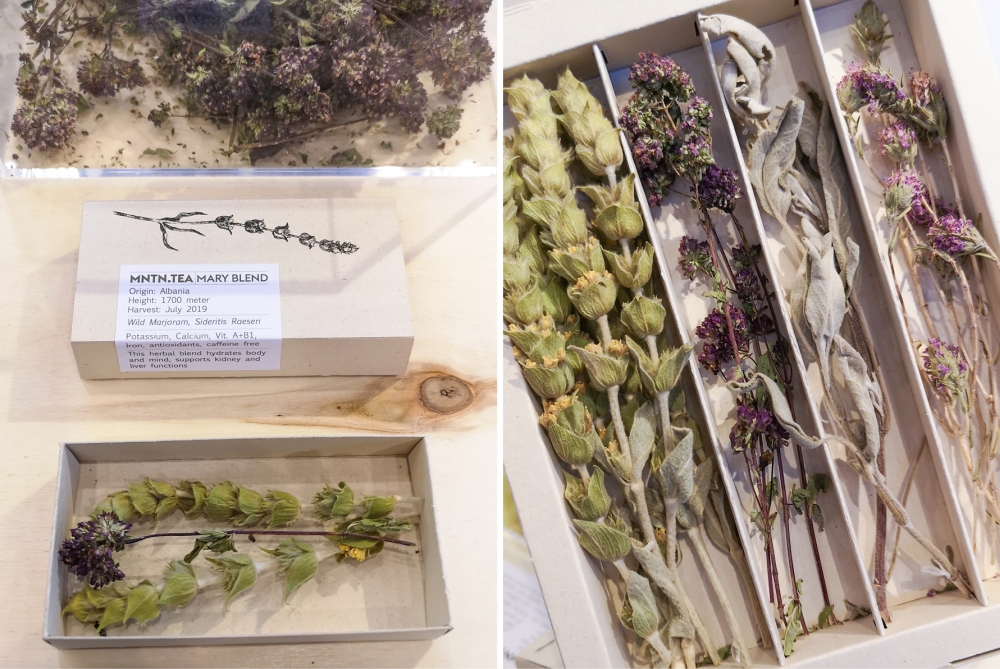 Second highlight were the new herbal tea packages from Lemon Poppy: hand picked in the Albanian Alps and wrapped in a new eco packaging: I tasted some of the tea at the fair and really enjoyed it, it tastes warm round, pure and smooth. And look how beautiful the natural untreated branches are of Mountain Tea, Wild Marjoram, Thyme and Sage.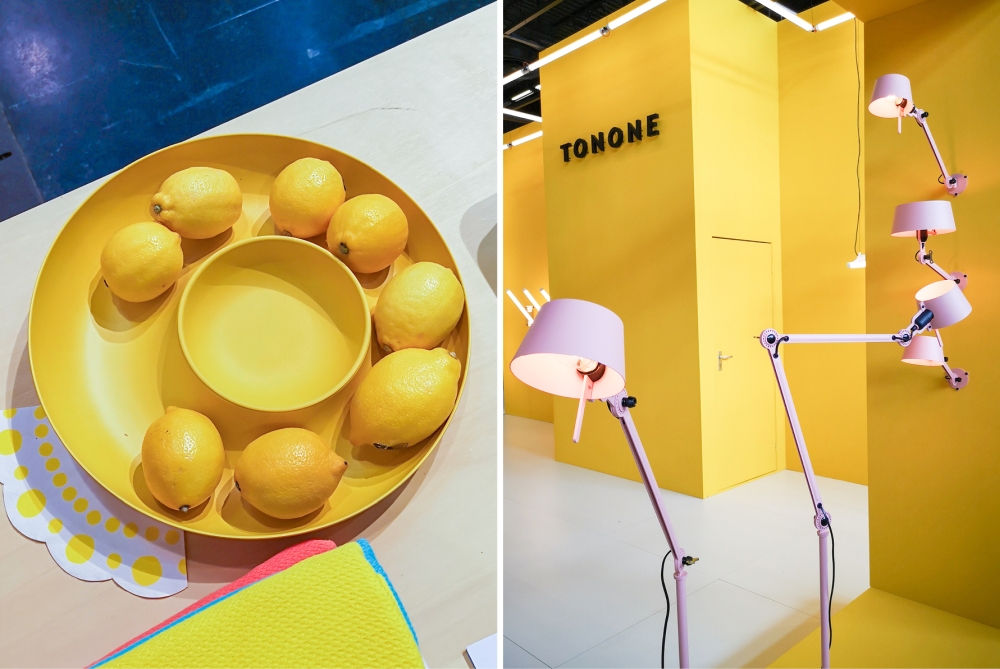 A fresh hint of yellow for the eco-friendly bamboo fiber snack bowl from Ekobo /// The Tonone BOLT lamps (designed in my hometown in Holland) in pink pop against the yellow walls of the booth. Pink & yellow is a winning combo… always!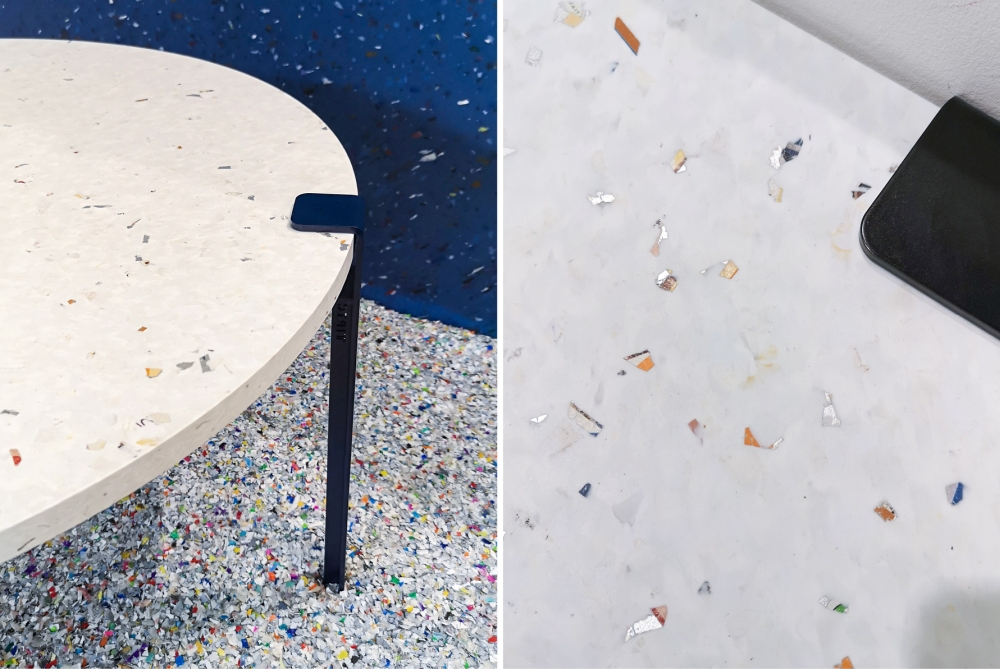 One of my favorite surprises: the recycled plastic tables and shelves from TipToe are finally here! I already saw a blue sneakpeek on a previous edition of Maison & Objet, but the greyish white table top with silver (!!) details looks amazing! It has a hint of terrazzo, but it's made from recycled plastic bottles and creates a completely new, gorgeous surface. Definitely wishlisted!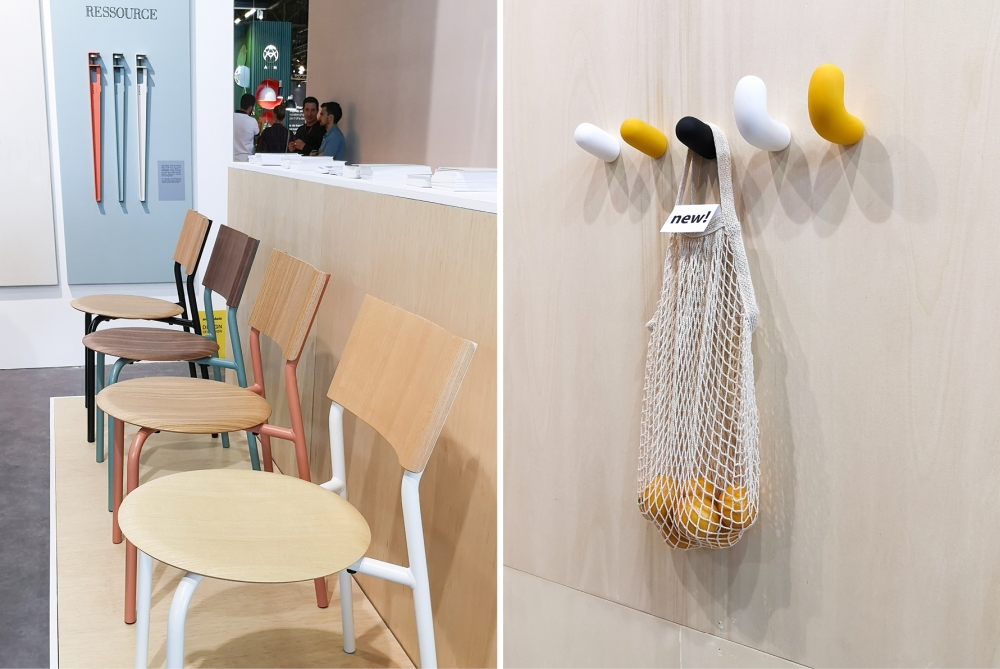 The SSD chair from TipToe is now available in four colors, 3 wood finishes and in the back you see their collaboration with Ressource Peintures with TipToe legs in 3 exclusive colors. /// The Noodle wall hooks by Tina Frey Designs look so fun!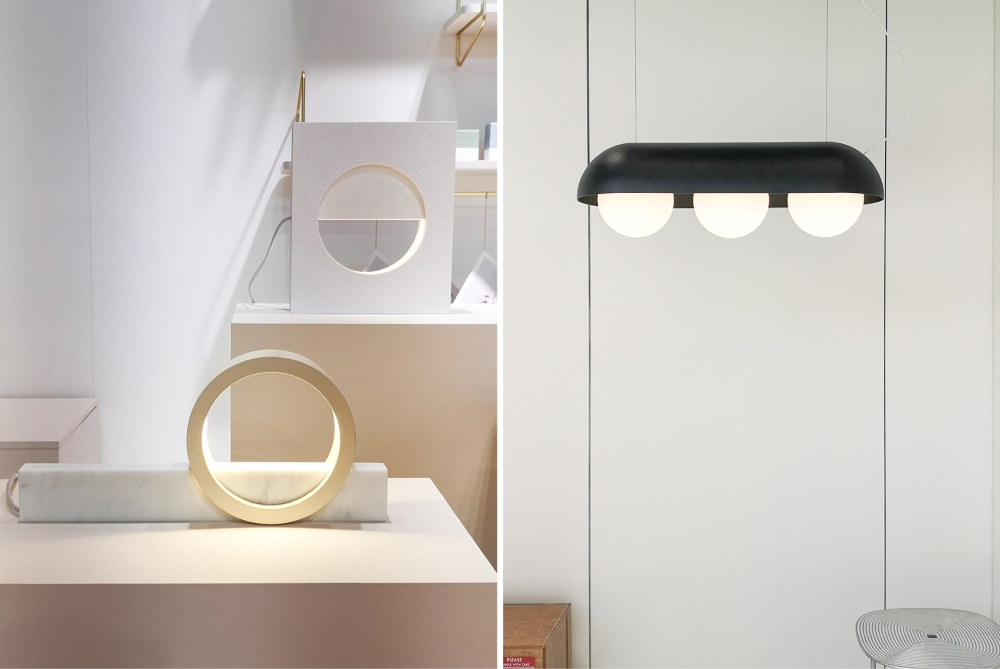 Marble and wood table light by FÓLK Reykjavik /// Peapod pendant light by Alex Brokamp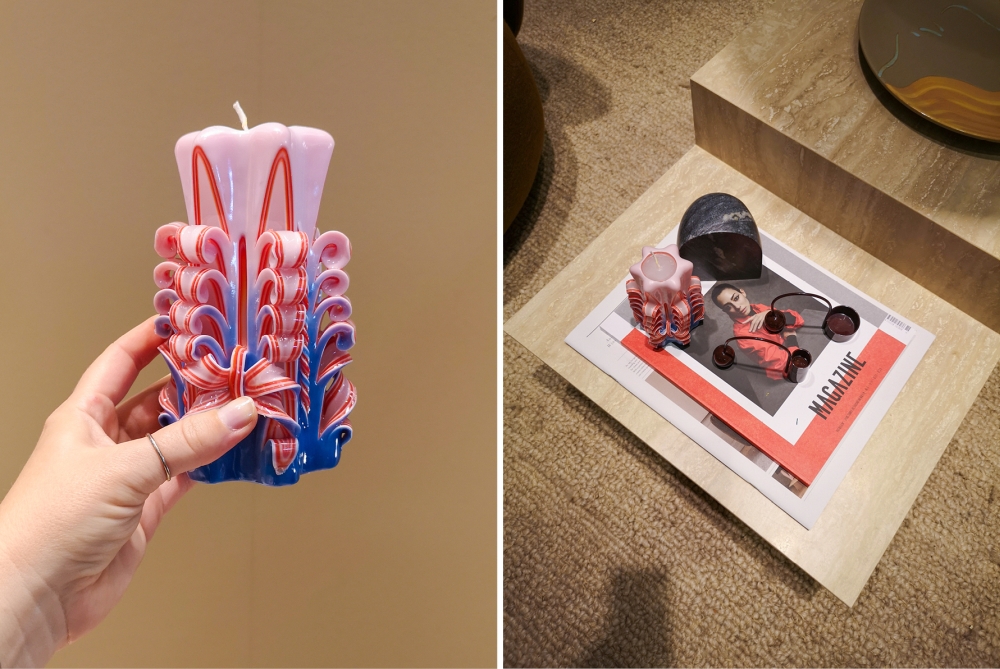 Seventies kitsch carved candles spotted at the booth of Ferm Living, they look great when styled in a contemporary setting. Watching how these are made is mesmerizing. By chance I found a similar candle at a fleamarket the other day. Fun!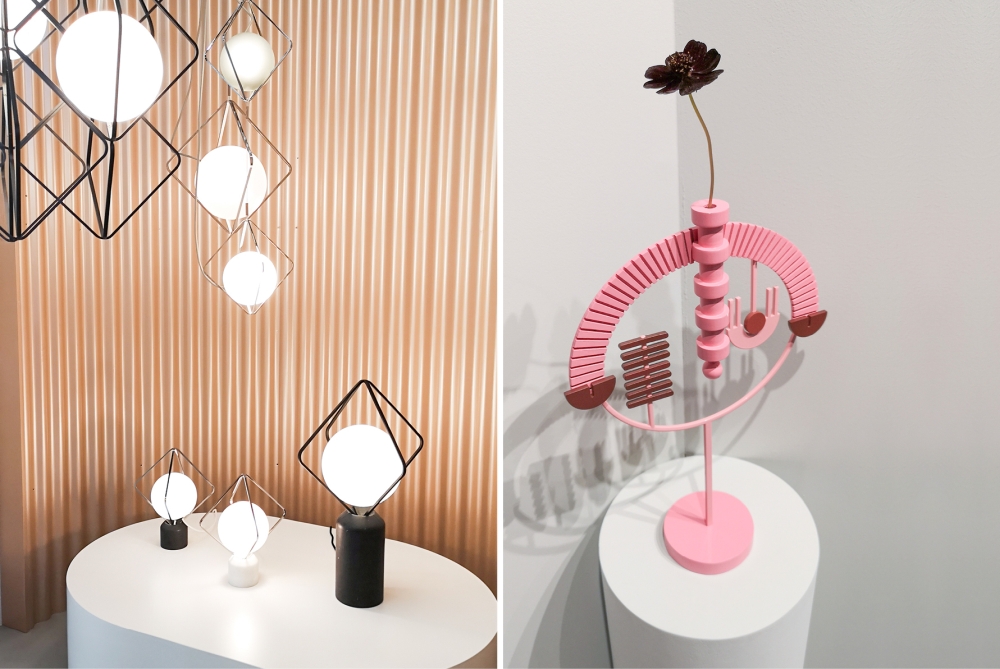 More round bulbs for the Jack O'Lantern lights designed by Lucie Koldova for Czech brand Brokis /// MASQ vases and mirrors from Lucie Kaas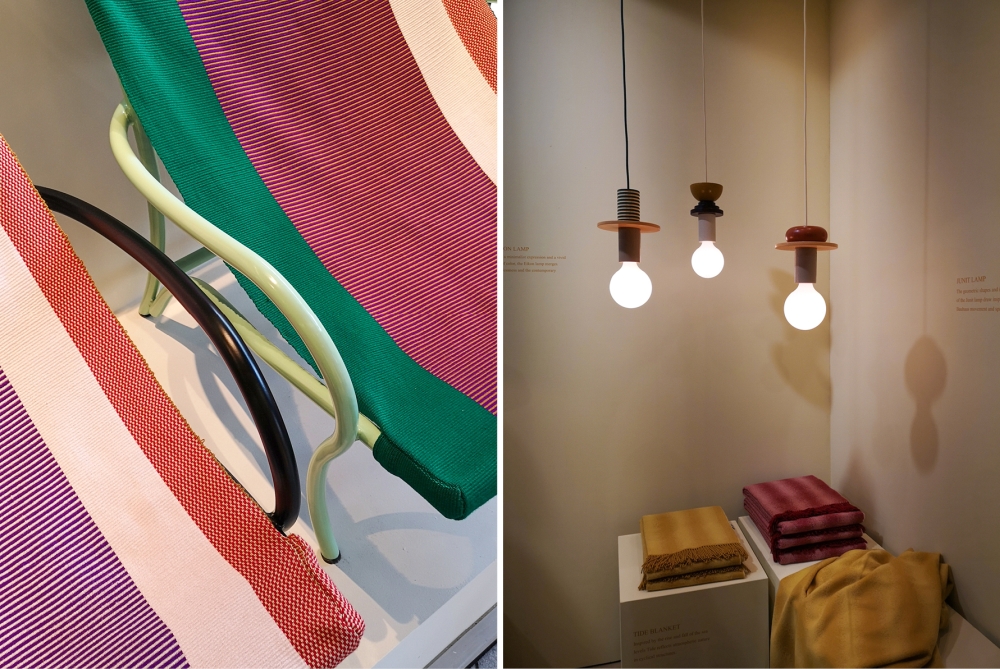 Gorgeous color fabrics by German/Colombian brand Ames /// Junot pendant lights by Studio Schneid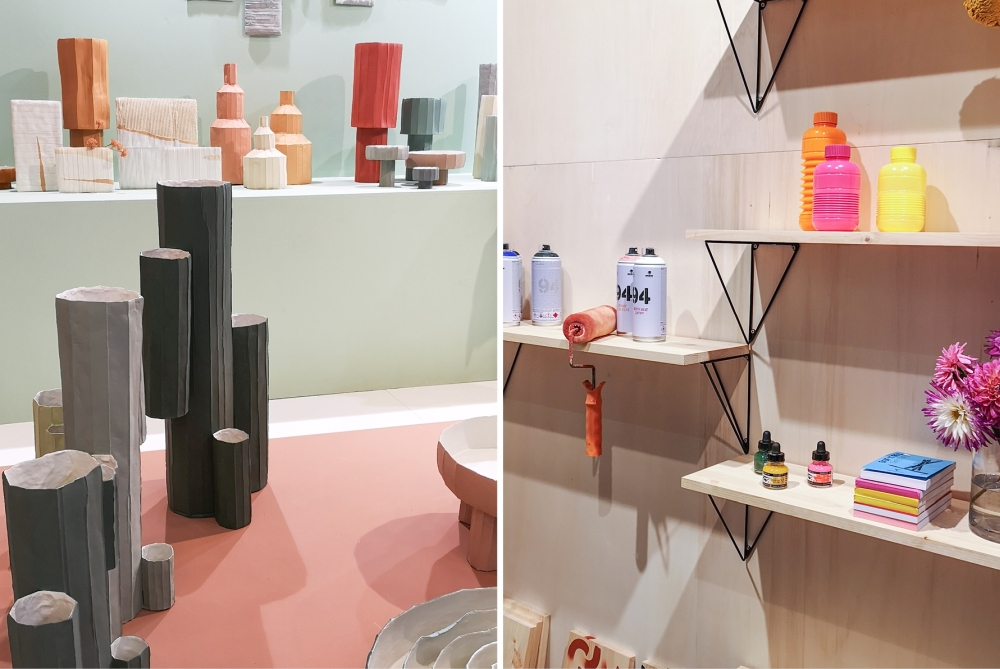 Pastel colors for the cactus vases by Paola Paronetto Ceramics /// The well-known Pythagoras shelves from Maze Design now come with shelves in untreated wood that you can paint yourself in the color of your choice.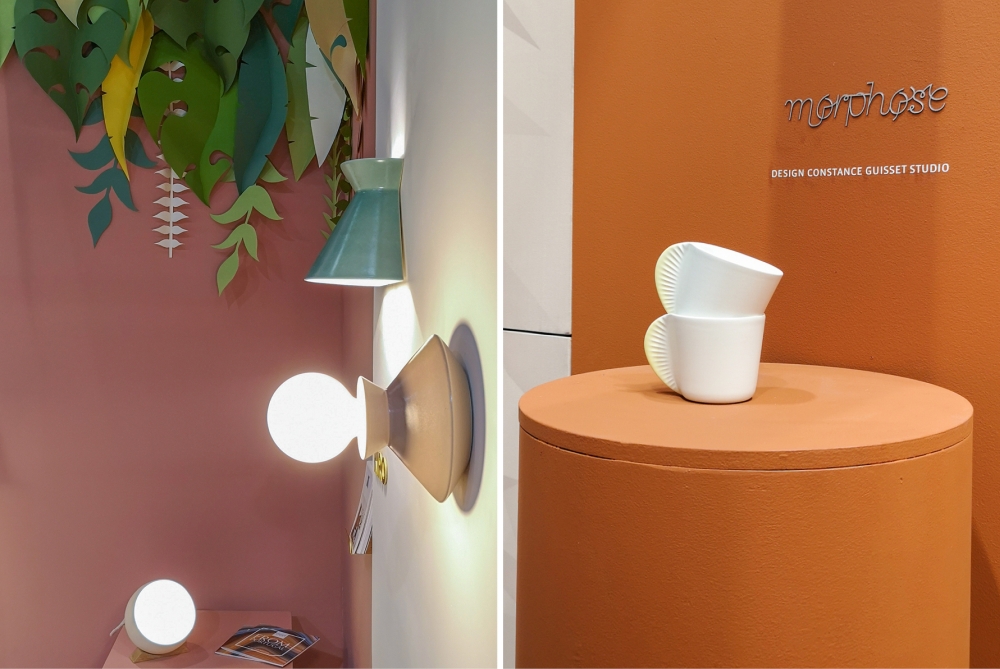 Handmade ceramic wall fixtures by Patricia Lobo /// New ceramic coffee cups called Morphose by Constance Guisset for iBride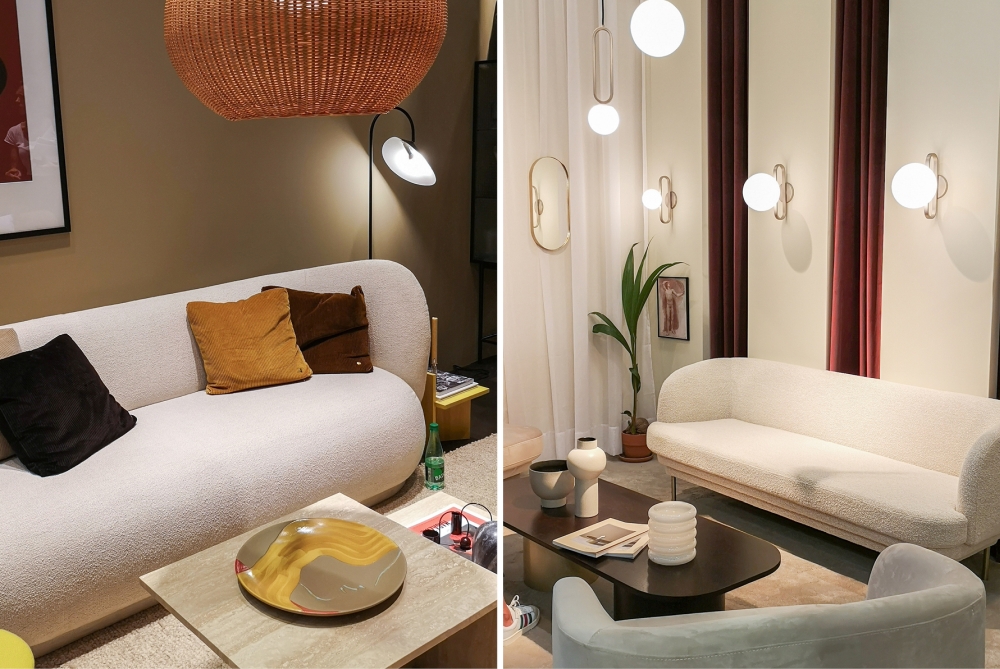 A very cozy trend that I liked: white bouclé sofas in curvy shapes, left by Ferm Living, right by Eno Studio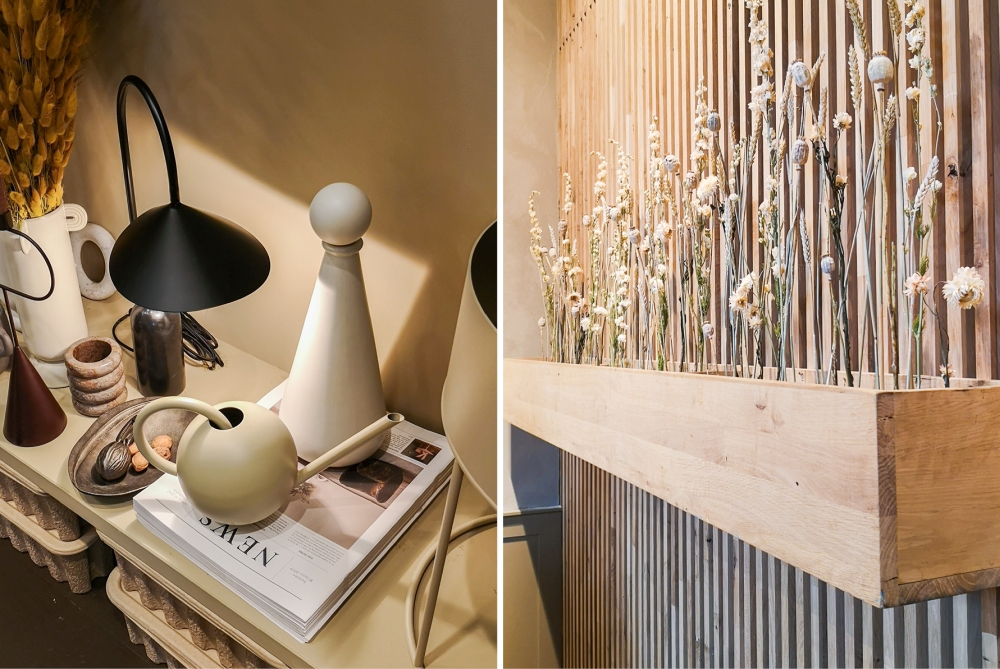 New Orb watering can by Ferm Living in the new color cashmere /// Dried poppy pods at the booth of Ethnicraft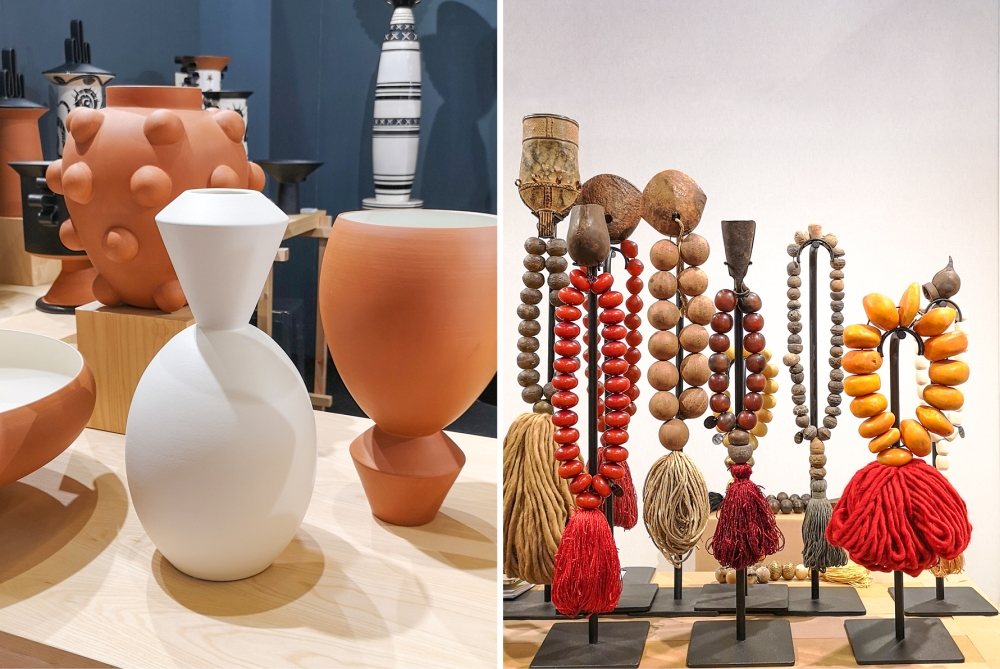 Totem inspired vases in terracotta by Italian brand Rometti /// Handmade chunky beads, designed by Studio Julia Atlas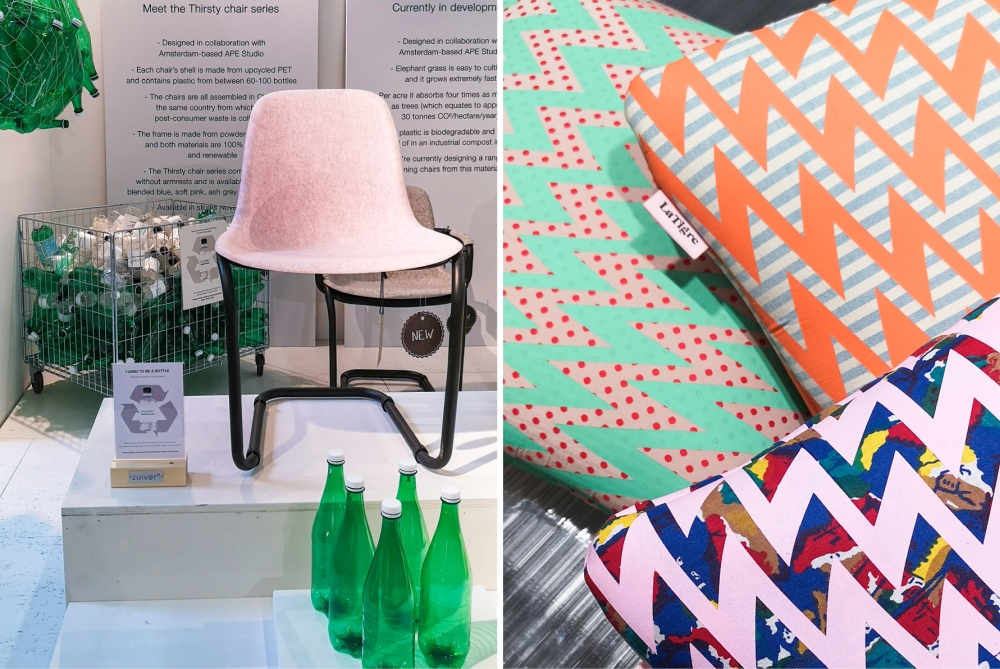 Thirsty chair by Zuiver, made from pet plastic bottles /// Leftover fabric from the Pijama archives was silkscreen printed by hand for these pillows by Pijama in this collaboration with La Tigre. I love how the graphic patterns and colors create a different color when you look from afar & up close. Wishlisted!
I hope you enjoyed this roundup of Maison & Objet? If you wonder where all the plants have gone? Igor and I created a recap of all the Green Trends from Maison & Objet on Urban Jungle Bloggers.