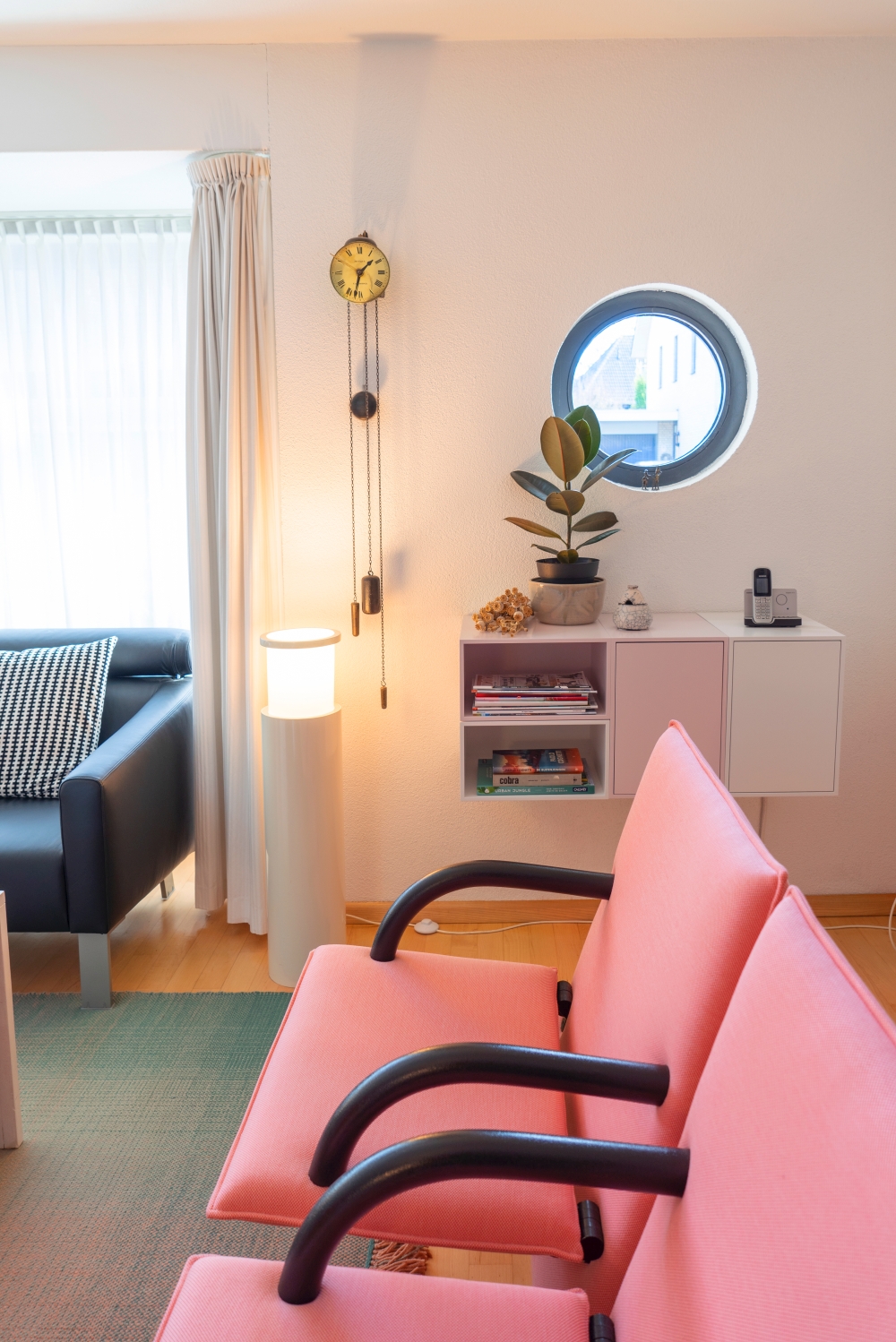 A living room update today! Clearly not of our own home, but this is the living room of my biggest cheerleaders: my dear parents! This summer they mentioned they were looking to update the colors and furniture in their living area. It had been years since they changed anything and asked me to think along. We planned a few Skype calls and they decided to go ahead with one of my ideas: to skip the mint green and add some pink! The layout of the room stayed the same: the Leolux sofa was completely upholstered with new black matte leather and the custom room divider and shelves on the left (below) went from mint green to a bright coral pink, with several layers of paint (done by my mama herself).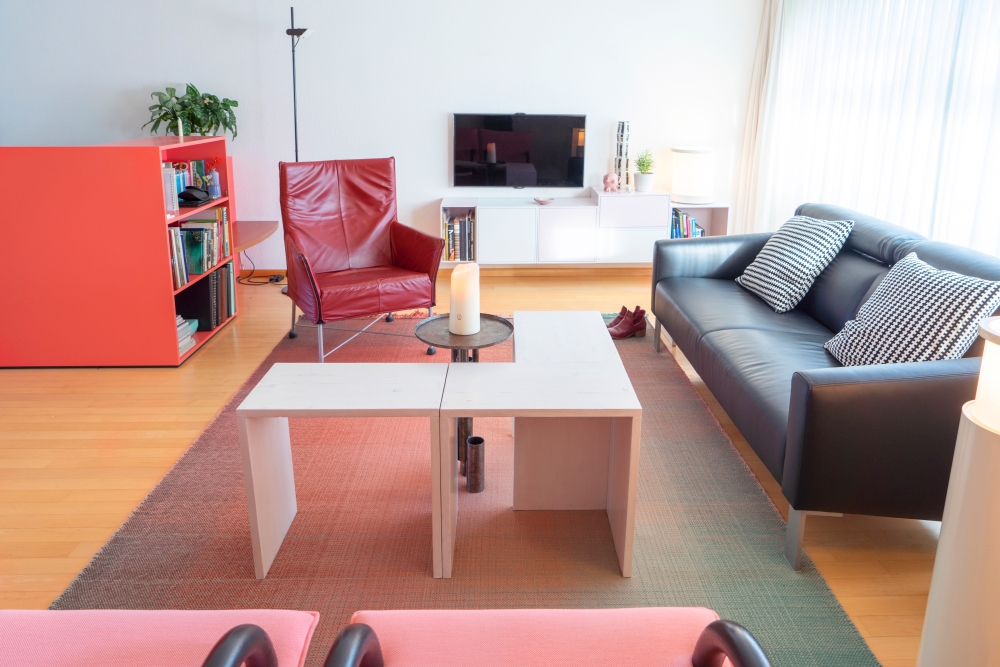 The two T-line Arflex armchairs that were originally bright red (when I grew up in the 1980s) had been mint green for over a decade and perfectly matched the Urban Jungle book that my parents proudly display in their living room. But it was time for new seatings and backrests, and a new pink Febrik fabric upholstery (reference "0641 Drop Tum Tum"). Quite an investment, but they are like new and are so much more comfortable!
What didn't change: the four coffee tables and three cylinder lights and the bronze candle holder. All designed and created by my papa! And the oxblood red Gelderland armchair is still in place as well.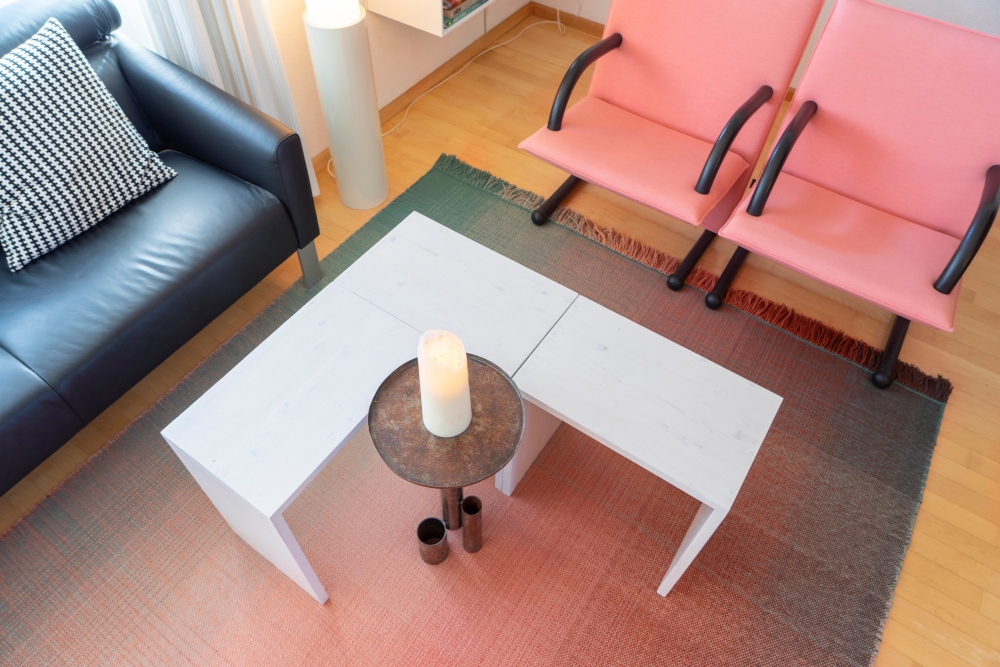 The wooden bookshelves, another creation of my father, were replaced by this sleek Cubit sideboard in white and pale pink. My parents were so very impressed by the design and quality by the Cubit sideboard in our home they wanted one too! Their special hi-fi cases hide the ugly media box and even cancel its buzzing noise! A second sideboard was attached to the wall under the small circular window that hols more books, music and magazines.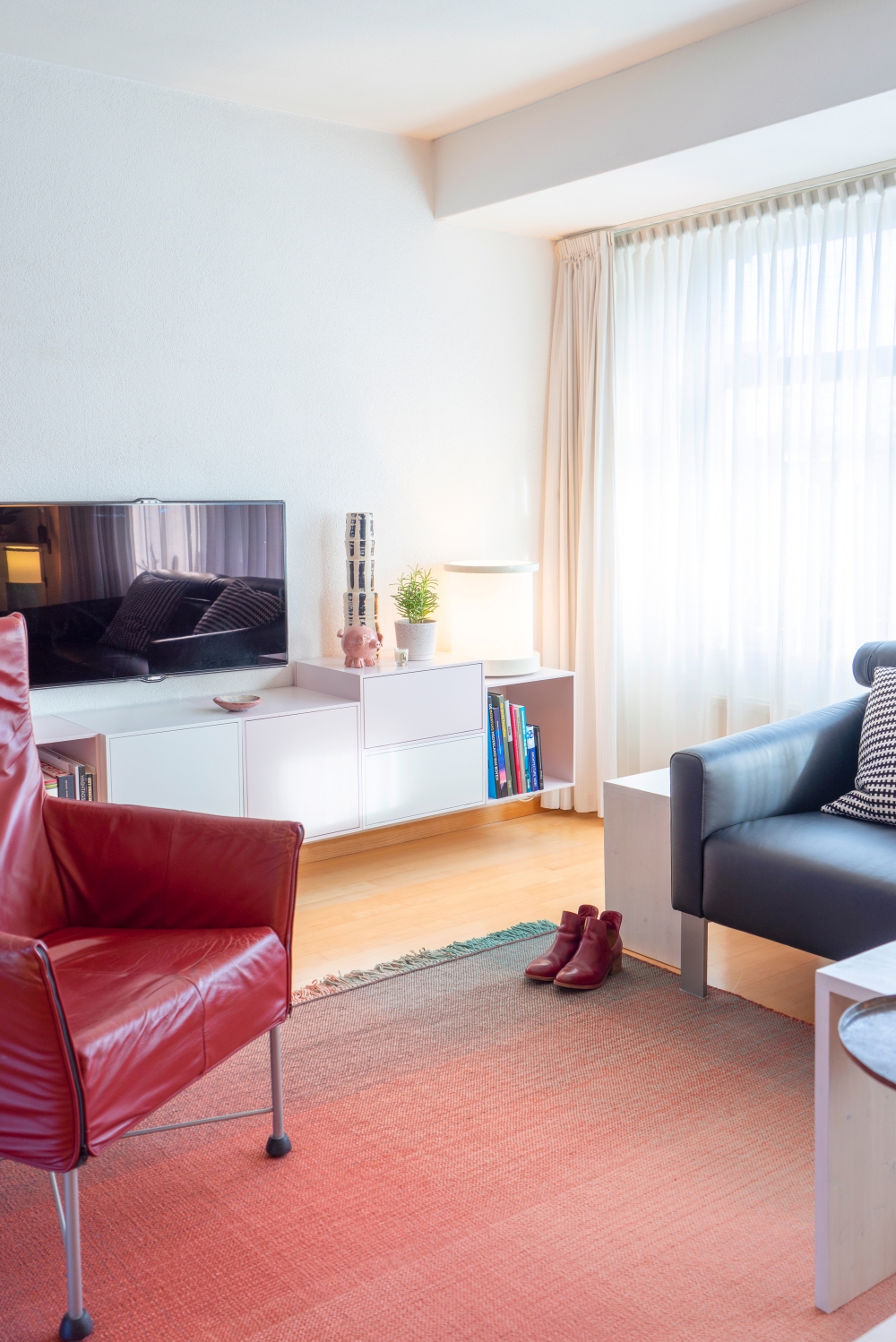 On top of de Cubit shelves: a small Kalanchoe, a mini Diptyque candle and two pieces of ceramics made by my mama herself: a pink piggy bank and a tall black & white vase that I love.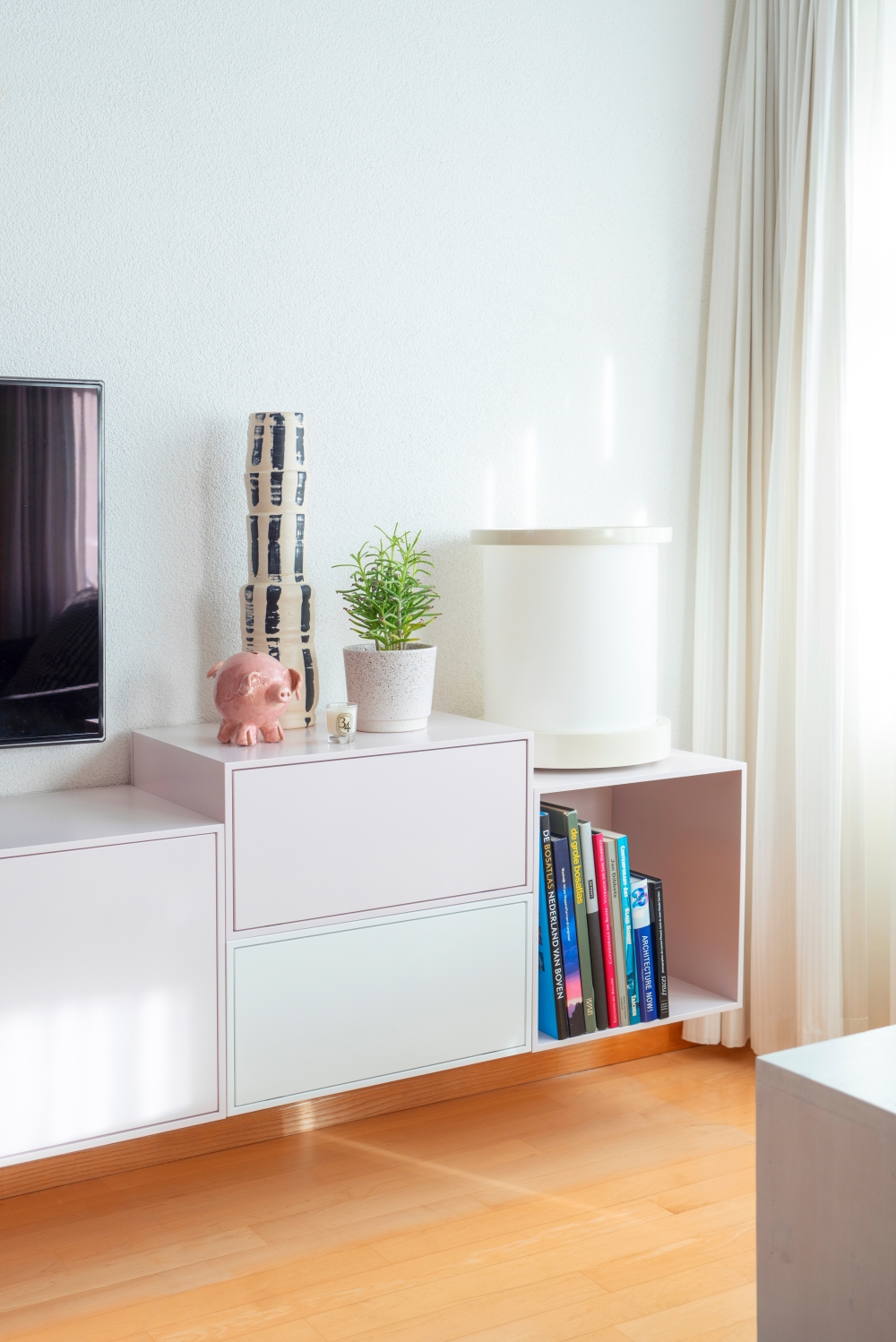 A close up of the Arflex T-line chairs, designed by Burkhard Vogtherr in 1984. Initially they were bright red, then mint green, and now TumTum pink!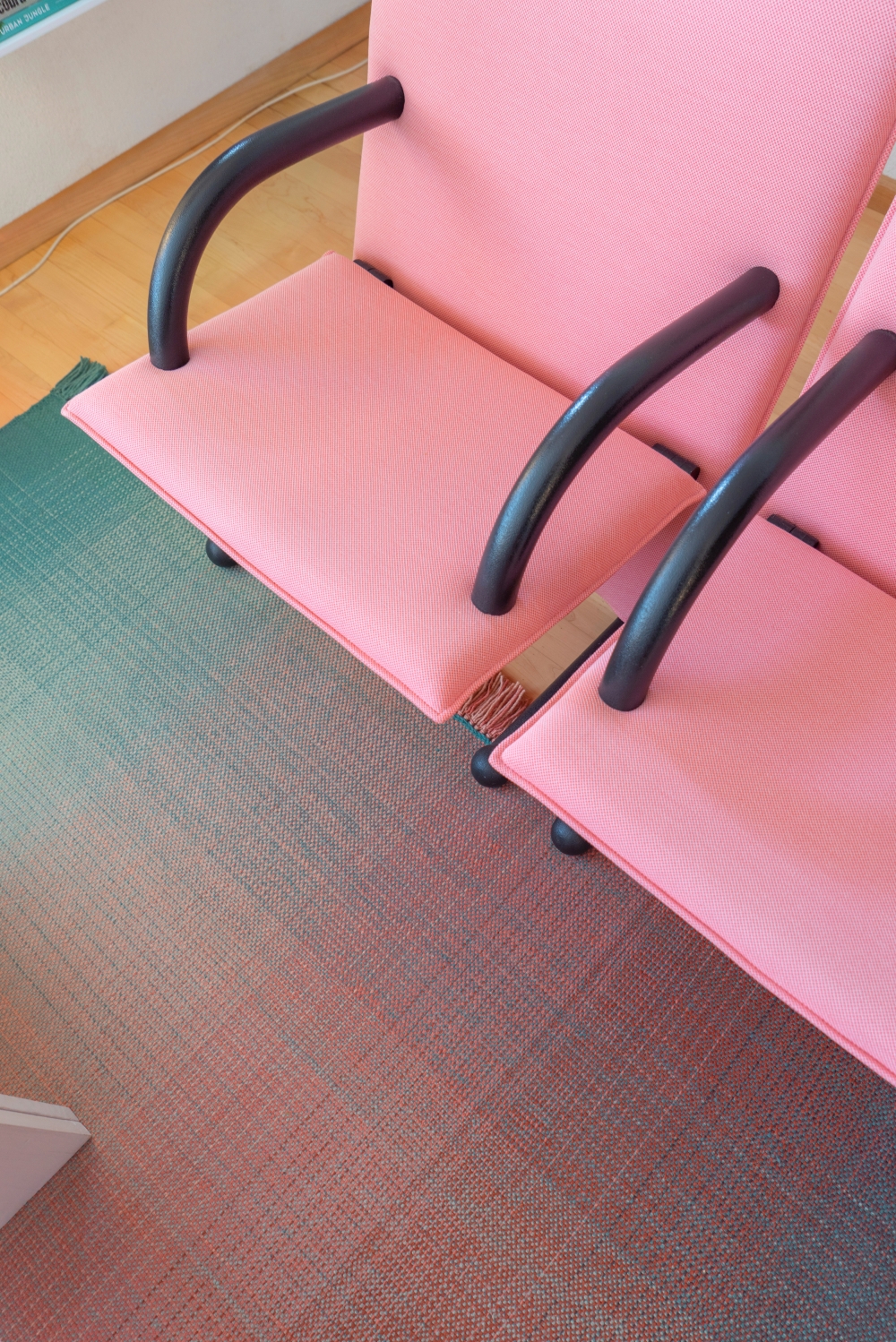 And probably the biggest change in the living room is the oversized Nani Marquina Shade rug. It's truly a DREAM with such a nice gradient of pink, rust, green. It was designed by Turkish designer Begüm Cana Özgür, who I met earlier this year at Maison & Objet. And not only does the rug transform the room by its gorgeous mix of colors, it also completely changed the acoustics in the living room and makes the room (and feet) feel so much warmer.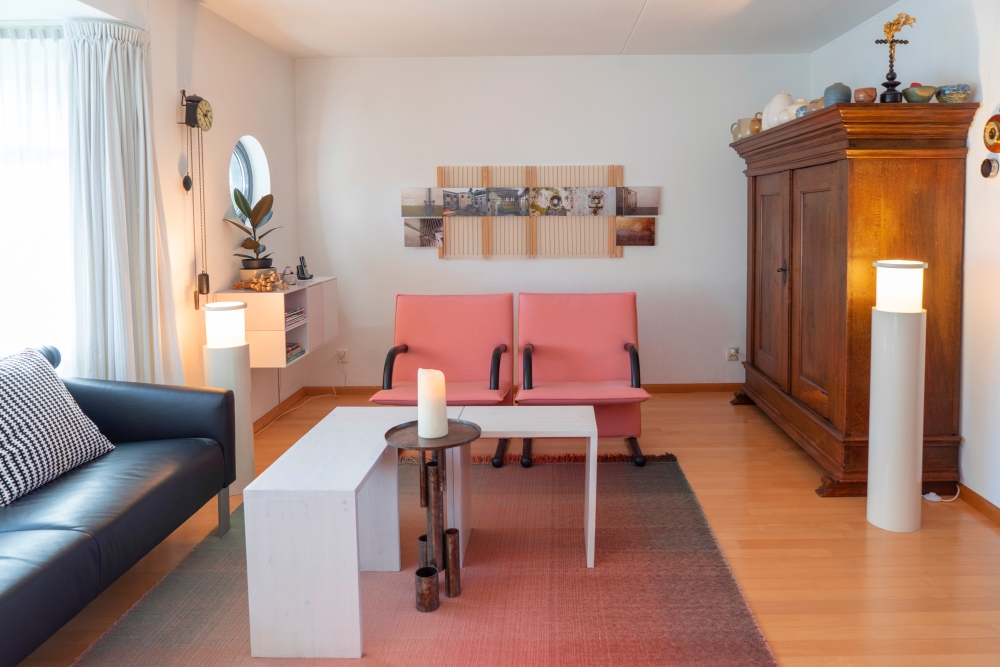 The last thing left to be changed are the throw cushions! We spotted some really nice Grid Knit cushions from Scholten & Baijings for TextielMuseum, so they may join the family soon. And I would also add quite a few extra plants if this were my living room 😉